You get a new pair of cowboy boots and just want to keep them shining forever.
You had an old pair of cowboy boots and remember how they used to shine when you got them home.
Some people enjoy the glossy look of cowboy boots. Others, however, like distressed cowboy boots and never polish their boots once in their life.
This is a false notion since polishing your cowboy boots is a very important job to preserve your cowboy boots for a long time.
Today, let's join us and explore how to polish cowboy boots with stitching!
Key takeaways for protecting stitching on cowboy boots while polishing
You should cover the stitching of cowboy boots with painter's tape before polishing them.
If the stitching of white cowboy boots has been discolored by polish, use a bleach pen (for bleaching), it has a small tip to do it. Or use a white pencil to fill in.
If the stitching has a color other than white (red, orange, yellow, blue, etc.), use a colored pencil set to repaint! So, take a picture of your cowboy boots carefully before polishing them.
That's a lesson I learned after watching a shoe shiner handle my boots for more than… an hour. He carefully treated the stitches one by one!
Why should we polish cowboy boots with stitching?
Because this is a crucial step to remain brand new cowboy boots, restore moisture on the leather, keep them from dirt, water and extend your boot's life.
It is also the best way to bring your old cowboy boots back to life again.
Besides, many cowboys/cowgirls love polishing their beloved boots and take very good care of them. This is such a good habit! Your boots would thank you for that, they deserve the shine anyway.
For cowboy boots with stitching, pay attention to cleaning the stitching of boots because it easily gets dirty there. Or you can take care of them after polishing your boot. See more below.
How to polish cowboy boots with stitching?
These steps apply to leather cowboy boots. Before starting to polish, you have to prepare some tools as well as the following tasks.
PREPARE
Here is the polishing set:
Boot polish that is suitable for your own cowboy boots such as Kiwi Shoe Polish or Saphir…
A cloth (maybe an old sock, old jeans, old T-shirt in rags…)
Horsehair brush for cleaning and shining boots
A buffing cloth or chamois
Bleach pen for white stitching or wax pencil for colored stitching
Last update on 2023-09-22 / Affiliate links / Images from Amazon Product Advertising API
CLEAN – clean cowboy boots and stitches
Depending on the condition of your boots:
Use a damp cloth or a brush to chase away all the dirt
Or use soap and brush to clean any dust from your boots, your soles and welts. Then clean your boots with a rag.
Kiwi Saddle Soap, 3.125 Ounce
Features a traditional blend of ingredients which cleans, softens and preserves smooth leather
Formulated with a quality wax for added protection
Cleans away dirt, grim and salt stains
Last update on 2023-09-22 / Affiliate links / Images from Amazon Product Advertising API
Note: Make sure your cowboy boots are completely dry before polishing.
Usually, people use boot dryers, boot trees,… to dry cowboy boots. You can find many useful tips to dry your cowboy boots quickly here!
You should clean the stitches of cowboy boots first and cover them with painter's tape, then do the polish. This method can ensure the shoe polish does not stick to the stitches.
To deal with the stitches, you can clean them with a small horsehair brush and soap. Or depends on the colors of the stitches, you can use a white color pencil, bleach pen (recommended) for white stitches and wax pencil for colored stitches.
In case you want to handle the stitching area after polishing, we get you covered in step 5 below.
Last update on 2023-09-22 / Affiliate links / Images from Amazon Product Advertising API
Now, you're ready to polish your cowboy boots!
Step 1. Apply polish on your cowboy boots
Wrap a cloth around two fingers (index and middle finger), and take a dab of cream or wax polish.
If using cream, just take a small amount and then spread it out (don't take too much or it'll waste your cream).
Rub over your boots in a circular motion. The more careful you are, the more it soaks into your boot.
Note: Many people may see your boots clouding/fogging in this step. Don't worry, you will get the luster results at the end of the process.
For some products, it will make your boot rich in color, not darken it, so don't worry!
Here are some tricks for high shine:
For Kiwi:
Heat up Kiwi for 30 seconds and leave it dry for some minutes before using it.
Sale
Last update on 2023-09-22 / Affiliate links / Images from Amazon Product Advertising API
For Saphir:
You can combine the Saphir Medaille d'Or Pate De Luxe as a finishing touch for the Saphir Mirror Gloss. After applying Mirror Gloss 3-5 layers, add Pate De Luxe on top of this wax polish to melt and glass the hard wax. You'll get your boots to shine like glass.
Last update on 2023-09-23 / Affiliate links / Images from Amazon Product Advertising API
Step 2. Brush your cowboy boots
Use a horsehair shine brush to brush your cowboy boots quickly and repeatedly with short strokes around your boots. The bristle must be horsehair, no doubt.
Brush your boots until your hand gets tired. This helps the polish penetrate deeply and evenly into your cowboy boots. The more round you do, the shinier your boots are.
I usually coat 2 to 3 coats of polish on the surface of cowboy boots to ensure they retain the color for a long time.
Note: the brush for polishing your cowboy boots should be different from the cleaning brush.
Sale
Last update on 2023-09-22 / Affiliate links / Images from Amazon Product Advertising API
Step 3. Wipe your cowboy boots
Using a clean cloth to wipe excess polish on your boots. Rub until you see luster on your boots.
Step 4. Buff your cowboy boots
Buff the leather to add more shine! This step finishes your polishing process.
Use your buffing cloth in back-and-forth movements until you achieve a gloss as you wish.
Bickmore Cotton Flannel Shoe Shine Cloth - Leather and Shoe Polishing Cloth
CLEANS, POLISHES, AND SHINES BOOTS AND SHOES: The Bickmore Shine Cloth is an important tool to keep...
REMOVES DIRT AND RESIDUE: The cotton flannel material of the Bickmore Shine Cloth effectively sweeps...
APPLIES SHOE CREAMS AND POLISHES: After cleaning your footwear, use the Shine Cloth to apply any...
Last update on 2023-09-22 / Affiliate links / Images from Amazon Product Advertising API
This is a very interesting video about the battle of Bickmore Creme Polish vs Kiwi Shoe Polish:
Bickmore Creme Polish vs Kiwi Shoe Polish on Cowboy Boots
Step 5. Handle with stitching on cowboy boots after polishing
If your cowboy boots have many stitches on the upper and vamp, it's very likely that the stitching gets dirty and messy after the polishing process. Here's how to solve this problem:
Cowboy boot with white stitching
To regain the white color of the stitching, you can apply white color pencil on the stitching or use a bleach pen.
Using a white pencil to recolor each stitching of cowboy boots is a very effective and proven way. I "stole" the idea from a shoe polisher.
The bleach pen comes with two ends. One is a small nozzle and the other is a brush.
For the stitching, we only need to use the small nozzle. Put it on the thread and spill the bleach to remove the dirt. This narrow nozzle can reach the thin line of the thread and clean out the white stitching on your cowboy boots.
However, each type of bleach pen will have different uses. You should carefully read the manufacturer's instructions before using it to remove the polish color on the stitching as effectively as possible.
Sale
Last update on 2023-09-22 / Affiliate links / Images from Amazon Product Advertising API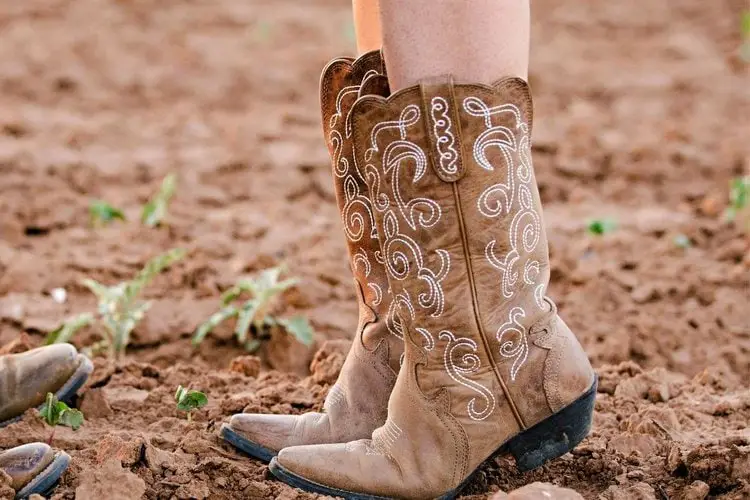 Cowboy boot with colored stitching
To regain your colored stitching, use wax pencils to color the thread.
And don't forget to take a photo of your cowboy boots to make sure you've colored the stitches correctly or you won't be able to remember!
It seems that it will take you a lot of work to do! First, pick the colors that match the stitches' colors of your cowboy boots. Then you need to carefully "paint" the stitching with those pencils.
Be patient and careful to do the job, you're spending your time drawing your long-term beautiful companion!
Be cautious not to draw on the leather of cowboy boots as you've just spent a considerable amount of time polishing them! 😉
After that, let it dry for a while and admire your masterpiece!
Last update on 2023-09-22 / Affiliate links / Images from Amazon Product Advertising API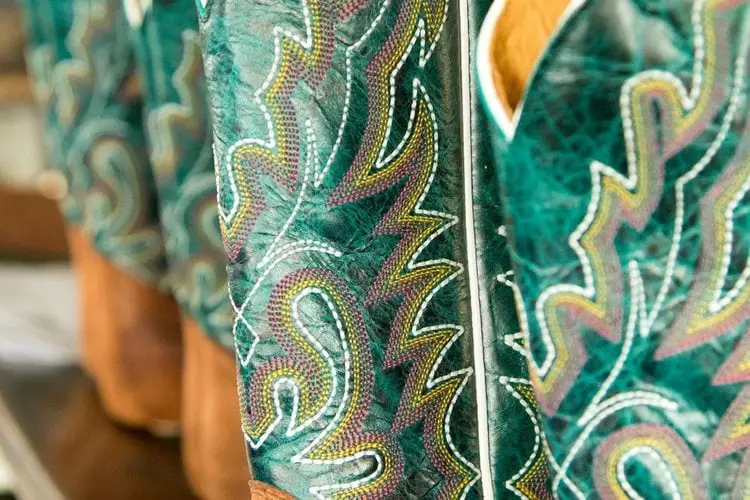 Can I polish suede boots?
No, unless you want to destroy your suede boots. The suede fibers can't stand for the wax polish.
If you apply polish on suede, say goodbye to your suede boots and the nap of the suede. You can't undo it, so never think of doing it.
With suede, you need to give it special care.
Take care of your suede boots, and remember to choose the specialized brush to clean them.
Ideally, you can purchase the dye to recolor your suede boots!
For the best protection of your suede boots, you need to clean and condition them in a proper way. You can find out more here.
Can you polish cowboy boots?
Definitely YES! You can totally polish cowboy boots by yourself. But this is only applicable to leather boots, not your suede ones. Don't take a risk trying to polish suede cowboy boots, I'm sure it only makes you regretful.
Just follow our steps above, and get your own strategies to polish your leather cowboy boots.
How do you get boots to shine like glass?
Besides applying the steps above carefully, you should know the tricks and learn from other professional polishers online and offline.
As we have shown above, you should know which is the best polish for your boots, how to use it properly and remember to apply any proper tips that you know.
Yes, it is best to know the best way to polish your specific boots.
What can I use if I don't have shoe polish?
There are many handmade methods you can use to polish your cowboy boots without the need for specialized polishes.
Note: We don't recommend applying these handmade methods frequently.
They should be the last resort once you're in a hurry and don't get any polishing product in hand (or don't get much time to shine your boots).
To be safe, you can try one of these methods in a small area to test its effects before applying to all your boots.
Again, choose suitable and reliable polish for your beloved cowboy boots!
Banana peel
Use the inside of the peel to rub over the boots. Then use a cloth to wipe your boots clean.
Milk
Drop some milk on a cloth and rub the surface of the boots until you see luster.
Lemonade or Vinegar
Use lemonade or vinegar to clean your boots before polishing.
Take some drops on a cloth and clean your boots carefully.
Then apply the polish, it will bring more shine to your boots.
Wax paper
After cleaning your boots, use wax paper to rub over their surface.
Then wipe excess oil with a warm damp cloth to clean. This way you can have shiny and dirt-free boots!
Vaseline (petroleum jelly)
Apply a generous amount and rub it on your boots.
You can use a hair dryer to make it sink deeply. This can protect your boots from dust and give them shine consistently.
Olive oil
Spray a little on your cowboy boots. Let it dry and use a soft cloth to buff your boots.
Read more: How to Stretch Cowboy Boots at Home
Some notes when polishing your cowboy boots
Cleaning is very important before polishing. Make sure you clean your boots thoroughly, even the hindrance quarters, take care of the heel, sole, welt,… as well (pay attention to them when polishing, too)
Choose the polish that matches the color of your cowboy boots (you can choose neutral or uncolored polish instead but it might have different effects on your boots)
You can add more layers of polish for high shine, it depends on the use of the products. The later layers should be thinner than the previous ones.
The clean brush and polish brush should be different (horsehair bristles, no doubt)
Use different cloth for cleaning and polishing/buffing
Learn the tricks of cleaning and polishing for each type of polish and for each type of boots
Get your own polish strategy for your own boots
Before you leave
In general, polishing cowboy boots with stitching is not as complicated as you think. But I have to admit that it is quite time-consuming, especially in the process of using a bleach pen to clean the stitching or using a colored pen to paint it.
So I still recommend you cover the stitching with painter's tape before buffing to avoid smudging it, I have to say it's the best method.
Good luck!
Howdy y'all, and welcome to From The Guest Room, your ultimate guide to all things Western! I'm Jay Gatz, a lifelong cowboy boot enthusiast with over 5 years of experience in the Western style world. I'm excited to share my knowledge with you and help you discover the perfect cowboy boots and western gear to elevate your style. Let's explore the rich history and timeless appeal of Western fashion together!