Cowboy boots are born to serve the needs of cowboys and farmers on the farm.
They need sturdy, affordable boots that give their feet the best protection.
To this day, keeping the tradition like that, outside of the wonderful beauty that God gives, cowboy boots still wander and walk in the fields a lot.
Because of working on the muddy and sunny farms in the West, cowboy boots need to be cleaned regularly to keep the outside fresh and lasting for years.
And mud is one of the most annoying foes for your cowboy boots, which is very common during the rainy season.
Today we will learn about how to clean muddy cowboy boots. This is a huge headache for cowboys!
Let's check it out!
How to clean muddy cowboy boots?
You need to prepare the five important things:
A soft cloth, brush, spray bottle (warm water), saddle soap (leather cleaner), conditioner.
Some notes when cleaning mud from cowboy boots made from leather:
You should use specialized brushes to clean cowboy boots. Many of us use a toothbrush to clean cowboy boots, which is fine. But sometimes the bristles of the toothbrush are too hard, which in the long run will reduce the life of the boots. The boots will lose their colors quickly and are no longer new.
If your boots have shoelaces (most cowboy boots do not have strings), remove the shoelaces and put them in the washing machine to wash them separately.
Besides, there are many different ways to clean waterproof & non-waterproof cowboy boots.
Okay, that's enough, let's get started!
How to clean mud off NON-WATERPROOF leather cowboy boots?
Normally, the best way to keep the original color of your cowboy boots for long and extend the life of them is cleaning the boots right after they get dirty, mud or rainwater ….
However, in reality, not all of us have enough time to clean cowboy boots right after using them, so we will divide into 2 cases: wet mud and dry mud.
How to clean non-waterproof leather cowboy boots with sticky WET MUD?
Step 1: Use a spray bottle to spray warm water on the mud stain on leather cowboy boots
Step 2: Moisten the soft cloth with warm water and use it to wipe off the mud
Step 3: Wipe thoroughly in the goodyear welt and seams areas, clean every seam carefully. Those are parts of cowboy boots that are most susceptible to mud.
Do not rub too hard, if the stain is stubborn, use a brush to remove the mud. Besides, use a spray bottle to spray warm water on the mud stuck on cowboy boots.
Step 4: At this point, your cowboy boots could relatively escape from stubborn mud. Now use a brush and a saddle soap to clean leather cowboy boots. Saddle soap will help remove all the dirt caused by the mud on the boots.
How to use a saddle soap: Moisten the brush with warm water (normal water is okay) then apply the saddle soap into the brush, then rub the brush on the surface of the cowboy boots.
Similar to step 3, scrub in the goodyear welt and in the areas with many stitches.
Step 5: Use a dry cloth to wipe off the saddle soap left on the leather cowboy boots, carefully wipe the nooks and crannies on the boots, making sure the boots are dry after cleaning.
Bonus: After you've cleaned your cowboy boots and kept them dry, don't forget to use an extra conditioner to protect them completely from stains. Also, some types of conditioners can keep cowboy boots waterproof (mink oil).
Here are instructions on how to use the leather conditioner: The 5 Best Cowboy Boot Conditioners
JobSite Premium Mink Oil Leather Waterproof Liquid - 8 oz - 1 bottle
Softens, preserves and waterproofs your favorite vinyl or leather boots, shoes and all smooth articles of leather
Special premium mink oil liquid formula helps repel oil and salt stains
Active cleaners and conditioners include a poweful blend of mink oil, silicone, lanolin and pure Neatsfoot oil.
Ideal for all articles of leather and vinyl Boots, Shoes, Gloves, Purses, Hats, Belts, Auto Car Upholstery, Furniture & All Smooth Articles of Leather
Caution: May darken light or soft leathers. Not for use on suede or Nubuck.
Besides, remember to polish your cowboy boots so they are always shiny and fresh.
If you still do not know how to polish leather cowboy boots properly and what is the best product to polish leather boots, then this is a gift for you: How to Polish Cowboy Boots with Stitching
Kelly's Shoe Cream - Professional Shoe Polish - 1.5 oz - Brown
Kelly's Shoe Cream is a unique cream polish rich in natural waxes that conditions, re-colors and polishes finished, grained, smooth leather shoes and boots.
Available in a large variety of fashion colors!
Colors include: Black, Neutral, White, Delicate Cream, Winter White, Ivory, Light Bone, Ecru, Banana, Tan, Brown Sugar, Chamois, Beige, Camel, Light Brown, London Tan, Cognac, Saddle, Medium Brown, Bark, Goldenrod, Beige Taupe, Taupe, Brick, Sandalwood, Fashion Brown, Brown, Dark Brown, Dusky Brown, Bordeaux, Cordovan, Dark Cordovan Burgundy, Burgundy, Red Mahogany, Red, Scarlet, Chili, Olive, Sherwood, Grey, Charcoal Grey, Navy Blue, Imperial Blue and Dark Navy
Made in the USA.
Manufactured by Kelly's. 1.5 oz jar
How to clean non-waterproof leather cowboy boots with sticky DRY MUD?
Step 1: Do not rush to wet your cowboy boots, use a soft cloth or specialized brush to sweep the dirt, dry mud on the boots as much as possible.
Step 2: Once the dry mud has been defeated, use a spray bottle to spray warm water on the cowboy boots and use a soft cloth to wipe every corner thoroughly.
Step 3: Use a combination of a special brush and leather cleaner to remove stubborn dirt and mud
Chemical Guys SPI_103_16 Sprayable Leather Cleaner and Conditioner in One (16 oz)
Breathes new life into leather while helping to restore and protect neglected leather
Dry to the touch - no greasy feel
Enriched with vitamin E and aloe which helps keep leather soft, supple and protected
Formulated from a lanolin-based cream and a naturally derived propolis with remarkable "suspension release" qualities
Repels water better and longer than regular water repellants, and even reinforces the surface of your leather against scuffing
Step 4: Dry boots after completing the above process.
Step 5: Apply conditioner on your cowboy boots to make the boots soft and restore original color and help your cowboy boots against water, dirt and mud.
Bonus: After the conditioner is dry, polish your cowboy boots to make them bright and fresh again. That way keeps you boots durable and beautiful.
Read more: Can I make my leather boots waterproof?
How to clean mud off WATERPROOF leather cowboy boots?
For some waterproof cowboy boots (workhog boots, western work boots, rambler …), cleaning these boots is very easy
Because of the characteristics of waterproof cowboy boots that are constantly exposed to mud and dirt, manufacturers have sprayed a chemical layer against dirt, mud and water outside the leather of these cowboy boots
Step 1: Put on your waterproof cowboy boots
Step 2: Use a spray bottle, spray directly on the stubborn dirt and mud. You can apply this method whether it is dry mud or wet mud
Step 3: Use a soft cloth to wipe away the stains in the narrow trenches of cowboy boots
Step 4: Use a special brush and leather cleaner to clean the boots
Step 5: Dry your boots. Even if the boots are waterproof, you still need to use a dry towel to wipe them
After the boots are dry, use a conditioner to maintain the boots well so that they are durable enough to withstand the environment and soft enough to cuddle your feet.
Usually, these boots are for outdoor work and heavy work, so there's no need to polish them, but if you like, just do it.
Read more: How To Care For Ariat Workhog Boots
How to clean mud off the sole of cowboy boots
To clean the outsole of cowboy boots, you don't need to be as careful as cleaning the other parts made of leather.
The outsole of cowboy boots is usually very solid, hard and durable. Besides, the outsole is also made from many different materials such as leather, rubber, synthetic …
Do not use the above brushes to clean the outsole of the boots. Instead, use old or discarded brushes in your home.
Combine those brushes with water to clean the outsole of the boots. Spray the water directly onto the outsole and scrub thoroughly to make sure that the mud has been washed away by the water and the brush.
Or you can also use specialized tools to clean the outsole if you are a person who often has to wear cowboy boots and do outdoor work.
Below is a very interesting tool for cleaning the sole of cowboy boots I just found on Amazon. Actually, I also saw this product for the first time when writing this article.
JobSite The Original Boot Scrubber - All Weather Industrial Shoe Cleaner & Scraper Brush
BUILT TO LAST: Heavy Duty high density composite molded plastic sides & welded metal frame make this scraper able to withstand all weather elements without rotting or cracking
ALL-IN-ONE CLEANER: Super coarse brush scrapes away mud, grass, sawdust, snow and other hard stuck on debris from the soles, tread and edges of your boots or shoes without causing harm
MOUNTABLE: Includes four screws for easy bolt down. Perfect for the home, garage, workshop, office buildings or farm. Measures 9.5 x 6.5 x 4.8 inches
ALL WEATHER: Other brands use wood edges that rot and crack when they get wet or exposed to extreme heat and cold, our heavy duty plastic edges will not
TRUSTED BRAND: We guarantee our product will be the best you have ever owned or we will provide a full refund
There are already thousands of people using this product, so maybe you should consider using it if you need boots for working outdoors.
How to clean red mud, clay mud off leather cowboy boots?
Unlike normal mud, red mud or clay mud is a nightmare for cowboy boots.
Red mud and clay mud can stick very tightly and leave traces of them on the boots for a long time, which will seriously affect your cowboy boots.
The best way to handle when your boot gets caught in this mud is to clean your leather cowboy boot when the mud just sticks.
Red mud and clay mud often stick to large patches into the boots, so try to remove them as much as you can with your hands.
Then use the methods above to handle. It may take more time and more leather cleaner.
Some notes when cleaning cowboy boots:
Use leather cleaner when cowboy boots have been dried to a certain extent
Limit the use of non-specialized leather products to clean cowboy boots
The above methods are only used for leather cowboy boots. Don't apply it to suede cowboy boots!
After cleaning your cowboy boots, make sure you dry the boots completely. Do not clean cowboy boots too often, too much contact with water will make the leather less durable.
Some tips for cleaning cowboy boots:
While waiting for the conditioner to penetrate into the leather, you can use a hair dryer to dry around to speed up the process
Using boot shaper to flatten leather will make it easier to clean
E-PRANCE 5 Pairs Boot Shaper Reusable Boots Support Stand Form Inserts for Women and Men (16 inches)
Package Includes - 5 pairs Boot Shapers (10 sheets), Size 16 inches.
These boot shapers easily insert into your boot to protect your lover boots. Make them stand up straight, and your closet looks clean.
Recyclable Material - Made of high quality PVC, durable and flexible to support your boots well and maintain their shapes.
Best Solution for Boots Stotage - Inappropriate way of storage leads to permanent damage to your gorgeous boots, these boot shapers reduce bends, sagging, and collapse, make your boots look new for a long time.
Suitable for Most Boots - No matter women boots, man boots, these boots shapers keep your boots straight, beautiful, and organized for better ventilation.
FAQ: How to clean leather boots with vinegar
We have written many articles about hygiene as well as cowboy boots care, and in those articles we recommend that you use specialized products for leather or suede.
However, in reality, you might not buy specialized leather care products for some reasons. If so, you can search for some other methods to clean cowboy boots at home, but do not overdo it.
Step 1: Dilute vinegar with water in a 1:1 ratio
Step 2: Spray warm water on the leather boots and use a soft cloth to thoroughly wipe on the leather boots, especially goodyear welt and stitches.
Step 3: Use a soft cloth to soak into the vinegar-water solution, then continue to rub until the remaining stubborn dirt and mud is gone.
Step 4: Dry the boots and use the conditioner to protect, maintain the leather boots and also increase the lifespan of your boots.
Bickmore Leather Conditioner, Scratch Repair Bick LP 8oz - Heavy Duty LP Leather Preservative | Leather Protector, Softener and Restorer Balm for Dry, Cracked, and Scratched Leather | Made in USA
PROLONG THE LIFE OF YOUR LEATHER: Bick LP is specially formulated to rejuvenate and preserve leather, protecting and extending the life of your leather products.
INDUSTRIAL STRENGTH PROTECTION: Apply Bick LP to protect against water, excessive heat, caustic chemicals, petroleum acids, salt, and dirt. Bick LP is the best choice for protecting leathers in harsh environments.
PRESERVES NATURAL OILS: Heavy use causes leather to lose its natural oils. Bick LP helps replenish these oils, softening your leather and protecting against premature cracking, dry rot, and stitch tear.
USE ON ALL LEATHER GOODS: Bick LP is the preferred choice for preserving and protecting shoes, boots, motorcycle seats, saddles and other horse tack, tool pouches and belts, baseball gloves, work gloves, and more!
MADE IN THE USA: Bickmore is proud to produce all Bickmore Bick LP in the United States of America.
Step 5: Polish leather boots to keep their color intact and lasting.
Saphir Medaille d'Or Mirror Gloss - Natural Wax Polish for Leather Shoes & Boots
MIRROR GLOSS POLISH: Saphir Medaille d'Or Mirror Gloss Wax Polish contains a high concentration of hard waxes providing an effortlessly shiny mirror finish and restored luster.
ALL NATURAL: This polish is perfectly balanced with natural turpentine solvent. Some waxes fin the formula are Montan wax, Carnauba wax, & Beeswax. There are a variety of colors and shades such as brown, black, and neutral made without harmful resin & silicones.
EASY-TO-USE: Apply thin layers of wax polish using a high-shine chamois cloth to your leather shoe. After drying, add a drop of water and buff the surface in circular motions to achieve quick, superior results.
HIGH QUALITY: This product provides a mirror gloss shine to any color of leather boot, sneaker or bag. Imported from France, Saphir's premium polish keeps leather shoes & accessories in their best condition.
SAPHIR MEDAILLE D'OR: Saphir was awarded the Medaille d'Or (gold medal) in Paris in 1925 for its unmatched quality of leather care products. Their products are crafted with natural and efficient materials.
In general, the method of using vinegar is not too different from the above methods that we have instructed. The only difference is that you use a vinegar-water solution instead of saddle soap or leather cleaner.
Before you leave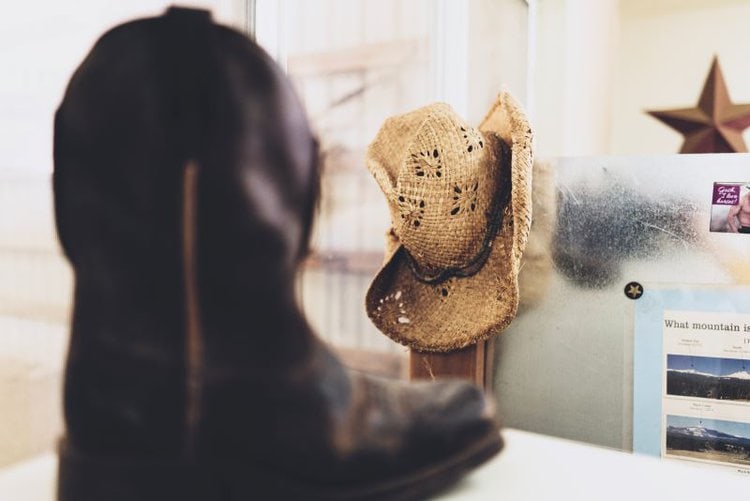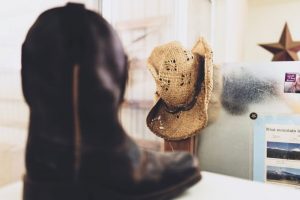 Above are all the best and easiest methods to clean cowboy boots from mud, hopefully you will succeed when applied.
In general, leather cowboy boots are very durable and sturdy, if they are maintained properly, you can use them for more than 10 years.
And remember that after successful cleaning, don't forget to write thank you to us!
Good luck!