Taking care of a cowboy boot is never easy, because:
First: They are made entirely of leather (or suede). Without proper care, cowboy boots can dry and crack, deteriorate rapidly.
Second: Preserving cowboy boots is also not easy. With a height of 11 inches to 14 inches, you need to know how to care for cowboy boots properly, otherwise they will get scuffed, break, lose shape, affect the leather material.
For that reason, today I will tell you how to keep cowboy boots in shape. Since then, your cowboy boots will look good, not break or look sloppy.
How do I keep my cowboy boots in shape?
One of the main reasons cowboy boots quickly become ugly and stale is that they are not preserved and kept in good shape.
This makes cowboy boots appear wrinkles, cracks and rips. Besides, you may feel uncomfortable when wearing these boots.
So, one of the important things to remember when storing cowboy boots is to keep them in shape.
To do that, there are 2 crucial positions, the foot and shaft of the boot.
Each position will have its own tool to hold its shape. Besides, we will show you how to use some available household items to keep cowboy boot shapes.
Now, let's dive in!
Method 1: Use a boot tree
One of the extremely popular methods to keep the shape of cowboy boots is using boot trees.
Boot trees are used to hold the shape of the foot of cowboy boots. All you have to do is stuff them in boots, that's it!
In addition, boot trees are usually cedar-based, so they are hygroscopic, keep your cowboy boots dry, and leave a pleasant aroma inside.
When cowboy boots are used during the rainy and winter seasons, they are prone to shrinkage due to the effects of temperature. Boot trees take care of that and keep the foot of cowboy boots in shape.
Method 2: Use a boot shaper
Sale
Dial Industries Spring Loaded Boot Shapers, Black
The original Spring-loaded design to provide just the right tension for all types and styles of...
Keeps your boots in good shape, preventing cracks and creases and prolongs the life of your boot;...
Easy to use, no assembly required; durable construction; includes hooks so that boots can hang
The next method is using a boot shaper to keep the shape of the cowboy boot shaft.
This is one of the most important positions to retain the boot form, as the shaft is typically 10 to 14 inches tall, making it easy to scuff or break.
That's when you need a boot shaper to keep your cowboy boot upright, avoiding folding and breaking.
All you have to do is very simple, just insert the boot shaper into the cowboy boot shaft.
Like boot trees, many types of boot shapers can absorb moisture or leave a fragrance in boots, etc.
Method 3: Use a boot storage rack
Improper storage is one of the main factors that loses the shape of your cowboy boots.
Don't let your cowboy boots just stand on the floor, as they will fall or fold, gradually losing shape.
To resolve this situation, get a boot storage rack, which will ensure your boots stay at their best and do not lose shape.
Besides, if your family has too many boots, using the boot storage rack is also an effective way to preserve them, limiting the area they occupy in your home.
Method 4: Boot storage/protector bag
You are going on a long trip and your backpack is not big enough so you fold your cowboy boots in half and put them in your backpack. This is a big mistake since it can make your cowboy boots lose shape.
To prevent this problem, I recommend you to have separate boot bags in the trunk of your car.
Boot bags are specialized bags to hold cowboy boots (or other high boots) for long trips. They will ensure your cowboy boots do not fold, scuff and lose shape.
Method 5: Use paper
One method for those who like to use household items to keep cowboy boots in shape is using newspaper, toilet paper.
All you need to do is simply stuff newspaper or toilet paper fully inside the cowboy boots, which will help them stay in good shape.
Besides, those papers also have good moisture absorption to keep your cowboy boots always dry.
This is the classic method when the boot trees, boot shapers… are not available yet.
Method 6: Use a bottle
Another household item you can use to keep the shape of a cowboy boot is to use a bottle.
Use plastic bottles to tuck into the shaft of cowboy boots, thereby forming cowboy boots and making them upright and stay in shape.
The pros of this method is that it is faster and easier than using paper, but it will not dry wet cowboy boots as they do not absorb moisture.
Method 7: Wear cowboy boots more often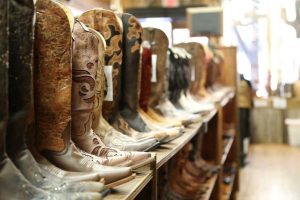 Another way to make cowboy boots stay in shape is wearing them frequently.
I know many people have boots that they wear only once a year because they don't really like them.
Typically, it's cowboy boots collectors who have too many choices in a day (such as lizard boots, caiman boots, ostrich boots, etc.) and they don't really know what boots they should wear.
To resolve this, think of different styles to match your cowboy boots properly and use them more often, that will help your cowboy boots stay in shape.
Don't just wear only a few pairs of your favorite cowboy boots, you should wear them alternately, that will help them stay in their best shape.
In fact, cowboy boots that you use more often look better than those covered with dust a long time in the closet.
So, don't keep them in the closet for too long, pull them out and use them more. Your feet and calves will keep your cowboy boots looking good.
Method 8: Keep your cowboy boots dry
One of the big reasons that your cowboy boots are prone to wrinkles and loss of shape is that they often get wet.
Being wet for a long time will hurt cowboy boots and make them look ugly.
So, make sure your cowboy boots are always dry. You can try various methods, such as using boot dryers, boot trees or leaving your boots in the sunlight…
Keeping cowboy boots dry can ensure that they are always beautiful and don't get wrinkled.
DryGuy DX Forced Air Boot Dryer and Garment Dryer
Forced-air boot, glove, and garment dryer works on four garments simultaneously
Includes two removable extension tubes for use with boots up to 16 inches tall; whisper quiet rotary...
Heats to 105 degrees F (40.5 degrees C); safe for liners, clothes, and boots; Includes two removable...
Method 9: Take good care of your cowboy boots
You need to take good care of your cowboy boots so they can stay in shape for a long time, which consists of three basic steps: clean, condition and polish.
These 3 ways can keep cowboy boots new and bring old cowboy boots back to life (restore).
Besides, you should store your cowboy boots in dry and well-ventilated places.
Don't let cowboy boots stay wet for a long time, it is best to have them always in dry condition. Because the boots will quickly deteriorate if they get wet.
Following the instructions above, your cowboy boots will have good quality, retain the right humidity to prevent cracking, thus preventing them from losing shape.
Conclusion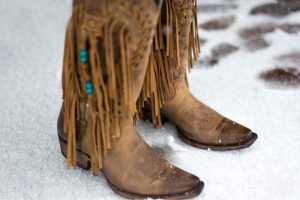 In short, there are many ways to keep your cowboy boots in shape. These include using boot trees, boot shapers, boot bags, boot storage rack, paper, bottle, or wear cowboy boots regularly.
Choose for yourself the one that suits you best! Good luck!