100% of the high-quality cowboy boots are made of leather. And if they're not entirely made of leather, they're not good cowboy boots.
The commonly used leather to make cowboy boot masterpieces is full-grain leather. It is soft, smooth, breathable and very comfortable on the feet.
However, just like human skin, leather needs to be properly moisturized.
Keeping the right humidity, leather cowboy boots will be always soft and smooth and retain their high-quality state.
Conversely, if not properly moisturized, leather cowboy boots can crack, harden, or shorten their lifespan, etc.
So you can't have cowboy boots without knowing how to keep them in the right humidity.
A pair of cowboy boots is definitely not cheap, knowing how to care for them properly can make cowboy boots more durable, always beautiful and comfortable.
How Do You Moisturize Cowboy Boots?
There are many different methods of moisturizing cowboy boots. You can use professional products and even household items (not recommended).
Household items can be effective in the short term, however, we strongly advise against overusing them, as they can be counterproductive in the long run.
For now, let's get started with the different methods of moisturizing cowboy boots!
1. Use leather conditioner
Last update on 2023-05-27 / Affiliate links / Images from Amazon Product Advertising API
One product that any family should own is a leather conditioner. Why? Because it is a specialized product for leather care, and which home does not have leather?
The conditioner can protect and take care of leather cowboy boots, as it will retain moisture and form a protective film that prevents cowboy boots from stains, water, etc.
Depending on the type of cowboy boots (cowboy boots made from cowhide or from exotic skin), you can decide how often you will condition them.
For exotic leather, you need to condition it more often than cowhide.
For example, if you use cowboy boots made from lizard skin, then you will need to condition them more often, at least once every 3 months. Because lizard skin is more prone to drying and cracking than cow skin.
For cowhide cowboy boots, you will need to moisten them with the conditioner at least once every 4 to 6 months.
The operation is very simple, just clean the surface of the cowboy boots, apply the conditioner directly to the surface (or apply it to a horsehair brush ), then buff until the conditioner penetrates deeply.
To make sure the conditioner can penetrate deeply into your cowboy boots, one trick is to use the heat from your hairdryer.
2. Use mink oil
Sof Sole Mink Oil for Conditioning and Waterproofing Leather, 3.5-Ounce, Limited Edition
Mink oil for Waterproofing, conditioning, and preserving leather goods
Ideal for leather boots, shoes, purses, jackets, hats, baseball gloves, saddles and harnesses
The oil creates a WaterProof barrier against the elements and helps to protect leather by preventing...
Last update on 2023-05-27 / Affiliate links / Images from Amazon Product Advertising API
Oil, especially mink oil, is also a common product to care for leather.
Mink oil has the ability to provide moisture very well for cowboy boots, in addition, it can waterproof cowboy boots.
It can be said that this is one of the products that almost all cowboy boot fanatics or collectors have in their house.
The way to moisten cowboy boots with mink oil is also very simple.
You need to clean the cowboy boots first, then apply mink oil on a rag or horsehair brush and buff on the surface of the cowboy boots.
Make sure the mink oil is evenly spread over the surface of the cowboy boots to create a protective layer. It's done!
3. Use beeswax
Last update on 2023-05-27 / Affiliate links / Images from Amazon Product Advertising API
Like mink oil, beeswax is also a product that many people use to care for, protect and moisturize leather cowboy boots.
Beeswax can protect and nourish leather cowboy boots and keep them from dirt and water
However, we evaluate the moisturizing ability of mink oil better than beeswax.
Using beeswax to moisten cowboy boots is also very simple and similar to using mink oil.
Just clean the cowboy boots, apply beeswax to the boots and spread them evenly with a horsehair brush (or a rag).
4. Use lotion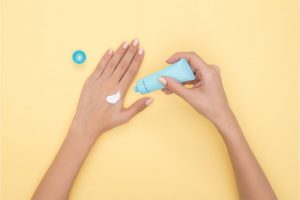 This is one of the methods that many people use, but the efficiency will not be as high as the leather conditioner.
Because leather conditioner is a specialized product, it can penetrate deeply into leather cowboy boots, allowing them to retain moisture for longer.
Meanwhile, skin lotions do not penetrate that long when used on leather. Besides, lotion is also not a specialized product to care for leather cowboy boots.
So if it's not an emergency, don't use lotion.
The lotion method is similar to the leather conditioner method. Just clean the boots, apply lotion to the surface of the cowboy boot and spread it evenly with a rag.
5. Use vegetable oils
Last update on 2023-05-27 / Affiliate links / Images from Amazon Product Advertising API
Some people often use vegetable oil, especially olive oil, to keep cowboy boots moist.
Like lotions, you can use them in some cases but don't overdo them.
Using olive oil to keep cowboy boots moist for a long time can cause them to fade, reducing their longevity.
You can use olive oil several times when your leather conditioner bottle runs out but do not use it as a preferred method.
And how to use olive oil to moisturize cowboy boots is quite simple: clean cowboy boots, apply olive oil and make it evenly spread.
Wrap it up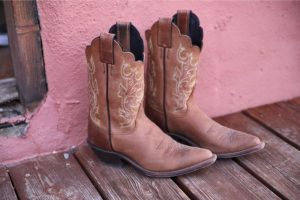 Overall, there are many ways to keep leather cowboy boots moisturized. For example, use a leather conditioner, mink oil, beeswax, lotion or vegetable oil.
However, I still recommend using products specifically designed to moisturize cowboy boots like leather conditioner or mink oil. These are 2 highly efficient and long-term products you can count on to care for your beloved cowboy boots.
Good luck!
Howdy y'all, and welcome to From The Guest Room, your ultimate guide to all things western! I'm Jay Gatz, a lifelong cowboy boot enthusiast with over 15 years of experience in the western style world. I'm excited to share my knowledge with you and help you discover the perfect cowboy boots and western gear to elevate your style. Let's explore the rich history and timeless appeal of western fashion together!