Cowboy boots have existed in the hearts of Americans for centuries. What makes them proud of this distinct fashion icon is the genuine leather material and mesmerizing hand-tooled embellishments on the surface of the boots.
These boots are made from many different types of leather, but the most common are pigskin and cowhide.
Some high-end lines will be sewn from exotic leathers such as crocodile, python, snake, or buffalo.
But all in all, they are such a masterpiece of work art from high-quality genuine leather.
Due to being made from genuine leather and are often worn a lot in hot sunny conditions like in the US, the leather tends to lose moisture faster and quickly worn-out if not cared for and maintained appropriately.
They say, if you give a proper condition on leathers, they can even survive as long as more than 5000 years.
I'm not sure if you may get bored of these boots in just a few months or a couple of years after buying them, but healthy leather cowboy boots surely make your appearance dashing and chic.
One of the best ways to nurse this material better is using mink oils. This product seems to be a superior option to normal leather conditioners in many ways.
Let's find out whether to use them on cowboy boots or not and what are the top-rated products that you should get.
Can I use mink oil on cowboy boots?
Yes, definitely, why not! Since mink oil was recognized as one of the best traditional leather conditioners that are sourced from mink fat (either fur or body fats).
It possesses the same physical properties as animal-sourced sebum that greatly helps replenish the leather's oil in cowboy boots lost during your usage.
This gives it an outstanding advantage in moisturizing leather better than Beeswax or vegetable-sourced oils.
Let's take a deeper look at the pros and cons of this product as shown below:
Pros
Enhancing waterproofness and water resistance
One of the most essential advantages of applying mink oil on boots is to provide your cowboy boots with real better waterproofness and water resistance.
Though genuine leather cowboy boots are already moderately waterproof, mink oil enhances this feature to withstand longer in rain or humid conditions.
This is due to this oil being able to penetrate deeply and fill the pores that create a strong barrier to repel water-based liquids better.
In addition, it is derived from animal fat and is therefore way better resistant to water.
If you don't want your pretty cowboy boots to get evil watermarks on the surface, remember to leave a waterproof coat on the boots with mink oils.
Besides, since your cowboy boots are water resistant, the chances that your feet may get wet is not so much.
Therefore, you can feel your feet dry, comfy and cool and comfortable as well as anti bad odors. Your feet are kept warm during the winter too.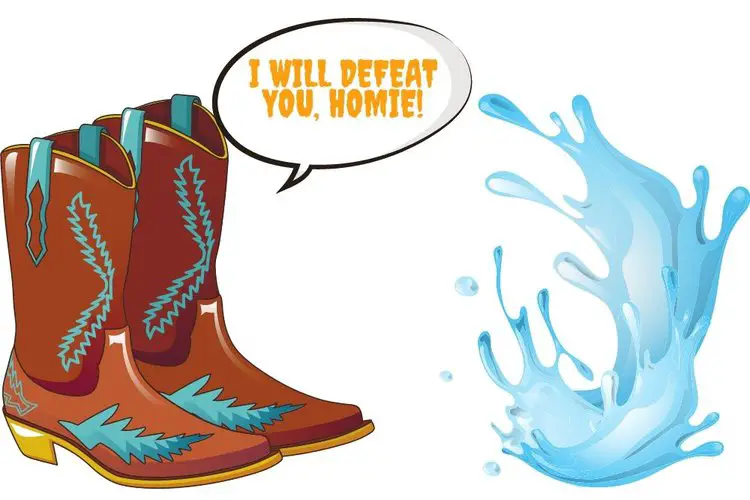 Moisturizing the leather
Genuine leather materials are like human skin, they have pores and they will lose water and oil during exposure to sunlight, dry air, and heat causing cracks and elasticity reduction.
This is apparent especially when real leather cowboy boots are not shielded from these environmental factors for better protection.
Therefore, when applying mink oil that possesses natural animal fat, this active ingredient will penetrate the pores of the leather and help moisturize dry textures.
Using mink oil properly can greatly prevent the leather from being dry, wrinkled, cracked, and damaged.
Soften the leather
Mink oil can be used to soften your new stuff cowboy boots during the break-in period.
Newly shipped genuine leather boots will usually have a greater stiffness than synthetic leather boots.
But the longer you use them, the softer the real leather will become, while the faux leather will quickly sag and crack.
But the truth is that the pain during break-in is not pleasant at all. Therefore, you can apply mink oil to stubborn leather and use the hairdryer on low-setting to warm it up slightly.
This will help the skin absorb the oil from the mink oil better and increase the softening effect.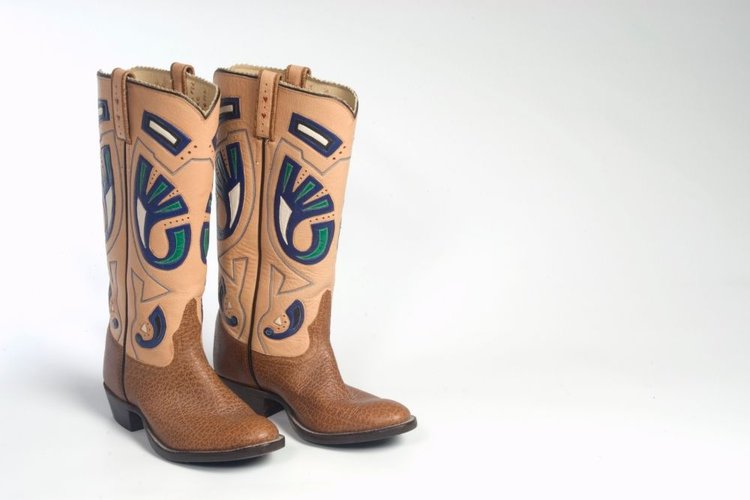 Use to treat leather worn-out
Genuine leather boots after a long time of use about 5-10 years will appear in uneven spots, cracks, skin discoloration, or scratches (from heavy to light) on the surface.
These problems are even more serious with cowboy boots due to their large area of leather and appearance that contribute to how you look.
Therefore, you will probably have to deal with more problems with a pair of heavy-abused cowboy boots.
First, mink oil can visibly improve skin discoloration to make the skin tones more even.
It also helps to correct the watermarks left on the skin surface when exposed to water.
Secondly, mink oils provide the moisture and shine needed to visibly soften fine lines and wrinkles and cover scratches of varying degrees.
I firmly believe you can restore about 60% of the boot's original state right at the first maintenance with mink oils.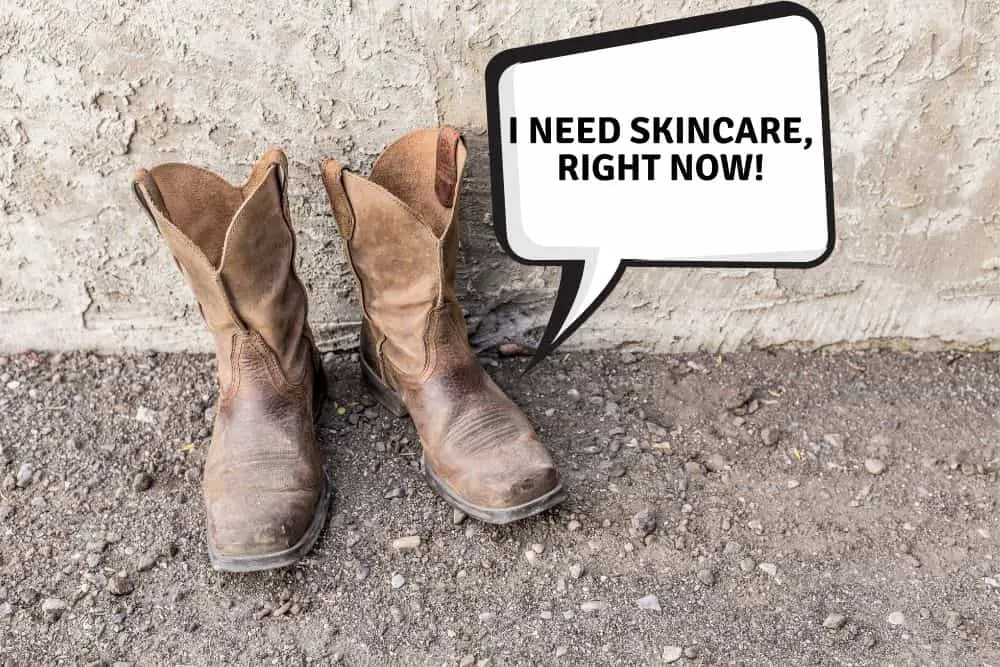 Increase the longevity of the leather
This is definitely. When your leather is moisturized as well as used properly, it can greatly increase the longevity of this grumpy material.
Remember that your leather cowboy boots can live up to 15 years, which means, you can save a lot of money on buying a new pair.
I know a new design takes you on new trends but old colored ones give an extremely sophisticated and classy look. It is even more true when it comes to cowboy boots.
Anyway, we hope you understand how much you get when you pay attention to the condition of your boots.
And mink oil is one of the best treatments to help your leather footwear last forever.
Staying longer on the leather
Vegetable-sourced substances such as beeswax and other non-animal ingredients used to make leather conditioners often usually have a very thin texture and are easily absorbed into the skin.
However, they are also quickly dried out.
The fatty animal-sourced mink oil has an oily consistency and proper thick texture to penetrate deeper into the pores, therefore is able to stay longer on the skin's surface.
The longer the oil can remain, the more protective the leather can be.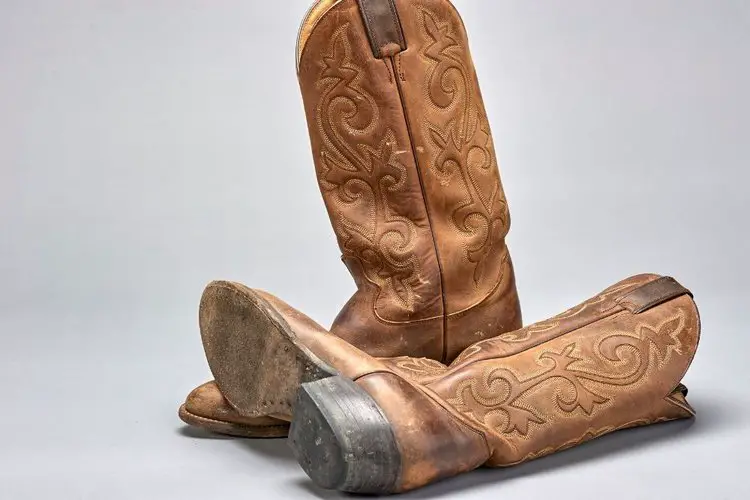 Darkening the leather
This is either pro or con depending on your preference and intended use. Many said mink oil can darken your leather cowboy boots. Yes, it can.
You can have 2 purposes where you can make the most of this use of mink oil.
One is to darken your new cowboy boots if you want them to look elegant and classy in a darker way.
And two, you can use mink oil to improve the discoloration on old cowboy boots (due to weather or environmental factors), so the boots often look darker than the original but more even in skin tones.
Cons
Not a lustrous look!
This function can be pro or con depending on you.
Mink oil gives almost no shine on the leather surface after application.
It softens the leather but does not make it glossy like a mirror.
What you get is a very slight shine and soon this low glossiness will disappear.
If you want something extra gloss on your cowboy boots, mink oil is absolutely not what you wish to buy.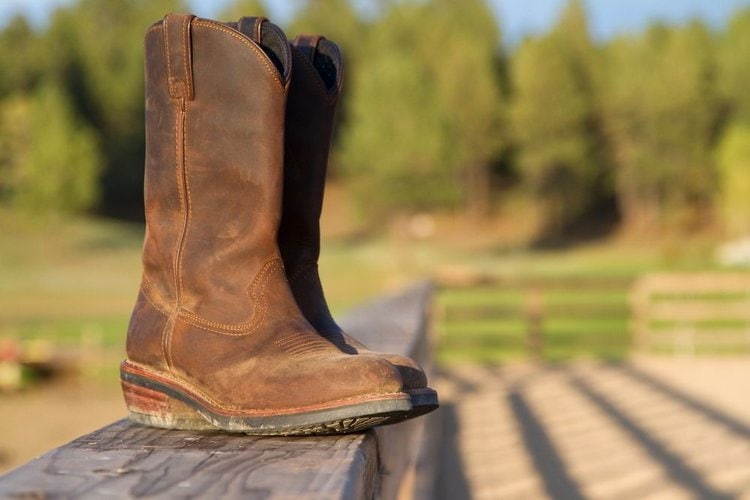 Very narrow options of color
You barely find mink oil polish with red, green, navy shades. They often come with no-color, black, and traditional brown mink oil wax and no-color liquid conditioner.
Therefore, keep in mind that your leather will surely darken after using mink oil.
Wild animal kill
In the past, our ancestors have used traditional mink oil that was made from the fat belly of dead minks. That means many minks have been killed to take their natural body fat.
Nowadays, we have found an amazing technology to extract fat from mink fur. As a result, this also reduces hunting and killing of this animal in the wild or overcrowded.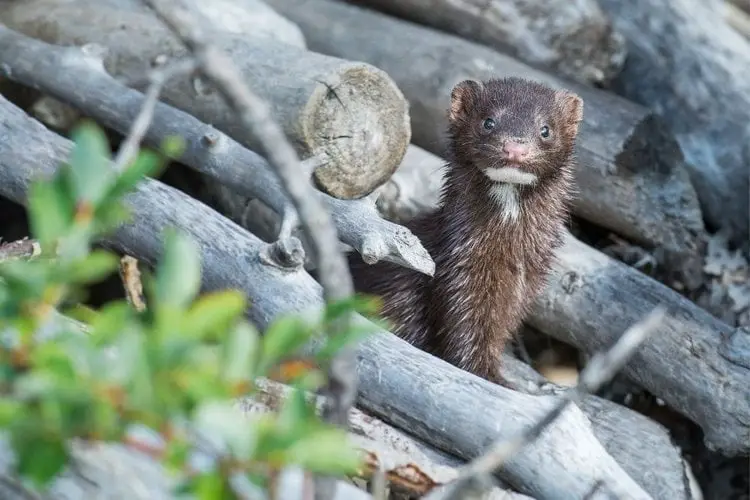 Is mink oil good for cowboy boots?
Yes, it is. We appreciate mink oil in 2 functions that your valuable boots will receive.
The first is to provide better water resistance to the skin's surface.
Most cowboy boot lovers are most afraid of watermarks on their leather footwear. They look nasty and hard to remove. They are also the culprits that make your skin tone uneven.
Mink oil helps protect the skin's surface more effectively to better resist water and water-based liquids. But this does not mean your boots are 100% waterproof.
Water-resistance will only last as long as the mink oil remains on the surface. Besides, your boots are also protected from snow, damages due to sand and salts.
The second is the ability to dramatically regenerate the appearance of cowboy boots. Many of us wear cowboy boots and find them quickly aging and discolored.
Especially if you work on them regularly. And an old pair of boots will make your outfit look disheveled and untidy.
That's why you should use mink oil more often for leather footwear.
It won't make you appear overly glossy. Instead, you will feel healthy leather in the most natural way.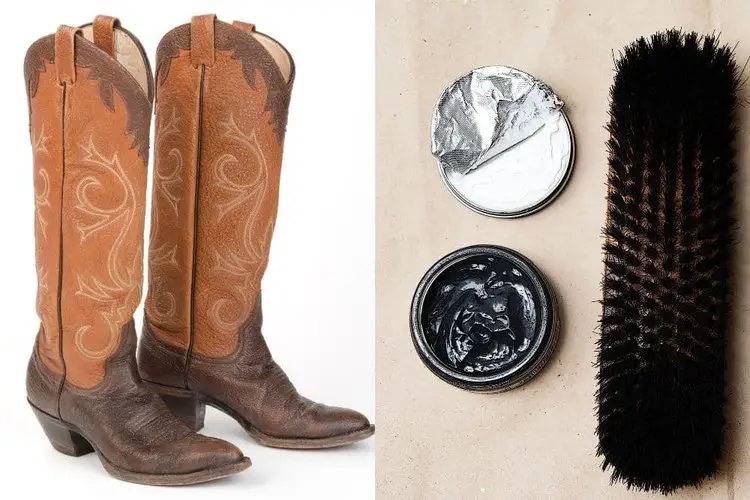 How to use mink oil on cowboy boots?
There are a few mink oil products including mink oil wax, mink oil conditioner, and some kinds of mink oil cream for a renovation that you can try to figure out which one is the best for the current conditions of your cowboy boots.
For normal polish, waterproofing, and conditioning, you can use mink oil wax and conditioner.
The wax has a more solid and thick texture than the conditioner. It also tends to stay longer and proves a greater waterproofness.
Mink oil wax is recommended for normal boots that have some small scratches, discolor, wrinkles, and dry.
The conditioner has a more liquid and soft texture that can penetrate faster than the wax.
You may not need too much brush to make the amazing change visible. It can correct some drier and more damaged spots on the boots better than wax.
However, it often quickly dries out, so we suggest you can apply wax after using the conditioner.
Mink oil cream for renovation is a special treat on heavily damaging leather footwear.
It sits somewhere between wax and conditioner perfectly in terms of texture, fatty concentration, and penetration.
It is also capable of dealing with heavy damages, renewing dry leather, improving heavy-abused scuffs and scratches, and being able to stay on leather for a long time.
How to MINK OIL Leather Boots | How BAD Does Mink Oil Darken Leather?
How to apply mink oil to cowboy boots?
First of all, pick the suitable mink oil products for your cowboy boots. Now we get to know these simple step-by-step instructions for leather care with mink oil.
You should prepare a soft brush /cotton pad, natural leather oil (optional), mink oil product, and polish product (optional).
3 Pieces Horsehair Shoes Polish Brushes Kit Leather Shoes Boots Care Clean Polish Daubers Applicators
Sof Sole Mink Oil for Conditioning and Waterproofing Leather, 3.5-Ounce, Limited Edition
3 Pieces Horsehair Shoes Polish Brushes Kit Leather Shoes Boots Care Clean Polish Daubers Applicators
Sof Sole Mink Oil for Conditioning and Waterproofing Leather, 3.5-Ounce, Limited Edition
Last update on 2023-09-25 / Affiliate links / Images from Amazon Product Advertising API
Step 1: You need to brush off as much dirt and debris as you can on the leather before applying mink oil.
This helps to create a smoother and sleek surface to promote better penetration.
Keep in mind to use a soft and leather-friendly brusher to prevent more damages that may happen in this step.
Step 2: Now, you can either apply one kind of natural oil before mink oil or using mink oil immediately.
The decision depends on the level of damages on boots. The more damage, the more oil applies.
You can use a cotton pad or soft cloth to gently rub a light layer of oil.
Moving the pad in a circulation motion to make the oil even for better absorption.
Let the leather dry completely.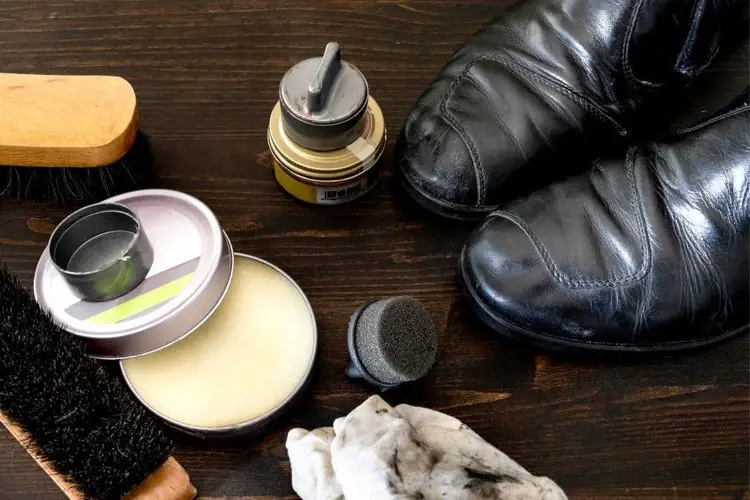 Step 3: Repeat the mink oil application if needed.
You will do the same as step 2 then let the boots dry out thoroughly.
Step 4: Apply a layer of polish coat if needed to make your boots shiny.
Let the boots dry after 8-12 hours before wear.
Top 3 picked mink oils for your cowboy boots
Wondering what types of mink oil to go for, we come up with these 3 top-rated mink oil products for you below:
Red Wing Heritage Unisex-Adult Mink Oil-U Wax
Red Wing Heritage Mink Oil, Clear, 20 M US
Protect and lengthen the life of your boots with our specialty made in the USA care products,...
Style No. 97105
Protect and lengthen the life of your boots with our specialty made in the USA care products,...
Last update on 2023-09-25 / Affiliate links / Images from Amazon Product Advertising API
One of the best original and popular made-in-the-USA mink oil, Red Wing Heritage Mink Oil Wax.
If you are a cowboy lover for decades, you will be no stranger to this excellent and affordable Red Wing mink oil.
The product is amazing in bringing back old boots to life again. And what you can expect is that it will not discolor your leather.
You can see your boots may darken a little bit after the first application, yet until the drying process gets done, your boots turn out a noble, healthy luster without darkening.
The product can be a great aid in breaking in your boots too. It softens the leather with excellent moisturization and tender feelings.
However, this is not a waterproof type. This Red Wing will bring a little water resistance but not as much as you expect.
Overall, this is a very worthy and affordable mink oil. Your boots can be back to a likely new and rich look every few months of maintenance with Red Wing.
Pros:
Excellent leather softening and moisturization
A very little darkening the leather without too much change
Great leather conditioning
Easy to apply
Available in no-color option
Con:
Very little waterproof effect
JobSite Premium Mink Oil Leather Waterproof Paste
Last update on 2023-09-26 / Affiliate links / Images from Amazon Product Advertising API
One of the best waterproof mink oil paste, JobSite Premium is something excess what you pay for.
This product does contain other oils more than just mink oil (but mainly mink oil). Therefore, it helps repel better dust, dirt, dry muds, and salts on the boots.
Many said it provides an amazing waterproof coat on the leather to get rid of watermarks, snows, and water-based liquids.
The paste works excellently to soften and moisturize the dry-to-supper-dry leather, including some damages with scratches and repeated wrinkles.
Your leathery footwear looks so healthy and rich in the glaze.
However, some reviews of the product may darken your leather to some certain extent.
So we suggest testing how it works before direct application on boots.
Some complaints about the stubborn white residue left on the boot surface after application. This is probably due to improper preservation and storage.
Pros:
Provide great waterproof effect
Excellent leather softening and preservation
Diversified uses for many leather objects
Available in no-color option
Cons:
Leave messy white residue on surfaces
Darken the leather
JobSite Premium Mink Oil Leather Waterproof Liquid
Last update on 2023-09-25 / Affiliate links / Images from Amazon Product Advertising API
Another Jobsite Mink Oil, but we got a waterproof liquid conditioner this time. This brings a fantastic waterproof to your boot to protect against watermarks and snows.
As liquid texture, it does give a versatile and easy-to-use handy application without messing around to cover a very small crease, crevice, and scratches.
You just need a cotton pad or soft cloth and your problems are solved.
But keep in mind that your boots may be darkened after applying. We recommend you to test its effects thoroughly at the first.
The product does an amazing job in softening and preserving the old and abused leather boots that bring them back to a new life once again.
Pros:
Easy-to-apply liquid texture
Available in no-color option
Amazing waterproof effect
Excellent leather softening and care
Con:
May darken the new leather
Wrapping it up
There is no better investment than taking care of your cowboy boots with mink oil. It costs a little bit every few months but you even always have a new pair of boots to wear for a lifetime.
Mink oil has always been a traditional leather conditioner of all time to Americans. No wonder why it brings so many benefits to leather care and protection.
Howdy y'all, and welcome to From The Guest Room, your ultimate guide to all things Western! I'm Jay Gatz, a lifelong cowboy boot enthusiast with over 5 years of experience in the Western style world. I'm excited to share my knowledge with you and help you discover the perfect cowboy boots and western gear to elevate your style. Let's explore the rich history and timeless appeal of Western fashion together!