Cowboy boots are one of the traditional and popular footwear in Texans, not only in the past but also in our modern time. They are now even superior.
If you look at cowboy boots and think these boots are old and Texans rarely use them, you are wrong. Thanks to the development in technology, production, and the great work of bootmakers, cowboy boots are getting closer and closer to the masses.
Today, we're going to talk about why cowboy boots are still so popular among Texan people.
Let's check it out!
Key Takeaways
Cowboy boots are still extremely popular in Texas today and even more popular than in the past as they cater to the needs of a wider range of customers.
The evolution in style and the construction of cowboy boots makes them incomparable with other footwear. You should try some Tecovas or Ariat boots.
Today's cowboy boots are very friendly to people who often stand on their feet, not just to serve the riders.
In Texas, Cowboy Boots are still very Popular
If you have a chance, stop by Texas for a week and try to hang out as much as you can, especially at the ranch. You will find that cowboy boots are still very popular here.
More specifically, cowboy boots in Texas are no longer worn only by ranchers like in the past. Today, you can see them worn by everyone everywhere.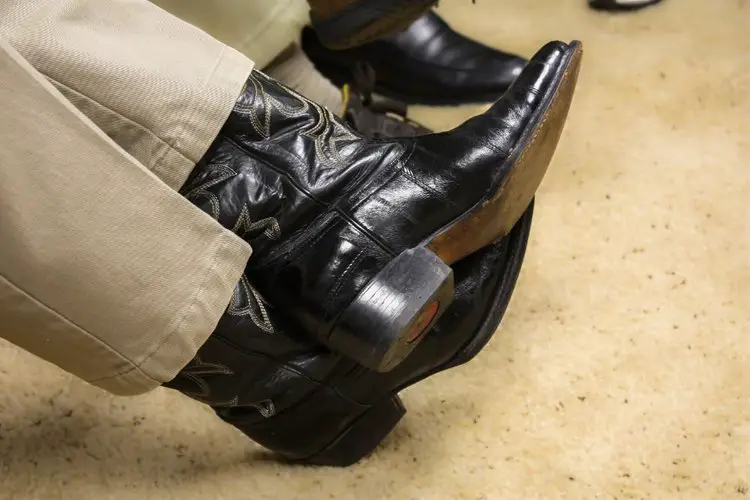 What you need to know here is that the cowboy boots of the 21st century have had a lot of developments in structure and style. They deliver a very different experience in the past.
In the old days, cowboy boots were primarily constructed to support ranchers in riding horses to herd cattle in pastures, so they weren't very walk-friendly or overly distressed in style.
Specifically, their structure includes:
High heels (to make sure your feet don't slide up and out of the stirrup), put a lot of stress on your heels, knees, and ankles.
Narrow toe shape (round toe or pointed toe): The purpose is to help the boots easily get into the saddle stirrup, but it might pinch the toes.
The slippery outsole helps (leather sole) slide into the stirrup easily but it may be difficult for you to walk on bumpy terrain.
Some other factors such as lack of arch support, midsole, and insole also make you uncomfortable when wearing boots and walking on foot.
Due to the above factors, cowboy boots were popular in the past, but they were only popular among ranchers. Today, things are different.
If you look at some of the new and dynamic brands of cowboy boots like Tecovas, Ariat, and Chisos, or some big and long-standing brands like Lucchese and Tony Lama. You will feel something special.
What's special here is that they have a very modern and trendy look and style, not old or too wild. And as mentioned above, you will see Texans wearing cowboy boots with chinos for business casual, matching them with suits for palace weddings, pairing them with jeans for casual wear, wearing them with khakis for truck driving, etc.
The style of cowboy boots today is also made up of exotic leathers, each providing a unique different look. For example, the elegance of caiman belly and lizard; the sharpness of python leather. These things will surely make other footwear admire them.
Cowboy boots now don't just stop at the farm but have crept into the masses, not to mention the style and the technology applied to cowboy boots are also very advanced.
Some modern structures include insoles with cushioning, arch support, shank, lining, midsole, etc.
Some specialized cowboy boots for outdoor work may also be equipped with waterproofing, safety toes (steel or composite), etc.
In addition, cowboy boots are diverse in construction as you will find shoes with heels that are not too high, toe boxes with lots of room (round toe, square toe), and bottoms with lots of traction (rubber soles).
Not to mention, the exotic leathers also bring great sensations. For example, ostrich boots are extremely soft and durable and are one of the most popular boots in the cowboy work boot line.
All of the above makes cowboy boots friendly to people who often stand on their feet rather than on horses. You will find it easier to balance, walk and be more comfortable.
In general, today you can think of cowboy boots as a pair of work boots, dress shoes or walking shoes because they are extremely versatile.
They are very convincing reasons why Texan people still love cowboy boots! They are not only traditions but also the present and future!
Before you leave
There is no doubt that cowboy boots are still worn by people in Texans. If you don't believe it, catch a flight there, and you'll understand.
How about you? Are the reasons above enough to convince you to try on a pair of cowboy boots? I guarantee you will find a boot that suits your style.
I'm sure!
Howdy y'all! I'm Grace, a Western style enthusiast with over 5 years of experience. From cowboy boots to western gear, I'm passionate about all things Western and dedicated to helping you find the perfect style to suit your taste. Join me and my fiancé Jay Gatz as we explore the rich history and timeless appeal of Western fashion together!