Cowboy boots in recent years have had many structural changes, most notably their toe shape.
People in the past might only know pointed toe or round toe, but things are different now. In our modern days, cowboy boots appear with a snip toe, square toe or broad square toe.
And from there, comparisons and controversies arose. For example, round toe vs square toe, which toe type is better?
Well, this is not an easy topic, but I will try to give my fairest view. Hopefully, you can find a suitable choice for you!
Let's get started!
Round toe vs Square toe Cowboy Boots: Which is better?
Each type of toe shape has its own strengths, so I'll break down this analysis into categories.
Among them, the comparison and assessment of comfort and style are the two things that many people are most interested in.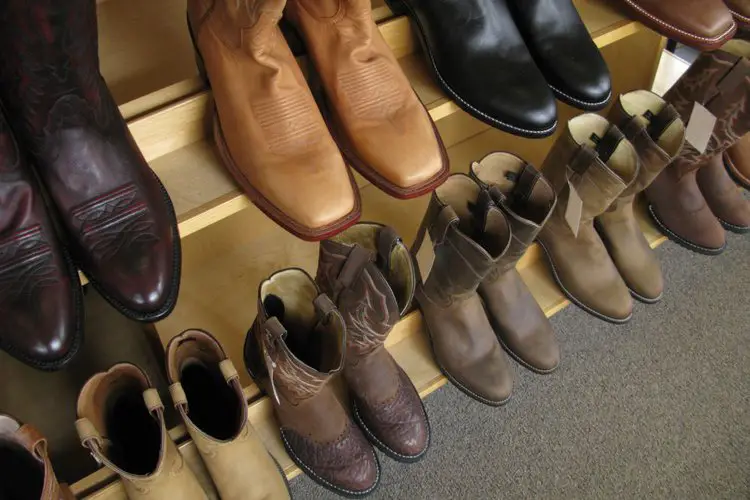 Comfort
If you love comfort, then both square toe and round toe are just right for you. Simply because they give the toes plenty of room to wiggle.
However, square toe boots are still marginally better than round toe ones as there is more space for the ball of the feet. Besides, the round toe shape in many boots also tends to taper towards the tip.
Cowboy boots with square toes also often have a wider and flatter bottom to provide better balance and stability.
Therefore, in terms of comfort, if the square toe is 10 points, then the round toe is worth 9 points. In fact, if you want a highly comfortable pair of boots, round toe and square toe won't give you a headache choosing one of them. Just pick the one you like.
If you've been a die-hard fan of cowboy boots for the past 10 to 15 years, you'll know that most work boots come with square toe or round toe.
These days, round toe boots specially made for heavy outdoor work have toe boxes that are even wider than traditional style ones. And of course, they also offer a much higher level of comfort!
Style
There is a small fact around the cowboy boots community: most people still prefer round toe cowboy boots to square toe ones.
One of the predictable reasons is that the round toe is the first and most classic toe shape of cowboy boots. Round toe cowboy boots represent the history, culture, and lifestyle of Westerners.
People often prefer round toe cowboy boots because they taper toward the tip to bring the illusion of slimmer and longer feet. This toe type combined with a high heel can make you look confident, attractive and somewhat arrogant. Those are the wonderful things that men always want to have.
Likewise, many girls don't like square toe boots because they make the feet look big and lack sophistication. A man may like square toe boots because they don't mind their feet looking big, but girls are different.
Many men still prefer square toe boots due to their strong and sometimes rugged look.
But as noted above, they lack sophistication! Nowadays, people not only use cowboy boots for farm work but sometimes for suits or weddings in luxurious places – cowboy boots with round toes with a subtle and sharper look will be a favorable choice.
Regarding the style, if round toe boots deserve 10 points, I will give square toe boots 8 out of 10 points.
Function
When it comes to outdoor work, it's hard to say that round toe or square toe can prevail as both of these toe shapes provide a very high level of comfort and stability for workers.
Both round toe and square toe cowboy boots are great for ranch work, riding trucks, yard work, or even construction sites if reinforced with steel or composite.
However, there is one thing that the round toe is slightly better than the square toe, which is support when riding a horse. It is not difficult to understand when this is the primary reason why cowboy boots were born.
Round toe cowboy boots have a tapered tip which allows them to easily slip into/out of the saddle's stirrup, so the wearer can get on or off the horse's back more easily and flexibly.
Meanwhile, square toe cowboy boots can provide a very high level of comfort but may not slip into the stirrup smoothly.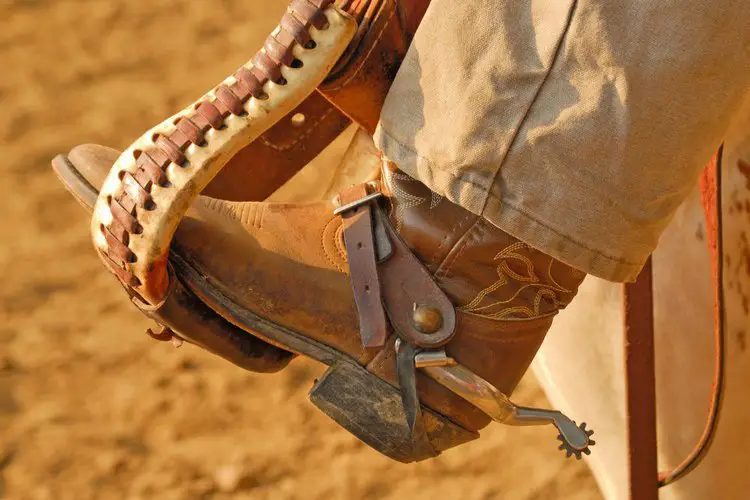 What about using boots indoors?
I'm pretty sure the round toe has a much bigger advantage over the square toe.
As we clarified in the style section above, round toe cowboy boots are used more as they have an elegant and edgy look. A pair of lizard round toe cowboy boots will lighten your mind with their delicate appearance.
Therefore, round toe boots can go with many different outfits, not just khakis pants or jeans.
Men can absolutely use round toe boots to go with dress pants for the office or combine them with suits for the wedding.
Or girls can wear round toe cowboy boots with skirts, dresses, skinny jeans, or leggings without worrying about their feet looking big.
Square toe cowboy boots possess a strong and rugged appearance, so they are only suitable for men, not really suitable for women, especially in elegant places.
In this regard, round toe boots continue to get 10 points, whereas, I rate square toe as 8 points.
Should you choose square toe or round toe cowboy boots?
This much depends on your intended use.
For example, if you love comfort and need a pair of cowboy boots to work all day long in hot or cold weather. Then square toe cowboy boots are really a very good choice.
However, if you want comfort, style, versatility (to use them both indoors and outdoors), and easy mixing and matching with different outfits, then you should choose round toe cowboy boots.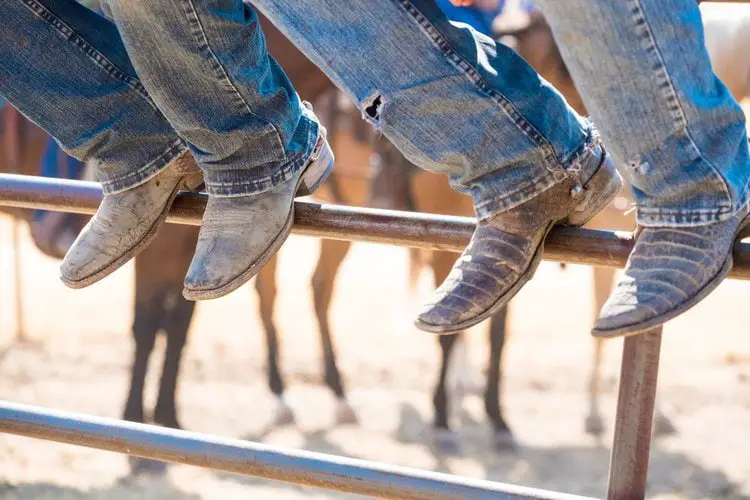 Conclusion
| | | |
| --- | --- | --- |
| | Round toe | Square toe |
| Comfort | 🌟🌟🌟🌟 | 🌟🌟🌟🌟🌟 |
| Style | 🌟🌟🌟🌟🌟 | 🌟🌟🌟🌟 |
| Function | 🌟🌟🌟🌟🌟 | 🌟🌟🌟🌟 |
To sum up, in terms of comfort, square toe cowboy boots are slightly better than round toe ones as they can have more room in the toes, and especially in the ball of the feet. However, that difference is really not too much.
A lot of people love round toe cowboy boots due to their cool, classic and sharp look that embodies the lifestyle of an era.
The comfort of the round toe may be slightly inferior to the square toe, but it is still enough for most users. Plus, the style of round toe is more appreciated to be used for many different purposes.
Besides outdoor work, cowboy boots with round toes can appear in luxurious places such as weddings or elegant places such as the office.
In fact, these two types of toe shapes are very popular these days compared to pointed toe or snip toe. Round toe cowboy boots are still the most popular. And almost any cowboy boot fan has a pair of round toe cowboy boots at home.
Based on all the above, round toe cowboy boots are still marginally better than square toes.
I prefer using square toe boots for outdoor work because they are extremely comfortable. But overall, round toes will be my choice for any occasion!
How about you? What do you think?
Howdy y'all, and welcome to From The Guest Room, your ultimate guide to all things Western! I'm Jay Gatz, a lifelong cowboy boot enthusiast with over 5 years of experience in the Western style world. I'm excited to share my knowledge with you and help you discover the perfect cowboy boots and western gear to elevate your style. Let's explore the rich history and timeless appeal of Western fashion together!