In my subjective opinion, ostrich cowboy boots are one of the most loved and used boots by many people just after cowhide.
Nowadays, cowboy boots made from exotic leather are more and more popular. Different types of exotic leather have their own strengths and weaknesses.
Among the types of exotic leather, the most outstanding one is ostrich leather. This is a very widely used material as it can meet difficult requirements in terms of both fashion and function.
Why? And how do you find a good pair of ostrich boots?
Today's article is the answer for you!
Are ostrich cowboy boots good?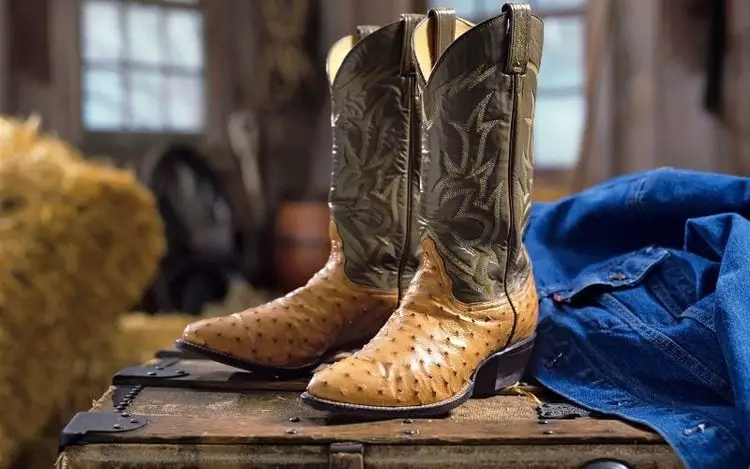 I can confirm that ostrich cowboy boots are very good cowboy boots whether you want to use them for work or casual wear. Simply because they gather all the essential elements such as beauty, softness, breathability, comfort, and durability.
Based on some studies, ostrich leather contains a lot of natural oils so it does not dry out or crack. Therefore, this leather is very soft and extremely durable.
The above explains why ostrich boots are so popular for casual wear and outdoor working, activities where comfort and durability of footwear are priorities.
Most other leathers require regular moisturizing to prevent drying and cracking. But with ostrich leather, you won't need to do that much.
Besides, ostrich leather is also a breathable material due to many pores in the structure. Therefore, many like to use ostrich cowboy boots for the summer.
I'm pretty sure that ostrich boots always stay on the list of the most comfortable and durable boots in the cowboy boots world.
In addition, the unique bumpy surface of ostrich leather is also a very interesting highlight, but the bumpy finish only appears in full quill ostrich – it's a common type of ostrich leather you often see.
Sometimes you will find some ostrich boots with a smooth surface because they are made from ostrich leg leather.
What do you think about ostrich leather cowboy boots? Is it really better than cowhide?
Is ostrich leather better than cow leather?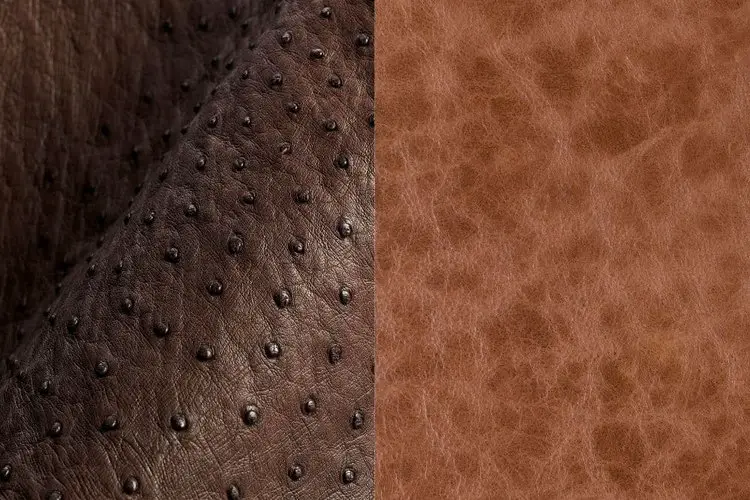 In terms of comfort and durability, I would choose ostrich leather cowboy boots. The simple reason is that ostrich leather is softer and less prone to drying than cow leather (thanks to the natural oil).
Ostrich leather cowboy boots should be a very good choice for summer or hot seasons because you won't have to spend too much effort conditioning them. Meanwhile, cowhide tends to dry quickly and crack easily than ostrich leather if not properly conditioned.
While cowboy boots made from ostrich leather are a great choice for ranch work or casual wear because of their durability and comfort, if I were to choose cowboy boots for heavy-duty work, I would opt for ones made from cowhide.
Ostrich leather is very durable but not as strong as cowhide leather. If you work in heavy machine environments such as maintenance of machinery or trucks, hard labor with lots of shearing, compression, or falling objects, you will need cowhide.
Cowhide is hard and sturdy so it is much more resistant to impact than ostrich leather. Most cowboy boots for work today are made from cowhide for that reason.
Above all, whether ostrich leather is better than cowhide depends on your purpose.
If you prefer to use cowboy boots for casual wear or outdoor work that is not too heavy, then ostrich leather wins over cowhide because it is more comfortable and durable as well as requires less care.
If you use cowboy boots at construction sites or industrial plants with heavy machinery, cowboy boots should be made from cowhide as they offer better protection with better impact resistance.
The 5 Best Ostrich Cowboy Boots
Most cowboy boots are still made from cowhide, I believe! That's why some ostrich cowboy boots lovers still have a hard time finding the good ones.
You should look for ostrich boots at the big brands producing handmade boots in the US or Mexico instead of across the ocean. Tecovas, Lucchese, and Tony Lama are such brands.
Taking too long? I have 5 gifts for you right below.
1. The Wyatt cowboy boots from Tecovas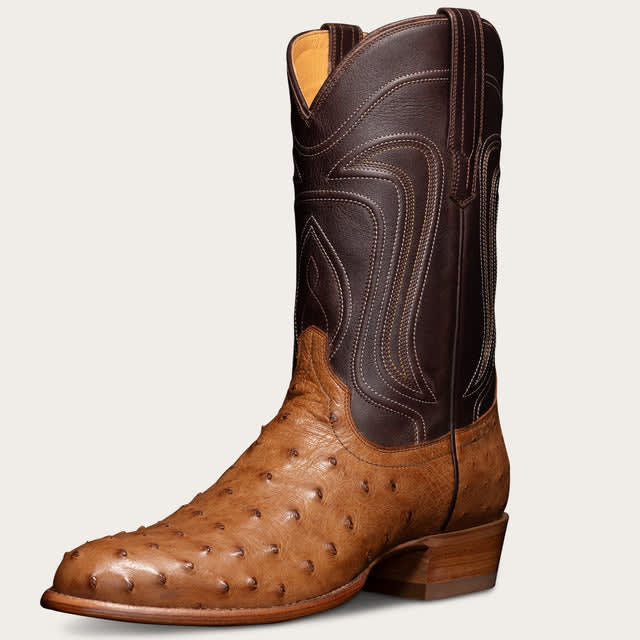 When Tecovas first approached me, they immediately offered The Wyatt ostrich boots as an offer of cooperation. And ever since I put on these boots, I know I've found a great pair of ostrich boots.
The Wyatt boots are made from full quill ostrich that you can easily recognize at first glance, the bumpy surface. That unique durability plus the natural wrinkles of The Wyatt will make you fall in love.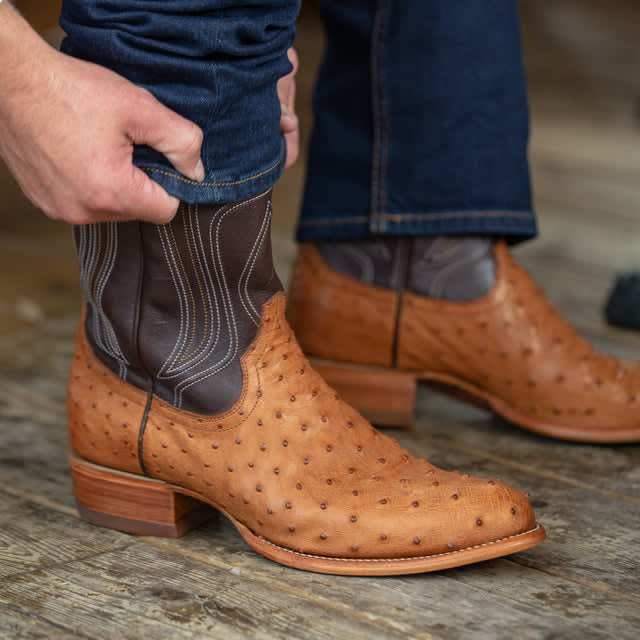 Featuring a classic cowboy shape, The Wyatt by Tecovas has a 1 1/2 inch cowboy heel. This is a very standard heel height to give you a confident and glamorous look but still maintain a good balance for casual wear.
The color of the heel is in tune with the upper and the stacked leather design, which makes the boot look sharp.
Aside from the heel, the toe shape of these cowboy boots is my favorite part. The round toe tapers to the tips to create a glamorous shape yet still offers plenty of room for toe comfort.
The leather sole is curved from heel to tip, giving it a sophisticated look. I always prefer leather soles over rubber ones because they look more elegant.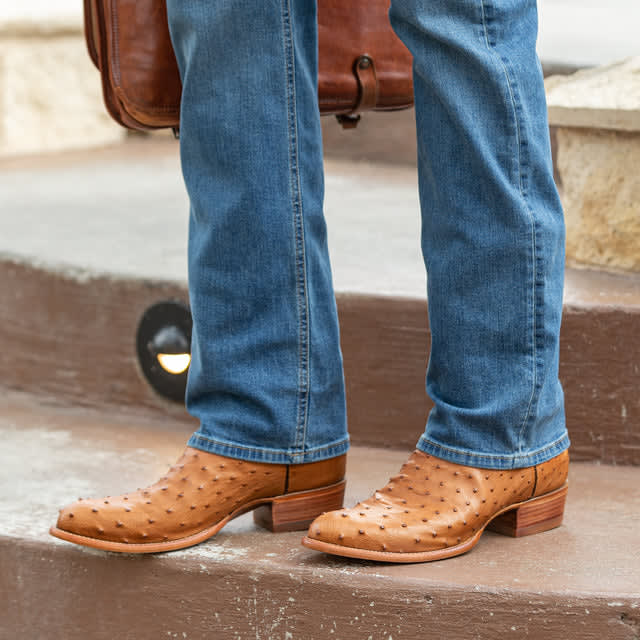 In addition, if you use boots in the summer, then leather soles are also a perfect choice over rubber ones because of their better breathability and moisture absorption.
The Wyatt is great not only for its unique vamp but also for its soft textured shaft that you can only find in Tecovas boots: signature Tecovas hand-corded calfskin shaft.
The shaft part of The Wyatt is very soft and molds the leg well. Plus, the leather lining feels very soft and comfortable.
In general, The Wyatt converges on all factors: comfort, durability, and beauty. Therefore, they can appear in more places than just on farms and ranches.
That's all you need in a good pair of ostrich boots.
2. The Jasper cowboy boots from Tecovas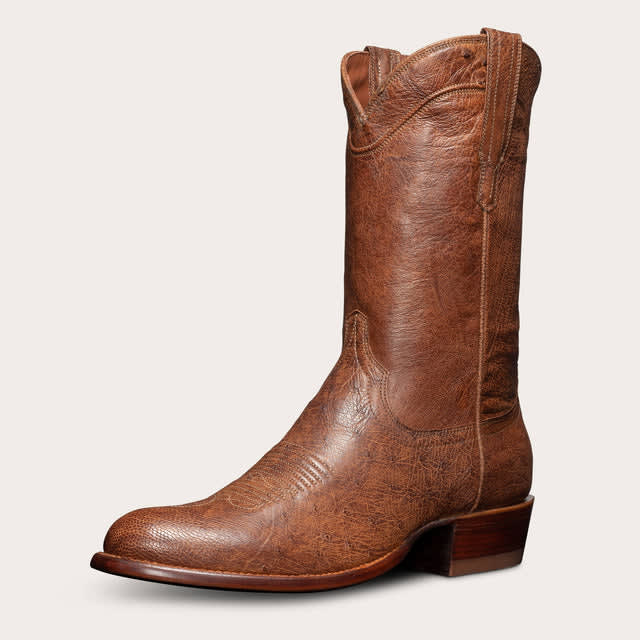 Although many people know ostrich boots with bumpy surfaces, many people don't know ostrich ones with smooth surfaces. Most cowboy boots are made from smooth ostrich leather which is easily confused with some lizard boots.
Try out The Jasper smooth ostrich boots, you'll love them!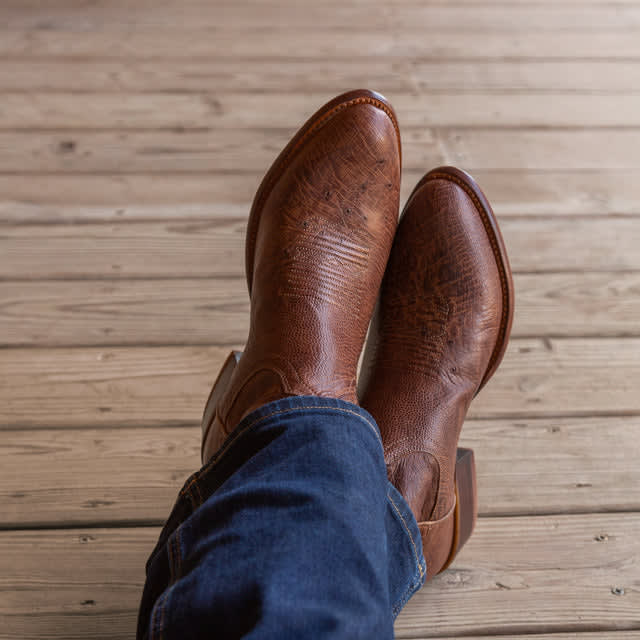 The special thing that makes The Jasper ostrich boots successful are their natural wrinkles and pores, which look wild and free-spirited.
The Jasper boots have a classic style from structure to color, so it is easy to style with many different outfits.
Inheriting all the outstanding features of ostrich leather that is softness and durability, The Jasper almost needs no break-in time and still molds your foot extremely well.
The 1 1/2 inch heel gives the wearer a tall and attractive figure. The stacked leather heel design and color harmonized with the upper make The Jasper really sharp.
The next impressive part is the round toe shape, it provides a lot of room in the ball of the foot but is tapered towards the tip to bring a nice look to the wearer's foot. Pretty sophisticated!
In addition, The Jasper's leather sole also does a great job of creating a subtle curve from heel to toe. The leather sole at the toe is slightly curved upwards to offer a somewhat arrogant style.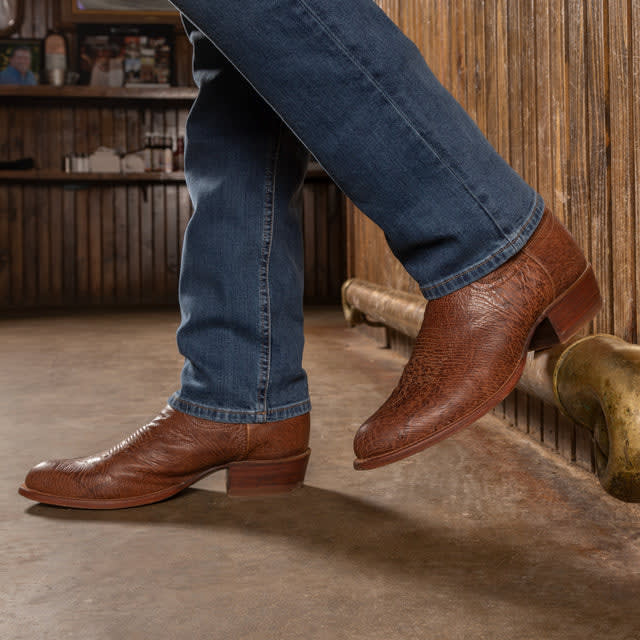 Besides, the leather sole when combined with the leather lining brings a soothing feeling to the wearer. That makes it possible to wear The Jasper boots no matter what season it is out there.
Well, beautiful, comfortable, and sophisticated, The Jasper deserves to be your top choice!
3. The Duke cowboy boots from Tecovas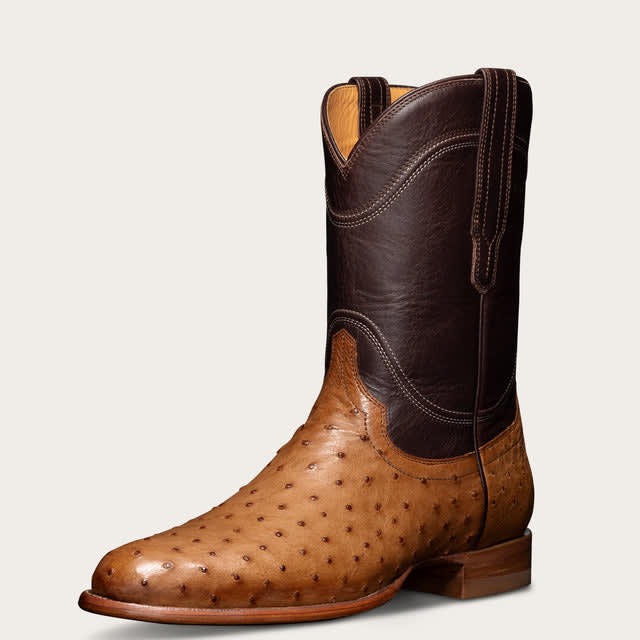 There is one type of cowboy boots that a lot of people love for work that are roper boots, especially the ostrich leather material.
Simply because the roper style cowboy boots have a low and lightweight construction that makes them easy to put on/take off without causing heat. They are even better if made from ostrich leather.
The Duke cowboy boots are one of the very favorite products of Tecovas with the above characteristics.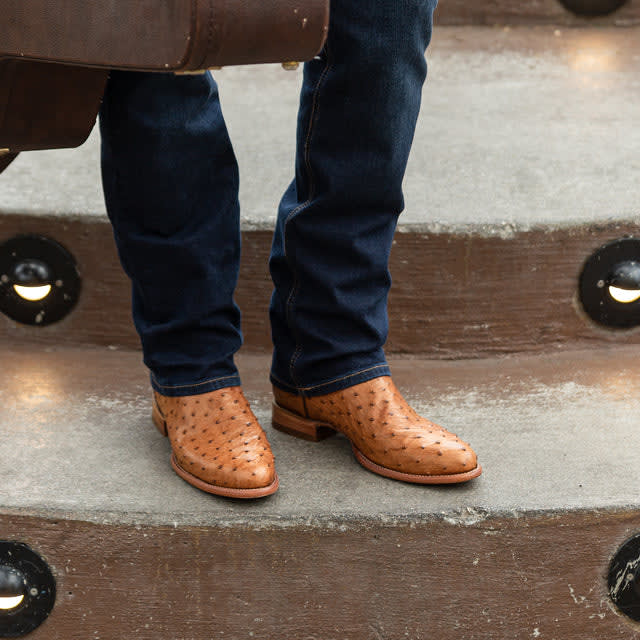 Bringing in the low and spacious construction of the roper style, The Duke boots have many outstanding features such as low heels (1 1/8 inch) and wide round toes. This ensures comfort and easy balance in every step.
Despite the wide round toe, The Duke owns a tapered tip and the signature ostrich bumpy surface, which looks great with jeans or khakis.
The thin leather sole combined with the stacked leather heel has brought harmony to the style of the boots. The leather sole can be a bit slippery at first, but that's offset by a rubber heel cap.
In return, leather soles are cooler than rubber ones because they are more breathable and moisture-wicking.
The calfskin shaft is soft and molds well, but it doesn't have a lot of textures to create an elegant feel. This is common in roper boots.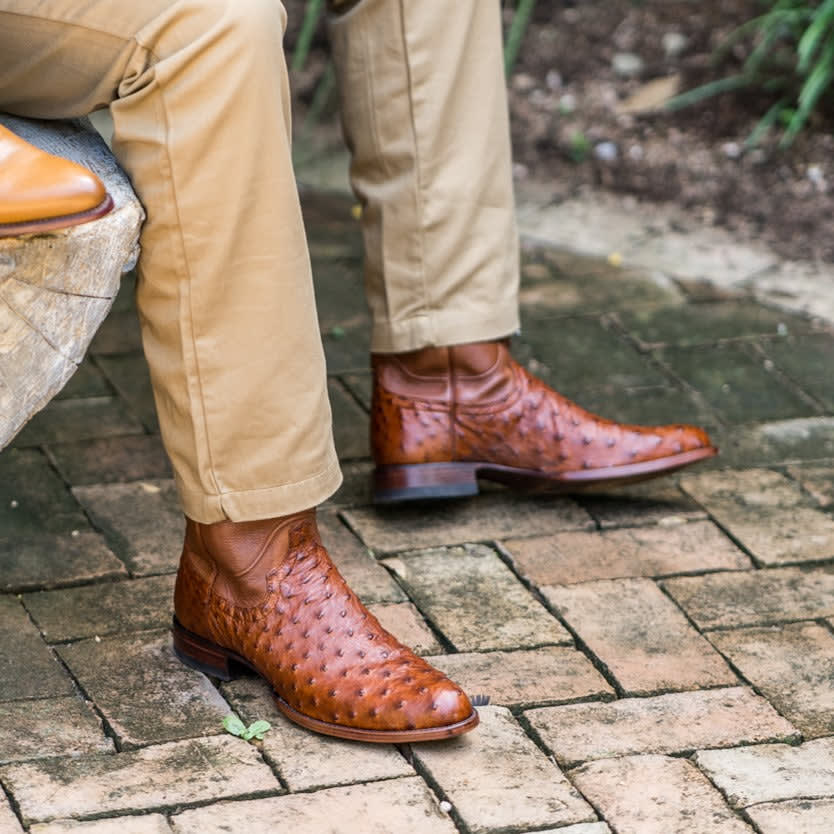 Overall, although I rate The Duke boots as great for work, their looks say they're more than that. You can appear at weddings or offices with The Duke on your feet without eye-raising.
4. The Carter cowboy boots from Tecovas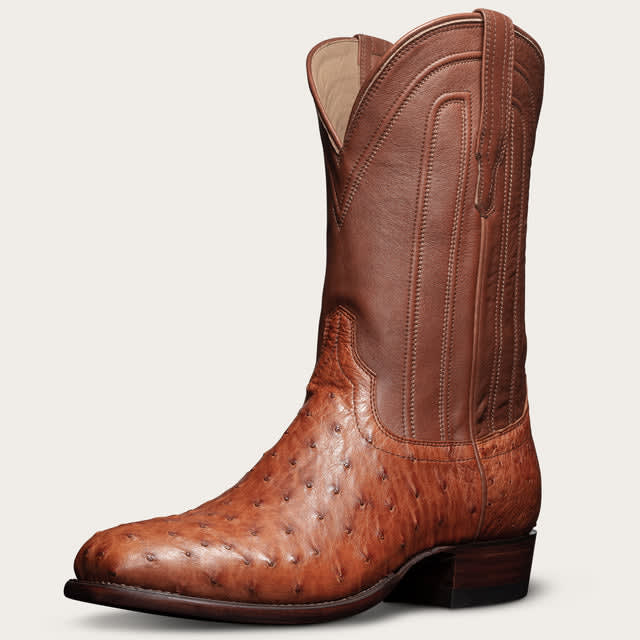 The cowboy boots above can both be a good choice for work or casual wear because of the comfort they provide. However, I will give you a really better choice, especially for outdoor work, which is The Carter boots.
The most distinguishing feature of this boot is the square toe shape. This square toe ensures that your toes have plenty of room to wiggle.
The fact that The Carter boots have square toes combined with soft ostrich leather is the most perfect combination in the world of cowboy work boots.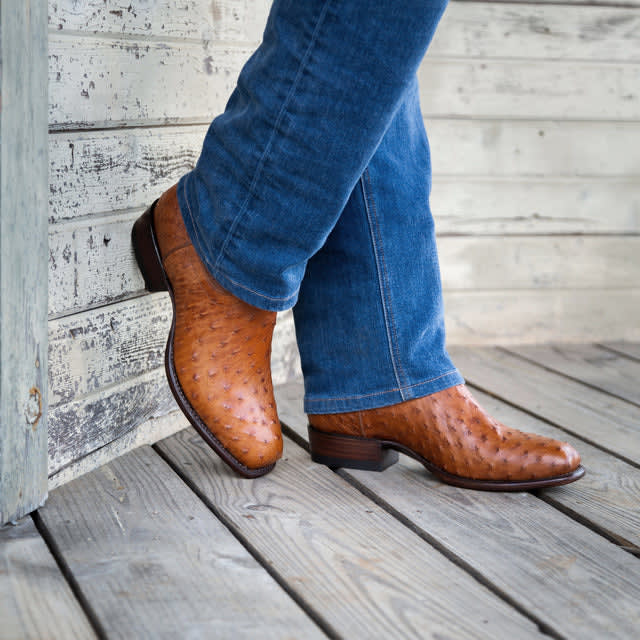 The Carter boots possess a tough look not only thanks to the square toe but you can also see it in the hybrid heel. This isn't really the type of heel that's usually found in the cowboy boots world, so it's a pretty interesting breakthrough.
In addition, a 1 1/4 inch heel is a very standard heel height to ensure your balance during work without putting a lot of stress on the joints.
The rubber end cap is an effective heel feature as it offers a pretty good grip while walking if the leather sole hasn't broken in well.
Besides ostrich leather, soft supple bovine lined are worth mentioning since it has done a wonderful job: absorbing sweat and being breathable. You can go to work all day in peace.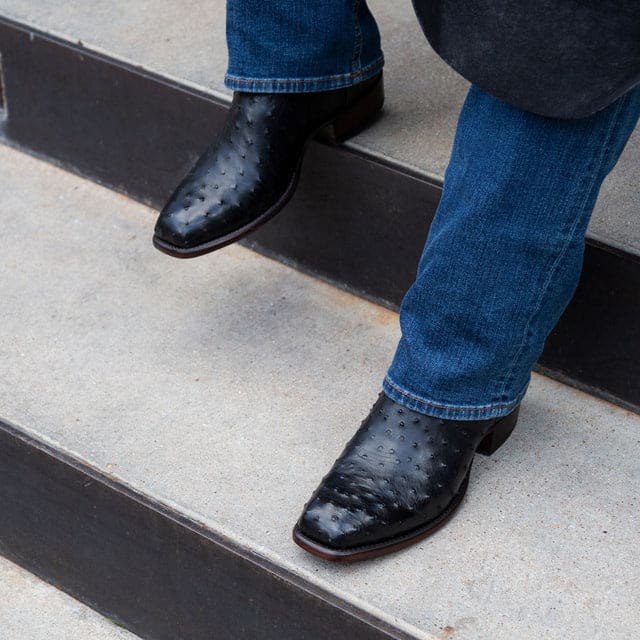 Moreover, the leather sole has great flexibility, excellent breathability and sweat absorption.
Although many people these days don't really like square toes because of their style, to be honest, cowboy boots with square toes are always a good choice for working. The amazing comfort they provide is amazing.
5. The Emmitt cowboy boots from Tecovas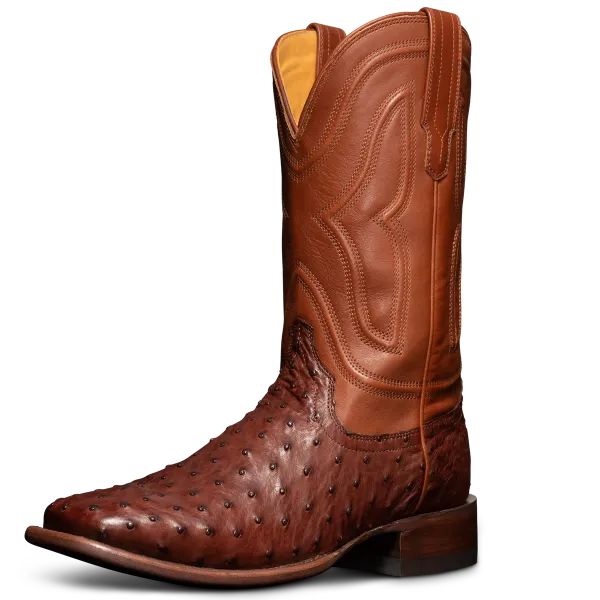 If you think cowboy boots with square toes can provide the best comfort for work, that's not necessarily true. These days, broad square toe cowboy boots are also very popular because they have more room for both the ball of the feet and toes.
Those features, plus the softness of the ostrich leather and the moisture-wicking ability of the leather sole, make The Emmitt unbeatable in terms of comfort.
Besides, thanks to the broad square toe construction, these cowboy boots have a very wide and flat bottom to provide you with better flatness on many different terrains.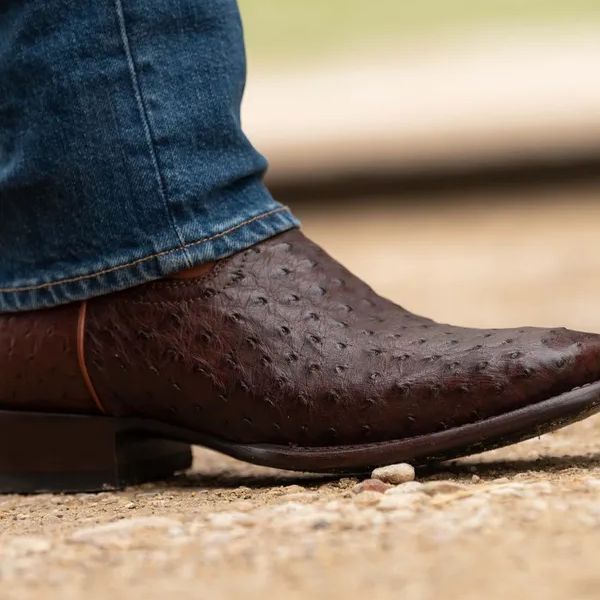 Tecovas cowboy boots often have good arch support, which is great for people who wear boots all day. Because this feature will reduce the stress load on the joints in your ankles, back and knees.
In addition to good performance and impressive vamps, The Emmitt shaft is also very beautiful with sharp textures; it's a typical style of Tecovas.
The color of the stacked leather heel and leather sole is very similar and classic, so it is very harmonious with the upper.
I love wearing The Emmitt boots with khakis, how about you?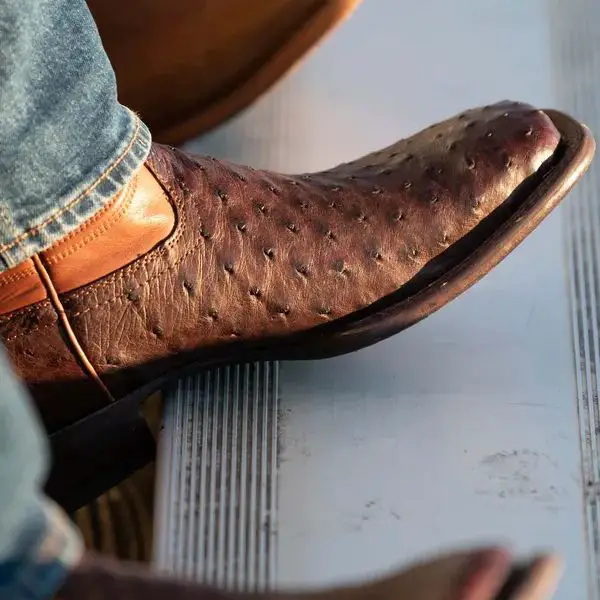 Before you leave
One thing that few dares to deny is that ostrich leather is the most popular cowboy boot material just behind cowhide.
With its naturally oily properties, ostrich leather is very soft and does not dry out or crack.  Plus, it is very durable, and comfortable while in use. That explains why so many people love using ostrich boots for work or casual wear.
Not only that, the look of ostrich cowboy boots is also very attractive, they go well with jeans or khakis.
How about you? What is your experience with ostrich cowboy boots?
Howdy y'all, and welcome to From The Guest Room, your ultimate guide to all things Western! I'm Jay Gatz, a lifelong cowboy boot enthusiast with over 5 years of experience in the Western style world. I'm excited to share my knowledge with you and help you discover the perfect cowboy boots and western gear to elevate your style. Let's explore the rich history and timeless appeal of Western fashion together!