Today, cowboy boots have many structural changes, besides, they are not only present on the ranch as the original purpose. That's why many novices these days aren't really sure of these boots' true purpose.
Despite many variations, one thing is for sure: most cowboy boots today are still made for the outdoors.
However, there are also many cowboy boots today produced to serve indoors. Therefore, you need to have a clear distinction to be able to choose the right boots for you.
That is also the main topic for today's article, cowboy boots for outdoors, are they good enough or not? Why and how to choose the right ones?
Let's check it out!
Cowboy Boots for Outdoors? Yes, or No, and Why?
In fact, most cowboy boots are the perfect choice for the outdoors. They were born for it!
Back in the late 18th century and early 19th century, cowboy boots were born to serve farmers. Therefore, their construction offers everything you need for the outdoors, including comfort, protection, convenience and versatility.
Although there are some structural changes, in essence, cowboy boots now still fully include the above factors. And in my opinion, that change mostly brings good inclinations.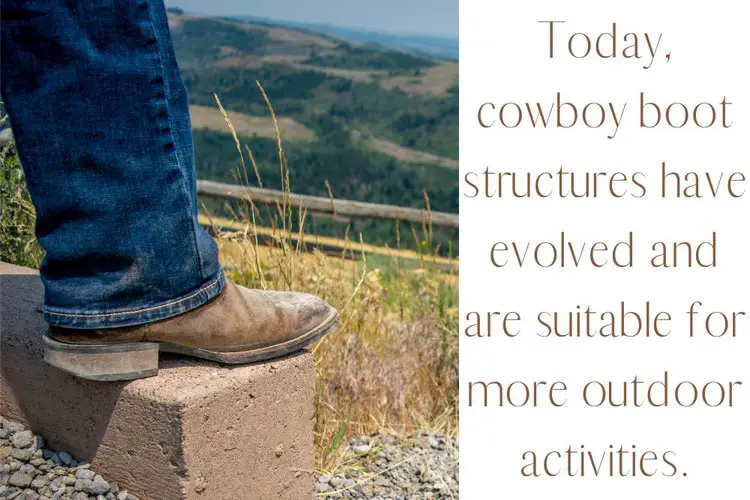 1. Good protection
Made from 100% leather, most cowboy boots are very sturdy, so they can protect your feet against unfavorable weather like hot sun or snow.
Besides, leather is water resistant to ensure your feet are dry in small rains. Not to mention the tall structure (about 11 inches) will protect you against the onslaught of mud.
When participating in outdoor activities, cowboy boots can also protect you against some animals such as small snakes, scorpions, insects, leeches or graters, etc.
Nowadays, many boots specially designed for outdoor work are equipped with safety toes, rubber soles, etc. They ensure a higher level of safety for the workers than traditional boots (I'll say more about this below).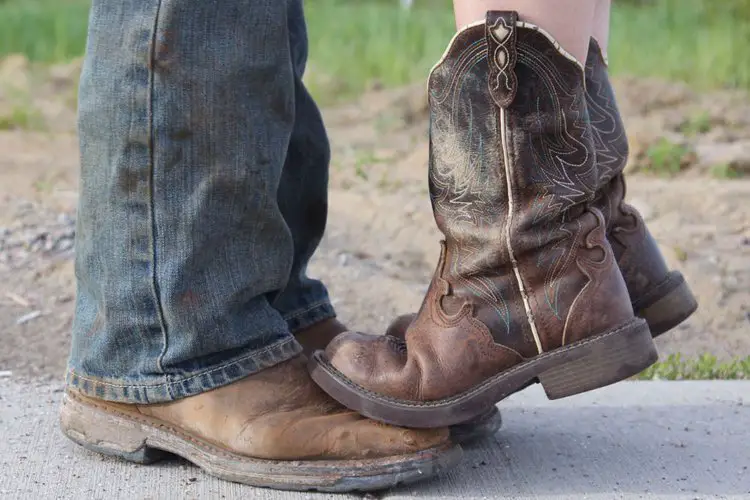 2. Comfortable
Thanks to the sturdy and tall construction of 100% leather, cowboy boots provide a high level of comfort for the outdoors. These 2 factors ensure your feet are not scorched by the hot sun and can be warm in winter.
Most boots are equipped with lining and insoles made from mesh, or leather, but the common point is that they absorb sweat very well.
For example, if you wear cowboy boots for the summer, leather lining and insoles with good sweat absorption will make you feel cooler, not hot as people think.
Today, modern cowboy boots are also equipped with many advanced technologies such as EVA midsoles, shanks, etc. to help your feet move smoothly in every step.
You can go to Tecovas, they have cowboy boots that can give good arch support thanks to the shank construction and lemonwood pegs. Many people love these because they take the pressure off your joints (ankle, arch, knee, hip, etc.).
The daily evolution of exotic boots is also great for the outdoors, you will have more choices. For example, a pair of cowboy boots made of ostrich leather is great for outdoor activities because they are extremely soft and comfortable.
Nowadays, cowboy boots not only have a high heel and narrow toe box, but many boots also have short heel and wide toe box to ensure your comfort for all-day activities.
Therefore, cowboy boots now are not only for outdoor work but also for other sports activities such as hiking, camping or fishing. Simply because they are safe and comfortable enough.
3. Convenience
While it may sound a bit strange, I really like the laceless construction of cowboy boots.
First, you won't need to spend a ton of time cleaning up stains in the eyelets, tongue, and laces.
Second, you won't be afraid of them getting stuck on anything when working or playing sports. This ensures greater safety for you.
Finally, you don't have to spend a ton of time tying, tightening, or loosening the laces. Personally, I feel cowboy boots are easier to put on/take off than work boots or hiking boots.
And convenience is what you need for any outdoor activity!
Although there are also some downsides (I'll talk about them below), I'm sure many people will love the above characteristics.
However, although cowboy boots are suitable for the outdoors, not all of them are. There are still some inherent weaknesses of them that you should know to avoid.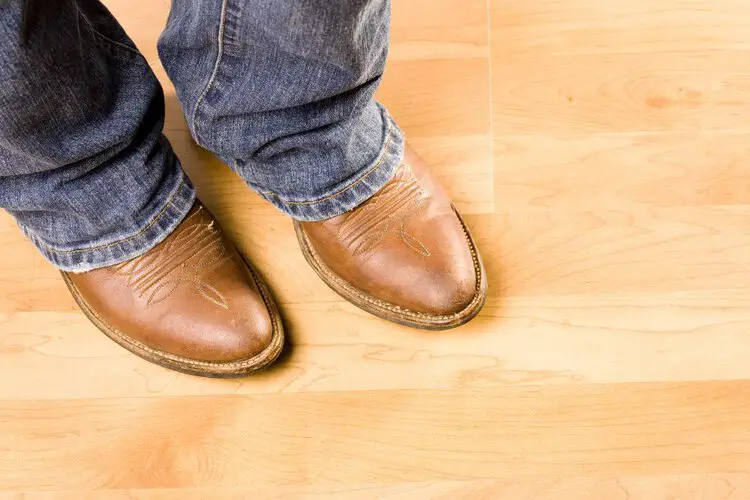 4. Versatility
Many people still think of cowboy boots as the number one choice for horseback riding on the ranch. Therefore, they are not really suitable for the outdoors, especially for those who often stand on their feet.
Well, that used to be true. Cowboy boots with pointed toes (too narrow), high heels (difficult to balance and put a lot of pressure on the heel and knee) and smooth leather soles (too slippery) are really not a good choice for outdoors.
But today, many structural improvements of cowboy boots in the heel, toe and sole have changed that.
Many modern cowboy boots support the wearer well while walking or standing all day long with a wide toe box thanks to the square toe or round toe shape.
In addition, the heel of cowboy boots also has a lot of changes when there are many lower types (roper or stockman heel), ranging only about 1 1/2 inches. This feature ensures your comfort and balance while walking.
With the appearance of rubber soles, you have more choices for the sole. Rubber soles can grip better, and are more durable and impact-resistant.
The insoles of cowboy boot brands have also been upgraded as they can provide more support in your heel, ankle and especially your arch.
Therefore, cowboy boots can now be used for hiking, camping and many other outdoor activities. They are more versatile than ever, not just appearing on the ranch.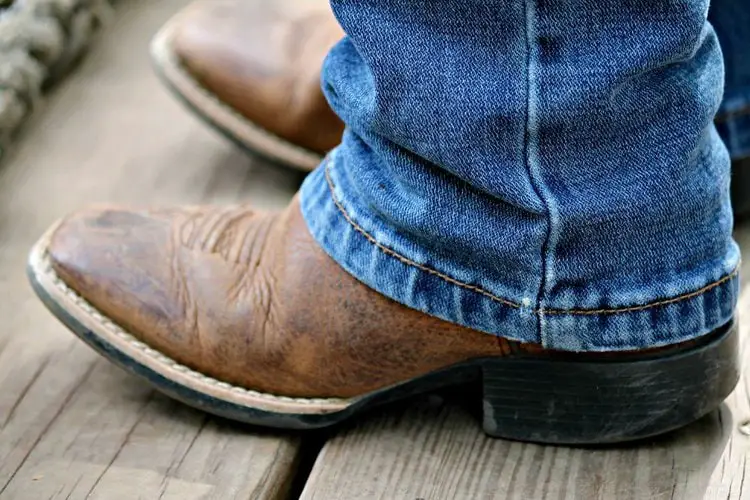 5. Very high durability
Another strong point of cowboy boots that may make you fall in love is that they are extremely durable.
Made from 100% leather, this material is very durable due to its ability to withstand impacts from the environment.
In addition to cowhide boots, cowboy boots made from ostrich or shark leather are also great choices for the outdoors since they are not only comfortable but also extremely durable.
A pair of cowboy boots that can last more than 10 years is a very common thing.
Some notes while wearing cowboy boots for the outdoors
As I mentioned at the beginning of the article, today's cowboy boots have evolved as they have a variety of structures.
Some types of cowboy boots may not be suitable for one job but may fit another. So, the best way is to determine your true purpose before buying them.
Here are some examples, if I need a cowboy boot for the summer, I will go for a pair with a leather sole and lining as a priority.
The main reason is that the leather sole and leather lining absorb moisture well, breathe and feel very cool even in hot weather.
In addition, I also love using cowboy boots made from goat or ostrich leather because they are soft and breathable, so it is perfect for making your feet cooler in the hot season.
However, if used in the rainy or snowy seasons, rubber sole and mesh lining will be better.
The main reason is that the rubber sole grips much better than the leather sole so it will be easier for you to balance when walking. The rubber sole also insulates to keep you warmer.
Note: Although cowboy boots are useful in many different outdoor activities these days, there are a few activities you should avoid, such as running in cowboy boots.
Cowboy boots are quite heavy so they are not really suitable for running. The weight of the footwear is very important in this regard.
In addition, laceless construction also does not guarantee that the boots will lie neatly on your feet for each step, but tend to slip down. Many studies show that shoes with laces will fit and hug your feet better when running.
In addition to the examples above, there are a few general guidelines that I think you should follow to get the desired comfort when doing outdoor activities.
Traditional cowboy boots often have quite high heels. The main purpose of this design is for riding, but it is not really suitable for people who often walk on their feet.
Short heels are born for providing better balance for you during a long day at work or outdoor sports.
Fortunately, many cowboy boots today have short heel types, you should look at the roper heel or stockman heel. Or, simply look for cowboy boots with heels that are no more than 1 1/2 inches high.
The 1 1/2 inch heel will ensure that your heels and knees don't get too much pressure every time you walk. And even if you ride a horse, 1 1/2 inches is good enough to make sure your feet don't slip off the saddle stirrup.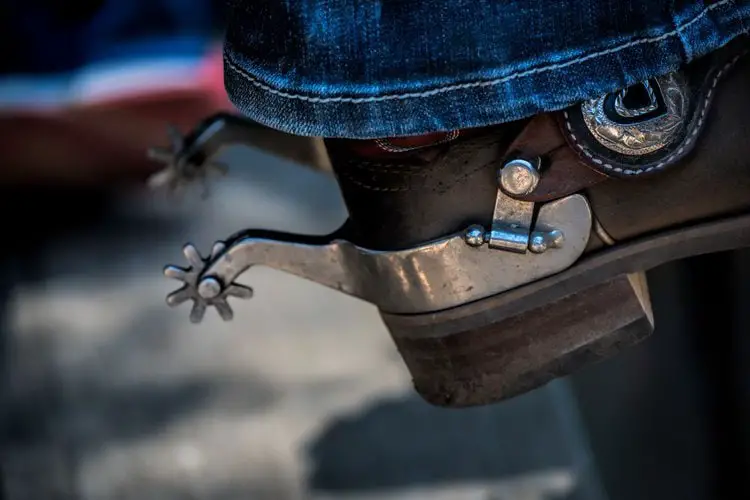 Again, traditional cowboy boots often have a narrow toe shape that makes it easy for cowboys to slip their feet in or out of the saddle stirrup. And this feature is not really good for outdoor masters.
You should opt for cowboy boots with a wide toe box. Square toe or round toe are better choices than pointed or snip toes.
A roomy toe box ensures your toes are not numb due to being pressed together when moving. This is a very necessary feature.
Round toe cowboy boots are often the most popular type of boots. They offer a lot of room for your feet, and style, and especially if you want to ride a horse, they still support you very well.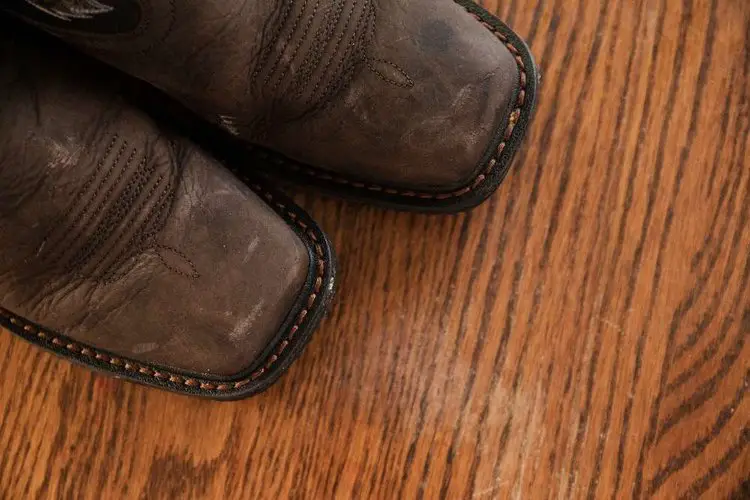 More support for the sole
Today's cowboy boots brands like Tecovas or Ariat all support the soles of the wearer's feet with advanced technologies applied right in the boots.
Tecovas with shank and lemonwood pegs are guaranteed to support your arch well. Ariat with EVA midsole ensures your feet are comfortably cushioned.
You should choose such boots because they ensure you can work all day long without much fatigue.
If you already own a pair of cowboy boots with a flat insole, you should also buy some extra insoles on the market with the same support as mentioned above.
Before you leave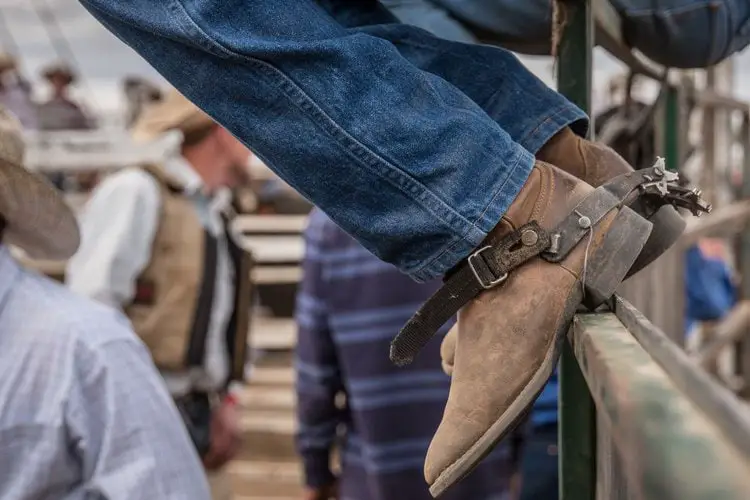 In short, cowboy boots today are absolutely good enough for most outdoor activities, including sports and work.
Thanks to the structural properties of cowboy boots developed and improved, they are now more comfortable, safer and easier to use for a variety of purposes.
You can totally use cowboy boots for hiking, fishing, ranching, and farming without any problems.
Rest assured!
Howdy y'all, and welcome to From The Guest Room, your ultimate guide to all things Western! I'm Jay Gatz, a lifelong cowboy boot enthusiast with over 5 years of experience in the Western style world. I'm excited to share my knowledge with you and help you discover the perfect cowboy boots and western gear to elevate your style. Let's explore the rich history and timeless appeal of Western fashion together!