This is one of the best brands of handcrafted cowboy boots in the world.
Not only famous for their cowhide boots, but their exotic cowboy boots are also big names in the cowboy boot industry.
This brand owns the most expensive cowboy boots on the market.
This is one of the companies that still retains its identity by not moving overseas to follow the trend.
That's Lucchese, a brand of extremely famous handmade cowboy boots. No one has loved cowboy boots for many years without knowing Lucchese, every boot collector would have at least one pair of Lucchese in the house.
Sounds interesting, right?
Today, the article Lucchese cowboy boots reviews will tell you all about this brand!
Lucchese Cowboy Boots Reviews
Okay, to fully understand Lucchese cowboy boots, I will tell you some information about this brand, then go to the top product line, then evaluate their quality and price.
Finally, we will end with the real experience of people who have used them!
About the Lucchese brand
Lucchese is one of the cowboy boot brands with a very long history. Specifically, they have appeared since 1883, and they started with the leading criterion of producing quality handcrafted cowboy boots made by human hands.
With extremely skilled, experienced craftsmanship over hundreds of years, Lucchese confidently brings to customers unmatched quality handmade cowboy boots (regarding style, comfort, and fit).
Lucchese offers users innovative cowboy boots besides the high quality that has been tested and certified by customers over the years.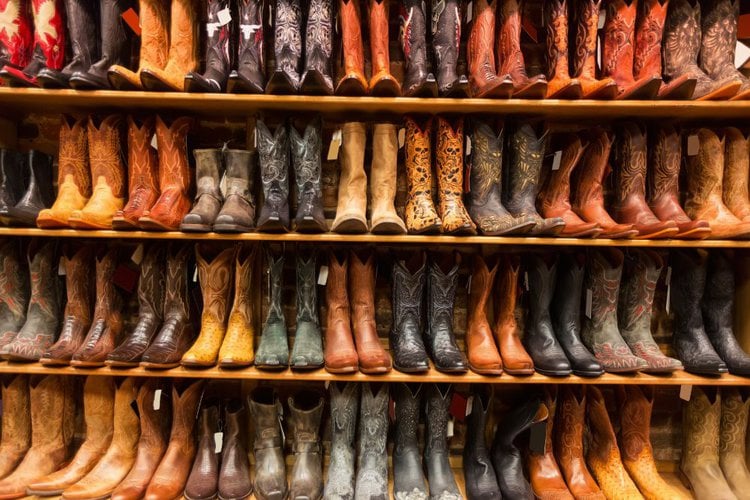 With their adventurous spirits, Lucchese conveys the enduring values of the American West to customers around the world through the skillfully crafted cowboy boots.
Over hundreds of years of growth, Lucchese has not been dissolved by the overseas factory-shifting trends like other brands. They are still one of the high-end cowboy boot brands made entirely by human hands.
Fact: From mid-1997 to 2002, the domestic production of the cowboy boot industry decreased by more than 40% (today it continues to decline). Many big brands (such as Ariat, Dan Post…) have moved their factories to foreign countries.
The Top Product line
Lucchese cowboy boots are not as diverse as Ariat. Lucchese product lines mainly focus on: western boots, roper boots, and some tall boots, western work boots.
Among them, the product line has made Lucchese's name which is handmade western boots.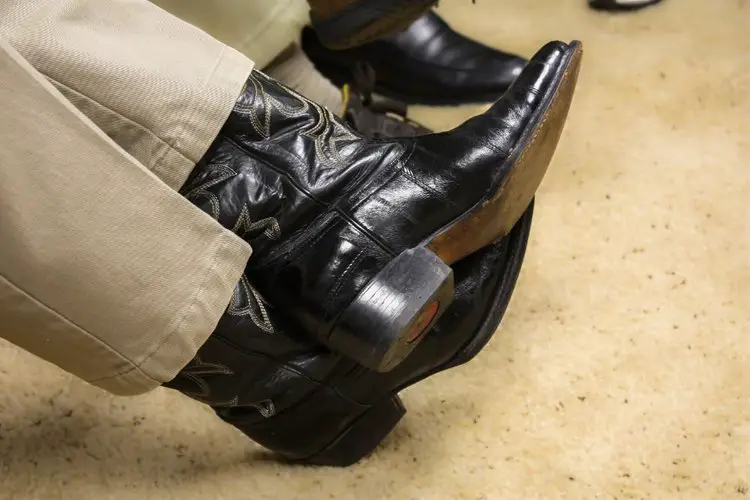 Lucchese is not only famous for western boots made of cowhide, they also have excellent goatskin boots. In addition, the boots made from exotic leather (crocodile skin, ostrich skin,…) are also the specialties of Lucchese.
You will come across Lucchese when searching for these keywords: American-made cowboy boots, expensive handmade cowboy boots, high-end cowboy boots, cowboy boots made from exotic leather…
So, when talking about one of the keywords above, you should immediately think of Lucchese, as this is the leading brand of high-end handmade cowboy boots made from a variety of expensive and high-quality leather.
Quality / Materials
When it comes to the quality of handcrafted cowboy boots in the world, there is no such brand that can compare with Lucchese.
To evaluate Lucchese quality, we need to consider the most important factors: comfort, durability, style and safety.
Comfort
Lucchese cowboy boots mostly have leather soles that are soft and smooth with a very high sense of comfort.
Lucchese boots are made entirely from real leather through many complex processes to create the best quality leather.
In addition, Lucchese has boots made from a variety of exotic leather, such as ostrich skin. Besides the beautiful outlook, the ostrich-skin cowboy boots provide outstanding comfort. Ostrich skin is one of the softest and smoothest skins in the world.
To bring the best experience for the wearer, cowboy boots must be made from genuine leather, completely not printed.
Lucchese uses brass and lemonwood pegs to connect the outsoles and the rest of the boots. Lemonwood pegs have very good flexibility for the sole (most brands use metal pegs), allowing your feet to perform activities easily.
Also, another factor that creates comfort is fit. We need to perfect the lasting process to make a good fit for boots.
The lasting process is to attach the upper part of the boot to the sole, this process is entirely made by hand.
Make the upper wet with water and pull over the entire last, finally, attach the 2 parts together. After that, add the lemonwood pegs when the boots are dry. This is a complicated step and requires expert skills to process, which makes Lucchese's cowboy boots different from the rest.
The above differences, subtleties and complexity make up the expensive cowboy boots that are also extremely comfortable whether you play or work.
Other advantages are the leather soles and lemonwood pegs. They allow your feet to breathe while wearing and bring complete comfort to your feet all day.
However, if Dan Post is confident to bring comfort to the wearer from the very first step, it will take time to break in your new Lucchese boots to have the first great experience…
At first, the Lucchese soles are a bit slippery, so you should rub the outsole of the boots under the cement pavement until they really have a better grip.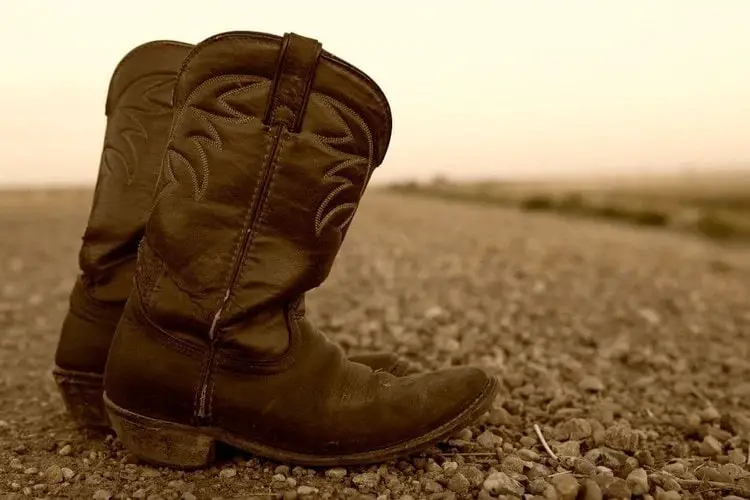 Durability
Let's get back to lemonwood pegs.
It can be said that water is the top enemy of leather cowboy boots. Water can cause the leather of cowboy boots to stretch or shrink. Your cowboy boots often encounter sudden rains, snowfall, or simply sweat your feet.
Metal pegs won't change their shape, while leather soles shrink and stretch due to water contact. This will cause the boots to lose shape quickly and affect their durability.
Lucchese doesn't use metal pegs, they opt for lemonwood pegs. Lemonwood pegs have the same water-absorbent rate as leather, they can stretch or shrink at the same time as leather. This will help cowboy boots stay in shape, thus prolonging cowboy boots' lifetime through the test of time.
Lemonwood pegs are also the classic material used by early bootmakers.
However, when using leather-soled cowboy boots, you should resole boots every 2 or 3 years. Leather soles often wear out and deteriorate faster than rubber soles.
The good news is that boots with lemonwood pegs are much easier to resole than ones with metal pegs.
Ultimately, what determines the durability of a pair of boots lies in the quality of the leather. As we stated many times, Lucchese cowboy boots are all made from real leather, so you don't have to worry about this.
Read more: What is the most Durable Leather for Cowboy Boots?
Appearance
Lucchese has diverse designs, which style would you like? Is it casual or classic, or other styles? Lucchese has it all to serve you.
Lucchese cowboy boots are designed entirely by the hands of experienced and creative artisans, you can see the sophistication through each fine stitch, and hidden in it are works of art.
We really appreciate the different materials Lucchese uses to create cowboy boots. Each skin type will give cowboy boots a different look, which is a bold mark of Lucchese.
Lucchese cowboy boots are made from alligator or lizard leather for a classy, elegant look. Or ostrich leather cowboy boots bring great comfort, and cowhide boots for a classic look.
Under the skilled hands of the Lucchese craftsmen, those skins became even more glamorous.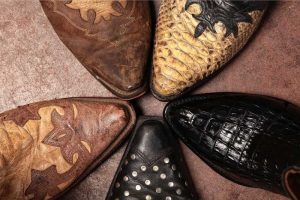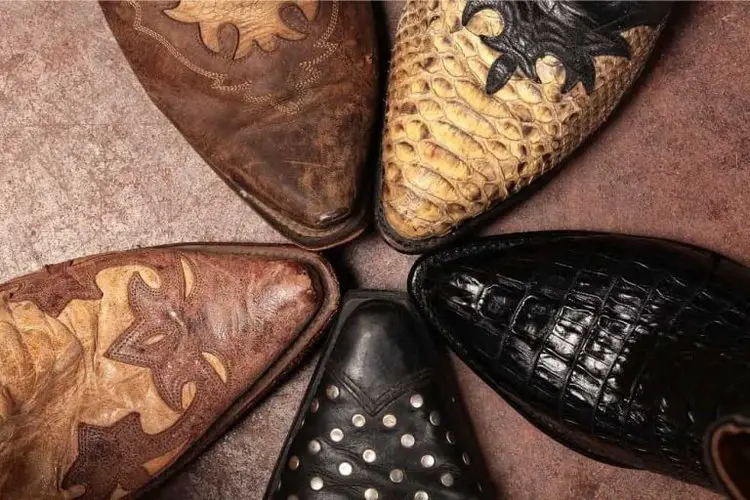 The variety of boot materials and skillful handcrafts are the main reasons for the style of Lucchese cowboy boots: diverse, beautiful, distinctive and appealing.
When you are ready to spend a lot of money on a pair of Lucchese cowboy boots, a pair of strikingly colored boots is a good choice!
Safety
In addition to the classic cowboy boots, Lucchese has developed a number of new product lines with high safety, including western work boots to follow the modern trend.
Lucchese's western work boots have good safety, but are not excellent. These boots have some safety features for the wearer: waterproof, steel toe, good arch support, defender repellent systems…
Materials
Lucchese cowboy boots are made of many different materials. These include goat leather, cowhide, crocodile leather, ostrich leather, kangaroo, etc.
But when it comes to the skin that's Lucchese's specialty – it's alligator skin. Lucchese boots made of alligator leather are popular with their elegant, classy look, and are perfect with suits.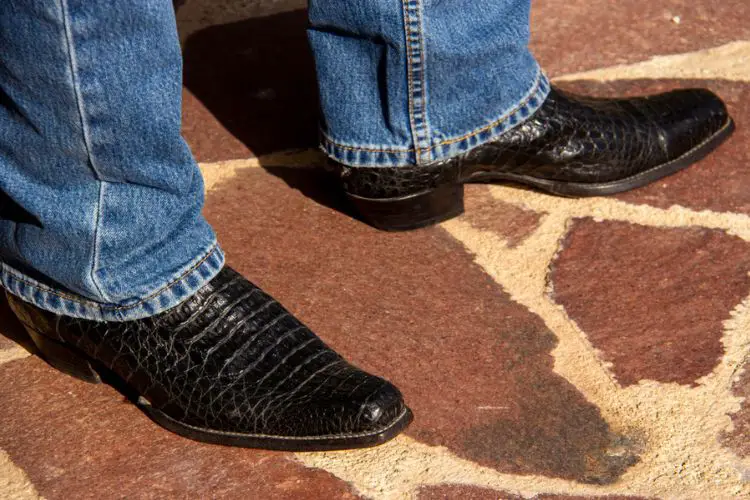 Also, some of Lucchese's differences include using lemonwood pegs instead of metal pegs, mainly using leather soles.
However, a small suggestion is that you should define the purpose before buying a pair of cowboy boots. And you should need to know the pros and cons of each skin type.
For example, kangaroo leather has excellent toughness, leather is extremely soft and comfortable, crocodile skin has a luxurious and elegant appearance, shark skin is water-resistant and extremely scratch-resistant.
Price
In general, not everyone can afford Lucchese cowboy boots because they are expensive in the market.
Lucchese boots are handcrafted in the US and Mexico, so the price is not cheap. However, there is no doubt that the Lucchese boots have a very classy look and are worth the price.
Besides that, there are still affordable Lucchese cowboy boots, but their appearance doesn't give much impression.
If you're ready to spend a ton of money on Lucchese's cowboy boots, we recommend a pair of boots that are eye-catching, stylish, and strikingly different in color.
But if we consider the market of handcrafted cowboy boots made in the US and Mexico alone, Lucchese is not too expensive either.
And if you've ever wanted to buy handmade cowboy boots, then Lucchese is still a top name for you to consider.
Read more: Why are Lucchese boots so Expensive?
User's real experience
"They run small, and for the price you pay, I wouldn't say you are getting anything more than a basic boot. I don't understand the hype!" – Dave Grogan
"I got my first pair in 2010… I have about seven pairs currently. I love them!" – Ian Aujero
"Myv1883 snip toe are 10d but very narrow" – Matt Perry
"I'm a 12B but on average I wear 12D in Lucchese with a slight insert. They're more narrow than most, but I like that , having such a narrow foot. They're easy to get that perfect fit." – Derek Knight
"There just average plain nothing fancy or bad ass about them" – Clay Prothero
"I feel like for the price you pay, the boot oughta be nicer. They're good lookin boots, but if you're gonna go several hundred deep for a pair, at least get a color that stands out" – Wesley Medel
"I only have 1 pair but I am happy with them. So far they are my the most comfortable boot I own and are my primary boot" – Eduardo Galvan
"Well apart from their classics, you could definitely be getting a better quality boot for the price bracket" – J M De Hoyos
"Best boots I ever owned." – Jonathan Hatfield
"Eric Diedrichson" – Love
"I have 4 or 5 pair. They tend to fit me better that some other brands and mine are super comfortable. I like mine and have no complaints." – Victor Harrelson
"My only complaint about them would be that I wished that the shafts had a bit more room in them for my tree trunk calves, but I could really say that about most boots." – Jack Patmythes
"I have about 6 pairs and love them. All are comfortable. The buying process was great with Lucchese." – Alex Hubay
"They are not very comfortable in my opinion. But also, that's the women's boots" – Michaela Green
They also crack around the toes. And the website has many faults. Buying there is basically impossible. My rating, 7 at most. Out of 10." – Rodrigo Flores-Roux
My Tecovas boots feel as good of quality, with a much better fit, for far less money." – Charles A. Oakes
"I've only tried em on in one of their stores. They were buttery soft though, and very comfortable." – Jared Packer
"I've got about 25 pair. The Classics are the best" – Alan Eoff
How $1,500 Cowboy Boots Are Made | How Stuff Is Made | Refinery29
Customer service
Some things you need to keep in mind when buying Lucchese cowboy boots are: exchange and return, repair, and warranty policy. For expensive cowboy boots, you need to be aware of these things to avoid wasting money.
Return and Exchange: You can return or exchange products within 30 days from the date of receipt. Cowboy boots must be unworn, undamaged and in original condition. (See more here)
Repair: Unlike many other brands of machine-made cowboy boots that don't really have a clear repair policy, Lucchese with very skilled craftsmen can fix a lot of your boots. (See more here)
Warranty: Lucchese's warranty period is 1 year. However, cowboy boots must not suffer excessive wear, abuse or damage from external objects. (See more here)
Conclusion
| | |
| --- | --- |
| Comfort | ⭐⭐⭐⭐ |
| Durability | ⭐⭐⭐⭐ |
| Style | ⭐⭐⭐⭐⭐ |
| Safety | ⭐⭐⭐ |
| Fit | ⭐⭐⭐ |
| User's real experience | ⭐⭐⭐⭐ |
| Customer service | ⭐⭐⭐⭐⭐ |
| Price | ⭐⭐⭐ |
Howdy y'all, and welcome to From The Guest Room, your ultimate guide to all things Western! I'm Jay Gatz, a lifelong cowboy boot enthusiast with over 5 years of experience in the Western style world. I'm excited to share my knowledge with you and help you discover the perfect cowboy boots and western gear to elevate your style. Let's explore the rich history and timeless appeal of Western fashion together!