My husband has been working at a local bank in West Texas for half of his life already.
He is sort of obsessed with cowboy boots, but since it's somewhat unsuccessful to put on cowboy boots with jeans in the office, khaki pants are a much better alternative.
You might argue with me that he would probably wear a uniform all week.
Yes, but there will be some great days when my husband doesn't need to wear those breathless uniforms with dress pants, a white shirt, and an extra tie. He decided to go with khaki pants instead.
Khaki pants often come in a wide range of tan colors, and that's why they make a good fit with black or brown cowboy boots.
So overall, why not wear cowboy boots with khakis since this duo is way more versatile in different situations?
They do not go out of style, they don't degrade your formality on some special occasions (like most jeans do) and what's best about wearing khaki pants with cowboy boots is that they are way easier to put on every morning when you are rushing to your office (like my husband always did).
Not only for men, but I've also got some good ways to go with khaki pants and cowboy boots for women below as well. Let's check it out!
Cowboy Boots and Khakis: Can They Match?
If you want to look more elegant and chivalrous in cowboy boots, nothing is better than putting them on khaki pants.
The khaki fabric also has a long history, as it was first invented to be the pants of British soldiers around the 19th century. So far, the material has become a symbol of majesty.
These days, khaki pants still remain popular with Americans (both women and men) as part of elegant, pleasing outfits with cowboy boots.
You've got to have more than one option when it comes to khaki pants.
Stretch Khaki fabric: This fabric contains a small amount of spandex in its construction for increased stretch. The wearer is able to move their legs more comfortably all day long. The surface of the material is also quite a lot smoother and supple. This is because the material is woven from very fine, very small fibers, which gives the surface a smooth and certain sheen.
Unstretched khaki fabric: This is also known as raw khaki. It shows off pronounced thickness and roughness. You can see relatively large fibers crisscrossing each other on the surface of the material. Yet, it is wrinkle-resistant and able to retain the pant's pleats well during all-day wear.
Polyester khaki fabric: People usually don't use this material because it is a synthetic material with poor breathability and very ineffective sweat absorption.
Khaki cotton fabric: the highest quality material because it is woven from natural cotton fibers. Khaki pants made from this fabric are usually breathable and do not even stretch permanently after washing, with better moisture-wicking.
And you also have more than one choice of cowboy boots to go with khakis pants:
Lizard cowboy boots: This is my favorite combination, lizard boots and khakis pants in ton sur ton color. This is an option that gives you a masculine look, a charm of age and outstanding sophistication.
Roper boots: This is a good choice to wear with khakis pants. Roper boots often have shafts that are not too high, you will easily tuck them into khakis pants without worrying about the V on the collar printing on the pants that may cause an ugly look.
Caiman boots: If you're looking for an elegant look in a combination of cowboy boots and khakis pants, go for a pair of caiman boots. This combination simply creates an undeniable class.
Normal cowhide cowboy boots: A cool and masculine look is combined with a pair of cowboy boots made from cracked cowhide with khakis pants. Look no further, art is right in front of your eyes!
In fact, today, many different types of cowboy boots have been made by big brands like Tecovas to meet more demands of the wearer than just appearing on farms and ranches.
For example, their crocodile leather cowboy boots are perfect to wear with suits. And Tecovas ostrich boots are perfect examples to go with khakis pants – ton sur ton style.
The answer is very simple, you can completely have an impressive look with a combination of cowboy boots and khakis pants.
Why should I wear khakis with cowboy boots?
Here's why I highly recommend wearing cowboy boots with khaki pants.
A great sense of courtesy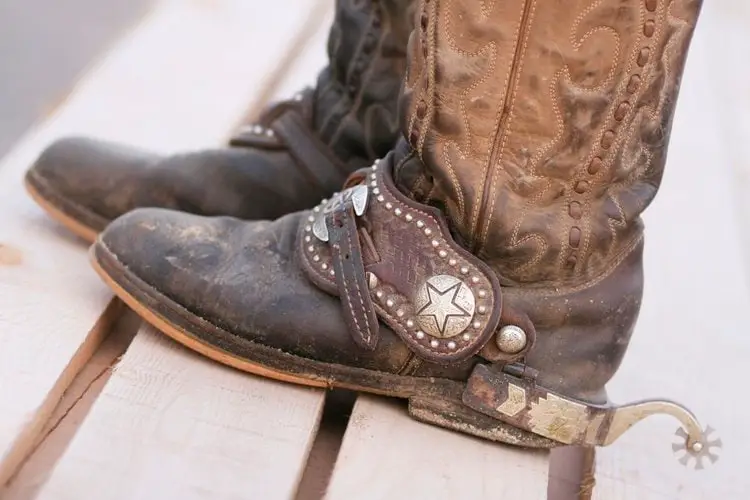 No surprise, khaki is one of the top-rated fabrics, especially cotton khakis or stretchy khakis. Unlike cotton jeans, these khakis are usually woven from small, thin fibers, creating an excellent, smooth and slightly shiny surface.
If jeans and cowboy boots bring a great sense of toughness and masculinity, khakis and these boots, on the other hand, give an extra elegant, sophisticated and classy appearance. Therefore, this duo is most often used in business outfits with elegant suits or blazers.
Besides, a wide range of tan colors for khakis is a big plus for the sake of fashion and style. Although you may notice other bold and light colors on the khaki background as well, such as black, dark green, or gray, tan colors are still the long-time symbol of this fabric (even if there's something called "khaki color").
Tan khaki pants work well with any type of cowboy boots, regardless of leather, patterns, or designs.
In some cases, your overall look is still all the way appealing even when it comes to pairing cowboy boots with excellent tan khaki pants, no matter what top you are putting on.
Khaki pants fit over the boot's shaft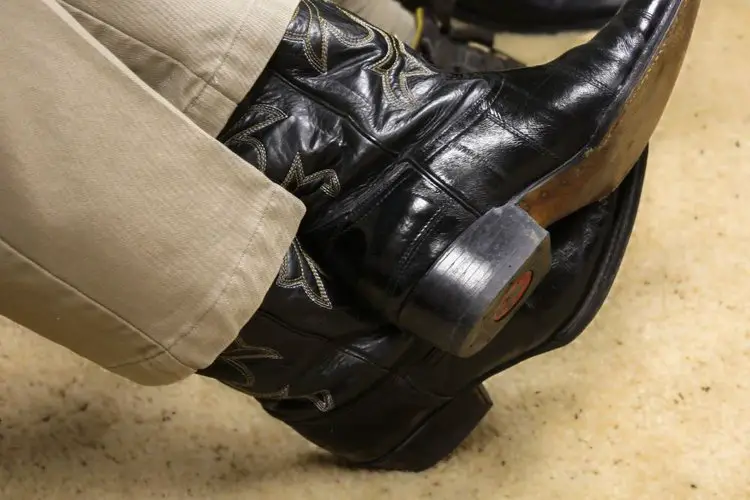 The thing that cowboy boot wearers are most concerned about when choosing pants is whether the pants will fit the wide boot's shaft or not. You can trust khaki pants on this one. In some cases, they do even better than jeans.
We all understand that the design of the pants will directly affect the fit of the boot's shaft under the pants.
Skinny fit can be pretty bad for covering all over the cowboy boot's shaft well, while regular fit, relaxed fit, and loose fit work better. But if you wear super stretchy loose-fit jeans, these pants will never be able to hide the boot's shaft all the way well without creating some stacks underneath. This is due to the fact that highly stretchy jeans tend to mold to the legs strictly.
Things get even worse for freshly washed jeans because they will shrink pretty badly right away. They tend to be tight at the legs, and as a result, cowboy boots find it harder to fit inside the jeans.
Luckily, khaki pants aren't quite as stretchy as jeans. This material also does not shrink as much as jeans after washing. Therefore, you can rest assured that khaki pants will not deform and fit your cowboy boots differently before and after purchasing them from the store.
Lightweight
Khaki pants have a much simpler design structure. They don't need heavy five-pocket details, strong crotch seams, yokes, or double-side seams. This material is also much lighter than cotton jeans, as they use finer and smaller fibers to weave.
Therefore, khaki pants have a lower weight relative to jeans. This can be very beneficial in terms of not giving the wearer the real breathless and quickly exhausted feeling that jeans can give, especially if you have to stand in the sun for hours to do fishing or patrolling.
Since cowboy boots already weigh some great pounds, khaki pants are a lifesaver, so you can even stand or walk all day long in the boots without leg fatigue.
That's also why my husband wears khakis, pants, and cowboy boots at work when he has to move around the 500-foot office floor for paperwork 8 hours a day.
The lightness of the khaki fabric also helps the pants dry faster. It may take about 3 days or more for your 100% cotton jeans to dry completely, but the good news is that you will only need around 1.5 days for your khaki pants to get ready for wear again with the same drying conditions.
Comfort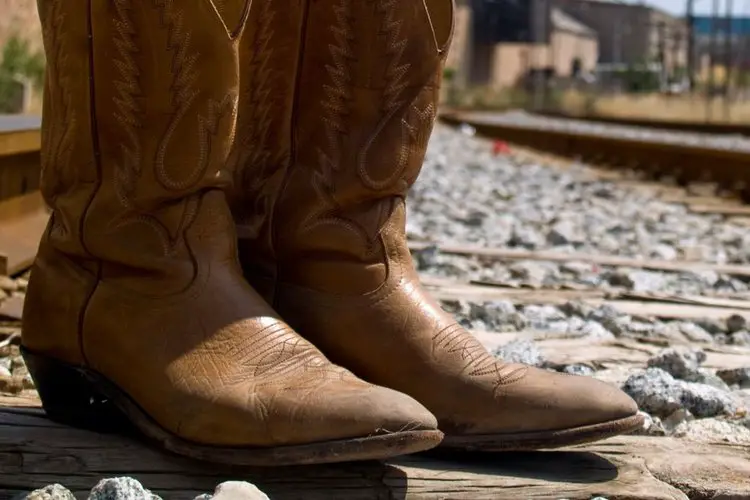 Lightweight khaki fabrics are synonymous with comfort. But that's not all, though!
Khaki pants made from plant-based cotton have the ability to absorb sweat and moisture well. They provide much better breathability and softness than jeans.
These features of the material also allow air to be exchanged through the fibers and reach the boots underneath.
This helps cool your feet down under cowboy boots when wearing khaki pants.
You may notice that your feet sweat less when wearing khaki pants than with jeans. Even if you sweat all over your legs, khaki pants will not mold to your legs tightly, causing discomfort.
Easy to repair
With a simpler design structure than jeans, khaki pants allow you to shorten or extend the pant size with ease. If you know a little bit about sewing, you can even make this at home.
Besides, khakis are not likely to ruffle the fibers that are prominent on the surface of the material. Therefore, they are able to last longer.
Easy to form pleats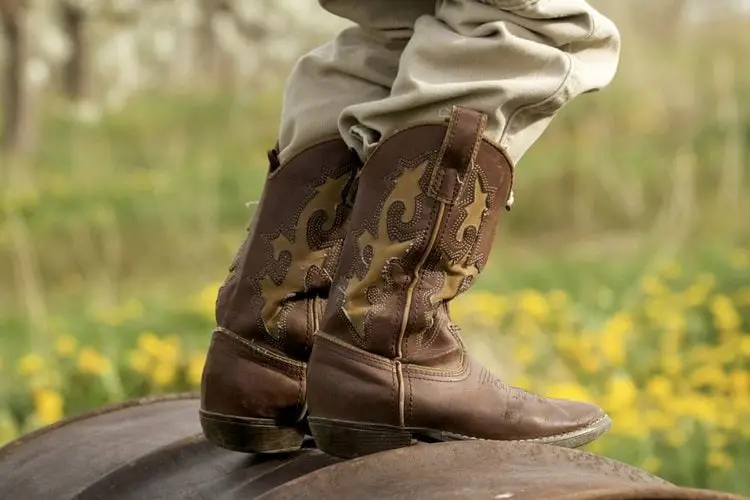 It's almost impossible to do this with jeans. Or if possible, the pleats won't last long on the construction of the pants, even with the use of an iron to shape these pleats.
For some serious and important events, you may need to wear pleated pants with cowboy boots to look formal and respectful. You can definitely make it happen on khaki pants that are able to last until the next wash.
Why should I not wear khakis with cowboy boots?
There are also some downsides to wearing khaki pants with cowboy boots.
It is very easy to become stained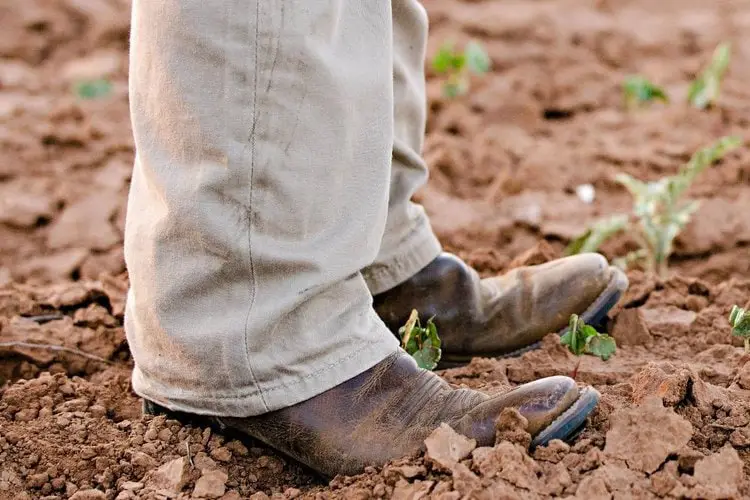 Tan khaki pants make you look a lot more appealing no matter where you go. But this material easily gets dirty on the surface.
Due to the texture of the fabric, which is smooth, monochromatic and thinner than jeans, it is also more likely to reveal stains, dust or grime that you accidentally encounter on the go.
If jeans are more for dirt resistance, khaki pants are a different story. You'll probably need to wash these pants more often, even right after you take them off.
The good news is that khaki fabrics will not get damaged or fade with continuous washing.
Overall, if you often work in a heavily abused environment, high-performance cowboy boots can be a good fit, but khaki pants are not a good idea. Otherwise, you will end up using your pants for a maximum of only 2 months.
Wear faster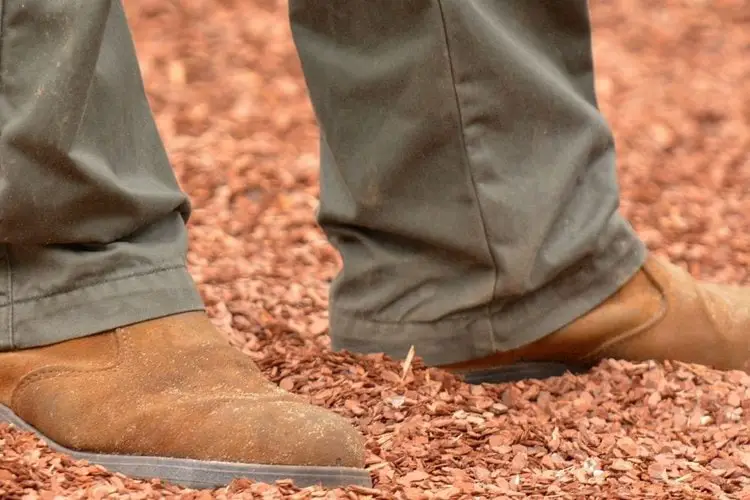 Due to the softer, thinner, and smoother fabric construction, khaki fabrics often wear out or tear more quickly. If you normally sit for more than 10 hours a day, you'll notice a light sheen around your crotch not long after.
Besides, this material tends to not be as protective as jeans are.
If you're wearing cowboy boots and unfortunately drag your leg through a sharp, pointed nail, you can get more comprehensive protection over your boots from 100% cotton jeans, but I'm not sure khaki pants can do the same.
How to wear cowboy boots with khakis for men?
It's pretty trouble-free for men to wear khaki pants with cowboy boots just like the way you wear any other pants, not even including jeans.
But there are a few things that might help you at some point.
Go with longer khaki pants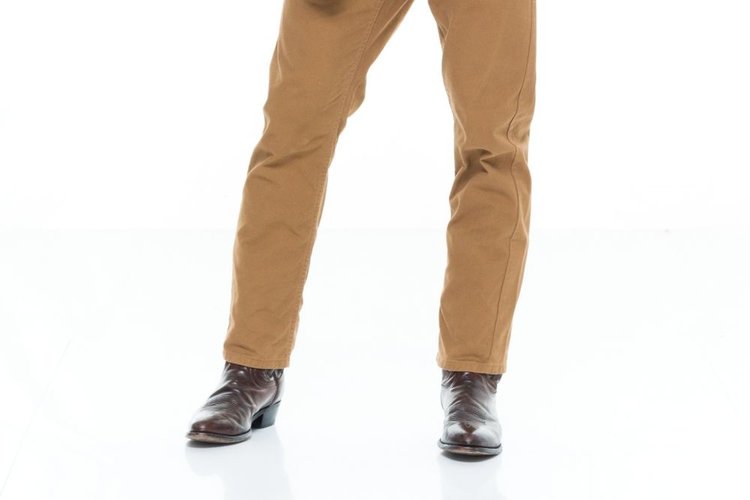 You can wear slightly short khaki pants that go just around the ankles when it comes to wearing these pants with dress shoes, but this is often unacceptable for cowboy boots.
Some of the young people who work with me often do this and reveal a small amount of bare skin around their ankles since dress shoes are unable to cover them better. It's all good!
But if you wear cowboy boots in this case, What you reveal is not the ankle's bare skin but the flamboyantly decorated part of the cowboy boots.
Thinking a little wider, when you sit down, the pants can pull up to the middle of your calves, revealing a pretty large area of the cowboy boot's shaft. It's not even elegant at all.
Remember to pair your cowboy boots with slightly longer khaki pants because you will be pulling them up quite a bit when sitting, don't need to touch the ground when you're not wearing cowboy boots.
However, you need to create enough space for the khaki pants to cover all of the shafts of the boot when you're standing upright. Generally, khaki pants should be about 2 inches longer than the ankle.
The fit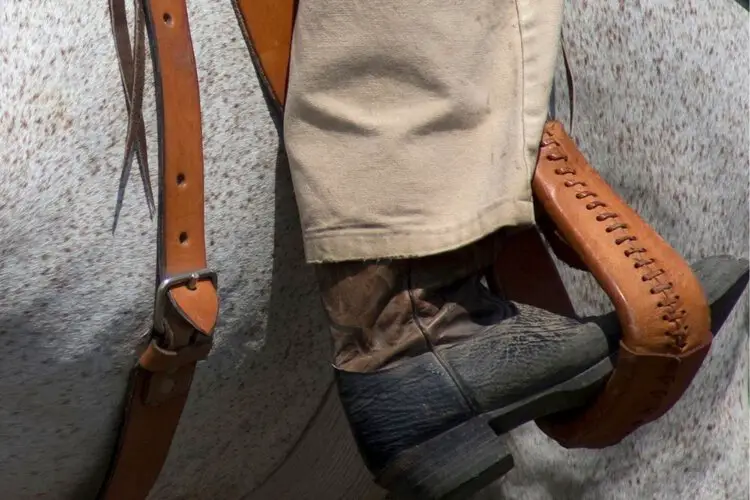 Definitely, skinny khaki pants are never a good choice to go with cowboy boots. They fit so tightly with no space for the boot's shaft underneath your pants. Since khakis are not able to stretch as much as jeans during use, you should go with the original fit or larger.
This will ensure that when you're standing up or sitting down, the pants won't tighten around the boot's shaft, revealing unsightly bulges.
Color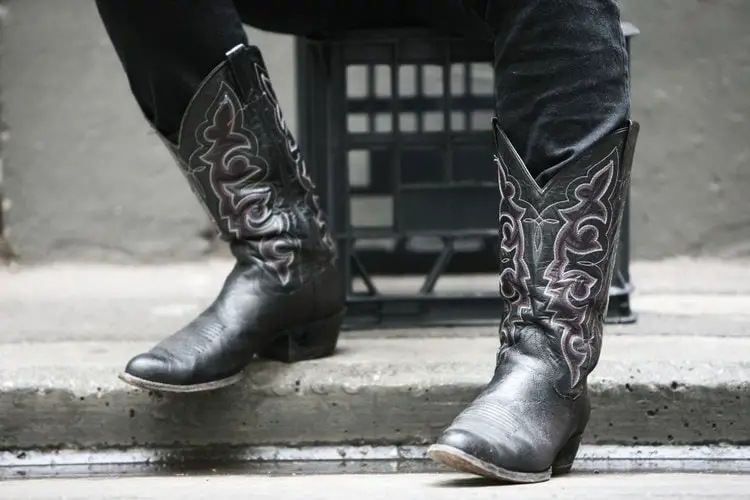 If you work in an indoor environment, it's pretty easy to pick any color that you want. However, for the sake of fashion and style, you should not choose khakis that are too contrasting with the color of cowboy boots, for example, blue and red. It looks eccentric, doesn't it?
If you often run around the outside, dark khaki pants are not necessarily a good choice as they can show dust streaks more clearly. Opt for peanut or caramel-colored khakis. They will mask the color of dust or soil more easily.
How to wear cowboy boots with khakis for women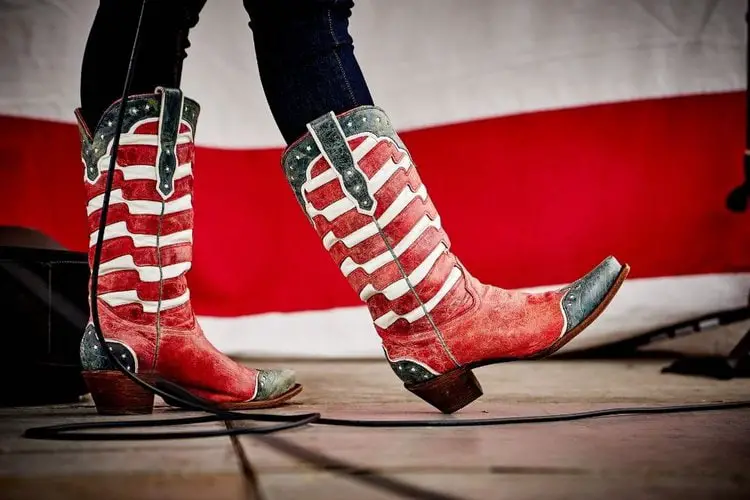 What about women? What do khakis look like when paired with cowboy boots?
Tucking khakis inside cowboy boots can be pretty cool and invigorating if you are a true fashionista. It also doesn't matter if the khakis are too wide or fit snugly around your shape when you place the boots outside. But if you wear ankle cowboy boots, you'll want to wear your khakis over the footwear.
Overall, there are quite a few rules for women who want to wear khaki pants with cowboy boots. The most important thing is that you look confident, comfortable, and classy as much as you want in these outfits.
Some last words
Overall, khaki pants are a good choice when paired with cowboy boots, no matter what you are about to do later on.
This material gives the wearer a great sense of politeness, elegance, confidence, and courtesy. However, you will probably need to pay a little bit more attention to how the pants should fit around the calves since you will want to conceal the boot's shaft perfectly. So, I hope this article is helpful to you.
Howdy y'all, and welcome to From The Guest Room, your ultimate guide to all things Western! I'm Jay Gatz, a lifelong cowboy boot enthusiast with over 5 years of experience in the Western style world. I'm excited to share my knowledge with you and help you discover the perfect cowboy boots and western gear to elevate your style. Let's explore the rich history and timeless appeal of Western fashion together!