There is quite a bit of controversy surrounding whether rubber sole or leather sole cowboy boots are better.
Well, if you've been a die-hard fan of cowboy boots for many years, you'll recognize their differences. And the truth is that each type of sole is better under certain conditions.
Those conditions can be weather, environment, work, etc.
As long as you choose the right type of sole to suit the specific condition above, they will promote their full use.
Today's article will talk about the difference between the leather sole and rubber sole and how you can make the right choice.
Let's check it out!
Leather Sole Cowboy Boots vs. Rubber
Leather soles and rubber soles both have advantages and disadvantages. Depending on the purpose, you can choose the type of soles made from rubber or leather.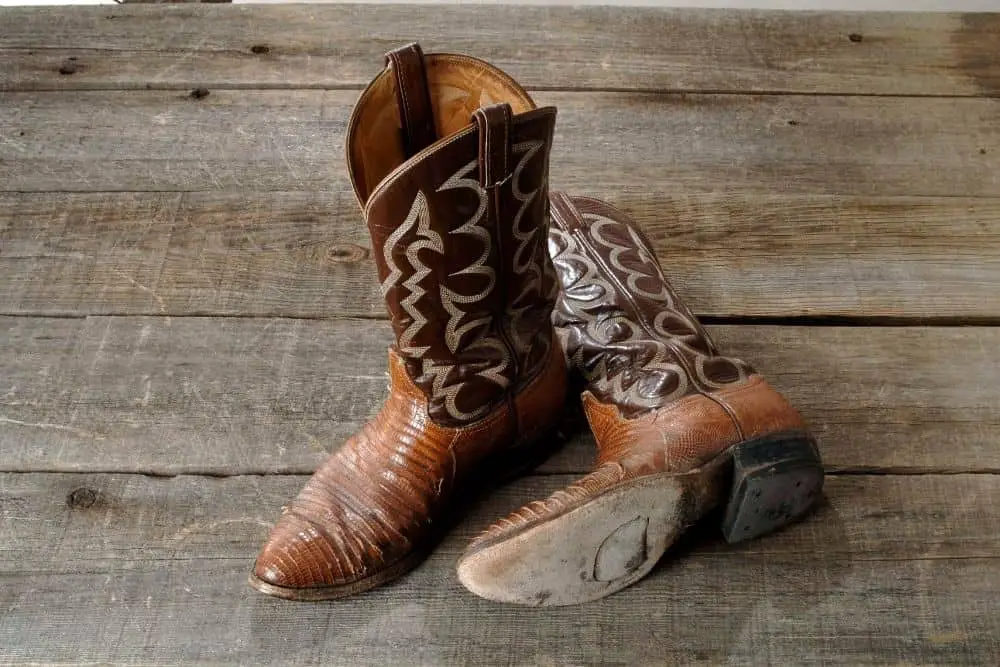 History
Regarding history, leather soles had appeared before rubber soles were created.
Back in the late 18th and early 19th centuries, farmers in the wild west of America needed sturdy, comfortable, and safe boots to work on large farms. That is the reason that cowboy boots are born.
Cowboy boots are required to be safe and comfortable. They also need to be affordable.
Cowhide was the primary material for traditional cowboy boots because it was abundant, sturdy, and the cheapest material at that time. And the base of the cowboy boots was also made from leather.
Cowboy boots with leather soles appear not only beneficial to farmers due to their affordable price, but the leather soles also provide a good slip for cowboys to easily slip their feet into the stirrup.
Cowboy boots with rubber soles have only been around for a few decades. At the same time, western work boots (or cowboy work boots) are popular and dominate the market.
Western work boots are very popular these days because they have rubber outsoles that offer durability, protection, good traction, great balance and stability for a variety of jobs.
Historically, it can be said that leather soles have a much longer history than rubber soles.
Durability
In terms of durability, rubber soles are much better than leather soles.
A pair of cowboy boots can last up to 10 years. But when it comes to their soles, it's a different story.
If you use cowboy boots a lot, and your cowboy boots have leather soles, then you should resole them every 2 years.
The signs for resoling your leather sole are when a half sole appears holes in it, and nails start to emerge.
But if your cowboy boots have rubber soles, you can resole cowboy boots every 4 or 5 years. The durability of rubber soles is twice that of leather soles.
In the rainy or snowy season, cowboy boots with leather soles will deteriorate quickly because of exposure to water.
However, people using rubber-soled cowboy boots find it quite difficult to resole the rubber soles.
If you need to resole the rubber soles, you'll need a good cobbler!
Comfort
Cowboy boots with leather soles and cowboy boots with rubber soles both have great comfort.
Leather soles made from natural materials allow your feet to breathe.
Besides, the leather sole can absorb moisture quite well so your feet can be comfortable for a long time.
The rubber soles don't have this feature. They don't absorb moisture as well as leather soles. So if you are a sweaty person, you should consider when using rubber soles.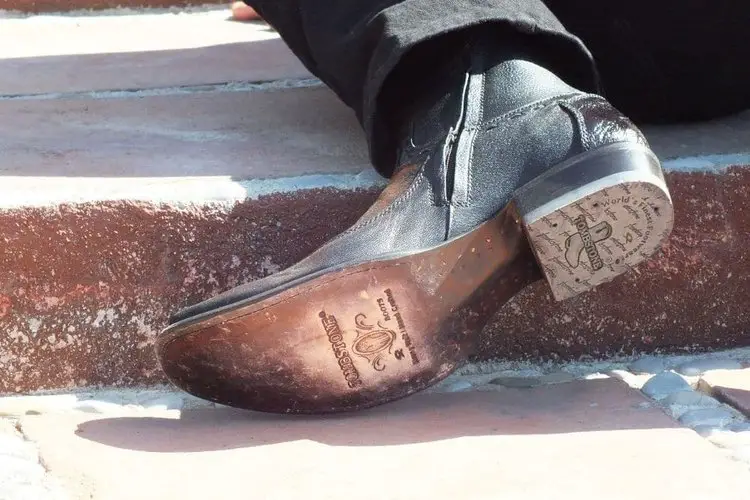 However, the leather soles are not as flexible as the rubber soles.
The rubber soles are thicker, durable and elastic. So the rubber soles make your feet flexible and comfortable for working.
If you regularly wear cowboy boots to work on construction sites or farms, cowboy boots with rubber soles will suit you better.
Cowboy boots with leather soles often need a break-in time to get the grip. You should rub the leather sole on the road surface a few times to create its grip.
You should wear leather-soled cowboy boots to achieve absolute comfort. Whereas rubber soles don't need a break-in period, they are often comfortable right out of the box.
But if cowboy boots with rubber soles need to be broken in, the break-in time will be longer.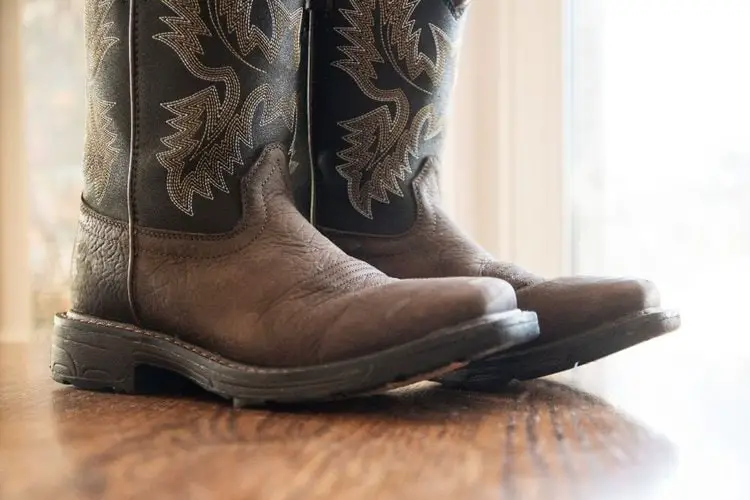 Purposes
In general, cowboy boots with leather or rubber soles are comfortable or not depending on the purpose you are using them for.
If you enjoy line dancing, then leather soles are the best.
The leather soles allow you to slide smoothly on the dance floor, perform kicking, and spin easily. So you can create great perfect line dancing moves with these soles.
To sit neatly on the saddle, the leather soles will help you easily slip your feet into the stirrup (the nook of the heel will keep cowboy boots firmly in the stirrup).
In case you like to wear riding motorcycle cowboy boots, the good grip of the rubber soles would help a lot. You don't want your feet to slip off the pegs while riding an 800lb motorcycle.
For working on construction sites or farms, rubble soles can keep your body balanced and stable better than leather soles.
Besides, rubber soles are also less affected by water (sudden rains), so they are more durable than leather soles.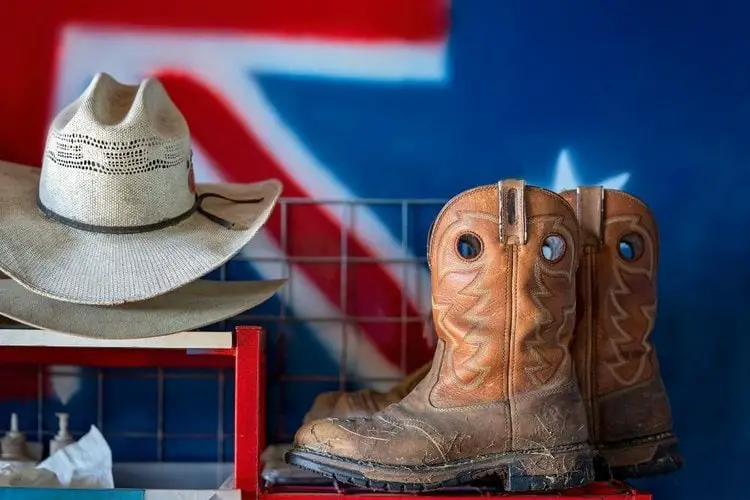 Safety
You will very often see rubber soles on western work boots, these are the boots that ensure high safety and comfort because they often have rubber soles.
Rubber soles can be said to be more resistant than leather soles. They are resistant to water, snow, and external power well and can protect you from the fangs of small snakes.
Nowadays, not many people work on horseback, so cowboy boots with non-slip rubber soles are also more popular than ones with leather soles, as they provide better balance and stability.
Style
Cowboy boots with leather soles look much better than cowboy boots with rubber soles.
The leather outsole surface usually has the signature and the logo of the brand. This is quite a special thing and like a gift for you.
Meanwhile, this gift is less common in the rubber sole.
If you like cowboy boots for their beauty as well as their traditional values, leather soles are a good choice.
But if you need cowboy boots mainly because of their function, then rubber soles seem to be the better choice.
Besides, when walking on a smooth floor surface, leather soles will make click-cluck sounds. We call them gorgeous sounds, they make you look like a real cowboy who is full of confidence, arrogance and swagger.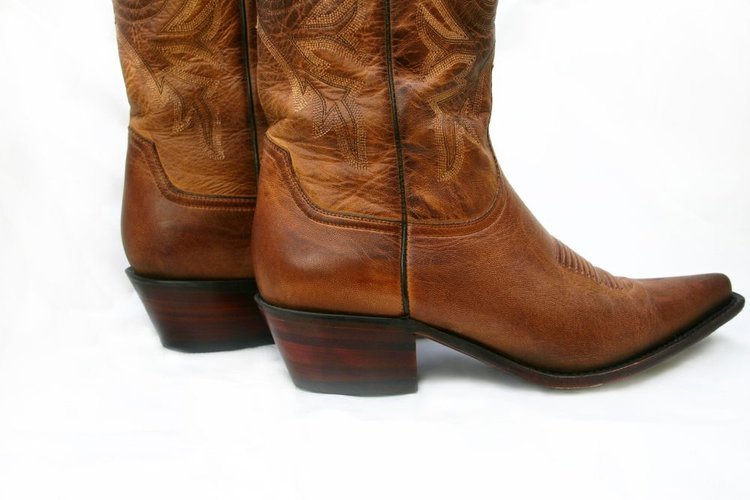 Cost
Today, cowboy boots are produced in two ways: handmade and machine
Handmade cowboy boots are much more expensive than machine-produced cowboy boots for a variety of reasons. Handmade cowboy boots often have leather soles.
Meanwhile, machine-made cowboy boots usually get rubber soles.
That explains why leather-soled cowboy boots are more expensive than rubber-soled cowboy boots.
Suitable for different types of weather
I just think I will write about this feature in this topic after "some website" out there "borrowed" my ideas. I can't stop them, but I will make my content better than theirs. This part is an update!
Many people like to wear cowboy boots all year round, spring, summer, autumn, winter, and rain, etc. So what are the best types of soles for this taste? Rubber or leather?
The answer is that I like using cowboy boots with rubber soles in wet or nasty weather and using leather sole ones for hot weather.
I don't think rubber or leather soles will have a bigger advantage in this comparison.
As I said above, leather soles have better breathability. As a result, they can make your feet feel better in hot weather like summer.
Normally, cowboy boots with leather soles often come with lemonwood pegs in their construction. So they are absolutely more breathable than rubber soles.
How about rubber soles? Rubber sole cowboy boots will be best when used in snow, wet and nasty weather.
Why? Because they are more durable and help you balance better than leather soles.
Rubber soles are waterproof and have grooves with a good grip so they are not easily damaged by water like leather soles.
Yes, water is the most dangerous enemy of leather, so it's not a good idea when using leather soles for wet weather like winter or rainy weather.
However, you may feel hot because of the lack of breathability of rubber soles.
So, in this regard, leather soles and rubber soles of cowboy boots are equal.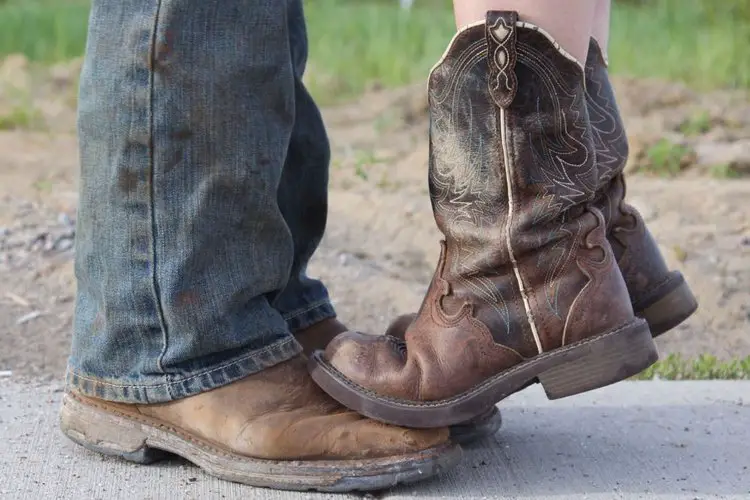 Suitable for different types of terrain
Besides the weather, the terrain is also one of the big concerns for many people when they want to make a choice between rubber soles and leather soles.
Honestly, you can use rubber sole cowboy boots for many types of terrain than leather cowboy boots.
As I said, cowboy boots with rubber soles have greater traction. They are stronger, more durable and absorb shock better than leather. So when you want to walk all day with your cowboy boots in different terrain, rubber soles will be the better choice.
One of my favorite things about classic cowboy boots is leather soles. But for hiking in the Grand Canyon, I would choose rubber soles.
Rubber sole cowboy boots are generally cowboy boots made with a more modern style, so they support your feet better at the arch and heel. They will make you more comfortable and protect the soles of your feet better than leather soles.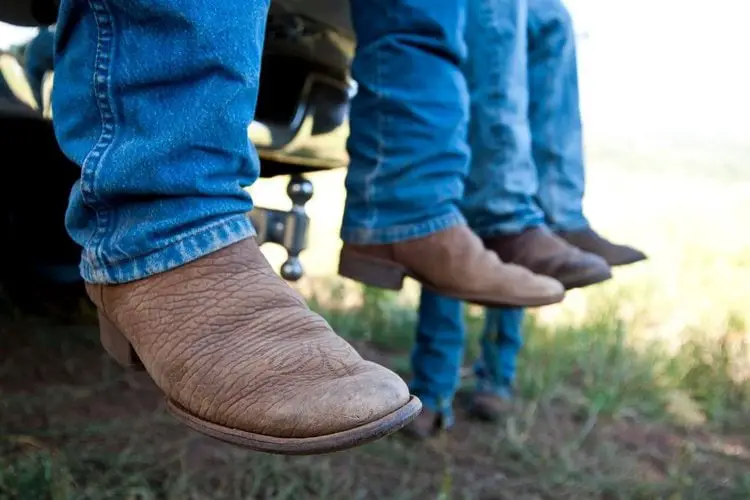 Comparison Chart
Okay, let's wrap up all of the above with my comparison table below!
Leather sole
Rubber sole
History
Appeared in the late 18th century

⭐⭐⭐⭐⭐

Appeared a few decades ago

⭐⭐⭐

Durability
Need resoling every 2 or 3 years

⭐⭐⭐

Need resoling every 4 or 5 years

⭐⭐⭐⭐⭐

Comfort
Good moisture absorption, making the feet easy to breathe

⭐⭐⭐⭐

Well balanced, stable and flexible

⭐⭐⭐⭐

Safety
Not too prominent

⭐⭐⭐⭐

Highly safe

⭐⭐⭐⭐⭐

Style
Beautiful and unique, bringing interesting sounds

⭐⭐⭐⭐⭐

Not too prominent

⭐⭐⭐

Weather
Suitable for dry and hot weather

⭐⭐⭐⭐

Suitable for wet and nasty weather

⭐⭐⭐⭐

Terrain
Suitable for light terrains

⭐⭐⭐

Suitable for many different terrains

⭐⭐⭐⭐⭐

Cost
Quite expensive

⭐⭐⭐

Affordable

⭐⭐⭐⭐
Final thoughts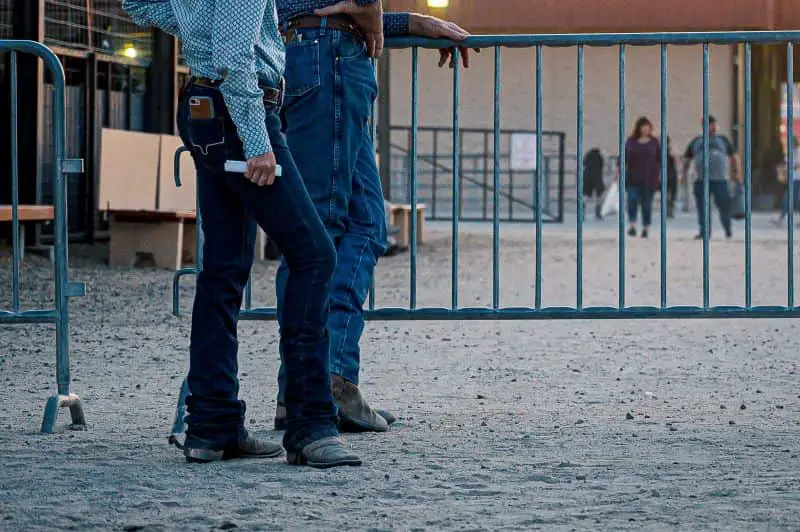 In conclusion, the decision between leather soles and rubber soles for your cowboy boots ultimately boils down to your specific needs and purposes.
If you seek cowboy boots for their timeless charm and intend to wear them at special gatherings or parties, then leather-soled cowboy boots stand as the perfect choice with their elegance and classic appeal.
On the other hand, if you require cowboy boots for rugged outdoor activities, farm work, construction jobs, or frequently find yourself braving wet conditions or rainy seasons, then rubber soles become your best ally with their durability and reliable grip.
Leather soles beautifully grace traditional, handmade cowboy boots, such as classic western and riding boots, epitomizing artisan craftsmanship.
In the realm of modern manufacturing, a vast majority of cowboy boots sport rubber soles, with varieties like western work boots, stockman, and roper boots, catering to practicality and functionality.
In the end, the power to choose lies entirely in your hands. Embrace your unique style and purpose, and embark on the journey to find cowboy boots that perfectly match your desires.
So go ahead, explore, and embrace the cowboy boot that complements your spirit, because, after all, the choice is yours!
Howdy y'all, and welcome to From The Guest Room, your ultimate guide to all things Western! I'm Jay Gatz, a lifelong cowboy boot enthusiast with over 5 years of experience in the Western style world. I'm excited to share my knowledge with you and help you discover the perfect cowboy boots and western gear to elevate your style. Let's explore the rich history and timeless appeal of Western fashion together!