When it comes to the perfect pairing for cowboy boots, there's one option that stands head and shoulders above the rest—denim.
It's a classic choice that exudes Western charm and timeless style, and no one can deny its enduring appeal.
But if you're looking for more than just jeans to wear with your cowboy boots, then this article is tailored just for you. We're about to take your cowboy boot styles to a whole new level.
In addition to classic jeans, we'll explore how to effortlessly rock cowboy boots with skirts, shorts, jackets, and more, proving that the possibilities are as endless as the open range.
So, saddle up, fashion enthusiasts, because we're here to show you how to get creative and make your cowboy boots truly shine in a world of denim fashion. Yeehaw!
1. Wearing a Denim Skirt with Brown Leather Cowboy Boots
For an outfit that effortlessly combines rustic charm and contemporary style, you should consider pairing a denim skirt with classic brown leather cowboy boots.
The contrast in color between the denim and the rich leather boots creates a visually striking ensemble that's sure to turn heads.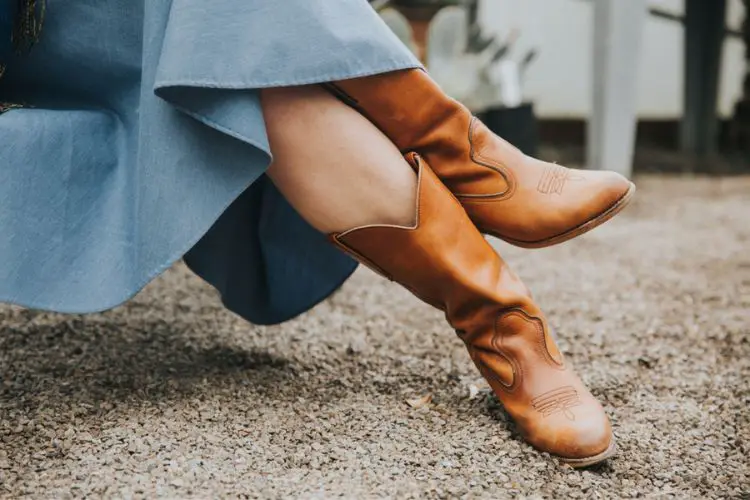 For a simple and casually chic look, opt for a midi denim skirt. This versatile choice works well with leather cowboy boots and provides an excellent foundation for various outfit styles.
Pair your denim skirt with a basic tee, t-shirt, or tank top in a complementary color. This combination creates a relaxed yet stylish outfit that's perfect for everyday wear.
It's a no-fuss choice that exudes a laid-back Western vibe.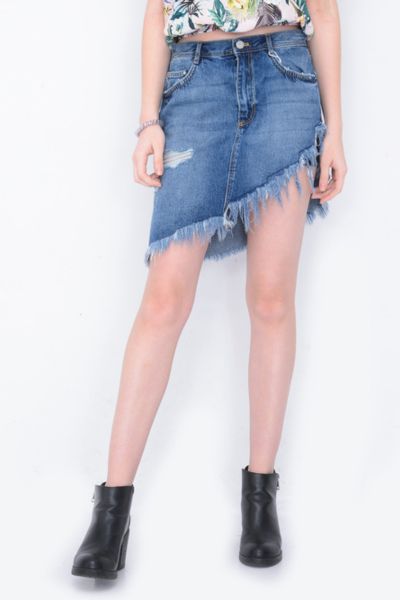 To take your denim skirt and cowboy boots outfit to the next level, experiment with edgier elements. A frayed denim skirt adds a touch of rebellious charm to your ensemble.
Pair it with a colorful shirt that you can knot at the lower front to add a playful twist to your outfit.
You can complement this look with a pair of black ankle cowboy boots for a contemporary urban feel.
This combination is ideal for those who want to make a fashion statement on the city streets. It's stylish, active, and embodies a sense of adventure.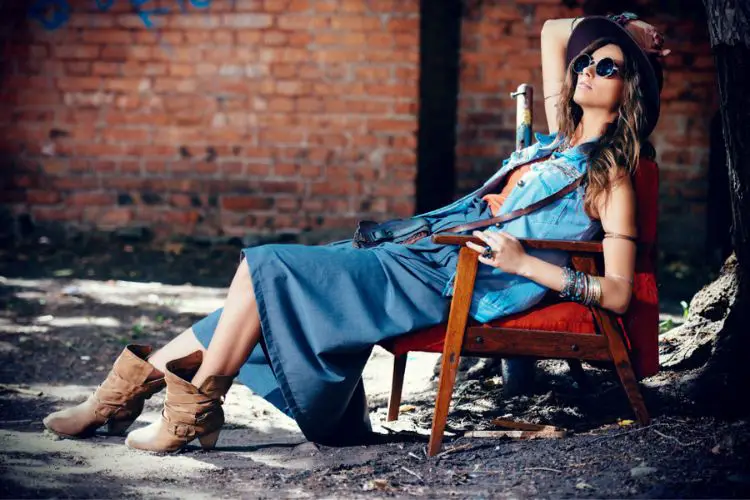 To complete your denim skirt and cowboy boot outfit, don't forget to accessorize.
If you choose to incorporate a denim jacket, you can aim for different shades of blue to create a captivating contrast with your skirt.
A lighter denim jacket works well, and consider layering it over another colored T-shirt or tee for an extra pop of style.
Mix and match accessories like belts, bracelets, and necklaces to personalize your look further.
The beauty of this combination is its versatility, allowing you to experiment with various pieces to achieve the perfect balance of Western charm and contemporary flair.
2. Denim Shorts with Cowboy Boots: A Sizzling Summer Style Choice
When the temperature rises, and you're yearning for a combination of style and practicality, look no further than the pairing of denim shorts and cowboy boots.
This dynamic duo not only keeps you cool on hot summer days but also makes a striking fashion statement.
Denim shorts offer a versatile canvas that pairs well with both traditional cowboy boots and ankle boots. The choice of boots can alter the overall look, allowing you to transition seamlessly from casual to city style.
To add depth to your cowboy boot ensemble, consider the different types of denim shorts.
Natural color or black denim shorts create classic looks, offering a sense of timelessness.
If you're leaning toward a street style, distressed denim shorts bring an element of rebellion and edginess to your outfit.
For a relaxed and breezy summer look, pair your denim shorts with a simple top, such as an off-the-shoulder white crop top.
Combine this with short suede cowboy boots for a laid-back yet stylish appearance. Don't forget to top it off with a wide-brim cowboy hat to complete your summer-ready ensemble.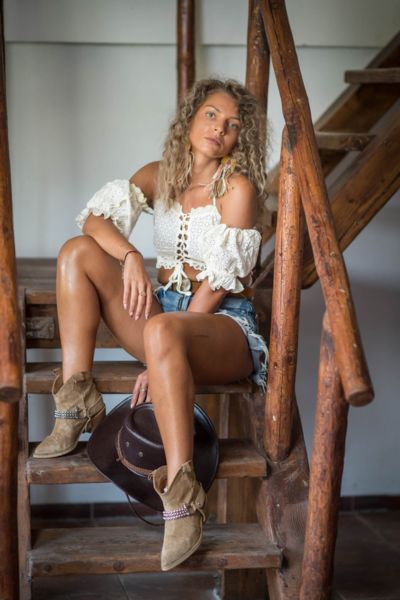 Or you can achieve an elegant style by opting for white cowboy boots paired with natural color or white denim shorts.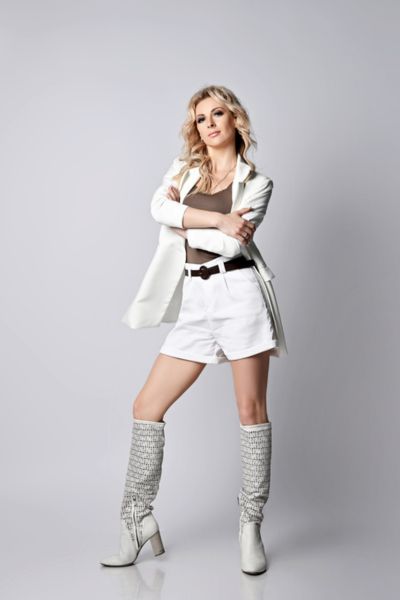 To enhance this look, add a white blazer and contrast it with a colored top underneath.
This combination exudes sophistication and is perfect for more formal summer gatherings.
For a street-style edge, choose black frayed denim shorts and combine them with a white shirt.
Accessorize with bracelets and complete the look with brown traditional cowboy boots. This outfit embodies a sense of rebellion and urban cool.
For a bold city look, don't hesitate to don a pair of over-the-knee cowboy boots with your denim shorts. This daring combination exudes confidence and style, creating a look that's perfect for urban adventures.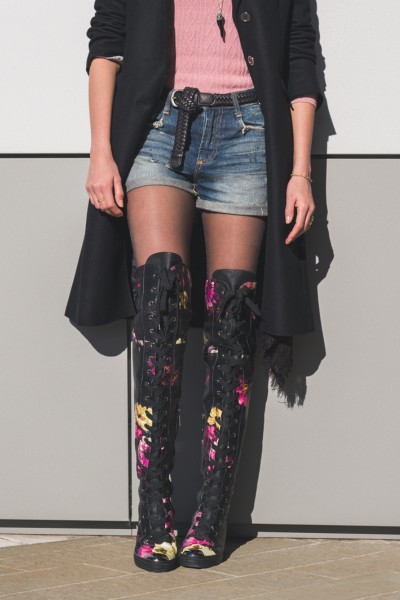 By incorporating these variations and style options, you'll discover that denim shorts and cowboy boots offer a world of fashion possibilities, making them a go-to choice for summer wear.
3. Jeans and Cowboy Boots
When it comes to cowboy boots, there's no shortage of jeans to choose from. For women, the options are virtually limitless, and the beauty of this combination lies in its versatility.
Whether you prefer different types of jeans or a wide array of colors, the key is to embrace your creativity and make use of the jeans in your wardrobe to create standout looks.
One classic pairing that never goes out of style is straight-leg jeans with a pair of ankle cowboy boots.
To add a touch of fashion-forward flair, consider making cuffs at the hem of your jeans. This small detail creates a stylish gap between your boots and jeans.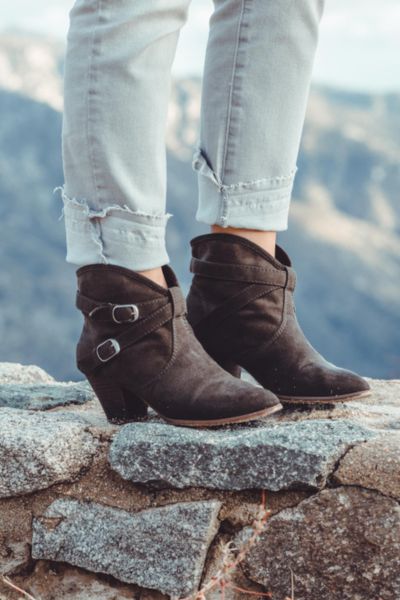 The beauty of this look is its adaptability—you can effortlessly transition from casual wear to strolling down city streets.
All it takes is selecting the right top to complete the ensemble.
For a more streamlined appearance, skinny jeans work exceptionally well with cowboy boots. Tuck your boots' shafts into the jeans to create a sleek, sophisticated look.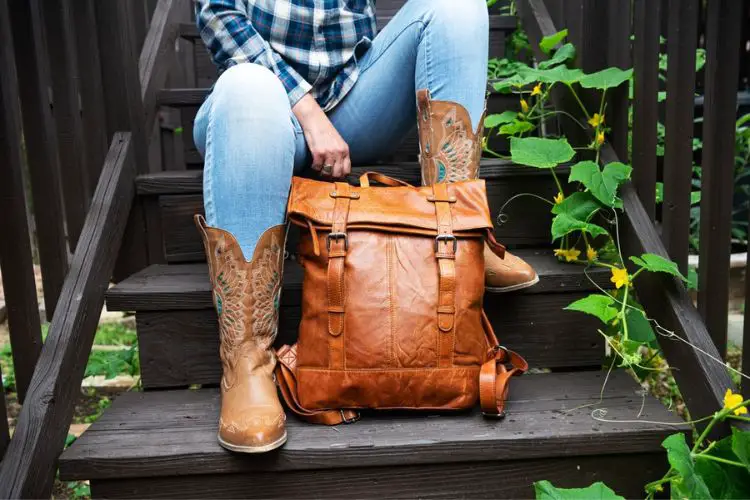 You can complement this style with a checkered shirt to create a standard yet stylish outfit that's perfect for various occasions.
Jeans and cowboy boots are the perfect companions for the cooler seasons. They offer both warmth and style, making them a go-to choice for fall and winter.
In today's fashion scene, one of the trendiest combinations is to wear cowboy boots with flare jeans (or wide-leg jeans).
Style them with a cozy sweater, a well-fitted blazer and a crossover bag, and top it off with a beret. This ensemble is your ticket to staying warm and chic on the chilly streets.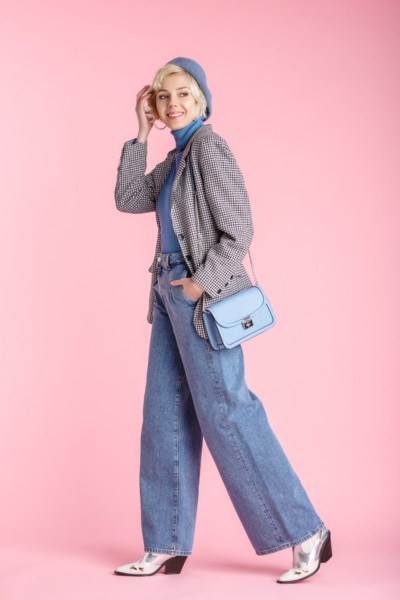 In summary, jeans and cowboy boots are a combination that stands the test of time. Their enduring appeal and adaptability make them a go-to choice for fashion enthusiasts.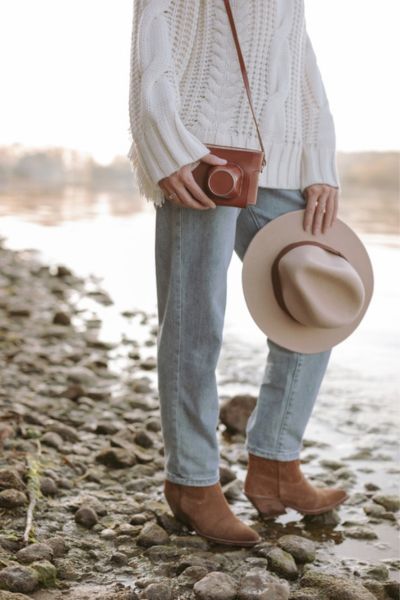 For more ideas and inspiration, check out our article on how to rock jeans and cowboy boots in various styles here.
A realm of matching opportunities is waiting for you.
4. The Denim Trucker Jacket: A Year-Round Classic
When we talk about denim for cowboy boots, the denim jacket is an absolute essential. The versatility of this combination is a hallmark of Western fashion.
However, when you opt for denim-on-denim, it's crucial to remember that playing with shades is the key to creating a stylish and dynamic look.
To keep things interesting, your top should be lighter than the denim piece below. This subtle contrast adds an element of sophistication and ensures your outfit isn't mundane.
Among denim jackets, the denim trucker jacket stands out as a timeless and practical choice. It's the kind of jacket you can rely on in all four seasons.
Its structure is designed to provide not only style but also protection.
The trucker jacket's classic design, characterized by its straight-cut silhouette and front metal buttons, is a testament to its enduring appeal. This timeless style seamlessly pairs with cowboy boots.
The trucker jacket's versatility extends across the seasons. During the scorching summer months, it offers protection from harmful UV rays while maintaining a cool and comfortable feel.
When the winter chill sets in, layering underneath the jacket keeps you warm. It's a jacket that truly adapts to your needs year-round.
The beauty of a denim trucker jacket is its compatibility with various tops. You can confidently style it with a simple tee or a more intricate blouse.
The jacket serves as a perfect canvas for experimenting with different looks, whether you're aiming for a casual or more dressed-up appearance.
5. Accessorizing for Ultimate Style
Denim, while versatile, can sometimes feel a bit monotonous on its own. That's where accessories come to the rescue, transforming your cowboy boots outfit from ordinary to extraordinary.
A tote bag can serve as both a functional accessory and a fashion statement. Opt for a tote with a unique design or color to add a pop of personality to your outfit.
It's perfect for carrying your essentials while enhancing your overall look.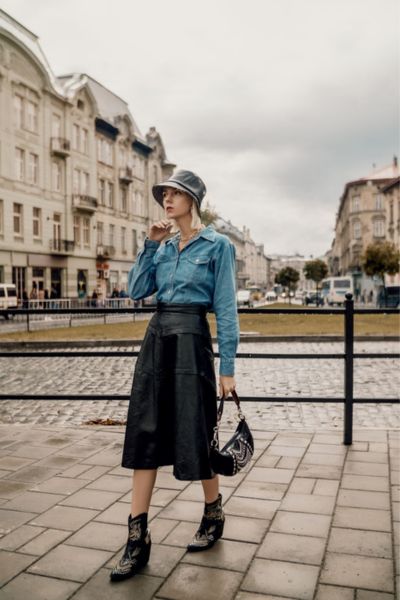 For a hint of European chic, consider donning a beret. This accessory adds an air of sophistication to your cowboy boot attire, making it an ideal choice for city outings and more formal occasions.
When the weather calls for an extra layer, a trench coat or blazer can be the perfect addition. These outerwear options not only provide warmth but also introduce a touch of refinement to your outfit.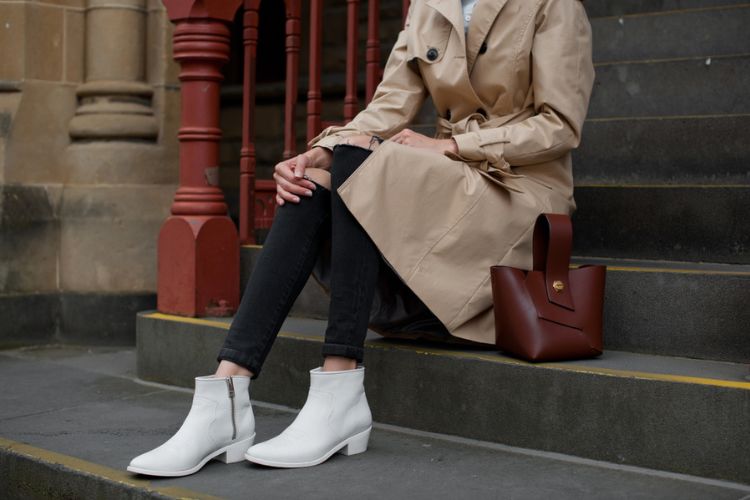 Layering a blazer or trench coat over your denim and cowboy boots is a great way to create a polished and put-together look.
A wide-brim hat is not only a practical choice for shading yourself from the sun but also a style statement.
It infuses your look with a touch of rustic charm and elegance, perfect for outdoor events, festivals, or just a day out in the sun.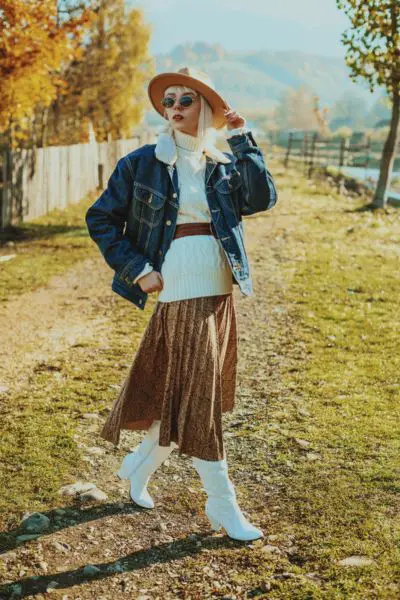 The beauty of accessories is that they allow you to express your unique style. You can mix and match these items to create a look that's all your own.
Whether you're aiming for a laid-back Western vibe or a more cosmopolitan appearance, the right accessories can make all the difference.
Last thoughts
From denim skirts to shorts, jeans, and denim jackets, we've explored various ways to create standout outfits.
Remember that when it comes to denim-on-denim, playing with shades adds a stylish twist, ensuring your look remains fresh and exciting.
Accessories, from wide-brim hats to tote bags and berets, can elevate your ensemble to new heights and add a personal touch to your style.
The allure of this pairing resides in its capacity to adjust and evolve. Whether you're embracing Western charm or aiming for a more cosmopolitan appearance, denim and cowboy boots offer a canvas for endless creativity.
So, saddle up and explore the world of fashion, because with denim and cowboy boots, the possibilities are as endless as the open range.
Howdy y'all, and welcome to From The Guest Room, your ultimate guide to all things Western! I'm Jay Gatz, a lifelong cowboy boot enthusiast with over 5 years of experience in the Western style world. I'm excited to share my knowledge with you and help you discover the perfect cowboy boots and western gear to elevate your style. Let's explore the rich history and timeless appeal of Western fashion together!