Pairing ankle cowboy boots with dresses might just be one of the most brilliant fashion combinations you haven't tried yet.
The rugged allure of these boots, when combined with the soft, flowing lines of dresses, creates a juxtaposition that's both striking and stylish. It's the perfect harmony of the Wild West meeting modern elegance.
This article is your guide to breaking fashion boundaries and embracing the charm of ankle cowboy boots in your everyday attire.
From classic Western vibes to contemporary chic, we'll explore how you can create a diverse range of outfits by matching different styles of dresses with ankle cowboy boots.
Whether it's a casual outing, a night on the town, or a special event, these versatile pairings offer a fresh take on dressing up.
So, let's explore the fusion of two seemingly contrasting worlds and discover how to wear ankle cowboy boots with confidence and flair.
Can You Wear Ankle Cowboy Boots with Dresses?
In the realm of fashion, there are few pairings that effortlessly blend style and comfort as seamlessly as ankle cowboy boots matched with dresses.
This dynamic duo effortlessly merges the rugged charm of these boots with the grace of dresses, creating a look that's easy to pull off.
The brilliance of this combination lies in its simplicity. Unlike longer boots that might play hide-and-seek beneath your dress hem, ankle boots let you flaunt every detail without effort.
Whether it's the rich leather texture, bold stitching, or gleaming accents, your boots take center stage, seamlessly integrated into your ensemble.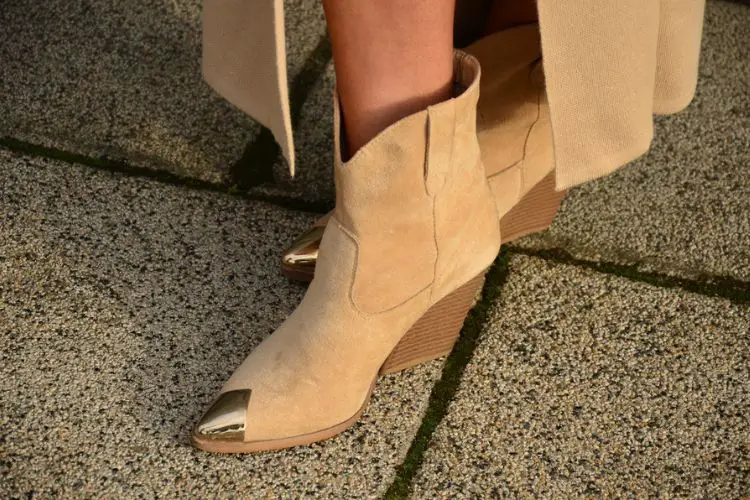 Short-shaft ankle cowboy boots prioritize comfort, and they do so effortlessly when combined with dresses. With their lower profile and lightweight build, these boots offer a snug fit without sacrificing comfort.
When paired with dresses, you get the best of both worlds: the rugged appeal of boots and the ease of dresses. It's an easy blend that allows you to move with confidence and grace while looking undeniably stylish.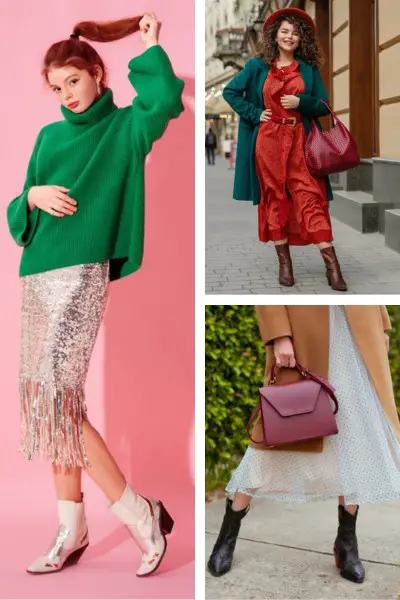 Opt for ankle cowboy boots with a high heel and pointed toe for a stylish and effortlessly coordinated look.
If comfort and a touch of casual cuteness are your goals, round-toed ankle cowboy boots are your go-to option. They make combining with dresses a breeze.
Avoid square-toed boots when dressing up with dresses, as their rugged edges can be less versatile in creating a seamless ensemble.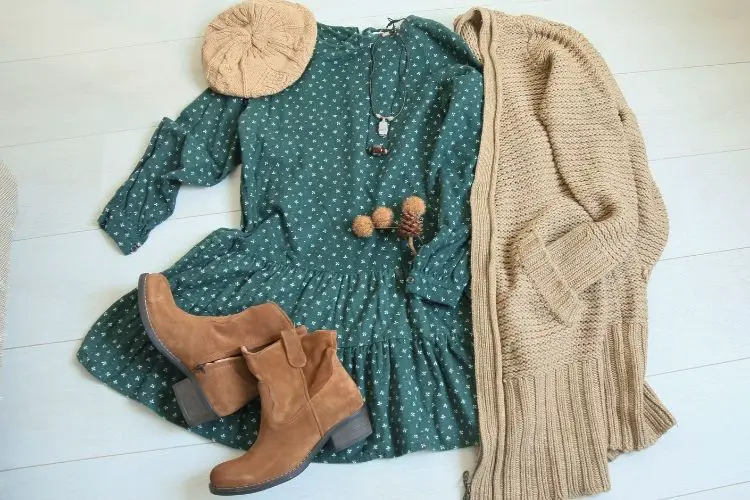 The true beauty of this pairing lies in its versatility. Whether it's a flowing maxi dress for a casual outing, a sleek bodycon number for a night on the town, or something in between, ankle cowboy boots adapt effortlessly to various dress styles.
It's a versatile combination that makes dressing up for any occasion a breeze.
In essence, the combination of ankle cowboy boots and dresses is a testament to fashion's simplicity and versatility.
From casual gatherings to special events, it allows you to effortlessly express your unique style while staying comfortable and chic.
So, take this trend and make it your own, embrace the versatility of your wardrobe, and have fun creating stylish ensembles for every occasion.
Ankle Cowboy Boots with Dresses Outfit Ideas
It's time to put our knowledge to practical use. In this section, we'll provide you with inspiring outfit ideas that showcase the seamless fusion of ankle cowboy boots and dresses.
1. Embracing Summer Comfort:
In the heat of summer, comfort is king. Both white lace dresses and suede ankle cowboy boots are engineered for lightweight ease.
The lace breathes and flows, while the suede offers a gentle embrace for your feet.
The result? A combination that keeps you cool and comfortable, no matter how high the mercury rises.
For the ultimate summer vibe, opt for a white lace dress with dual straps. This style exudes a playful and airy charm, perfectly suited for sun-drenched days.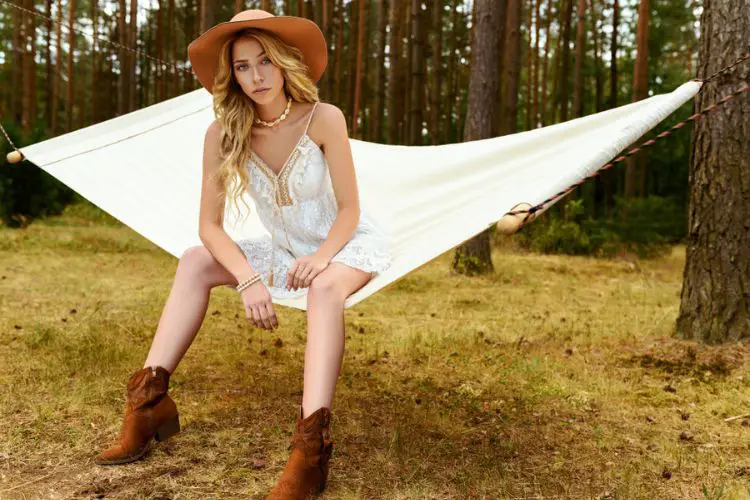 Imagine slipping into a white lace dress that celebrates the intricate beauty of lace. This choice effortlessly radiates elegance and timeless style, all the while ensuring your comfort and coolness.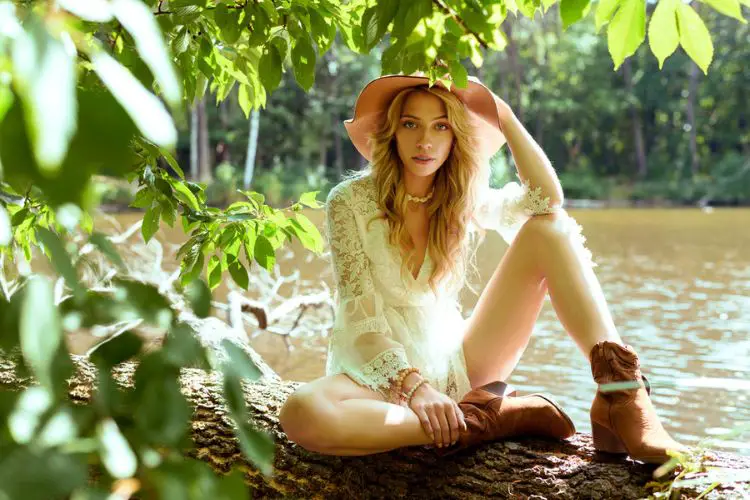 If you want to showcase your beloved ankle cowboy boots, explore the high-low dress style. The shorter front hem artfully directs attention to your boots, resulting in a uniquely stylish look.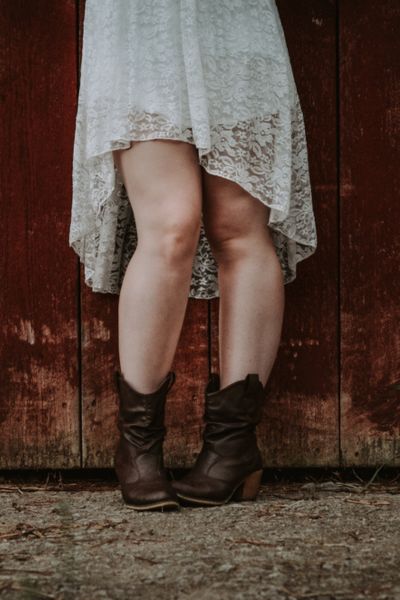 To add the finishing touch, don a wide-brimmed hat. This simple addition not only infuses a dash of Western flair into your look but also provides valuable sun protection.
With these accessories in place, your ensemble is ready for everyday wear, exuding both charm and practicality.
2. Urban Boho Chic: Midi Boho Dresses and Suede Ankle Boots
For those urban adventures, it's time to infuse your style with a touch of boho charm.
Pair a midi boho dress with suede ankle boots, and you'll effortlessly exude a super cute and feminine vibe.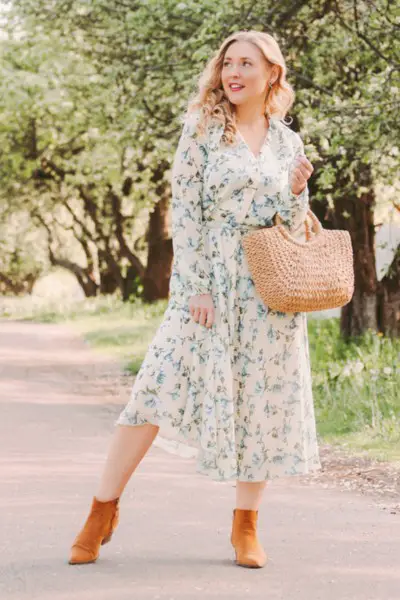 Choose a midi boho dress for a look that's both sweet and simple. This pairing radiates an air of effortless charm, ideal for strolling through city streets.
Don't forget to complete the ensemble with a versatile tote bag, ensuring both style and practicality as you explore the urban landscape.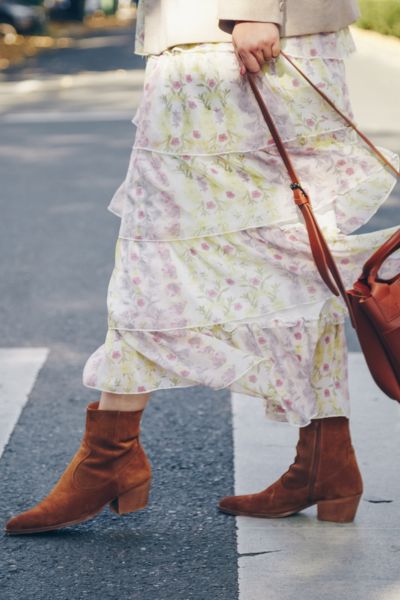 For a more advanced take on boho fashion, opt for a midi or maxi boho dress with layers that are soft, light, and undeniably feminine.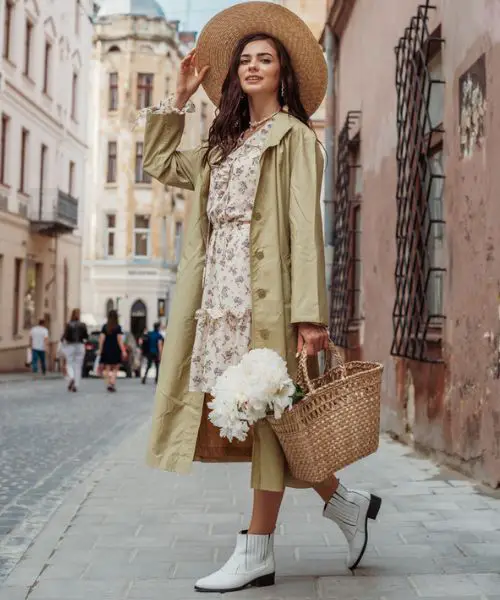 Elevate the style by adding a crossover bag, pushing your aesthetic to new heights. Top it off with a blazer or trench coat and a wide-brim hat for a look that's urban-chic with a boho twist.
If you're a young trendsetter looking to break away from tradition, consider a midi dress adorned with dots.
Pair it with black ankle cowboy boots, a matching brown blazer, and a red-brown leather handbag.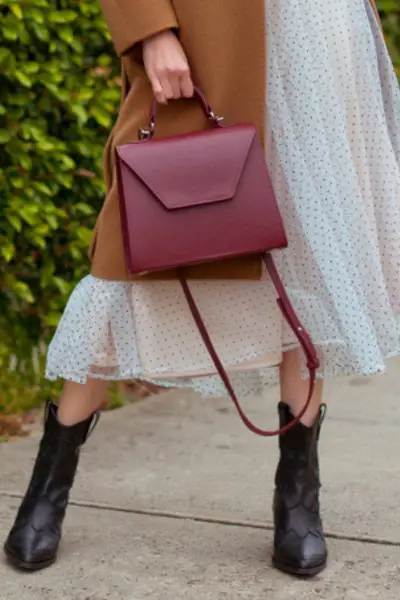 The result? A stylish and city-ready look that proves cowboy boots can be a fashion-forward choice for the modern urban dweller.
In the city, ankle boots make it a breeze to style with dresses, so don't hesitate to experiment with every dress in your closet.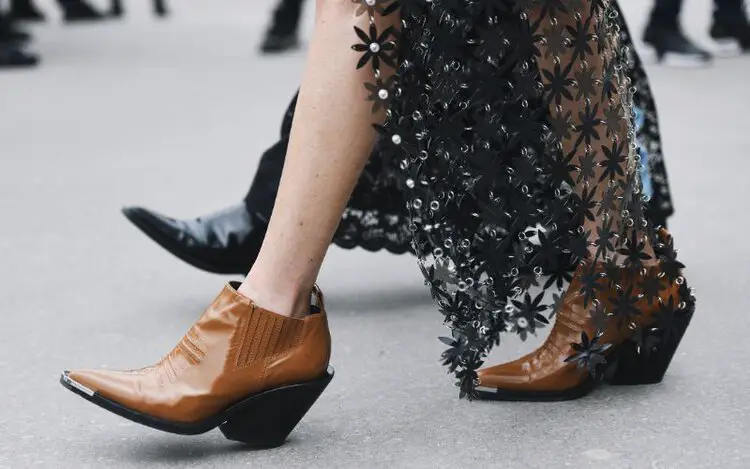 The possibilities are endless, and it's the perfect way to express your unique style, whether you're stepping into the heart of the urban jungle or simply strolling through its streets.
3. Professional Chic: Dresses and Ankle Cowboy Boots in the Workplace
Dresses paired with ankle cowboy boots aren't just for casual outings; they can also make a striking statement in professional settings.
When styled thoughtfully, this combination exudes elegance and confidence, making it suitable for school or office environments.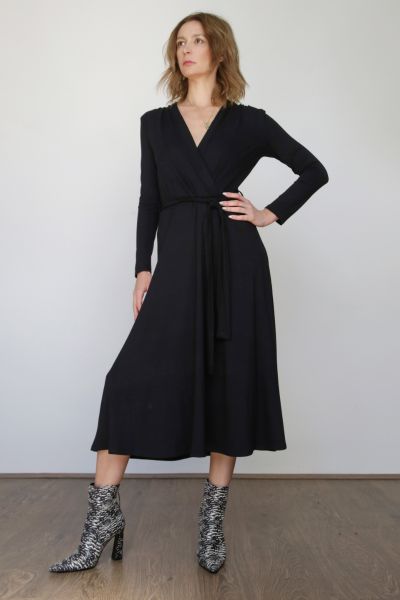 A simple black A-line dress is a timeless choice for professional occasions.
When paired with snakeskin-patterned black and white ankle cowboy boots, you create an ensemble that's both elegant and unique.
The patterned boots add a touch of individuality while maintaining the monochromatic aesthetic.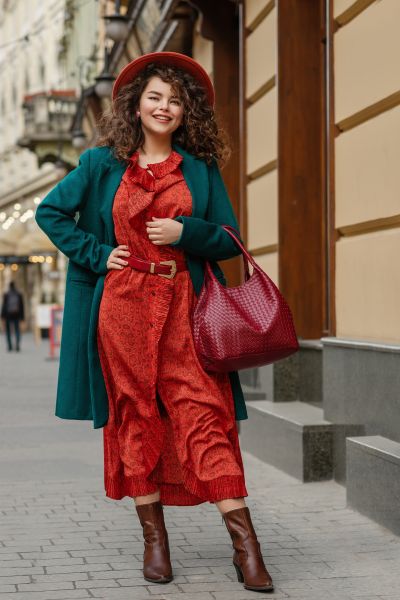 For a more daring but still professional look, consider wearing a Bordeaux-colored maxi dress, complemented by a matching tote and wide-brim hat.
The monochromatic theme extends to all aspects of your outfit, providing a cohesive and sophisticated appearance.
To add a touch of contrast, introduce a green trench coat as a highlight piece.
With the right styling and choice of attire, you can confidently wear them to school or the office, showcasing your unique style while maintaining an air of elegance.
4. Chilly Day Charm
As the temperature drops, it's time to get creative with your wardrobe.
Dresses paired with ankle cowboy boots can offer both warmth and style, making them a fantastic choice for chilly days, including winter.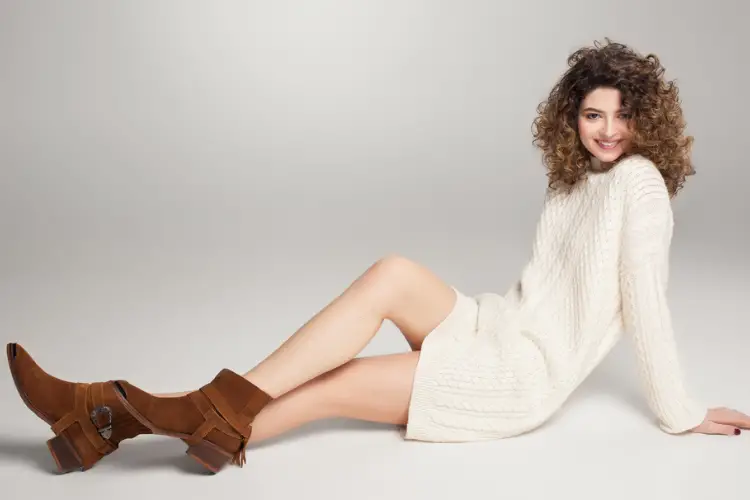 A white sweater dress can be your best friend during cold seasons. Pair it with brown ankle cowboy boots, and you've got a fashionable and warm ensemble.
It's a timeless combination that exudes both comfort and style.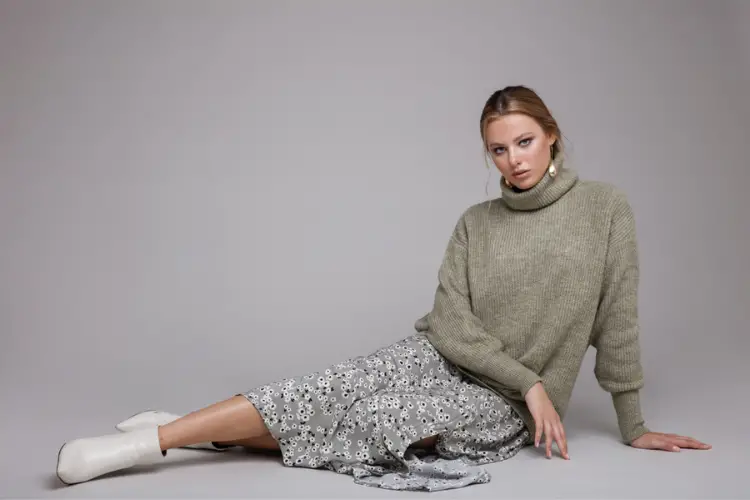 For a more intricate yet comfy look, choose a boho-inspired maxi dress. Add ankle cowboy boots to the mix, and wrap yourself in a cozy sweater.
The result is an outfit that's both comfortable and stylish, perfect for a cozy day out.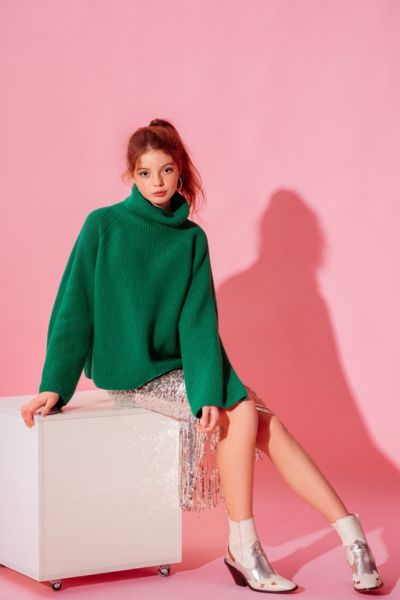 If you're heading to a concert during the colder season, consider stylish ankle cowboy boots with a shiny pattern.
Pair them with a sequin skirt and wrap it all up with a nice knitted sweater. You'll have a look that's ready to rock while keeping you warm and stylish.
Opt for a turtle neck sweater to stay warm, elegant, and stylish. Paired with ankle cowboy boots, it's a combination that offers both comfort and sophistication, making it perfect for chilly days.
These outfit ideas showcase how dresses and ankle cowboy boots can be a fantastic choice for colder seasons.
They provide the right balance of fashion and warmth, ensuring that you stay cozy and chic even when the temperature drops.
Last Thoughts
Dresses and ankle cowboy boots are a dynamic duo, ready to make a statement in every season and setting.
Whether you're embracing the warmth of summer, conquering the urban streets, or braving chilly days, this combination offers limitless possibilities for fashion-forward individuals.
From casual elegance to professional chic and cozy warmth, these outfits effortlessly blend style and comfort.
So, don't hesitate to explore your closet, pair these wardrobe staples, and embark on a journey of fashion creativity.
With dresses and ankle cowboy boots, you're not just dressed; you're making a stylish statement that reflects your unique personality. So, go ahead, express your style, and make every day a fashionable adventure.
Howdy y'all, and welcome to From The Guest Room, your ultimate guide to all things Western! I'm Jay Gatz, a lifelong cowboy boot enthusiast with over 5 years of experience in the Western style world. I'm excited to share my knowledge with you and help you discover the perfect cowboy boots and western gear to elevate your style. Let's explore the rich history and timeless appeal of Western fashion together!