My Aussie friend came to see me recently in Dallas, Texas.
As a pretty traditional welcome, I plan to take him to the Widowmaker Trail Rides for horse riding, where I have always found thousands of fun viewing natural things on the go.
Though I am not truly an authentic Texian since my family immigrated from Australia to Texas before I was born, I was still raised and immersed in the interesting cowboy culture of Texas.
So, I own quite a few cool cowboy boot designs, and I get super excited every time I wear them for horseback riding.
I showed off my boots to my friend, and he seemed quite confused since he has no experience at all in this field.
He has never even seen cowboy boots in real life either.
But, I can sense excitement and curiosity on his part when he sees my collection of cowboy boots (about 12 pairs since I first wore them when I was 13 years old, so far). So I convinced him to give them a try.
I let him try on all the boots I had until he found ones that fit his feet in every nook and cranny as he wished.
Finally, he's so much in love with my baby ostrich. The Duke of Tecovas (exotic leather, what a good taste!). But it's pretty risky to put those boots on for a horse ride.
So I suggest he switch into a pair of Ariat cowboy boots, which are pretty rugged and tough, before we can move to the riding race.
Now we've got another problem.
My friend is super obsessed with straight leg jeans, which are often fine for wearing with cowboy boots.
But he's more of a body builder with super strong and thick muscular calves, which makes the straight jeans pretty much tighter.
So I began to wonder if straight leg jeans, as I had always assumed, were appropriate for cowboy boots.
If you are trying to figure out the answer to this problem, let's check it out below!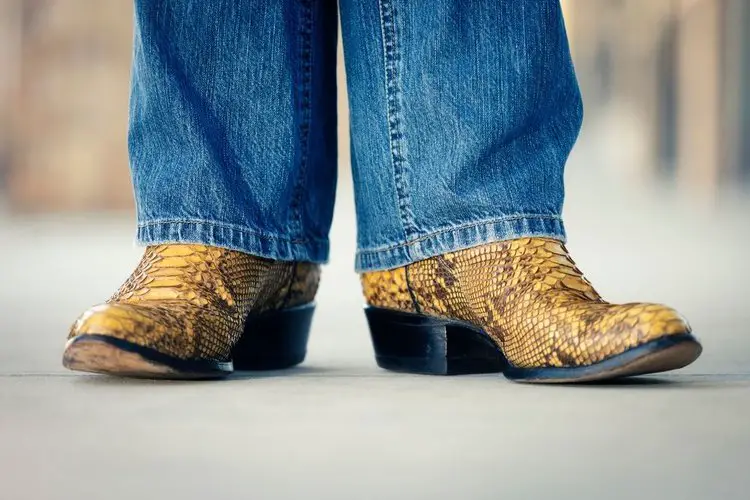 Are straight-leg jeans good to go with cowboy boots?
Somewhere in Dallas, where I live, there are a lot of men (like me) who often opt for straight leg jeans when it comes to pairing with cowboy boots.
I am small-boned and have a height of about 6 feet. I don't go to the gym very often or do anything particularly body building as my Aussie friend, aside from running a few miles every morning.
Therefore, I have pretty normal calves and am way too slender in comparison with my friend's.
For that reason, generally speaking, straight leg jeans with cowboy boots are pretty perfect for me while giving enough space for my boots and legs to breathe well.
So, from my experience perspective, yes, straight leg jeans are pretty much adequate to wear with the majority of cowboy boots.
But it may also not work the same for others.
So let's see when and how you should put this duo on.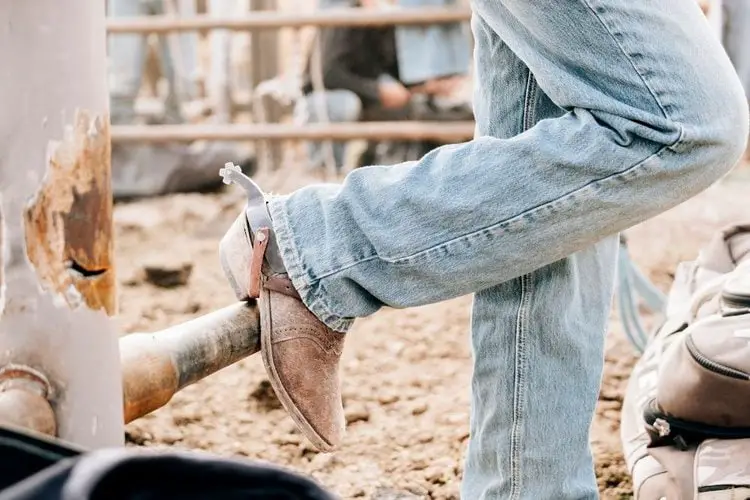 Why should you wear straight leg jeans with cowboy boots?
There are some good reasons why you should wear straight leg jeans with cowboy boots that you can definitely benefit from.
Comfortability
Straight leg jeans or regular fit jeans may not be as spacious as loose-fit jeans or body-fit like skinny jeans, but every nook and cranny of these pants is just perfect enough.
There's fine room in the legs and hems, connecting with fine space around the hips, butt, and waist.
This helps to provide total comfort to the wearer regardless of how their body moves.
Straight leg jeans designs are provided with a medium width from waist to hem, forming a vertical line from top to bottom without any taper or excessive bulge.
Most men will pretty much experience great comfort for their "little bro" (don't worry, we all feel the same) when wearing these pants and sitting for more than 8 hours a day.
In addition, a chubby body is not likely to feel too cramped all over your buttocks, thighs, or hips, which makes you pretty breathless when either going up and down on the go or riding a horse.
Riding a horse can be pretty tricky for your body on the very first try because of the constant rubbing between your pants and your groin, buttocks, and thighs.
Since jeans are made of thick and sturdy fabrics, the spaciousness of straight jeans that fit your shape perfectly is the best way to reduce the fraction that your body has to endure.
This also reduces the amount of damage to the life of your jeans.
The right legroom will provide just the right amount of stretch in case your calves swell up when being on your feet all day long with cowboy boots.
That's why straight jeans are a classic design of all time that suits almost all body shapes, especially men with slender legs. At least people won't see this obvious flaw in your outfit.
Fit over cowboy boot shaft perfectly
For men, we definitely have no way to insert a cowboy boot shaft inside skinny jeans, but straight jeans definitely do.
You could argue with me that loose jeans do this issue way better.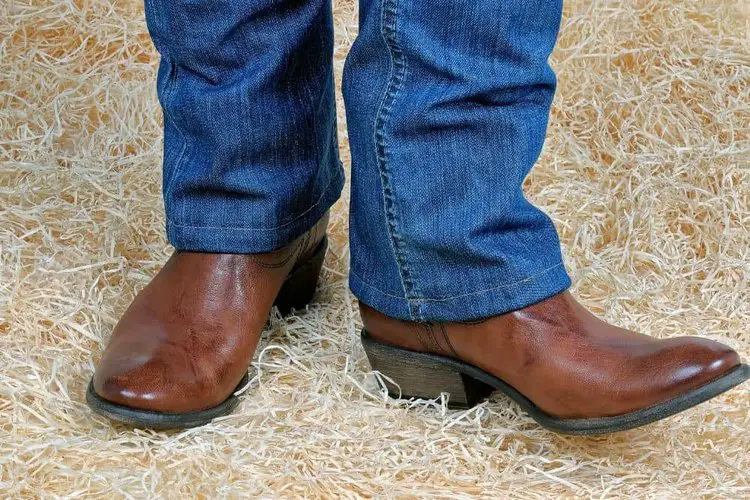 But from my own experience, loose jeans are often for muscular body-builders with extra thick calves and thighs, like my Aussie guy. If you are more of a small-boned shape, straight leg jeans are just enough to keep your cowboy boots literally fixed inside.
However, this only applies to men who have the habit of putting cowboy boots inside their pants. Otherwise, you have nothing to worry about when it comes to whether your boots stay calm under your jeans or not.
They often don't stretch too much during wear
I actually don't see many straight leg jeans that are made from super stretchy cotton jeans that include either elastane or spandex in their construction.
This is because these highly stretchy materials often have pretty thin construction. Therefore, when they are added to cotton jeans, they also make the overall structure of the jeans significantly thinner compared to 100% cotton jeans.
Since stretchy jeans tend to embrace and mold to your body tightly, they usually don't give enough space around the hips, thighs, and legs as straight jeans are supposed to have.
That's why most straight jeans I see are made without or with a very little percentage of stretchy fabrics. This will keep the jeans from deforming when worn.
So, you don't have to worry about if your jeans will stress your boot shaft too much in the middle of your job.
A great outfit in all situations
Straight leg jeans look good all the way out, I have to admit that. The fit and comfort of the pants do not make you look too sloppy, like when wearing grandpa's loose jeans.
Since skinny jeans are an existing trend for young and modern men that are inspired by a series of Instagram influencers, straight leg jeans are no exception to that trend.
The thing that I love about these jeans when wearing cowboy boots is that they don't create super bulky volume all over the vamps like when worn with loose-fit jeans.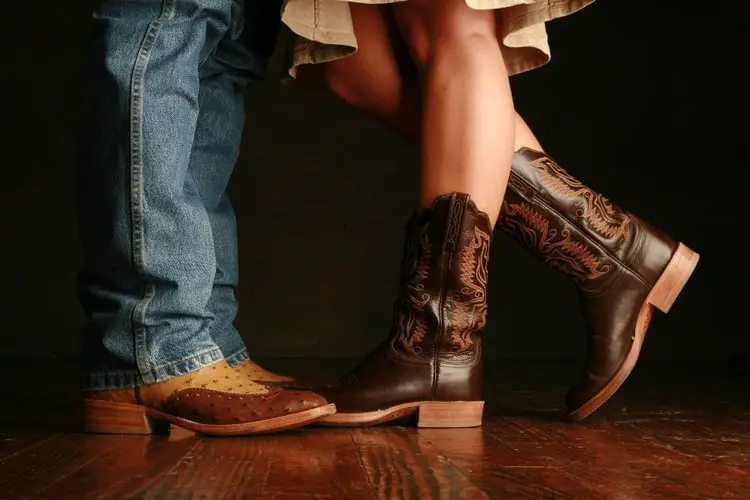 That all makes you look neater, stylish and naturally relaxed.
That's why these pants are great options when worn anywhere. You can either put the jeans on for a horse ride, but you can also use them later for a night out.
Why shouldn't you wear straight leg jeans with cowboy boots?
Although straight leg jeans are able to fit all kinds of shapes, there are still some downsides that may somewhat annoy you.
Can be too tight for muscular calves
Those people, like my Aussie friend, who has made up his 6-pack abs and pretty much bigger-than-normal calves, will be more likely to struggle with wearing straight leg jeans with mid-calf cowboy boots.
This is because the oversized calves will fit snugly inside these jeans (mostly), causing a pretty cramped space to insert the cowboy boots in between.
Therefore, I have no way to go but get my friend a pair of loose-fit jeans that provide much wider legs, so his calves can get restful with the boots inside the jeans even when horse riding.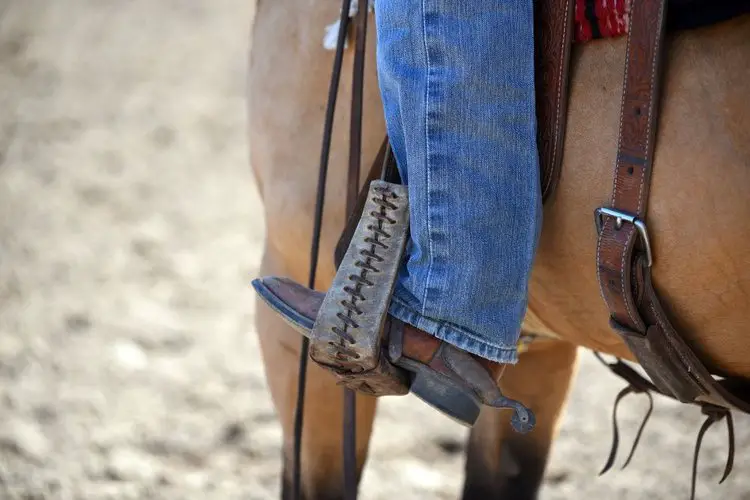 Wide-leg jeans for big calves are very important. Due to the size, the calves will pull the hems up when sitting down while tightening the inside of the pants.
If you don't go with wide-leg jeans in these cases, the chances are you will be more likely to encounter the embarrassing situation where your waist is pulled too low when sitting down due to a contraction in your calf.
Overall, straight leg jeans do nothing good for muscular calves, even with or without going with cowboy boots.
Not good for wide cowboy boot shaft
As mentioned above, straight leg jeans are actually just fine for either legs, jeans, or cowboy boots when putting them together.
This usually happens with the most normal leg sizes, along with the width of the jeans' legs and the width of the cowboy boot shaft.
However, if you are about to go with a pretty wide cowboy boot shaft, it's more likely to cause you some discomfort due to being too tight inside the pants. This will impede the blood circulation to the calves and heels, leading to numbness or rapid fatigue.
In addition, they will also annoy you every time you sit down, step up, or go downstairs. Overall, I would not recommend wearing straight leg jeans with a wide cowboy boot shaft under any circumstances.
Some troubles with putting the boots on
Yes, this issue happens to everyone (me as well) every time we put on cowboy boots with straight leg jeans.
It's definitely not something smooth that the boot shaft slides into your legs so gently, you'll probably have to fold the hem of your jeans halfway up your calf, put on cowboy boots and drop the hem afterward.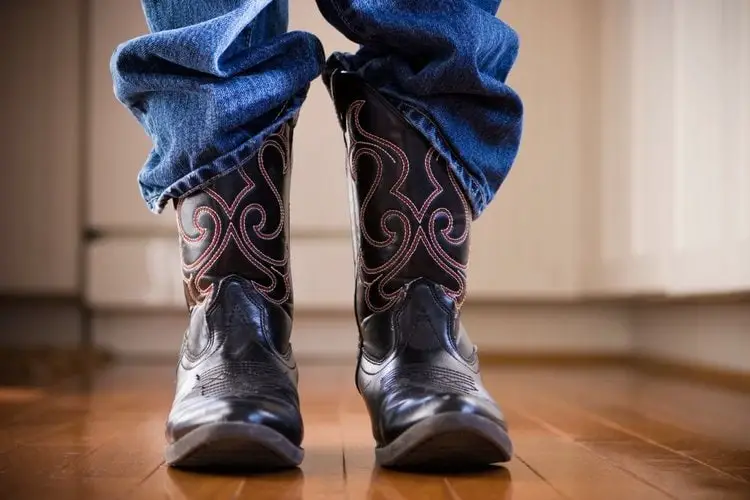 This happens more often with straight leg jeans that add pretty much elastic in their fabric structure. In these cases, if you insert your boots naturally, the hem and the jean's leg can stay messy over the boot shaft.
That's no elegance at all. I know it may piss you off if you have to do this stuff every morning before rushing to work.
But after all, your legs and boots are pretty much fine inside the jeans with comfort, neatness and courtesy.
How to wear straight jeans with cowboy boots properly?
Personally, I think the solution to the problem is quite a lot simpler for women.
Most straight leg jeans for women have narrow legs when compared to men's. So, women prefer to let the boots stay outside the jeans, and this is absolutely acceptable in all cases.
With some ankle-high straight leg jeans designs, women can opt for ankle cowboy boots that have nothing to do with the jeans since they don't touch each other.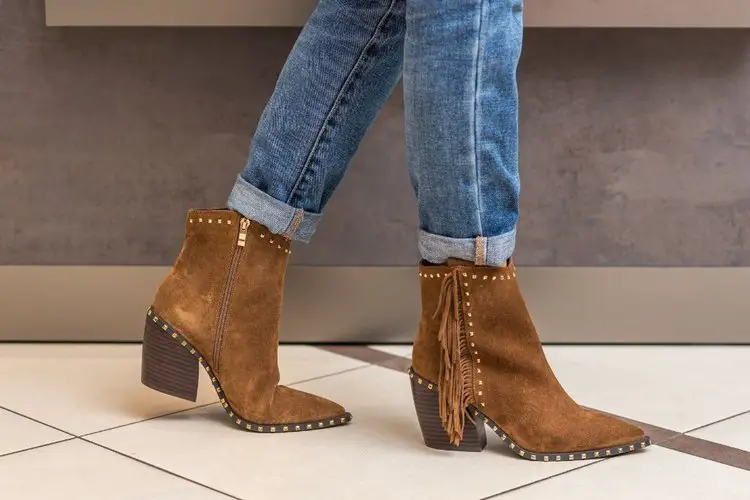 So far, things are going very smoothly for women when it comes to jeans and cowboy boots.
Besides, women have thousands of more choices when it comes to their jeans' colors. This could be faded silver blue, indigo blue, or even red, green, or khaki.
Last update on 2023-05-27 / Affiliate links / Images from Amazon Product Advertising API
What is good about being a woman also is that you don't have to try hard to tuck the boots inside the straight leg jeans.
Women can put their jeans inside the boots and look more classy if they do so without fear of being judged.
For men, it's a different story. We have to follow some implicit rules when wearing cowboy boots. For example, real men don't tuck their jeans inside cowboy boots.
That's why the width of your jeans' legs really does matter. You won't be able to do this with skinny jeans, which actually have no space inside.
Straight leg jeans are a bit more controversial, but they actually work for me. Overall, loose-fit jeans are getting more approval in this case. However, straight leg jeans are the most stylish.
For men who wear these jeans with cowboy boots, you will probably need to pay attention to the length of the hems.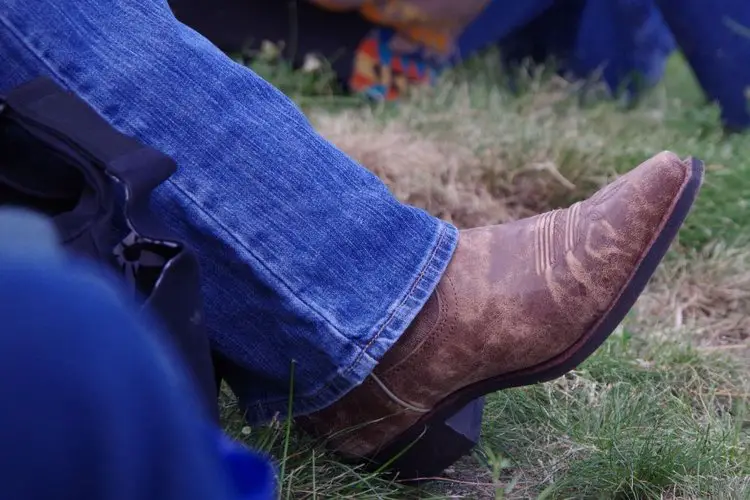 When you stand up without cowboy boots, they should touch your heel or a little on the floor when you stand up. This ratio sort of allows the hems to stay beautifully over the vamps with the proper puff. When you sit down, the hems won't pull all the way up to even half the calves.
If you have to stand on your feet all day long, you may want to choose a half-size bigger pair of jeans. Due to the swelling of the calves with prolonged standing, you may feel more comfortable wearing cowboy boots under a little wider straight leg jeans.
What about jeans' colors for men? Well, the majority of my male friends stick to blue indigo, black, pre-wash blue (light blue) or Levi's vintage light blue for a few decades.
Sale
Wrangler Men's Retro Slim Fit Straight Leg Jean, Jacksboro, 29W x 30L
SLIM FIT. This slim fit straight leg jean is designed with fashion-forward style. Built with a slim...
RETRO STYLING. Designed with Retro style in mind, this slim straight jean provides a vintage look...
QUALITY MATERIALS. Made from high-quality material, this slim fit straight jean is constructed for...
Last update on 2023-05-28 / Affiliate links / Images from Amazon Product Advertising API
But I know young men now have tons of bright and monochromatic colors such as khaki, tan, green, or even beige to choose from just to show off their high sense of style. That's fine!
I am just not boyish enough to confidently go with them all. But if I was 10 years younger, I would definitely give them a try.
Before you leave…
Straight leg jeans are way more elegant with natural relaxation. I have spent half my life with them and my cowboy boots. But if you have thick calves, straight leg jeans may not really be ideal to wear with cowboy boots.
Howdy y'all! I'm Grace, a western style enthusiast with over 10 years of experience. From cowboy boots to western gear, I'm passionate about all things western and dedicated to helping you find the perfect style to suit your taste. Join me and my fiancé Jay Gatz as we explore the rich history and timeless appeal of western fashion together!