Women are almost free to wear cowboy boots with anything they can find in their closets. But for men, there are a thousand unwritten rules about this.
Among those rules, there is a mention of skinny jeans. And it doesn't seem to bring good feelings.
Well, why is that? The article below is the answer for you!
Skinny Jeans With Cowboy Boots: Is It Possible?
As I've said in various posts, men who like the style of cowboy boots are usually the ones who love the classic and clean look.
Therefore, the outfits to go with cowboy boots that they choose often also have a polite, sophisticated, or elegant vibe. Bootcut jeans, khakis pants, and straight-leg jeans are very popular jeans in the cowboy boots world.
However, skinny jeans are not among them!
In recent years, skinny jeans have emerged as a trendy fashion product for men, especially young people. But so far, no one in the world of cowboy boots has really liked them.
One thing that you can easily see is the contrast in style between skinny jeans and cowboy boots. While cowboy boots seem very classic and have a clean look, skinny jeans feature a dynamic, trendy, and youthful style.
This is the main reason why these two types of accessories are difficult to combine for men's fashion.
The second factor is that men often do not like to show the shaft of cowboy boots. Exposing the shaft conflicts with the elegant look as it feels quite showy.
That usually happens if you wear skinny jeans which are usually tight and don't have enough room for you to tuck the shaft in. You will have to do the opposite.
Shafts of cowboy boots look great if they peek out from behind your jeans. But it wouldn't be fashionable for men to show them off completely.
And it doesn't get any better if you try to slip the shaft of cowboy boots into skinny jeans. The details of the shaft and the V-section of the collar will be exposed, this is a fashion disaster! Don't look at the models wearing this style on Pinterest and learn from it, that's wrong!
However, for women, the style of wearing skinny jeans tucked into cowboy boots is completely acceptable.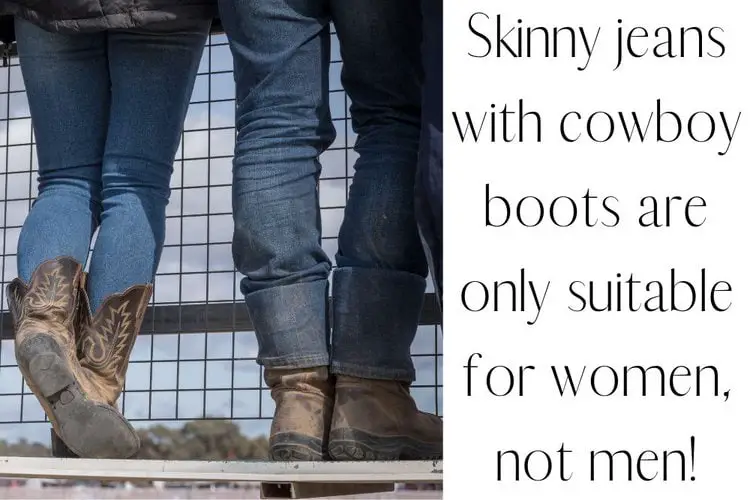 In the world of women's fashion, skinny jeans and cowboy boots are both stylish and attractive fashion accessories. So when they go together, they still bring harmony.
Women's cowboy boots and skinny jeans both exude attractive curves for women, and the richly colored stitching patterns of the shafts also make them look alluring.
In general, the style of women's cowboy boots and skinny jeans does not bring classic beauty but still has a trendy and modern style. So they match well!
In fact, men can still wear cowboy boots with skinny jeans in some cases. These cases are often not so much about aesthetics, but about neatness, convenience, and safety.
What are these?
You can wear skinny jeans and cowboy boots to work if you want!
Although the world of men's cowboy boots does not favor the appearance of skinny jeans in terms of aesthetics, in practice this combination brings a lot of efficiency at work.
First of all, the neatness. In many ranch jobs, many people like to tuck jeans into cowboy boots to protect them from thorns, dirt, etc. Skinny jeans are very handy for that.
Skinny jeans with a tight design on the wearer's legs create neatness, which is essential for working.
One of the typical examples is that cowboys often wear tight jeans. Why is that?
Why do cowboys wear tight jeans?
If you've ever been to a rodeo, you'll understand this. Cowboys will have to sit on the backs of not only sassy horses but also bulls, pigs, and other animals.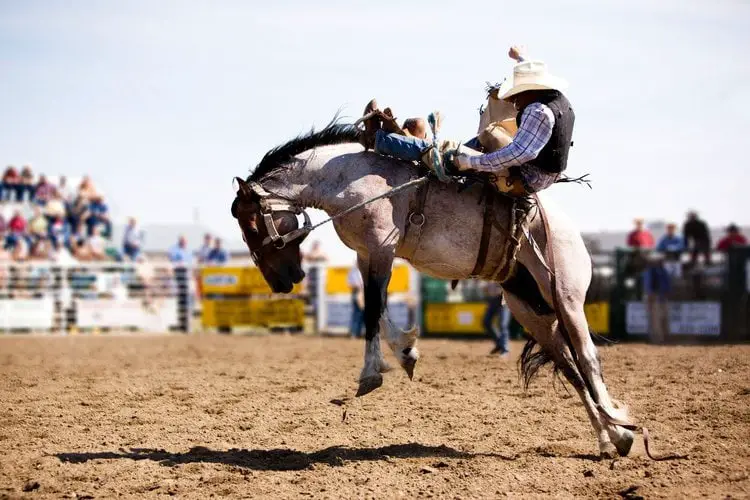 The tight jeans made sure the lower half of cowboys are better protected against the gruff movements of the animals.
Denim jeans are inherently durable, and when they're tight on cowboy legs, it's like a second skin to them, but more durable and resistant.
In addition, cowboys are very hardworking, and in the process, they do not want any of their excess fabric to be hooked to fences, thorns, or anything that could endanger them when riding a horse.
Even when riding, a neat pair of jeans ensures they don't get caught in the stirrup saddle while riding which can cause unnecessary dangers.
Another advantage is that wearing skinny jeans will make it easier to put on/take off cowboy boots.
Overall, if it's not about aesthetics, then you can totally wear skinny jeans with cowboy boots to work.
Conclusion
To sum up, when it comes to aesthetics, men should not wear cowboy boots with skinny jeans, the main reason is the contrast in style.
Cowboy boots are too classic while skinny jeans are too trendy.
It's not cool if the entire shaft of your cowboy boots is revealed when wearing skinny jeans because that's pretty showy for men.
And it's also not good if you want to tuck cowboy boots into skinny jeans, because the patterns and V-collar will always print on the surface of the pants.
But for women, you are completely free to wear cowboy boots with skinny jeans because it creates a good harmony. Women's cowboy boots are not strictly considered classic items, but they are also glamorous and attractive fashion products. Therefore, they create a good harmony when going with skinny jeans.
However, whether you are a man or a woman, you can wear skinny jeans for work to ensure neatness and safety during work.
That's all you need to know! What do you think?
Howdy y'all, and welcome to From The Guest Room, your ultimate guide to all things Western! I'm Jay Gatz, a lifelong cowboy boot enthusiast with over 5 years of experience in the Western style world. I'm excited to share my knowledge with you and help you discover the perfect cowboy boots and western gear to elevate your style. Let's explore the rich history and timeless appeal of Western fashion together!