In the ever-evolving world of fashion, unexpected pairings often lead to the most stunning results.
One such awesome fusion that has been making waves is the coordination of flare jeans and cowboy boots.
This unusual combo delivers a look that is both stylish and versatile, all while maintaining a distinctly modern feel that transcends the traditional Western stereotype.
You might wonder how these very different things can go together. The key to making it work is finding the right balance.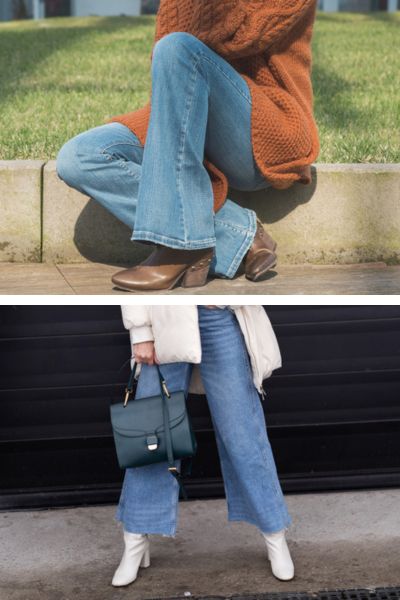 Flare jeans, with their signature wide-leg silhouette, bring an undeniable sense of elegance and flair to any outfit.
When paired with the rugged charm of cowboy boots, you not only achieve a chic and stylish look but also embrace a level of comfort that's often elusive in the realm of high fashion.
The allure of this pairing emerges from its remarkable flexibility. Whether you're heading out for a casual brunch with friends, a night on the town, or even a semi-formal gathering, when styled properly, flare jeans and cowboy boots can be your go-to choice.
In this guide, we'll explore the art of creating stunning ensembles that not only flatter your figure but also reflect your personal style.
From the urban streets to the countryside, these fashion staples transcend boundaries and create an aesthetic that's uniquely yours.
Can I wear Flare Jeans with Cowboy Boots? A Modern Fashion Perspective
Wearing flare jeans with cowboy boots is not just a possibility; it's a dynamic and stylish choice for today's fashion-forward individuals.
This combination offers the best of both worlds: a blend of style and comfort that is ideal for creating a distinctive look that's both versatile and adaptable.
One of the standout features of this pairing is the ample room that flare jeans provide, especially those designed to fit comfortably over cowboy boots.
This design ensures that your jeans neatly drape over the boots, offering a silhouette that exudes fashion consciousness. The space these jeans provide allows for a seamless transition between casual and urban styles.
To maintain a flattering silhouette, the fit of the jeans is a deciding factor.
If you're confident in showcasing your curves, opt for slim-fit flare jeans with a high rise. These jeans hug your thighs and accentuate your buttocks, creating a figure-flattering look that's bound to turn heads.
However, for those who prefer a more relaxed fit, even if you're not on the larger side, consider the surprising modern vibe that a relaxed fit can bring to your ensemble.
Experimentation is key when it comes to the color (natural, sand, etc.) and style (ripped hemline) of flare jeans. Don't be afraid to explore different shades and creative options to express your unique fashion sensibilities.
Accessories play a significant role in the art of fashion, allowing you to fine-tune your style and make a bold statement. Depending on the vibe you're aiming for, your choice of accessories can take your outfit to the next level.
Casual Wear: A simple wide-brim hat adds a touch of Western charm for a relaxed look.
City Vibe: Elevate your style with a leather tote or crossover bag, pair your outfit with a blazer or stretch coat, and don a beret for an urban chic vibe.
These accessories transform your outfit, making it perfect for city streets. For more inspiration and outfit ideas, read on this article.
Beyond style, it's essential to highlight the comfort factor. Flare jeans paired with cowboy boots are incredibly comfortable for all-day wear.
The wide-leg design of flare jeans allows for ease of movement and breathability, making them the perfect choice for those long days when you need both style and comfort.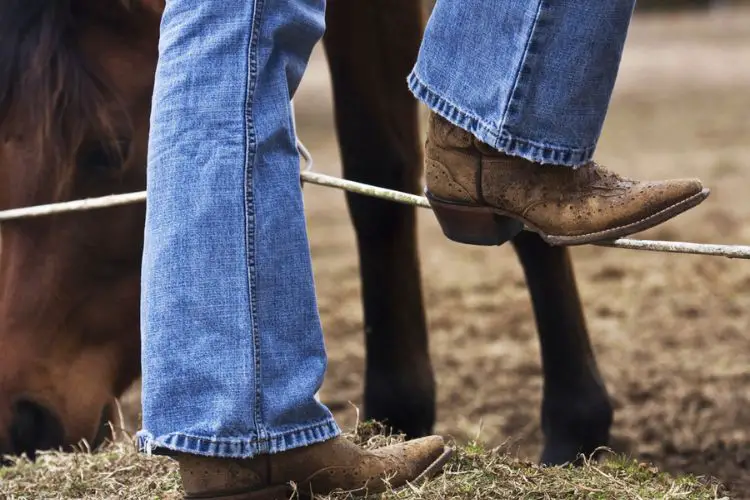 However, there is a caveat to consider. To avoid a bulky or unflattering look, pay attention to the length and width of the flare at the end of the jeans.
They should not be excessively long, dragging on the ground or covering the entire cowboy boots. This careful attention to detail ensures that your outfit maintains the sleek and stylish appearance you desire.
In conclusion, don't hesitate to embrace the wonderful fusion of flare jeans and cowboy boots.
It's a choice that harmonizes style and comfort and offers ample opportunities for self-expression.
Now, let's dive into our outfit ideas for further inspiration on how to master this fashionable pairing and leave a lasting impression.
Idea 1: Casual Chic
For a relaxed yet stylish look, opt for slim-fit flare jeans paired with classic cowboy boots. The key to this ensemble is balance.
Choose jeans that hit just above the ankle, allowing a glimpse of the decorative brown shaft of your boots.
This creates a striking contrast between the rich blue hue of the denim and the rustic charm of the boots.
If you're feeling adventurous, switch things up by selecting jeans in a natural color for a refreshing twist on the classic Western look.
For comfort throughout the day, pair your outfit with a simple tee or tank.
Keep your accessories minimal but impactful; a wide-brim cowboy hat adds the perfect finishing touch.
Idea 2: Urban Edge
To stand out in a more urban setting, let's see how to style your flare jeans and cowboy boots.
Choose cowboy boots with distinctive features, like those made from goat leather, which possess natural wrinkles and creases, adding a unique texture to your look.
The versatility of this combo allows you to effortlessly transition from a casual to an urban vibe.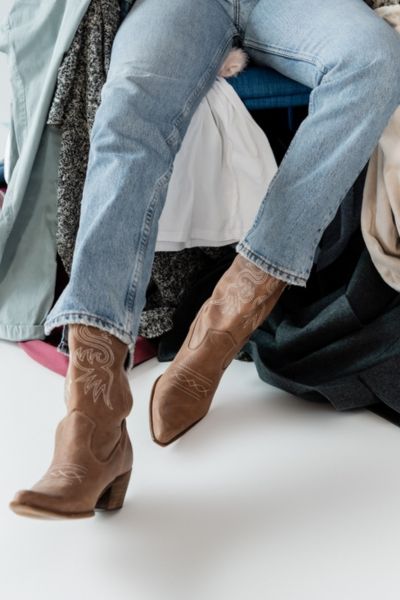 In cooler seasons, elevate your style by pairing your jeans and boots with a cozy sweater and layer it with a wool coat or cardigan. This ensemble is perfect for navigating the city streets with flair.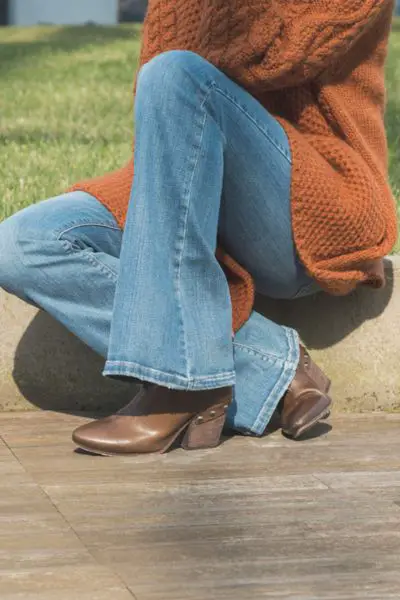 Explore different cowboy boot styles, from traditional to ankle boots and even white boots with a modern edge to complete your desired urban vibe.
Idea 3: Accessorize to Elevate
Don't forget the power of accessories in completing your flare jeans and cowboy boots look. Add a touch of sophistication with a beret and a tailored blazer.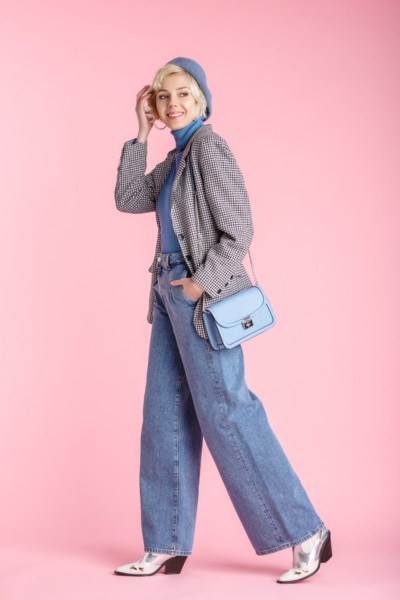 In winter, nothing can beat a down jacket to keep you warm. Put on your jacket and carry your essentials in a stylish tote or a crossbody bag for added practicality.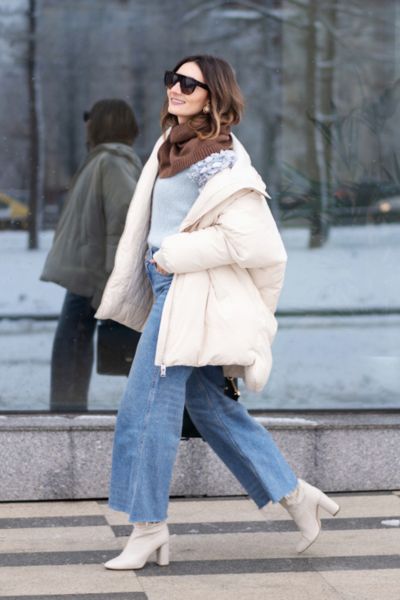 These accessories not only enhance your overall appearance but also allow you to express your personal style with finesse.
Conclusion
The combination of flare jeans and cowboy boots shows how you can have both style and comfort in modern fashion. In this article, we've seen that this mix gives you lots of chances to express yourself and be creative.
By understanding the nuances of fit and paying attention to details, you can effortlessly transform their looks from casual to urban, all while maintaining a silhouette that's both flattering and fashionable.
The versatility of flare jeans, coupled with the timeless appeal of cowboy boots, allows fashion enthusiasts to explore a myriad of styles, from the rustic charm of the Wild West to the chic streets of the city.
Accessories, as we've learned, play a pivotal role in elevating this combination to new heights.
Whether it's a wide-brim hat for a touch of Western allure or leather totes, crossover bags, blazers, and berets for a sophisticated urban vibe, the right accessories can transform a simple outfit into a fashion statement.
Moreover, the comfort factor cannot be overstated. The freedom of movement provided by flare jeans, combined with the enduring comfort of cowboy boots, makes this pairing ideal for all-day wear.
The wide-leg design allows you to navigate your day with ease, making a powerful statement without compromising on comfort.
As you embark on your fashion journey, remember that style is not confined by boundaries—it's a canvas waiting for your unique brushstrokes.
Flare jeans and cowboy boots empower you to paint your picture, blending the nostalgia of the past with the vibrancy of the present.
Howdy y'all, and welcome to From The Guest Room, your ultimate guide to all things Western! I'm Jay Gatz, a lifelong cowboy boot enthusiast with over 5 years of experience in the Western style world. I'm excited to share my knowledge with you and help you discover the perfect cowboy boots and western gear to elevate your style. Let's explore the rich history and timeless appeal of Western fashion together!