In today's diverse fashion landscape, cowboy boots have transcended their traditional Western roots, becoming a versatile and stylish choice for women.
Modern construction has redefined these iconic boots, allowing them to seamlessly complement a wide range of outfits and occasions.
Among all the options, brown cowboy boots stand out as the ultimate choice, effortlessly blending with nearly any style.
Today, we'll delve into the world of fashion, exploring how these boots can be a perfect addition to your wardrobe.
Whether you're a fan of Western wear or looking to add a touch of rustic charm to your outfits, you're in for a fashion journey filled with innovative ideas.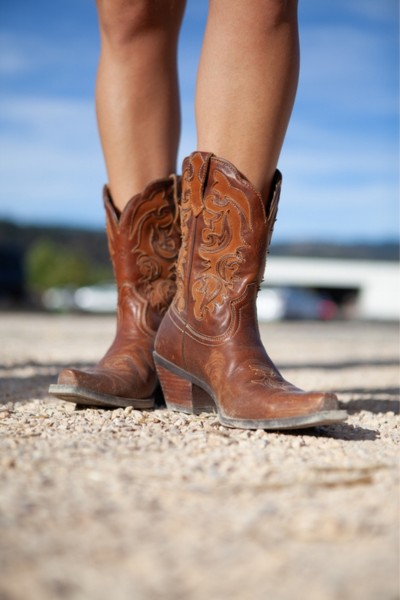 Jeans and Cowboy Boots
The combination of jeans and brown cowboy boots is a time-honored classic that resonates with many for its undeniable appeal and adaptability.
The contrast between the rugged texture of denim and the rich, earthy tones of cowboy boots creates a striking partnership that allows each element to stand out proudly.
This iconic ensemble offers a wealth of possibilities, making it a go-to choice for a variety of occasions.
1. Skinny Jeans Tucked In
To achieve a sleek and well-defined appearance, opt for the streamlined silhouette of skinny jeans that you can neatly tuck into the boot shafts.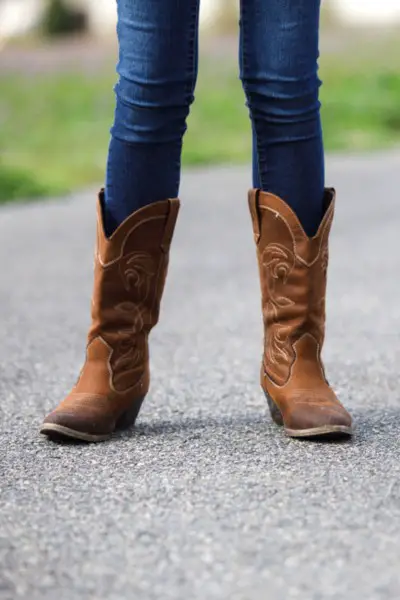 This approach exudes an aura of precision, cleanliness, and sharpness.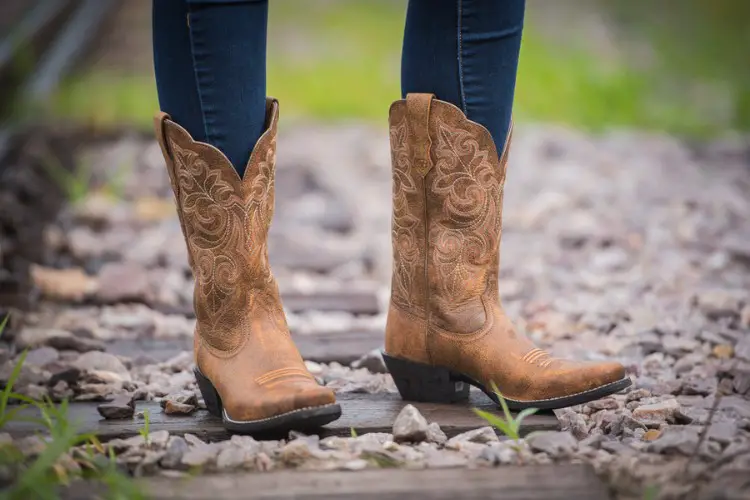 Pair these slim jeans with a simple tee, t-shirt, or tank top for a laid-back yet effortlessly stylish look.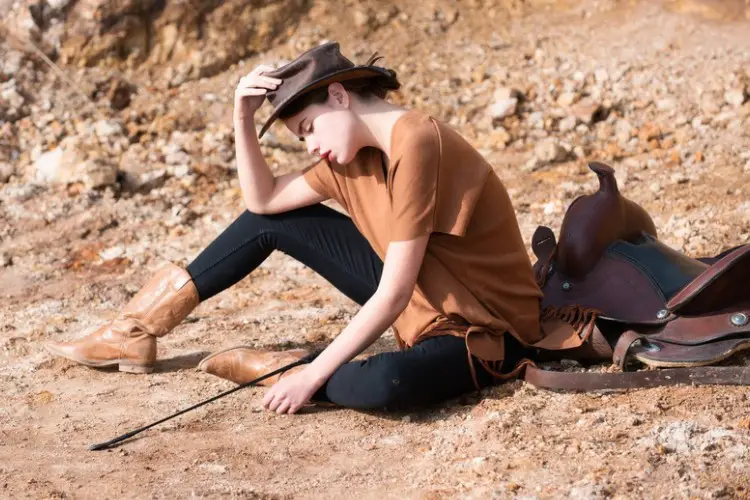 Whether you're running errands, meeting friends for a casual outing, or heading for a relaxed night on the town, this combination strikes the ideal balance between comfort and chic.
2. Casual Elegance: Regular Fit Jeans with a Stylish Gap
For those who favor a more relaxed fit, consider donning regular-fit jeans with your cowboy boots, be they traditional or the shorter version.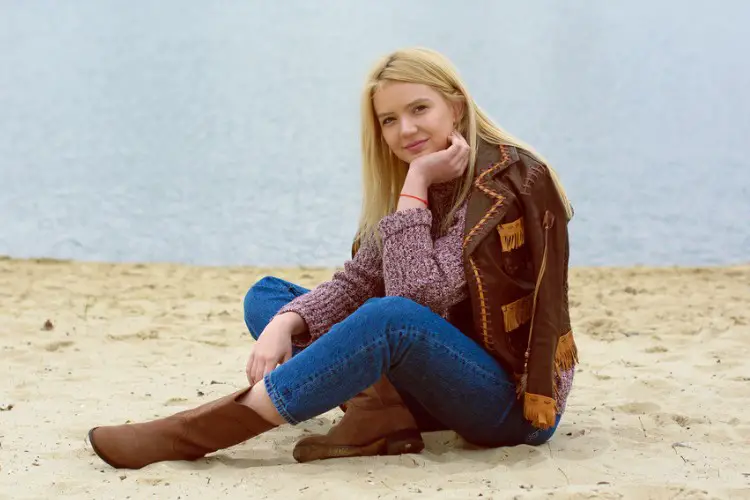 Leaving a stylish gap between the hem of your jeans and the top of your boots adds a touch of elegance to this ensemble.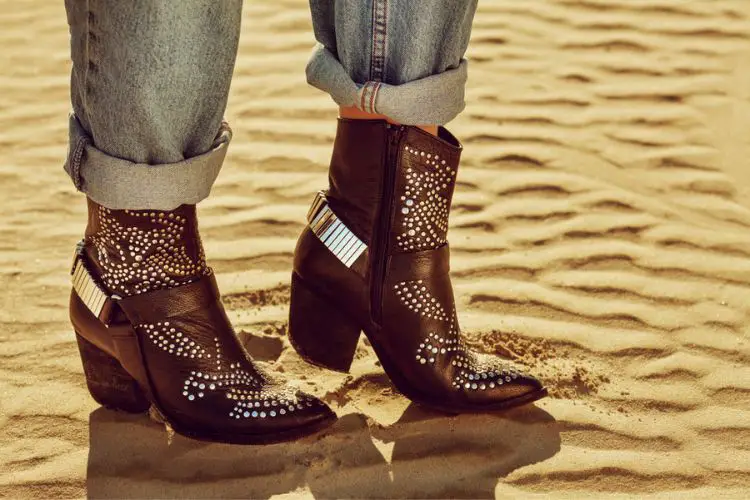 When the weather turns chilly, layer up with a cozy sweater or a sophisticated leather coat to enhance your cute and feminine appeal.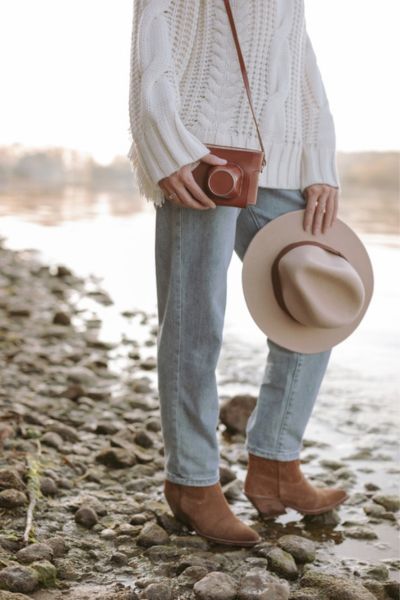 This pairing flawlessly harmonizes comfort with style, making it ideal for everyday wear and occasions that demand a dash of refinement.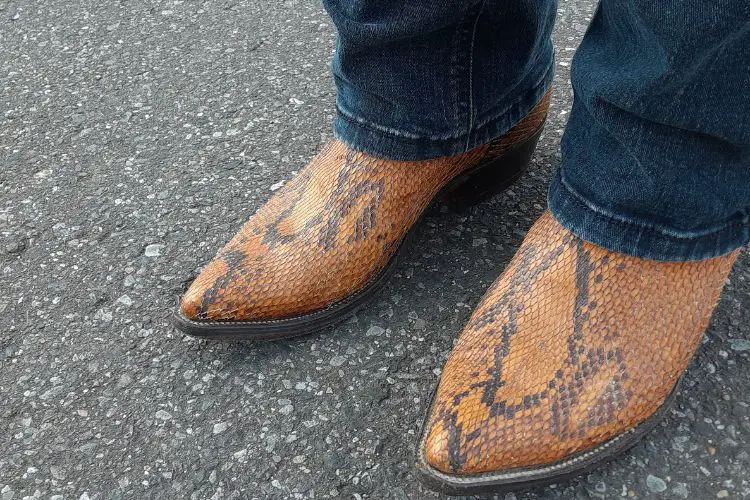 3. Bold and Contemporary: Embrace Flare or Wide-Leg Jeans
To make a bold fashion statement, step into the world of flare or wide-leg jeans, donned over your cowboy boots.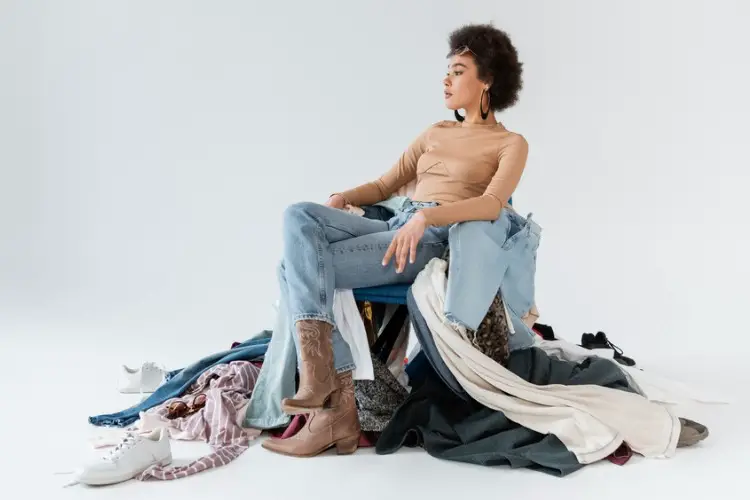 This choice introduces a chic and contemporary style that unmistakably stands out.
Elevate the look with snug-fitting long-sleeved t-shirts, and you're ready to confidently navigate the bustling city streets.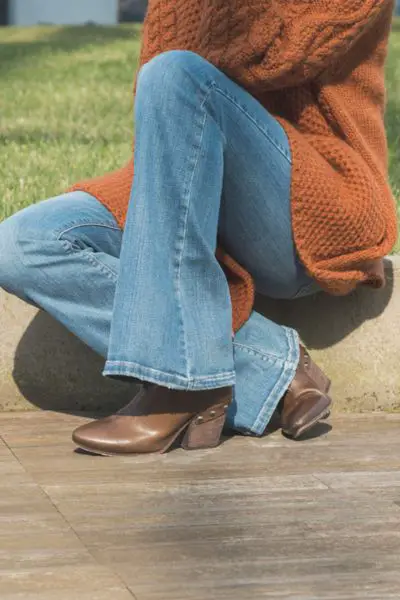 The union of wide-legged jeans and cowboy boots offers a distinctive and head-turning appearance, making it the perfect choice for those who desire to express their fashion-forward sensibilities.
4. Straight-cut Jeans for a Classic Touch
Adding to the classic charm, straight-cut jeans are a highly recommended choice when pairing them with brown cowboy boots.
This timeless silhouette adds an element of refinement to the rugged allure of the boots.
Whether you're opting for a clean look or adding a touch of vintage appeal, straight-cut jeans are versatile and sophisticated.
Style them with your brown cowboy boots for a blend of classic and rustic that's perfect for diverse occasions.
To enhance the classic charm while putting a spotlight on your boots, natural color straight-cut jeans are a highly recommended choice.
The earthy, unadulterated hue of these jeans adds an element of rustic refinement to the rugged allure of the boots.
5. Edgy Adventure: Dare with Ripped Jeans
For the bold and daring fashion enthusiast, consider pairing ripped jeans with your trusty brown cowboy boots.
This combination infuses your outfit with a youthful and dynamic energy.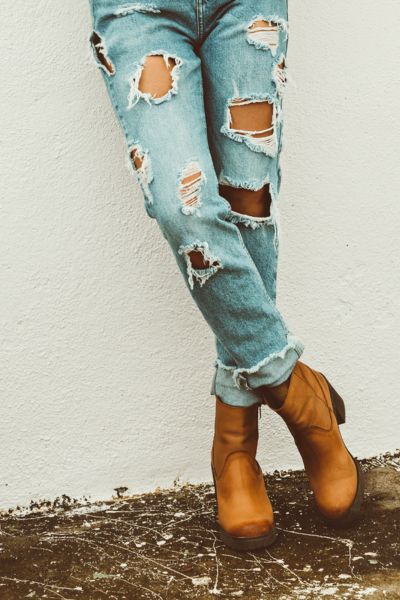 The striking contrast between the rugged texture of distressed jeans and the enduring allure of cowboy boots creates a captivating and vigorous look.
It's the ultimate choice for those who thrive on pushing the boundaries of fashion, embracing a style that's both fearless and contemporary.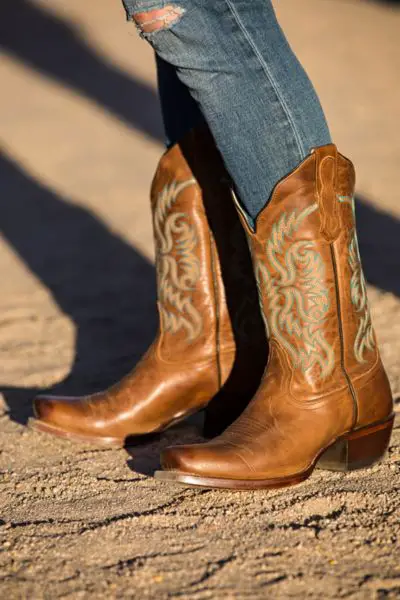 By exploring various types of jeans and experimenting with diverse ways to wear them with your brown cowboy boots, you can curate a wardrobe that harmonizes with your unique tastes and spans a broad spectrum of occasions.
The possibilities are endless, ensuring that you can consistently make a fashionable and memorable statement with this classic and adaptable pairing in American fashion.
Dresses and Skirts with Brown Cowboy Boots
For a dash of femininity and a touch of boho chic, there's nothing quite like pairing dresses and skirts with your trusty brown cowboy boots, especially if they happen to be crafted from supple suede.
These boots have a remarkable ability to seamlessly complement a wide range of dresses and skirts, enhancing your overall style and silhouette when curated thoughtfully.
1. Midi Dresses and Skirts
Midi dresses and skirts provide a delightful canvas for your brown cowboy boots to take center stage.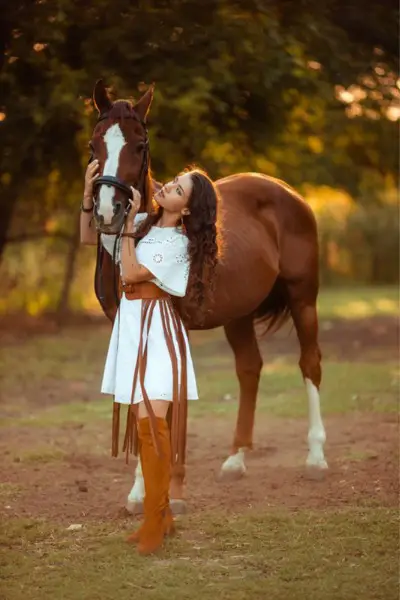 Consider a pristine white midi dress adorned with delicate embroidered flowers, perfectly paired with a leather fringe belt to create that sought-after boho-inspired look.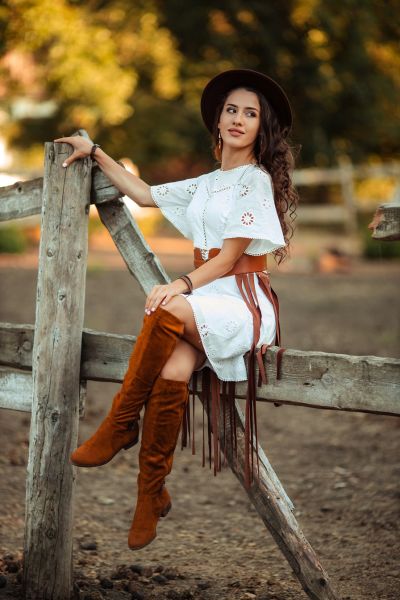 This combination emanates a sense of whimsy and romance, making it a splendid choice for a leisurely summer day.
It's the epitome of feminine charm with a touch of the Wild West.
2. Denim Skirts for a Timeless Appeal
When the allure of denim calls, but you're ready for a change from jeans, a denim skirt gracefully worn with your brown cowboy boots can be your savior.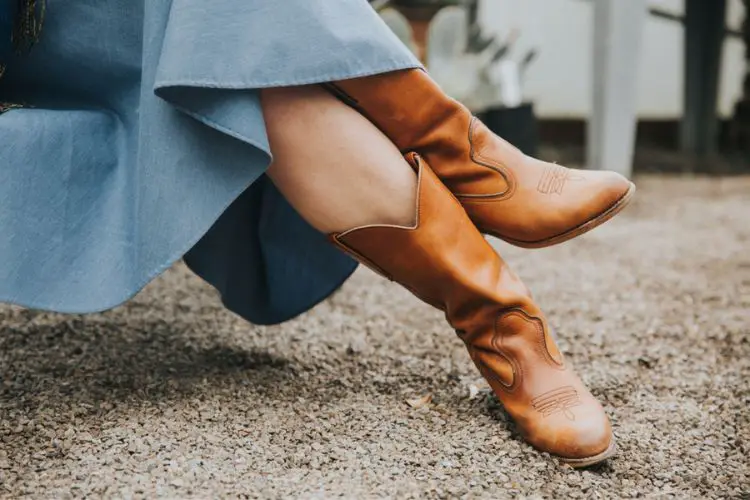 These contrasting colors create an unquestionably timeless appearance that never goes out of style.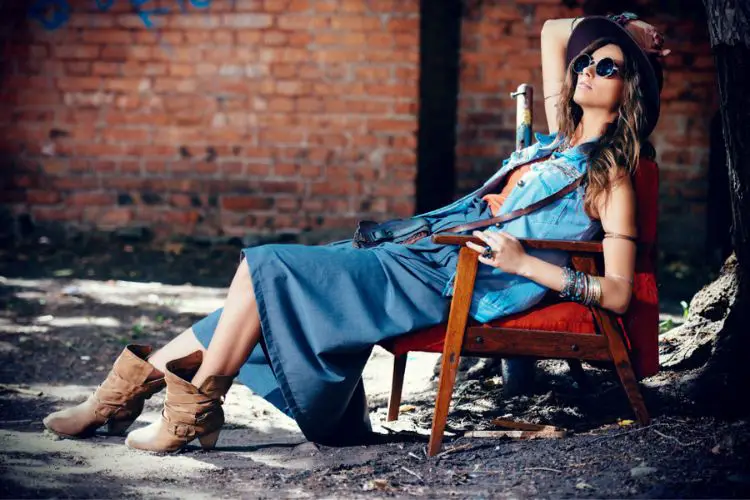 It's a subtle nod to classic Americana, reinvented for the modern fashion maven.
3. Lace Delight for Elegance and Comfort
Lace midi skirts or dresses offer an exceptional choice when you desire a lighter, more airy feel to your ensemble.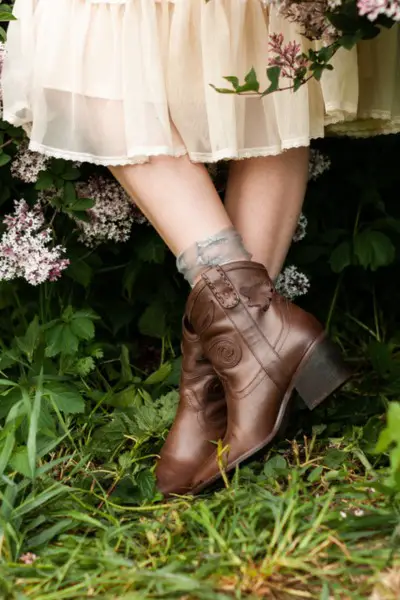 When the sun graces the sky and the air is balmy, a lace dress not only adds to the elegance of the outfit but also keeps you comfortable.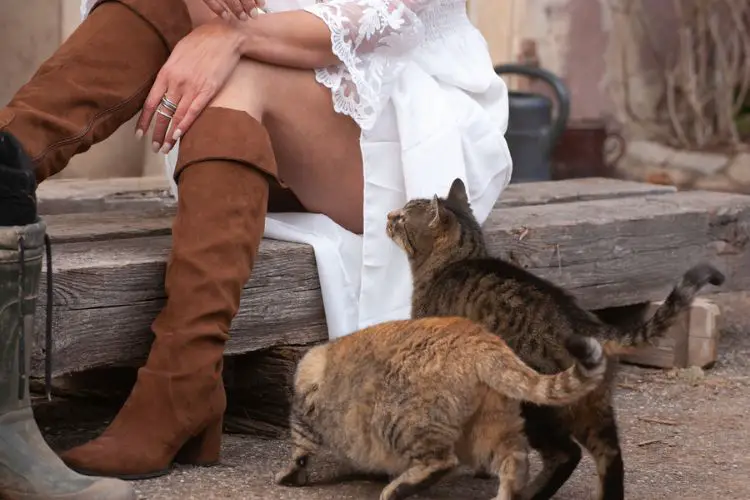 A two-strap lace dress, in particular, exudes a delicate and charming vibe, making it a sublime choice for summertime soirées and strolls.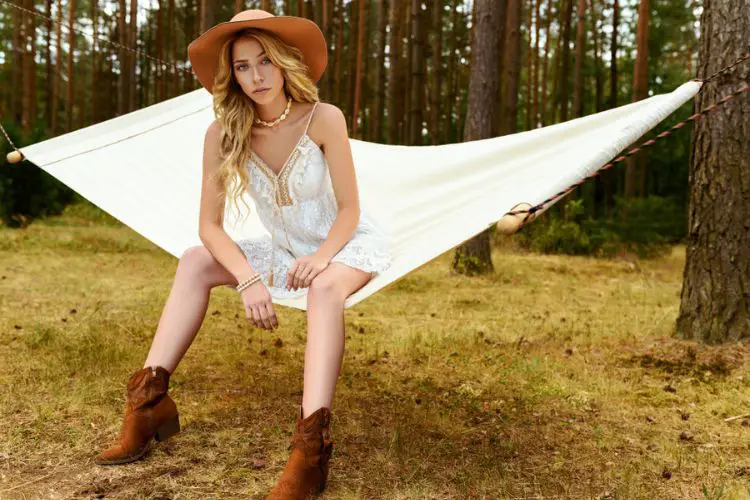 4. Boho Dresses with Floral Texture
Boho dresses adorned with floral patterns provide a delightful balance between rustic charm and feminine grace.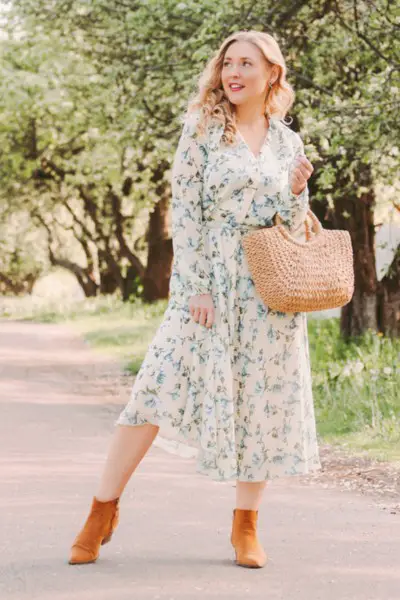 These dresses can be dressed up for special occasions or dressed down for a more casual, everyday style.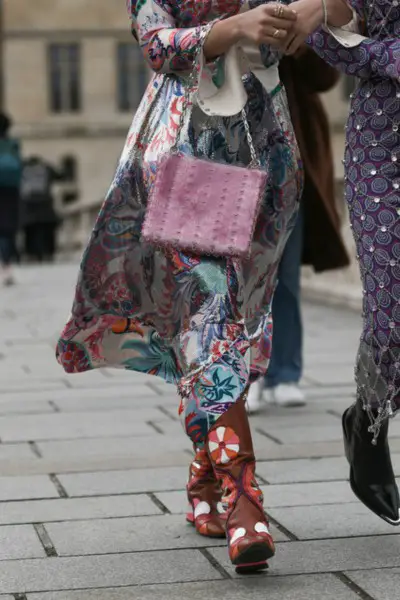 The marriage of the rugged allure of cowboy boots with the delicate allure of florals creates a look that's both spirited and enchanting.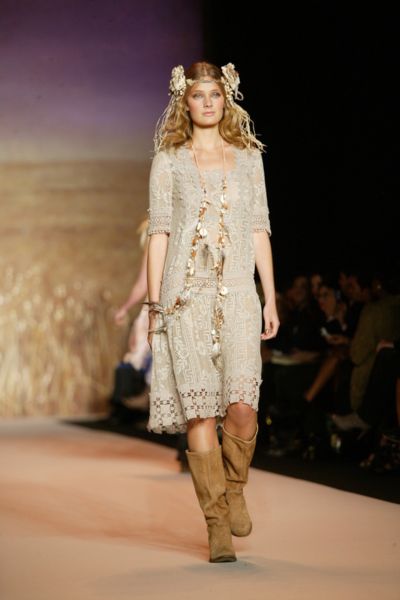 For those who seek a more advanced and sophisticated style, explore the realm of layered midi boho dresses, and let suede cowboy boots be their perfect companions.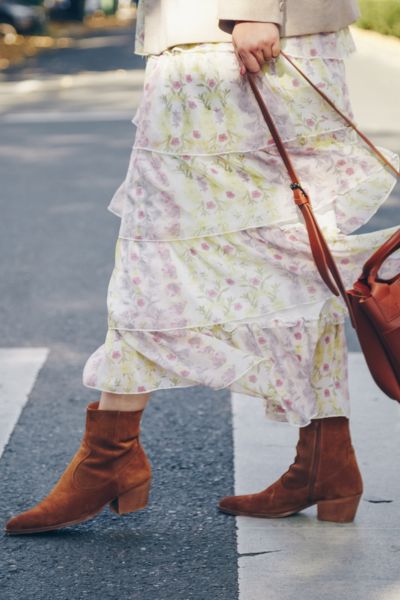 These dresses are known for their lightweight, soft, and incredibly feminine qualities.
They effortlessly create a captivating silhouette, making them an ideal choice for those who appreciate intricate and detailed fashion, ideal for those special moments when you want to leave a lasting impression.
5. Split Dresses for Surprising Elegance
The unexpected elegance of pairing split dresses with brown cowboy boots reveals a delightful surprise.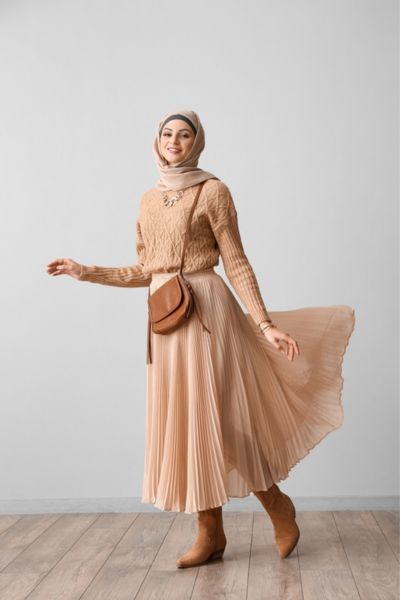 Opt for a monochromatic look to elevate the outfit to a level of refined elegance, or experiment with the whimsical charm of dotted high-low dresses for a contemporary twist on this classic pairing.
Brown cowboy boots effortlessly transition from casual to elegant, showcasing their incredible versatility.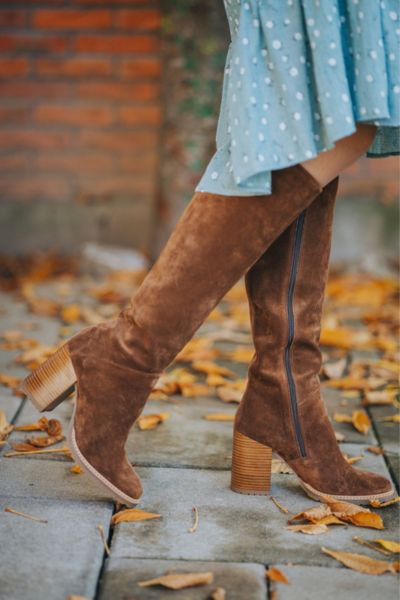 6. Cozy and Practical: White Sweater Dresses
When a brisk day arrives, a white sweater dress presents the ideal match for your brown cowboy boots.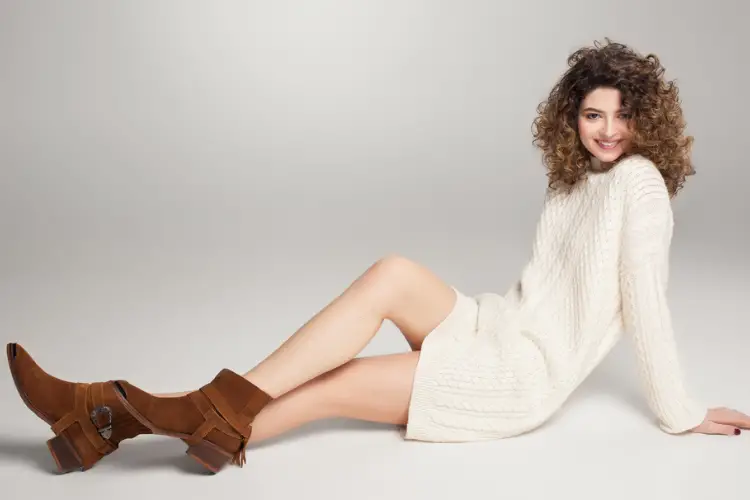 This pairing is simplicity at its finest, offering a sense of comfort and practicality while still exuding a delightful charm.
It's an excellent choice for those casual outings when the weather calls for an extra layer of warmth.
A Summer Sensation: Shorts with Brown Cowboy Boots
Pairing brown cowboy boots with shorts is a versatile choice that transitions effortlessly from casual wear to an alluring and sexy style.
These outfits are a perfect match for the carefree and vibrant atmosphere of summer, offering both comfort and style that's ideal for those sun-drenched days.
1. Denim Shorts: The Classic Choice
Denim shorts are a classic match for cowboy boots, whether they are short or tall. The denim texture effortlessly complements the rustic charm of cowboy boots.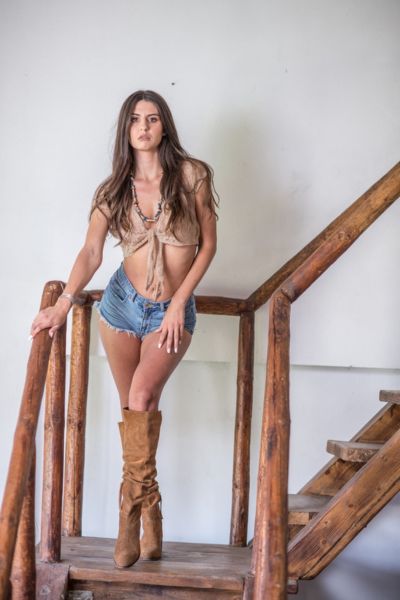 Consider pairing them with a tie-front crop top or a lace mixed blouse top for a style that's both fashionable and practical on hot summer days.
The combination exudes a sense of youthful playfulness, ideal for daytime outings.
As the sun sets and temperatures drop, don't shy away from pairing your brown cowboy boots with shorts and a sweater.
Surprisingly, a sweater can be the perfect addition to keep you cozy without compromising your style.
It's an ingenious way to adapt your summer ensemble for cooler evenings, creating an outfit that's equal parts chic and snug.
2. Experiment with Different Colors
While traditional denim shorts are often the go-to choice, consider branching out with different colors.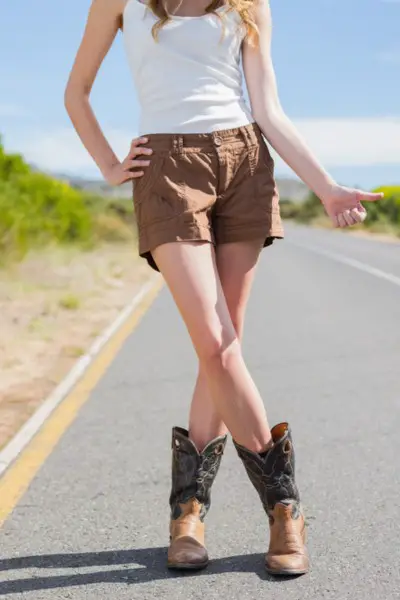 Brown shorts, for instance, offer a unique twist when paired with brown cowboy boots.
Match them with a crisp white tank top, and you're all set for an outdoor gameday or a laid-back gathering with friends.
This combination adds a touch of earthy charm to your summer look.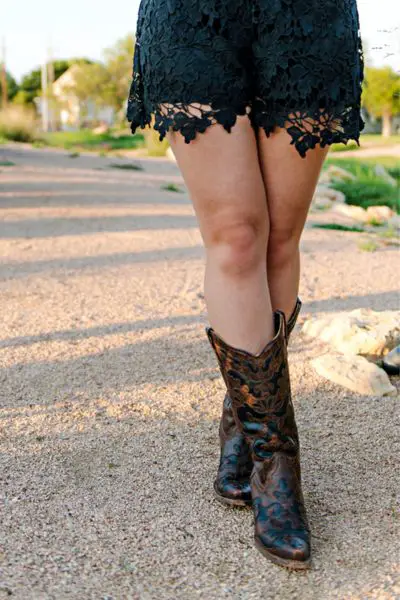 To enhance your feminine style without sacrificing comfort, consider shorts made from light lace.
The delicate texture of lace softens the rustic edge of cowboy boots, creating an ensemble that's both captivating and comfortable.
Lace shorts exude an air of grace and sophistication, making them a superb choice for summer events or romantic outings.
Effortless Elegance: Brown Cowboy Boots for Luxury Occasions
Brown cowboy boots are not just for casual outings; they can also seamlessly transition to elegant, high-end occasions.
From corporate meetings to wedding ceremonies, these boots prove their adaptability and enduring charm.
1. A Symphony of Colors
For a striking and fashionable ensemble, pair brown pointed-toe cowboy boots with a bold red maxi dress.
Add a touch of drama with a green trench coat and complement the look with a wide-brimmed red hat and a classic black handbag.
This combination effortlessly marries rustic charm with high fashion, making it ideal for special events where you want to make a memorable entrance.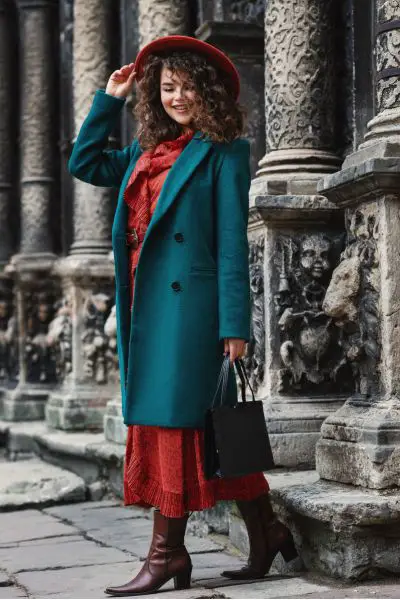 2. Elevate the Business Attire
Stylish brown cowboy boots with high heels and pointed toes add an air of sophistication to your business attire.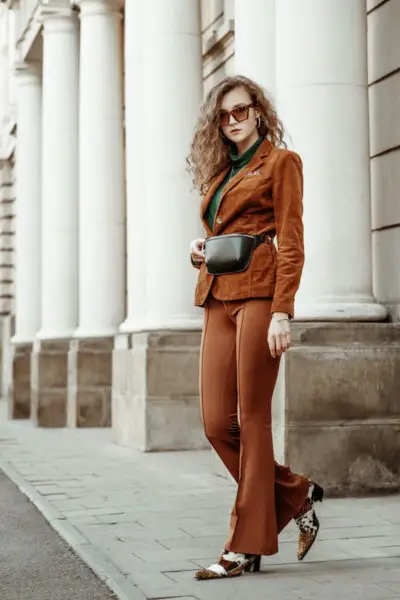 Consider pairing them with brown business suits, including dress pants or blazer suits. A turtle neck sweater underneath the blazer exudes professionalism and style.
This ensemble is perfect for corporate meetings, presenting a balance between classic elegance and a hint of Western charm.
3. Classic Plaid and Blazer
Continue the journey into elegance with a short plaid dress paired with brown cowboy boots.
Complete the look with a black handbag and a beige blazer, which adds a touch of formality and structure.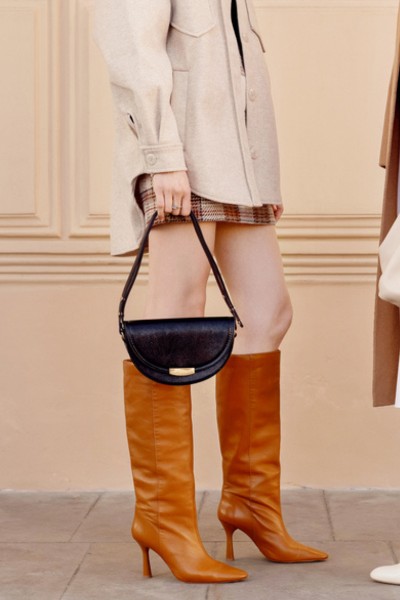 This outfit is an excellent choice for a semi-formal gathering or a sophisticated brunch with friends.
4. Dark Red and Brown Tones
For a cozy yet chic outfit, consider a dark red sweater paired with brown chinos pants.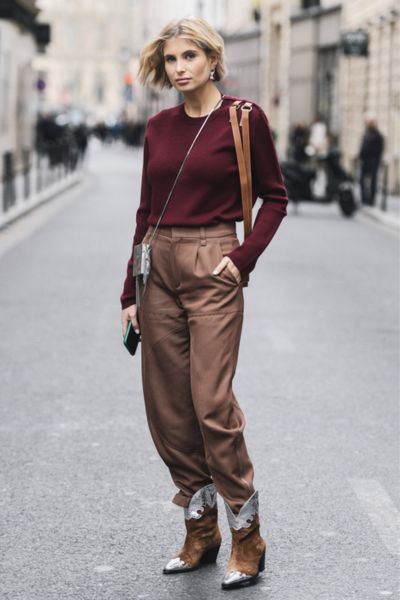 Style it with stylish suede cowboy boots and complete the look with a sleek black crossover bag.
This ensemble strikes a balance between comfort and elegance, making it suitable for a relaxed evening at a high-end restaurant or a cocktail party.
5. Leather Blazer and Fringe Details
Elegance takes on a Western flair with a luxurious leather blazer. Layer a beige dress underneath the blazer for a harmonious look.
Pair it with brown suede cowboy boots and a Western-style brown leather handbag adorned with fringe details.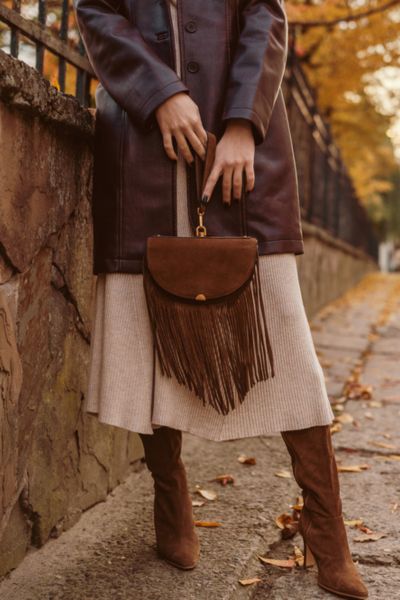 This outfit exudes sophistication and individuality, making it an excellent choice for weddings, art gallery openings, or upscale social events.
Last Thoughts
In the world of fashion, versatility reigns supreme, and brown cowboy boots have emerged as a true chameleon of style.
Whether you're seeking casual comfort, a touch of boho chic, or the elegance required for luxury occasions, these boots rise to the occasion.
From classic denim pairings to lace delicacy and even business elegance, brown cowboy boots effortlessly blend rustic charm with contemporary fashion.
Their adaptability knows no bounds, making them a cherished staple in any wardrobe.
So, as you embrace the changing seasons and diverse occasions, remember that your trusty brown cowboy boots are there to accompany you, adding a touch of Western allure to every step you take.
Howdy y'all, and welcome to From The Guest Room, your ultimate guide to all things Western! I'm Jay Gatz, a lifelong cowboy boot enthusiast with over 5 years of experience in the Western style world. I'm excited to share my knowledge with you and help you discover the perfect cowboy boots and western gear to elevate your style. Let's explore the rich history and timeless appeal of Western fashion together!