Indeed, the ubiquity of cowboy boots extends far beyond the traditional ranch and farm settings in the United States.
Nowadays, you can spot cowboy boots in a multitude of places, from weddings to offices, trucks to construction sites, and everywhere in between.
Cowboy boots are incredibly versatile and can complement a wide range of clothing choices.
They pair wonderfully with skirts, dresses, jeans, khaki pants, and can even be integrated into more formal attire, such as suits or dress pants.
However, it's crucial to understand that the world of cowboy boots comes with its set of guidelines, especially for men.
These guidelines are essential to ensure you're admired for your style choices and to steer clear of any fashion blunders. In this article, we've delved into these rules to provide you with valuable insights.
So, why the cautionary note about cowboy boots and shorts? What makes this combination potentially problematic? Let's delve into the reasons behind this fashion advice.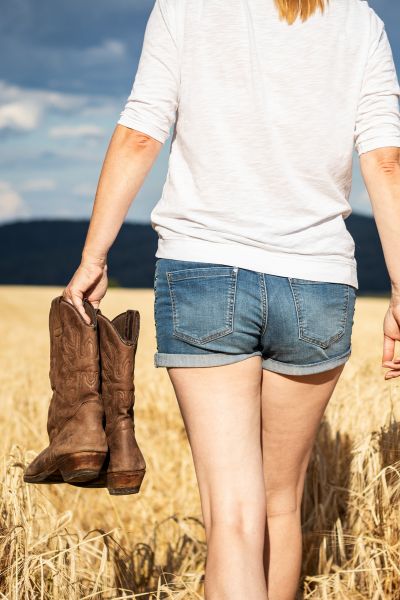 Can You Wear Cowboy Boots With Shorts?
As previously discussed, cowboy boots can effortlessly pair with a variety of outfits, adapting to a wide range of styles from luxurious to wild.
However, it's essential to recognize the distinctions between men and women in terms of how they match cowboy boots with outfits, especially when it comes to wearing them with shorts.
From an aesthetic standpoint, women can confidently wear cowboy boots with shorts without hesitation. It's a versatile choice for them. However, for men, this combination is not recommended.
In general, when wearing cowboy boots, men should ensure that the shaft is entirely concealed by their pants. The shaft of cowboy boots often features brand-specific motifs that shine when the boots are displayed alone, not when worn on the feet.
Consequently, when cowboy boots are paired with shorts, the exposed shaft creates a somewhat comical appearance, lacking sophistication, elegance, and the inherent masculinity associated with these boots.
Cowboy boots epitomize classic beauty and experience, while men's shorts convey a relaxed and uncomplicated style. The fusion of these two elements is destined to create a discordant look.
Women's shorts offer a wide array of fashion models with creative and attractive designs. When these shorts are combined with cowboy boots featuring an appealing shaft, the result is undeniably charming.
For men, though, shorts are generally not the best choice to accompany cowboy boots, whether for fashion or work. Imagine a worker attempting a job that demands intense concentration while wearing shorts – it's a rare sight.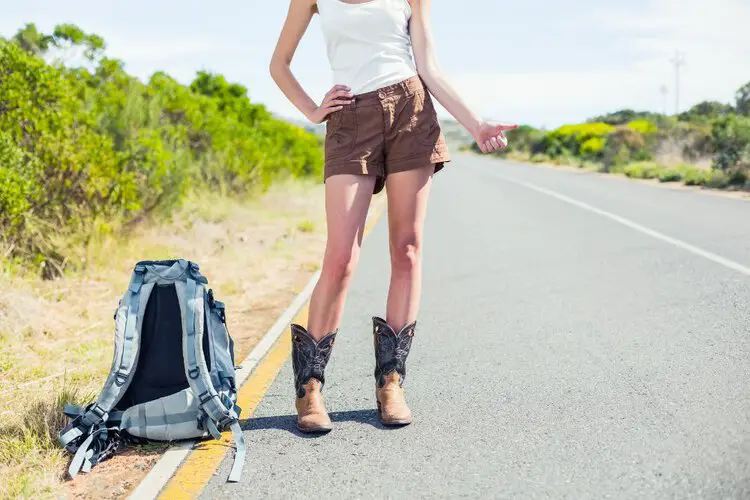 Cowboy boots with high shafts provide protection against various adverse agents, such as mud or dirt, during work.
They also offer temperature regulation, keeping feet warm in winter and cool in summer. It's precisely why cowboys have never favored the combination of shorts and cowboy boots.
Women often opt for shorts or skirts with cowboy boots when working because their tasks typically don't involve physically demanding or heavy labor, unlike men.
And that concludes our exploration of the relationship between cowboy boots and shorts. It's a nuanced area where choices should align with individual style and practicality, considering the demands of the occasion.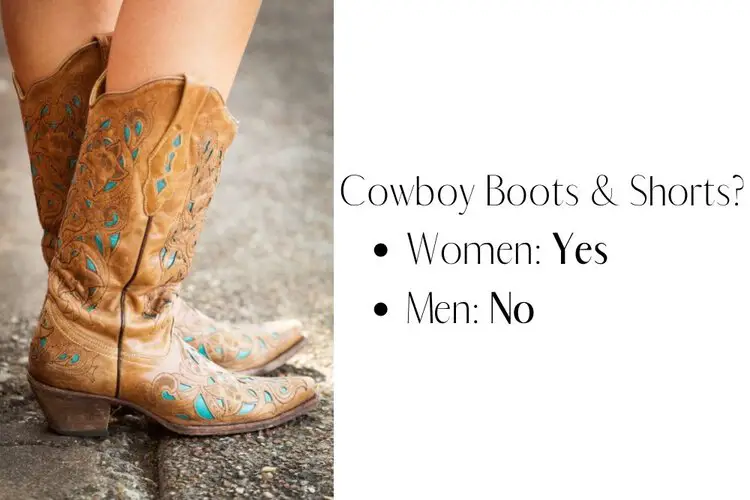 The Ultimate Style Guide for Women: Pairing Cowboy Boots with Shorts
If you're a woman who loves fashion and the Western lifestyle, this style guide is your ticket to creating stunning outfits that will turn heads.
Let's dive in!
1. Cool Style
Imagine yourself confidently stepping out in this captivating and cool look that combines grey cowboy boots with dark denim shorts, featuring a unique twist – distressed hemline shorts.
These dark denim shorts become your canvas for creative expression. What sets them apart is the carefully crafted distressed hemline.
The frayed edges infuse a rugged charm, perfectly complementing the Western essence of the cowboy boots.
By pairing these distressed shorts with grey cowboy boots, you strike a harmonious balance between edgy and elegant.
The boots ground the look with their timeless appeal, while the distressed shorts introduce a touch of modern flair. It's a combination that exudes effortless coolness.
This ensemble is incredibly versatile and adapts to various occasions.
Whether it's a casual day out, a lively festival, or simply a way to express your unique style, this outfit radiates confidence, creativity, and a subtle rebellious spirit that defines cool style.
So, confidently step out and own this look with flair.
2. Urban Style for Street
Achieving modern chic style is all about striking the perfect balance between distinctive elements and sophistication.
Imagine someone confidently strolling through the city streets, effortlessly embodying this unique and stylish look: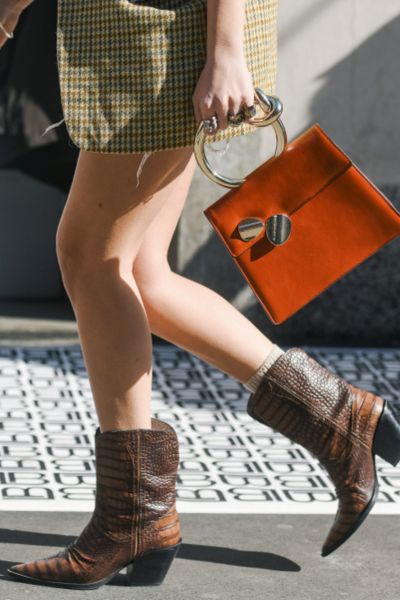 They choose to make a bold statement with lizard-textured cowboy boots, showcasing their unique texture and striking pattern.
These boots serve as the focal point of the outfit, blending a hint of exotic charm with Western flair.
To complement the eye-catching boots, they opt for understated shorts. While partially concealed, these shorts subtly contrast with the boots, ensuring the ensemble maintains its balance.
Layered elegantly over the shorts is a classic plaid coat. Its longer length adds a touch of refinement, creating a dynamic interplay between casual and sophisticated elements within the look.
To complete this chic ensemble, they introduce a pop of color with a captivating orange leather bag. This bold accessory ties the entire look together, infusing it with a modern and vibrant edge.
This outfit represents the seamless blend of contemporary fashion trends with the enduring style of the West.
It's a captivating fusion of textures, patterns, and colors that allows the wearer to confidently stride through the city, making a bold and stylish statement everywhere they go.
3. Chic Look for Casual Wear
The outfit in question featured a pair of white shorts, distinct from the usual denim, as they were crafted from lighter and thinner fabric.
These shorts exuded comfort with their lightweight and breathable material. The choice of white adds a sense of freshness and purity to the ensemble, making it perfect for sunny days.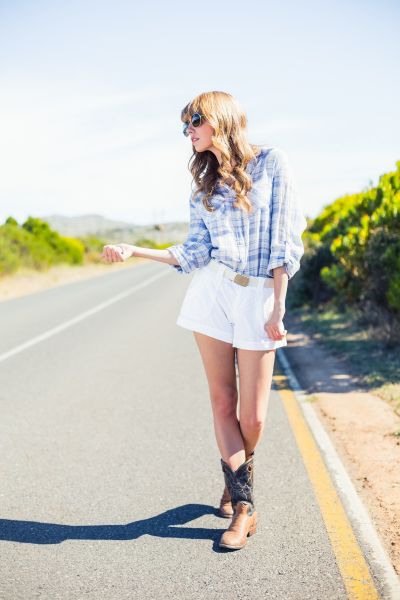 Pair these easy-breezy shorts with traditional-style cowboy boots, embodying classic Western aesthetics with their timeless design. These boots add a touch of rustic charm to your overall look.
For the top, don a light blue and white plaid shirt to effortlessly balance casual and chic. The relaxed fit of the shirt contributes to the overall comfort and laid-back vibe of the outfit.
Complete your look with a pair of sunglasses, not just as a stylish accessory but also as practical eyewear for sunny days. They add an element of coolness to your ensemble.
To tie everything together, consider a white fashion fabric belt that perfectly matches the shorts in both tone and style. This adds a subtle but effective touch of cohesion to your look.
This ensemble strikes a perfect chord between casual wear and comfort. It's as if you're effortlessly embodying chill vibes while looking chic.
It's an outfit that's ideal for leisurely strolls, picnics in the park, or simply enjoying a laid-back day with style.
Whether you're seeking a relaxed weekend outfit or aiming to capture that comfortable yet chic aura, this style serves as perfect inspiration for an easygoing and fashionable look.
4. Effortlessly Relaxed Country Vibe
This ensemble effortlessly channels relaxed country vibes without veering into overly rustic territory. Picture yourself donning this easygoing yet stylish look:
The denim shorts take center stage, featuring a distinctive detail – the ripped hemlines.
These intentional tears and frayed edges bring a touch of character to the outfit, adding a hint of rebellious charm while maintaining an overall relaxed feel.
Completing the lower half of the ensemble are classic cowboy boots. These boots embody Western flair without overpowering the look.
They strike a perfect balance between rustic and contemporary, elevating the outfit's country vibes.
On top, a floral-printed blouse with lace sleeves featuring elastic cuffs adds a dose of femininity and whimsy.
The lace sleeves provide a touch of drama while the floral pattern introduces a vibrant and charming element.
This outfit effortlessly captures a relaxed country vibe that's far from rustic.
It's as if the wearer is ready to embrace a leisurely day in the countryside while maintaining a modern and chic demeanor.
This look is perfect for casual outings, a day at a country fair, or simply embracing the joy of a relaxed countryside experience.
It's all about combining comfort with style for a laid-back yet fashion-forward appearance.
5. Youthful and Active Fashion
This outfit radiates a youthful and active vibe with its simplicity. It's all about staying comfortable while looking vibrant and ready for action:
The focal point of this ensemble is a pair of light fabric shorts in a vibrant orange hue.
Their breezy design and bright color immediately inject energy and vitality into the look. These shorts are perfect for staying cool on warm days.
On top, a classic T-shirt provides a laid-back and comfortable element.
Choose a T-shirt with a design or color that complements the lively orange shorts. This combination keeps the look straightforward and easygoing.
To add a touch of flair and individuality to this otherwise simple outfit, opt for a pair of cowboy boots. These boots bring a hint of Western charm and a touch of ruggedness to the overall appearance, making it stand out.
This outfit is all about embracing a youthful and active spirit. It's simple and comfortable, making it ideal for days filled with adventure and activity.
The vibrant orange shorts infuse a sense of fun, while the cowboy boots add a dash of personality to the look.
Whether you're spending a day outdoors, going for a casual outing, or simply aiming to maintain a young and active appearance, this style effortlessly achieves that vibrant and energetic vibe.
Conclusion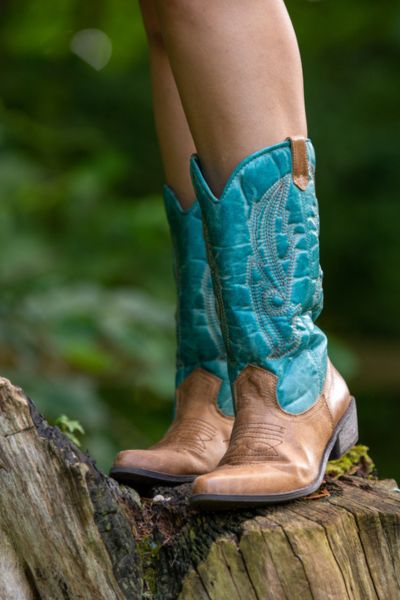 From an aesthetic standpoint, men have traditionally shied away from exposing the shaft of cowboy boots due to concerns of appearing overly ostentatious.
This is precisely why the pairing of shorts and cowboy boots doesn't typically find favor among men.
Moreover, this combination fails to strike a balance of elegance and refinement, as these two accessories embody distinct styles.
Cowboy boots exude traditional beauty, confidence, and masculinity, while shorts convey a casual and simplistic vibe. It's a clash of styles that simply doesn't harmonize.
Additionally, this combination doesn't provide adequate protection for men engaged in laborious tasks. While cowboy boots offer reasonable protection, shorts leave legs exposed to potential hazards.
Conversely, for women, shorts offer a modern, alluring, and attractive fashion option. They can effortlessly complement a pair of vibrant cowboy boots, creating a stylish look.
Furthermore, women typically don't contend with physically demanding jobs like their male counterparts on ranches or construction sites. Thus, the combination of shorts and cowboy boots not only offers suitable protection but also ensures comfort.
In the realm of women's fashion, there exists a boundless canvas for unleashing creativity and self-expression.
We've explored various style pairings that seamlessly blend classic and contemporary elements while preserving the essence of the Western lifestyle.
Whether it's the rugged allure of cowboy boots paired with distressed denim shorts or the straightforward combination of lightweight shorts and a T-shirt for a youthful and active appearance, each ensemble conveys a distinct narrative.
So, when it comes to donning cowboy boots, keep these implicit "rules" in mind, and let your personal style shine.
Howdy y'all, and welcome to From The Guest Room, your ultimate guide to all things Western! I'm Jay Gatz, a lifelong cowboy boot enthusiast with over 5 years of experience in the Western style world. I'm excited to share my knowledge with you and help you discover the perfect cowboy boots and western gear to elevate your style. Let's explore the rich history and timeless appeal of Western fashion together!