Today, you can see that cowboy boots appear everywhere in the United States, not just on ranches and farms. These places include weddings, offices, trucks, construction sites, etc.
Cowboy boots can go great with skirts, dresses, jeans, khakis pants, or even suits or dress pants.
However, in the world of cowboy boots, there are many rules that you need to know and memorize, especially with men.
If you want to be admired by others and stay away from any fashion disasters, then you need to study this article.
Cowboy boots and shorts can totally be a big mistake!
Why do I say that? What's wrong with cowboy boots and shorts?
Can You Wear Cowboy Boots With Shorts?
As mentioned above, cowboy boots can be worn with different outfits to go to many places, from luxurious to wild styles.
However, there are some differences between men and women when it comes to matching cowboy boots with outfits, especially when wearing them with shorts.
Aesthetically, while women can completely wear cowboy boots with shorts without any worries, it's not a good choice for men.
In general, when wearing cowboy boots, men should not show the shaft at all. It needs to be covered by your pants.
The shaft part of the cowboy boots has a lot of brand-specific motifs, it looks great when the cowboy boots stand alone, not when on your feet!
Therefore, when wearing cowboy boots with shorts, the shaft of the boots is completely exposed and creates a rather ridiculous look, which lacks sophistication and elegance as well as masculinity.
The beauty that cowboy boots bring is the beauty of classic and experience, but men's shorts go against that. These shorts indeed are the embodiment of a relaxed and simple look. So, this combination is sure to be a disaster!
Do not be jealous of girls! Shorts for women are typical fashion models with many very creative and attractive designs. When these shorts are combined with cowboy boots with a nice shaft, they will be so charming.
But for men, shorts are absolutely not a good choice for cowboy boots.
In fact, whether for fashion or work, shorts and cowboy boots are not a wise choice. Have you ever seen a worker use shorts for a job that really needs concentration?
Cowboy boots with high shafts can protect you from many bad agents when working like mud or dirt. Also, they keep your feet warm in winter or cool in summer. But shorts don't guarantee that, which is why cowboys never wear this duo.
Women often wear shorts or skirts with cowboy boots for working because they don't really do physically demanding or heavy jobs like men.
And that's all you need to know about cowboy boots and shorts relations!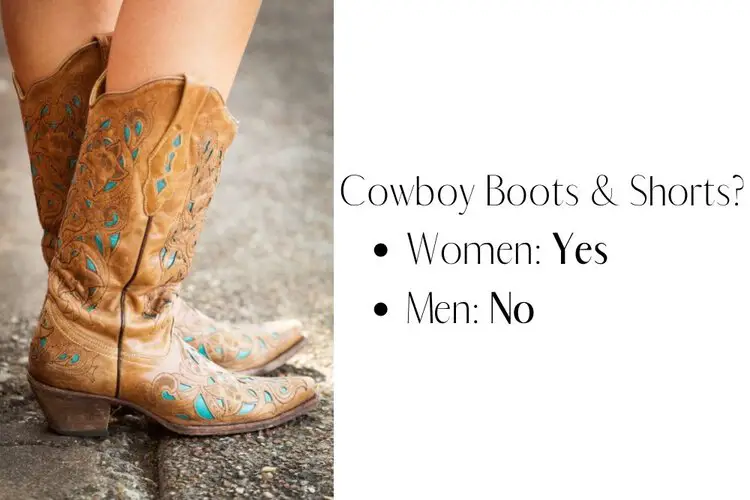 Conclusion
Aesthetically, men have never been encouraged to expose the shaft of cowboy boots, they look too showy. Shorts and cowboy boots don't go well together for this very reason.
Not to mention, the combination of shorts and cowboy boots for men does not bring elegance and courtesy, because these two accessories offer two different styles.
Cowboy boots bring traditional beauty, confidence and masculinity, but shorts look casual and way too simple. These two styles simply cannot go together.
This combination is also not good enough to protect the worker's guys from heavy jobs. Cowboy boots can protect you quite well, but shorts do not.
However, it's different for ladies, women's shorts offer modern, seductive, and attractive styles. They can be worn with a pair of colorful cowboy boots for a great look.
Besides, girls do not have to carry heavy work like men when on a ranch or construction site. So the combination of shorts and cowboy boots provides adequate protection and very good comfort.
That's all you need to know about some implicit "rules" when wearing cowboy boots!