Cowboy boots and Chelsea boots, without me having to analyze each type carefully, just looking at how they are shaped, you can noticeably distinguish the two.
Cowboy boots possess a typical Western American cowboy style with a height shaft of ankle height up to 16 inches, pointed toes, and distinctive riding tapered heels that curve slightly inward.
The boots are embroidered with intricate and dramatic motifs on the entire shaft, showing the wild, hysterical, and energetic lifestyle of the cowboys who often sit on horseback all day.
Chelsea boots are completely different. It can be said that the two types of boots send off absolutely opposite styles. Chelsea boots stick to an elegant, sophisticated lifestyle with a smooth boot shaft without heavy decorations.
They are only ankle-high and come up with flat, rounded toes (instead of arrogant pointed toes upwards like cowboy boots).
Despite the differences, both have one big thing in common. Their introduction marked an era of footwear, in which daily footwear could be worn effortlessly without the need to lace up.
Today, Chelsea boots can be confused with the common name "ankle boots". Cowboy boots also have a line of ankle cowboy boots and the two are sometimes confused with each other.
Let's dive into their biggest differences and figure out what is best for you!
Key takeaways
| | | |
| --- | --- | --- |
| Features | Chelsea Boots | Cowboy boots |
| Comfort | ⭐⭐⭐⭐⭐ | ⭐⭐⭐ |
| Durability | ⭐⭐⭐ | ⭐⭐⭐⭐ |
| Weight | ⭐⭐⭐⭐⭐ | ⭐⭐⭐ |
| Convenience | ⭐⭐⭐⭐ | ⭐⭐⭐ |
| Flexibility | ⭐⭐⭐ | ⭐⭐⭐⭐⭐ |
| Fashion | ⭐⭐⭐ | ⭐⭐⭐⭐⭐ |
| Function | ⭐⭐⭐⭐ | ⭐⭐⭐⭐ |
As mentioned above, Chelsea boots and cowboy boots are completely different in shape and structure.
Both are made based on the common handcrafted method of stitching the upper and sole with the thread traditionally.
Here are some of the biggest differences when compared to each other: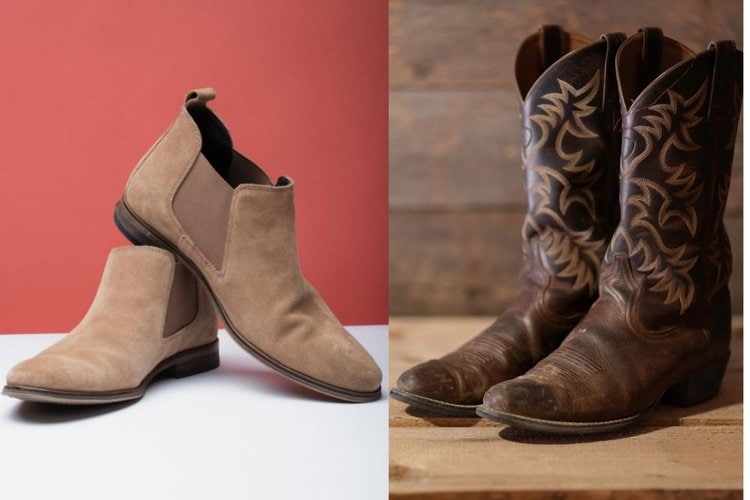 Structure
Perhaps, because they are laceless footwear, both cowboy boots and Chelsea boots are provided with loops or pull straps to help easily pull on the boot.
The difference is that each cowboy boot will have 2 pull straps placed along the sides of the boots while Chelsea boots only have 1 loop that is attached to the back of the boot.
More distinctively, some cowboy boots designs are fitted with 2 pull holes in the sides instead of pull straps. They are to create holding points for pulling on as well as enable better ventilation inside.
In general, the two are not too different in structure with leather heel, leather outsole, shanks, insole, lining, and midsoles. Since cowboy boots have a taller shaft, the side seam is also longer and more elaborately stitched.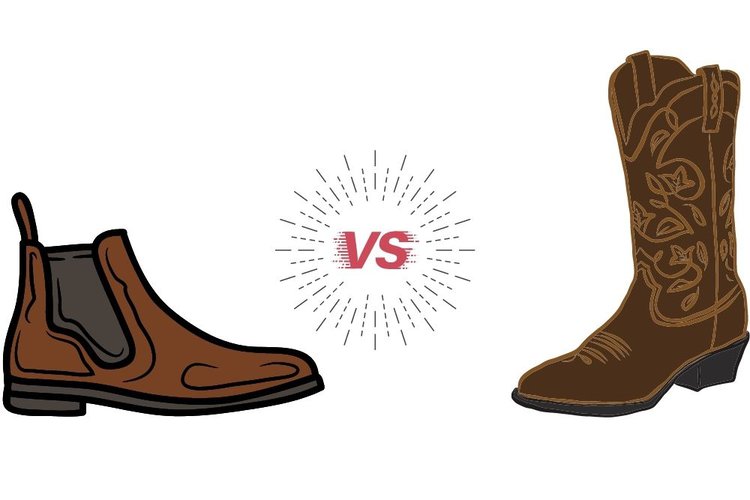 Material
Both cowboy boots and Chelsea boots are made primarily from leather (either faux or genuine leather), suede, and very rarely textiles (except the stretchy side panels of the Chelsea boots).
The biggest difference is that the upper surface of Chelsea boots often favors smoothness and presents almost no patterns at all. If made of leather, the boots should have a sleek polished appearance and be free of wrinkles.
In contrast, cowboy boots favor distressed leather with aged, worn, and wrinkled patterns. You can also polish cowboy boots but it won't be as smooth and spotless as Chelsea boots' leather upper.
In addition, cowboy boots adopt large embroidery stitches on both the upper and lower shaft. The heavier the volume of embroidery, the more special, the higher the price of those boots.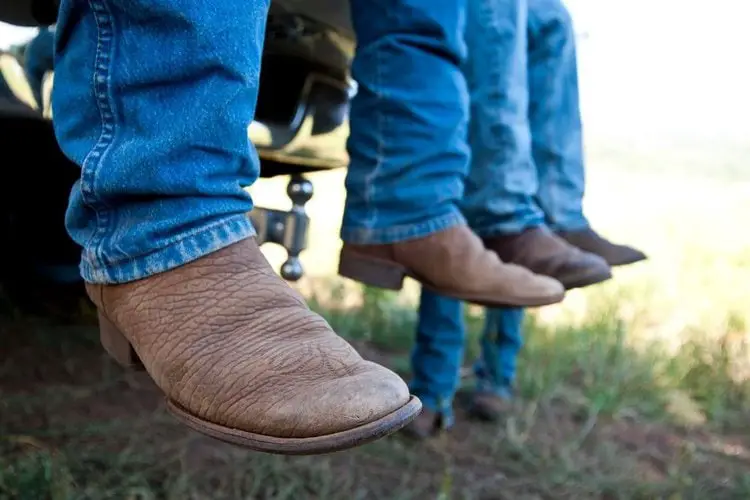 Origin
Chelsea boots, obviously by the name you can guess where they come from. The boots were born in England in the Victorian era and were worn by Queen Victoria every day. As a result, they quickly became popular with both women and men at that time.
The boots also show bold sophistication, classicism, and elegance as the values that British fashion attaches great importance to until now.
Cowboy boots were born in the United States and are worn mainly by the cowboys of the West that have made them the icon of American fashion until now. They are wild, open and unconventional like typical American personalities.
Interestingly, it seems that both types of boots were born around the same time, in the 1800s.
Weight
Chelsea boots are noticeably lighter than cowboy boots. Chelsea boots have a streamlined boot structure as well as possess a lower shaft height than cowboy boots. Therefore, the volume of material (leather) used for sewing is also relatively small.
Besides, these Britain ankle boots don't adopt a large amount of heavy embroidery on the shaft like cowboy boots. As a result, Chelsea boots will be significantly lighter than cowboy boots.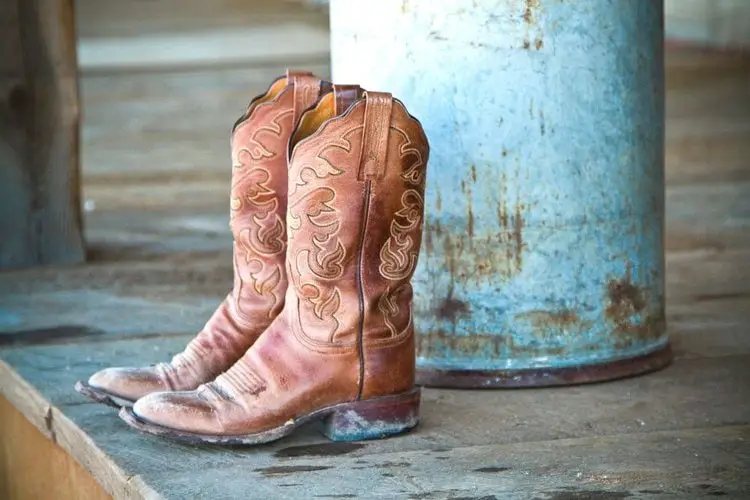 Identifying characteristics
The shaft height
Cowboy boots height can range from ankle height to 16 inches, divided into ankle cowboy boots, roper boots, cowboy work boots, traditional cowboy boots, and Buckaroo boots, etc.
The shaft part of boots usually extends upward from the ankle. These days, some modern cowboy boots for slim calves are designed with a more leg-fitting shaft.
Chelsea boots are only ankle-high (less  than 8 inches) and usually do not have many variations of themselves (except for variations in color and material). The boot collar is usually narrow to hold up around the ankles perfectly, thanks to their iconic elastic side panels.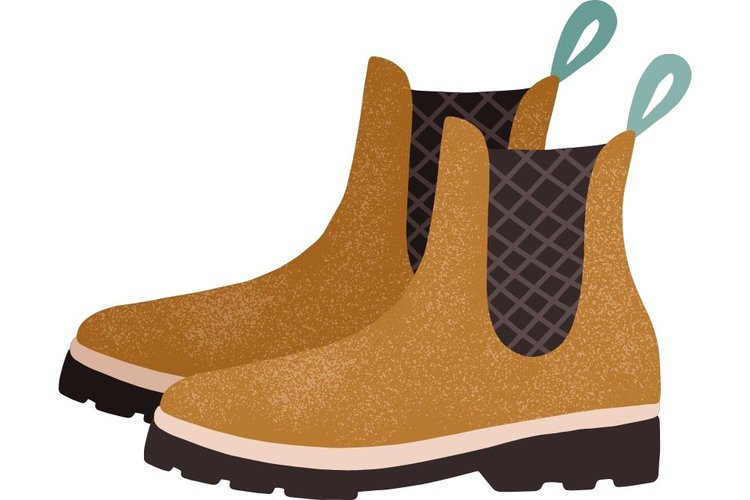 When there are no laces and the boot shaft height is only at the ankle, these panels help to reduce the boot opening circumference for a better fit around the ankles. Thanks to this stretch, it is effortless to take off or put on the boots.
For those who don't know, these elastic gussets are the biggest difference between Chelsea boots and other ankle western boots.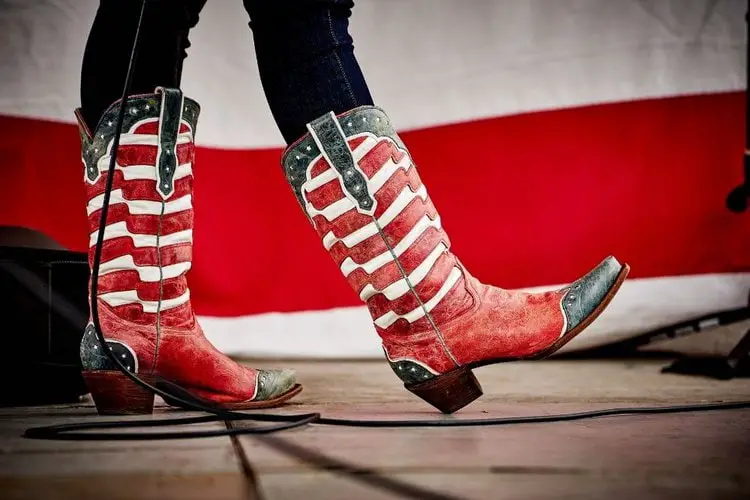 The toes and heels
Cowboy boots have a very special pointed toe design that is often narrow on the two sides of the vamp. The toe is slightly raised arrogantly from the ground, creating an impressive curve from the ankle to this part.
If you are not used to wearing these boots, you will find it a bit uncomfortable and pinched at the narrow boot toes. There are also many variations of cowboy boot's toes from round, elongated, pointed, to rounded square for you to pick what you like.
Cowboy boots heels are usually 1-3 inches high and often have a small contact area (except roper heels). Variations of the heel are varied from tapered heels, square-off heels, or underslung heels depending on whether the intended use is horse riding, work, or just for show.
Chelsea boots have a rounded toe design and are flatter from the ground. What a sophisticated and classic look! Today there are several variations of their toe shape such as square, rounded, elongated, or pointed.
The heel of the Chelsea boots is faithful to the classic square-off and low heel, providing a firmer footing. Today, you can see hybrid versions of Chelsea boots with cowboy boots, but they do not count as any certain type.
Decoration
It's like seeing the stars in the morning when you're looking for a pair of plain high collar cowboy boots that don't even have any embellishments on the shaft.
Because this decoration is considered part of the cowboy boots culture. For that reason, cowboy boots always appear prominently as a celeb in the surrounding spotlight forest.
Interestingly, cowboy boots are more likely used by men in the US. But American women make themselves a trendsetting factor when they find out a thousand ways to mix cowboy boots with their clothes.
Meanwhile, you rarely find a pair of Chelsea boots with a cumbersome decoration on the boot shaft. Traditional Chelsea boots only appear with a classic, traditional, rigid, sleek leather look that may be boring to some people.
But that's why Chelsea boots are the perfect highlight for the gentleman's style of elegance, thoughtfulness, and charisma.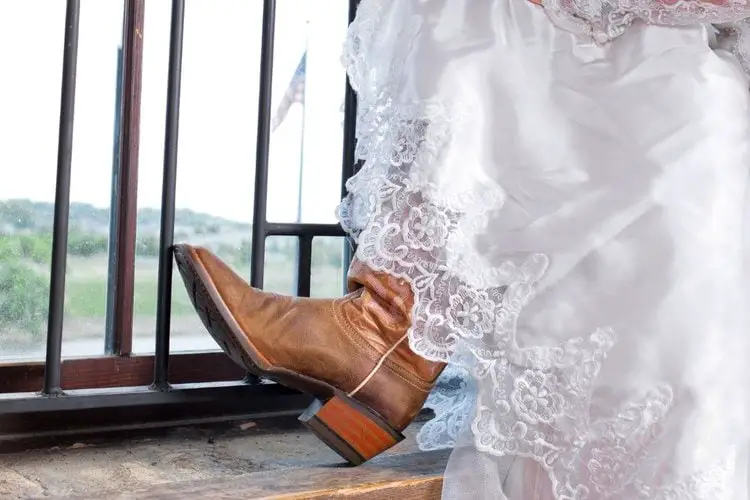 Iconic characteristic
Cowboy boots feature the iconic deep V-cut in the center of the boot collar regardless of any variation. The depth level of the V-cut can be customizable.
Chelsea boots have elastic gussets on the sides that extend from the top of the boot to 3/4 of the shaft. This is the thing that differentiates Chelsea boots from other ankle boots out there in the market.
Cowboy Boots vs Chelsea Boots in Experience
Regardless of how a pair of boots is designed, the wearer's comfort is paramount. Let's compare some factors that affect your experience with these two types of boots.
Comfort
The comfort of wearing boots often comes from the construction of the boots and the weight they place on our feet.
Chelsea boots have a timeless minimal construction with rounded toes and block heels. Round toes mean your toes will be given more roomy toe boxes than pointed toes.
Thanks to that, your toes will feel more comfortable when walking, running, or standing all day long in these boots.
Traditional cowboy boots are different. They have a pointed toe design that causes slimmer roomy toe boxes with narrow sides. Therefore, some people will feel a little snug around the toes when moving in cowboy boots.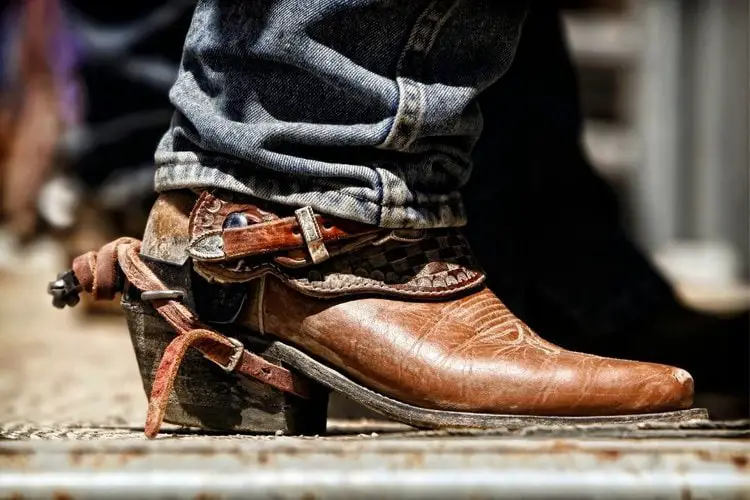 The boot heels also play an important role in your ankle health. Cowboy boots with high tapered heels will put more pressure on the ankles, which can lead to foot fatigue.
Meanwhile, Chelsea boots with low block heels will improve balance and stability while moving. This will not put a lot of pressure on the ankle causing foot pains and sores.
Regarding the weight of boots, as mentioned above, Chelsea boots are lighter in weight than cowboy boots, thereby making movement more flexible and comfortable.
Although today's modern cowboy boots come in many designs that provide better comfort and balance (more room at the toe box, mid-calf shaft height and square-off low heels, etc).
But if you love traditional cowboy boots, their construction will challenge your comfort.
Read more: How to Make Cowboy Boots More Comfortable?
Safety
In terms of safety, cowboy boots seem to dominate over Chelsea boots thanks to their heavy high collar design.
The high collar will provide better protection over any areas of your legs that it covers when rocks, tree trunks, or sharp objects graze your ankles or calves. Especially when you're wearing bare feet on boots.
The high collar design of cowboy boots is also essential when you ride a motorcycle. The heat from the running engine can burn the skin on your ankles and that's why most motorcycle boots have collars over 8 inches. This is a big disadvantage of Chelsea boots if you plan to wear them for this ride.
High collar cowboy boots hold up the feet better than ankle-height Chelsea boots. Even if you wear cowboy boots that are loose in the ankles or calves, there is still a way out to narrow this area to your liking.
Therefore, cowboy boots will keep feet warmer in the cold season and even when walking on snow.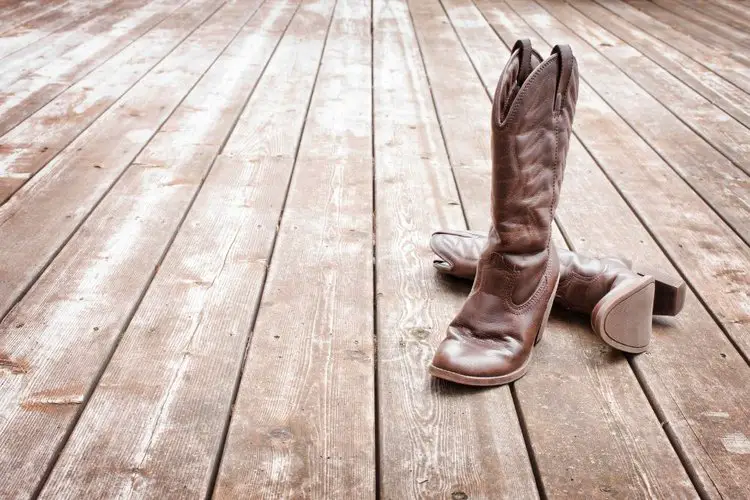 But Chelsea boots that are wide around the ankle will be difficult to tighten these gaps. In winter, these gaps will indirectly allow cold air to enter, causing cold feet and frostbite.
I also don't recommend wearing Chelsea boots when it's deeply cold or snowy. Because your feet will definitely be at high risk of getting wet and freezing.
Durability
It is hard to evaluate thoroughly and accurately since the durability of boots depends largely on the material used, handcrafted technique, the frequency of use, and conditions of use.
But assuming the conditions are the same, I'm inclined to say, high collar cowboy boots will be more durable.
This is because the 100% leather and high collar construction of cowboy boots will be more resistant to water for not letting it get inside easily.
Meanwhile, Chelsea boots are ankle-high and have 2 elastic side panels made of a textile fabric that can absorb water better, even when you walk through deep wet grass and very small puddles.
Therefore, Chelsea boots are more likely to get wet inside than cowboy boots when exposed to wet conditions. This will damage the components inside the boots quickly and lead to less durability.
But I'm not saying ankle cowboy boots are as durable as high collar cowboy boots.
Convenience
The disadvantage is now turned into an advantage. Chelsea boots are noticeably a lot more convenient to use than high collar cowboy boots due to their ankle-high shaft.
You will wear Chelsea boots effortlessly in seconds even in the most rush. But cowboy boots can even cost you a few more minutes to put them on, especially when wearing Buckaroo boots.
That's why a pair of cowboy boots has up to 4 pull straps and 8 pull holes for the wearer to easily put on the foot properly.
Regarding maintenance, both are made of leather. Therefore, they need to be vacuumed, refreshed, and periodically moisturized to increase the durability of the material.
But cowboy boots can cost you a bit more time and money if your boots have distinctive hues or are embroidered with a large area of thread on the shaft.
Different materials require different maintenance. Embroidery thread is also very easy to collect dust and create residue there. If not cleaned regularly, the embroidery threads can corrode and break due to heavy dust.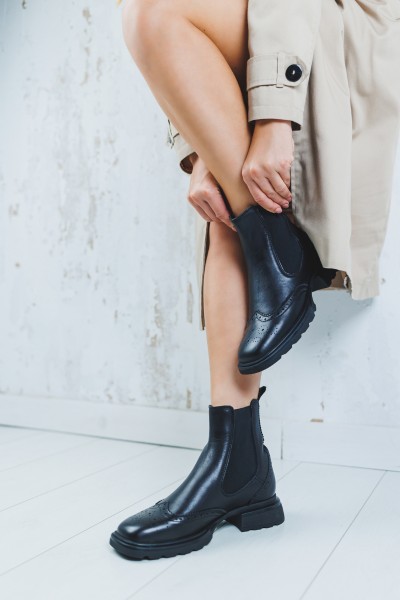 Flexibility
You might think Chelsea boots are way more flexible than cowboy boots due to their streamlined design. I do not think so!
In fact, cowboy boots have many variations from shaft height to features and functions. Chelsea boots almost retain the same identifying look from the moment it was born.
Therefore, cowboy boots are considered to be more flexible to transform into many different styles and different uses.
For example, cowboy boots are made for Bohemian style no matter what color they are. But it's hard to make a pair of black Chelsea boots part of a signature Boho outfit.
The excessive rigidity and classicism of the structure of the Chelsea boots seem to break the free and energetic composition of the Boho style.
We often see Chelsea boots with Preppy or Classic styles for a typical elegance and sophistication. Cowboy boots with less colorful, smooth, and simple designs can still fit well in these styles.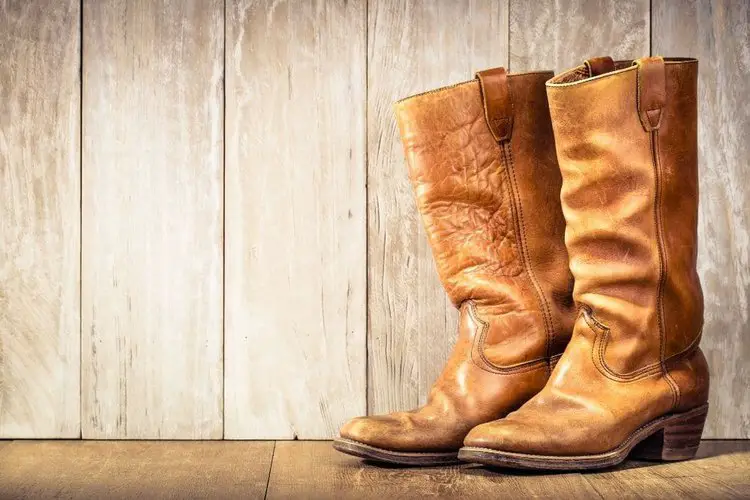 Fashion
I highly appreciate cowboy boots for the creativity of embroidered patterns on their shafts. They can be hand-embroidered, laser-fired, or can also be engraved on the surface of genuine leather.
This is the reason that cowboy boots always occupy the spotlight when compared to Chelsea boots in terms of originality and creativity.
I do not rate one type lower than the other. Because each type of boots will represent a certain style and fashion creed.
While cowboy boots created their own culture representing the American soul, Chelsea boots also made them an essential part of the Mod subculture in 19th century London, Britain.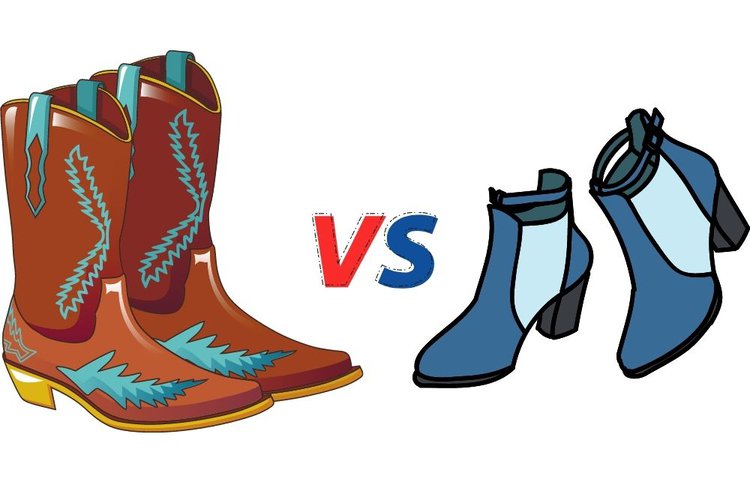 However, cowboy boots can make both women's and men's looks shine in the crowd while Chelsea boots seem to favor the elegance of British men rather than women.
Especially when women will be more confident and outstanding in a pair of high heels instead of a pair of flat-heeled and boring Chelsea boots.
If you are an elegant chic, you must have 3 pairs of cowboy boots and 1 pair of Chelsea boots in your closet.
Function
Both cowboy boots and Chelsea boots can be worn for horse riding, work, outing, outdoor activities, dressing up, or for the show/performance but the effectiveness will vary.
If you work in an office, Chelsea boots will be more suitable because of their polite, polishable, and professional look. And if you dress up to go out or for a show, cowboy boots are the true love.
If you do manual work like a construction site, metal workers, motorbike riders, or working around dangerous surfaces such as fire, electricity, and wet, high collar cowboy boots with composite toes will provide better protection for the feet.
If your job requires walking, running or standing all day long on your feet for up to 12 hours a day like security guards, policies then Chelsea boots with block-heeled and rounded toes are better to reduce stress on your feet. This will avoid foot muscle tensions that cause pains and soreness at the end of the day.
In short, anyone can wear cowboy boots and Chelsea boots as long as they meet your requirements for safety, appearance, and functionality.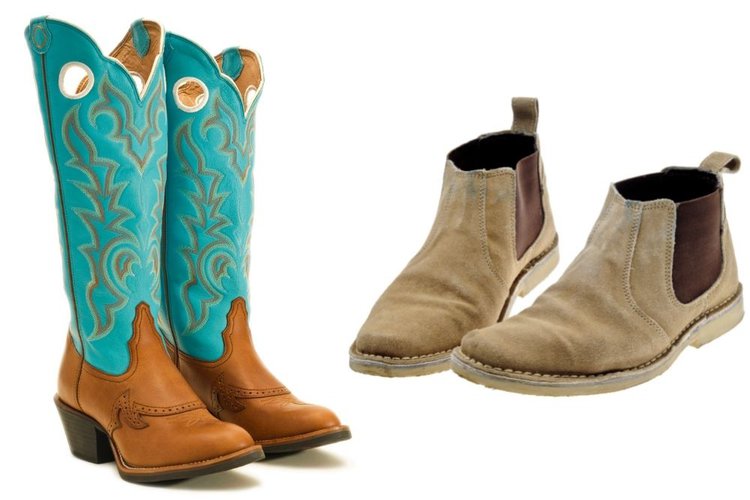 Wrapping It Up
In general, Cowboy boots and Chelsea boots provide almost the same functions for the wearer to perform at their best. And your job is just to think about which style you would go with.
If you still can't figure out what you like better, simply get both cowboy boots and Chelsea boots in your wardrobe to change the way you coordinate outfits when necessary.
Have a good day ahead!
Howdy y'all, and welcome to From The Guest Room, your ultimate guide to all things Western! I'm Jay Gatz, a lifelong cowboy boot enthusiast with over 5 years of experience in the Western style world. I'm excited to share my knowledge with you and help you discover the perfect cowboy boots and western gear to elevate your style. Let's explore the rich history and timeless appeal of Western fashion together!