Some might find it struggling to decide whether to buy a good pair of cowboy boots or military boots. These two types of boots both deliver high durability among the other boots.
Yet, while good cowboy boots are famous for their beautiful appearance, military boots provide better support and are a great idea for outdoor activities and working. So which one will suit you better?
To help you out in this issue, we have researched to make a comprehensive comparison between them for your consideration. Let's follow us, pals!
All You Need To Know About Cowboy Boots & Military Boots
First, let's go through the specific features of these types of boots to see what they actually are.
What Makes a Cowboy Boot?
None of Americans are unaware of our cowboy boots as national footwear.
There are different kinds of cowboy boots, and in this article, we will come up with both traditional and modern types.
Both types feature typical snip toe/pointed toe design in general while cowboy work boots are given round toes for better mobility and comfortability.
What sets cowboy boots apart from others is the Deep V-cut sitting in the top collar which builds up an iconic fashion symbol of America all time.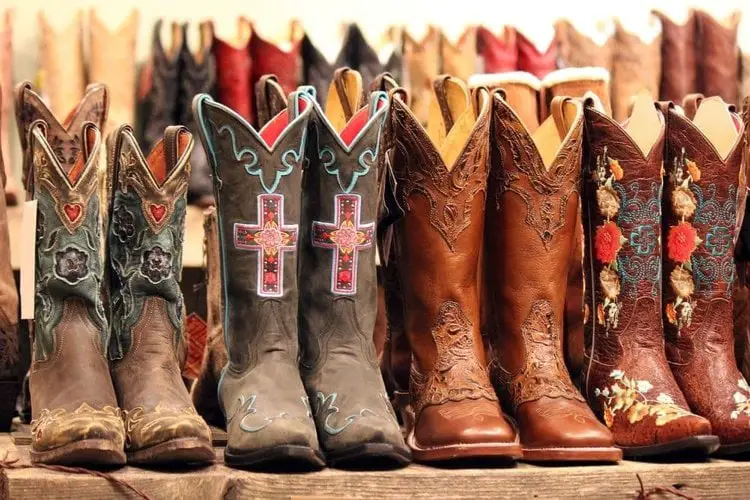 Outsole
Traditional and modern fashion cowboy boots often come with a leather outsole without grooves, making them inadequate for walking on slippery surfaces.
Cowboy boots have smooth leather outsoles whose main purpose is to easily slide into the saddle stirrup and bring cowboys more flexibility and support.
However, if you want to walk comfortably in these cowboy boots, then you need to have some experience. Because they are quite slippery.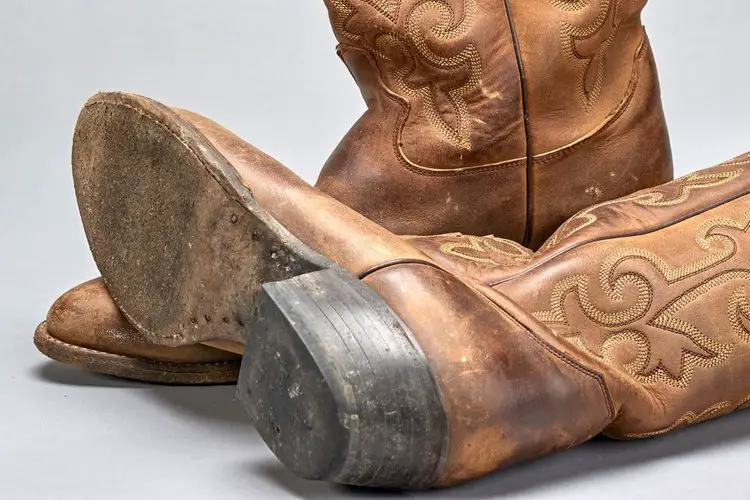 Meanwhile, modern cowboy work boots are highly innovative to improve this downside and provide a better grip for the purpose of walking on highly risky surfaces such as construction sites, hard concrete or mossy areas.
Their outsole is mainly made from rubber or synthetic to enhance greater traction on water and oil surfaces.
They also feature deep grooves and lugs to increase friction when contacting the ground. As a result, the wearers are less likely to encounter falls and injuries while working.
Insole
The cowboy boots' insole is a plus point when utilized for those with normal feet and flat feet. But it seems not to be good enough for high arches.
So high-arched people are not suggested to wear cowboy boots on a daily basis or you may need to insert an extra orthopedic insole, especially for high arches.
Traditional cowboy boots often come with insoles that don't offer much arch support. But today, a majority of cowboy boot brands have overcome that.
Toe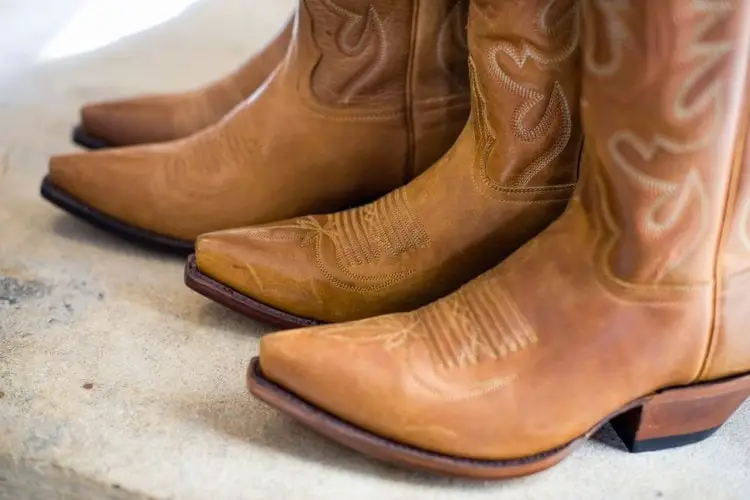 Obviously, the snip or pointed toe tends to be narrower than the square or round types.
Cowboy boots with pointed toes make it difficult for your feet to wiggle comfortably, especially for wide feet.
But it is worth mentioning that the pointed toe allows the boots to smoothly slide into or out of the stirrup of the saddle since they were initially made for horseback riding rather than walking.
Nowadays, you will come across cowboy boots with different toe shapes, such as round toe, square toe, and snip toe. These types of boots are quite popular because they provide more room for your feet. You will be more comfortable!
Heel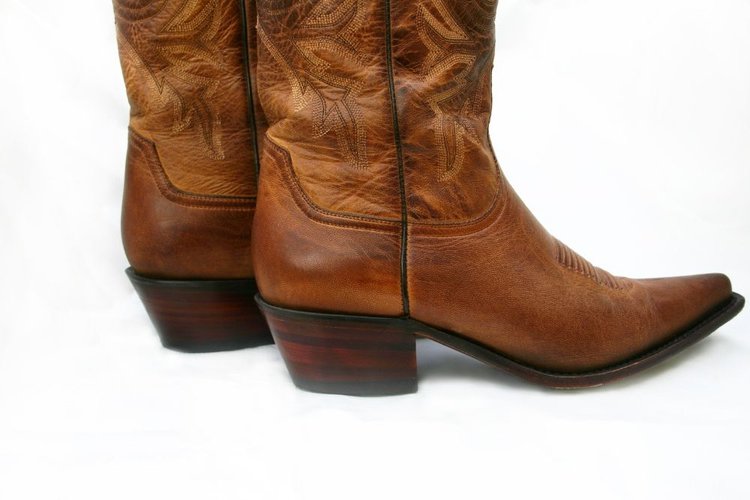 The heel of cowboy boots comes with a smaller and higher shape which is stylish in appearance.
This design aims to help them be hooked into a stirrup without any hassle. It can help the wearers stay stable on horseback while riding.
If you are a pro at fashion, you should go for cowboy boots as their heels help you look taller, making you feel more confident. That's why cowboy boots have always been a fashion icon over time.
Some cowboy boots also have heels with a block shape, they often support the wearer's balance and stability when walking and working.
These cowboy boots are younger than the tapered high heel boots. Nowadays, many people prefer to use cowboy boots with block-shaped and short heels because people are not riding horses too often.
Shaft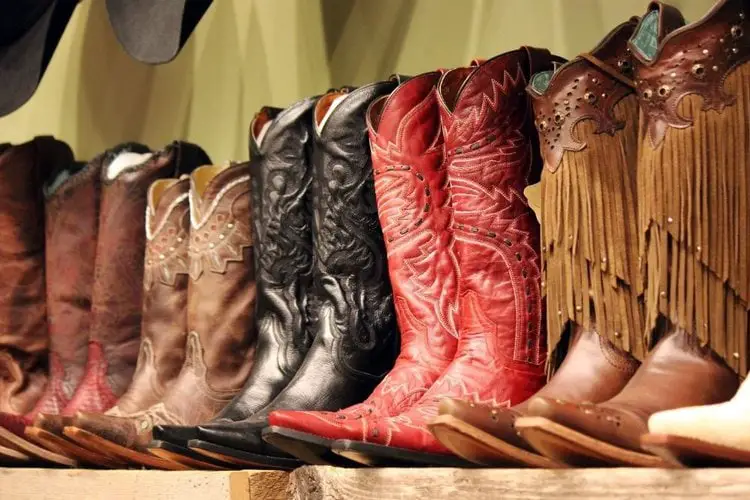 It is a culture that every cowboy boots possess a Western art on its shaft, running along the top to the vamp. That's how they bring up a Boho and Vintage vibe for your outfit.
Cowboy boots are generally divided into 3 types based on shaft length, including ankle boots (approximately ankle height), mid-calf boots (8-14 inches) and Buckaroo boots (reaching 16 inches or more).
Most kinds of cowboy boots come with a shaft that extends upwards with a deep V-cut collar which is perfectly ideal for big and muscular calves. Yet, many with skinny calves may feel annoyed that they make them feel like drowning inside the boots.
Unfortunately, this issue may somewhat cause an unnatural walking gait that leads to metatarsal dislocation and sores in the toes, heels, and lower back.
No worry, we've already got ways to tighten the cowboy boots around the ankles or calves. 
Who Can Use Cowboy Boots?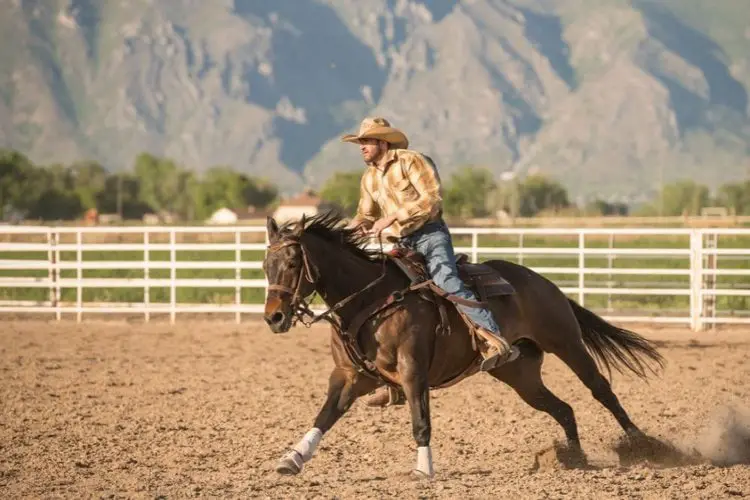 Back when the cowboys appeared to be a signature of the West, the cowboy boots were mainly for riding. Thanks to the tapered heels and sturdy construction, they let men ride in the saddle for a long time with no slipping.
In the past, people mainly used cowboy boots for farming & ranching. Because these boots are durable with materials that are easy to find (cowhide) and affordable.
Today, since cowboy boots have been a part of the spotlight-sparkling fashion world, many women own the boots to pair with their shirts, skirts, vest or even wedding gowns for style.
It's also important to mention cowboy work boots with safety features such as low square heels, round toes, safety toe caps and shanks.
They can be part of work outfits to carry heavy loads on construction sites, plants, riding trucks or doing farm jobs.
What Makes a Military Boot?
Military boots are regularly utilized on battlefields.
Unlike cowboy boots, military boots are available in different types based on the environments and terrains of the battlefields like snow, mountain, deserts, and jungle, to name a few.
But the ultimate criterion is that they have to boast durable and sturdy materials with reinforced heel, toes, and shank to deliver high protection for soldiers.
Outsole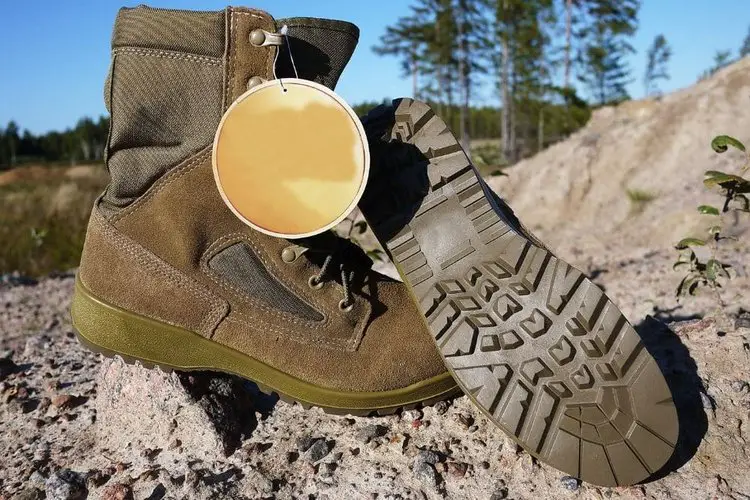 Soldiers are assigned to encounter fights or marches constantly on different terrains for months. Therefore, their footwear should help them fight back against dangers and hassles on the go.
Military boots come with slip-resistant rubber outsoles with deep grooves and lugs, providing an excellent grip on mossy, icy, rocky, sharp, oily and wet surfaces all over the place.
Plus, this kind of outsole helps the boots resist water and oil pretty well, allowing you to safely walk through muddy and wet environments.
Insole
Military boots possess insoles and midsoles to enhance excessive comfort when being on the foot all day long up to 18 hours.
Moreover, these details are provided with a proper cushion at the heel and arch for no fatigue feet as well as shock absorption.
Thus, their feet are likely to be assured of happy feet when wearing military boots for long periods of time.
Lacing System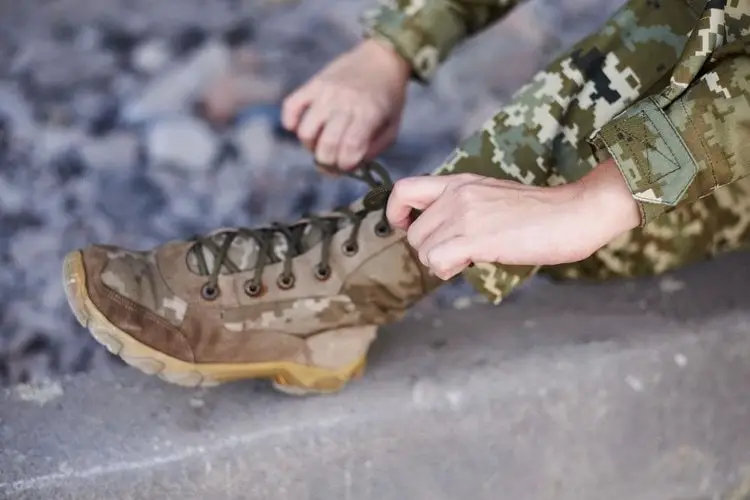 This is one of the biggest differences between cowboy boots and military boots.
While cowboy boots represent an era of laceless footwear, military boots attach great importance to the lacing system. Soldiers need it to hold up their legs and feet snuggly on the go.
This system allows the wearers to adjust the tightness and looseness that can enable better walking, running, climbing and crawling when being on the field.
Shaft & Tongue
Military boots often feature 8-10 inches depending on a certain type of boots to protect your feet and ankles from venomous snakes, insects, bushes, thorny vegetation in jungles, mountains or deserts.
Besides, the footwear can be included with a gusseted tongue that helps prevent dirt, water, pebbles, and sand from entering boots.
Who Can Use Military Boots?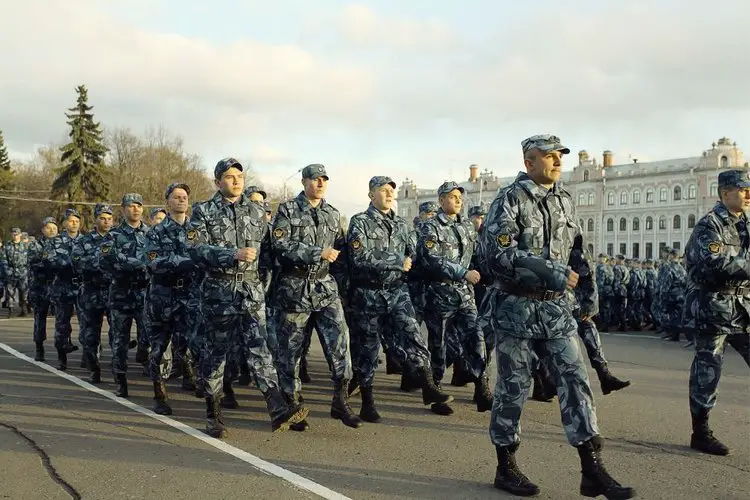 If you are a member of soldiers, armed forces, and other law enforcement departments, you are allowed to equip with these military boots.
It's important to know that each department will issue its own regulations/standards that apply to the type of military boots worn during operation.
Today, military boot usage has been increasingly popular, not only for military-served usage. People who often join outdoor activities in tough terrains prefer this type of boots as well.
You can also widen your performance and gain a better experience when hiking, trekking, forest exploration, and more with military boots. All of these activities require the footwear to be safe, durable, and comfortable, and military boots can meet all requirements.
A Complete Comparison Between Cowboy Boots Vs. Military Boots
You now get an overview of cowboy boots and military boots and some of their specialties. But to have a clear understanding of their differences, let's dive into the comparison below.
Appearance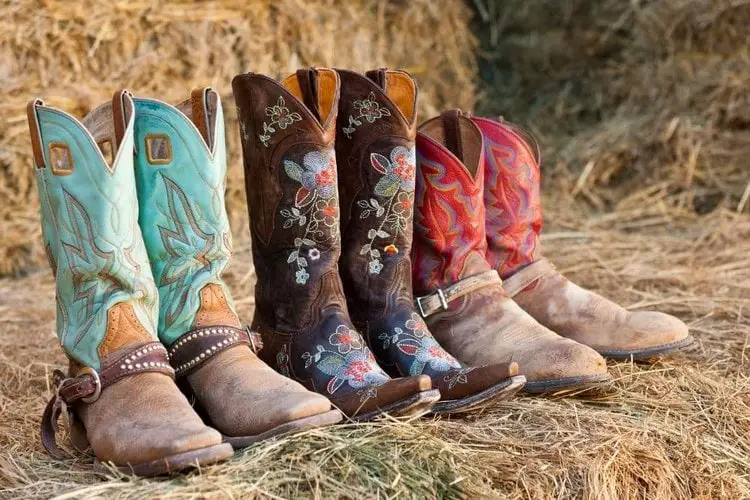 Cowboy boots and military boots come with 100% difference in how they look. Cowboy boots are designed to be a spotlight star while military boots are made for safety functions.
Notably, cowboy boots possess a deep V-cut symbol on the top collar, a literally wide shaft, and pointed toes.
They can make the wearers outstanding in the crowd, while military boots feature a real battle footwear design with some protective parts like shanks and toes made of steel.
It can be said that military boots mainly bring a sturdy look to the wearers, not quite used for fashion.
Besides, cowboy boots do not have a lacing system like their military counterpart. Cowboy boots feature pull holes/straps instead.
Overall, to fairly assess this criterion, I give cowboy boots 1 point for their versatile looks.
Comfort
We all know that footwear's comfort depends on its construction and the weight it puts on the feet.
Cowboy boots come with a pointed toe, causing a less roomy toe box with narrow sides. Thus, some might find it slightly snug around their toes when wearing cowboy boots to move.
Besides, the heels also are critical for the health of your ankles. Cowboy boots with high heels can put more pressure on your ankles, resulting in foot fatigue.
Meanwhile, military boots with low heels can deliver higher stability and balance when moving than cowboy boots. That's why they will cause less pressure on your ankles so that you will have less chance of getting foot sores and pains.
Military boots seem to be lighter in weight than cowboy boots when it comes to boot weight. Cowboy boots can get up to 4 lbs in weight, while military boots are generally about 2 lbs.
For that reason, military boots will make your movement more comfortable and flexible than cowboy boots.
Durability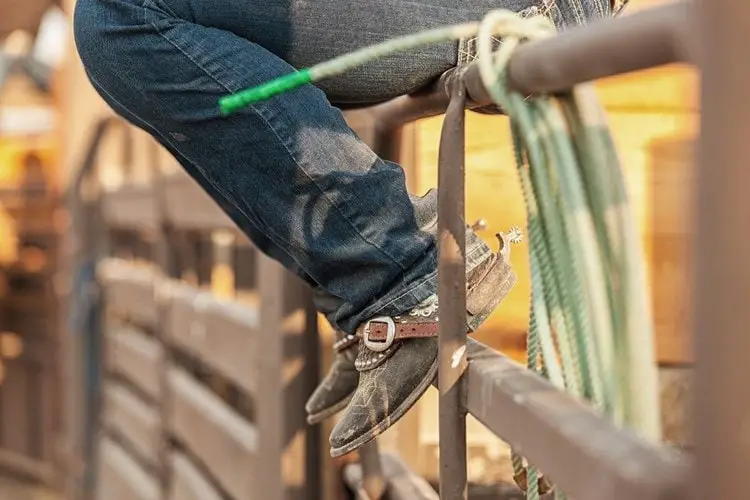 In terms of durability, it seems that military boots come to the throne. It is understandable as military boots are mainly worn during wartime and conditions with extreme weather and harsh terrains.
Hence, they are supposed to deliver better durability. However, military boots are more likely to take their jobs in heavy abuse conditions that can cut off their lifespan noticeably.
So, it's not easy to determine which boots are more durable than the other.
Personally, I stand for cowboy boots made from full-grain leather that tends to live longer with the ups and downs of life.
Many of my friends have used a pair of cowboy boots for more than 12 years while I have not seen a soldier use their military boots for more than 2 years.
This comparison may sound a bit lame as the nature of each job is different, but I think adding 1 plus point for cowboy boots would be reasonable. What do you think?
Safety
Safety is another critical point to assess cowboy boys and military boots. And it is quite easy to decide the winner – military boots.
The military boots are reinforced at the soles and toes. They feature a rubber outsole for better grip and steel or composite toes for toe protection. Some models come with Denier nylon upper which can resist heat, water, and impact well with a lightweight effect than leather.
The higher the denier nylon, the better the resistance. For instance, military boots with 1000 denier nylon material will be more resistant than those made of 800 or 600 denier nylon fabrics.
So if you wear military boots for challenging environments like in the forest or desert, you should choose the models with 1000 denier nylon. On the other hand, if you wear military boots for lighter activities like trekking in flat terrain, you can go for 600D models.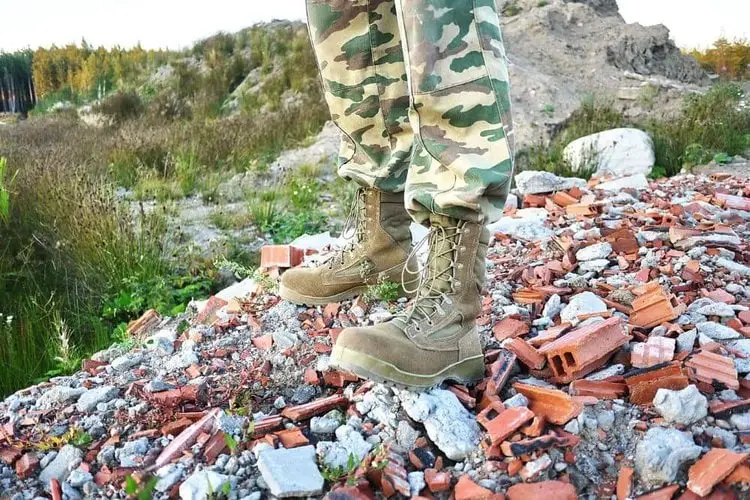 Cowboy boots are mostly made of full-grain leather, suede, or faux. Some boots come with composite/steel shanks and toe caps but these are not common. So mostly cowboy boots tend to provide less protection on your feet than military boots.
Besides, cowboy boots with sleek outsoles are less likely to give enough traction on wet and slippery surfaces. Meanwhile, military boots feature grooved rubber outsoles that can grip the ground better so that you can rest assured to have less chance of slipping and falling.
Lightweight
As stated early, military boots are obviously lighter in weight than cowboy boots. High-collar cowboy boots with steel toe caps can double their heaviness to 4-6 lbs.
Meanwhile, military boots are made with the purpose of enhancing perfect protection features at the lowest load.
You normally don't see too many superfluous details that may weigh the boots up such as embroidery, metal spurs or leather straps like on cowboy boots.
Table of Comparison Between Cowboy Boots and Military Boots
If you are not sure about the differences between military boots and cowboy boots, we have a visual table of comparison as follows.
| | | |
| --- | --- | --- |
| | Cowboy Boots | Military Boots |
| Appearance | ⭐⭐⭐⭐⭐ | ⭐⭐⭐ |
| Comfort | ⭐⭐⭐ | ⭐⭐⭐⭐ |
| Durability | ⭐⭐⭐⭐ | ⭐⭐⭐ |
| Safety | ⭐⭐⭐⭐ | ⭐⭐⭐⭐⭐ |
| Lightweight | ⭐⭐⭐ | ⭐⭐⭐⭐⭐ |
Wrapping Up
It is up to you to choose cowboy boots or military boots according to your purpose and preference.
Well, it's time to ask yourself which type of boots you want to wear or which jobs you want to use the footwear for. If you are still stuck in the decision, and like both, you can buy both to put on your shelves.
Anyway, we hope our article is helpful for your consideration. Do not forget to share your thoughts with us in the comment section below. Thank you for reading!
Howdy y'all! I'm Grace, a Western style enthusiast with over 5 years of experience. From cowboy boots to western gear, I'm passionate about all things Western and dedicated to helping you find the perfect style to suit your taste. Join me and my fiancé Jay Gatz as we explore the rich history and timeless appeal of Western fashion together!