If you are just in love with a certain pair of cowboy boots, their weight is not often a concept for you to think of.
The truth is, cowboy boots are relatively heavier than any other type of boots.
Every day you wake up and are ready for more than 10.000 steps throughout the day.
If you wear them every day to work, then your experience with the footwear will directly affect your health, emotions, and job performance at work.
At this moment, their weight will start to matter.
How much cowboy boots weigh depends largely on several factors.
The most common ones are leather materials, the size, and the type of cowboy boots.
Aside from a gorgeous and fashionable look, the weight of cowboy boots may somehow send your feet a few more pounds.
But many still find them a goddess and are on their feet with cowboy boots all day long without much pain or fatigue.
That is because they know how to pick the right boots for their purposes.
We all know weighty boots often give your feet no rest while wearing but we will go through some analysis right below to find the most applicable solution for you.
How much do cowboy boots weigh?
On average, a cowboy boot often weighs between 1 lb and 2.75 lbs, which means a pair of them will double the heaviness.
You don't get it wrong, a cowboy boot can even weigh 2.75 lbs. And that's the boot with the built-in steel toe cap.
This has always been a decent pick for decades for people who work in various manual jobs fields such as construction sites, ironworkers, metal workers, or woodcutters.
I know it sounds tough but their durability and protection are worth your spending and trust. The weight provides deserved safety that can't be compared to others.
Now, we come up with some cowboy boots and their weights according to the type.
There is no guarantee that these numbers below are 100% correct for all boots.
But they can give you an overview of how much weight your feet will have to bear while wearing:
Classic cowboy boots with 11-14 inches in height:  2.5 – 3.5 lbs
Ankle cowboy boots are the lowest type: 1.5 – 2.5 lbs
Roper cowboy boots are often mid-calf: 3 lbs
The weight of the boots depends largely on the volume of materials that make up the boots.
The larger the size and the taller the boot, the more weight it requires.
That is a reason why Buckaroo boots that are above calf height (14 to 16 inches) tend to be heavier than the classic type (11 to 14 inches).
In particular, cowboy boots are special because the hand-embroidered detail on the shaft is noticed and done very carefully.
Even some heavy detailed boots are embroidered with wide space and lots of thread. This also adds a few ounces to the overall weight of the boots.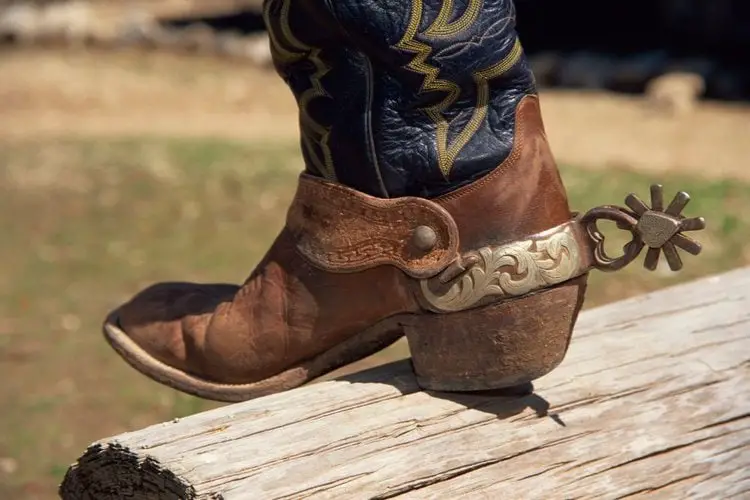 If you want a pair of versatile cowboy boots that can fit all types of legs no matter how big your calves are, ankle boots are a better choice.
They are super light and just around the ankle or a little above the ankle. They often possess minimal design and weigh around 1.5 lbs.
However, ankle cowboy boots sometimes may not give you the feeling of a cowboy boot-like look enough, roper cowboy boots are a rather better option for your demand.
These kinds of cowboy boots are often mid-calf and come with square-off heels and rounded toes.
They are also not too heavy, and have a flat base and balance when doing anything on them. They also possess a very beautiful embroidered shaft as you wish.
Features that affect the weight of cowboy boots
Cowboy boots first appeared a few centuries ago in the West, when riding horses was still the most popular means of transport.
It seems like at that time, people admitted that leather was one of the most durable materials to make their transporting footwear.
Thus, Western cowboy boots (or the Classic line) are traditionally made with layers of genuine leather including leather heel pad, leather heel counter, or leather insole.
Almost every part is involved using leather as the main material, even the sole and heel of the boots are also parts of them.
Now let's talk about all the parts of cowboy boots that make them heavier, both for the traditional line and for the improved modern lines.
Materials
As mentioned above, traditional cowboy boots are almost 90-95% leather. Leather, especially full-grain or genuine leather, is nothing more than dead animal skin that has been treated to prevent decomposition and rotting.
It has a relatively dense and multi-layered structure, making it one of the heaviest garment materials, yet also providing the best level of protection.
The vamp, the upper, and the top of the boots are areas where large amounts of genuine leather are used to build up.
They are not only a cover to wrap the boots to prevent wearers from the harsh environment or conditions, but also a place to flaunt class and haughtiness with unique skin patterns from exotic leathers.
As a result, the leather in these parts tends to be thicker and heavier than the skins used for lining or heeling.
If comparing the 2 pairs of boots in the same size, one made with a particularly unique exotic patterned leather in the vamp and upper will usually be a little bit bulkier in weight.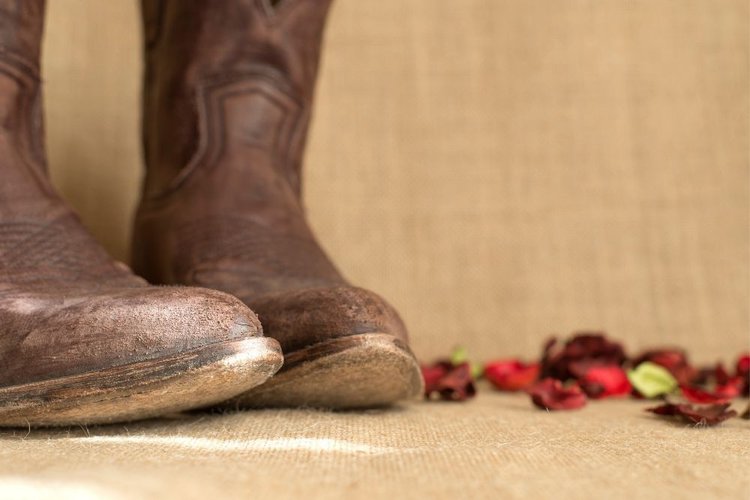 In addition, suede and nubuck are also other types of real leather material (but with different origins and treatments), quite popular for making cowboy boots.
They are lighter than genuine leather because of their less layered and porous structure.
They also do not absorb oil and retain moisture like real leather. Therefore, these materials are quite benign to wear, yet they do not provide high stretchability.
Today, a more economical option comes from imitation leather. Real leather traditional cowboy boots are indeed expensive due to their heavy genuine leather construction.
For that reason, faux leather appears as a response to the demand for a pair of affordable cowboy boots that have arisen from society.
The material usually has a spongy texture and is therefore not too heavy, yet still provides proper elasticity.
Outsoles
Traditional cowboy boots possess leather outsoles in most cases.
This is the very bottom part of the boots where it meets and scratches to the ground every single day.
In the past, there was often no other better choice than leather when it came to the boot outsole.
After being well-treated, leather becomes very stiff and sturdy to last longer.
As a result, the weight of the outsole significantly increases by a couple of pounds. And you guessed it right, the leather outsole is way expensive.
Since rubber first appeared. it soon became one of the cheapest and most endurable industrial materials, cowboy boot makers started to adopt this technology to reduce the cost of making the boot outsole.
Rubber is way lighter and less pricey than leather. This material is also easier to form with machines and does consume less time to produce.
Overall, rubber outsoles are rather superior to leather ones in weight.
Yet, if the culture of cowboy boots means a lot to you, leather outsoles are still widely produced in the market.
Besides, the wider the sole, the greater the weight but it may not make big changes in weight between different sizes.
Shank
This is a very important part of the cowboy boots that lie between the outsole and the insole.
This piece of hard material helps keep the shape and structure of the boots over time. They also support your foot as an arch support device.
As a result, you can walk more stable and balance even while wearing high heel cowboy boots.
Traditional boots often use steel shanks which are considered to be stronger and more durable. These devices also contribute some more ounces to the whole boot's weight.
These days, plastic, TPU, or composite shanks are more popular choices as they weigh down the boots but remain the same functions.
However, steel shanks tend to be cheaper than others.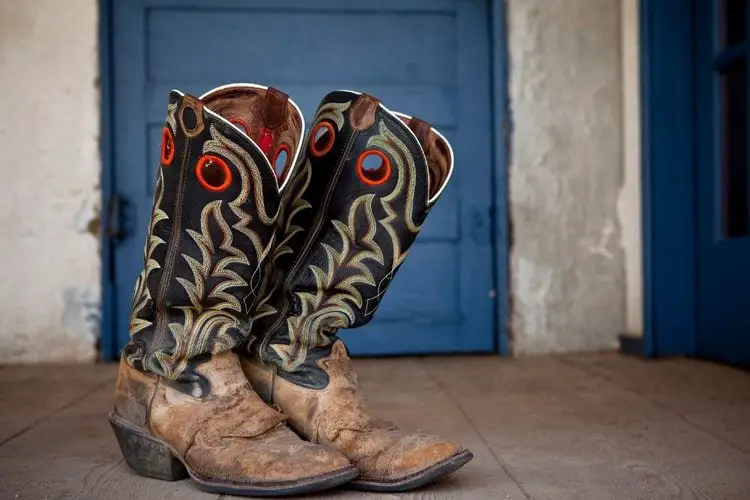 Toe box
Most cowboy boots today use a Celastic toe box as this material is cheap, available, and comfortable without bothering your toes' movements inside.
There is another common highly protective material to make toe boxes: steel.
Not all cowboy boots have this device, yet it really contributes a large amount of weight to the whole.
These special cowboy boots are widely used for manual workers who work around hot metal surfaces, material cutting or mechanical repair as it provides a good level of impact and compression level.
Yet, keep in mind that the steel toe cap is very stiff, heavy and tends to make your feet feel entangled while wearing the boots. It may also hurt your toes on the very first try.
If you are looking for a lighter, safer and more comfortable material, composite toe caps may be a better choice.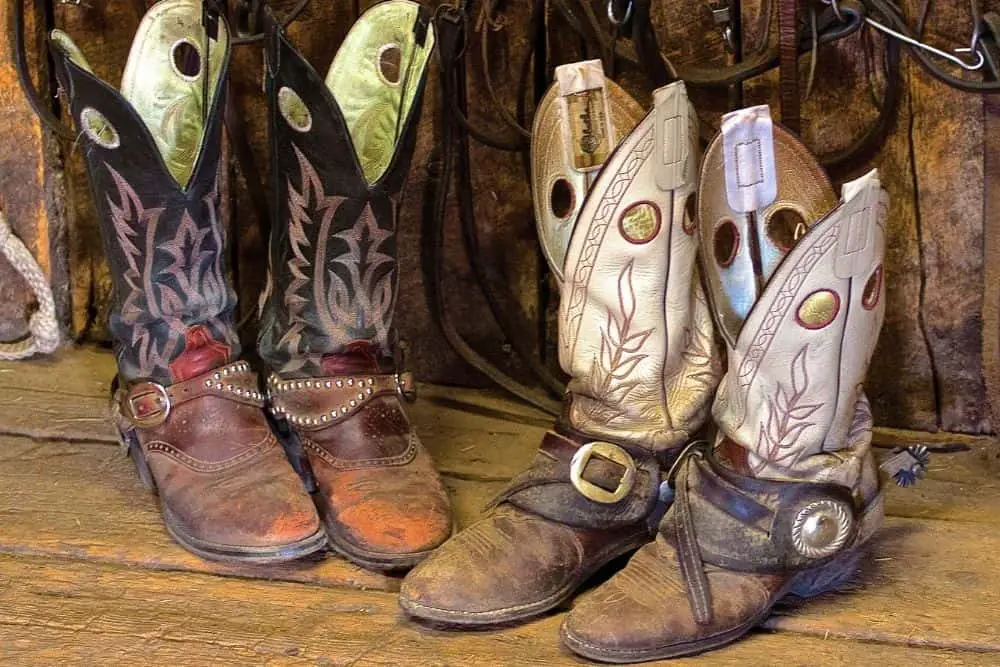 Heel material
You've heard a lot about rubber outsoles but have you ever heard about leather heels? Yes, the traditional heel of cowboy boots is made from genuine leather.
The leather layers will be stacked and technically treated to make the heel strong and able to withstand the best force when walking, running, dancing and jumping off the horse.
The heel can be shaped like angled or square-off forms. Today, modern cowboy boots are made with rubber and wooden materials to reduce cost.
So, between real leather, rubber, and wood, which material is the heaviest?
Many people will say that it is wood but keep in mind that the wooden cowboy boot heel will be hollow inside and closed with wooden pegs (lemonwood pegs) to cover it.
In terms of structure, leather heels tend to be the heaviest because they have a dense texture.
Rubber also has a dense texture but it is porous and therefore rubber will be lighter than leather.
In addition, the weight of the heel is also synonymous with the size and height of the heel. The higher and wider the heel, the heavier it is.
Leather upper + vamp + instep
These parts make up more than a third of the total leather used to make your cowboy boots.
They are sometimes made from unique genuine leather materials such as snakeskin or crocodile skin with special unique patterns that are completely different from the rest of the leather used to make boots.
Therefore, the weight of the boots is also affected greatly by the volume of leather that makes up the vamp and the upper.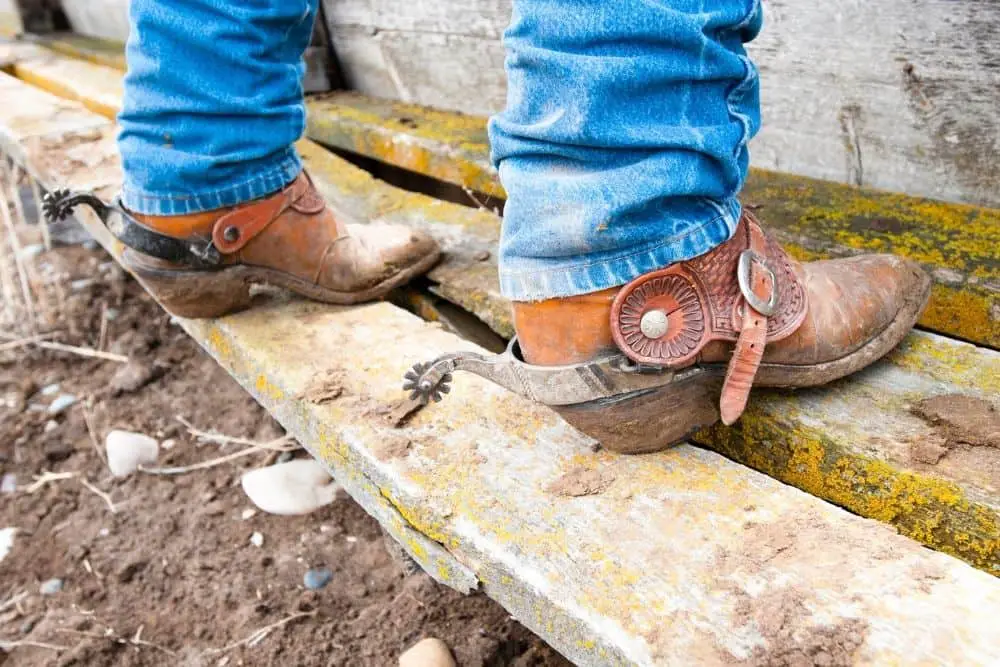 Leather lining
This part sits everywhere inside the boots where it touches your skin and legs all the way.
Many are familiar with breathable fabric lining but the best cowboy boots often use leather material.
This is due to the reason that this material will sketch out over time and become softer and long-lasting better than fabric insoles.
Your foot and skin will feel more comfortable and hold up pretty well inside in comparison to the textile lining.
Besides, just like any other shoe, some special interior parts of cowboy boots like the shank or toe caps need to be lined with a piece of material to create a flat and smooth surface for wear.
These small pieces of leather used to be and continue to be made of genuine leather, so they will be relatively heavier than other fabrics like regular shoes.
For that reason, the leather lining also covers a large area inside the boots, contributing some pounds to the whole weight.
If you are searching for something rather friendly to your feet, you better get padded fabric lining.
But if you need a long-lasting experience, the leather lining is highly promising.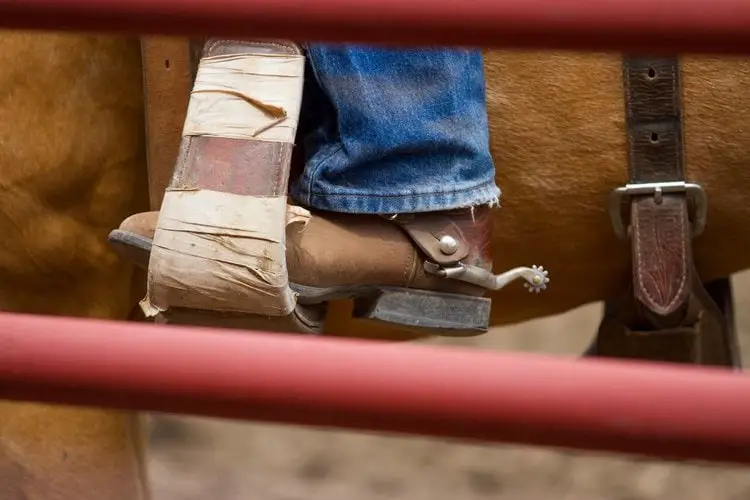 The size and the shape
One last extremely important factor that affects the weight of a pair of cowboy boots is their size and style.
As mentioned above, the larger the size of the boots, the more materials are used to make them, and undoubtedly will increase the weight.
For example, the difference between a size 35 and a size 40 can add up to almost 1lbs and this is completely possible.
16 inches Buckaroo boots (with tall shaft) can even double the weight of 8 inches ankle cowboy boots (without tall shaft).
Because a large amount of leather and heavy embroidery detailing is mainly located in this shaft part.
How to wear cowboy boots without pain?
Whether you are wearing cowboy boots as pieces of outing style or a type of work boots, you will often spend around 10.000 or more steps on the way you go.
Greatly weighty boots can soon cause foot fatigue and tiring emotionally.
So how to wear cowboy boots most comfortably without sacrificing your health?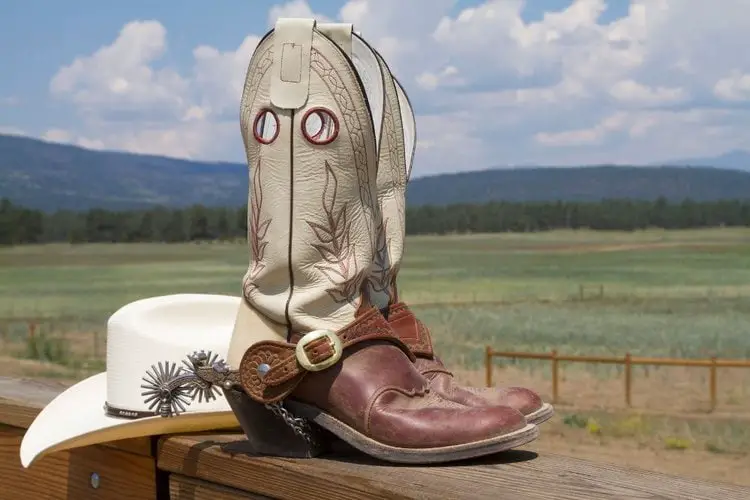 We have the following solutions for you:
Wear cowboy boots of the right size and fit your feet as much as possible.
Choose cowboy boots with rubber heels that have a square-off shape instead of an angled shape. This helps to reduce weight by changing the material from leather to rubber. The rubber sole and heel are also anti-slip and have better grip if you have to move on slippery surfaces a lot every day.
Ankle cowboy boots are the best option to reduce weight without sacrificing aesthetics.
If you choose tall-shaft cowboy boots, choose ones that are made of high-quality synthetic leather, they are lightweight and also very durable and are cheaper.
If you choose genuine leather cowboy boots, choose something not-too-thick-and-bulky and partially lined with fabric instead of genuine leather. This will help reduce the weight of the boots significantly without sacrificing your look and feel.
Wrapping it up
Cowboy boots are not only a top fashion item but also a culture, a religion (maybe) with thousands of followers.
This article is not to criticize or judge but to find solutions to help you wear these bulky and heavy cowboy boots in the most comfortable and effective way for your health and work.
These are general solutions but I believe you are overly smart to find the right boots' weight for yourself. Thank you and have a nice day ahead!
Howdy y'all, and welcome to From The Guest Room, your ultimate guide to all things Western! I'm Jay Gatz, a lifelong cowboy boot enthusiast with over 5 years of experience in the Western style world. I'm excited to share my knowledge with you and help you discover the perfect cowboy boots and western gear to elevate your style. Let's explore the rich history and timeless appeal of Western fashion together!