How to put on cowboy boots ??? Are you kidding me?
Calm down, listen to me for a second, anyone can put on cowboy boots, but to put on them smoothly, not everybody knows.
Today we're going to show you some tips to put on cowboy boots easily and quickly.
Plus we'll show you the reasons why it is difficult to put on cowboy boots, and how to handle them.
Let's get started!
How to Put On Cowboy Boots?
You need the right approach to put on your cowboy boots without hurting your feet or damaging cowboy boots.
Regarding other shoes or boots, their shafts are usually just a bit higher than the ankle. They also have shoelaces, so you can adjust their width and wear them easily.
When it comes to cowboy boots, they get a high shaft with no laces. These characteristics make it difficult to put on your boots.
High-quality cowboy boots are all made from 100% leather, so the shaft might rub your legs. You would be uncomfortable if your legs get chafed when putting on boots. Also, if your cowboy boots are tight, you don't have the laces to loosen your boots.
Not to mention if cowboy boots are wet, it is really troublesome!
Read more: How to remove cowboy boots?
3 basic steps to putting on cowboy boots
Step 1: Pay attention to pull tabs (or pull strap, pull holes)
Usually, all cowboy boots have pull tabs (or pull holes) for easy on/off cowboy boots.
Simply put, pull tabs are a piece of leather on the top of boots for you to hold (or a hole for you to put your fingers in) to pull up the cowboy boots.
This is a very important part of boots to put on them easily, don't ignore it.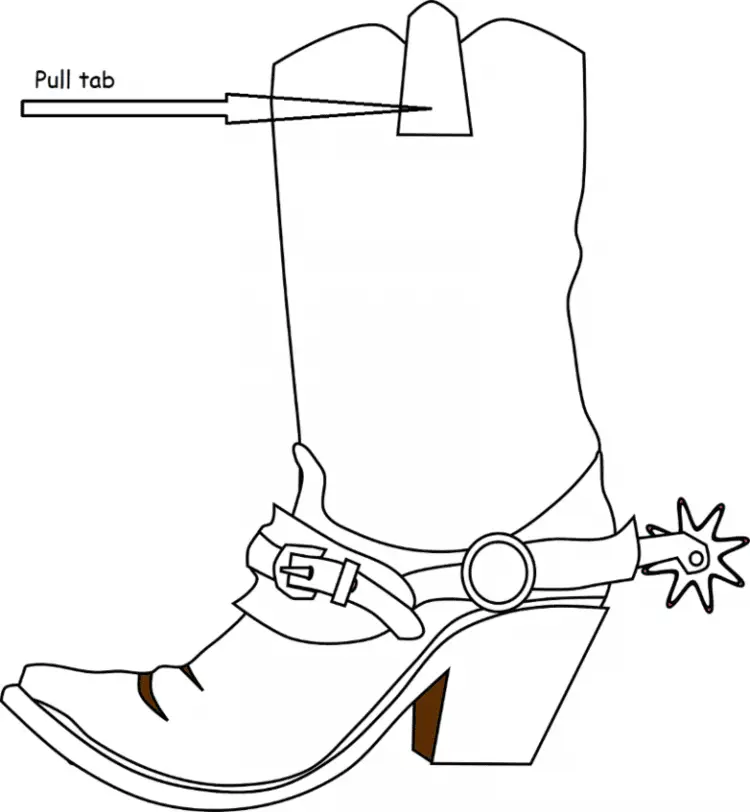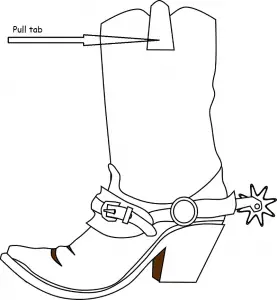 Step 2: Put your forefoot in cowboy boots first
Don't put your heels on the cowboy boots first. Instead, please put the forefoot first and then the heel.
Usually, you have trouble when your foot slides to the ankle part of the boot – your leg might get stuck there.
Now use your hands to hold the pull straps (or the holes) to pull up, and use your body weight to let your feet slide to the bottom of the cowboy boots. Remember to apply a bit of pressure down on your heel.
Step 3: Pay attention to the pop sound coming from the heel
Usually, a rule of thumb for a perfect fit is that cowboy boots should fit snugly at the instep and a little bit loose at the heels.
When you use your hands to pull the pull straps and use your body weight to make the foot slide into the correct position, the heel of the boot should make a pop sound.
That is the sound of perfection! Your feet now sit right in the cowboy boots!
7 Ways to Make Cowboy Boots Slip on Easier
However, things won't be so simple. As mentioned above, it is difficult to put on cowboy boots when they are tight or wet…
Here are some tips to make it easy to put on cowboy boots!
Method 1: Wear socks
Socks are essential items if you want to put on cowboy boots easily. The socks will keep the leather from rubbing your skin when you slip on boots.
Besides, socks help avoid sweating your feet in the boots. From there, they keep your feet and cowboy boots dry, making it easy to put on or take off.
You should use some specialized boot socks that are taller than mid calf and can cover the calf.
Method 2: Keep your cowboy boots dry
Wet cowboy boots are one of the reasons why it is hard to slip your feet on them.
All you need to do is keep your cowboy boots dry. You should store them in a cool, dry place.
Besides, you need to know how to handle it when your cowboy boots get wet. We will show you how!
1/ Use household powder
If cowboy boots are wet, then household powder is the number one method to deal with this situation.
Use a little baby powder or cornstarch to spread inside the boots, there are 2 effects:
Household powder absorbs moisture and keep cowboy boots dry, so it is easy to put on them
Household powder makes the contact area of your feet and leather smoother to wear boots smoothly
Just sprinkle a little around where you find it rigid or difficult to put on the boots. That's it! (no need to sprinkle too much, a little is enough)
Please note that don't sprinkle powder on the heel, it may lead to heel slippage, you should sprinkle powder into areas like the ankle.
For suede cowboy boots, using household powder is a particularly popular method. Or else, you can tuck some soft toilet paper inside suede boots to keep their shape.
Suede cowboy boots are very vulnerable to water damage and loss of shape, so take good care of them!
Johnson's Lavender Baby Powder with Naturally Derived Cornstarch for Delicate Skin, Hypoallergenic and Free of Parabens, Phthalates, and Dyes Baby Skin Care, 15 oz (Pack of 6)
15-ounces of lavender baby powder with naturally derived cornstarch provides a gentle way to soothe your baby's skin and leave it feeling soft, smooth, and comfortable
Hypoallergenic, dermatologist tested, and specially designed for baby's delicate skin, this baby powder with naturally derived cornstarch is clinically proven mild and 100% gentle
This lavender naturally derived cornstarch powder quickly absorbs moisture, and is free of parabens, phthalates, dyes, and sulfates
This naturally derived cornstarch baby powder is great for kids and adults too. Try it at the beach to help remove sand, or as a dry shampoo alternative for adults.
For over 125 years, Johnson's formulas have been specifically designed for baby's delicate skin to use, shake baby powder directly into your hand, away from the face, before smoothing onto the skin
2/ Use hair dryer
This is a classic way to dry cowboy boots, use a home hair dryer to dry around them.
After drying the cowboy boots, you can now put them on smoothly.
Of course you should only use this method for leather cowboy boots, not suede.
Suede cowboy boots are much weaker than leather, and they can be hardened and cracked if exposed to high temperatures.
Sale
Revlon 1875W Lightweight + Compact Travel Hair Dryer, Black
Wattage of this appliance may vary depending on the location of use
Compact and lightweight design, perfect for travel
2 heat/speed settings for drying and styling flexibility and control
Cool shot button help to set the look for a gorgeous, long-lasting results
3/ Use boot tree
Another applicable method is to use a boot tree.
Boot tree works to keep the shape of cowboy boots. Also, it helps the boots stay dry by absorbing moisture. You can use it for both leather and suede.
After a long time of use, cowboy boots can be shrunk due to the effects of weather or the external force, making it difficult to put on them.
That's when you need the boot tree.
4/ Use boot dryer
The above methods might work if you only have 1 or 2 pairs of cowboy boots, but what if you have 5 or 10 pairs of cowboy boots? It will take more time.
If you wear cowboy boots regularly, the rainy season (or winter) is a nightmare for your boots.
To solve this, use a boot dryer! It can dry several pairs of cowboy boots at once.
Keeping your cowboy boots dry will make them more durable and easier to put on.
Sale
DryGuy DX Forced Air Boot Dryer and Garment Dryer
Forced-air boot, glove, and garment dryer works on four garments simultaneously
Includes two removable extension tubes for use with boots up to 16 inches tall; whisper-quiet rotary blower; 3 hour timer; heat or no-heat switch
Heats to 105-degrees F. (40.5-degrees C.); safe for liners, clothes, and boots; includes two removable extension tubes for use with boots up to 16 inches tall
Helps eliminate odors and reduce the growth of bacteria and mold; dries most clothes in 1-2 hours; Power - 120 Volt AC Household Outlet
Dimensions: 12 inches deep x 7.5 inches high x 15 inches wide; 6-foot power cord; 1 year warranty
5/ Use newspaper or toilet paper
If you don't want to spend money on boot trees, you can use available items in your house. It could be a newspaper or toilet paper. This will bring 2 benefits: absorb moisture and keep the cowboy boot shape.
This method will keep the cowboy boots always dry and avoid shrinking, so you can put on them easily.
Method 3: Keep cowboy boots in shape
After a period of use, cowboy boots can completely lose shape if you don't know how to care for them properly.
Keeping your cowboy boots upright also makes it easy to slip on them. To do that, we suggest using a boot shaper.
Sale
Dial Industries Spring Loaded Boot Shapers, Black
The original Spring-loaded design to provide just the right tension for all types and styles of boots
Keeps your boots in good shape, preventing cracks and creases and prolongs the life of your boot; helps air out boots
Easy to use, no assembly required; durable construction; includes hooks so that boots can hang
Helps keep closets organized; each shaper is 6"L x 12. 5"H x 2. 25"W
Made in USA; includes 1 year manufacturer's defect
There are many different types of boot shapers on the market that can maintain the shape of many cowboy boots.
Besides the boot shaper, we recommend using boot trees to keep the vamp of cowboy boots in shape.
Method 4: Use boot slip
This product is simply a smooth plastic bag. Put on boot slip and then put on a cowboy boot.
With the boot slip, you can slide your feet into the cowboy boots smoothly. Very simple, right?
Boot Stretcher Shoe Stretch Boots Breaking In New Tight Fitting Leather Boots Shoes Stretch Tool Replace Boot Horn Hooks For Natural Stretching Cowboy Ski Boots 20 Boot Slip No Chemical Silicone Spray
END PAINFUL FRICTION on ankles, heels, instep, Foot Ball Width & Feet Bunions . We GUARANTEE smooth motion at contact points inside your boots.⭐️⭐️⭐️⭐️⭐️
EASY TO USE for Cowboy Boots, Kneehigh Boots, Designer Boots, Ski Boots, Work Slip On Boots - immediately slip on your boots. Put On Your Boots in 5 SECONDS 100% GUARANTEED ⭐️⭐️⭐️⭐️⭐️
PERFECT Ski Accessory to slide on your Ski Boots in SECONDS !!!! ..⭐️⭐️⭐️⭐️⭐️
A MUST HAVE When wearing kneehigh Cotton Sock, Boot Socks, Tall Work Sock,
👍 20 SLEEVES - UNIVERSAL Fit for women, men & children.- put on your bots in SECONDS - NON latex, NON silicone -30-DAY SATISFACTION ⭐️⭐️⭐️⭐️⭐️ Our GUARANTEE lets you try our Boot Slip Sock risk-free.
Method 5: Break in cowboy boots
If your cowboy boots are new, don't be too surprised if it is hard to put on them. That's because they haven't broken in yet.
Break-in can be understood as the process of making your new cowboy boots softer, easier to use and more comfortable.
The cowboy boots are made from 100% leather. They can be quite stiff at first, but after wearing continuously for 1 to 2 weeks, cowboy boots will be broken in.
At that time, the leather is softer and stretched to fit your feet more, you can now wear them easily.
There are many methods to shorten the break-in process, such as use boot stretchers, wear them more often, steam inside cowboy boots, use boot stretch spray …
We have a very thorough tutorial on how to break in cowboy boots here!
Method 6: Stretch cowboy boots
Cowboy boots are tight is the main reason why putting on boots can be difficult.
In this situation, stretching cowboy boots is what you need to do right now!.
There are 3 common positions that make it difficult to put on your cowboy boots: the calf, instep and the ball of foot.
There are many ways to stretch your cowboy boots, such as using a boot stretcher, steam inside, use ice, use lotion or use boot stretch spray.
For your preference, you can find out how to fix tight cowboy boots around instep by clicking on here. If you wonder how to stretch cowboy boots around the calf, find out more here.
Also, we provide many methods to stretch cowboy boots at home here.
Take your take and explore all of them!
Boot Instep Stretcher and Vamp Raiser
Western Cowboy Boot Stretcher
Boot Instep Stretcher and Vamp Raiser
Western Cowboy Boot Stretcher
Method 7: Clean and condition cowboy boots
After a long time of use, cowboy boots pile up with dirt and grime if they are not cleaned and conditioned immediately. They will gradually become stiff and dirty, you might get trouble putting on them.
In this case, you need to chase away all the mud and dust in cowboy boots with a horsehair brush and leather cleaner, then use the conditioner to finish caring for them.
Conditioner will make the cowboy boots soft and smooth, making it easier to put on them.
Besides, the conditioner is also very popular because it can increase cowboy boot life and keep the color longer.
So if you already own cowboy boots, don't forget to purchase a boot care kit: leather cleaner, special brush and conditioner.
Horsehair Shine Shoes Brush
Horsehair Shine Shoes Brush
Conclusion
Cowboy boots are one of the most comfortable shoes in the world. Don't let some trivial inconvenience interfere in your experience.
"How to put on cowboy boots easily" is a topic of concern, as you would be unpleasant if you can't put on your boots smoothly.
Follow the above methods, you can have a good experience when putting on your beloved cowboy boots.
If you have any better methods, please comment below to let us know!