In order to get the best look when wearing cowboy boots, your calves must fill leather around the calf.
Besides, guys often tuck the shafts of cowboy boots inside their jeans.
So if cowboy boots are too loose around your calves, it will be very difficult to ensure the fit and aesthetic.
How can I make my cowboy boots tighter around my calves? That is certainly the concern of many cowboy boot followers.
We're here to help you with that! Also, we will also tell you the common mistakes when trying to make cowboy boots fit tighter around the calves!
How Can I Make My Cowboy Boots Tighter Around My Calves?
In fact, people often make mistakes when trying to make cowboy boots shrink, so that they can fit tighter around the calves.
In reality, it's very difficult to shrink cowboy boots so their efforts can only make things worse, and cowboy boots continue to stretch faster.
Some "tips" to shrink cowboy boots can be mentioned are: spray water, dip cowboy boots in water, use a hair dryer… We can assure you that these methods are completely ineffective.
Not to mention dipping cowboy boots in water or making them wet for a long time can also cause cowboy boots to deteriorate rapidly.
So we don't advise you to try to shrink your cowboy boots yourself, but you can make them fit tighter with the following ways.
1. Use leather strap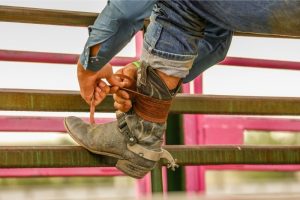 One of the first effective methods is using a leather string to wrap around the calf of the cowboy boot. That makes cowboy boots fit tighter.
If you are having trouble tucking cowboy boots into jeans because the leather around the calf is too loose, then this is the solution for you.
For girls who have a habit of tucking jeans into cowboy boots, you might wonder whether this method loses the aesthetic of cowboy boots?
No problem, just surf the internet and search, there are hundreds of different ways to tie leather straps that can bring a wonderful look.
Not only effective in making cowboy boots fit tighter in calves, but this method also helps you get a unique style.
In addition to leather strap, leather cord, you can also use different types of wires. As long as it works and you feel beautiful.
LolliBeads Leather Cord (3mm - 5 Yards)
LolliBeads Leather Cord (3mm - 5 Yards)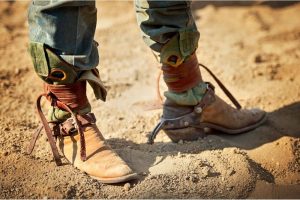 2. Use thick socks / double up sock
Another way to make cowboy boots fit tighter on your calves is using a pair of thick socks or double socks.
Thick socks (or double socks) can fill the space between the calves and cowboy boots, keeping cowboy boots stay in place.
If you are a person who regularly works hard or likes outdoor activities, thick cushioned socks will help reduce shock, cuddle your feet (support for arches, heels,…) to help you feel more comfortable.
However, many people will complain that this method will make your feet feel hot and cramped.
What should you do? Read on!
3. Use calf sleeve
Calf Compression Sleeves - Leg Compression Socks for Runners, Shin Splint, Varicose Vein & Calf Pain Relief - Calf Guard Great for Running, Cycling, Maternity, Travel, Nurses (Black, Large)
BARELY THERE -Through a dedicated eye for detail, Run Forever Sports has created a premium Leg...
THE WARM UP - It's known that a warm muscle is less likely to be injured, and performs better...
PAIN AWAY - If you've ever dealt with Shin Splints, you know the discomfort and outright pain they...
In fact, to choose cowboy boots with a good fit, you need to pay attention to the instep most.
As long as they fit well on the instep, they will lie neatly in your feet.
So if you wear thick socks or double socks, your feet can feel cramped.
We have another solution for you, which is to use calf sleeves.
They are quite similar to socks, but only extend from the ankle to over the calf. They're perfect to wear with cowboy boots.
You can use calf sleeves instead of socks to fill the gaps between the calves and cowboy boots, making them fit tighter.
In addition, wearing calf sleeves is also good for blood circulation of your legs, supports leg muscles when you run or work hard,…
4. Use boot cuffs
A winter accessory that can also solve your problem is the use of boot cuffs.
Boot cuffs are an accessory that is commonly used with tall boots in cold weather, the purpose is to keep the wearer warm.
All you have to do is insert the boot cuffs between the calf and the cowboy boots so that the space between them is filled.
You might want to consider this method for the upcoming winter
5. Use soft objects such as paper, cotton balls
Sale
Another best way you might wanna try is using soft objects such as paper or cotton balls to tuck in cowboy boots.
I'm serious! Take advantage of the available household items, pick the soft ones to ensure your feet won't get hurt.
Tuck them into the space between cowboy boots and your calves. It's done!
6. Looking for a good cobbler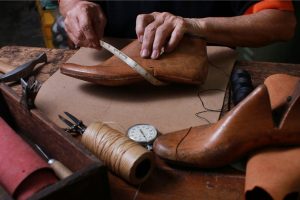 As we said at the beginning of this article, don't try to use word-of-mouth methods to shrink your cowboy boots, those methods may even cause them to stretch.
So if you really want to shrink cowboy boots, look for the cobblers, they know what to do.
Believe me, their method involves a little alcohol, a little fire and a little water to shrink cowboy boots.
Don't try their method at home as it requires professional skills to apply. You don't want to ruin your beloved cowboy boots, right?
Conclusion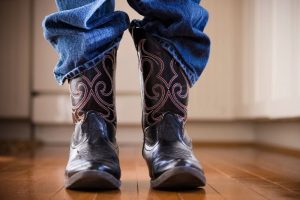 We recommend you 5 ways to make cowboy boots tighter around calves. Which includes:
Use leather strap
Use thick socks / double up socks
Use the calf sleeve
Use boot cuffs
Use household items
Find a good cobbler
Overall, I like to use leather straps. Because this is an effective method and can be used in any kind of weather, hot or cold.
Meanwhile, using boot cuffs or double up socks may not be suitable during hot weather, but it may come in handy in cold weather.
Thick socks are a good choice for people who often do heavy work and enjoy outdoor activities.
Also, using soft objects like toilet paper or cotton balls available in your house to tuck them into cowboy boots, making them fit tighter around the calves.
Or if you really want to shrink your cowboy boots, we recommend visiting the cobbler.
Good luck!