People often think cowboy boots only appear on farms and ranches because they were born with that purpose. This used to be true, but today they are more than that.
With so much development in appearance and construction, cowboy boots nowadays can be seen in many places, many times and do more things than you think.
If you are new and still do not really know what cowboy boots can do, then this article is a summary of all the basic to special purposes of cowboy boots.
In the article, I will put links that explain why cowboy boots can appear there. If you want to learn more, click on them.
And now, let's get started!
When Cowboy Boots Are The Best Choice To Wear?
Modern cowboy boots appear in many nooks and crannies of life, you can find them working in many places in different seasons.
Therefore, I will divide this article into some categories, what work cowboy boots serve, where, and when. That will be the answer to the question of when to use cowboy boots.
1. Cowboy boots can be used for many different jobs and activities
Today, cowboy boots are much improved in structure, you can use them for both indoor and outdoor jobs.
For example, cowboy boots specially made for farming and ranching are typically well constructed and well protected with thick leather and non-slip soles. Besides, they also provide high comfort with a wide toe box and good shock-absorbing insoles.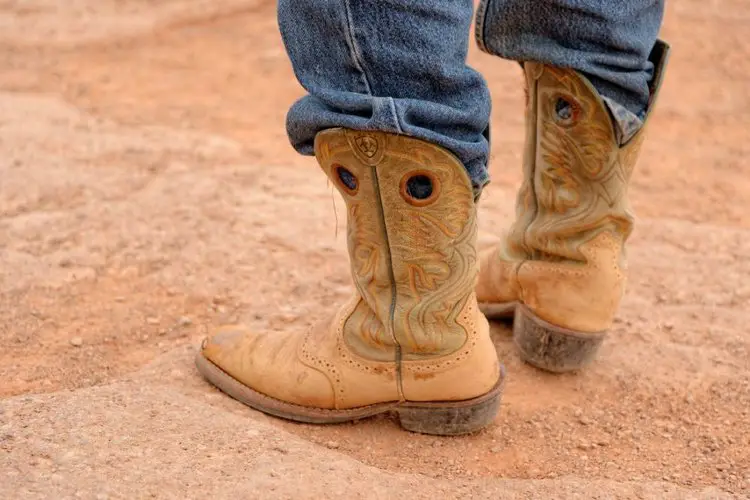 There are also many cowboy boots reinforced very carefully at the toe and sole to serve heavy jobs like at a construction site.
Cowboy boots are perhaps one of the truckers' most beloved boots as they keep them warm in the winter and can protect them from engine heat.
Meanwhile, today, many people wear cowboy boots for indoor work such as in the office. Those boots can be made from expensive and luxurious leather such as lizard or caiman. Those boots are very elegant, you can completely wear them with a suit or dress pants.
There are also many people who like to wear cowboy boots to weddings, not just weddings in the western countryside. The modern cowboy boots have enough elegance and sharpness to go with chic dress pants to any of the world's most luxurious weddings.
Cowboy boots are also appropriate for participating in outdoor activities such as camping or even hiking. They have good protection against extreme weather and difficult terrain due to the application of many modern technologies in the structure.
Many people also like to use cowboy boots for casual wear because of their great comfort and stylishness.
Cowboy boots have a very special construction, so every time you put them on, they make you feel tall, confident, and somewhat arrogant. Because of this, cowboy boots are sometimes not only used for work but also for fashion purposes. Nowadays, you can easily come across cowboy boots on the catwalks.
In general, cowboy boots today have come close to everyone's life, you can use them for any job and any work site.
2. Cowboy boots can appear anywhere in all kinds of weather
You hear me right, whether it's winter or summer, in bumpy or slippery terrain, modern cowboy boots get you covered.
Today, many types of cowboy boots have appeared and overcome many inherent weaknesses of the traditional ones.
For example, a leather sole with a polished finish and a sharp look can be great for riding or providing a nice style. But it is very slippery and difficult to support workers who often stand on their feet, and it is often not too durable.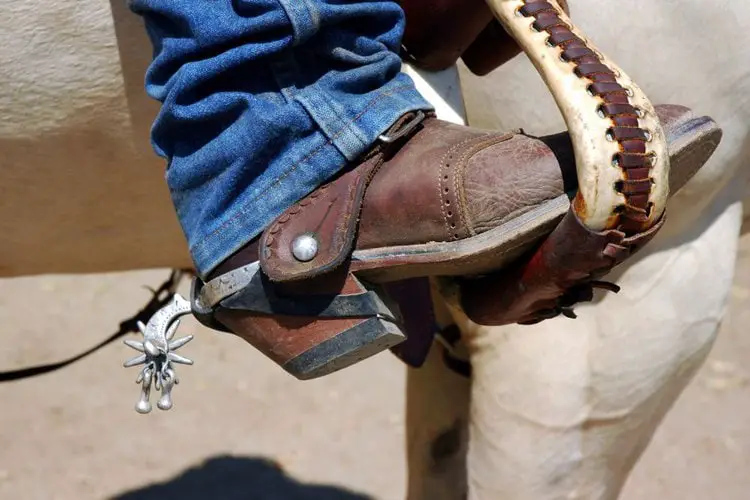 To overcome that, many cowboy boots have appeared with rubber soles with good slip resistance and endurance. You can balance easily when moving and working in difficult terrain.
Talking about soles, leather soles have high breathability so it is very suitable for summer. Besides, rubber soles with good insulation will ensure you are warm in winter.
The tall construction of cowboy boots (about 11 inches) will also ensure that your feet stay warm in the rain or snow. But they're also solid armor so your feet won't get burned in the summer heat.
Personally, I like goat leather cowboy boots for the hot season because they have large pores to make my feet cool and breathable.
Today, cowboy boots made from exotic leather are also very popular. Each type of exotic leather has its own advantages.
For example, ostrich cowboy boots are extremely soft and durable due to their rich natural oils, so they do not dry out or crack during use. I absolutely love using them to work for this very reason.
Caiman or lizard cowboy boots are a great choice for indoor working environments, offices, or weddings and parties thanks to their clean look.
The variety in construction, design, and surface makes cowboy boots today beautiful, safe, and comfortable enough to go with you to the end of the world!
Some notes and suggestions for you
Although cowboy boots today are very diverse and versatile that you can wear them anytime and anywhere, this also brings a lot of trouble. You need to know how to choose the right boots.
Cowboy boots for outdoor work often have an unflattering appearance but are very hard and sturdy.
The leather builds them and the sole is thick for good impact resistance. They also often come in square toe or round toe construction and rubber soles. Those are the things you need to keep in mind.
Cowboy boots for indoor work or casual wear often have a sleeker look and are more traditional in style.
If you like boots like the above, then cowboy boots with roper or traditional style will be very suitable for you. Today, big brands like Tecovas have an abundance of such cowboy boots for you to choose from.
Conclusion
In short, cowboy boots are very versatile these days, you just need to choose the right type of boots and you can do anything you want. Just make sure you use the right types of cowboy boots for the right purpose!
Others even asked me if they could wear cowboy boots in the city. Wow, that hurts! Cowboy boots are not what you think anymore.
Cowboy boots can be much nicer than dress shoes, stronger than work boots, and more comfortable than a sneaker.
Never doubt about this matter!
Howdy y'all! I'm Grace, a western style enthusiast with over 10 years of experience. From cowboy boots to western gear, I'm passionate about all things western and dedicated to helping you find the perfect style to suit your taste. Join me and my fiancé Jay Gatz as we explore the rich history and timeless appeal of western fashion together!