I know that the person asking this question is thinking that cowboy boots look too country and wild! But I completely disagree!
If you think cowboy boots are too rustic and wild to appear in the city, you are wrong.
Everything evolves over time, and so do cowboy boots. For things that do not grow, they will be gradually eliminated over time.
Today, cowboy boots are no longer just work boots for farmers but they have come closer to everyday life. And so, cowboy boots today have many different designs.
No longer nail in the rough and tough appearance that you often see on the ranch, today cowboy boots also appear with a luxurious and sexy look.
That explains why cowboy boots today can appear anywhere, including the city.
We'll talk more about it below!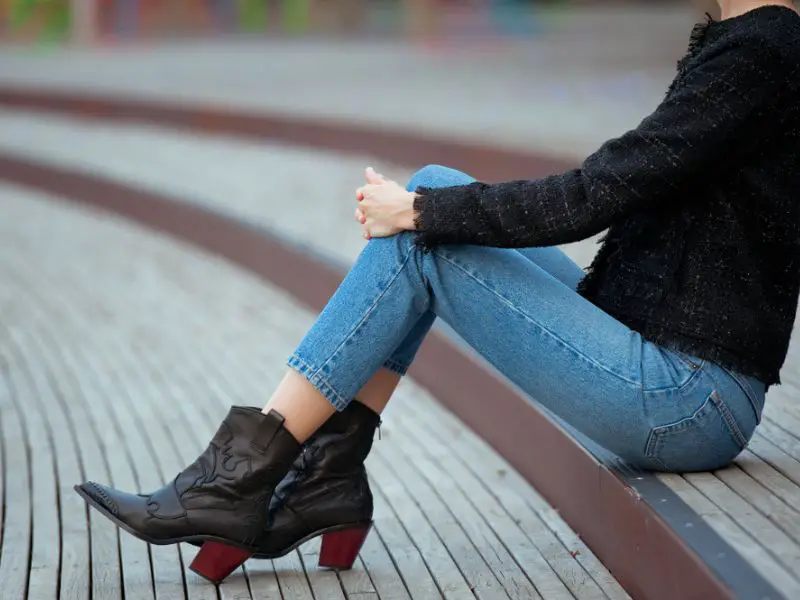 Is It Appropriate To Wear Cowboy Boots In The City? And How?
Today, the growth of cowboy boots is so remarkable that you can see them everywhere in the United States.
Cowboy boots are more accessible to people due to many changes in the structure and materials of the boots.
The construction improvements make them more comfortable and convenient for the wearer. Plus, they come with various materials for your choice.
Nowadays, you can see cowboy boots that have a very classy and elegant look, not just rough and stiff. For example, cowboy boots are made from caiman leather or lizard, or simply, well-polished cowhide.
Because of the above reason, you can absolutely wear cowboy boots to the city and attend the best weddings in that city without any problems.
However, you should also pay attention to the right type of cowboy boots and how to coordinate them.
There are a few basic principles when wearing cowboy boots to achieve a clean city look for men as follows:
Don't tuck jeans into cowboy boots
Don't wear skinny pants with cowboy boots
Don't wear short pants with cowboy boots
The jeans (or dress pants or whatever) should have enough room for you to tuck the shaft of your cowboy boots in. This ensures a classic style with a clean look.
Bootcut jeans, khaki pants, straight jeans, or even dress pants and suits can all be worn with cowboy boots for the city.
However, cowboy boots should have a sophisticated look. Don't choose boots that look too wild or distressed.
Opt for well-polished cowboy boots that should be dark in color. If they are for casual wear, they should have simple and elegant textures.
You should also consider boots that are made from exotic leather, these days there are leathers that look great to wear in the city.
Exotic leather shoes that are popular and famous in the world of cowboy boots include caiman, lizard, smooth ostrich, you name it.
For women, things seem simpler. Cowboy boots for women have long been not only for work but also a trendy fashion accessory.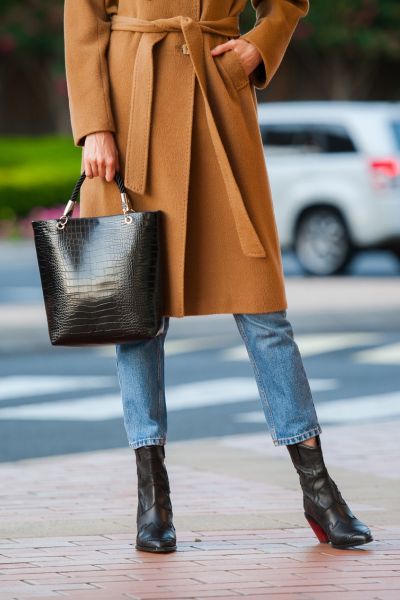 You can choose cowboy boots with many youthful and dynamic colors, not necessarily dark. The stitching patterns of cowboy boots are also free to choose.
Picking outfits to wear with cowboy boots for the city is also relatively simple when bootcut jeans, skinny jeans, skirts, or dresses are all suitable. It is important that their colors are not too flashy, but must maintain a certain ethereal look.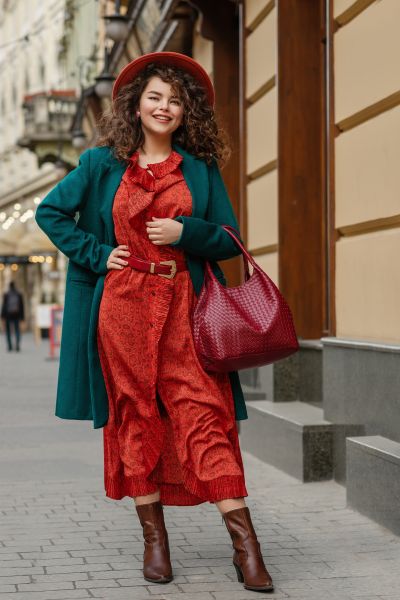 It depends on your intentions to wear cowboy boots. For example, if you wear cowboy boots with suits for the office, they need to be simple and classy, ​​I recommend caiman boots in this case.
If you're looking for a pair to wear with khakis pants or straight jeans for casual wear, glossy lizard boots or cowhide boots will suffice.
Also, I suggest you pay a little attention to the construction of cowboy boots. I love traditional or roper cowboy boots, and I also wore them in Chicago in the summer of 2022. These are 2 types of boots with very nice and edgy construction.
Some of the structures of cowboy boots that I recommend for men are as follows:
The heel should be between 1 1/2 and 1 3/4 inches tall
Leather sole if possible
The reason I list these criteria is that the round toe is very elegant and easy to match with any outfit. Meanwhile, the square toe has strong and masculine angles.
Snip toes or pointed toes are not really appropriate and trendy, they look quite extreme for men.
Meanwhile, a 1 1/2 or 1 3/4 inch heel gives a tall and confident look to men but is not too tall to affect your gait.
If it's not raining or snowing outside, I prefer leather soles to rubber ones because they look softer and sharper.
If you are a woman, then in addition to traditional boots and roper boots, you should also look to western booties. They are very beautiful when paired with trousers, dresses or skirts.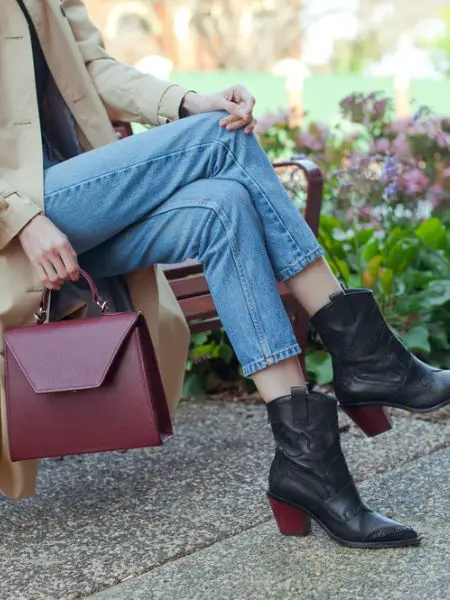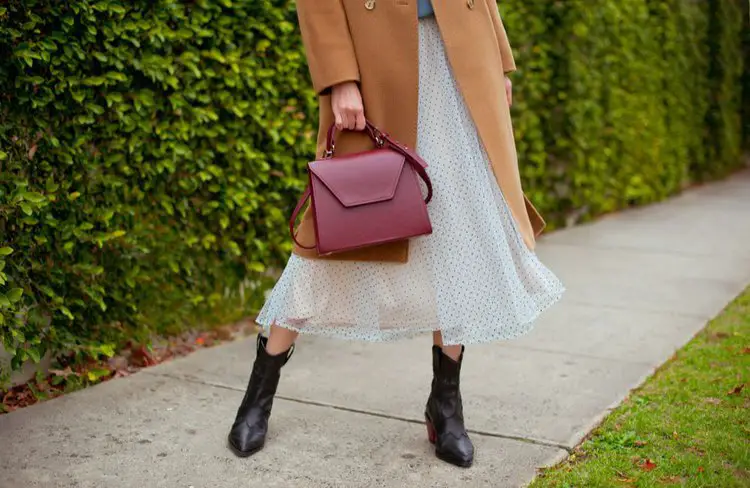 I also have some suggestions for girls as follows:
The heel should be between 1 3/4 inches and 2 inches high
Round toe, snip toe or pointed toe are preferable
Choose leather sole if possible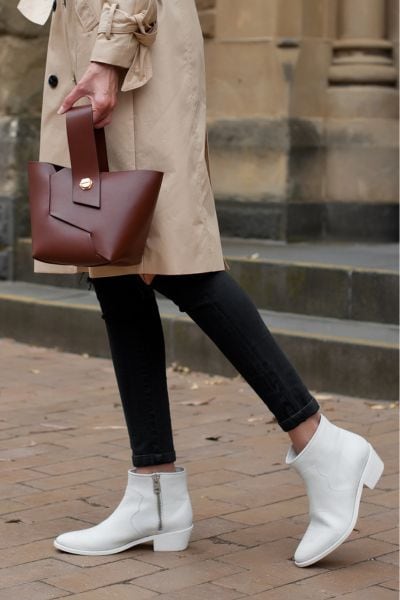 To account for the heel height and toe shape, the heel for women should be higher than that of men's boots to make our ladies seem taller. The tapered toe shape will make sure your feet look slim, fit and longer.
Girls should stay away from the square toe or broad square toe because they are quite rough and too strong in terms of aesthetics. That's why they are usually suitable for men.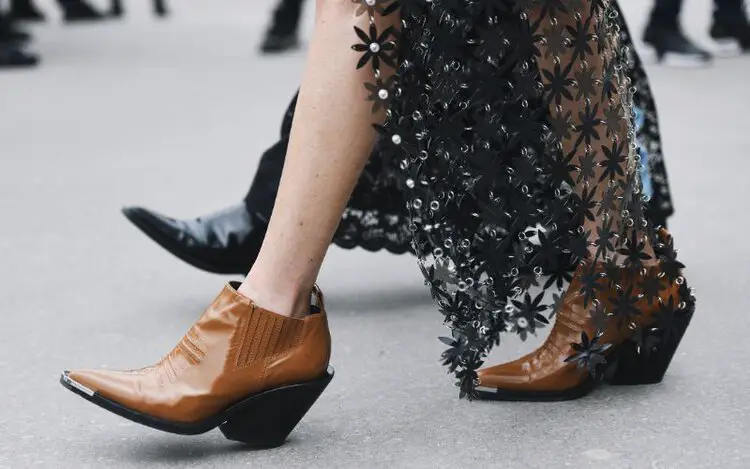 Leather sole cowboy boots would be a reasonable choice because, as mentioned above, they are thin which creates a soft and sharp feel.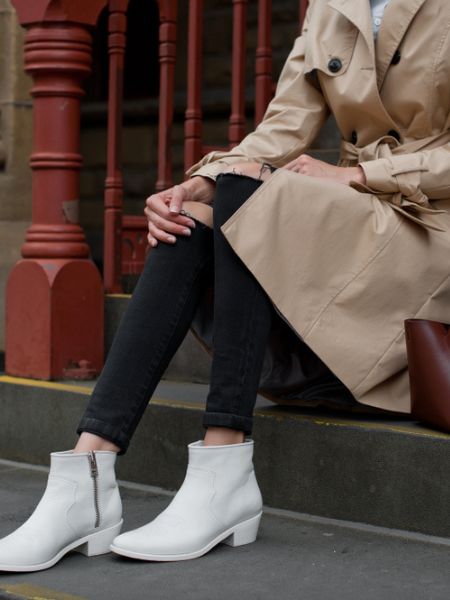 It might be more difficult for girls to find a pair of cowboy boots made from exotic leather than for men (no kidding, since most of the bootmakers' biggest customers are men), so you can look for suede boots. Their soft fur on the surface feels very seductive, light, and feminine.
Before you leave
There is no doubt that, with today's development in structure and variety of materials, cowboy boots are quite enough to appear in the largest cities in the world.
You can find elegant cowboy boots at famous bootmakers like Lucchese or Tecovas. Pair them with the right outfit and they can absolutely shine.
Don't be self-deprecating, cowboy boots have changed today, wear them anywhere, anytime you want!
Howdy y'all! I'm Grace, a Western style enthusiast with over 5 years of experience. From cowboy boots to western gear, I'm passionate about all things Western and dedicated to helping you find the perfect style to suit your taste. Join me and my fiancé Jay Gatz as we explore the rich history and timeless appeal of Western fashion together!