In the world of fashion, few pieces hold a candle to the enduring allure and versatility of pointed toe cowboy boots.
These iconic staples have galloped beyond the rodeo and into the hearts of style aficionados, emerging as the go-to footwear for women seeking an infusion of classic charm mixed with edgy sophistication.
With their sleek silhouette and sharp lines, pointed toe cowboy boots have become synonymous with style, making them the most stylish toe shape for cowboy boots in a woman's wardrobe.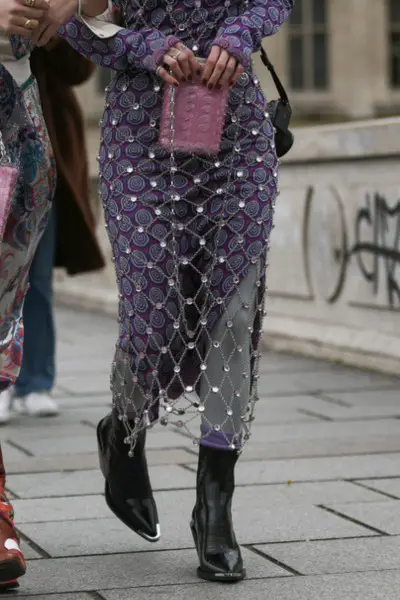 Why do they stand out? Perhaps it's their ability to toe the line between boldness and subtlety, or the way they elongate the legs, lending an air of elegance to any ensemble.
These boots aren't just made for walking; they're made for strutting, dancing, and turning heads.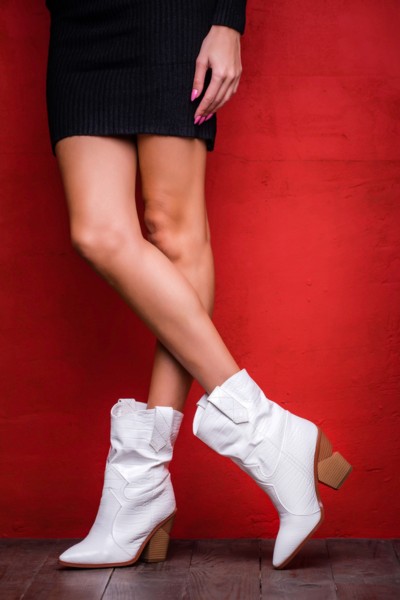 From the sun-soaked days of summer to the crisp evenings of fall, and through the chilly winds of winter to the fresh bloom of spring, pointed toe cowboy boots seamlessly adapt to a myriad of outfits and occasions.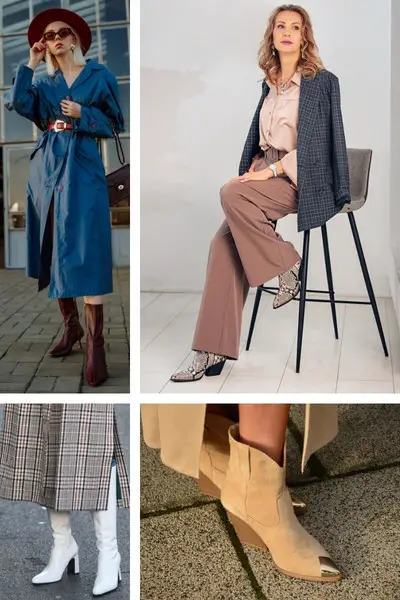 Whether you're looking to spice up a casual day look, add a touch of western grit to a chic evening attire, or simply elevate a classic office outfit, these boots are your sartorial wingman.
Their versatility is unmatched, opening a world of fashion possibilities.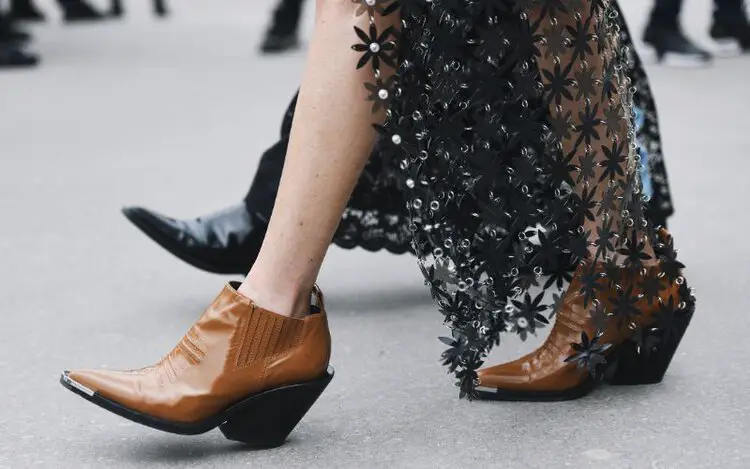 In this article, we'll walk through various outfit ideas that will allow you to harness the full potential of pointed toe cowboy boots, ensuring you step out in style, no matter where you're headed.
Elegance with an Edge: Dresses, Skirts, and Pointed Toe Cowboy Boots
The true beauty of pointed toe cowboy boots lies in their chameleon-like ability to traverse the style spectrum from laid-back to luxe with effortless grace.
When paired with dresses and skirts, these boots take on an elegant yet audacious persona, proving that one can indeed stride into any setting with confidence and panache.
1. Casual Chic: The Leather and Denim Duo
For a look that marries casual comfort with a touch of stylish rebellion, consider a black leather midi skirt. It's a piece that whispers edgy sophistication.
When slipped into a pair of sleek black pointed toe cowboy boots, the ensemble speaks volumes.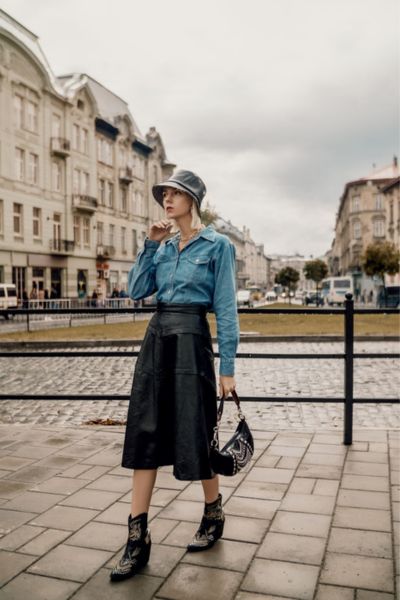 Add a classic blue denim shirt to the mix, and you've got an outfit that's as versatile as it is stylish. Accentuate this look with a black leather hat and a coordinating handbag.
This pairing is not just a choice but a statement — one that asserts that the fusion of leather and denim is a fashion constant that can never steer you wrong.
2. Boho Chic with a Sweet Twist
Embrace your inner free spirit with a boho midi dress, a garment that dances to the beat of summer winds and festival rhythms.
Selecting white ankle cowboy boots to accompany this dress lends an unexpected freshness to the boho charm.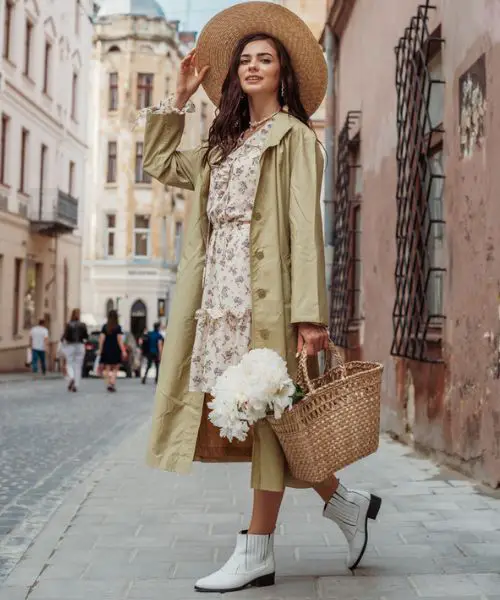 To elevate this sweet style into the realm of elegance, drape a beige blazer over your shoulders. This addition transforms the laid-back bohemian into a figure of chic sophistication.
A wide-brim straw hat and a matching bag are the finishing touches that pay homage to western roots while keeping the urban spirit alive.
3. Layers of Sweetness: The Midi Boho Dress
Another way to capture hearts with sweetness is by choosing a layered midi boho dress.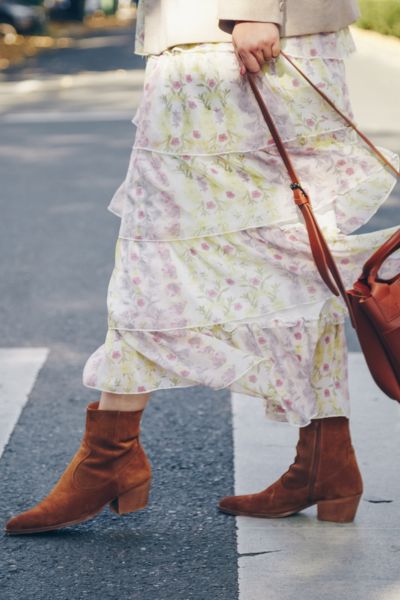 When these cascading layers meet the subtle strength of light suede cowboy boots, the effect is mesmerizing.
The boots anchor the flowing hemline, creating a look that's as captivating as it is effortless.
4. Maxi Dress Majesty
Elegance is redefined when a red maxi dress pairs with the timeless appeal of brown pointed toe cowboy boots. This combination is a declaration of style independence.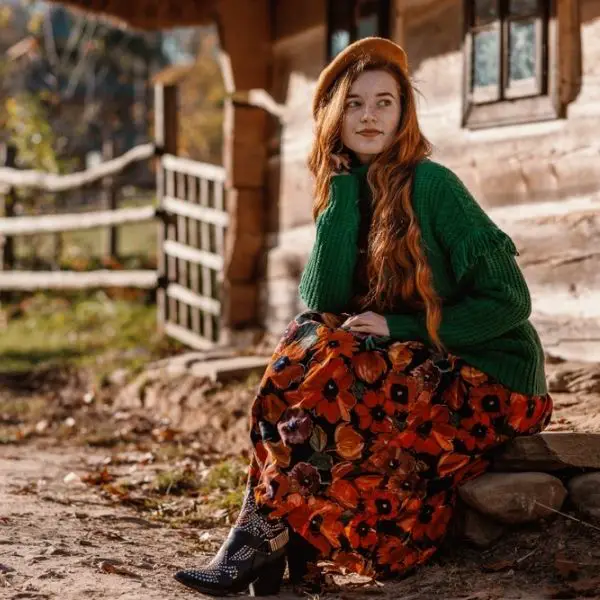 When you add a green blazer or trench coat, you're not just adding a layer of warmth; you're making the outfit pop with a burst of contrasting color.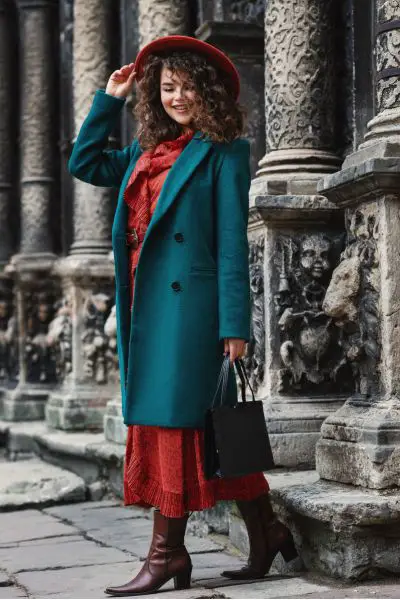 A wide-brim hat and a handbag are the perfect accessories to complete this regal, yet approachable look.
5. Autumn and Spring Sweetness: Pleated Skirts and Sweaters
As the leaves turn or the first blooms appear, there's no pairing more perfect for these transitional seasons than midi pleated skirts and cozy sweaters with cowboy boots.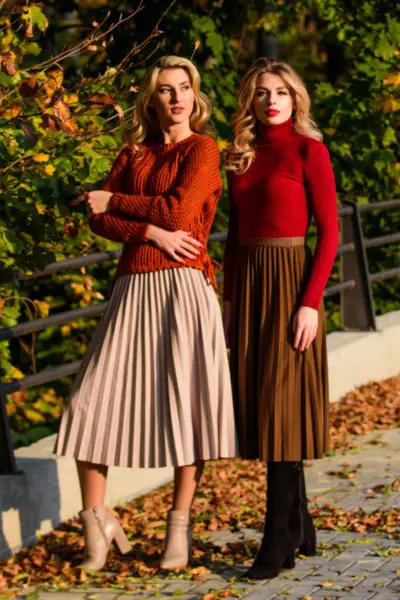 This trio is a love letter to the times of year that are neither too warm nor too cool.
You can mix and match colors and textures, as these pieces seem destined for each other, blending the lines between relaxed and refined.
Street Style Savvy
The streets become a runway when pointed toe cowboy boots are involved, especially for those who carry a torch for bold, personalized fashion.
These boots don't just walk—they make a statement with each step, perfectly complementing the street style aesthetic that embraces individuality and edgy chic.
1. Beige and Bold: The Cargo and Cowboy Combo
Channel the quintessential street style vibe with white pointed toe cowboy boots that command attention.
Pair them with stylish beige cargo pants for a utilitarian edge that's as practical as it is trendy.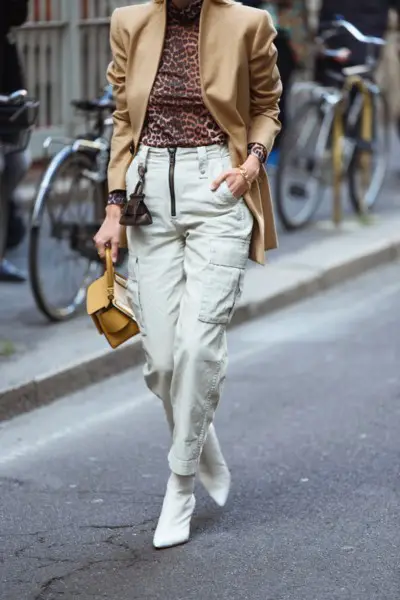 The Leonard print top adds a splash of pattern to the mix, while a brown blazer provides a sophisticated frame for the ensemble.
A box handbag is the ideal accessory—compact, stylish, and just as functional as it is fashionable. This outfit isn't just great for the street; it defines it.
2. Earthy Elegance: Snakeskin Ankle Boots and Trench Coat
Take a walk on the wild side with snakeskin ankle cowboy boots. These boots boast a natural, yet fierce pattern that's guaranteed to turn heads.
Lay the foundation of your outfit with a flowing camel trench coat—a timeless staple that speaks volumes about classic style.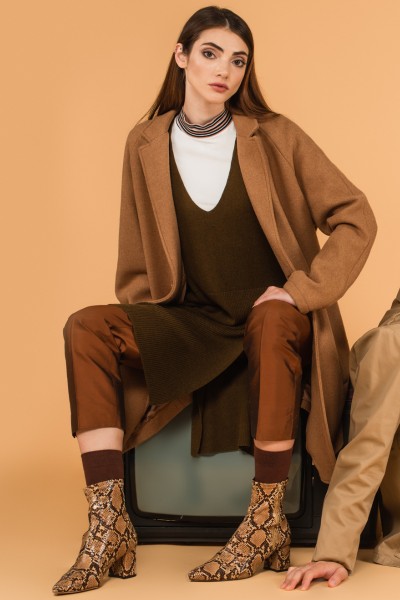 Add cropped terracotta pants to inject a dash of color and a side-split tunic sweater for an effortlessly chic base.
This combination is not just a style choice; it's a personality statement that remains accessible and engaging.
3. The Exotic Touch: Unique Leathers and Classic Trenches
Sometimes, the magic lies in the simplicity of a single statement piece. Exotic leather cowboy boots, with their distinctive finish, naturally draw the eye.
Wrap your look with a simple beige trench coat for an outfit that's understated yet undeniably striking.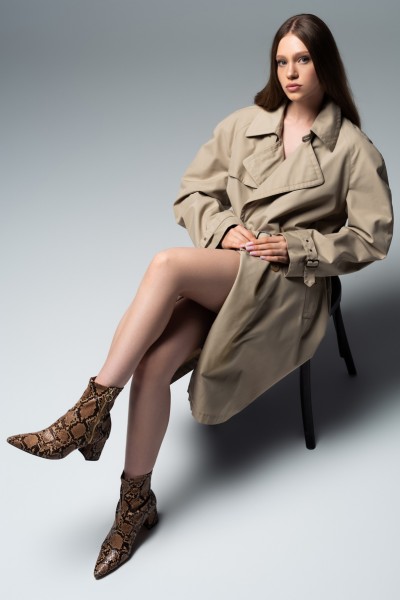 If you wish to shift the focus from the boots to the coat, opt for a plaid trench coat that demands attention, then pair it with understated white cowboy boots to balance the look.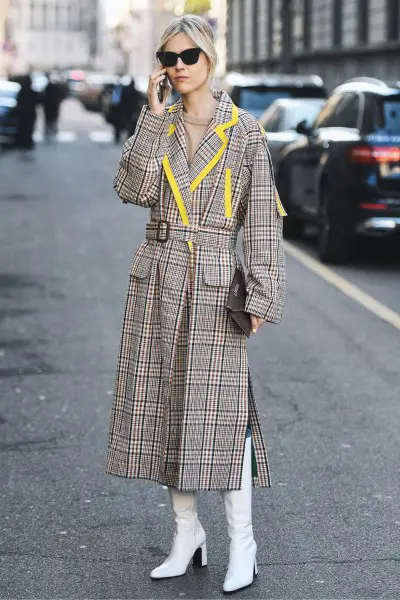 4. Colorful Confidence: Zebra Prints and Vibrant Hues
For those daring enough to embrace color with open arms, a vibrant orange trench coat is a showstopper.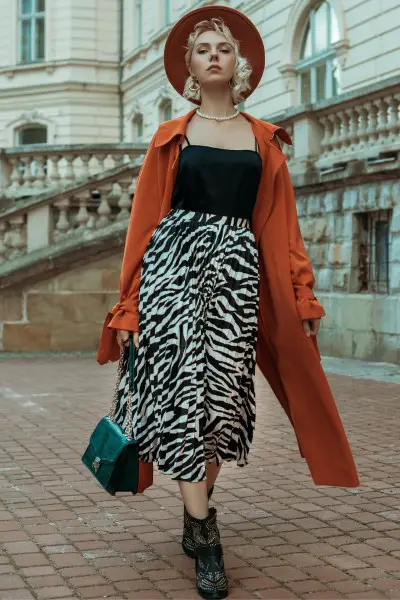 Coordinate this with a zebra midi skirt for a mix of patterns and a black 2-strap top as a grounding element.
An orange wide-brim hat echoes the coat's lively hue, while a green handbag adds a complementary pop of color.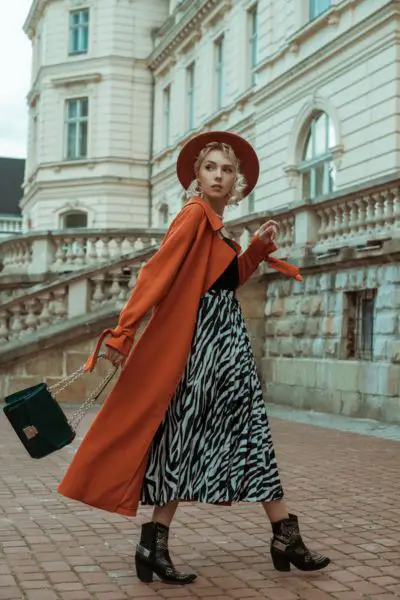 This ensemble isn't just impressive; it's an artistic expression of personal style that captures the essence of street fashion.
Casual Elegance
When it comes to casual wear, the key is to find the perfect blend of comfort and style—outfits that feel as good as they look without compromising on elegance.
Pointed-toe cowboy boots lend themselves beautifully to this balance, offering a simple yet sophisticated touch to everyday attire.
1. The Classic: Jeans, Blazer, and Boots
Jeans and pointed-toe cowboy boots are a pairing as classic as coffee and mornings. They are the foundation of casual wear, offering a relaxed yet put-together look that's hard to beat.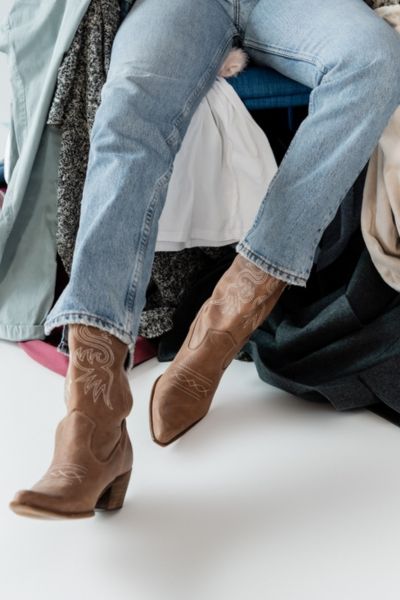 Take this timeless combo a step further by throwing an elegant blazer into the mix. This not only adds a layer of sophistication but also prepares you for a range of occasions, from a casual coffee date to an impromptu business meeting.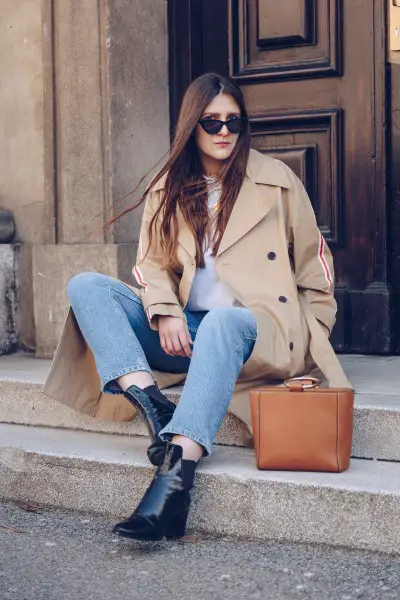 Accessorize with a pair of sunglasses for an air of mystery or a tote for practicality and style.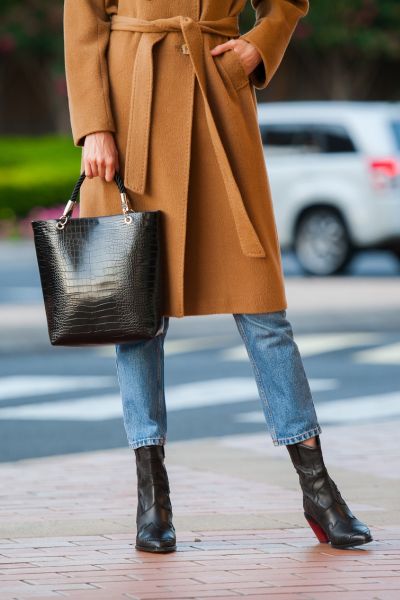 A blazer in neutral tones like brown or beige will effortlessly complement any ensemble, proving its worth as a wardrobe staple.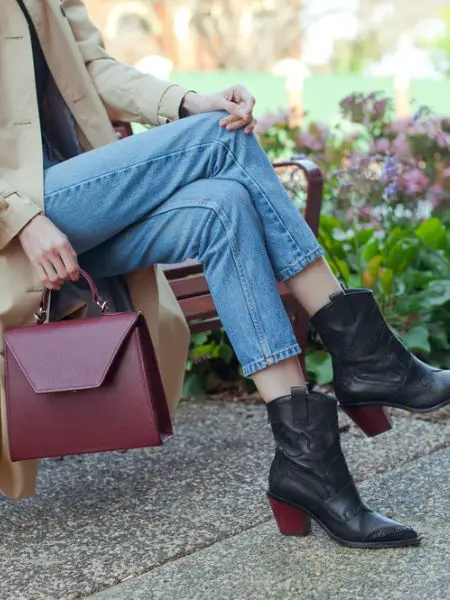 2. Skirt the Norm: Dotted Midi Skirts
If jeans aren't quite your style or the occasion calls for something with a bit more flair, a dotted midi skirt can be your go-to choice.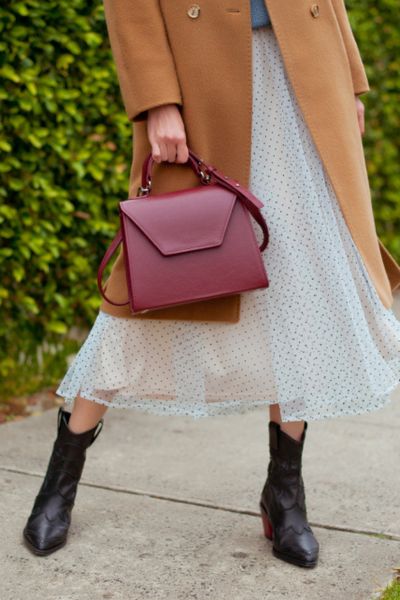 It maintains the casual ethos while bringing an element of playful sophistication to the table.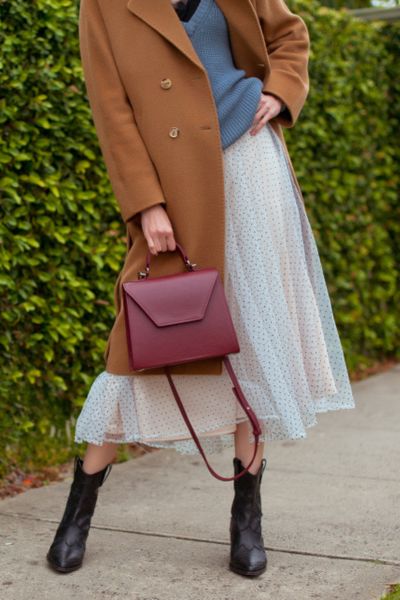 The dots add a dash of fun to the simplicity of casual wear, making it an excellent choice for those days when jeans just won't do.
3. Floral and Fabulous: Skirts and Sweaters in Harmony
For an ensemble that exudes effortless elegance, pair a floral skirt or dress with ankle cowboy boots.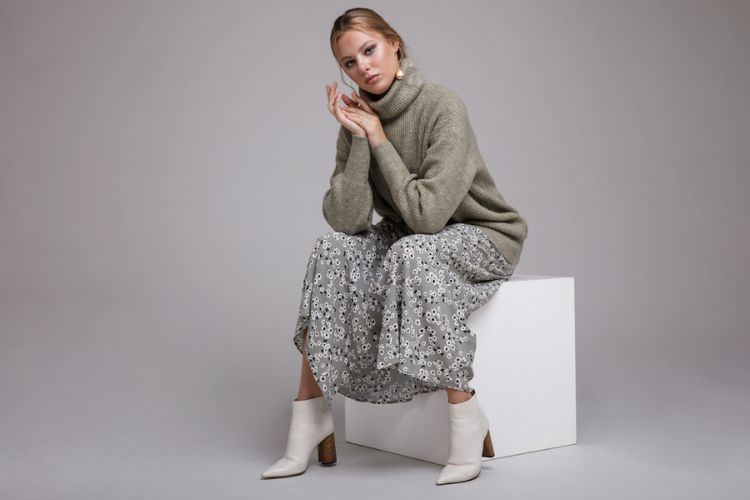 When you match this with a sweater in a corresponding shade, you create a cohesive and sweet outfit perfect for a variety of casual settings.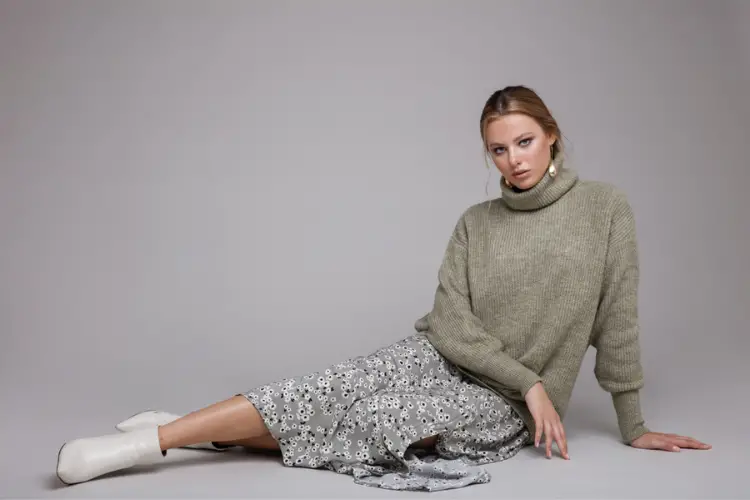 This look is as easy to put together as it is easy on the eyes, making it ideal for those who want to look put together without the fuss.
These casual yet elegant styles showcase how pointed toe cowboy boots can elevate even the simplest of outfits.
Mix and match them with your wardrobe favorites to discover a range of looks that are as versatile as they are stylish.
Redefining Business Casual
Who says that business casual can't have a little flair? Incorporate pointed-toe cowboy boots into your professional wardrobe for a look that's as confident as it is surprising.
1. Sleek Contrast: Snakeskin Boots and Pencil Skirts
Strike a balance between bold and professional with a striking pair of black and white snakeskin pointed-toe cowboy boots, paired with a classic blue pencil skirt.
Underneath, a sharp black shirt provides a sophisticated contrast, laying a smooth canvas for the ensemble.
Over the top, a crisp white cardigan sharpens the look, while a sleek black belt defines the waist.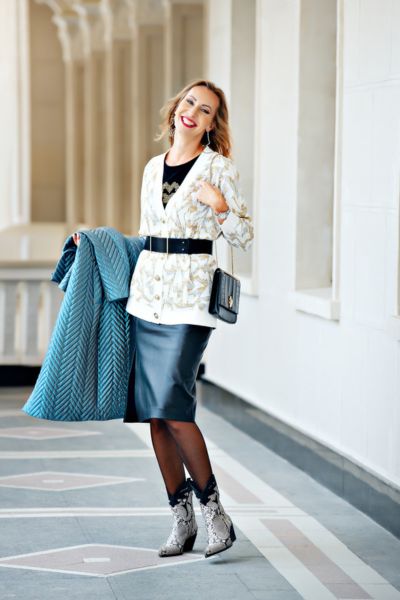 Complete this chic outfit with a black leather handbag, merging practicality with style.
This ensemble delivers a professional look with an edgy twist, ideal for the fashion-forward executive.
2. Structured and Styled: Boots Meet Business Suits
When it's time to marry the timeless appeal of business suits with the edgy personality of cowboy boots, the result is a structured and stylish symphony.
Envision donning a pair of sleek snakeskin pointed-toe cowboy boots, their texture instantly elevating a pair of classic, formal wide-leg trousers.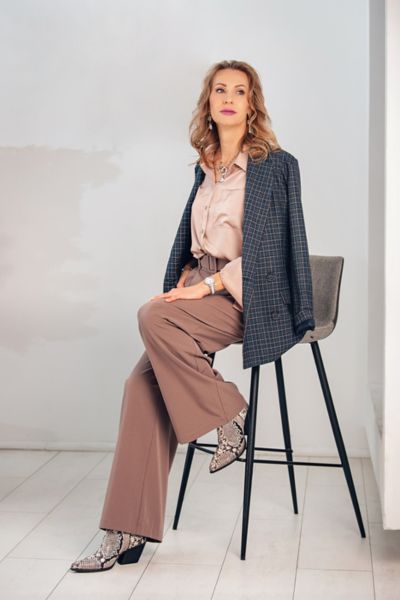 Above, a tailored shirt in a neutral hue like crisp white or soft cream creates a perfect canvas for layering.
The blazer should complement the lines and form of the trousers, following the body's contours while allowing room for movement.
Opt for a color that ties in with the boots – perhaps a shade that picks up on the subtle hues in the snakeskin pattern, ensuring a look that's coordinated but not matchy-matchy.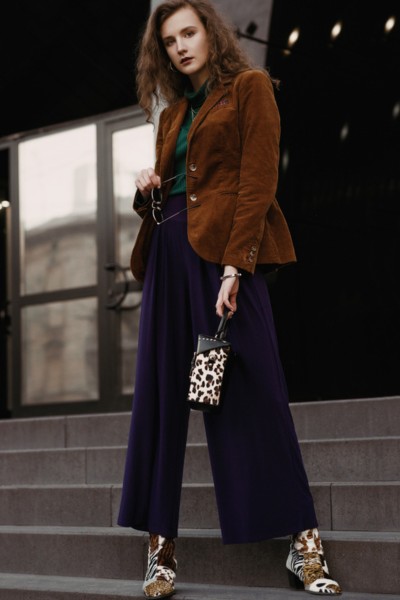 This ensemble is about details and harmony. Consider adding a thin leather belt to punctuate the outfit, or choose a statement watch or cufflinks that echo the boots' boldness.
The harmony of shades and textures between the suit and boots speaks to a curated aesthetic, one that says you're as serious about business as you are about style.
3. Suit Up with Textural Contrast
Picture a tailored brown corduroy blazer that lends a touch of rustic elegance, perfectly balanced with the rugged chic of pointed-toe cowboy boots.
The ensemble is both an ode to classic style and a nod to contemporary fashion sensibilities.
Beneath the blazer, a luxurious green sweater adds a pop of color that complements the earthy tones of the outfit.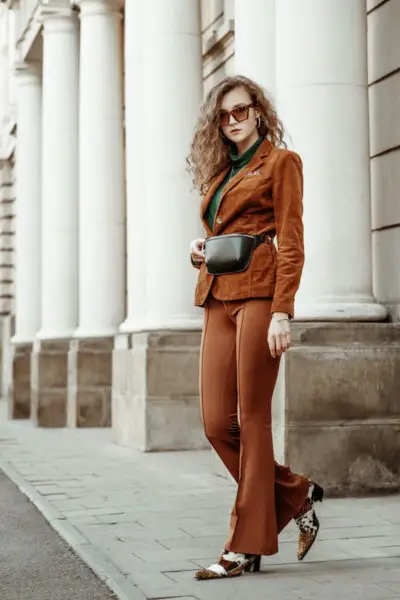 The sweater should be of a fine knit, offering comfort and a hint of casual sophistication. Its vivid hue enlivens the overall palette, providing a subtle yet striking visual interest.
The boots, echoing the blazer's hue, unify the look while their sleek silhouette introduces a modern edge to the corduroy's classic texture.
It's a harmonious marriage of rugged charm and polished professionalism.
4. Casual Friday with a Pop: Wide-Leg Jeans and Bright Boots
If your office culture is more relaxed, seize the opportunity to express your style with wide-leg jeans paired with brightly colored cowboy boots.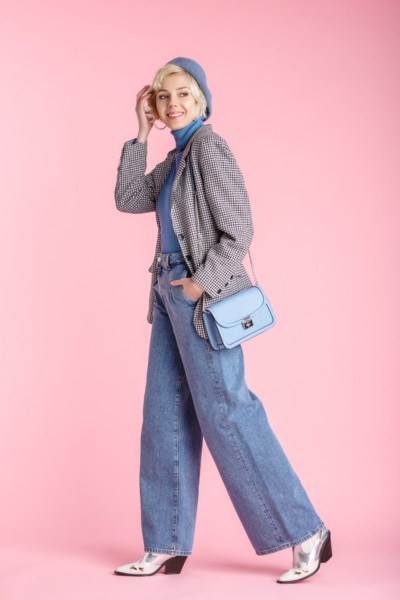 Layer a turtleneck sweater for warmth and style, and if the weather calls for it, a stylish plaid blazer.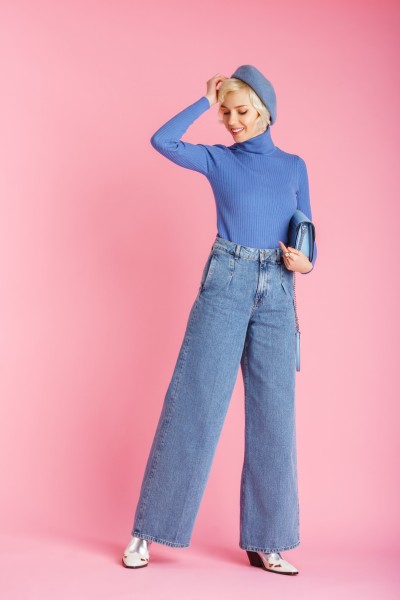 Add a beret and a crossover bag to complete this ensemble that's equal parts stylish, elegant, and endearingly chic.
Wrap it up
In the diverse world of fashion, pointed-toe cowboy boots stand out as a versatile staple, adept at elevating an array of outfits across styles and occasions.
Whether seamlessly integrated into an elegant ensemble with dresses and skirts, lending edge to street style, adding a relaxed yet chic touch to casual wear, or introducing a unique twist to business attire, these boots prove their sartorial power.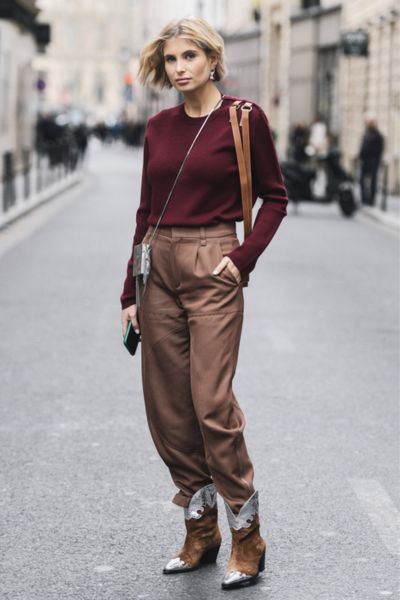 They encapsulate the essence of the modern woman: confident, stylish, and unafraid to blend tradition with contemporary trends.
As we've explored, the right pair of cowboy boots can transcend boundaries, affirming that style knows no limits when creativity meets personal expression.
Howdy y'all, and welcome to From The Guest Room, your ultimate guide to all things Western! I'm Jay Gatz, a lifelong cowboy boot enthusiast with over 5 years of experience in the Western style world. I'm excited to share my knowledge with you and help you discover the perfect cowboy boots and western gear to elevate your style. Let's explore the rich history and timeless appeal of Western fashion together!