When you think of trench coats, the mind often conjures up images of crisp, buttoned-up sophistication—a staple of urban style and film noir chic.
Now, hold that thought and throw in a pair of rugged cowboy boots, etched with the spirit of the wild West. Surprised? You might be.
At first glance, these style icons hail from different fashion narratives: one is the epitome of city elegance, while the other rides in from a tougher, dust-kicked terrain.
But here's the sartorial twist: when paired together, cowboy boots and trench coats can create a fusion of formal flair and rustic charm that's not only versatile for various occasions but also perfect for those chilly to cold seasons.
Yes, that's right—the cowboy boots you reserve for line dancing and the trench coat you sling on for a sharp, professional look can be best friends in your wardrobe.
Stay tuned as we strut into the stylish world where the trench meets the trail, showing you how to nail this unexpectedly chic combo for any event on your calendar.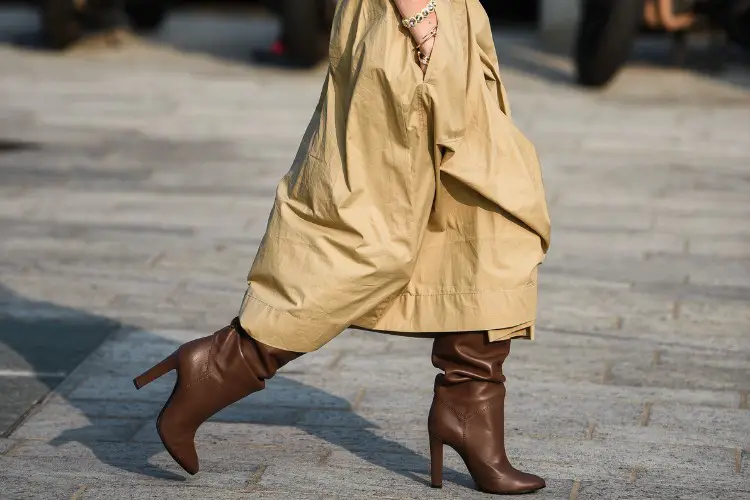 Trench Coat, Cowboy Boots & Sweater Combo for Sweet Casual Wear
As the leaves crunch underfoot and the chill in the air becomes more pronounced, there's a delightful blend of styles that's been capturing the hearts of fashionistas everywhere.
We're talking about the warm embrace of a snug sweater, the timeless elegance of a trench coat, and the bold statement of cowboy boots.
Together, they meld into an ensemble that's effortlessly chic and undeniably cozy—perfect for those transitional seasons like autumn and early spring, and even the colder days of winter.
1. Autumn's Embrace: Orange and Earthy Tones
Dive deep into the autumn spirit with this ensemble that seems to have been plucked straight from an October dreamscape.
Begin with an orange knitted sweater—its warm hue is reminiscent of fall foliage. Pair it with a brown wrap skirt, which gives an earthy contrast to the vibrant sweater.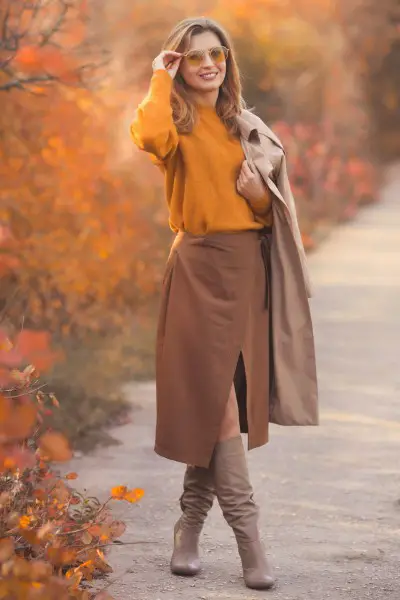 Layering with a beige classic trench coat not only provides warmth but also adds a touch of timeless elegance.
Complete the look with a pair of cowboy boots that will ensure every step you take is a fashionable one.
This outfit is perfect for those who wish to immerse themselves in the cozy vibes of the season while looking effortlessly chic.
2. Urban Explorer: Camel Trench and Snakeskin Boost
Navigate the urban jungle with this look designed for the modern explorer.
Begin with a thin sweater that provides comfort without bulk. Pair it with cropped terracotta pants—their ankle-revealing cut adds a touch of edginess.
Over this, drape a flowing camel trench coat that lends fluidity and movement to your outfit.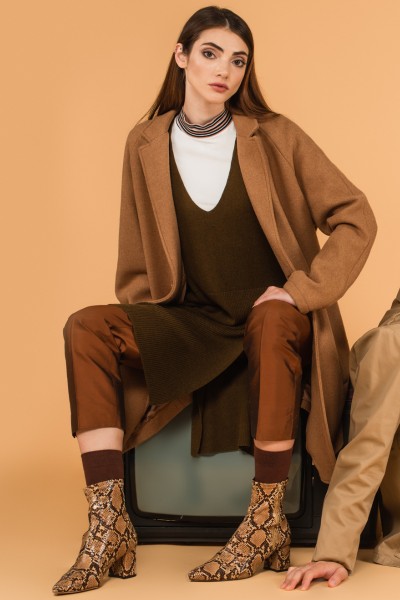 Now, the pièce de résistance: a pair of snakeskin cowboy boots. These boots don't just add height—they inject a dose of wild, untamed energy to the ensemble.
Whether you're catching up with friends at a downtown café or exploring a new art gallery, this outfit ensures you do so with style.
3. Contemporary Elegance: Dotted Midi and Blue Hues
This outfit speaks volumes about the modern woman who loves a blend of contemporary design and classic elements.
Start with a dotted midi skirt that has a refreshing white background adorned with contrasting black dots.
The skirt is playful and airy, making it perfect for spring or early autumn outings.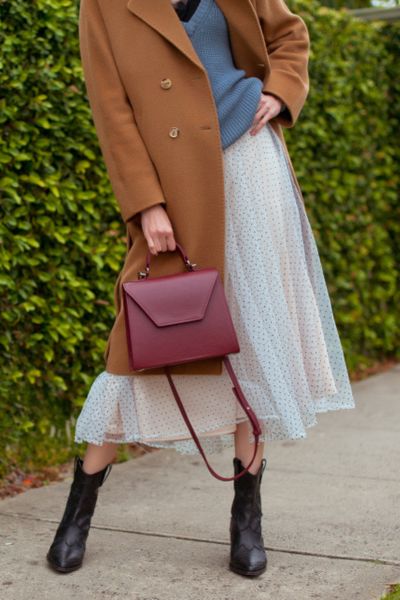 Pair it with a blue sweater underneath, which complements the cool undertone of the skirt. Swing a brown leather handbag for that added touch of sophistication.
Wear your brown trench coat over the ensemble to give you that classic silhouette that never goes out of style.
This look is perfect for brunches, museum visits, or a stroll in the park.
Cowboy Boots & Trench Coat in the City
Transforming traditional cowboy boots and a trench coat into a sophisticated city ensemble requires a touch of finesse and an eye for color coordination.
Here are two outfits that seamlessly combine elegance with everyday urban wear, proving that you can be chic in the city with these western-inspired elements.
1. Heavenly Hues: Beige, White, and a Dash of Grey
Illuminate the streets with this ethereal ensemble that's light, airy, yet unmistakably elegant. Start with white pants as your base—these act as a blank canvas, ready to be adorned.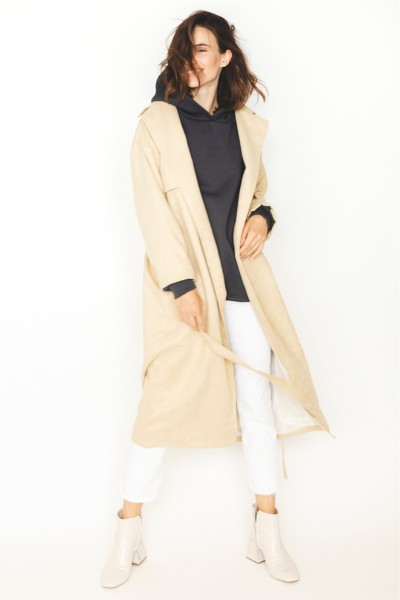 Add a grey hoodie on top, which offers a gentle contrast to the overall light tone of the outfit. The grey not only breaks the monochromatic vibe but adds depth and character.
Over this, drape a beige trench coat which envelopes you in an aura of sophistication.
Complete the outfit with white or beige cowboy boots—their muted color ensures continuity while their design adds a subtle wild-west edge.
This look is perfect for those morning coffee runs or an afternoon spent at a chic rooftop cafe.
2. Classic Urbanite: Denim Days and Trench Nights
Embrace the timeless allure of denim while adding a dash of refinement. Slip into your favorite pair of jeans, but elevate the look with black ankle cowboy boots.
These boots provide a stark contrast to the blue denim, drawing attention to your footwear choice.
Layer a simple t-shirt on top—choose a neutral color like white or light grey for best results.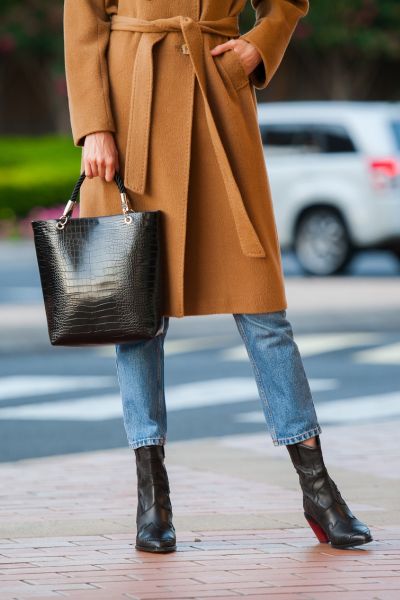 As you step out, wrap yourself in a trench coat. Depending on your mood and destination, opt for a classic beige or switch things up with a rich brown variant.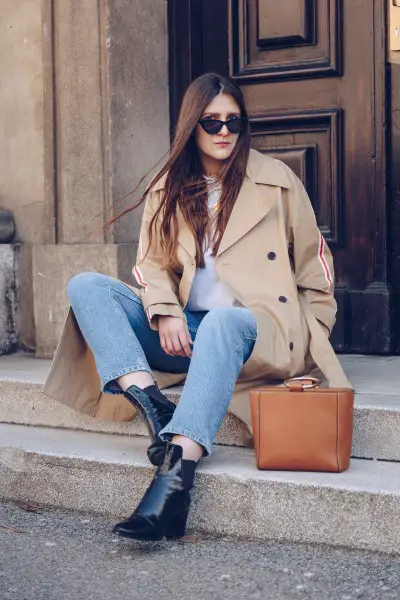 Don't forget your brown or black leather tote bag, which provides functionality while enhancing the aesthetic appeal.
And as the sun shines or perhaps even as streetlights gleam, don a pair of stylish sunglasses. With this outfit, you're not just walking the streets—you're owning them.
Whether you're heading to a gallery opening or just a casual meet-up, this ensemble ensures you make a statement.
Dressing to Impress: Business Casual with a Western Twist
When the world of business casual meets the rugged charm of cowboy boots and the classic elegance of trench coats, magic happens.
These outfit ideas encapsulate professionalism with a dash of daring, perfect for the modern businesswoman who's not afraid to make a statement at the office or during those after-work events.
1. Red Maxi, Green Trench, and Earthy Boots
For those days when you want to stand out and command the room, this ensemble is your go-to. Start with a vibrant red maxi dress, its flowy silhouette exuding femininity and confidence.
Layer with a green trench coat—the contrasting colors create a visually appealing dynamic, making you the center of attention.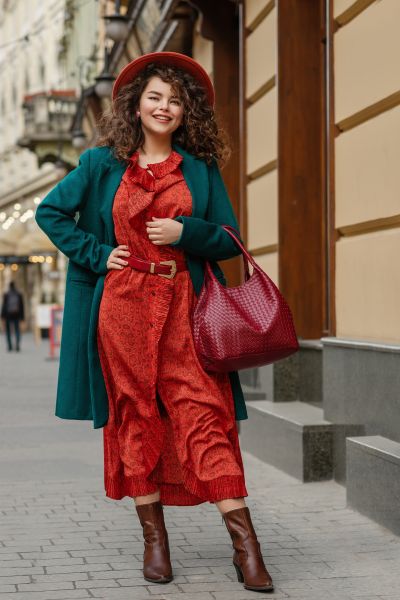 Step into brown cowboy boots, which offer a grounded, earthy touch to the bright colors. Cinch the dress at the waist with a stylish red belt to add definition and cohesion to the outfit.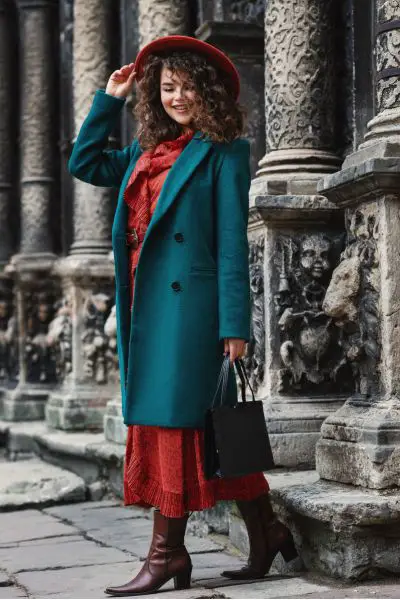 Finally, carry along a tote to hold your essentials and to further elevate your style quotient.
2. Blue, White, and Snakeskin All Over
Embrace the timeless elegance of monochrome with a twist. Begin with a dark blue satin pencil skirt, its form-fitting design outlining your silhouette.
Pair it with a black sweater and layer an elegant white jacket on top. The combination is professional yet chic.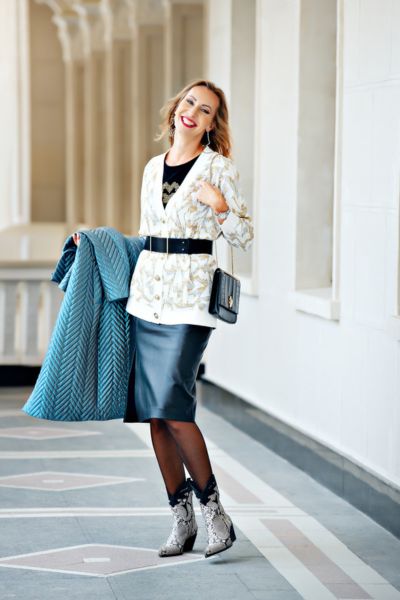 Wrap a sleek black belt around your waist, and sling a black bag over your shoulder for added sophistication.
The standout feature of this ensemble? The black and white snakeskin ankle cowboy boots.
These boots infuse a western vibe into the outfit without compromising its business-appropriate nature. Finish off with a blue trench coat to tie the entire look together.
3. Chic in Shorts: Warm Brown, Classic White, and Suede Elegance
Who said shorts can't be business casual? Rock a pair of black shorts, which serve as the base of this innovative ensemble.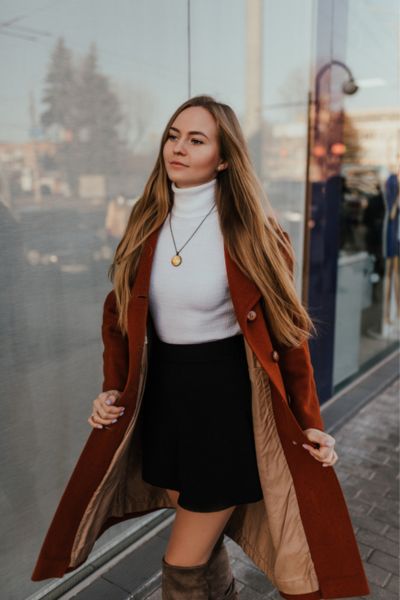 Pair with a white turtleneck sweater, creating a sharp contrast. Over this, drape a brown trench coat—its rich hue providing depth and character.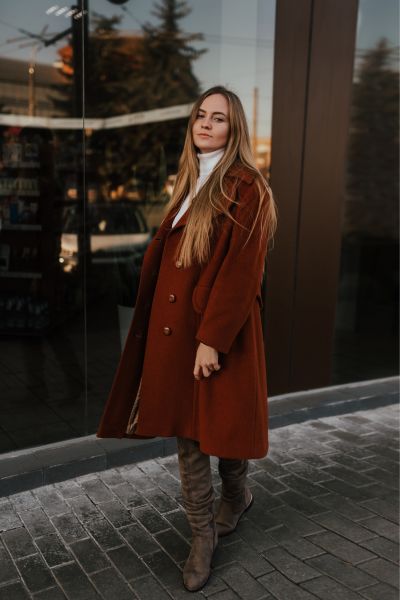 The real showstopper? The over-the-knee suede cowboy boots with a wrinkled shaft, blending femininity with western charm. Add a necklace to accessorize, and you're ready to dazzle at any business event.
The Minimalist Statement
In the chilly season, sometimes simplicity makes the boldest statement. When the weather demands you to bundle up, your trench coat and cowboy boots take center stage.
1. Plaid Patterns and Pristine Whites:
If you like that unique style, try opting for an impressive trench coat, such as a windowpane check one, as seen in the image. Pair it with white cowboy boots and sunglasses for a standout look.
The large, distinct checks of the windowpane pattern make a statement, and when styled with contrasting accessories like white boots, it creates a harmonious yet attention-grabbing outfit.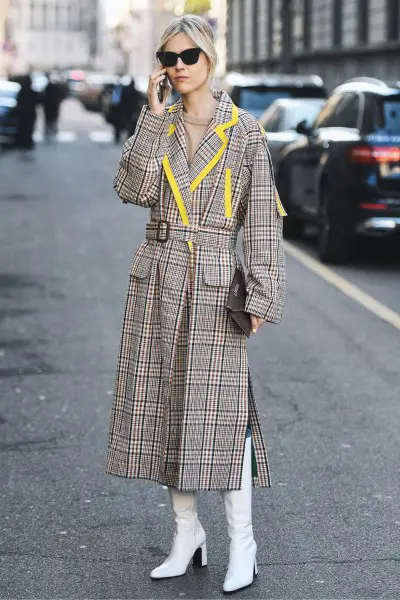 2. Blue Trench Coat Meets Earthy Browns:
The deep hue of a blue trench coat provides a beautiful canvas. Wrap it snugly around you and cinch it with a brown leather belt.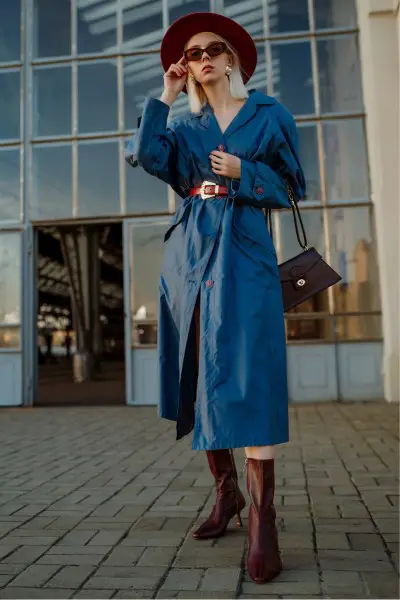 This not only accentuates your form but sets a beautiful contrast. Next, step into brown leather cowboy boots. Their rustic charm complements the coat's elegance.
To round off this ensemble, don a brown wide brim hat and carry a brown handbag. The trench coat becomes the backdrop, allowing the brown accessories to steal the show.
Monochromatic Magic: The Allure of Single-Tone Styling with Trench Coats and Cowboy Boots
There's a unique allure to monochromatic styling; it captures the essence of simplicity and elegance in one sweep.
By coordinating hues and textures, one can craft outfits that make powerful style statements without appearing overwrought.
Here's how you can master the art of monochromatic dressing with trench coats and cowboy boots:
1. Caramel Elegance:
Dive deep into the warm tones of caramel and tan. Imagine donning a meticulously crafted brown leather trench coat that cascades gracefully down your frame.
Pair it with classic brown leather cowboy boots that boast intricate detailing, evoking the rustic spirit of the West.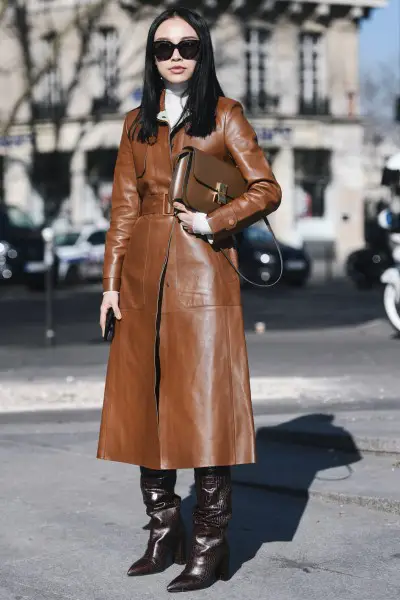 To add layers of sophistication, accessorize with amber-tinted sunglasses and a complementary leather handbag.
This outfit isn't just monochromatic; it's a symphony of coordinated hues that radiate elegance.
2. Mystique in Midnight Black:
There's something undeniably powerful about an all-black ensemble. Start with a sleek black leather trench coat — its sheen reflecting the city lights.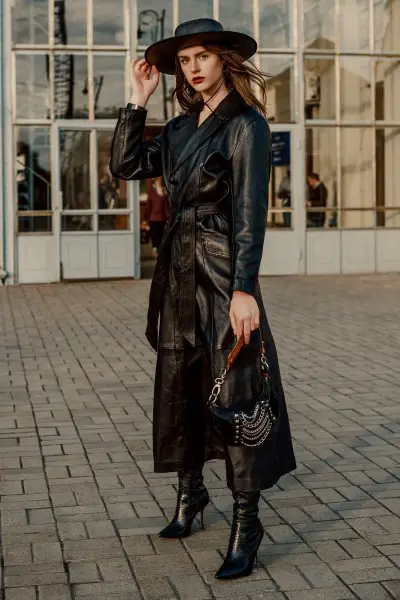 Next, slide into polished black cowboy boots that contrast beautifully against the urban backdrop.
A coordinating handbag provides both function and style, while a statement black wide-brim hat tops off the look.
This outfit isn't just a style choice; it's a mood, evoking the mysteries of the night.
3. Untamed Elegance with Leopard Accents:
For those unafraid to make a statement, a leopard print trench coat offers the perfect blend of boldness and sophistication.
The vibrant animal pattern, with its swirls of deep ambers, golden tans, and muted browns, serves as the focal point.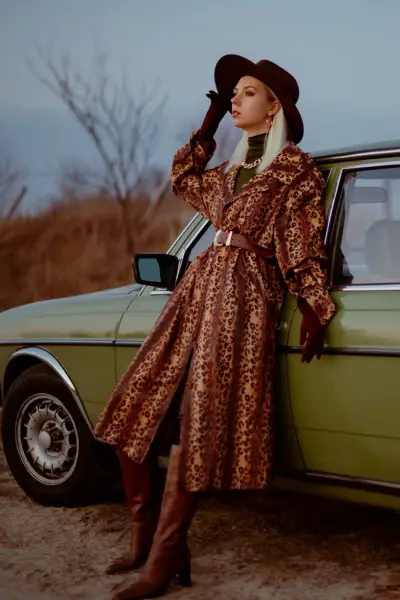 Elevate this look by pairing it with brown leather cowboy boots. Add matching leopard-print accessories, like a belt, hat, and gloves, to unify the ensemble.
The audacity of the print, combined with the classic nature of cowboy boots, creates a style that's both fierce and refined. Perfect for the fashion-forward individual eager to showcase their unique aesthetic.
Street Style Revolution
Once considered the staple for the rodeo and ranch, cowboy boots have galloped their way into urban fashion scenes, proving that they're much more versatile than many might believe.
Their unique design, rich history, and undeniable charm have been remodeled and revamped by fashion aficionados worldwide.
No longer reserved for country concerts or wild west shows, these boots are now paired with contemporary outfits, making bold fashion statements on city streets.
1. Vivid Hues & Wild Patterns:
If you're the kind to not shy away from bold statements, then this look is tailor-made for you.
Start with a captivating long orange trench coat — its warm hue evoking images of a golden sunset.
Pair it with a sleek black tank top, allowing it to play the role of a subtle canvas against the vibrant overtones.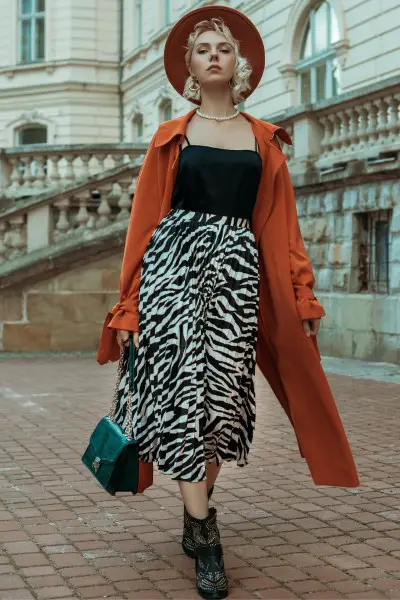 Dive into the wild side with a zebra print midi skirt, its monochromatic streaks providing a beautiful contrast to the orange ensemble.
Black ankle cowboy boots, with their rugged charm, anchor the outfit, while a striking wide-brimmed orange hat continues the color narrative.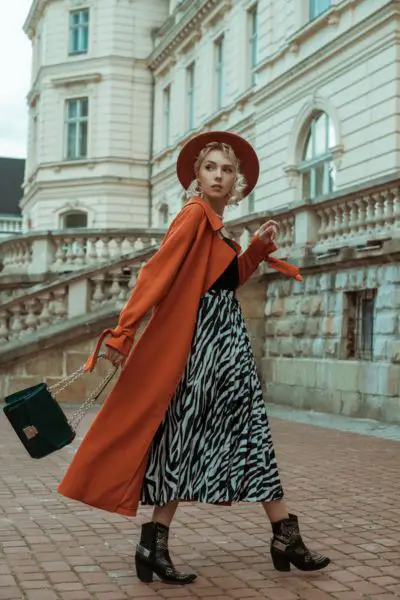 And for the pièce de résistance? A green handbag, which not only introduces a fresh pop of color but also complements the entire look.
This is truly an ensemble meant to turn heads and capture hearts on the streets!
2. Urban Jungle Elegance:
Channel your inner city dweller with a twist of the wild. Choose stylish white cargo pants, a symbol of urban chic, and fuse them with the untamed beauty of a leopard print top.
The balance between structured and free-form designs brings about an appealing contrast.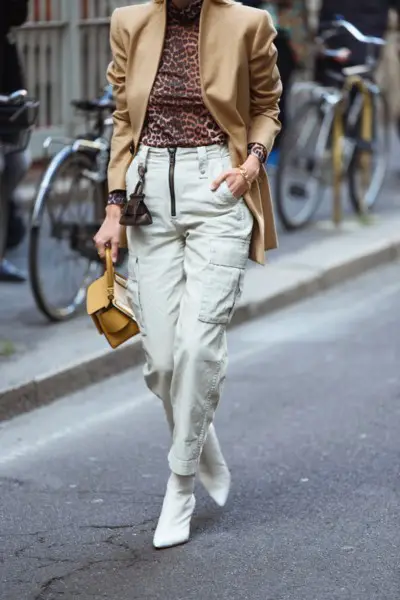 Draping a light beige trench coat adds a touch of elegance, blending seamlessly with the edgy undertones of the look.
The pristine white cowboy boots echo the cargo pants, adding an unexpected Western twist.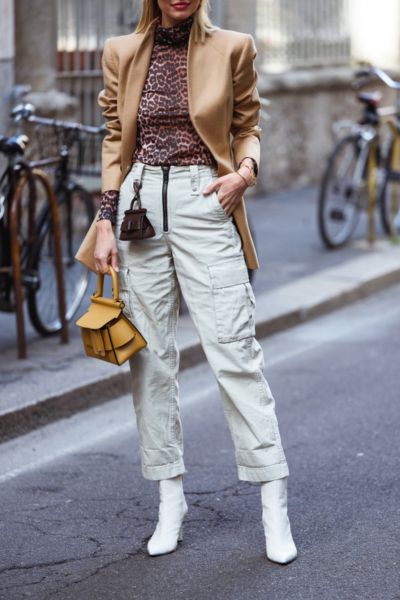 Finally, accessorize with a fashionable box handbag — the perfect accompaniment for an ensemble that screams 'urban jungle queen'.
Whether it's for a casual day out or a more formal gathering, this look ensures you stay ahead of the style curve.
Conclusion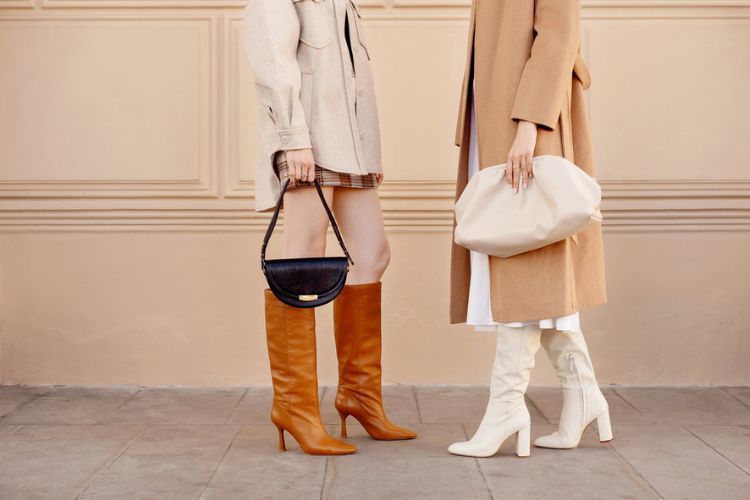 Cowboy boots and trench coats, two timeless pieces, have come together to redefine contemporary fashion.
Both steeped in rich history and practicality, they have evolved beyond their traditional roles to grace the streets with unparalleled style.
The combination offers a blend of rugged Western charm with urban sophistication.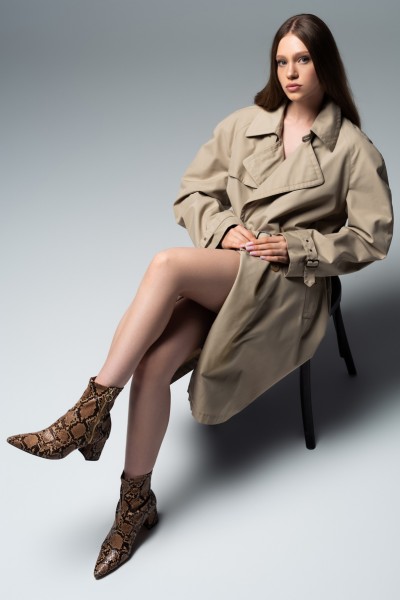 From monochromatic ensembles to bold, patterned pairings, this dynamic duo proves that fashion boundaries are meant to be pushed.
As we've explored, whether it's the allure of suede boots with a classic leather trench or the edgy twist of animal prints and bold colors, the cowboy boot and trench coat partnership invites everyone to be a trendsetter.
Dive into this fashion wave and experience the transformative power of these iconic pieces.
Howdy y'all, and welcome to From The Guest Room, your ultimate guide to all things Western! I'm Jay Gatz, a lifelong cowboy boot enthusiast with over 5 years of experience in the Western style world. I'm excited to share my knowledge with you and help you discover the perfect cowboy boots and western gear to elevate your style. Let's explore the rich history and timeless appeal of Western fashion together!