At first glance, cowboy boots and pleated skirts might strike you as an unlikely duo, but it's their very contrast that creates a modern style statement.
This combination works because it plays with the unexpected: the hardiness of cowboy boots sets off the skirt's fluid lines, bringing together a mix of textures and a fusion of cultures.
The key to this look is in the pairing. Sleek ankle boots with a mini pleated skirt can exude a youthful, urban vibe, while traditional mid-calf boots complement longer skirts for a more classic, feminine feel.
The boot's finish and the skirt's fabric also play pivotal roles—suede for a softer touch, leather for a sharper edge, and airy chiffons or structured wools to transition through seasons.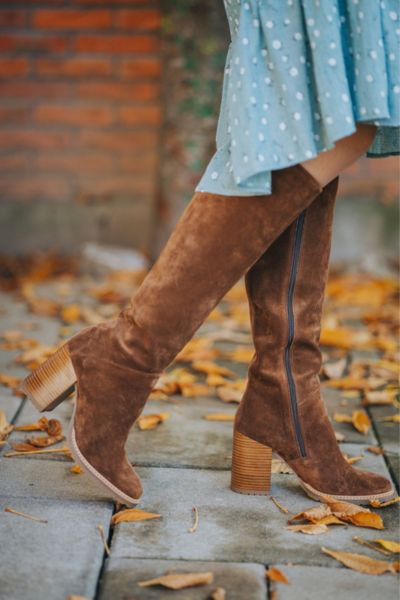 Whether dressing for a casual day or an evening out, cowboy boots and pleated skirt ensemble is adaptable.
It's a look that respects tradition yet feels fresh and is equally at home in urban settings as it is in more rustic locales.
What truly makes it stand out is how it allows for personal expression within its mix-and-match potential.
In this sartorial adventure, we explore how to weave these two distinctive pieces into outfits that will turn heads and stamp your look with a mark of individuality.
Casual Chic
When it comes to merging comfort with style, the sartorial duo of cowboy boots and pleated skirts is unparalleled.
This combination lends itself to a myriad of laid-back yet fashionable looks suitable for various occasions and spanning multiple seasons.
1. The Sunny Day Staple
Imagine basking in the warmth of a sunny day outfitted in a pleated plaid skirt that skims your thighs—its vibrant yellow hue interwoven with navy —a nod to both playfulness and sophistication.
Partner this with a soft brown tank top; its earthy tone complements the skirt's liveliness.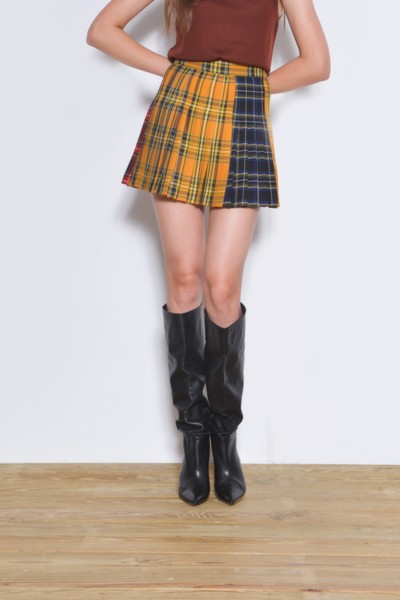 Slide into a pair of classic black cowboy boots, and you have an ensemble that strikes a fine balance between youthful style and everyday comfort.
This outfit is effortlessly adaptable, perfect for a spring brunch, a summer outing, or even an early autumn festival.
For moments that call for a touch of formality without sacrificing ease, swap the tank for a crisp white blouse.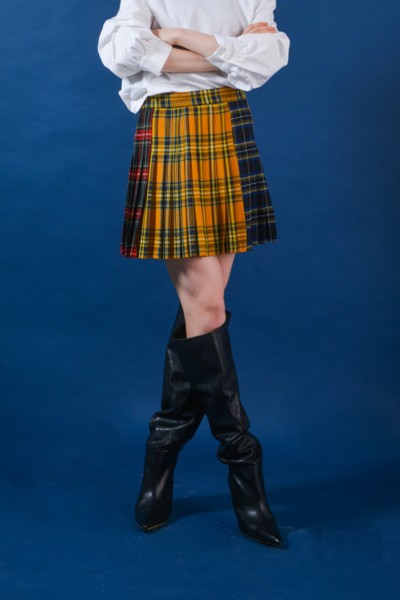 This simple substitution elevates your look, making it suitable for more elegant affairs or when your day demands a dressier demeanor.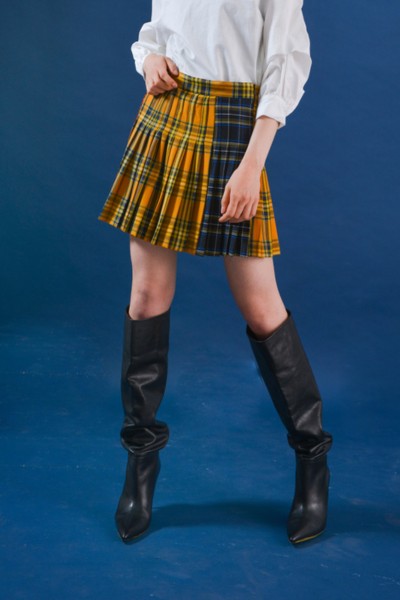 The blouse's clean lines and classic design add a dose of sophistication, making you ready for anything from a business casual meeting to an evening art gallery stroll.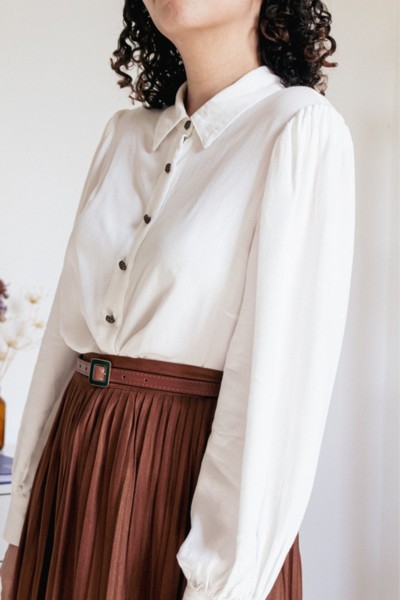 For those who wish to amplify the outfit's feminine aspect, opt for a midi-length pleated skirt in a rich brown shade. This choice lengthens the silhouette and brings an element of graceful movement.
A stylish brown leather belt cinched at the waist marries function and fashion, accentuating your shape while keeping the ensemble cohesive.
This look embodies a woman's strength and elegance, versatile enough to take you from daytime engagements to evening escapades.
2. Boho and Vintage Vibes
Don't shy away from exploring the nostalgic charm of boho or vintage-styled pleated skirts.
These skirts, when paired with cowboy boots, evoke a timeless aesthetic that's both romantic and free-spirited.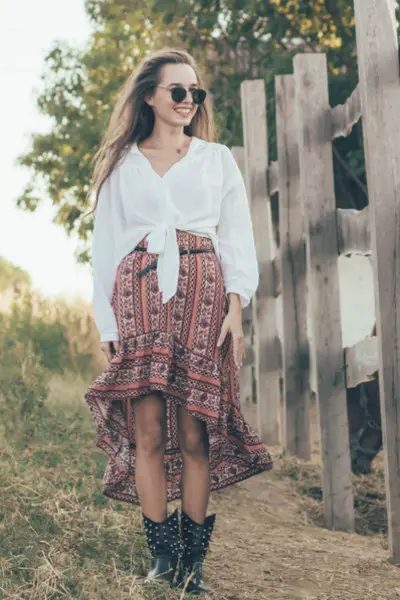 Whether it's a skirt featuring lace trim, floral patterns, or intricate pleats, these vintage or boho elements bring a unique personality to the outfit.
Consider this outfit for a bohemian-themed garden party, where its whimsical and free-spirited vibe will harmonize perfectly with the outdoor setting and create a memorable fashion statement.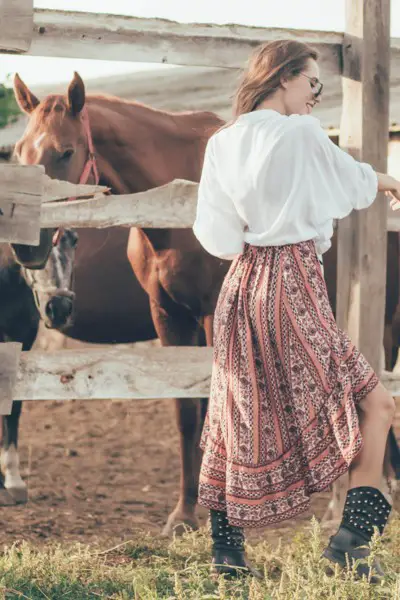 Tips:
Elevate your boho and vintage ensemble with the playful asymmetry of a high-low pleated skirt. This chic cut adds an eclectic twist, perfect for showcasing your cowboy boots.
The high-low hemline will not only give a glimpse of your boots but also create a fluid, eye-catching motion as you move, ensuring a timeless and effortlessly stylish look.
Cozy Elegance
As the air turns crisp and leaves start to fall, cowboy boots paired with longer pleated skirts become the go-to for fashion that's both functional and fabulous.
The key is selecting the right materials and lengths to ensure warmth and style go hand in hand.
1. Vibrant and Cozy Contrast
Dive into the season with a sweater that makes a statement. Put on a rich, red soft knit top that offers a burst of warmth against the cooler backdrop of falling leaves around.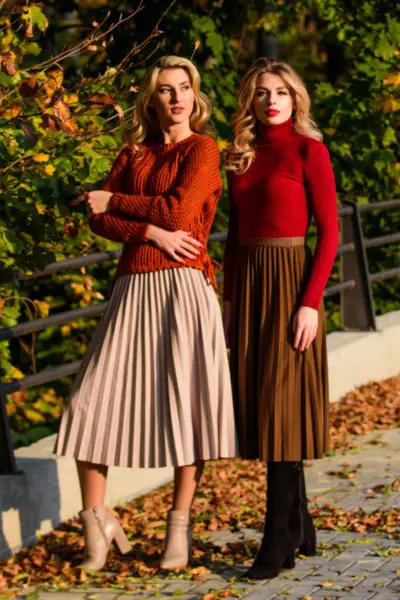 Pair it with a beige or brown midi pleated skirt that gently sways with each step. Choose suede ankle cowboy boots to anchor the look with urban flair.
The contrast between the vivid sweater and the earth-toned skirt creates a visually striking ensemble that stands out in a sea of autumnal colors, making it an excellent choice for a seasonal outdoor gathering or a rustic-themed fall photoshoot.
2. Monochrome Mastery
For those who adore streamlined elegance, a monochromatic outfit is a sophisticated choice.
Envision a chocolate brown ensemble starting with a maxi pleated skirt that cascades gracefully to your ankles, paired with a matching cozy brown sweater.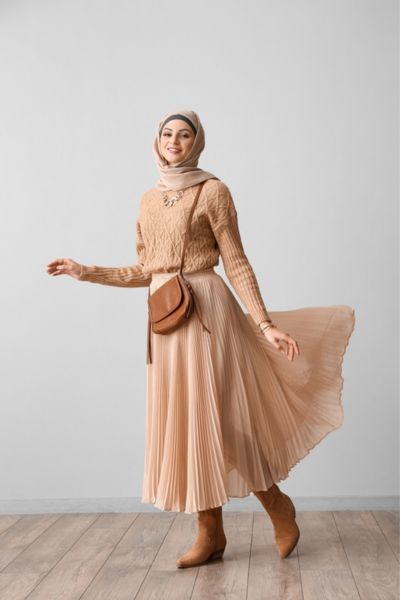 Continue the theme with a brown leather crossover bag and complete the look with brown suede cowboy boots.
This single-hue strategy exudes understated luxury and is a testament to the power of simplicity. It's a chic and versatile choice for a fashion-forward brunch with friends or a day at a high-end shopping district.
3. Laid-Back Urbanity
Embrace the relaxed end of the style spectrum with an effortlessly chic black knitted sweater. Pair it with a blue pleated button-front skirt for a touch of casual refinement.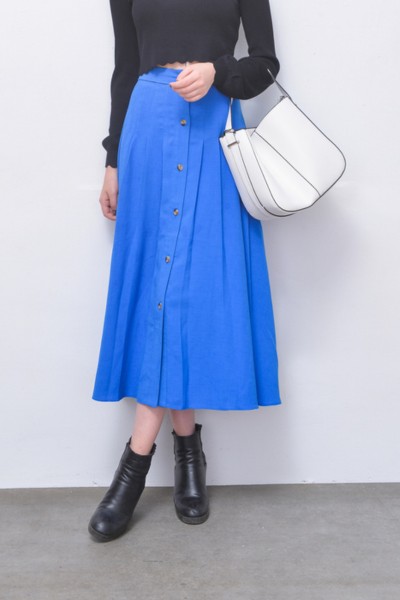 This look is perfect for a laid-back weekend or a casual coffee date. Slip into a pair of black ankle cowboy boots to maintain that urban edge while keeping the vibe relaxed and approachable.
Each of these outfit ideas is a celebration of the cooler months, allowing for warmth without compromising on the style that pleated skirts and cowboy boots bring to the table.
Whether you're stepping out into the autumn chill or welcoming the first whispers of spring, these ensembles ensure you'll look as good as you feel.
Winter Warmth – Layering Up with Style
When the temperature dips further, layering becomes an art form, and our beloved combination of cowboy boots and pleated skirts evolves with the addition of warm layers that don't skimp on style.
1. Denim Delight
Winter's chill is no match for a classic denim trucker jacket. Then pair it with a flowy pleated skirt and a cozy white sweater for a look that's equal parts comfort and chic.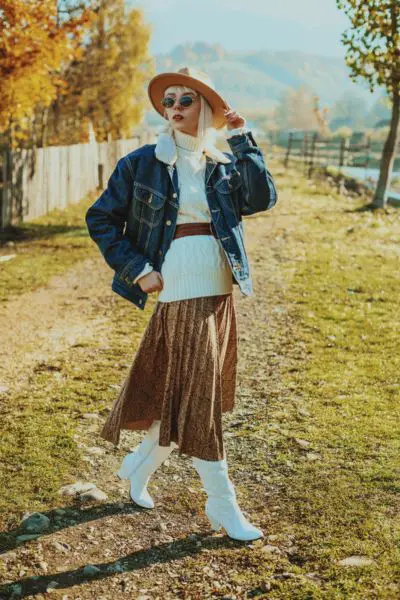 Add white cowboy boots to match the sweater can tie the outfit together, creating a seamless look of fresh winter style.
Top it off with a wide-brim hat to capture that Western flair while also keeping your head warm.
It's the quintessential ensemble for those who want to keep the spirit of the frontier alive through the frosty months. This outfit is ideal for a laid-back winter bonfire or a weekend music festival, exuding a sense of rustic charm and style.
2. Trench Elegance
For a look that's sharp and structured, consider a pleated white midi skirt scattered with black dots.
Combine it with a rich blue sweater for a pop of color, and step into sleek black ankle cowboy boots for a modern twist on the Western vibe.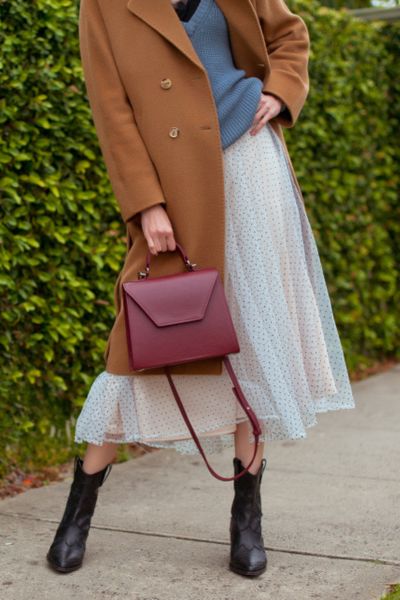 Wrap yourself in the embrace of a brown trench coat or blazer; not only does it shield you from the cold, but it also adds a layer of sophistication to your outfit.
A brown leather handbag can be the final touch that brings both utility and style to this winter ensemble.
The convergence of sweaters, trench coats or blazers, and cowboy boots doesn't just fight off the cold; it makes a statement.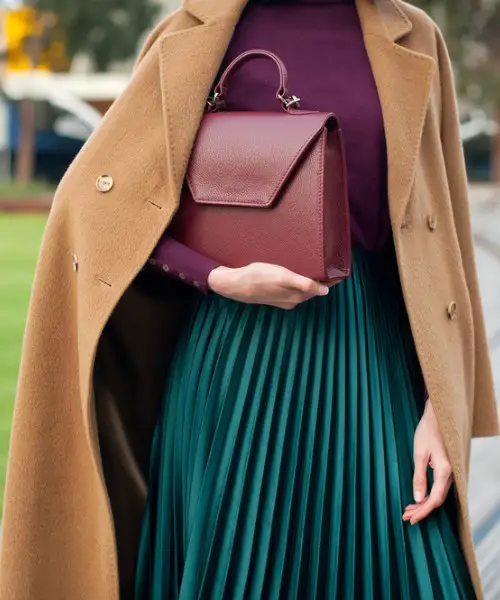 This trio is a testament to the timeless nature of these pieces, proving that you can stay warm without ever having to sacrifice fashion.
Whether you're navigating urban streets or attending a casual winter gathering, this style trio will ensure that your winter wardrobe is both practical and enchanting.
Summer Breeze
As the sun blazes in the summer sky, dressing cool without losing an ounce of style becomes essential.
Lace pleated skirts offer a delightful solution, blending femininity with airy comfort, ideal for those scorching days.
1. Light and Lacy
The lace pleated skirt is a summer wardrobe staple that speaks to the romantic yet laid-back soul. Its intricate patterns and lightweight nature make it a perfect companion for the heat.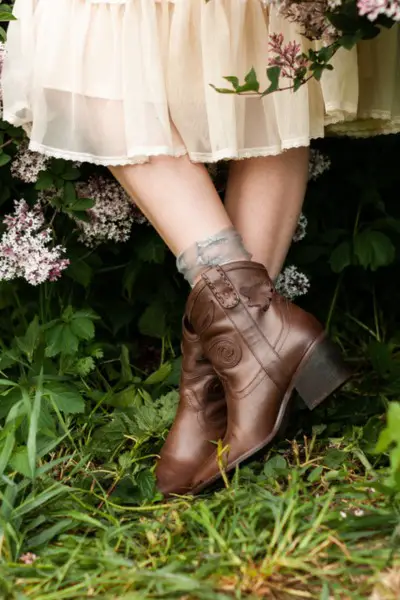 Pair a midi lace pleated skirt with your favorite cowboy boots in an ankle cut to keep things cool and stylish. The shorter boot style offers more breathability while still keeping that Western touch alive.
This outfit is a fantastic choice for a casual summer music festival or a sun-soaked afternoon at an outdoor garden party, radiating a sense of summer elegance with a hint of Western flair.
2. High-Low for High Style
For added flair, a high-low lace pleated skirt brings a playful vibe to your summer ensemble.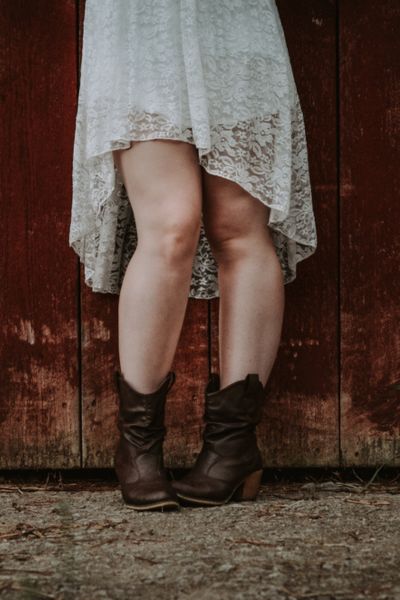 This design allows for more airflow and movement, which is perfect for catching the summer breeze.
The asymmetrical cut also provides a lovely opportunity to showcase those stylish ankle cowboy boots, creating a dynamic look that's both eye-catching and practical.
You can wear this combination to a casual outdoor summer wedding and a day of fun at a beachside music festival.
Your Style, Your Rules
The combination of pleated skirts and cowboy boots is a versatile canvas for your fashion creativity.
Dive into your wardrobe and mix tanks, denim vests, and crossover bags with this duo for an effortlessly chic look.
Whether it's a laid-back tank for daytime outings or a luxe silk one for evenings, these skirts and boots will complement it beautifully.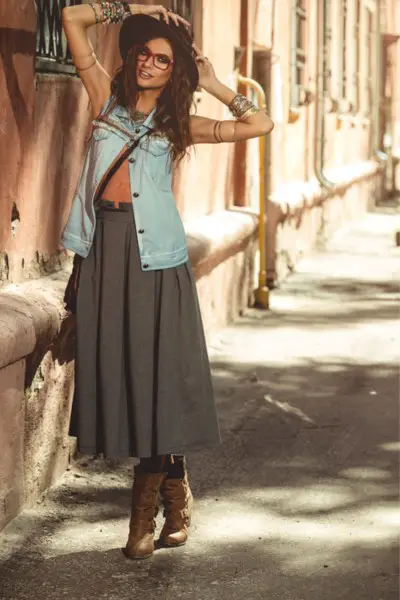 Add a denim vest for a touch of vintage charm, or keep it simple and let a statement accessory like a crossover bag shine.
The key is to embrace the mix-and-match spirit—pleated skirts and cowboy boots go with almost everything, allowing your personal style to come through.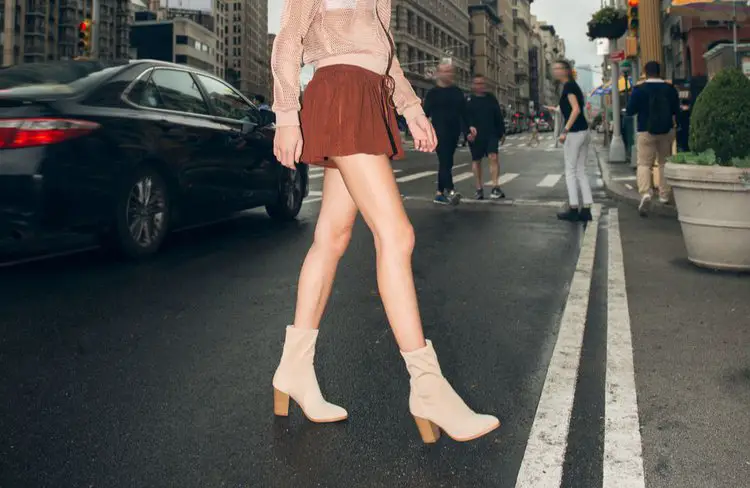 Remember, fashion is about making the rules work for you, so wear what feels right and own it!
Wrap Up
There you have it – cowboy boots and pleated skirts are a fun match and full of surprises! Dress them up or keep them cool and casual. It's all about what you love to wear.
Mix in your favorite tops and accessories, and make each look one-of-a-kind, just like you. So, grab your boots, twirl in your skirt, and show off your style – your fashion adventure is just getting started!
Howdy y'all, and welcome to From The Guest Room, your ultimate guide to all things Western! I'm Jay Gatz, a lifelong cowboy boot enthusiast with over 5 years of experience in the Western style world. I'm excited to share my knowledge with you and help you discover the perfect cowboy boots and western gear to elevate your style. Let's explore the rich history and timeless appeal of Western fashion together!