Suede and leather cowboy boots are both cool and swagger. Most of us can identify these two leather types easily just by seeing with our eyes, even without feeling with our hands.
Suede appears matty and a little fuzzy while leather possesses a very smooth, sleek, and buttery look.
Have you ever thought about how these materials are created when they are all derived from the same original animal skin?
Understand that an animal skin after finishing treatment will have a structure of 2 layers: the outer layer and the inner layer.
The outer layer, called leather, is the hairy part of the animal skin that covers the entire inner body.
This layer is usually quite thick to withstand harsh elements from the environment such as sunlight, wind, humidity, heat, rain, etc. So they are very sturdy and durable.
The inner layer is the part that comes into direct contact with the flesh underneath the skin.
After finishing treatment, they have a slightly hairy, velvety, and very soft surface, called suede.
The origin and treatment of these two materials are not the same, they are not only different in look and feel, but they also differ greatly in quality, durability, cost, and many other factors.
Let's take a deeper dive to figure out what are the biggest differences between having suede cowboy boots and leather cowboy boots and which one to go for.
Suede vs leather cowboy boots
Each different material will form plenty of versatile sensations and experiences as well as novelty in your styles of clothing.
That's why fashion is always changing to keep things fresh.
However, wearing a pair of cowboy boots should not be just all about the look and style.
Suede or leather, either will bring you to a whole new level of feelings in many aspects that will be discussed below: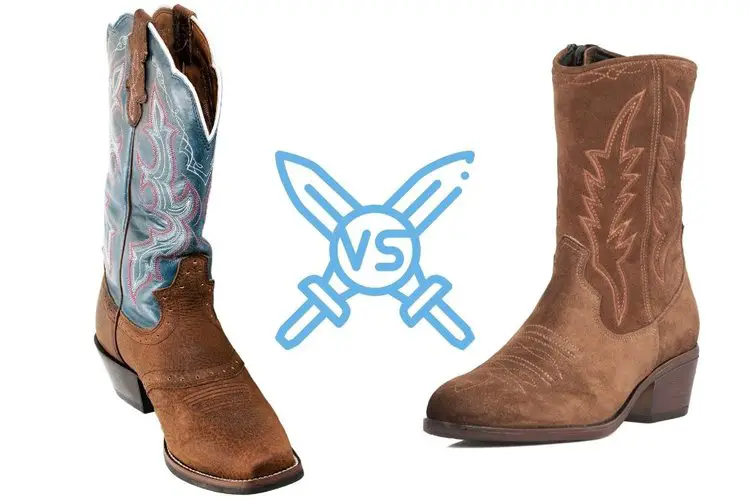 Comfort
If you attach comfort to the fact that you won't have to experience uncomfortable and painful break-ins, then Yes, suede cowboy boots are the best choice.
This material is amazingly soft, skin-friendly, and silky smooth.
Therefore, for most suede boots there is no break-in needed to be done.
When you are wearing cowboy boots with short-legged socks and skirts, suede lining seems to be more skin-friendly rather than leather.
Its velvety and soft surface will not scratch or rub against the skin causing serious irritation and abrasion.
But if you associate comfort with the fact that your feet will be kept dry, and comfy even in the rain, as well as best protected, then what you need is a pair of genuine leather cowboy boots.
Leather is generally smoother and sturdier, therefore offers better water resistance and environmental resistance.
Read more: Leather Sole Cowboy Boots vs Rubber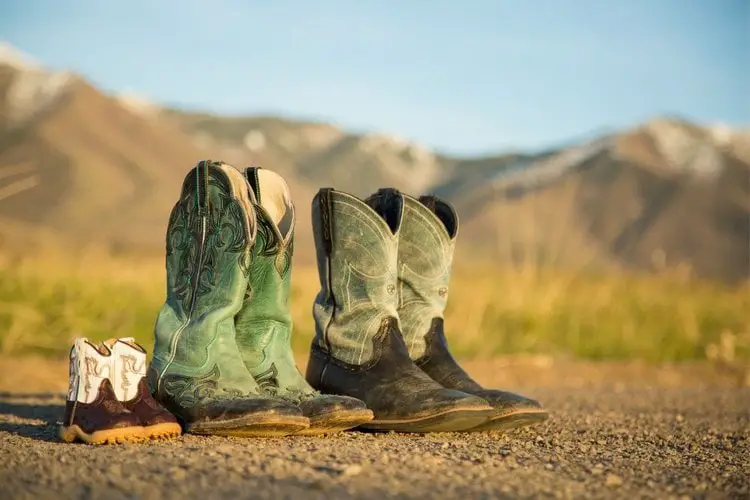 Durability
This answer is obvious. Leather is much more endurable in many ways than suede.
Since leather is derived from the outer skin part where it comes in contact directly with harsh environmental conditions, abrasion, and damages, it tends to be stronger and highly abuse-resistant.
This material has always been an extremely durable material, depending on the level of treatment and the type of leather.
By the fact that it can last up to more than 10 years, you understand how tough leather can be. Yet, it does not mean suede is 100% perishable. It is better in another way.
Many cowboy boots for ranching, farming or outdoor working are required to be made from full-grain leather that is better in waterproofness and protection against dense bushes and humidity.
While suede cowboy boots are superior to withstand sandy and hot conditions.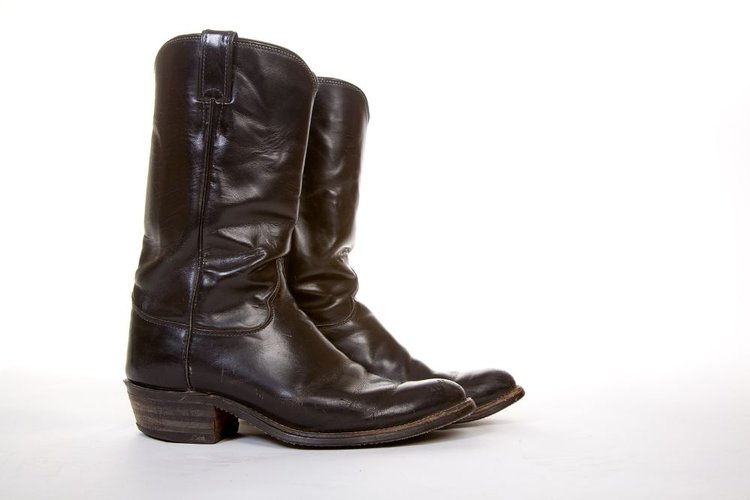 Breathability
Ventilation is the ability to absorb sweat, moisture, and humidity and then release them well.
This feature makes leather become unique and wearable during the hot season.
Due to the hard leather construction and better waterproofing, it can be said that leather, especially full-grain leather has less breathability than suede.
In addition, leather can be coated with a color layer or waterproof, thereby also reducing the breathability of this material.
Suede is porous and has the ability to absorb moisture and humidity faster, thus resulting in better breathability.
That makes suede cowboy boots amazing options for summertime, Autumn, and slightly cold weather.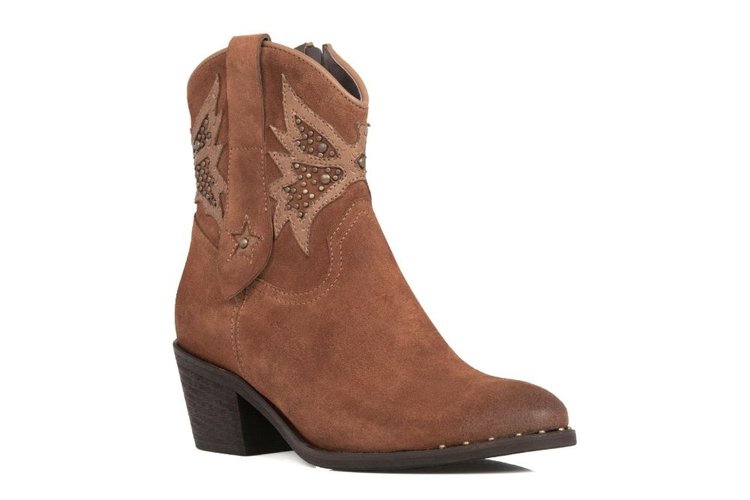 Safety/Protection
Leather, especially full-grain leather, has a relatively tougher, stiffer, and thicker texture than suede.
They are made from the outer surface of animal skin that is in direct contact with highly destructive environmental factors.
That is why they are also tempered to become material with good protection over the sun, heat, bushes, thick vegetation, rocks, and mud.
Leather is also more resistant to cuts than suede because of its greater thickness and hardness.
So leather cowboy boots tend to be more protective against dense and thorny bushes or vegetation in the jungle.
Suedes are thinner and softer, but they are more resistant to scratches on burnt sand surfaces.
Suede cowboy boots give more protection and anti-abrasion in burning sandy surfaces like deserts.
However, this also depends a lot on the thickness of the suede and whether the material treatment is qualified or not.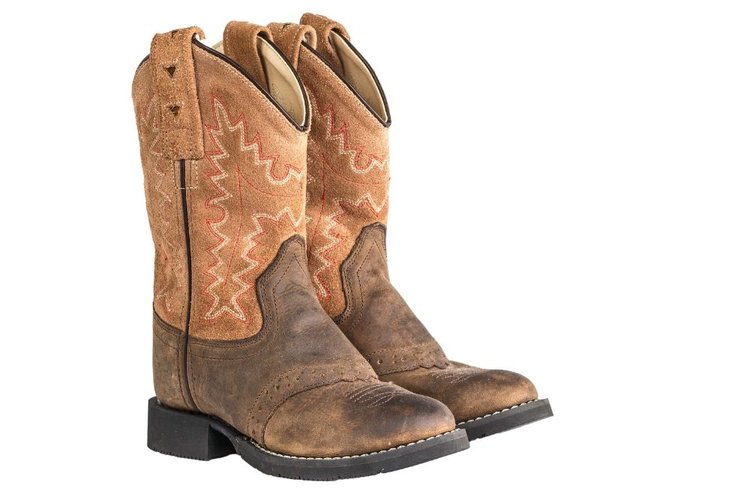 Flexibility
When it comes to the flexibility of garment materials, if you mention it with something that is easier to sew and use for more apparel purposes, suede has more advantages than leather.
Suede is not only used for wrapping around the entire footwear.
It gives a great feeling of warmth while also being matty, soft, supple, and thin, so is also suitable as a lining layer of leather cowboy boots.
Leather is stiffer which makes them less flexible.
We often use leather as the main outer garment material instead of the outer covering or inner lining of cowboy boots.
Usage
According to each one's distinct features, we recommend suede cowboy boots for indoor activities or low-humidity environments while leather cowboy boots are all good for both indoor and outdoor activities and are suggested to wear in higher humidity and wet conditions.
You can safely use suede boots to appear at weddings, offices, line dancing, catwalks, and casual outings without worrying much about the material being damaged during use.
Leather is thicker, more durable, and water-resistant. Therefore, it is a great option to wear for horseback riding, working at construction sites, farm & ranch jobs, or motorbike riding.
One more thing to keep in mind is that you should wear suede boots in some situations that require a lot of ankle movement such as running.
Because activities like these will often require a lot of folding in the ankle position. Therefore, they will create many deep wrinkles again and again on the surface of leather boots.
This causes the leather to quickly deteriorate and require maintenance. While suede can comfortably fold without leaving any marks and wrinkles on its surface.
Read more: Western Work Boot vs Cowboy Boot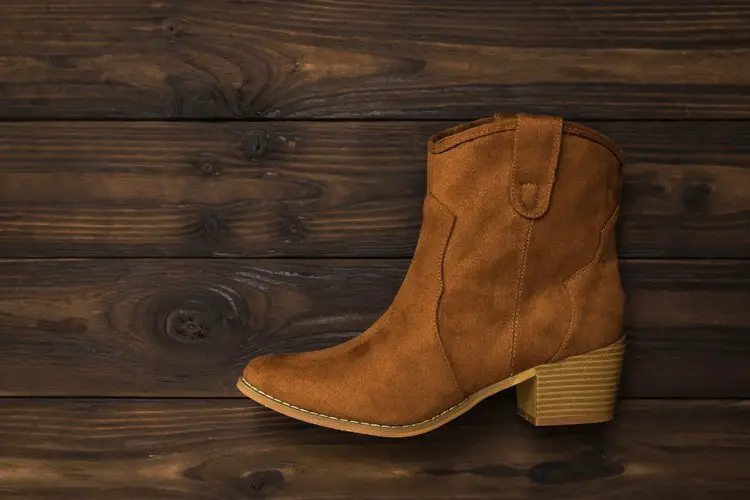 Appearance/ Decoration
You can easily notice the differences between how suede and leather look.
Suede boots give a very nicely napped finish and velvety feeling while leather looks sleek and buttery on its surface.
These characteristics of leather make the material easy to be sculpted or embroidered on the surface as real artwork.
While suede's napped surface makes it harder for embroidery or decoration to stick and appear clear and magnificent.
Some suede cowboy boots are decorated with the use of lasers or burned according to the shape, so they will be relatively limited in colors and sophistication of the artwork.
Price
Leather, especially full-grain leather tends to be more pricey than suede.
Even though suede is also one of the most non-common fabrics.
This can be explained by 2 reasons.
Firstly, genuine leather often has dissimilar natural gloss and wrinkle lines, accompanied by dark and light brown colors interwoven to bring a sense of luxury and royalty.
In addition, genuine leather also has the characteristic of having a very distinct and natural scent. This enhances the feeling of lavishness and chicness.
No other pair of leather boots is the same in colors and wrinkles if they are all manufactured from genuine leather. These are reasons leather cowboy boots are more worthy.
Meanwhile, suede often brings a sense of life and warmth, not too luxurious.
Most suede footwear has a relatively similar surface and is difficult to distinguish if dyed from the same color.
Therefore, the market value of the suede cannot be compared with leather boots.
Secondly, leather is more durable and can last up to decades. Therefore, investing in leather is way more economical than suede.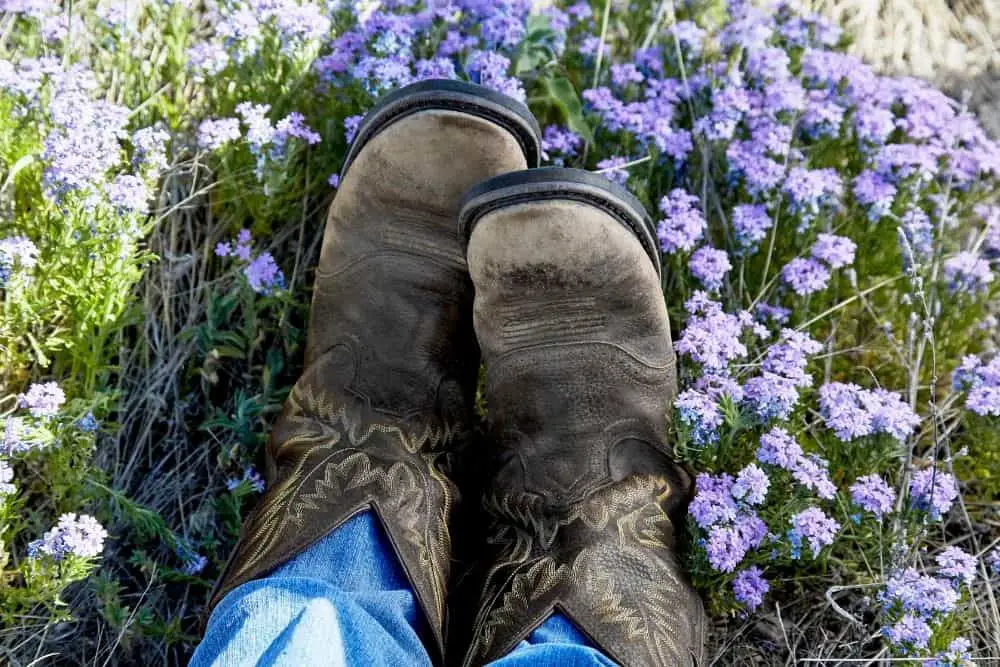 Maintenance
Leather has a sleek and water-resistant surface that makes it easier to clean and maintain.
There are tons of polish and leather care products for leather and you don't have to worry much about whether the leather conditioner is applicable to your boots or not.
Leather works well with almost all common leather care products. But it is a must to preserve your leather footwear every 3-4 months to prolong its longevity.
Meanwhile, maintaining and conditioning suede takes a little more complicated.
It is fuzzy and matty which tends to collect more dirt on the surface. You have to brush properly to take out these messes.
And if your actions are pressing hard, suede may also be visibly torn or worn.
You can't use common leather care products on suede which can even damage the surface seriously.
You are required to brush and wash off dirt on suede regularly to keep the footwear in good condition.
And suede leather conditioner is the only way to go.
Suede vs Leather cowboy boots comparison table
If you still do not have the most specific view of the difference between suede and leather cowboy boots, we have built a table that directly compares the two materials based on the criteria analyzed above.
Features
Leather cowboy boots
Suede cowboy boots
Comfort
Stiffer and take some break-in
No break-in period
Durability
More durable
Less durable
Breathability
Less breathable
More breathable
Safety/Protection
More protection over water, heat, bushes, snake bites
More protection over burned sand
Usage
Recommend wearing both indoors and outdoors
Highly recommend wearing it indoors with low humidity
Appearance/Decoration
Sleek and polishable, easy to embroider or sew for decoration
Matty, napped finish

Not allow much sewing and decoration

Price
More expensive
Less expensive
Maintenance
Easy to clean and condition
Require regular brush off the dirt, a must to use suede-specialized conditioners
Flexibility
Less flexible
More flexible
After all, you can't just get boots that are good in every way, no matter what material they are made of.
So, to choose the best pair of boots for you, you need to know what you need most in these criteria we have outlined.
If you need durable footwear with good protection, leather cowboy boots are a better choice.
If you like a soft, elegant look and no break-in, suede boots are for you.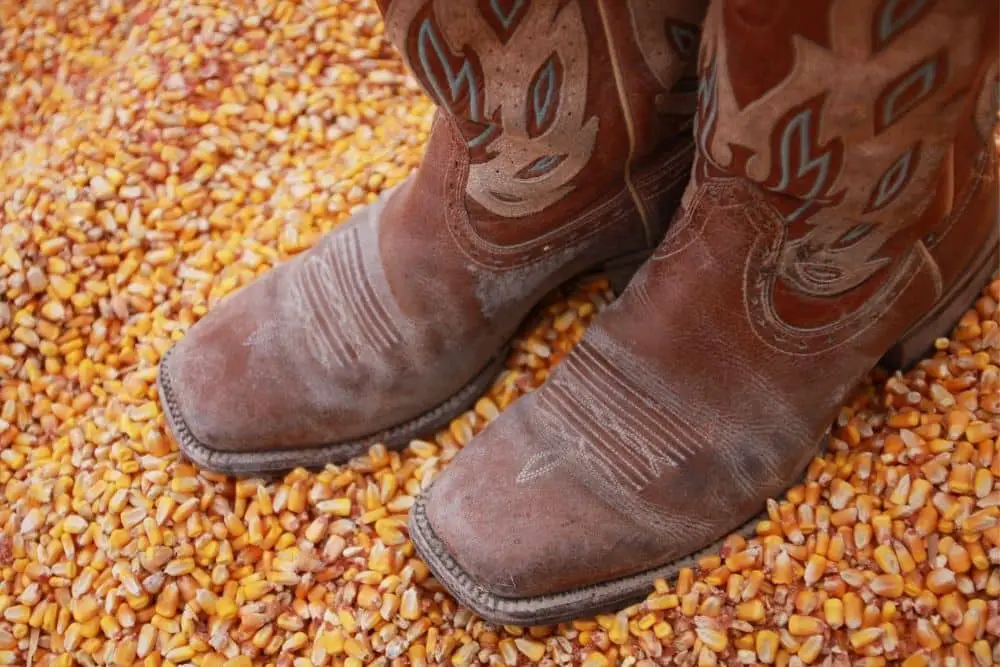 Other questions
What lasts longer suede or leather?
If all conditions are fairly evaluated, the fact that leather can last up to almost 5000 years.
This is due to its sleek and pore-clogged texture/surface to withstand water, snow, and dirt completely to prevent damage.
While suede tends to be less able to resist these environmental factors, making the surface easy to collect hard dust, which will eventually damage the structure of the material.
Suede is proven to last for many years but compared to leather, it can't be as durable.
Is suede stronger than leather?
"Strong" is a very hard word to conclude whether suede is stronger than leather or not.
But we can say leather is tougher and more endurable than suede.
Since suede is made from the split layer of animal skin, therefore it is thinner, soft, and more vulnerable to damage.
Don't be confused between nubuck and suede since they both just look so alike.
Nubuck is much more durable and tougher than suede as it is made from full-grain leather that has the top abraded to possess a napped and velvety surface.
So, we come to conclude that, No, Suede is not stronger than Leather.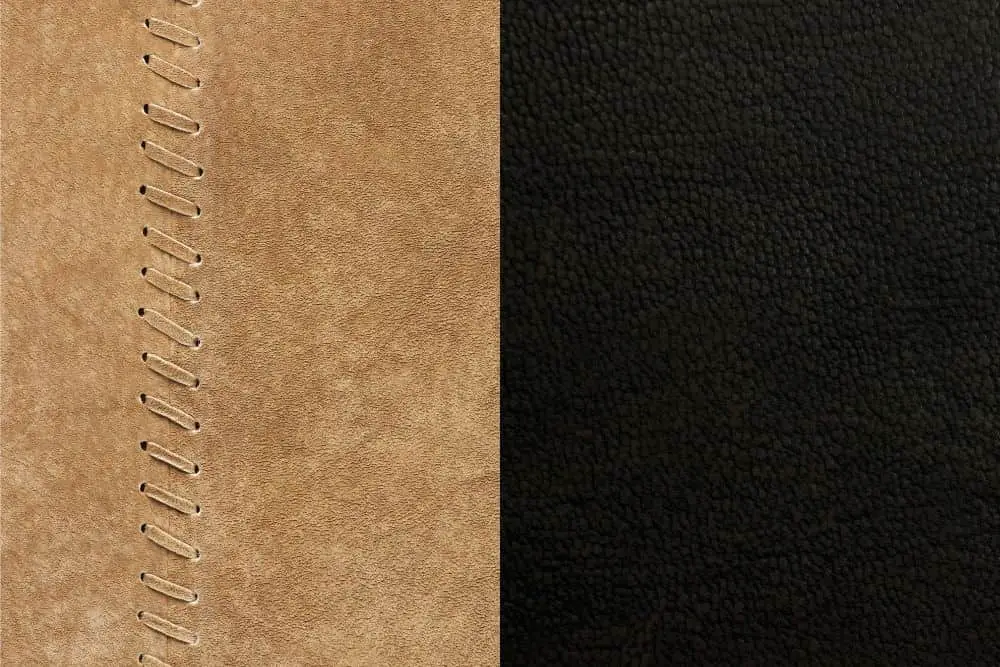 Should I buy suede or leather cowboy boots?
Well, it actually depends largely on what you like and how you will use your cowboy boots.
Suede boots possess a very elegant and napped look.
They are less resistant to water, raindrops, snow, dirt, or mud which makes them more suitable to use indoors rather than outdoors.
While leather is way tougher and better at water, dirt, mud resistance. Therefore, it is great to use both outdoors and indoors.
But if you are looking for 100% no break-in cowboy boots, the suede option is for you.
Leather boots tend to last longer with proper use and easy conditioning.
However, you cannot use an ordinary leather conditioner on suede because it will end up spoiling the matty surface.
If you want outdoor, long-lasting and waterproof footwear, you better go for leather cowboy boots.
If you look for elegant and indoor intended use, suede boots are way better.
Wrapping it up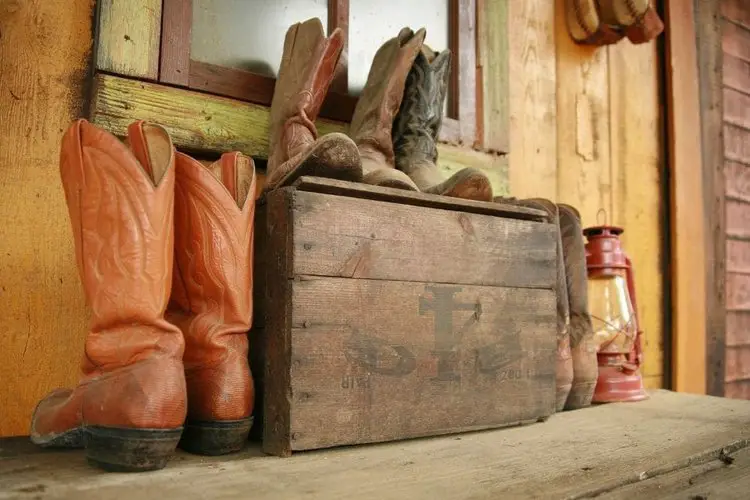 Regardless of suede or leather, these are all good materials to invest in an expensive pair of cowboy boots but are well worth the quality and design.
What matters is what you need and like best.
If you don't know which to pay for, own both. As a result, you will be able to make changes in any situation.
Howdy y'all, and welcome to From The Guest Room, your ultimate guide to all things Western! I'm Jay Gatz, a lifelong cowboy boot enthusiast with over 5 years of experience in the Western style world. I'm excited to share my knowledge with you and help you discover the perfect cowboy boots and western gear to elevate your style. Let's explore the rich history and timeless appeal of Western fashion together!