As you know, there are a lot of cowboy boot lines such as western boots, stockman boots, work boots, riding boots, walking boots and Buckaroo boots. Buckaroo? It might sound strange if you are a newbie, but for long time cowboy boots fan, they must have known this boot type very well!
And yes, today we will walk through Buckaroo boots. They are a very special type regarding their tall construction and colorful design.
No more pep talks, let's dig in Buckaroo boots!
What are Buckaroo boots?
The word "buckaroo" is generally known as "cowboy". As the name implies, we can guess that they are among one of the common types of cowboy boots that cowboys used in the past.
But looking at their design, if you are a fan of colorful cowboy boots or if you are a bold person who would like to show off yourself in the crowd, then Buckaroo cowboy boots are just all you need.
They are always in style with an interesting look that no other types of boots can give you.
As for wearing Buckaroo boots, you can tuck your jeans in to show the beautiful and colorful shaft of this boot. They have a special design that distinct them to the rest of cowboy boots such as:
Twisted X Kid's Buckaroo Boot, Cognac/Turquoise, 1
Tony Lama Men's Dusky Bonham 3R Buckaroo Western Boot Square Toe Dark Brown 7 EE US
Twisted X Women's Buckaroo Boot, Saddle/Hazel, 9(B)
Twisted X Kid's Buckaroo Boot, Cognac/Turquoise, 1
Tony Lama Men's Dusky Bonham 3R Buckaroo Western Boot Square Toe Dark Brown 7 EE US
Twisted X Women's Buckaroo Boot, Saddle/Hazel, 9(B)
Last update on 2023-03-16 / Affiliate links / Images from Amazon Product Advertising API
Shaft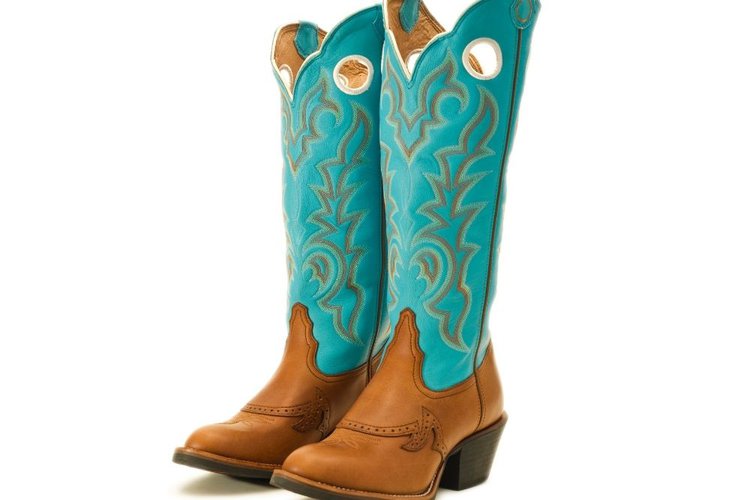 The significant feature of Buckaroo boots lies in its shaft. You can see that these boots come with a very long shaft compared to other boots.
Buckaroo boots have the shaft measured approximately 14 inches or taller. Some of them even reach to your knees. This height surely give your legs and feet perfect protection.
Read more: What Are Roper Boots
Patterns
You won't mistaken Buckaroo boots with other boots due to the outstanding and detailed patterns in their high shafts. The sophisicated stitching will complement your look.
Notably, the colorful shaft of Buckaroo boots is different from the color of the foot. The shaft can be white, red, blue or green.
Although there exist some Buckaroo boots that have the same color throughout the boot. Or those with dark colors such as brown or black.
Pull holes
Buckraboot are very convenient as they feature 2 pull holes on each side to ease the on/off process.
Along with the pull traps, Buckaroo makes it easy for you to put on and take off the boots.
Heel
Also, Buckaroo boots get a high heel around 2 inches or higher.
For walking, you may find a little difficult to use these boots but this heel is best for riding. Yep, their high heels are ideal to stick into the stirrup while on the saddle.
In fact, some Buckaroo with heels are smaller than 2 inches, but they are still quite high (1.5" or 1.75").
Scallops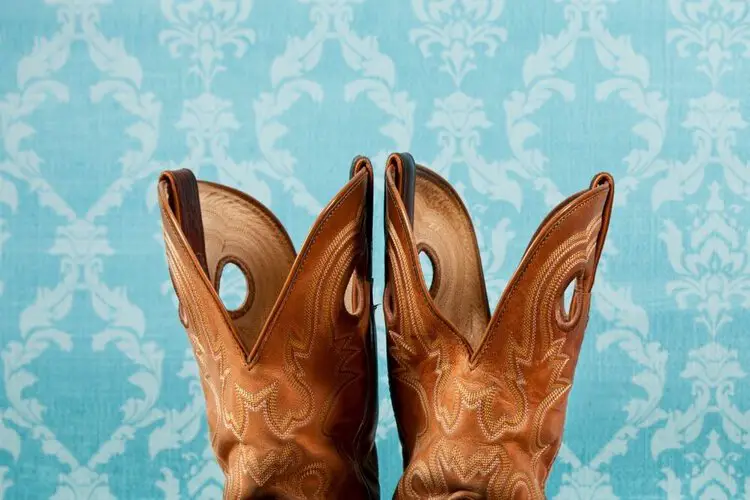 One more thing to distinguish the Buckaroo with other types of boot: the scallops (deep v-cuts) on the front and the back of the shafts.
Or may I say, the Stockman scallops? Yes, Buckaroo shares one thing in common with Stockman is its high deep scallops.
This feature allows your calves to be comfortable. Moreover, you can tuck your jeans into the boots to show the colorful shaft.
For your information, scallops are the top of the boot where the shaft ends.
Toe shape
Another comfortable feature of Buckaroo boots are roomy toe shape.
The toe shape of Buckaroo are round toe, square toe and wide square toe. So they have room for your toes to wiggle and breathe in the boots.
When do you use Buckaroo boots?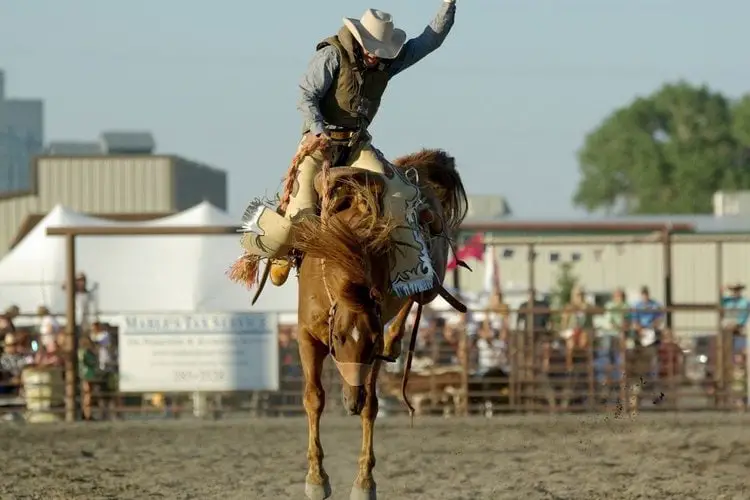 This beautiful boot is great for riding horses. The very high shaft gives your legs a complete protection for rodeo performance.
The high heel helps to stick into the stirrup. Obviously, these boots give you absolute balance and stability.
Above all, the outstanding color of the shaft with a decent design would attract a lot of attention from others. You will be the center in the crowd.
Also, this is a favorite item for your kids. The beautiful appearance of Buckaroo boots catch the heart of your kids for sure! Some have very interesting decorations, you can look for them on any e-commerce sites.
Read more: What Are Stockman Boots
Conclusion
Buckaroo boots are a type of cowboy boots with a very tall shaft, high heel, deep V cut, colorful shaft and two pull holes on each side along with dual pull traps. They are just great for attending rodeo, or simply a beautiful completent for your outfit.
If you ever come acroos this type of cowboy boots, I'm sure that you won't mistaken them with anything else!