It may sound silly reading the title of this article because you know well that cowboy boots and motorcycle boots are two separate worlds that have nothing to do with each other.
But I guess many of you might be wondering if cowboy boots can be worn as a pair of motorcycle boots for riding. If yes, you will probably save quite a bit of money on not having to buy a brand-new pair of motorcycle boots. This will be explained in detail at the end of this article.
First of all, well, cowboy boots mostly belong to the world of show fashion while motorcycle boots are the king of applied fashion. This makes a huge difference in the construction, shape, and application of these two types of footwear.
Today, many people wear cowboy work boots to work because they seem to be quite protective and durable as well. But in general, when it comes to cowboy boots, you will immediately picture a handsome and dashing guy or girl rather than a hard-working employee.
Specialized motorcycle boots are usually used to protect and function feet when riding a motor. But you don't necessarily need a pair of motorcycle boots sold in a motor outfit store to wear while riding. Various tactical boots, hiking boots, or even sneakers can be used as motorcycle footwear.
However, if you participate in a race or stand in the ranks of a Harley Davidson or Ducati club, buying a pair of professional motorcycle boots is a must. In this article, we will discuss these types of motorcycle boots.
Now, let's dive into what sets the two apart from each other!
Key Takeaways
| | | |
| --- | --- | --- |
| Features | Cowboy boots | Motorcycle boots |
| Comfort | ⭐⭐⭐ | ⭐⭐⭐⭐ |
| Safety/Protection | ⭐⭐⭐ | ⭐⭐⭐⭐⭐ |
| Durability | ⭐⭐⭐⭐ | ⭐⭐⭐ |
| Versatility | ⭐⭐⭐ | ⭐⭐⭐⭐ |
| Convenience | ⭐⭐⭐⭐ | ⭐⭐⭐ |
| Fashion | ⭐⭐⭐⭐ | ⭐⭐⭐ |
| Ankle protection | ⭐⭐⭐ | ⭐⭐⭐⭐⭐ |
Cowboy Boots vs. Motorcycle Boots in Construction
Motorcycle boots and cowboy boots are 100% different in the way they are made. While cowboy boots are a fashion symbol with a fixed identity, motorcycle boots are more like having no typical recognition (maybe just a high collar).
Both cowboy boots and motorcycle boots are designed with laceless construction. That may be the only common thing between them.
I had no idea until I found out that motorcycle boots and cowboy boots have many variations. This will create differences in the structure and functionality of each type.
1. Motorcycle boot variations
Motorcycle boots come in several variations depending on the terrain and intended use with the only thing in common being the high collar (ranging from 10 to even 21 inches). Most motorcycle boots have thick inner padding, safety toe caps, and plates for better foot protection.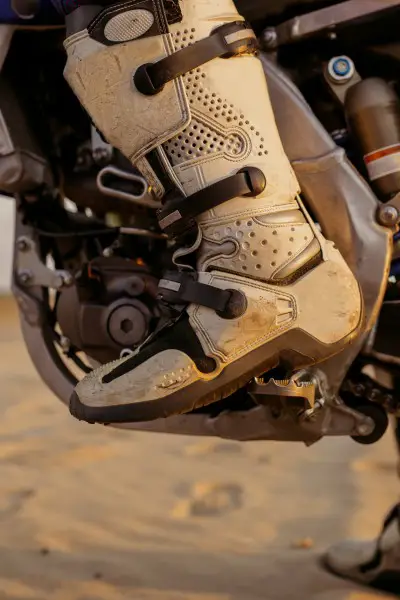 Racing boots are typically 10-14 inches tall and are specially designed to be worn in professional motor racing on off-road race tracks. They feature lace-less, bulky, and rigid construction.
The boot is mainly manufactured from durable combined materials such as leather, metal, plastic, or man-made synthetic materials.
This is the type of boot that provides the highest protection of all motorcycle footwear to minimize potential racing injuries to toes, ankles, and feet. These boots are heavily padded inside, but the wearer can still feel the feet well to shift gears.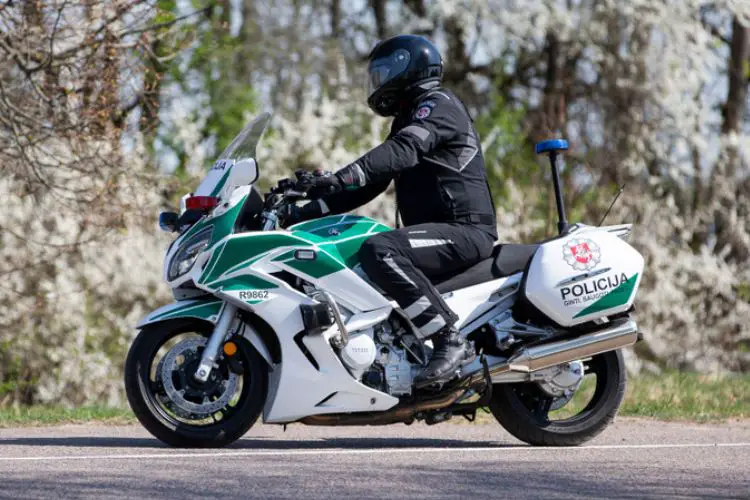 This is the most popular and most used motorcycle type today. They can provide moderate protection when riding on hard pavement. They are also 10-14 inches tall and have a form-fitting construction but are comfortable.
You can also optimize a pair of tactical boots, hiking boots like a pair of touring motorcycle boots if you want them to be as long as they give you enough protection on the go.
There is another type of boot for off-road tracks that offers better foot protection: Motocross boots. They can grow up to 16 inches tall and cover almost the entire calves of the wearer to keep the shins as secure as possible.
The boot's structure is form-fitting and stiffer than other types. In particular, Motocross boots allow the wearer to adjust the width and tightness of the boots through multiple adjustable straps that run across the shaft.
This makes it easy to remove the footwear from the foot or put it on without wasting time thanks to the straps that can be taken off completely.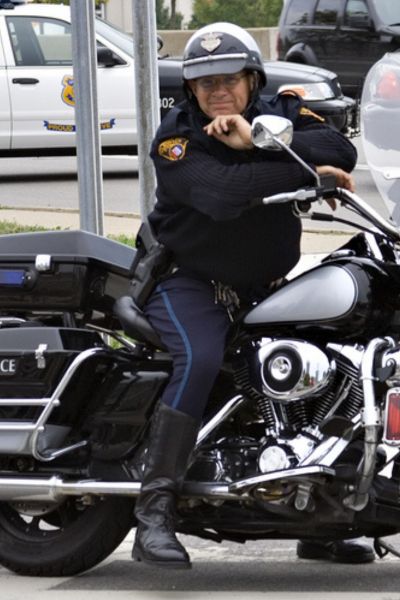 Police motorcycle boots can be said to have the simplest construction of all. But the height of the boots can reach up to 21 inches and is quite similar in shape to the high collar riding boots.
In general, the line has a relatively modest structure with black leather, a glossy look, and hard rubber outsoles. They are also designed to reduce the load so that the motorcycle police can comfortably patrol on foot.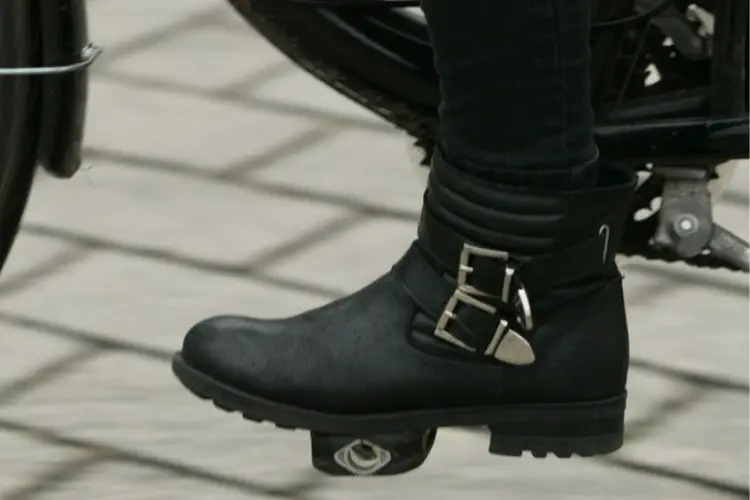 These are probably the longest-running motorcycle boots of all. They can even grow to 38 inches tall and cover above the knee. This helps protect the entire low legs from heat from exhaust pipes and machinery that could burn or injure the wearer.
The structure of the harness boots is also quite similar to the police motorcycle boots. However, the toe of the boots is shaped like square toes instead of round toes.
Additionally, these boots feature 4 non-adjustable leather straps and 2 metal rings that wrap around the heel, instep and arch. This helps stabilize the foot when riding and gear shifting.
2. Cowboy boots variations
Cowboy boots come in various styles and designs, each with its unique features and purposes.
Traditional Cowboy Boots:
These boots are characterized by a high shaft that covers the calf, a Cuban heel, and a stitched vamp.
The construction typically involves a leather upper, leather lining, and a leather outsole. The shaft is often decorated with intricate stitching and pull straps to help with putting them on.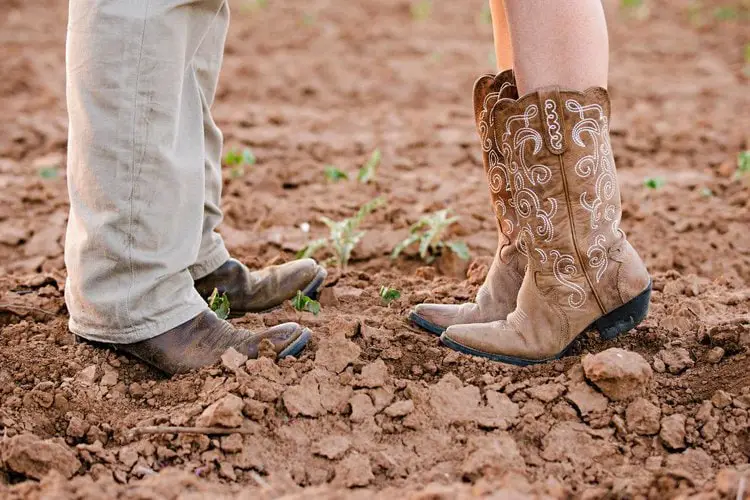 Roper boots have a lower shaft, usually reaching just above the ankle. They feature a rounded toe and a lower heel for enhanced comfort. The construction is similar to traditional cowboy boots but with a more practical design for everyday wear.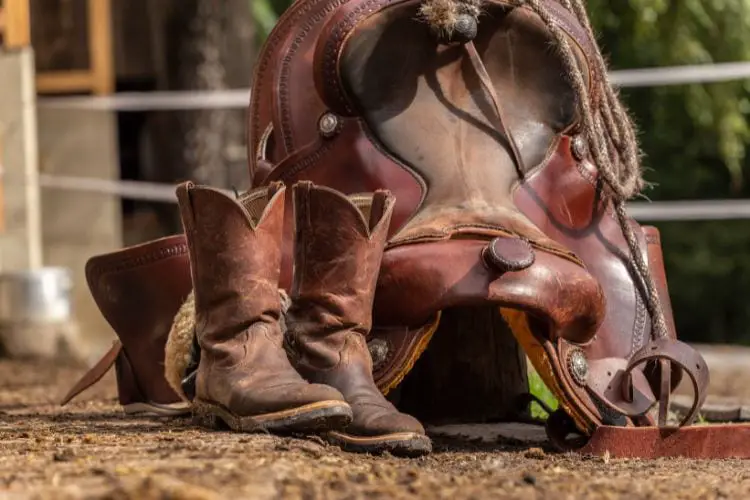 These boots blend the durability of work boots with the style of cowboy boots. They feature reinforced toes, additional arch support, and a sturdy outsole. The construction includes high-quality leather and often includes extra padding for long hours of wear.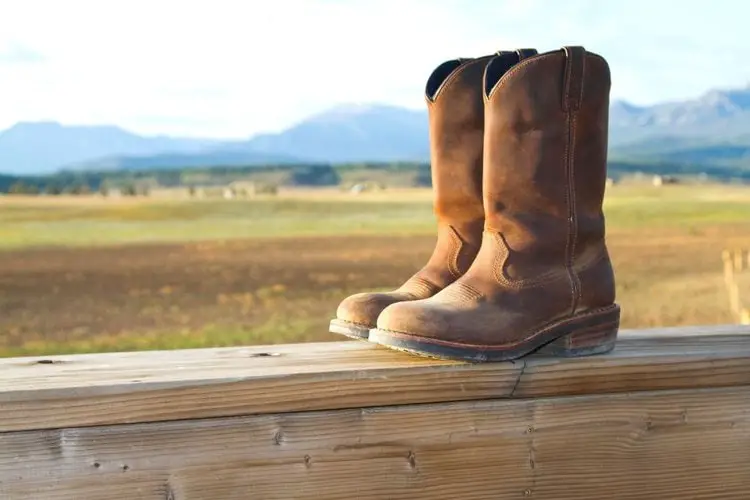 Exotic Skin Cowboy Boots:
These boots are crafted from exotic animal skins like alligator, ostrich, or snake. The construction process varies depending on the type of skin used, but it typically involves careful shaping, stitching, and finishing to showcase the unique textures and patterns of the skin.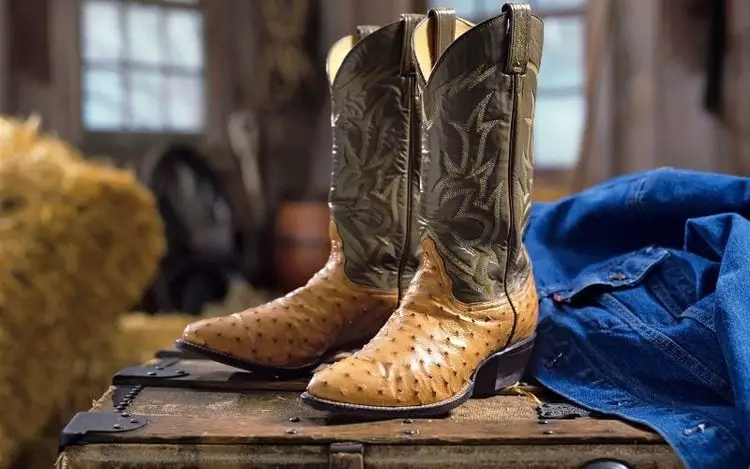 Buckaroo boots hold a distinctive place among cowboy boot variations as the tallest of them all. These boots are renowned for their exceptionally high shaft, which often reaches to the knees.
Beyond their striking height, Buckaroo boots offer functional benefits, providing added protection for ranch work and horse riding.
These boots seamlessly blend tradition and modernity, enabling wearers to express their unique style while embracing the timeless essence of Western heritage.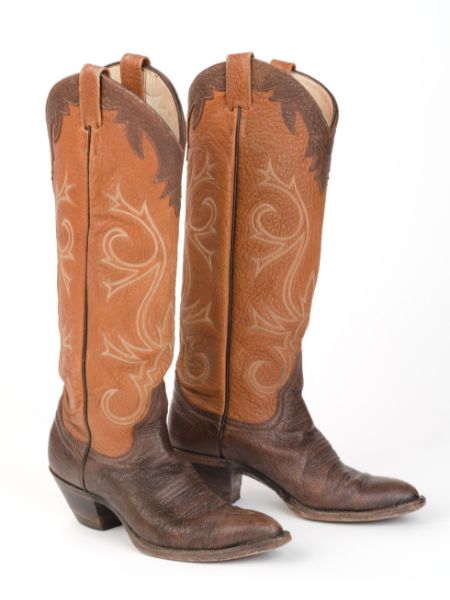 These boots prioritize comfort with a wider toe box and a lower heel. They are designed for extended wear and feature durable construction, often including a cushioned insole for added support.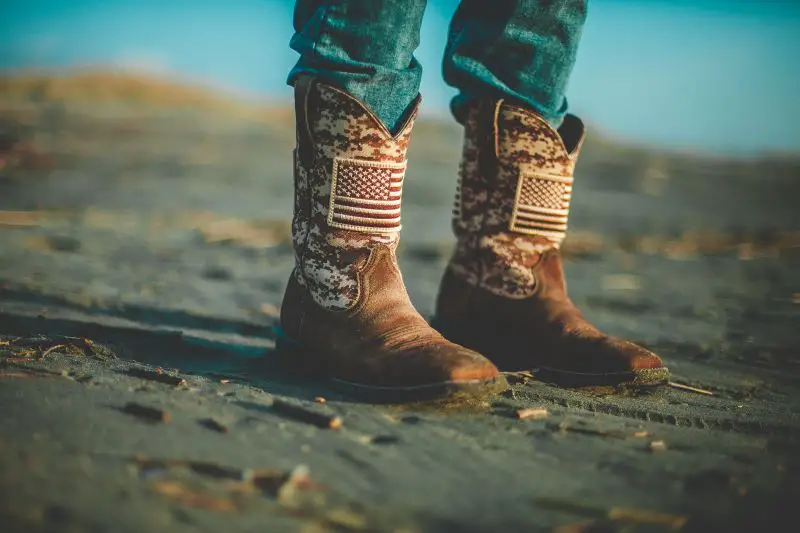 Fashion cowboy boots prioritize style over function. They come in various designs, colors, and materials, including synthetic materials and embellishments. The construction can vary widely based on the desired fashion aesthetic.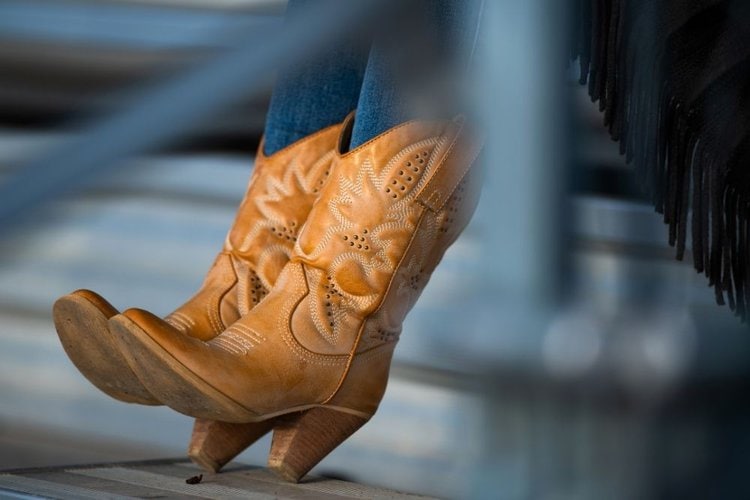 These boots combine lace-up features with western style. The construction includes laces that can be adjusted for a secure fit. They often feature a leather upper, stitching details, and a sturdy sole for both style and functionality.
3. Materials
The biggest common point of both types of footwear in terms of materials is that they are optimally manufactured from grain leather. However, motorcycle boots use a wider variety of other synthetic materials than cowboy boots.
Racing boots or Motocross boots even use advanced synthetic materials, high-quality fabric such as fiberglass, and high-density nylon to increase protection and safety for the wearer. These kinds of stuff also help to minimize the weight of the boots.
In addition, motorcycle boots are also thicker and padded with synthetic material inside for better impact and shock resistance.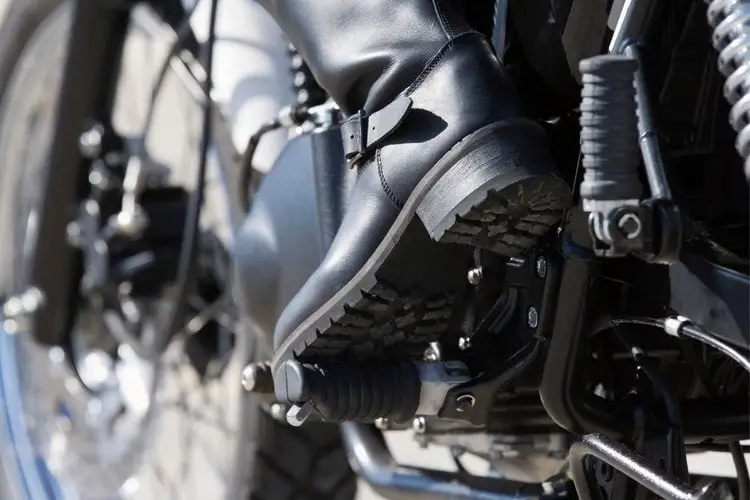 Cowboy boots often use leather materials (either suede, faux or real leather) with wood (heel) and textiles in their construction. You rarely see a pair of cowboy boots made entirely from high-density nylon because depressed leather is the biggest identifying point of the boots line. They bring a great sense of fashion and style to the owner of the boots.
The Police motorcycle boots line can be considered the only motorcycle footwear line that is quite similar in construction and material to cowboy boots.
4. Origin
Cowboy boots have a fairly long history and their shape is modeled similarly as far back as the late 18th century in America.
These boots are used for riding horses from the moment they are born. Because of the sleek and low-friction outsole design of traditional cowboy boots, they are not recommended to be worn while riding a motor.
To this day, cowboy boots have been transformed quite a lot to better suit the travel needs of modern life. However, the pointed toes and deep V-cut collar design have always been the identity of this fashionable boot line.
When and where motorcycle boots were born, so far there is no document that specifically records the exact data. But one thing is for sure, they were born after the motorcycle became a popular means of transportation.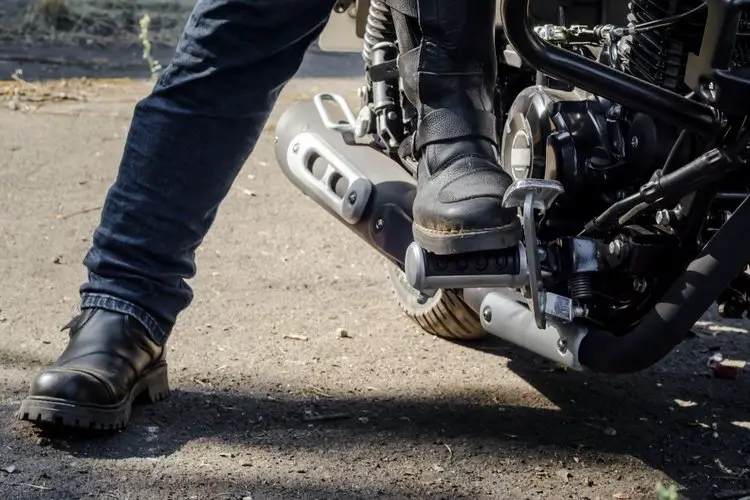 The motorcycle boots mentioned above are probably the product of modern needs and life more than in the past. Therefore, the age of motorcycle boots, in general, is probably not too far from our time.
There are documents documenting the appearance of police motorcycle boots in the years before the 1980s in the UK while the motorcycle harness line appeared in the 19th century and was worn by soldiers in the US war.
5. Weight
It is not easy to compare the weight of cowboy boots and motorcycle boots, especially when both types have so many variations of their own.
In general, cowboy boots often weigh 3-4 lbs. For high-collar cowboy boots with steel toe caps, they can double the weight to 4-6 lbs. Meanwhile, professional motorcycle boots can weigh more than 4.6 lbs in one piece.
This is because the amount of metal used in racing motorcycle boots is quite pronounced which leads to increases in the overall weight of the footwear.
In addition, motorcycle footwear is usually not made for continuous walking or standing. They require a thicker cushion and safety features inside to maximize protection and impact resistance for the bikers.
6. Identifying characteristics
Cowboy boots have always been the aura of the crowd with their signature deep V-cut at the top of the collar. This makes the legs look longer and slimmer when worn with cowboy boots.
This is also the distinguishing point of ankle cowboy boots from other ankle boots. You will probably see V-cuts running along the sides of some ankle cowboy boots instead of in the center. It's also a creative twist on this identifier to adapt the short length.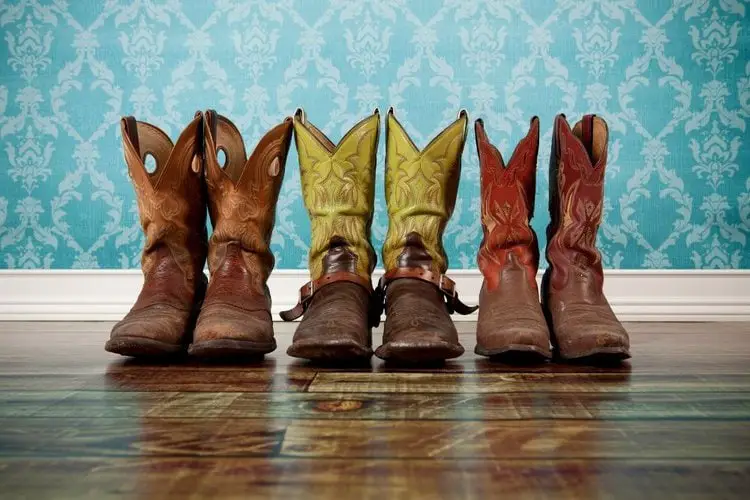 In addition, cowboy boots are especially expensive because of the heavy decoration and embroidery on the boot shaft. This embroidery even extends from the top of the collar to the vamp portion of the upper. Typical embroidery details in western patterns create a distinctive Boho and vintage look.
One thing that sets cowboy boots apart above all is the pointed-toe design. They do not lie flat on the ground, but slightly upward arrogantly. That's why most cowboy boots fans wear them for show.
Professional motorcycle boots come in bulky and rigid construction as described above with racing boots and motocross boots. If you see a boot that looks like a ski boot but isn't meant for winter, chances are it's one of those professional motorcycle boots.
Besides, touring boots, police boots, and harness boots may just look like a regular pair of riding boots but with a collar height of up to 21 inches.
7. Certification/Standards
In the United States, cowboy boots are produced freely. Simply, this is a fashion product that comes with no other safety requirements for the wearer. Here, motorcycle boots are also produced and worn without specific requirements.
But in the UK or Europe, the government requires motorcycle boots to meet CE certification standards. This standard will test the scratch resistance, puncture resistance, resistance to external forces, and so on of footwear.
This is quite a strict standard and even more selective than the ASTM standard for American work boots. Professional racing motorcycle boots can be claimed to meet this CE standard to provide better protection for riders.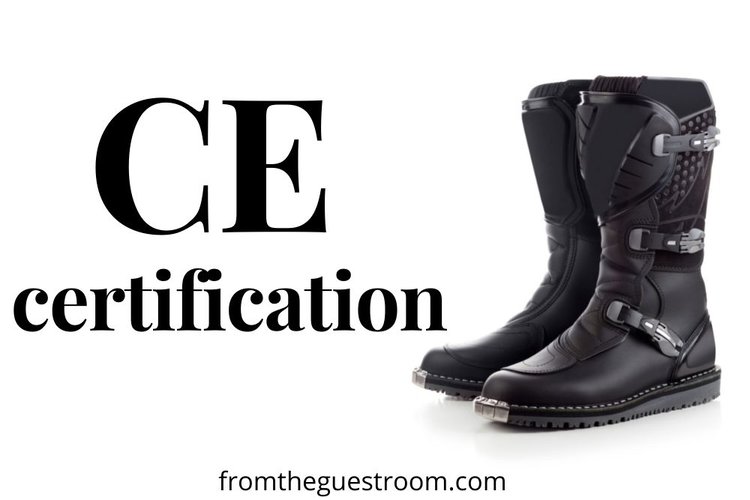 In general, if you ride a motorcycle in the US, you can put your feet on any type of footwear you want without worrying about breaking the law as long as you like it and you feel safe wearing it.
Cowboy boots vs. Motorcycle Boots in Experience
Now let's get closer to seeing how it feels when wearing cowboy boots and motorcycle boots.
1. Comfort
Motorcycle boots are usually much heavier than cowboy boots as stated above. This interferes with the comfort of wearing this type of boots to move on the ground.
Though it seems not to require too much movement when riding a motor in a race, there are chances that you may fall far away from the vehicle. You will need to run as fast as you can to the motor, get on it, and back to the race before anyone reaches the finish line.
In general, motorcycle boots do not provide excessive comfort when walking or running. But it can be very safe and comfortable when you just sit in the seat and shift gears.
In terms of mobility, cowboy boots seem to dominate over motorcycle boots when it comes to comfort. They are generally breathable and are less likely to stimulate overly hot feet inside, causing discomfort with constant movement.
However, the thick padding of motorcycle boots can reduce the wearer's sores, blisters, and foot fatigue better than cowboy boots.
Besides, cowboy boots with riding heels and pointed toes can make your feet noticeably sore and tired from standing on them all day.
Narrow toes may not be a good choice for wide feet and somewhat interfere with the blood circulation of the feet when worn. This will cause long-term lower back pain.
2. Safety/Protection
It doesn't take much comparison to say that motorcycle boots are much safer than cowboy boots. As explained in the structure of this boot line above, professional motorcycle boots are thickly padded inside like a pair of ski boots.
In addition, there are also integrated scratch-resistant, impact-resistant, and shock-absorbing armor right on the outer surface of the footwear.
The inner structure of motorcycle boots with composite toe caps and plastic plates stabilizes the foot and significantly reduces injury in case the wearer accidentally falls and hits hard on hard pavement such as asphalt.
Overall, professional motorcycle boots are all you need to protect your feet from the severe impacts of a motorcycle accident.
Cowboy boots, especially cowboy work boots, are also integrated with composite/steel toe caps. They also have the ability to protect toes from bumps and injuries while working. However, this protection cannot be compared with the more comprehensive safety of motorcycle boots.
Regular cowboy boots do not offer safety features, so they are only suitable for wearing in less harsh and low-impact conditions.
3. Ankle protection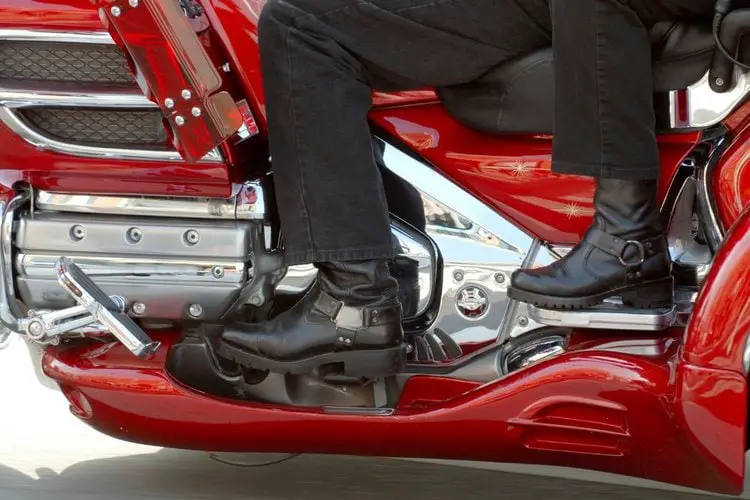 Certainly motorcycle boots have an absolute advantage over cowboy boots when it comes to ankle protection. Simply, motorcycle boots are made to provide the best ankle protection and shock resistance with thick padding in the recesses around this position.
The wearer will not feel the obvious widening around the ankles as when wearing cowboy boots. This design helps to secure the foot to the boots to produce precise and quick gearshifts.
The wearer does not have to run continuously with motorcycle boots. So the constant shifting of gears and foot brakes can cause ankle pains, ankle sprain, or ankle cramps quickly.
That's why so many people invest in a pair of specialized motorcycle boots instead of putting random footwear on their feet.
Overall, the form-fitting and thickly padding construction of motorcycle boots give more credibility on how protective and safe they are to your feet, in comparison to cowboy boots.
4. Durability
It's difficult to determine which type of boot is more durable because it depends on the level of abuse and the corrosion of the environment in which it is used.
For example, a typical pair of cowboy boots that are gently used every day can last more than 7 years. But if you use it to climb or carry heavy loads, it may only last for a few months.
Motorcycle boots are the same way. They have a very well-constructed and rigid construction, but a single crash while racing can shatter the boots to protect your feet.
However, when it comes to the durability of the material, I would appreciate cowboy boots made from full-grain leather more. Anyway, good-grade leather is not likely to oxidize by rain, wind, and dust like the synthetic fibers used to make motorcycle boots.
Many quality cowboy boots can certainly last even more than 10 years.
Read more: How Long Do Cowboy Boots Last?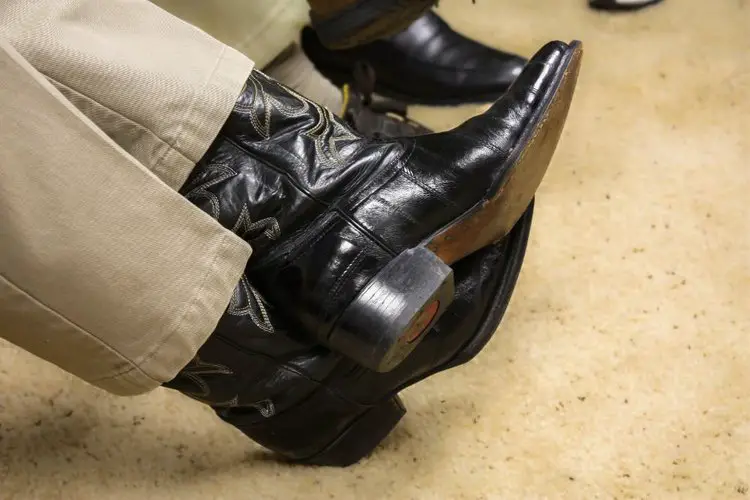 5. Versatility
For this criterion, I will give cowboy boots 1 point. Undeniably, cowboy boots can be used much more versatile than motorcycle boots from indoors to out in the yard and to the office. These boots can be worn to parties, weddings or work, or any other outdoor activity (just don't require too much protection).
In addition, cowboy boots have many designs with different heights, materials, embroidery to never become boring and jejune in the eyes of people. They always have their own charm and convenience that you can use in your daily life.
Meanwhile, motorcycle boots are only for those who sit on the saddle of a motorcycle for hours. The boots have two sole functions: to protect the driver's feet and to help them change gears easily.
The overly tall collar will possibly make the wearer uncomfortable and hot inside. However, it helps to protect the feet from the heat emitted from the constantly running motorcycle engine.
Racing boots or Motocross boots can also look very fashionable and sporty. But it is only for advertising or adding to the atmosphere of the race, not in everyday life.
6. Convenience
I do not rate both types of boots on this criterion. But for comparison, I give cowboy boots 1 point. With cowboy boots' wide collar design with clear pull holes/straps, I believe you will have no trouble putting on and taking off the boots uncomfortably.
But you will have a problem that most people face is that the collar is too wide or too tight for your ankle/calves.
Motorcycle boots are different. They feature super tall collars that will leave you frustrated for a while when wearing them, especially with police boots and traditional harness boots.
They don't even have side zippers or pull straps to put on. I also admire people who can wear it every day with ease.
The Motocross boots line is the easiest to wear. They have adjustable straps that run from top to bottom and can be removed when needed. That makes things go smoothly.
7. Fashion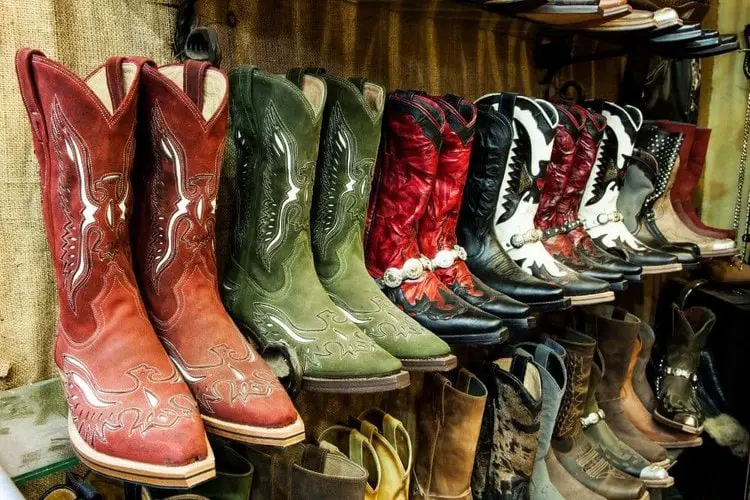 Without question, cowboy boots are ahead of motorcycling boots in this regard. You can find hundreds of thousands of pairs of cowboy boots that are not alike. This is enough to see how cowboy boots have a large amount of style and decoration.
Considering the leather material alone, there are thousands of models, not to mention the colors and decorations on the boots. Today, many lines of boots cross between cowboy boots and other boots are given birth, making this diversity even greater.
Meanwhile, motorcycle boots are quite loyal with a few fixed designs. They can look bulky and heavy like ski boots or look simple and minimal in black like police boots.
Anyway, a line of functional boots like motorcycle boots can hardly be compared with performance boots like cowboy boots in terms of fashion.
Are Cowboy Boots good Motorcycle Boots?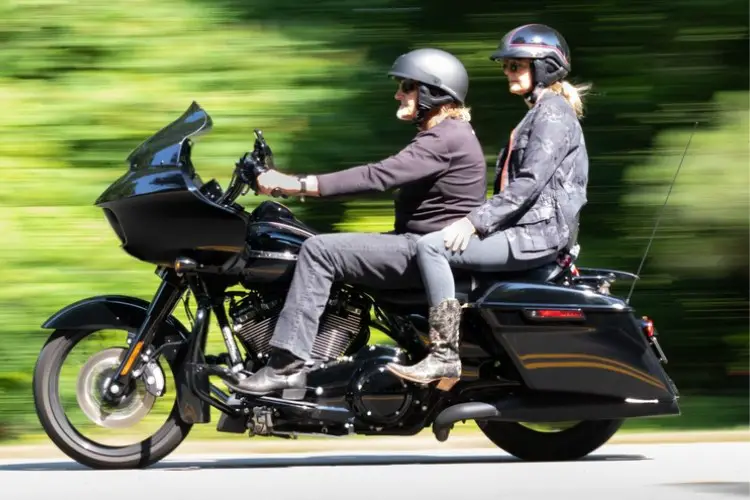 I don't really recommend wearing traditional cowboy boots when riding a motorbike. This footwear line features a sleek and smooth outsole with no grooves for added friction to help you shift gears with ease.
This is even worse when riding a motorcycle in the rain, the foot shifter can be very slippery and muddy. Chances are that you could slip, shift slowly or brake slowly causing falls and accidents.
However, cowboy work boots or modern cowboy boots can still be used as a pair of motorcycle boots when riding. They feature squared-off heels and rounded toes. As a result, your feet will experience less pressure when shifting gears or braking.
These boots feature an outsole surface designed with deep grooves and lugs to increase friction on contact. As a result, your feet have less chance of slipping off the gearshift paddles.
Besides, high collar full-grained leather cowboy boots can also protect your feet well from burns caused by hot air emitted from the motorcycle engine while running.
Some last words
Cowboy boots and motorcycle boots, two types of footwear, are completely different in structures and functions. They don't conflict in usage and application, so you don't need to feel too confused about which one to choose. Ideally, you should have both in your shoe cabinet.
Cowboy work boots can be used as street touring motorcycle boots but they cannot replace a pair of racing boots in a professional and highly dangerous motorcycle race.
Howdy y'all! I'm Grace, a Western style enthusiast with over 5 years of experience. From cowboy boots to western gear, I'm passionate about all things Western and dedicated to helping you find the perfect style to suit your taste. Join me and my fiancé Jay Gatz as we explore the rich history and timeless appeal of Western fashion together!