One of the most striking features of cowboy boots is the heel. Each type of heel usually determines the type of a cowboy boot.
For example, cowboy boots with high heels are for fashion, or horseback riding.
Meanwhile, cowboy boots with lower heels are good for running, walking, farming…
Each type of heels will significantly affect your decision of using cowboy boots, for work or just fashion only.
How do you know about the heels of cowboy boots? We are going to tell you different types of heels on cowboy boots in this article!
Different Types Of Heels On Cowboy Boots
We will divide cowboy boot heels into 3 main types according to their height: high heel, standard heel and low heel.
High heel is in traditional cowboy boots (riding boots) and fashion boots. Standard heel may belong to western work boots and low heel refers to Roper boots.
1. High heel
High heels of cowboy boots are generally 2 inches tall or more. You can find high heels in many kinds of cowboy boots like riding boots, fashion boots and buckaroo boots.
Riding heel
Riding heel cowboy boots provide balance and stability when riding a horse. The wide nook along with high and slanted heels make it easier for cowboy boots to slip into the stirrup.
Many cowboys and cowgirls love this heel type because of its good aesthetics.
With high heels, cowboy boots will give you confidence and a little arrogant, swagger looks like a real cowboy.
However, as its name implies, a riding heel is only best for riding (it is comfortable, balanced and stable). If you are an active person and just want to walk comfortably and flexibly, high heels are probably not a good choice.
Traditional cowboy boots are cowboy boots with high heels. Their back heels often are not 90 degrees upright (slanted heel) – Slanted heel is also used to keep cowboy boots from slipping through stirrup.
Fashion heel
Fashion heels usually appear in cowboy boots for women and are very tall (over 3″). Note that this heel type will not be able to assist you in horseback riding.
This is the favorite heels of many girls because of their femininity and beauty.
However, like the above, they do not bring flexibility and convenience for you to walk.
Note: Fashion heel is a common name. Also, the Spiked Heel can also be considered as a fashion heel. Unlike other cowboy boot heels with wide and flat bottoms, the spiked heel has a very narrow bottom.
2. Standard heel
Standard heels refer to cowboy boots with heels about 1.5 inches high. They typically have flat and wide bottoms.
You can find these heels on stockman, western work boots, western boots…
Standard heel cowboy boots are the most used of all types of heels.
Walking heel
Walking heel comes with a standard height. Cowboy boots with walking heels are stockman, western work boots…
These heels are very popular because they are suitable for a variety of uses.
Walking heel makes the wearer comfortable and flexible because the boots with walking heels often have flat, wide bottoms.
You can absolutely use the walking heel boots for office work, outdoor work or just a walk.
You can wear cowboy boots with walking heels all day long and your feet can still be relaxed.
However, the standard heel type cannot support you for riding a horse like the riding heel.
With the standard heel, you would have a "standard" look, not like what riding heel gives you.
3. Low heel
Low heel cowboy boots come with heels about 1 inch high.
Not many cowboy boots have 1-inch heels, but you can find them on roper boots with roper heels.
Roper heel
The Roper heel is the typical example of low heels. Roper boots are a hybrid of cowboy boots and dress boots, so they both have British elegance and the wild, powerful style of West American cowboy boots.
Roper style cowboy boots usually offer flat, wide bottoms just like that of walking heels.
In general, roper heel has many advantages of a walking heel, and you can use roper heel for any activity, whether indoors or outdoors.
Many people like to use roper style cowboy boots to work on the ranch and farm because they are light, easy on / off (low shaft). Whereas, some people prefer to use them for office work because they have an elegant look.
What kind of heels should you choose?
Each heel type has different advantages and disadvantages, you should choose one based on your purpose.
You need a pair of cowboy boots that give you a confident and arrogant cowboy look, then the high heels will give you that.
But if you need boots that keep you comfortable all day long and are flexible to use, then you should go with low or standard heels.
Anyway, it's your purpose that decides your heel type.
What are the heels of cowboy boots made of?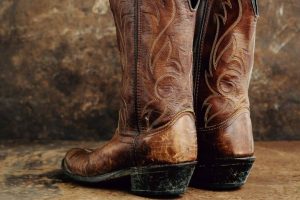 The heels of the cowboy boots are made of many different materials. They could be made of rubber, leather or synthetic.
Also, cowboy boots with rubber heel caps will increase stability for you.
To choose the suitable type of heels, you should base on your purpose.
If you need cowboy boots that provide balance for your job, choose rubber heels or synthetic heels for anti-slip and stability. In addition, rubber or synthetic heels will have better durability.
If you need a pair of cowboy boots for line dancing, then you probably need cowboy boots with the slip soles and slip heels. In this case, leather heels will be the right choice.
Why are cowboy boots so slippery?
We need to go back to the past, when cowboy boots were friends of the farmers as they roamed the pasture with their horses.
Cowboy boots needed slick outsoles to slip in or out of stirrup easily and smoothly. And making the cowboy boots hooked tightly and not slipping out of the stirrup were the task of the high heels and the wide nook of the heels.
Besides, when attending the line dance party, to perform kicking and spinning to get the best line dancing moves, the outsoles of cowboy boots need to be slippery (leather soles usually have good slippage).
Conclusion
Each heel type will have different heights as well as be made from different materials.
In general, to find the perfect heel, you should identify which heel type of cowboy boots will serve your needs.
Also, you should research the different toe types of cowboy boots. Heel and toe shape are two characteristics that make up a pair of cowboy boots.
In addition, the way of dressing with cowboy boots also tells your style, what type of pants are suitable for men or women to wear with cowboy boots?
Hope you find the right cowboy boots for you!
What's The Best Cowboy Boot Heel Size?