Cowboy boots were originally born to serve farmers on horseback, and these peasants were called cowboys.
They do a lot of work on the ranch, and also spend lots of their time on the saddle. Cowboy boots at that time were quite slippery. Why is that?
To explore why cowboy boots are so slippery, let's follow us. We cover it all for you here.
Are cowboy boots slippery? Why are cowboy boots so slippery?
Cowboy boots are initially born to serve farmers riding horses. And yes, traditional cowboy boots are slippery. Their soles are made of leather with a smooth surface, so they are very slippery.
Such design can make cowboy boots easier to slide into (or out) the saddle's stirrup. Thus, farmers are more flexible and can jump on or off horseback easily, without getting their feet stuck at the stirrup.
You might ask, then what if while cowboys were sitting on horseback, their feet slipped out of the stirrup and fell to the ground?
Don't worry, the recessed middle part of the base along and the high heel of cowboy boots keep them stay in place.
In addition, there are many long-standing cultural activities in the West such as line dancing that need boots with slippery soles to easily kick or spinning. So cowboy boots that have leather soles with good slippage can help dancers with that.
Finally, leather sole cowboy boots are slippery but deliver click cluck sounds, and many people love it!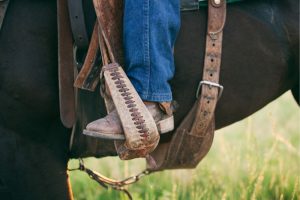 But why do I say "traditional cowboy boots" are slippery?
Because not all cowboy boots are slippery.
Today, cowboy boots are produced and used for a variety of purposes and jobs, not just for horseback riding. Because of that, the synthetic and rubber sole cowboy boots were introduced, and they are very anti-slip.
Therefore, only cowboy boots with leather soles are slippery, while the synthetic or rubber sole cowboy boots do not slip.
How to make cowboy boots non-slip?
There are many different methods to prevent leather sole cowboy boots from slipping, but not all of them work.
We will tell you all the methods, but remember to read them all, because each method will have its own weaknesses.
I can't guarantee the methods below will make your cowboy boots completely non-slip, but better traction is for sure.
Scuff cowboy boots up by wearing them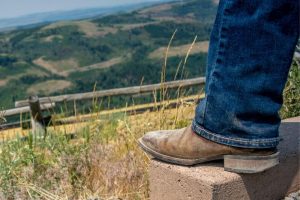 New leather sole cowboy boots will be very slippery.
You will need a rough road surface (cemented road, concrete). Put on your cowboy boots and scuff them up. Scrub the leather sole onto the rough road surface.
This will increase the traction of the leather sole surface, so that your cowboy boots are less slippery and bring you more balance.
This is a common tip that almost any cowboys know. But the newbies are not sure!
The downside of this method is that you will feel regretful for your cowboy boots, because the new leather sole surface is usually very glossy, beautiful and signed by the bootmaker.
Use sandpaper
Another method to make the leather sole of cowboy boots lose their slick surface is to use sandpaper.
Just put one hand inside the cowboy boots, use your other hand to scrub the sandpaper on the leather sole surface to make them lose the slick surface, that's it!
However, I still prefer scuff leather sole cowboy boots by wearing them, as I can feel the traction more clearly.
Use non slip adhesive pads
This is a very effective method, you can find a lot of non slip adhesive pads in the market.
The job you need to do is very simple, just paste them on a leather sole, and done.
You can use a hair dryer to melt the adhesives, which will ensure pads will stick to the leather soles more tightly.
This is how many people use it. However, it also has a weakness: you have to change pads after a period of use.
Use rubber heel caps
Many people may not know, but there are many rubber heel caps sold on the market today.
If you are bored with the high heels of cowboy boots that make you often slip when walking on glossy floor surfaces, then rubber heel caps are the solution. They will add extra grip to your cowboy boots!
Just attach them to the heel caps of the cowboy boots, that's it!
If you have any cowboy boots with old heels (the nails emerge on the surface), this method is the solution for you.
Use protective soles
Another method that you should consider is to use protective soles.
If you don't want to damage the leather sole and the bootmaker's signature on it, but this weekend you have to go to a restaurant (which might have a wet floor), then protective soles are what you're looking for.
Protective soles will protect leather soles and the signature, but still provide a good grip for leather soles.
All you have to do is cut the protective soles with a snug fit against the soles and glue them in, and you're done!
The only downside of this method is that you will have to replace them periodically, that's all!
Heel to toe while walking
Another way to make leather sole cowboy boots less slippery is to change your gait.
As you walk, lift your heels higher, then place your feet on the ground, from heels to toes, respectively.
When placing your feet on the ground, make sure that you keep your body weight focus correctly at the ball of the feet. And you won't slip.
Trust me, even if your cowboy boots have slippery leather soles with pointed toes, you won't fall with this gait.
This walking pose also gives you that proud cowboy look and makes a gorgeous click cluck sound!
What is the weakness of this approach? You have to change your gait!
Use traction spray
To be honest, this method works, but it won't last long.
All you have to do is very easy: spray traction spray on the surface of leather soles. Traction spray will give a considerable grip for leather sole cowboy boots.
Of course, if you use cowboy boots on a rough surface, this spray will disappear quickly.
So, if you go to a restaurant with a wet floor then this method is ideal, but do not apply it when you use cowboy boots on a farm & ranch.
Resole cowboy boots
Leather sole cowboy boots usually don't have a long lifespan. If you wear them regularly, they can last only 2 to 3 years.
If you do not like leather soles anymore because of their slipperiness, you can resole your cowboy boots by replacing leather soles with rubber soles.
Rubber soles will have a much better grip than leather soles.
Look for a good cobbler to resole your cowboy boots, and don't forget to check out some notes here!
Increase your weight
No kidding, people who are overweight are easier to balance when standing on leather sole cowboy boots than lightweight people!
But this approach probably won't work for women!
Other question
Do cowboy boots have good traction?
Traditional cowboy boots with leather soles usually do not have traction, instead, they are quite slippery. Because the surface of the leather sole is very glossy.
But now you will have a lot of rubber sole and synthetic sole cowboy boots, these boots have very good traction.
If you need cowboy boots for more work than fashion, rubber sole (or synthetic sole) boots with good traction are a great option.
How do people not slip while wearing leather sole cowboy boots?
The reason people do not slip while wearing leather sole cowboy boots is that they scuff their boots up.
You can wear cowboy boots on your feet, and then rub the surface of the leather sole onto hard concrete or cement surfaces to increase their traction.
Besides, many people often use sandpaper to rub the leather sole surface of cowboy boots to hold them.
While others choose to raise their heels, change their walking pose from heels to toes, this gait ensures a good balance on cowboy boots.
Or for people who are overweight, they can easily balance on leather sole cowboy boots no matter what.
Conclusion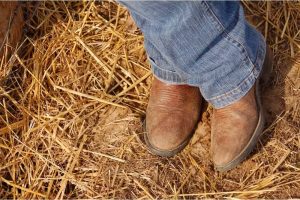 There are many different ways to increase traction for leather sole cowboy boots, including scuff them up (by wearing them, using sandpaper).
Besides, you can use some products such as protective soles, rubber heel caps, non slip adhesive pads, traction spray to create better grip for cowboy boots.
If the leather soles of cowboy boots are old, consider replacing them with rubber soles.
Good luck!