In my 20s and a few years later, I wore the S-toe cowboy boots and decided to stick with these boots for the sake of my fashion and style at that age.
I love the way their tapers shape my toes and my legs. They were definitely my best footwear ever.
But that happiness couldn't erase the fact that there were kind of calluses the size of a third of my thumb that occurred on the side of my big toe and little toe.
They were almost there until now when I changed my mind and switched to another healthy footwear option. I bet they won't ever go away.
As I get older (about in my 30s), I realize looks don't matter anymore; well-being is worth more. That's why I changed my super pointy cowboy boots to square-toe cowboy boots, and it was one of the best decisions of my life.
I never thought this modern cowboy boot design would be so popular all over the United States (probably except LA, where everyone hates everything, lol just kidding!).
All of my husband's family in West Texas stuck with these cowboy boots for a very long time (probably for their whole life too).
Since square-toe cowboy boots haven't been seen as traditional cowboy boots so far, there are a lot of reasons why cowboy boots should have square toes.
Let's dive in!
Why do cowboy boots have square toes?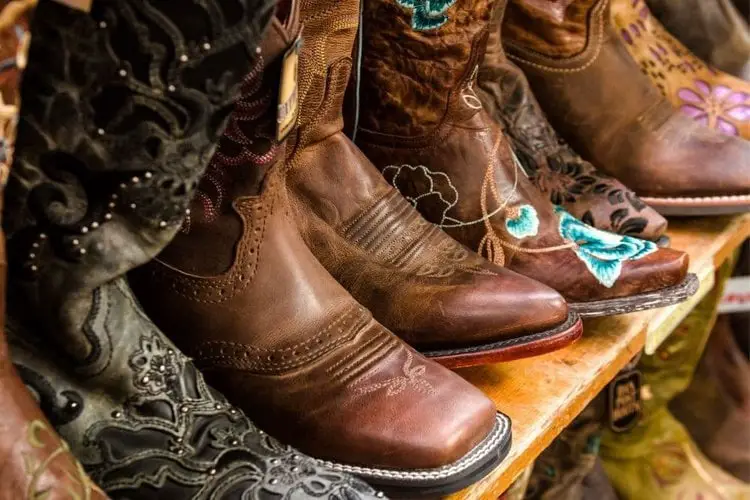 It's clear as day that square-toe cowboy boots never belonged in the world of traditional cowboy boots.
Some people even think that this line of cowboy boots is a product of modern demand when they first appeared only around the beginning of the 20th century. This is probably true. No one really liked square-toe cowboy boots right in the first place.
The reason is probably that they look incredibly odd with the cut toe which is so much different from the snip-toe boot designs.
But there are several reasons why cowboy boots have square toes and why I highly recommend you wear these boots. Here is how:
1. We no longer ride the horse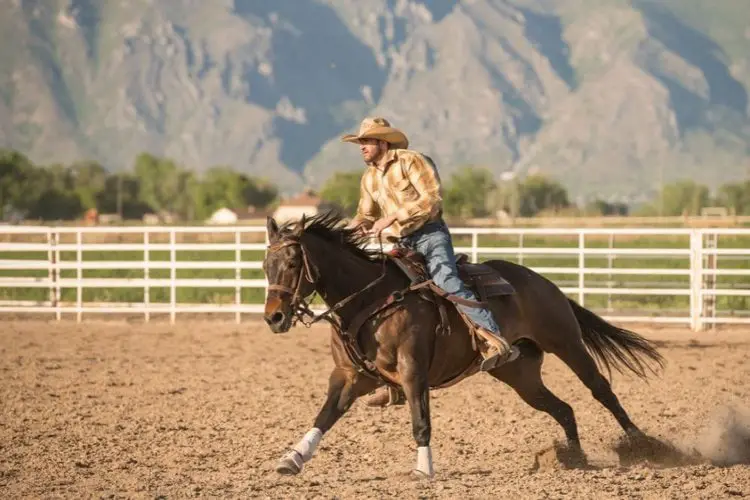 Toes are one of the most important parts of the cowboy boot construction that defines the culture of this American footwear line.
Cowboy boots have signature tight-fitting snip toes because the wearer frequently has to slide their feet into the stirrup while riding.
Cowboy boots have a history of being born around the 18th and 19th centuries—a time when people were still riding horses as a means of daily transportation, especially in Texas.
Snip toes have a narrow side design with tapers, allowing the foot to enter the stirrup at ease as well as helping the wearer feel the feet better when adjusting the horse's turn. I think there is no better toe design than pointed toes when it comes to riding a horse.
But that was a story from a few centuries ago. When America switched to walking and using modern means of transportation in the 20th century, they felt that pointy cowboy boots were no longer ideal.
I guess you know how it feels if you've ever walked for miles a day in pointed cowboy boots. Your feet tend to show severe calluses and blisters at the end of the day.
That's why the wearer needed a more innovative cowboy boot design with a spacious toe room. And square-toe cowboy boots were born.
You can argue with me that Roper boots (round-toe cowboy boots) are also suitable for constant ground movement. Yes, you are right! But since they offer the same functionality, square cowboy boots tend to fit the feet snugly and provide the comfort most people desire.
2. Focus mainly on the comfort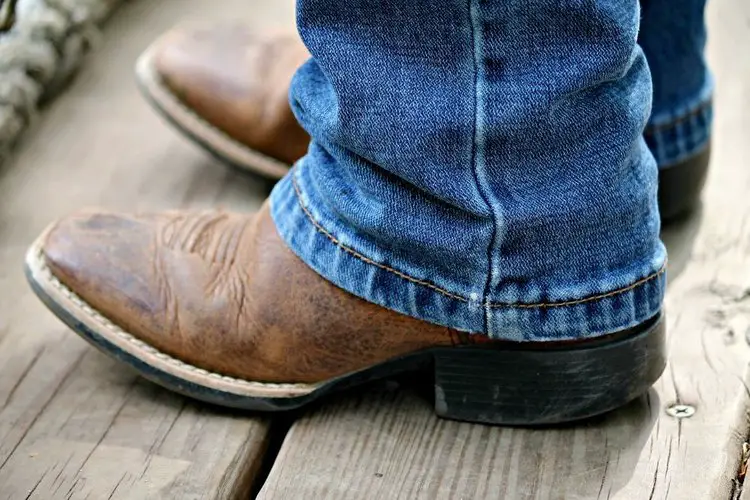 Due to the fact that square-toe cowboy boots were born for comfort when moving around the ground, their construction is focused mainly on this feature.
Many people think that square cowboy boots look just like pointy boots with a line that cuts across the tip of the toes. It looks like that, but it isn't, indeed.
In fact, square toes provide approximately three times more roomy toes than pointed toes. You will probably feel an excellent space from the widest part of the foot to the tip of the toes. This is because the square toe (meaning wider toes) allows your toes to spread more naturally and comfortably. 
As a result, this allows the toes to have some more ideal room to wiggle comfortably inside the boots. 
It's even a lifesaver when you wear cowboy boots in the summer, with your feet probably drenched in sweat suffering from the 40-degree Celsius environment.
Besides, you'll find a little more proper space for the heel slippage when wearing the right-fitted square-toe cowboy boots. 
Your feet are less likely to develop blisters due to the friction between your sweaty feet and the leather insole at the end of the day.
So overall, square-toe cowboy boots mean your feet can stay happy all day long without anything to squeeze your toes.
This design is excellent for anyone who has to walk or stand all day long on their feet, such as factory workers, ranchers, farmers, fishers, or even site construction workers.
Because square cowboy boots are all designed for comfortable walking, some of their designs feature excellent (semi- or deep) grooved outsoles, which make these parts thicker and more grippy on slick surfaces.
You can feel your steps more firmly and stably wherever they are on the ground.
3. Better fit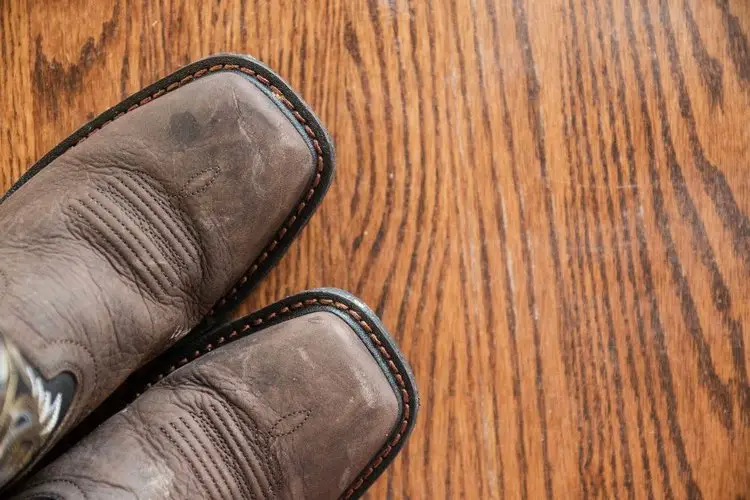 Many might say that the real reason behind square cowboy boots' becoming so popular now is that boot manufacturers market the boots more often than any other line of cowboy boots (not even including Tecovas commercial ads).
A few years ago, some of my old friends who worked at several NYC-based stores for cowboy boot companies said that the most frequent complaints they received were customer complaints about pointed cowboy boots not fitting their toes as they used to.
This actually sometimes does not come from the design of the boots. Pointy cowboy boots are always super challenging to fit the feet well.
That's also why cowboy boot manufacturers promote square-toe designs more often than any other.
Square-toe cowboy boots with wide toe boxes will fit any type of foot better and easier for most people wearing this footwear on a daily basis (probably the majority of cowboy boot wearers).
As the average weight of Americans tends to increase in the future, their feet will also increase accordingly.
This challenges sales and customer satisfaction for pointed cowboy boots.
Yet, even if you have extra wide feet, your feet can still be tucked into broad square cowboy boots with real comfort.
4. The blend of modern and classic vibes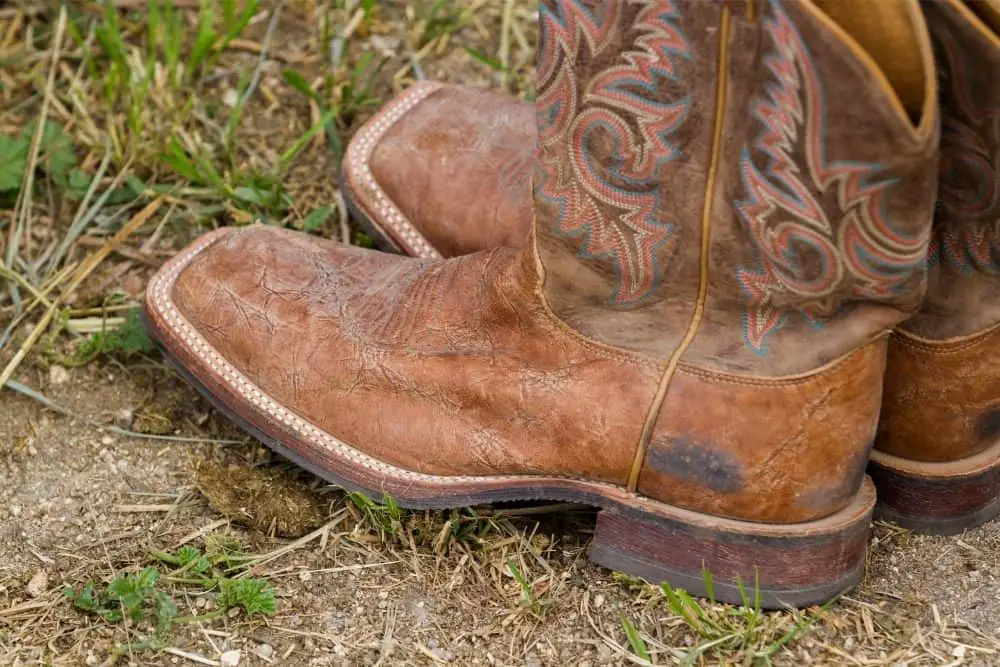 Pointed toes are a real class art, while round toes are way more casual and informal. Personally, I think square toes are in the middle of these two toe designs.
If you are obsessed with a classic but cannot deny comfort, square-toe cowboy boots will be your first choice.
This design is a blend of traditional design and modern vibes. Therefore, they are suitable for most clothes, from jeans and dress shoes to suits and vests.
The trend of square-toe footwear has been gradually returning to our lives in recent years. This further promotes square-toe cowboy boots' being loved and owned more.
These days, you have quite a few choices for the width of square toes.
The most delicate square toes should be square receding toes. They are shaped almost like snip toes but much wider. This design shows up as a perfect part of the business or special occasion outfits. This is even more brilliant when the toes are made of exotic leather such as crocodile, shark, or ostrich leather.
Standard square toes are all good for normal foot size or a little bit larger foot size. Although they have a wider toe design, some people will feel their feet are more pinched on the sides of the foot. This design is suitable for long, narrow, slim feet.
Finally, broad square-toe cowboy boots. This design is favored widely by farmers, ranchers, or construction workers. They provide a super wide and comfortable toe box. People who often have to stand or walk on their feet all day long tend to have larger feet than usual due to swollen symptoms. Therefore, they are craving for good footwear with extra roomy toe boxes like this to feel the most comfortable at the end of the day.
Pros and Cons of square toe cowboy boots
No matter what you hear from others about square-toe cowboy boots, you may need to reconsider before taking them, especially if you've never worn these cowboy boots so far.
Pros
Super comfortable
Fit easily in all cases
You don't have sore feet or blisters at the end of the day
They look modern and are ideal for many purposes
Take a shorter time to slip on the boots
Wide options as much as you want
Con
It's just not a part of traditional cowboy boots if this is what you want.
Before you leave
Personally, I never wanted to switch to any other type of cowboy boots when I first wore square cowboy boots. For the sake of your feet, I hope you enjoy wearing square cowboy boots as much as I do.
Howdy y'all, and welcome to From The Guest Room, your ultimate guide to all things Western! I'm Jay Gatz, a lifelong cowboy boot enthusiast with over 5 years of experience in the Western style world. I'm excited to share my knowledge with you and help you discover the perfect cowboy boots and western gear to elevate your style. Let's explore the rich history and timeless appeal of Western fashion together!