Most of us worry too much about our new purchases. That anxiety multiplies with expensive items, i.e. cowboy boots.
Since cowboy boots are very expensive, you tend to consider a lot before bringing them home. And after buying, you need to know how to properly maintain them.
There is a familiar stage that cowboy boots fans have to go through is to break in new cowboy boots. Many will wonder if they should break in their boots. Does this process damage their boots?
In fact, you don't always need to break in cowboy boots.
To know more about this matter, we will tell you in more detail below!
Do you really need to break in your cowboy boots?
There are 3 common situations when you receive cowboy boots.
Perfect fit
Slightly uncomfortable
Completely uncomfortable
For cowboy boots that are completely uncomfortable at first like being too loose or too tight, don't hesitate to send them back.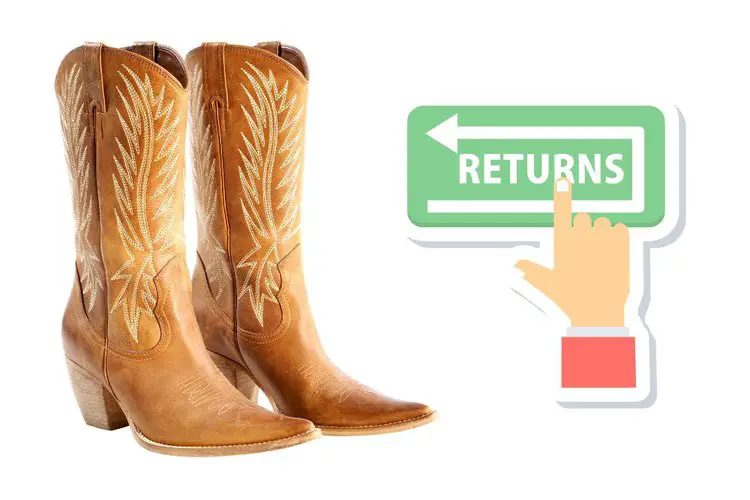 The remaining 2 common cases, we will discuss now.
In fact, many cowboy boots are comfortable from the very first step. You don't need to apply any methods or tricks to break them in. Just put them on and go, they will gradually become more comfortable with your steps.
The most common case is cowboy boots that are new and still quite stiff. Usually, you will feel a little pain from that stiffness as well as discomfort from a slight heel slip. This matter is understandable, as the nature of the leather is quite hard.
After a long time of use, exposure to environmental moisture and your sweat, they will be softer. You need to be concerned about them more, like wearing them frequently to break in them.
After the break in process, cowboy boots will be soft and mold your feet better. You'll get the best out of cowboy boots!
Most break-in periods of cowboy boots will last around 1 week to 10 days.
The process of breaking in cowboy boots is essential during this time. Most bookmakers will have a 30-day return period. So you should try to wear them as much as possible in the first 10 days, if they don't get more comfortable, you can return them early.
If cowboy boots are brand new, don't try to break in them with some tips such as applying alcohol, conditioner, or water spray. As these methods can damage the surface of cowboy boots and make it difficult for you to return them.
There is another note regarding the leather sole of cowboy boots that it also needs breaking in.
I have asked a lot of people if they have broken in the leather sole of cowboy boots or not. Most of the answers are yes, except for the elderly who have used cowboy boots for decades.
The reason is that the leather sole of cowboy boots is very smooth and slippery, breaking in it is essential for a better grip. Thus, the wearer can balance well on it.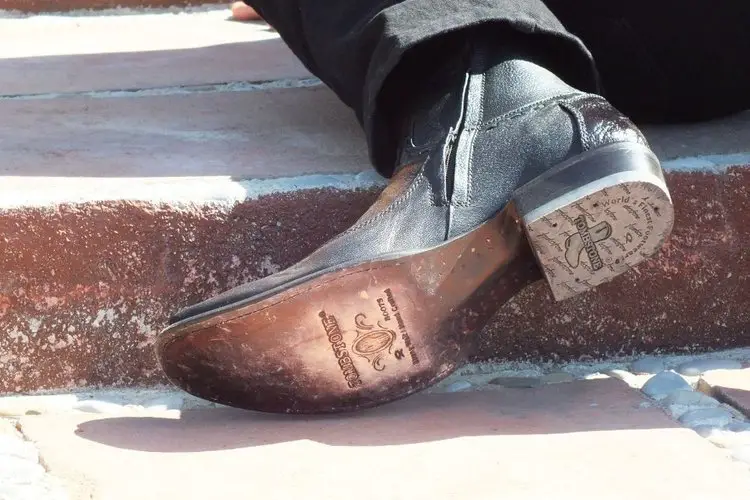 The method to break in the leather sole of cowboy boots is very simple, you just need to rub them on the concrete surface. This will make the surface of the leather sole less smooth so it can stick to the road better.
If you're concerned this process will get you into trouble in case you want to return them, don't break in the leather sole of your cowboy boots too soon.
Heel-to-toe walking will make it easier for you to use your boots during this time because, in fact, one can still walk with a very smooth leather sole.
Once your cowboy boots are break in properly and become more comfortable, you can now start to break in the leather sole.
For rubber soles, you don't need to break in them, because this one already has a good grip.
Just that!
Conclusion
In short, you just need to break in cowboy boots when they are not comfortable enough for you., it's usually due to the hard feeling that new leather brings.
The job you need to do is put them on and use them continuously for 10 days, if they still do not improve comfort, send them back. Do not try any tips or hacks because they can change the original color of the boots and get you in trouble when asking for a refund.
There are plenty of cowboy boots out there that are comfortable from the start and you don't need to break in them, but that's not often the case.
And finally, for cowboy boots that are too tight or too wide, you should exchange them in the first place. Today's e-commerce systems have quick return policies, don't try too hard.
Don't forget to break in the sole if you choose leather sole boots. This ensures a better grip on the leather sole. But only break in the leather sole after you successfully broke in the upper part.
If the uppers are still uncomfortable, you can return them without worrying about some scratches on the leather sole upsetting the manufacturers.
Good luck!
Howdy y'all! I'm Grace, a Western style enthusiast with over 5 years of experience. From cowboy boots to western gear, I'm passionate about all things Western and dedicated to helping you find the perfect style to suit your taste. Join me and my fiancé Jay Gatz as we explore the rich history and timeless appeal of Western fashion together!