Cowboy boots have many different usages, from horseback riding, catwalks, office work, hiking, dancing, and even construction sites.
But, do you know what type of jobs cowboy boots often appear? That's farm & ranch work.
Cowboy boots can be more advanced in their construction, and serve many types of jobs. But overall, their nature is to serve the farmers.
One thing that many people often ask me is: Are cowboy boots good for mud?
The answer is quite clear when you first walk into our sites and read the introduction.
Nowadays, many cowboy boots with different styles have been launched in the market.
What types of cowboy boots are suitable for jobs that often expose mud? What is the most important feature that cowboy boots must have?
We will let you know all below!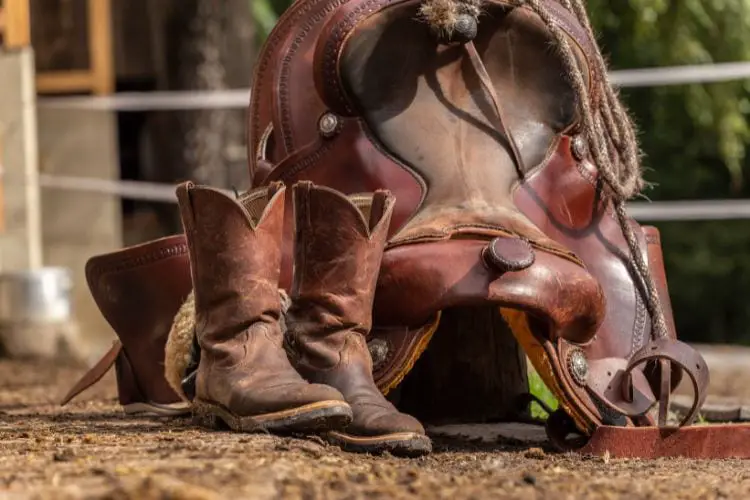 Are Cowboy Boots Good for Mud?
Yes, cowboy boots are good for mud, no doubt. But also, they also bear some risks when you wear them in this unfavored condition. Let's see what they are!
Advantages
The reason why cowboy boots are born is to serve farmers working in a field full of mud.
Most cowboy boots are 100% made in pure leather (full-grain leather), and this material is very durable, strong, and water-resistant.
Besides, most traditional cowboy boots have smooth leather outsoles, no tongues, no laces, and no eyelets.
And you know what? With this structure, you can clean them in no time when they get muddy.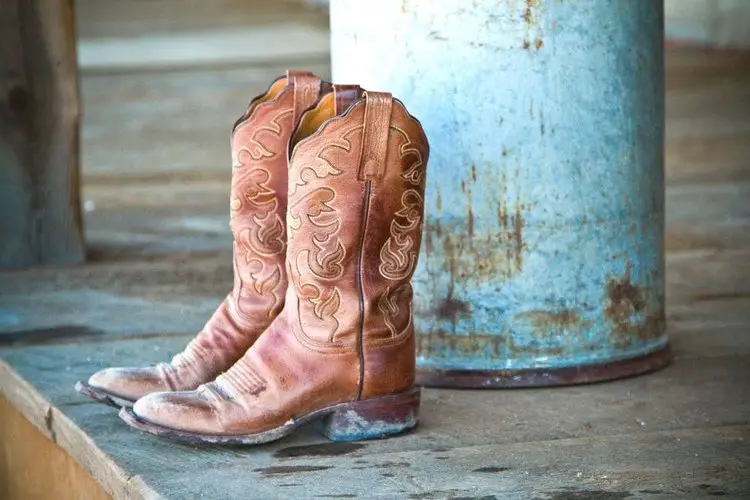 Besides, mud will not be stuck in places that are hard to remove such as the tongue, the tread of the soles, or eyelets.
Water from the wet mud also doesn't have any chance to invade the inside of cowboy boots through these parts.
Tall shaft construction is another feature that helps cowboy boots prevent mud from attacking your legs very well.
Therefore, a pair of cowboy boots are definitely suitable for mud!
But there are a few notes you need to pay attention to when you are about to buy a pair of cowboy boots for your purpose.
Disadvantages
The first drawback of cowboy boots when used in mud places is their stitching. When mud sticks in the stitch, it takes you a ton of time to clean them.
Another disadvantage of cowboy boots when getting stuck in mud is an increase in the weight of boots, making it difficult for you to move and work all day.
Besides, non-waterproof boots will more easily stick to mud than waterproof ones. You will need to have some methods about how to clean muddy cowboy boots here.
Cowboy boots are made of leather, so they can dry out when stuck in the mud for a long time. Knowing how to clean them is not superfluous.
If you still want to use non-waterproof cowboy boots in a muddy environment, I think you should make them waterproof by using mink oil, beeswax, or any conditioner that can make them repel water better.
How to overcome those disadvantages? I have the solution for you below!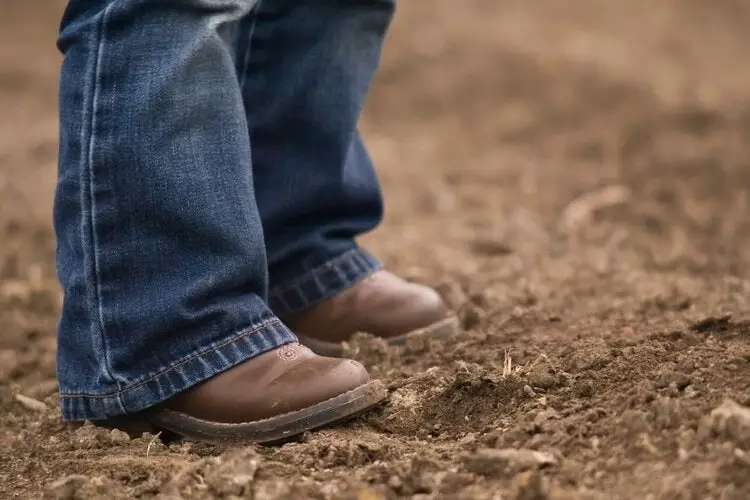 What types of cowboy boots are good for mud?
As I said above, there are many types of cowboy boots in the world.
Choosing the right boots will make you more comfortable when working.
Cowboy work boots/western work boots
One of the best types of cowboy boots that I love to use for working in muddy places is western work boots because they often come with these features:
1. Waterproofness: many cowboy work boots are waterproof. Your feet will be dry, clean and warm in them. Besides, waterproof cowboy boots are easy to clean. And mud will not stick in your boots too much.
2. Thick and non-slip rubber outsoles: Non-slip outsoles are necessary for muddy places, they can help you enhance balance, and stability. You have to spend more time removing mud than smooth leather soles, but rubber soles are more durable.
Tips: You can choose cowboy boots with rubber outsoles that do not have too deep tread, then they will not hold mud or snow too much.
3. Tall shaft: Most cowboy work boots have tall shafts (11 inches to 14 inches), therefore, your legs will be protected from mud and dirt. That is what I love when using cowboy boots in mud rather than other boots.
4. Short heel: Traditional cowboy boots often come with high heels (2 to 2.5 inches) to enhance balance for cowboys while riding, but western work boots do not. Western work boots with short heels indeed make you balance better and bring more flexibility while working.
5. Good cushioning: Cowboy work boots often have very good arch and heel support. They can absorb shocks well, reduce fatigue and make you feel comfortable all day.
6. Good protection: Unlike traditional cowboy boots, cowboy work boots are reinforced well at the heel, shank, and especially toe (composite or steel). Who knows what is inside the mud, right? Your feet will be protected better.
7. More room for your feet: Cowboy work boots often have a wide toe box and their toe shapes are square, wide square, or round. Therefore, your feet will have wiggle room and get more comfort for all-day working.
8. Durability: With all features above, you can see cowboy work boots will be more durable than other types of cowboy boots or boots. They can withstand abuse better.
9. Less motif and stitching: If you pay attention to the vamp and shaft of western work boots, you can see there are fewer motifs and stitches than in other types of cowboy boots. And this is a good thing! If not, you will have to spend too much time cleaning the stitches on them.
10. Lightweight: If you don't need boots with steel toes, then cowboy work boots are lighter than other types of boots. They weigh 2 to 3 pounds, while other types of cowboy boots weigh 3 to 4 pounds. When mud is stuck into your boots, it will not make your step too heavy and difficult.
In general, the features of cowboy work boots/western work boots mentioned above are essential in cowboy boots for use in mud places.
You will be safe, comfortable, and save a lot of your time.
Stockman / Roper style
In addition to western work boots, you should go for Stockman or Roper cowboy boots while working in the mud place, too.
These 2 types of cowboy boots don't protect you as well as western work boots, but they have quite similar construction.
Ariat Mens Heritage Roper Western Boot Black 7.5 Wide
ARIAT Men's Heritage Stockman Western Boot, Black Deertan, 10.5
Ariat Mens Heritage Roper Western Boot Black 7.5 Wide
ARIAT Men's Heritage Stockman Western Boot, Black Deertan, 10.5
Last update on 2023-09-23 / Affiliate links / Images from Amazon Product Advertising API
For instance, both have short heels, wide toe boxes, non-slip rubber outsoles, and good cushioning.
Stockman and Roper style cowboy boots are suitable for farm work as they provide good comfort while wearing all day, along with durability and a good look.
But they don't have tall shafts like regular cowboy boots (just reach mid-calf). Besides, they are not reinforced well in the heel and toe like cowboy work boots.
Not to mention most stockman and roper style cowboy boots don't have a waterproof layer on the surface, they are just water-resistant. And these two types of boots have more stitches than cowboy work boots.
Therefore, Stockman and Roper boots are less protective than others.  And it takes you a lot of time to clean them.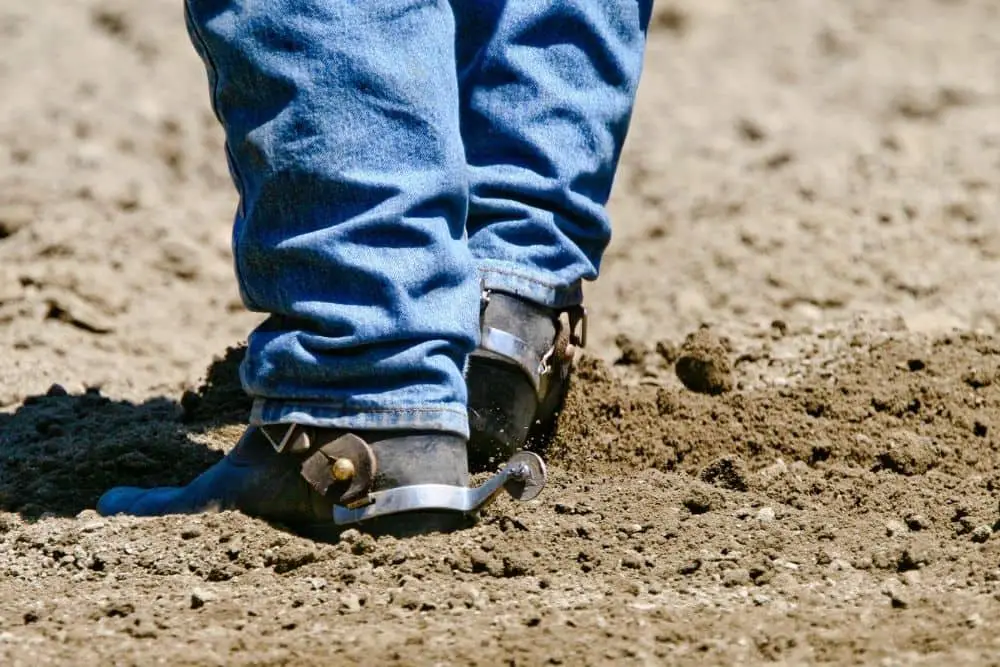 What types of cowboy boots are NOT good for mud?
Traditional cowboy boots may not be a good choice! This is due to their construction.
Traditional cowboy boots with high heels and pointed toes may not bring you comfort for working all day long on your feet. Instead, they are way more suitable for working on horseback.
High heels will make you feel pain in the Achilles tendon when wearing in many long hours of heavy work. Also, the pointed toes can make your feet constrained, leading to bunions.
Besides, most traditional cowboy boots are not waterproof, that's why they tend to get into trouble with mud.
And you know what, traditional cowboy boots have too much stitching and motif in the vamp and shaft, you will have to spend most of your time cleaning them.
From my experience, I don't like using cowboy boots with smooth leather outsoles because they are quite slippery.
However, if it doesn't matter to you, feel free to use them, because smooth leather outsoles are easier to clean than rubber ones.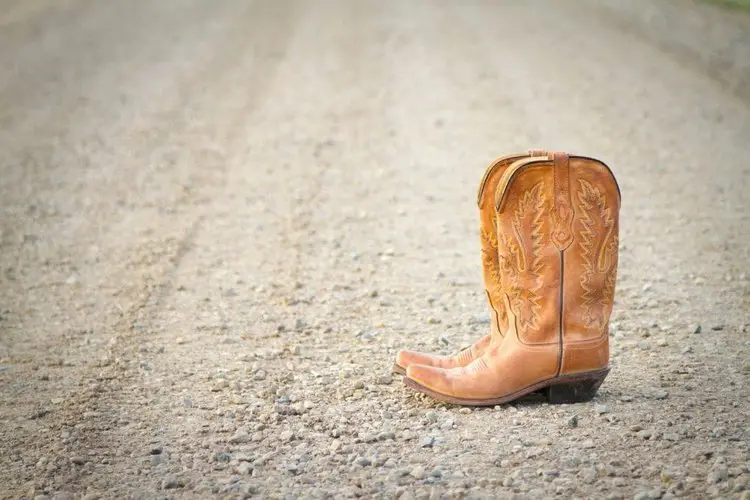 Top 3 handpicked cowboy boots good or mud
Want to know which cowboy boots are best to use for mud?
After researching, here are the 3 best choices for you.
1. Ariat Hybrid Rancher Waterproof Western Boot
Ariat Mens Hybrid Rancher Waterproof Western Boot Oily Distressed Brown 7
WORKING AS HARD AS YOU ARE: These Ariat western boots for men are designed to be hardworking and...
WATERPROOF: These durable men's boots have Waterproof PRO construction, meaning the full-grain...
ALL DAY WEARABILITY: These western work boots for men provide excellent comfort, from dawn to dusk;...
Last update on 2023-09-23 / Affiliate links / Images from Amazon Product Advertising API
Ariat Hybrid Rancher Western Boot is the first best boot for mud I must introduce to you today!
The first highlight is their Duratread outsole with good traction, which brings you a perfect balance on any terrain, including muddy environments.
Besides, what I love is the waterproof PRO construction. They are perfect for wearing in mud, and it won't take you much time to clean them. Your feet will be clean, dry and warm.
What's else? That is the stitches of these cowboy boots, they are not many, at least on the vamp. So there is no need to worry about cleaning things.
Even the shaft has a 6-row stitch pattern. It's not a big deal when mud mostly sticks around the foot of your boots. (But if your workplace is full of mud and your boots sink deep into the mud, scroll down, I have a better choice).
It can be said that these Ariat boots have a nice look and suit muddy places.
With 4LR technology, these boots provide good flexibility and comfort for your feet for all-day work.
What do wearers say about these boots?
These Ariat are super strong and durable. Many people used them not only in the mud, but also in fire, rain, snow, and many other harsh environments.
In addition, some people said that these boots have excellent traction. Therefore, you can use them on various terrain.
Overall, with the above outstanding features, you can use these boots for any activity.
2. Ariat Men's Workhog H2O 400g Composite Toe Work Boot
Ariat Mens Groundbreaker Wide Square Toe Work Boot Brown 11.5
WORKS AS HARD AS YOU DO: The Groundbreaker by Ariat are made for the long haul: strong, sturdy and...
THE SUPPORT YOU NEED: The Duratread outsole is both oil and slip resistant and the 90-degree heel...
EVERYDAY COMFORT: Along with the 4LR (Four Layer Rebound) technology for added comfort, these men's...
Last update on 2023-09-23 / Affiliate links / Images from Amazon Product Advertising API
Ariat Groundbreaker Square Toe Work Boot is one of the most successful cowboy work boots of Ariat.
Trust me, these boots are perfect for cold weather, they can make you feel warm, and safe and kick all the mud. I love using these boots in the winter.
The most outstanding features of these boots are strong and sturdy construction that can withstand harsh weather.
There is not much stitching on the vamp and shaft, therefore, it just takes you a little time to clean them.
Always, Ariat cowboy boots have non-slip rubber outsoles that will help you balance on many different terrains.
Besides, the rubber outsoles are very durable, this feature is important to withstand muddy environments.
Want more protection for your toes but not make you feel uncomfortable? These boots have soft toes but are safety toes that meet ASTM standards.
4LR (Four Layer Rebound) technology is a feature that cannot be missed in any Ariat boots because everyone wants boots that make their feet happy all day.
From the user experience, these boots have a very durable construction. Besides, they fit very well.
What's more? These boots are not completely waterproof, but they are still good water-resistant. And many people used these boots in the rain without any problem.
3. ARIAT Men's Rambler Western Boot
Ariat Mens Rambler Western Boot Earth/Brown Bomber 10
ALL-WEATHER BOOTS:From Nashville to L;A;, Austin to Boulder,the Rambler is the perfect boot to take...
ATS TECHNOLOGY: Advanced Torque Stability (ATS) Technology is a helpful combination of a moisture...
DURATREAD OUTSOLE: The Duratread Outsole on these western boots for men is Ariat's blend of rubber...
Last update on 2023-09-23 / Affiliate links / Images from Amazon Product Advertising API
ARIAT Men's Rambler Western Boot with a minimalist design is the best choice for you when facing muddy environments.
Look at these boots, no fussy at all! With the rugged structure, they can withstand heavy abuse and harsh weather perfectly.
Duratread sole offers great traction for use on muddy terrain. Also, the tread of the outsoles is not too deep. Therefore, you will not spend too much time on the cleaning process.
ATS TECHNOLOGY is the next highlight you need to pay attention to, this advanced technology will pamper your feet all day.
Many people said that these boot soles do not keep the mud and snow while wearing in the winter but still offer good traction. That's really good news.
Besides, I love to use boots with minimalist construction, they do not get stuck in the mud, and that's a big plus!
Many people find out that these boots are very durable. They may not be inexpensive boots, but I think these boots are worth every penny.
Conclusion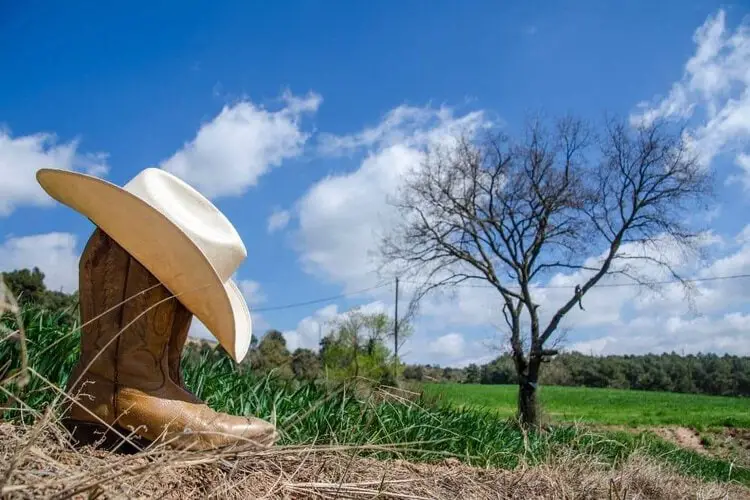 Cowboy boots are totally good for mud.
But, not all types of cowboy boots can make you feel comfortable and protected.
Cowboy work boots, stockman boots, or roper boots are good types of cowboy boots for working in muddy places.
Above all, I prefer cowboy work boots. They can provide great protection and comfort and you don't have to spend too much time cleaning.
Good luck!
Howdy y'all, and welcome to From The Guest Room, your ultimate guide to all things Western! I'm Jay Gatz, a lifelong cowboy boot enthusiast with over 5 years of experience in the Western style world. I'm excited to share my knowledge with you and help you discover the perfect cowboy boots and western gear to elevate your style. Let's explore the rich history and timeless appeal of Western fashion together!