Cowboy boots are durable, right, but only if you use them properly with the right care and storing methods.
Do you really know the above methods?
No kidding, these methods greatly affect the durability of cowboy boots.
A good pair of cowboy boots can last more than 10 years. But if you don't know how to care for and preserve them, they won't last that long.
No more words, we will show you how to make cowboy boots last longer.
How Can I Make My Cowboy Boots Last Longer?
To make it easy and simple to understand, we will aim at the 3 most important methods to make cowboy boots last longer.
The three main methods are: proper use, care and preservation.
Let us tell you how!
1. Use the right type of cowboy boots for the right purposes
Why do we say that? Let's visit Amazon and enter keyword cowboy boots, you will be overwhelmed by a plethora number of different types of cowboy boots.
Today, in addition to the traditional cowboy boots, there are many different types of cowboy boots that are widely available such as western work boots, Rambler, Roper, Stockman, Buckaroo.
Different types of cowboy boots will have different uses.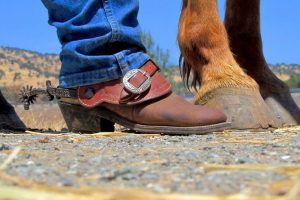 For example, traditional cowboy boots with high heels and pointed toes or round toes are popular for horseback riding or casual use (walking).
But if you're using traditional cowboy boots for jogging or hiking, that's definitely not a good idea. Because their design does not allow you to have the high comfort and flexibility to do that.
If you're into running or hiking, you need a pair of cowboy boots with low heels and square toes, so Stockman or Western work boots are ideal choices.
Traditional cowboy boots have high heels and pointed toes, so when you do vigorous activities, the high heels may break and your toes can get sore because the pointed toes have less room than square toes.
Besides, traditional cowboy boots have leather outsoles so they are quite slippery, not durable enough for hard use. You will have to resole regularly.
Meanwhile, choose rubber sole cowboy boots with better grip for more durability.
It doesn't mean that traditional cowboy boots are bad, no, I didn't say that. But you must understand, using the right cowboy boots for the right purpose will help them last longer. That is the point!
Example: Traditional cowboy boots with slippery soles are great for fashion, line dancing, etc.
2. Use the right method of care for cowboy boots
The 3 most basic cowboy boots care steps that you must hold to last longer are: Clean – Condition and Polish (only applies polish to leather)
Remember, all you need to do is to keep cowboy boots clean, of course, just that. As anything clean will be more durable and beautiful.
But not everyone knows the 2 steps later (condition and polish) though they are very important.
Conditioning cowboy boots will help them maintain their look, because the conditioner helps the boots to retain their original colors.
In addition, the condition also helps cowboy boots retain the necessary moisture to prevent dryness and cracking, then prolonging their lifespan
In the end, these polishes create better protective films for old cowboy boots and restore cowboy boot colors.
Polish can make cowboy boots waterproof and less susceptible to stains. That's why polish can help cowboy boots last longer.
Put together, all the things above make cowboy boots invincible.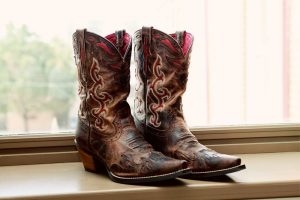 To do these three steps you should prepare: the Horsehair brush kit  (or suede brush and eraser ), leather cleaner  (or suede cleaner ), conditioner, and polish .
Use a horsehair brush or a clean dry rag to scrub and clean the exterior of cowboy boots first. You can coat them with a thin layer of warm water to make it easier to do.
Then apply the leather cleaner to the surface of cowboy boots and use a horsehair brush to scrub every corner of the cowboy boots.
If your cowboy boots are made of suede, then you have to combine a suede brush, eraser and suede cleaner to clean them instead of the horsehair brush.
Use the suede brush and eraser to clean the cowboy surface first, then apply the suede cleaner and continue to use the suede brush for a thorough cleaning.
For muddy cowboy boots, the treatment is more complicated, you can check them here!
After the cowboy boots are completely clean, spray a layer of conditioner onto the surface of the boots.
Or you can apply conditioner to a clean towel to scrub the surface. For suede, you should use the brush to scrub again.
After the conditioner has absorbed and dried, you've finished the conditioning process.
For cowboy boots you use regularly, condition them at least once every 2 to 3 months.
For cowboy boots you don't really use much, condition them once every 4 to 6 months.
Conditioning cowboy boots properly will keep them at standard moisture, therefore they will last longer.
Last update on 2023-03-19 / Affiliate links / Images from Amazon Product Advertising API
Make sure you do this step after you've done the above 2.
Apply the polish to a rag or horsehair brush, then thoroughly buff the surface of the boots, you should do it in a circular motion. Until polish is evenly spread on the surface of the cowboy boots.
It is important to create a layer over the surface of the cowboy boots.
Apply 2 to 3 coats of polish and you're done.
Last update on 2023-03-18 / Affiliate links / Images from Amazon Product Advertising API
3. Store cowboy boots properly
The principle of the store of cowboy boots is:
Always keep the shape of cowboy boots upright
Since cowboy boots are 11 inches tall so you must preserve them in a special way than other types of shoes or boots.
To protect your cowboy boots, it is important to keep their shape straight to avoid cracks or fractures.
There are many methods to do that, like using boot shapers, boot stands, boot racks, boot trees, stuffing paper in…
You can see countless ways to keep cowboy boots upright here!
Last update on 2023-03-19 / Affiliate links / Images from Amazon Product Advertising API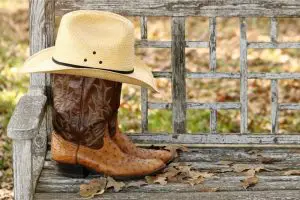 Store in a dry, cool place
Yes, cowboy boots should be stored in a dry place, but avoid the areas that are too hot.
They have to hold the necessary moisture to retain the nature of leather because cowboy boots will degrade if the leather gets too dry.
Besides, if cowboy boots are wet for a long time, they also lose quality.
So keep in mind, store your cowboy boots in a dry, well-ventilated place. That is the point.
If your cowboy boots get wet, make sure you dry them completely before putting them in the boot rack!
If you want to use cowboy boots during the rainy or winter seasons, it is certainly not a waste to equip yourself with the knowledge of drying your boots.
Conclusion
Use the right cowboy boots for the right job, take care of them properly (clean, condition, polish) and store them in a suitable place. That's all you need to make cowboy boots last longer.
The nature of cowboy boots is very durable. With 100% real leather and sturdy structure, they can last more than 5 years, 6 years, or 7 years.
But if you do our methods, that number increases to 10 years, 11 years, 12 years, and even more.
Good luck!