As one of those people who enjoys a classic and traditional spirit, I've always sided with cowboy boots with leather soles over rubber ones.
These days, the number of cowboy boots with rubber soles has skyrocketed, and I can't deny its great uses.
However, speaking of aesthetics, I've never really set my heart on rubber sole cowboy boots.
I love the delicate beauty of the leather sole more! Liked its fragility as well as the lovely Tecovas inscription on the surface.
And that's why today's post was born, with no more purpose, just to tell you about cowboy boots with leather soles that I love the most and why!
Please sit back and enjoy!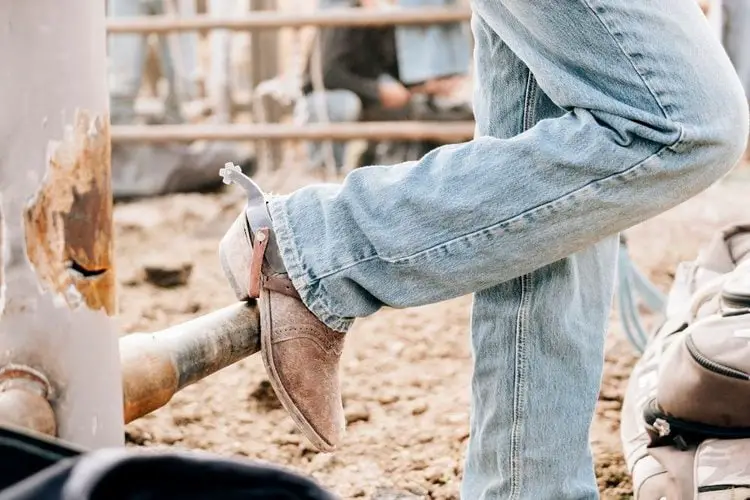 Why do I love leather sole cowboy boots?
Comfort and style! Those are the two basic reasons but not all footwear can make me as satisfied as leather sole cowboy boots.
Usually, when thinking about cowboy boots for working, young cowboy boots brands today often refer to rubber sole boots with shock resistance, insulation, anti-slip, etc. But I still love leather sole cowboy boots more than anything.
One of the main reasons is that the leather sole is more breathable and flexible, I can feel my feet more real. Not to mention that the leather sole is also able to absorb sweat well and will make you more comfortable on hot days.
Usually, the boots I wear (mostly Tecovas) have leather soles with lemonwood pegs.
For those who don't know, lemonwood pegs are used to connect the leather insole and outsole of the boots.
What I like the most is that they create a sense of harmony across the entire boot. For example, when your boots get wet in the rain, they stretch, and so do lemonwood pegs. That helps the boots stay in shape better. The same thing happens when they shrink.
Because of that, boots with lemonwood pegs always bring me the feeling that they mold feet better and are more comfortable.
Nowadays, people often use metal pegs since they are usually more durable. However, you will feel a higher hardness. And over time, metal pegs tend to come out as they can't get along with leather.
My father has worn cowboy boots with leather soles to work all his life, and it has never occurred to him to replace them with any rubber sole boots.
The main reason for that is the leather sole can help you to balance easier and more flexibly when placing your foot on the saddle's stirrup.
In fact, those who sit more in the saddle than walk on their feet, will understand that the leather sole can provide greater safety.
What if you wanted to jump off the horse's back but your foot got stuck in the stirrup?
The leather sole ensures that doesn't happen with the smooth surface, you can slide your foot off the stirrup more easily. And the same is true when you want to slide your foot into the stirrup and climb onto horseback.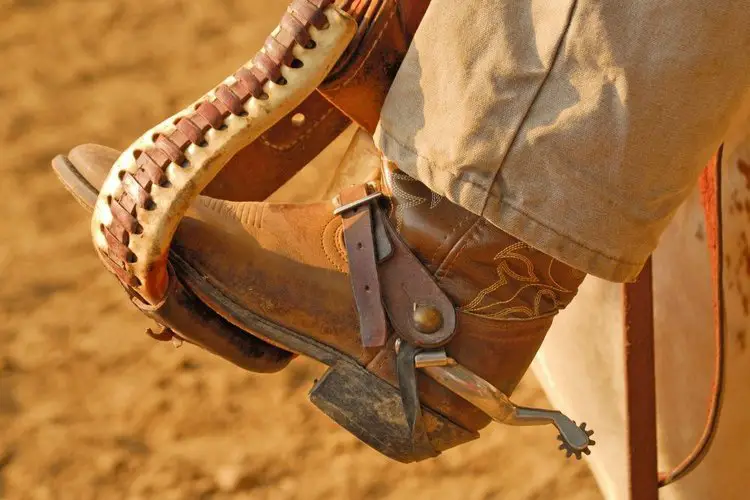 My mom is passionate about each step of line dancing, it's not a new thing, but the important thing is that through those dance steps, she enjoys leather sole cowboy boots.
The most important thing to create her great dance moves is kicking and spinning. To perform those movements perfectly without entanglement, the smooth surface of the leather sole does it wonderfully.
Today, while not being a horseman or a dancer, wearing leather sole cowboy boots with a suit is still my top priority when going to the office!
Not just for comfort, frankly, they have a much sharper look than rubber sole ones. Slim, light and delicate with a gorgeous click-cluck sound, I'm not sure if there are any boots in the world that match a suit better than leather sole cowboy boots.
And those are all the reasons why I love leather sole cowboy boots!
The Best Leather Sole Cowboy Boots
As lovers of leather sole cowboy boots, you definitely need to know about Tecovas boots. With a classic and traditional style, Tecovas offers extremely impressive cowboy boots with leather soles with a sharp look and rich in color.
Today, if you want to find leather sole cowboy boots, you should look at handcrafted cowboy boots in the US or Mexico. As machine-made cross-ocean boots often come with rubber soles.
In addition to Tecovas, some brands such as Lucchese or Chisos also make cowboy boots with great leather soles.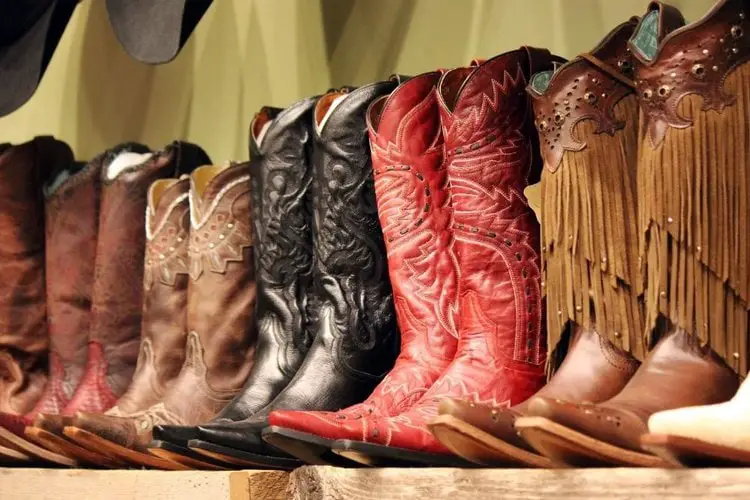 1. Best Leather Sole Cowboy Boots for Working (Including riding horse)
Cowboy boots are one of the most durable work boots in the world, with a sturdy construction made from 100% leather and high construction to help protect your feet from external impacts. They are always the top choice for outdoor work.
Although leather sole cowboy boots should not be used in heavy-duty jobs such as construction sites, I assure you that on the farm, ranch, heavy truck, or yard work, no footwear can beat them!
In addition to being durable, cowboy boots can warm you during the winter and rainy season, as well as keep your feet cool in the summer.
Cowboy boots are also water resistant to keep your feet dry, although not 100%, but still enough to bring you comfort.
Cowboy boots with lemonwood pegs are always a better choice, as they tend to be more pleasant on the foot, more durable and stay in shape better.
Men's boot: The Earl from Tecovas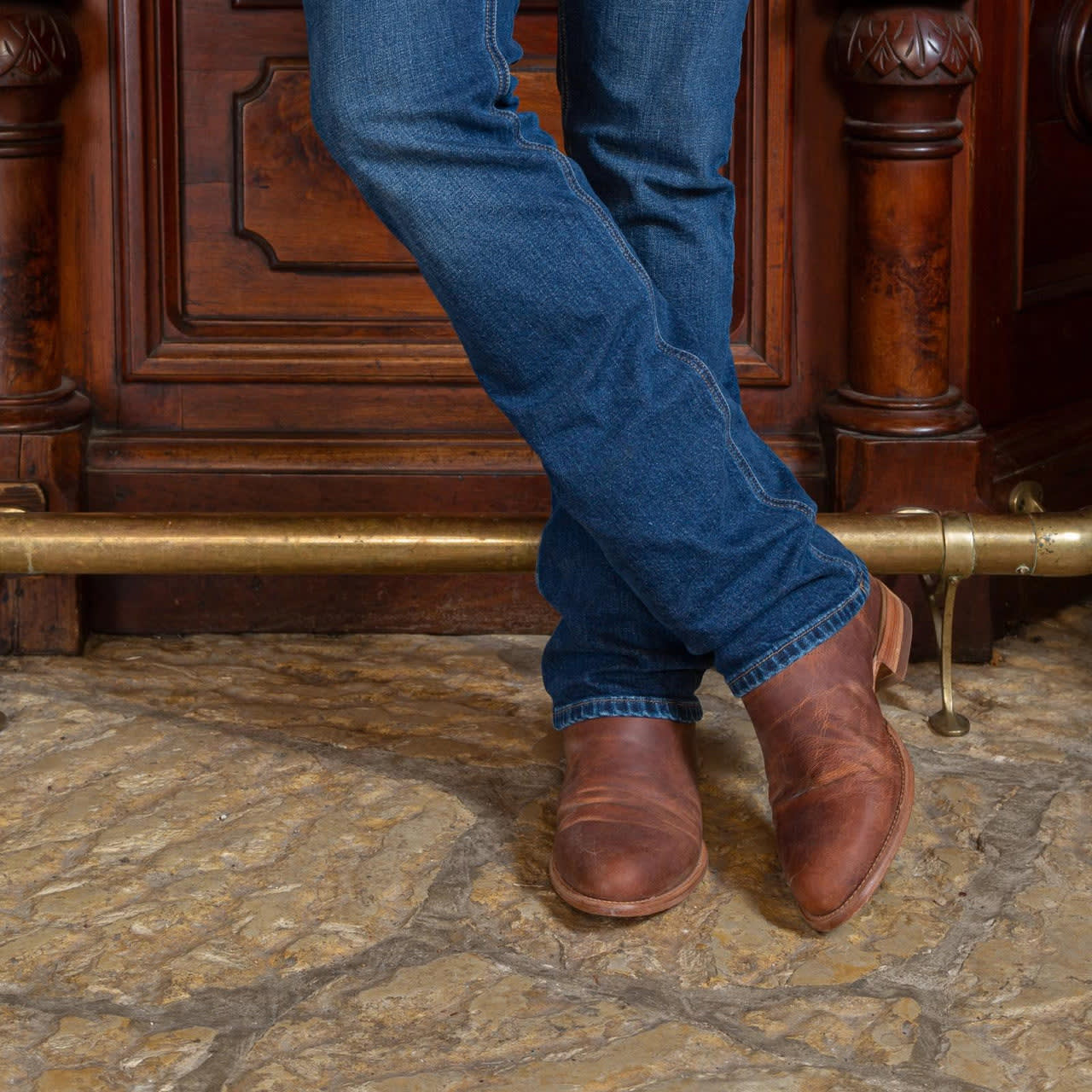 Normally, I like to wear cowboy boots made from ostrich leather when working. As this leather is very breathable, soft, and extremely durable.
However, who knows what pressure your footwear will have to endure while working? Like hard labor, the pressure and risk of falling objects can cause your ostrich boots to be punctured or cut, thus endangering your feet.
That's why I choose sturdier boots made from bovine, or goat leather by Tecovas, like The Earl.
Goat leather is also very soft and smooth, but in general, it is sturdier than ostrich leather, and I prefer using it for farming or yard work.
As for The Earl Goat Leather Boots, I quite enjoy wearing them in the summer due to their impressive breathability from the goat leather's large pores. What a great choice!
Meanwhile, my friend who has a hard labor job chooses bovine The Earl boots as these boots are studier and more pressure resistant for better safety.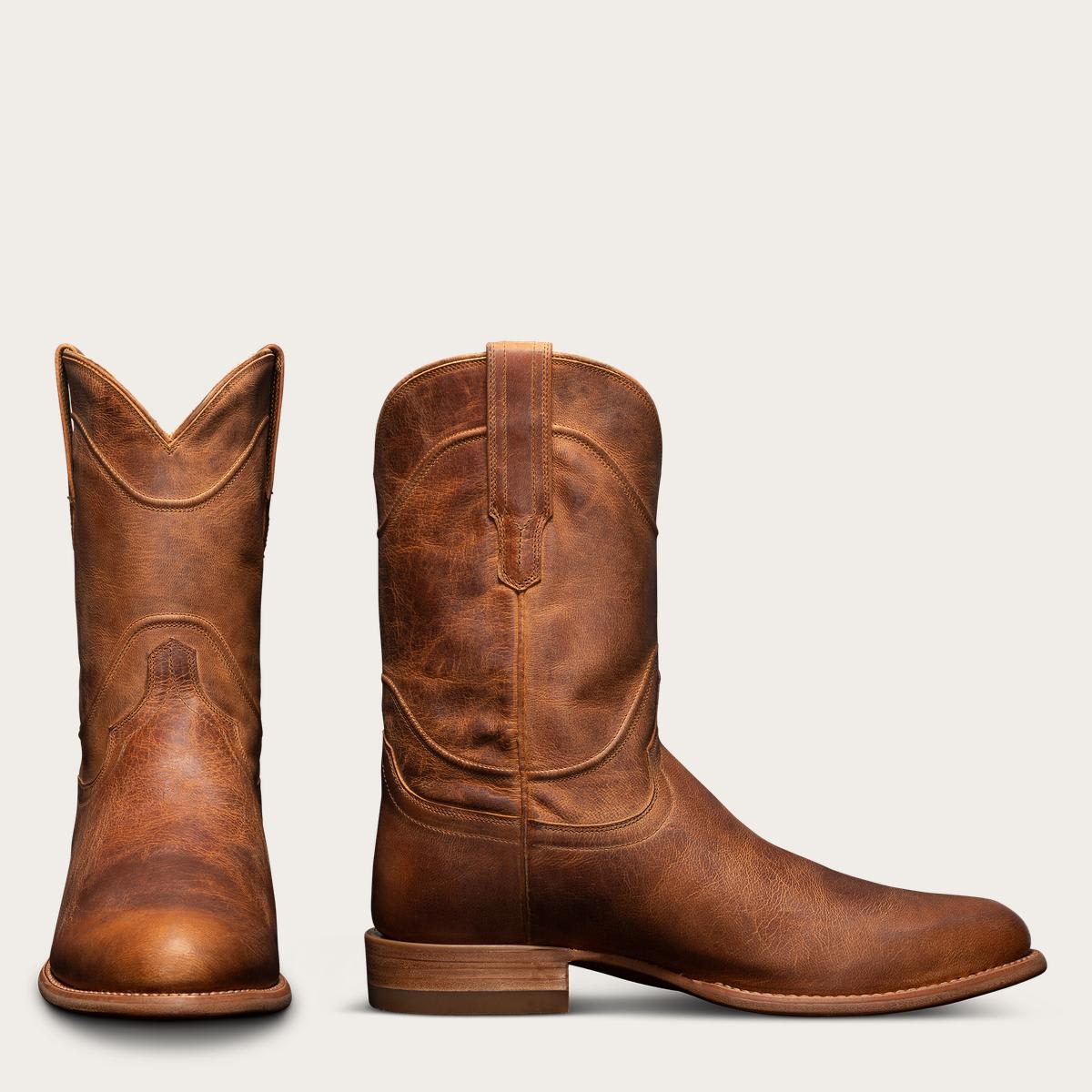 Whether The Earl bovine or goat leather boots, all share the same feature of having leather soles. This is a very important thing because when you work, sweat will come out a lot, leather soles with good breathability and sweat absorption will ensure you are more comfortable.
Furthermore, the bottom of the heel has a rubber end cap to ensure you do not slip when moving.
In addition, the round toe shape, a familiar and common feature in Tecovas boots, will also provide enough room for your toes to wiggle and stay comfortable all day long.
From the leather sole and round-toe shape features, I guarantee that if you are looking for a pair of boots for riding, The Earl is still a wise choice!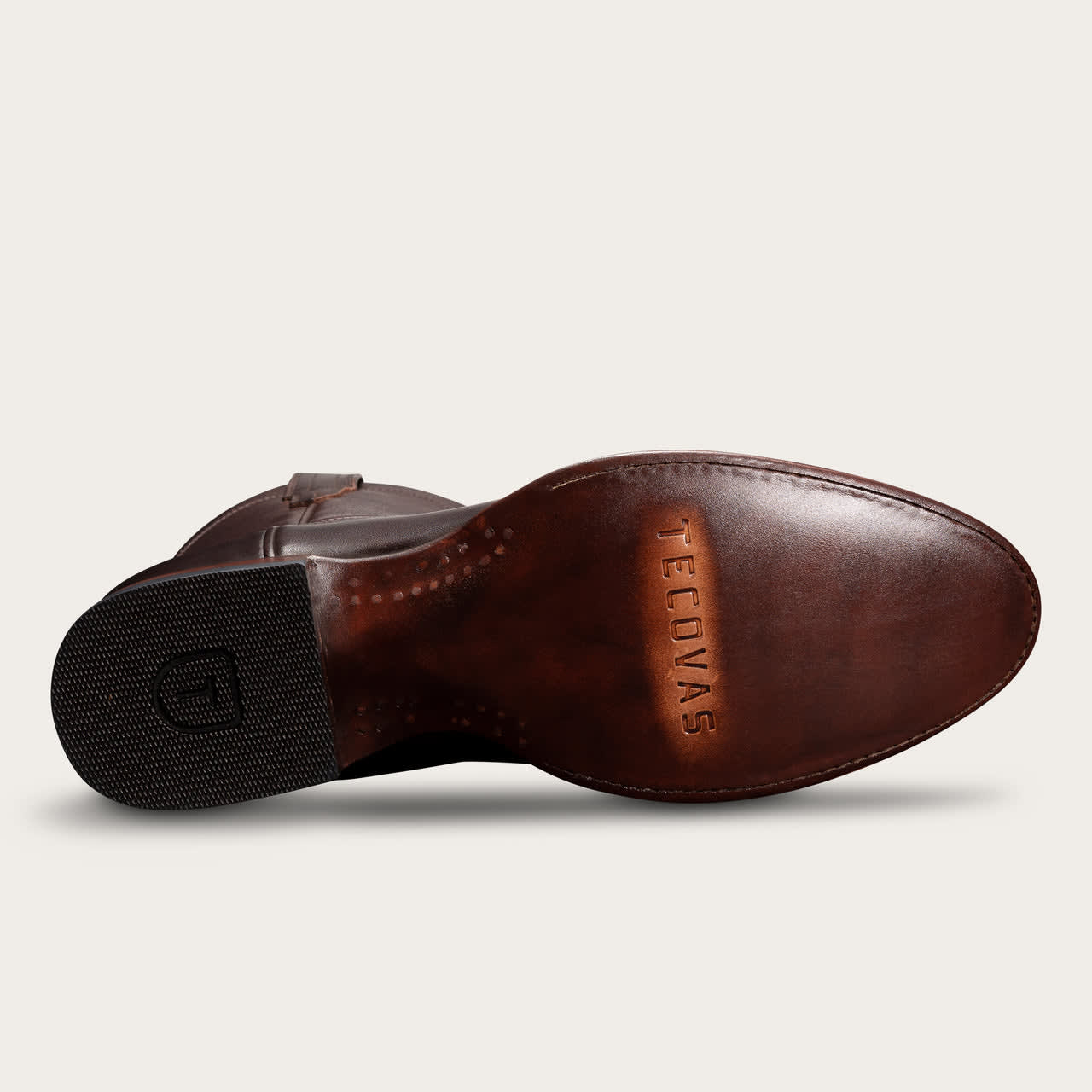 These boots don't have as much stitching as other cowboy boots, and I love that because I don't like spending a ton of time trying to clean every single stitch on the shaft and vamp. Only the welt stitch is enough.
However, the look of these boots is not bad, in fact, they are much nicer than other work boots. The natural leather color of The Earl goat leather boots makes me fall in love. Or the well-polished surface of bovine boots is so amazing.
These boots have a very good fit and I feel very comfortable wearing them because of their very short break in time. Besides, Tecovas customer care is also excellent as they answer my questions very quickly.
Women's boot: The Jamie from Tecovas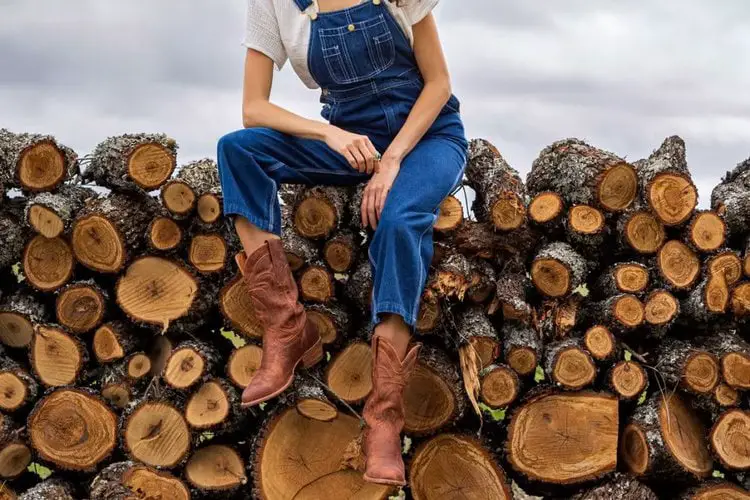 The Jamie Boots from Tecovas come in two types of leather, one made from calfskin and the other made from goat. Both materials are very soft, smooth, durable, and elastic.
Plus its smooth look, it's really too good and too pretty to be used just as work boots.
The hand-corded pattern on the shaft creates a sharp and seductive look while signature toe stitching offers strong appeal.
In addition to a lovely look, The Jamie offers high comfort with a good fit, short break in, and softness. It is quite breathable because goat leather has many large pores (that's what it is).
Leather lining is also a huge highlight as they provide you with coolness on summer days.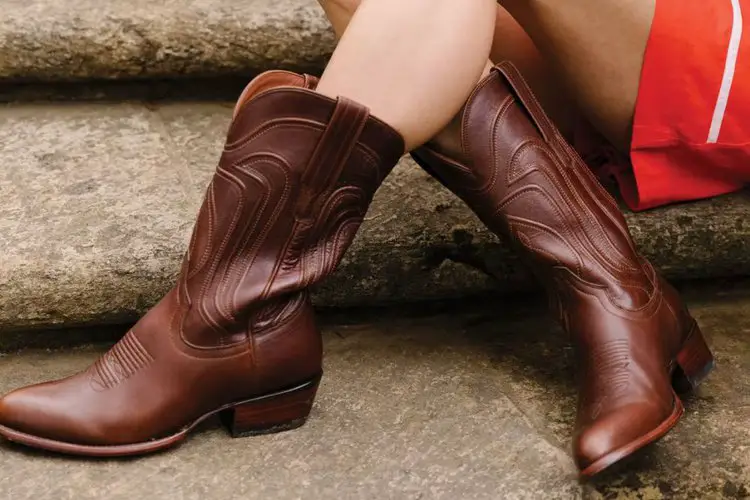 Many people (including my wife) say that they can wear these boots all day long on the farm without any problems like blisters as they are so comfortable. My wife usually wears them with a pair of tight jeans or a dress.
In addition, the leather sole also helps a lot in riding a horse, you will feel the smoothness every time you slide your foot into the stirrup.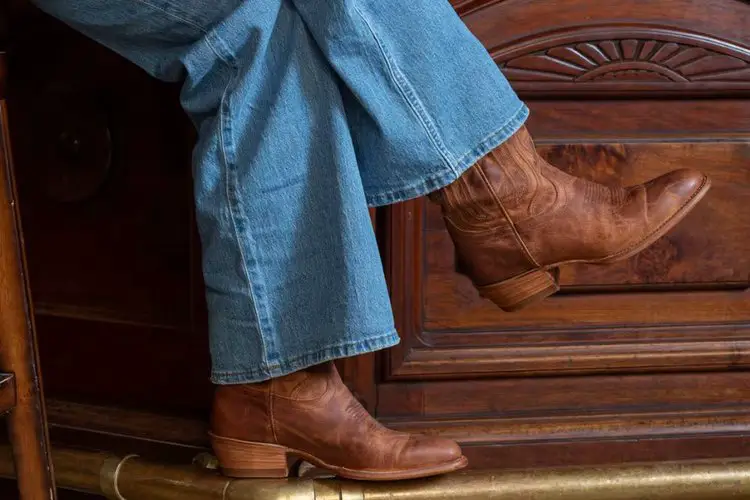 If The Jamie Goat boots are often for the farm, boots made from calf leather are a great pick for outdoor western weddings. They look great with a white or turquoise dress.
However, you need to keep in mind that the sole of these boots is very slippery at first. You should break in them by rubbing on the cement surface in the street to increase traction for them.
In addition, the heel of these boots has a rubber cap to minimize slippage while walking. Heel-toe walking is recommended to overcome this weakness.
2. Best Leather Sole Cowboy Boots for Jeans
In search of cowboy boots to go well with jeans, boots with a simple look are a top priority!
You don't have to look for boots made from lizard or caiman, cowboy boots made from cowhide with a nice shape will get you 80% of the way.
When looking for cowboy boots and jeans combo, I know I'm looking for a classic, so I prefer traditional cowboy boots with a distressed look!
How about you?
Men's boot: The Cartwright from Tecovas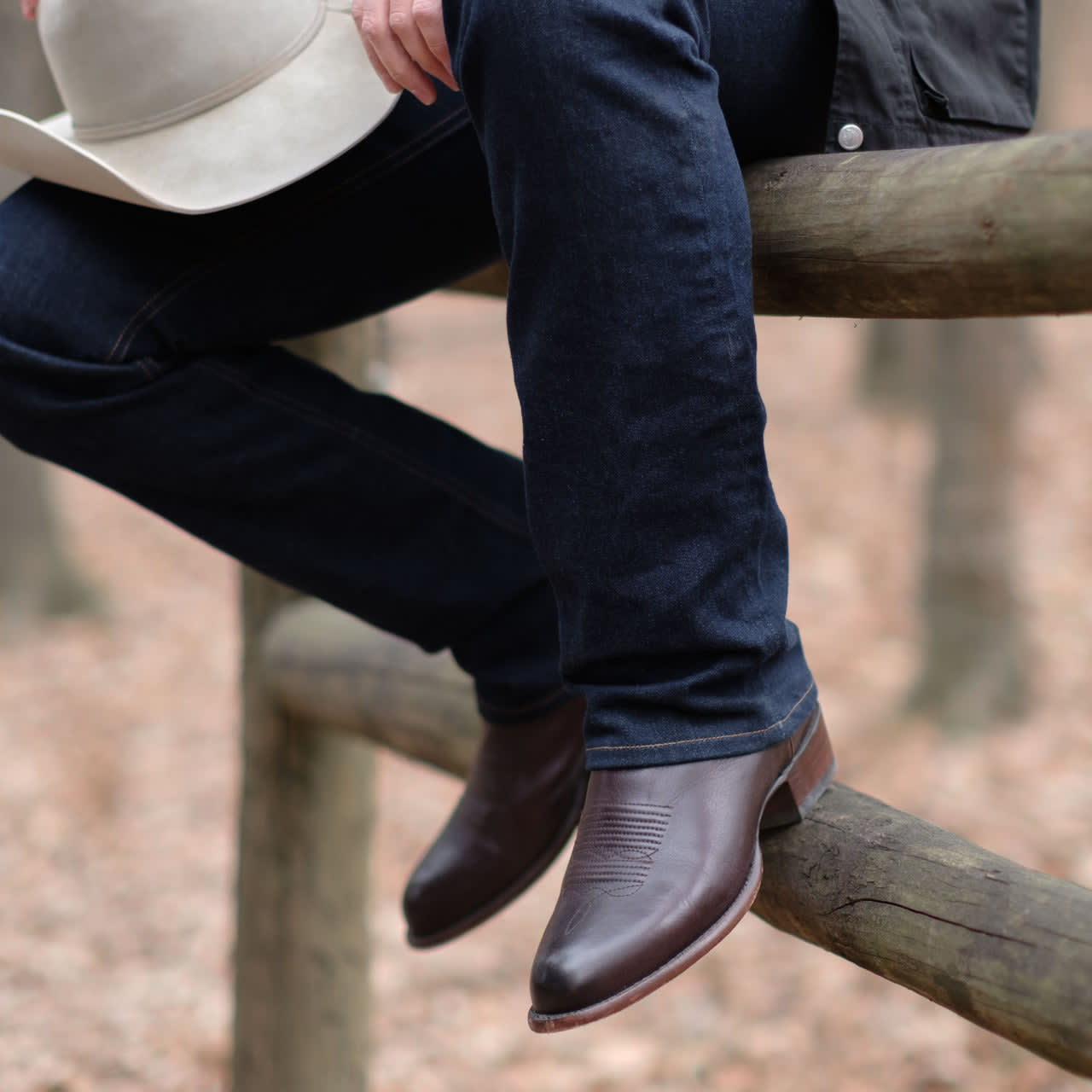 To work well with jeans, cowboy boots need to be in good shape! For my taste, I prefer boots with a classic look.
Cowboy boots with round toes (tapered) that slightly curve upwards to reveal the leather soles combined with cowboy heels are the first choice to wear with jeans.
Actually, I really like the combination of bovine leather and jeans, it's the simplest and most classic combination, not necessarily exotic leather.
For that reason, The Cartwright by Tecovas steals my heart. With a classic design but cared for by excellent workmanship, they are taken to the next level.
In addition to all the advantages I mentioned above, the boots are well polished with rich color, and the highlight is that the color becomes darker to the toe. I love it!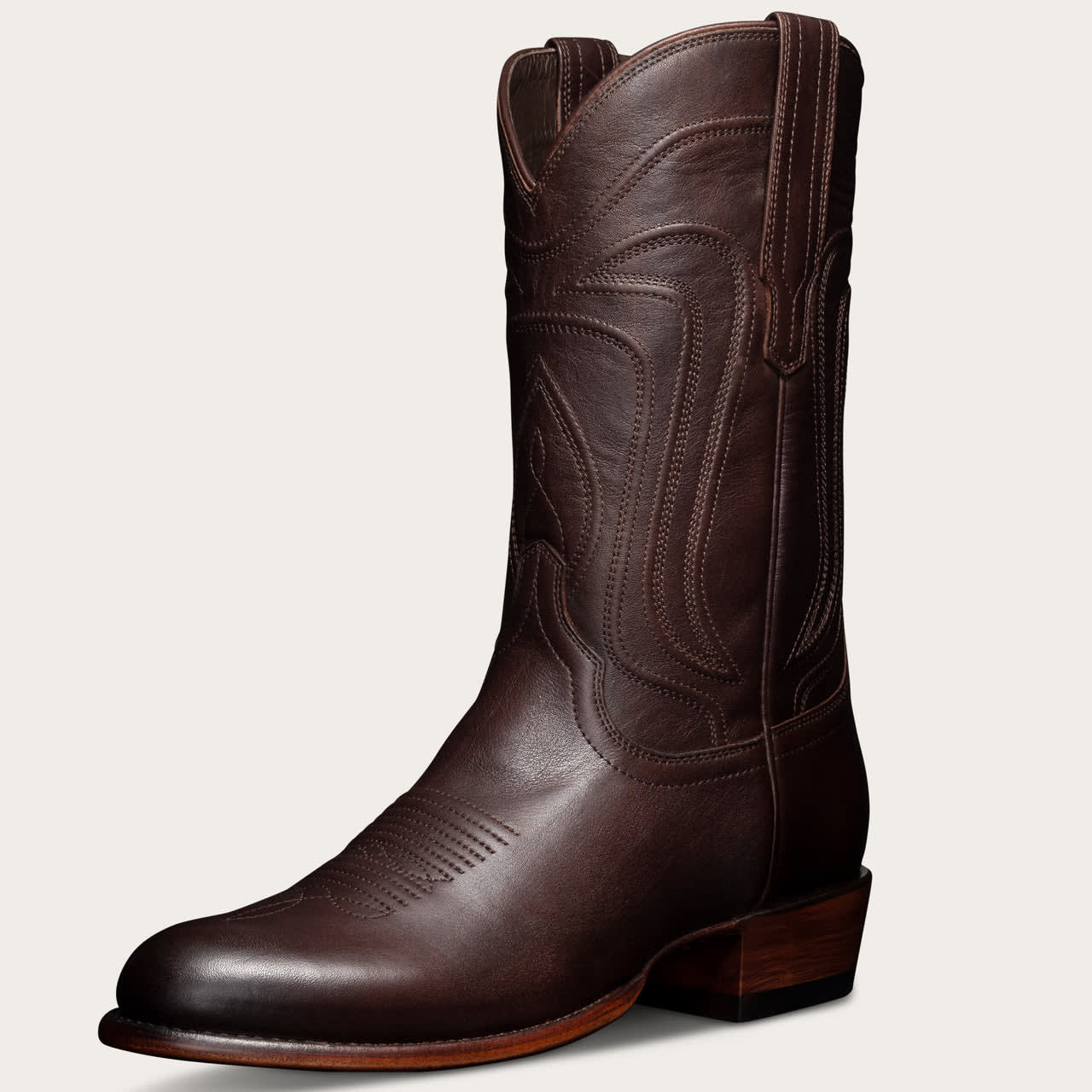 Not only excelling at vamps, but the shaft of these boots also has a unique texture that only Tecovas has, and delicate stitching for a sharp look!
Simple but stylish, trust me, with boots like these, they never go out of style! Extremely attractive!
Talking about comfort, Tecovas cowboy boots also never disappoint us when the leather sole feature brings perfect flexibility and breathability. I love this feature on May days.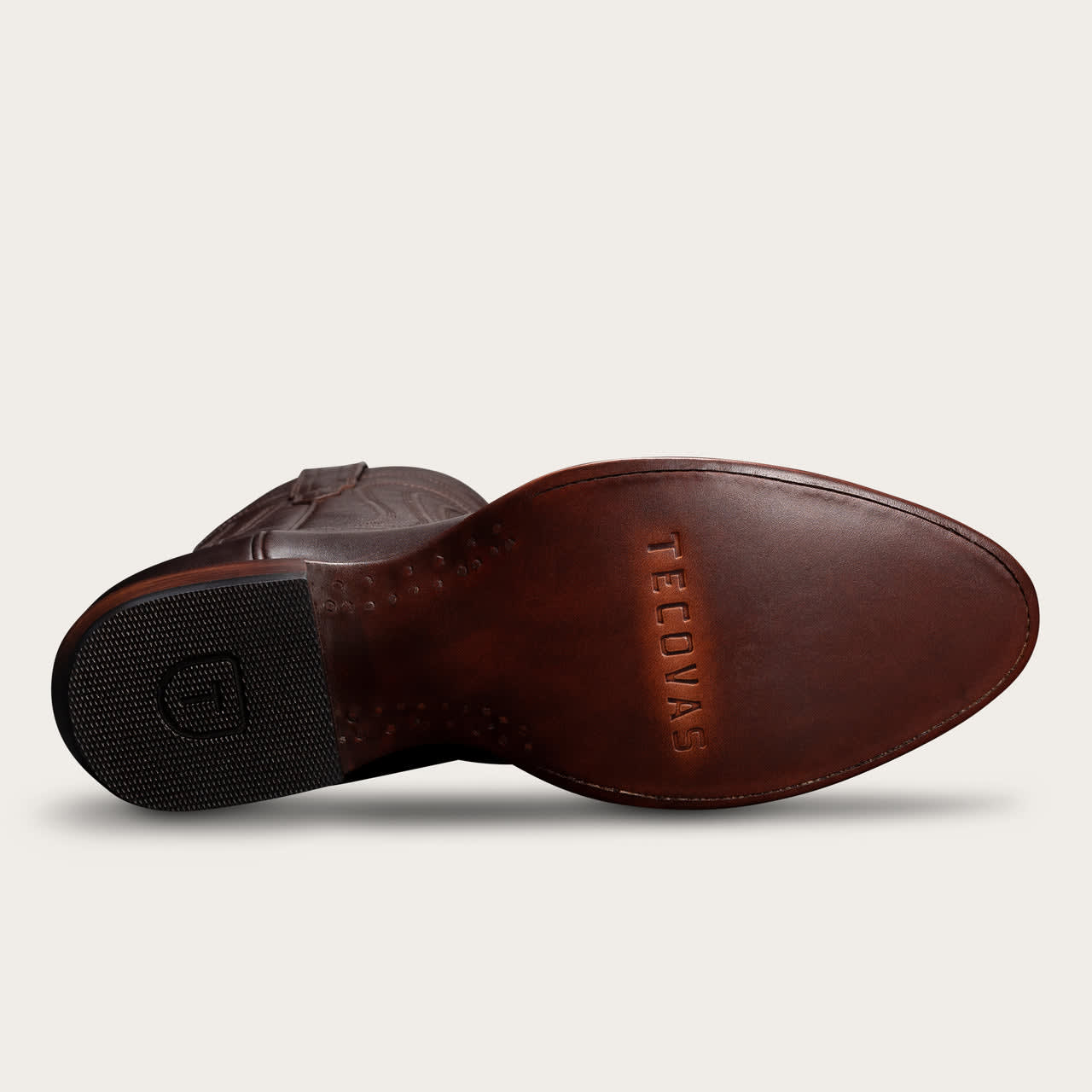 Like many other Tecovas boots, carefully crafted by skilled craftsmen, these boots have an extremely short break in time. You will feel them mold feet very well right out of the box
In addition to bovine, The Cartwright boots also come in a goat leather version with uneven colors and some natural wrinkles for a worn-in appeal when worn with jeans.
If you are eager for art in simplicity, you will find it in The Cartwright by Tecovas!
Women's boot: The Daisy from Tecovas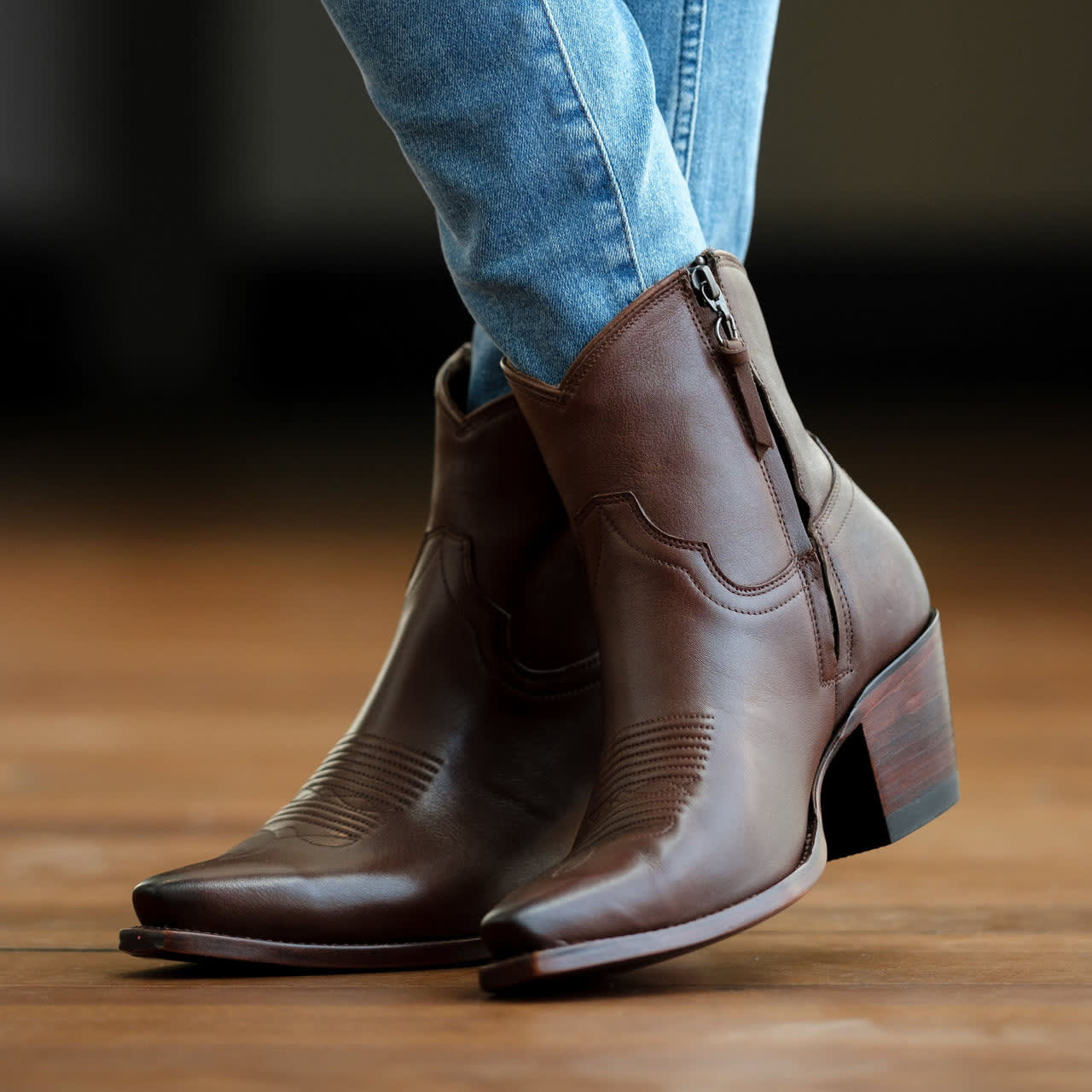 As one of Tecovas' most successful low-rise cowboy boots for women, The Daisy will conquer young girls at first sight with its feminine curves from heel to toe and soft suede look.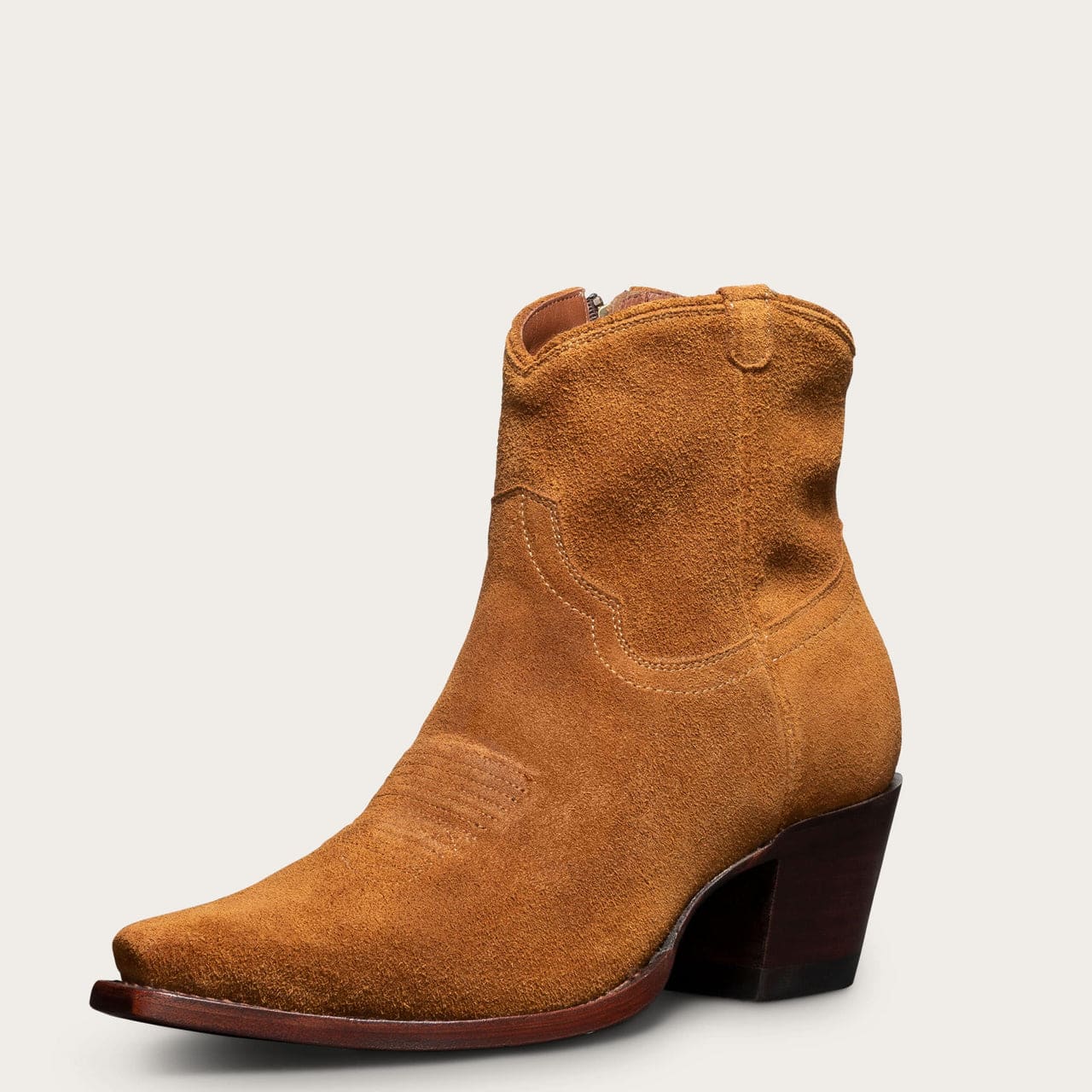 What I like most about these boots is the combination of the leather sole, the snip toe, and the slight curve at the tip. So sweet!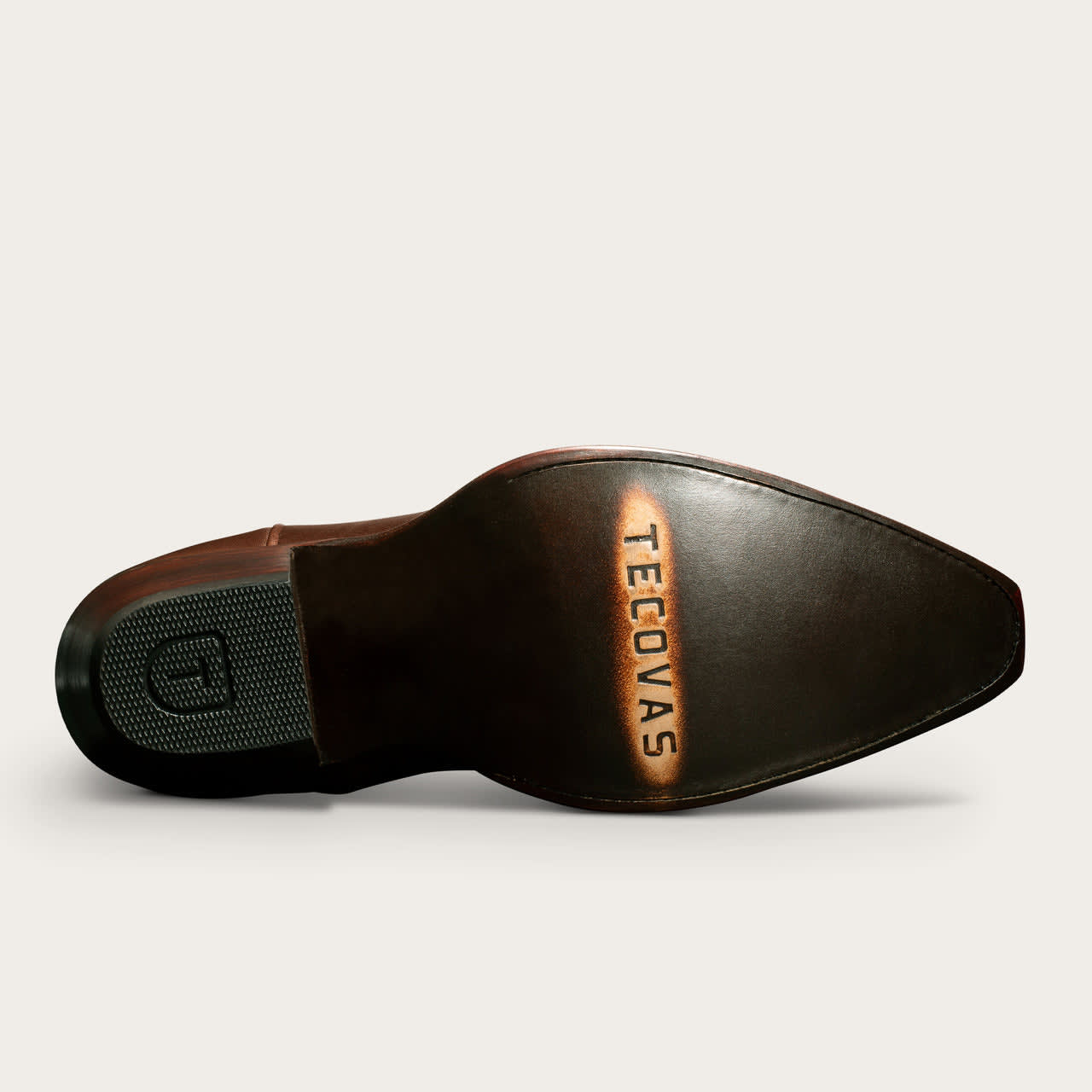 Besides, the 2 1/2 inch high heel gives the girl a good height, combined with the above details, your legs will look longer and more desirable, giving a charm mixed with confidence.
Another thing I like about it is that the zipper makes it easier to get on/off, but not only that, the soft leather fringe attached to the zipper is a subtlety of the manufacturer to make them look more lovely.
I like that, because many boots oftentimes are ruined by a zipper that looks too rough.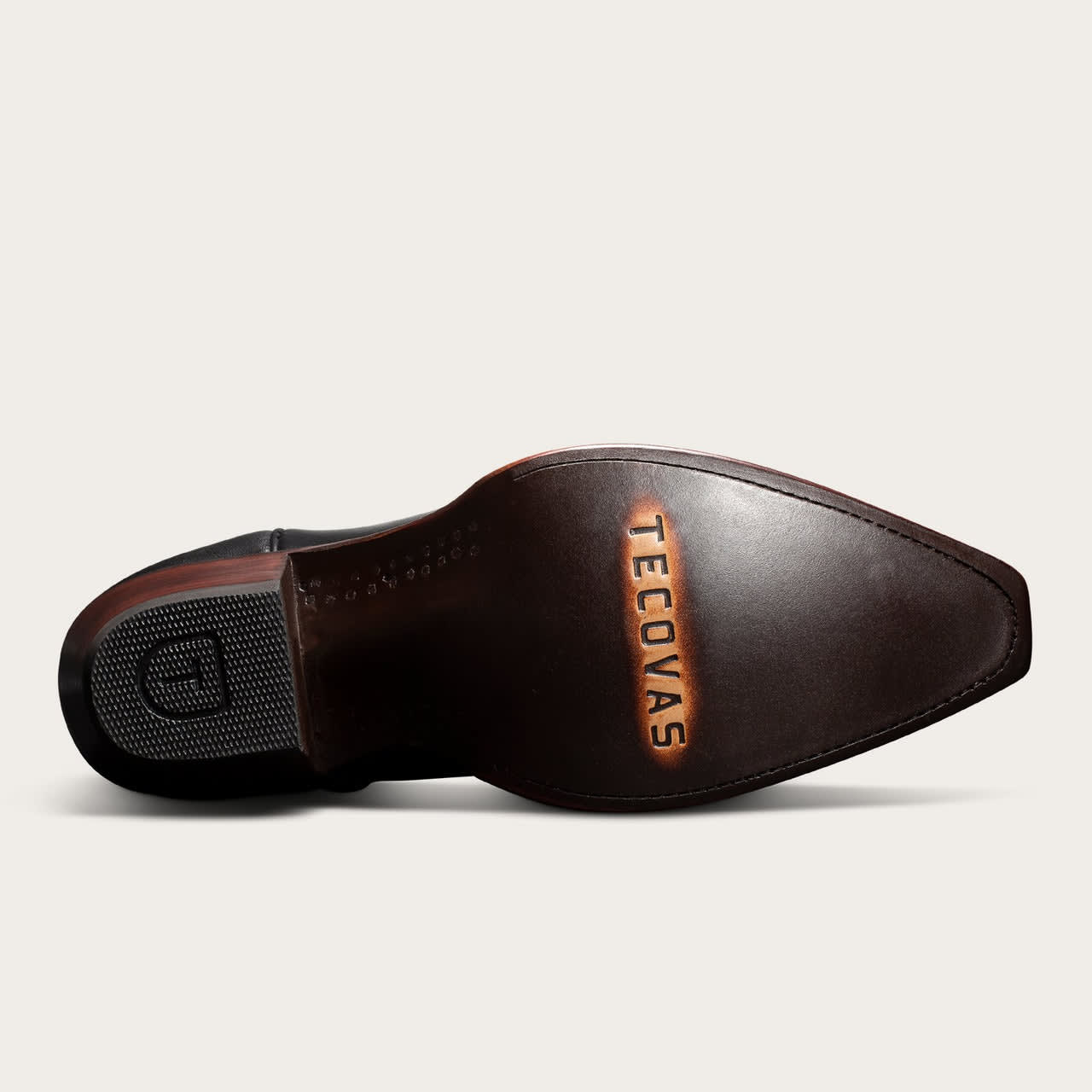 The Daisy comes in many varieties, but my favorite is the suede one due to its softness and comfort. From my personal experience, I don't see it needs breaking in.
Meanwhile, Daisy boots made from calfskin have a smoother appearance when well polished.
It can be said that you will easily choose a suitable Daisy pair based on your purposes, as it offers both distressed style and elegant style.
However, there are still some complaints that the zipper is not durable, which you may need to consider. But no need to worry, Tecovas has a very good customer care team and I believe their solution will make you satisfied!
3. Best Leather Sole Cowboy Boots for Suit, Dress
Not many people really think cowboy boots can go with a suit! That was quite true for a long time when these were two opposite styles.
One style only appeared on dusty farmhouses and another only showed up in flashy places.
But since the 21st century, things have changed! Today's cowboy boots not only embody the dusty and rough look, but they also stand out as the perfect pairing with elegant suits.
I'm not kidding, try looking at the big and famous brands with exotic boots like Tecovas. Their cowboy boots made from caiman or lizard can completely destroy dress shoes when paired with a suit.
Especially with leather sole cowboy boots, they don't have the roughness like rubber sole ones, but they have a subtle fragility that gives a sharp look when paired with dress pants or a suit.
Men's boot: The Dillon from Tecovas
If someone asked me what cowboy boots would I choose to wear with a suit? I immediately think of a pair of caiman boots with rich scalloped color, tapered tip, classic cowboy heel, and, of course, leather sole.
The height and tilt of the traditional cowboy heel help me look taller and more confident. Meanwhile, the tapered tip will offer a more elegant appearance.
When it comes to classy looks, I've always loved the caiman belly scales with rich and harmonious colors. To contribute to the sophistication of these boots, a thin and smooth leather sole comes into play.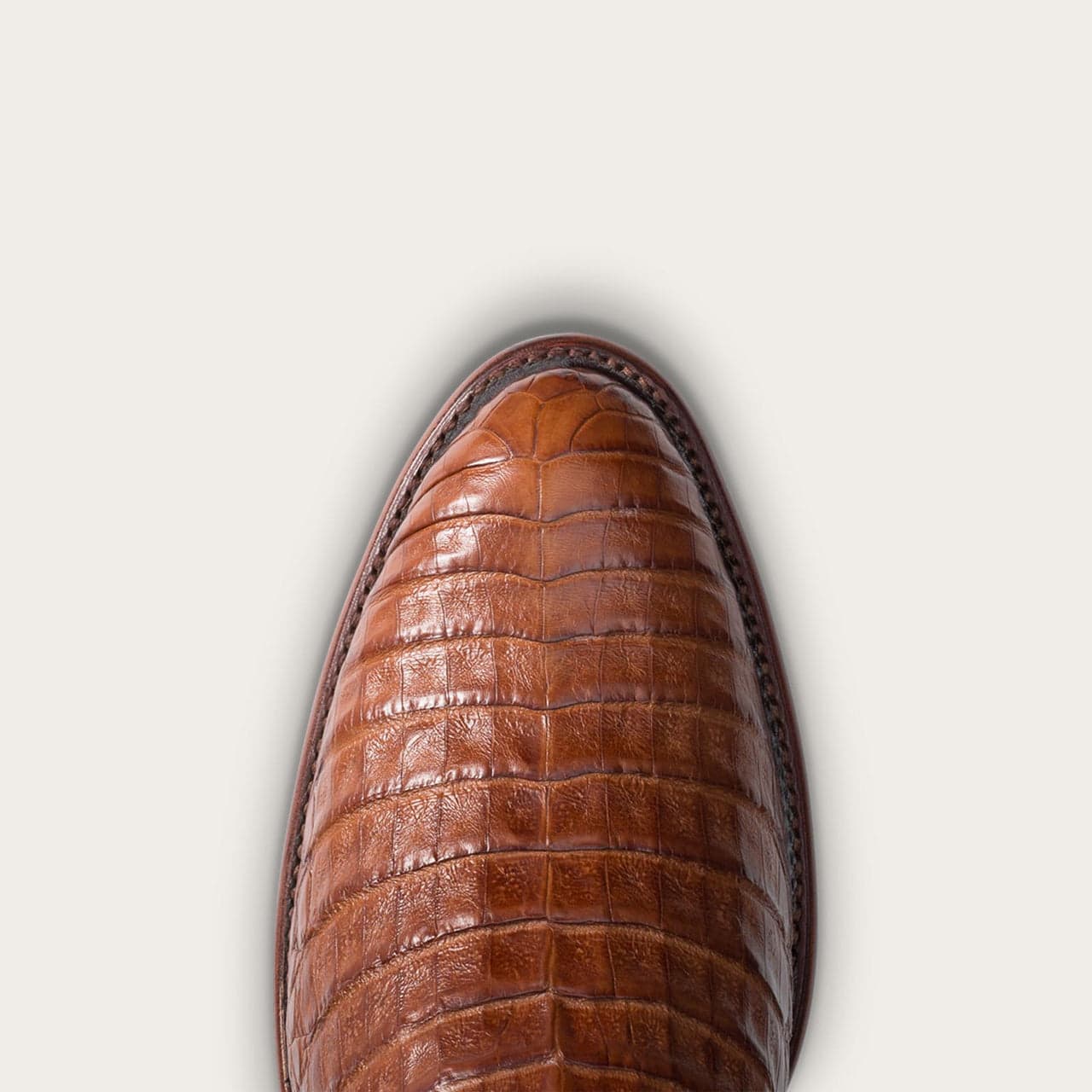 For that reason, I look to The Dillon boots from Tecovas!
Converging all the factors that I mentioned above, The Dillon of Tecovas still gets the typical rough appearance that only the caiman belly has but still brings elegance. It's incredible!
That can be explained by their well-polished colors thanks to the high skill of the craftsmen. Round and tapered toe shapes give a subtle look, not rough like square or broad square toe.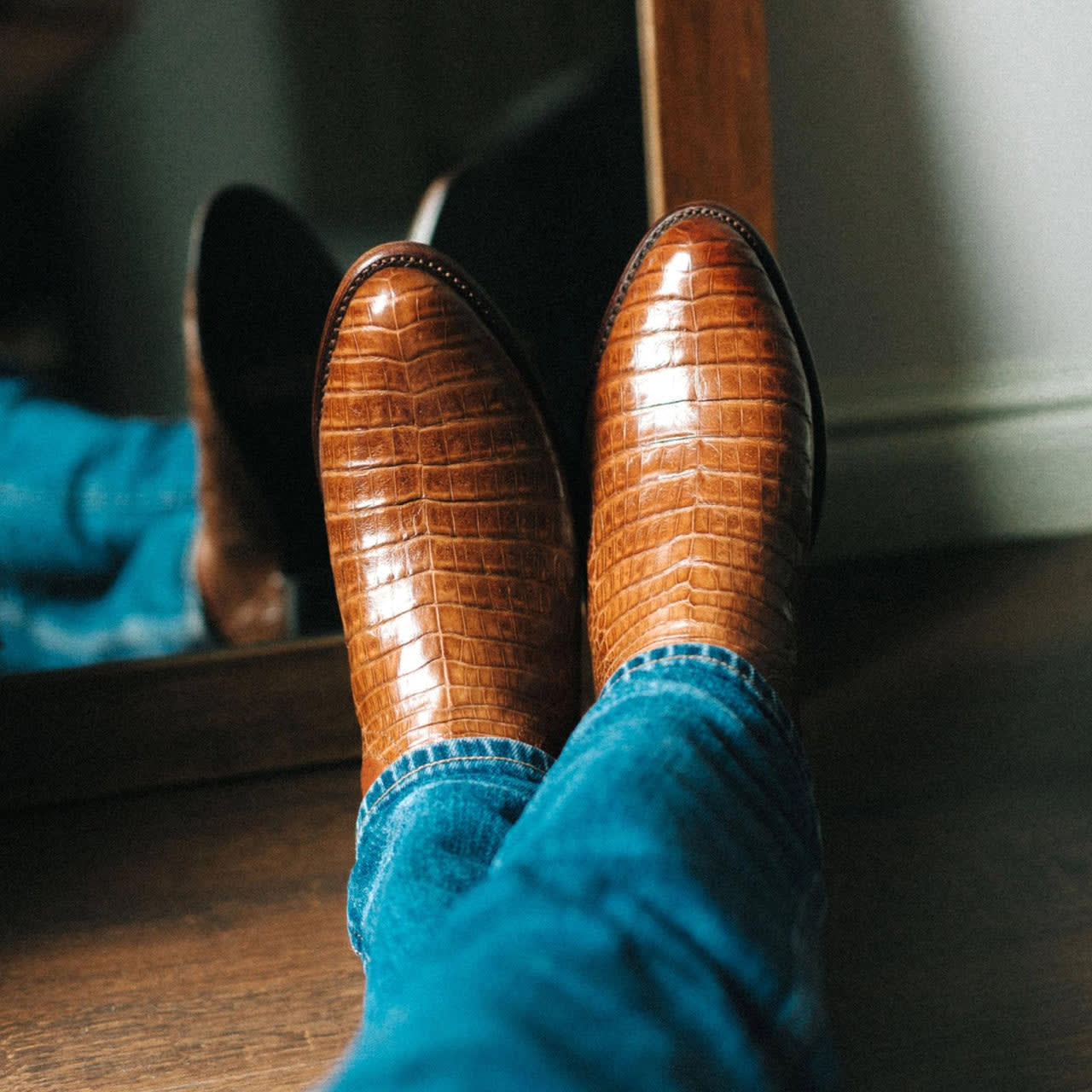 The hand-shaped stacked leather heel is always something different from other shoes or boots, they are distinctive and very beautiful.
Besides, the toe shape of The Dillon boots is slightly curved in Mexican style, and I love that look, it gives a bit of arrogance to the wearer. As a real man, you will need it!
In addition to the excellent finish, these boots also have a great internal structure that provides the perfect fit, so it won't take you long to break in.
Outstanding look and super comfortable, this is the number one choice for your suit!
Women's boot: The Annie from Tecovas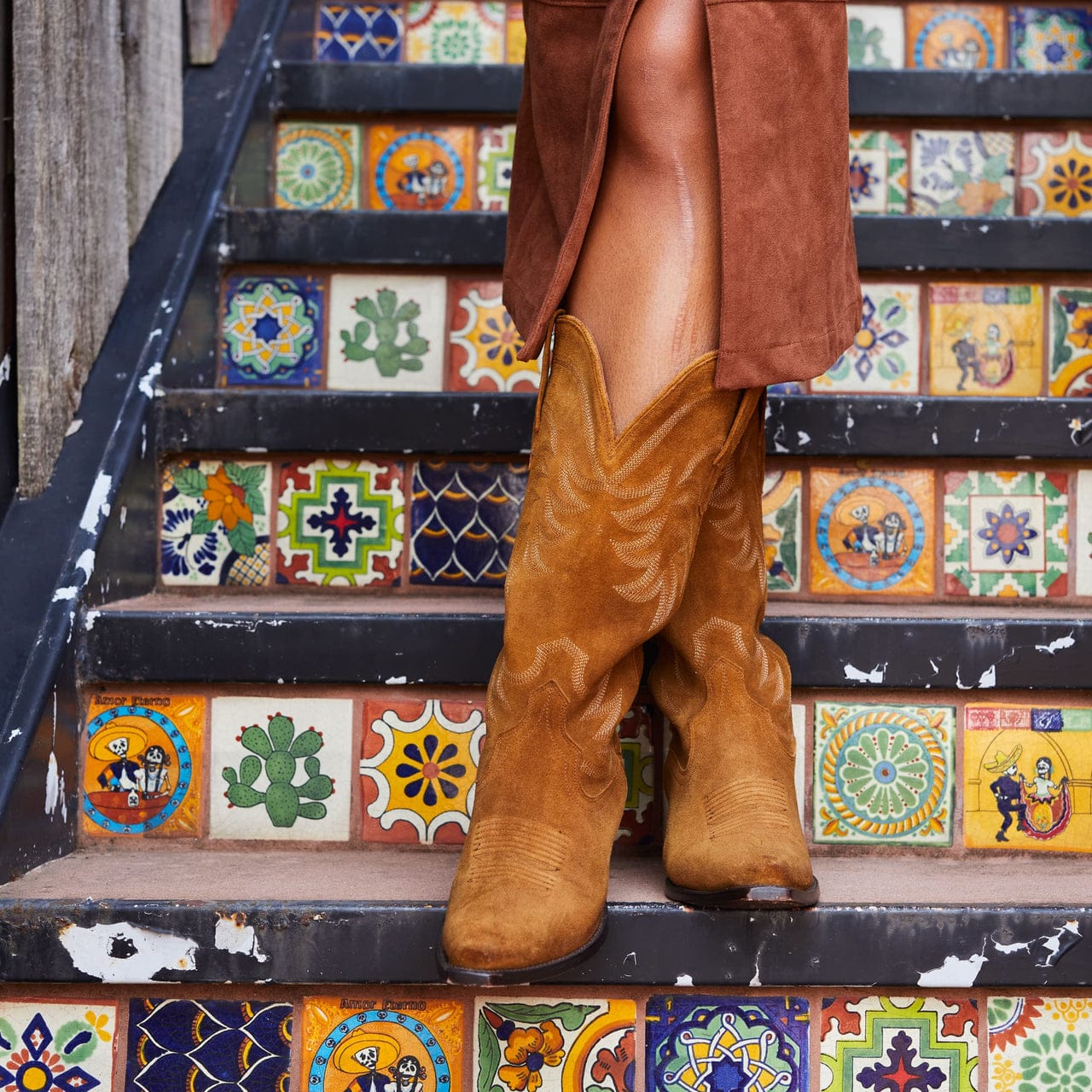 If cowboy boots for men can now be worn with a suit, then there's no reason why our girls today hesitate to wear them with dresses.
One of the most successful products of Tecovas, The Annie boots with a soft suede provide a feminine and gentle look for those who love country beauty.
The Annie is made up of a snip toe, 14-inch shaft, and 2-inch heel, your feet will look longer and slimmer. This is one of the characteristics that make The Annie win the hearts of many girls.
A deep scallop creates a stylish and impressive look but at the same time provides a little space to bring comfort on hot summer days.
Besides suede, Tecovas also offers many versions of The Annie made from smooth leather with different colors so that girls can combine with not only dresses but also jeans, skirts, etc.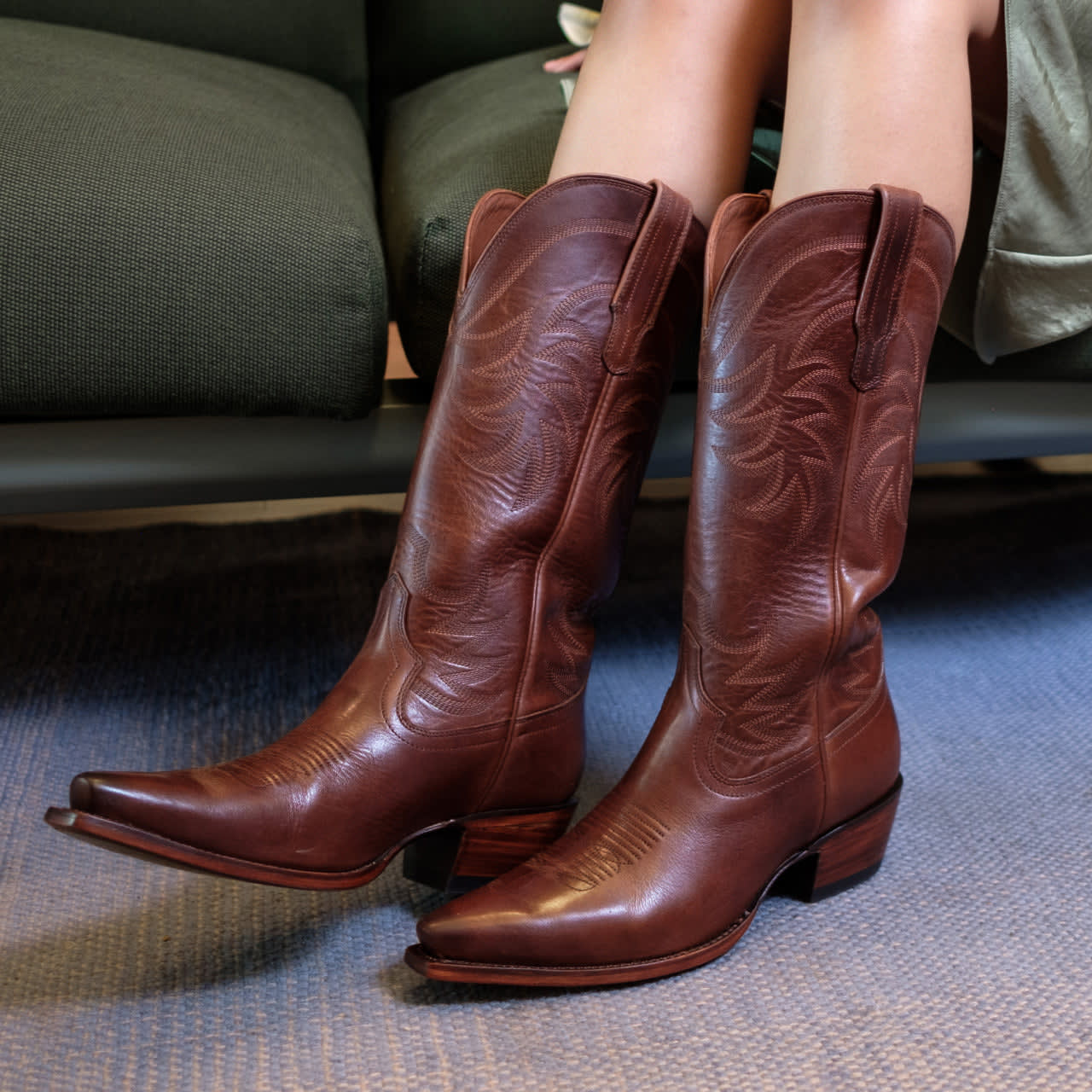 The toe bug stitching and the pattern on the shaft are not new, but this classic represents the famous Tecovas brand, and I always envy when others wear Tecovas boots while I'm using slippers.
For those who don't know, the stitching motifs are the signatures of the manufacturers on each pair of boots and are only available on their boots. So longtime cowboy boots lovers can recognize Tecovas boots at a glance.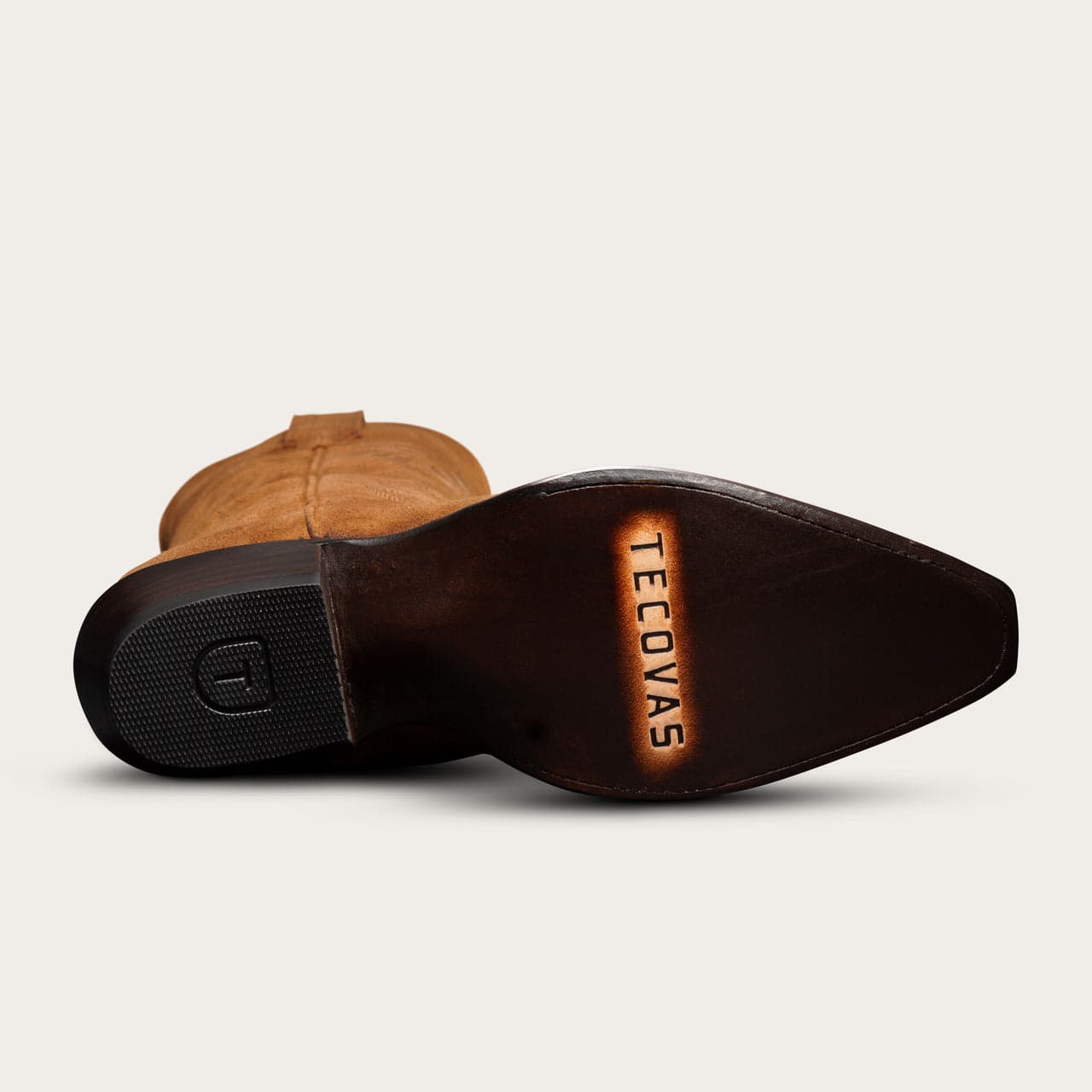 Not only do they make you feel good about the body, but these boots also have a good fit. Don't worry too much if you have big calves as these boots are quite wide in leather around the calf.
Besides, due to the softness and comfort, there is almost no need to break in period, you will feel comfortable from the first time you wear it.
So don't hesitate anymore, gals! My wife loves to wear them with boho dresses, how about you?
4. Best Leather Sole Cowboy Boots for Dancing
Because dancing is inseparable from the smooth leather soles, this is definitely a must-have category.
As I said above, you won't be able to do spinning and kicking for line dancing when the soles of the boots are too sticky, you'll need the slippery bottom.
Besides, cowboy boots also need to hold up well, it's necessary that they fit snugly in the instep. Also, make sure you hear the pop in the heel when putting on the boots.
Men's boot: The Nolan from Tecovas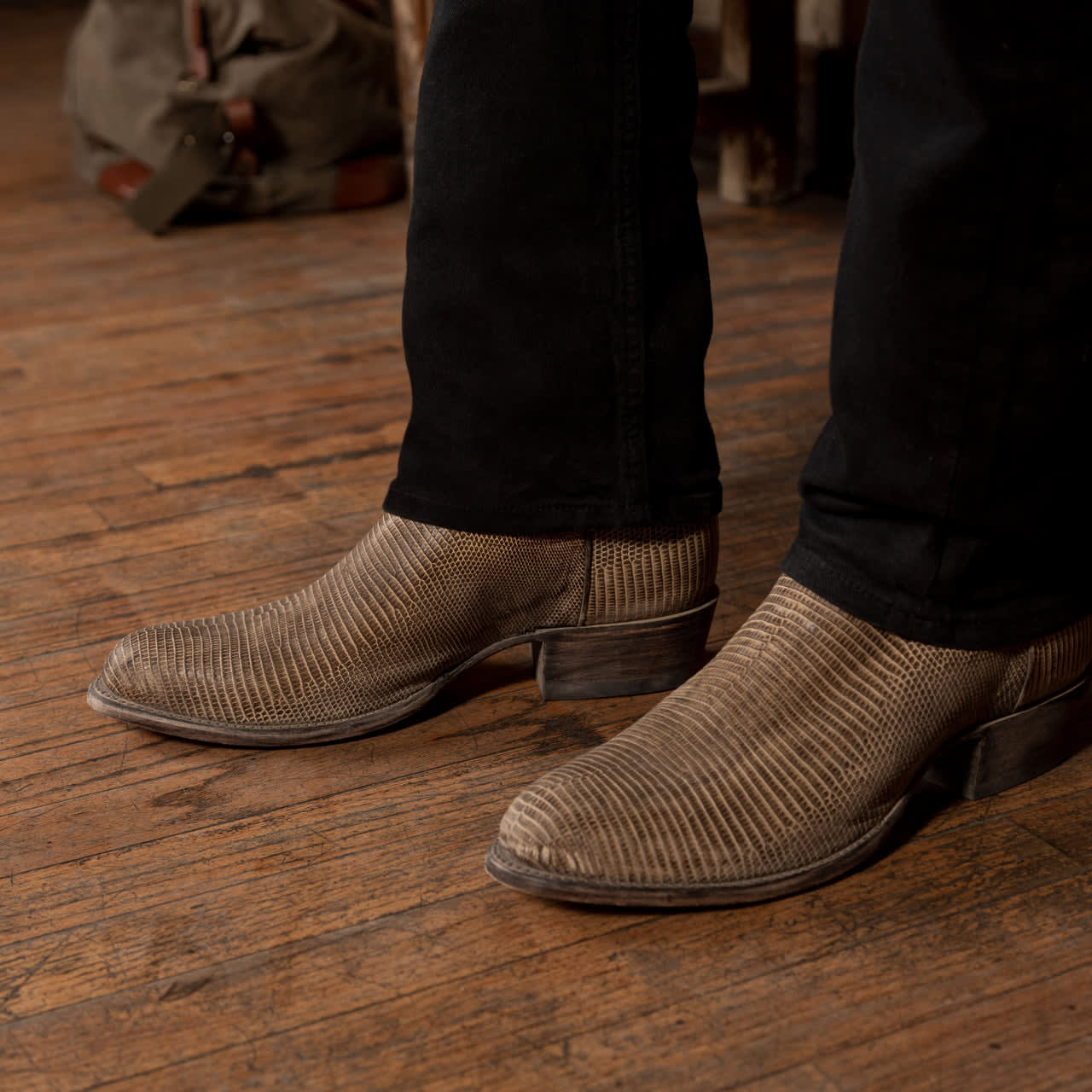 When we talk about dancing in cowboy boots, we mean something classic, and when it comes to classics, I choose traditional-style cowboy boots.
And here we have The Nolan, it's even more than that!
Made from lizard leather, The Nolan provides great softness and comfort for dance moves, which is important because you don't want your feet and the ball to feel the ache after an intense night.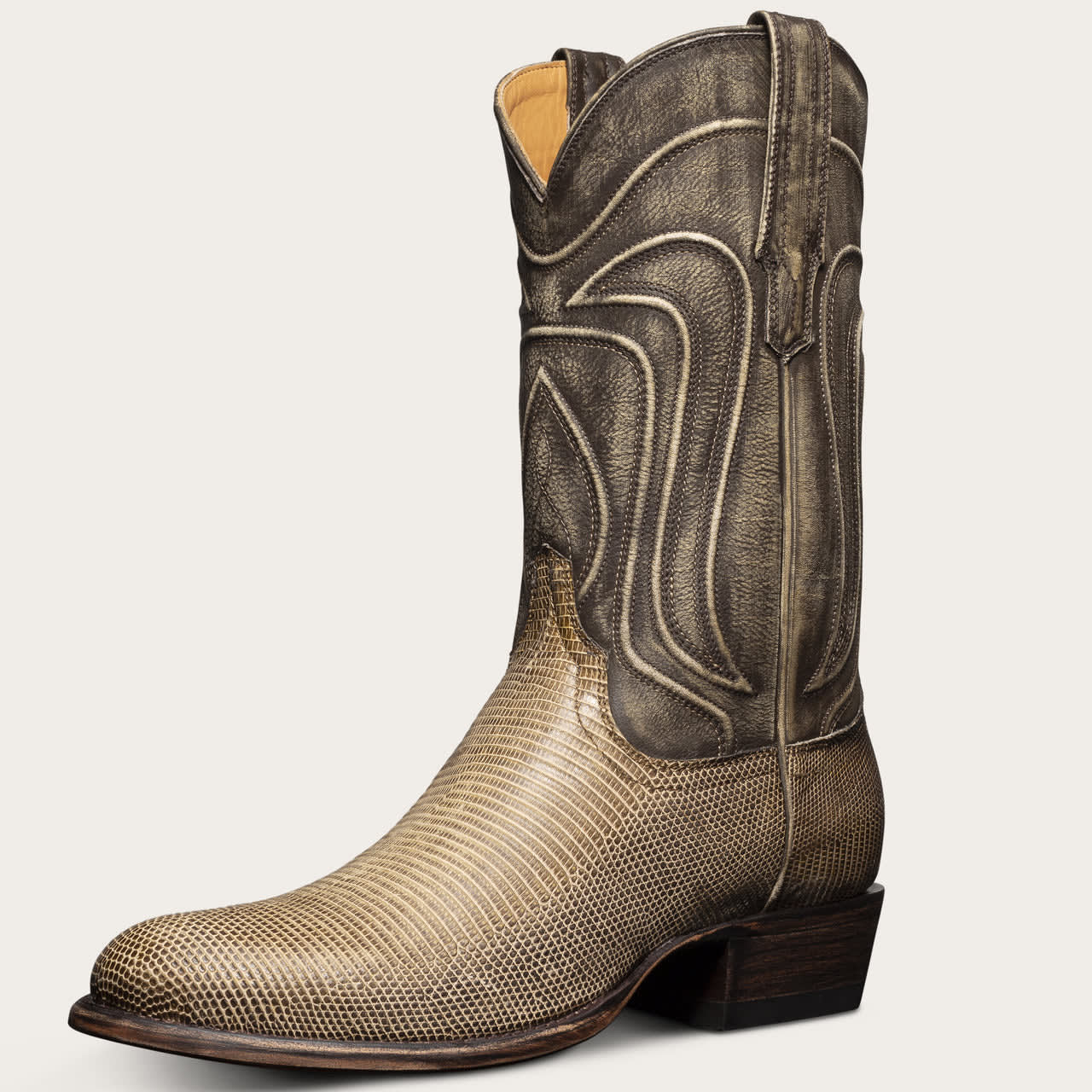 Besides, the round toe shape gives enough room for your toes not to be constrained, but the round toe is not too wide but tapered to the tip, so it still brings a beautiful and elegant feel.
The heel is only 1 1/2 inches high, an adequate height for a beautiful and confident appearance without affecting your steps. This is the standard height to provide a good balance for your performance.
What I like the most is the click-cluck sound every time we do a dance, and this sound only really rhythms and happens at the right time when we dance with cowboy boots with leather soles.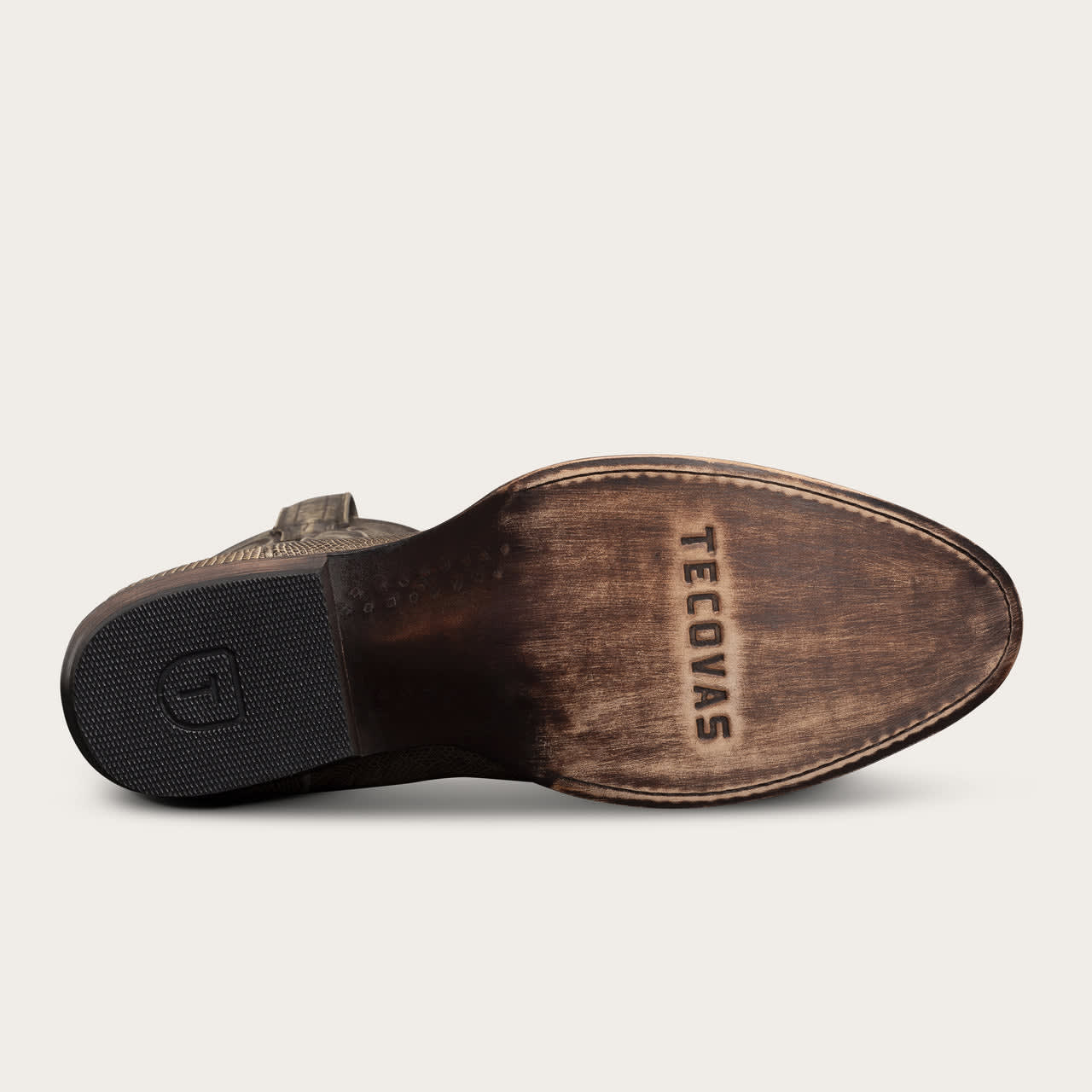 In addition to the good look and comfort coming from the construction of the materials, these boots fit very well thanks to the high skill of the Tecovas craftsmen. As long as you choose the right size, they will hold up well and you will be flexible for each kick.
Besides their functionality, this can also be a great choice for casual wear as these boots have a very nice toe and sole shape with soft curves but still provide masculinity. I like to wear it with jeans for everyday use, not just for dancing nights.
Women's boot: The Jessie from Tecovas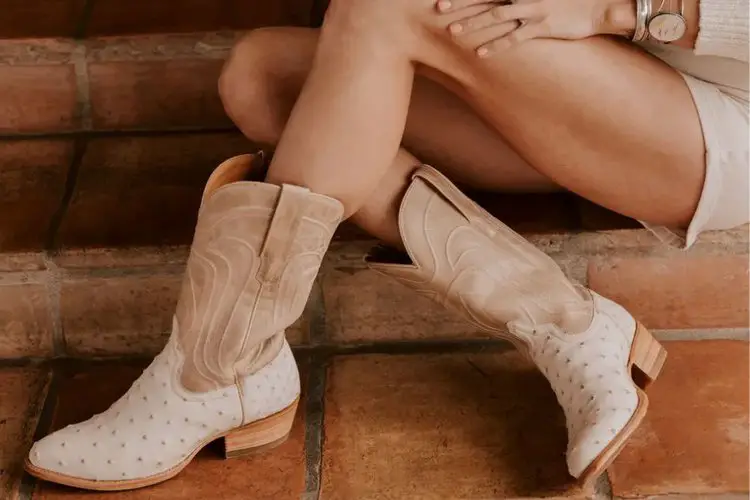 When it comes to cowboy boots, people often think of a pair of work boots with a rough appearance. But when looking for cowboy boots for dancing, a pair of soft boots that are a great selection.
And when you think of soft cowboy boots, look for a pair made from ostrich leather. And I found The Jessie by Tecovas.
The Jessie has a vamp made from full-quill ostrich leather, which many consider one of the softest and most durable materials in the cowboy boots world. To withstand the high pressure from dancing steps but still ensure comfort, ostrich boots should be on your top list.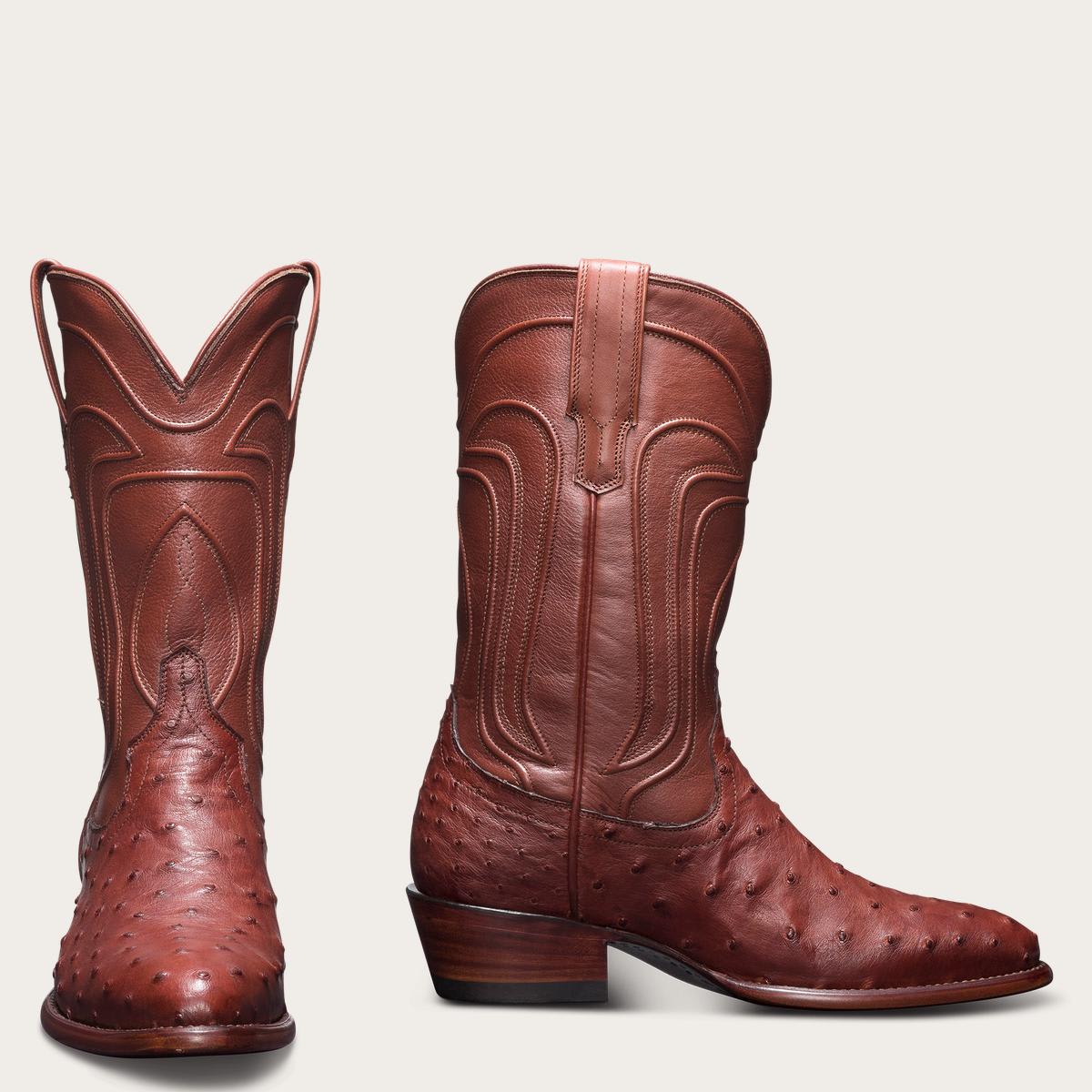 I must say that I love the hand-corded details on the shafts of the Tecovas boots, they are simple but sharp and full of charm. You will definitely shine on the dance floor with them.
The most important thing you're looking for here is the leather sole. Like other Tecovas boots, The Jessie has a smooth leather bottom with seductive Tecovas lettering. They are good enough that you can perform spinning easily.
I love the curve of these boots when viewing from above, going from heel to round toe, the curves look sexy and gentle.
These boots work well with any outfit in your wardrobe. Jeans, dresses, skirts, etc. All will be smart choices for a blast night!
5. Best Leather Sole Cowboy Boots for Summer
Leather soles have great features that you will never find in rubber ones, which are breathability and excellent sweat absorption. That's why I came up with this category, leather sole cowboy boots for summer.
As noted above, I like to use leather sole cowboy boots with the presence of lemonwood pegs.
The reason is that when the temperature is high and your feet sweat a lot, cowboy boots tend to stretch, the uniform expansion of leather and lemonwood pegs will ensure cowboy boots stay in their best shape as well as maintain their durability.
It's not easy to find leather sole cowboy boots these days, and it's even harder to find a pair that includes lemonwood pegs.
In my experience, you will most easily find them in handcrafted cowboy boot brands like Tecovas or Lucchese.
Besides that, I also recommend you look for boots with leather lining and leather insoles, you will feel cooler than if those parts are made of mesh and fabric.
Men's boot: The Wyatt from Tecovas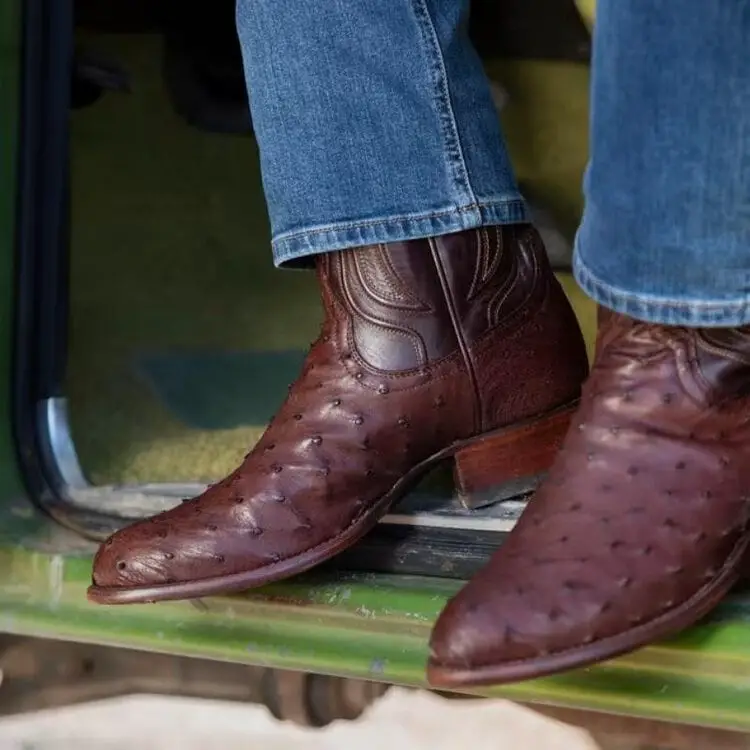 As one of the successful and proud products of Tecovas, I believe The Wyatt will give you a great experience on hot summer days.
The reason I chose ostrich boots is that they are very breathable, and when combined with a leather sole, you can put your worries about the heat away.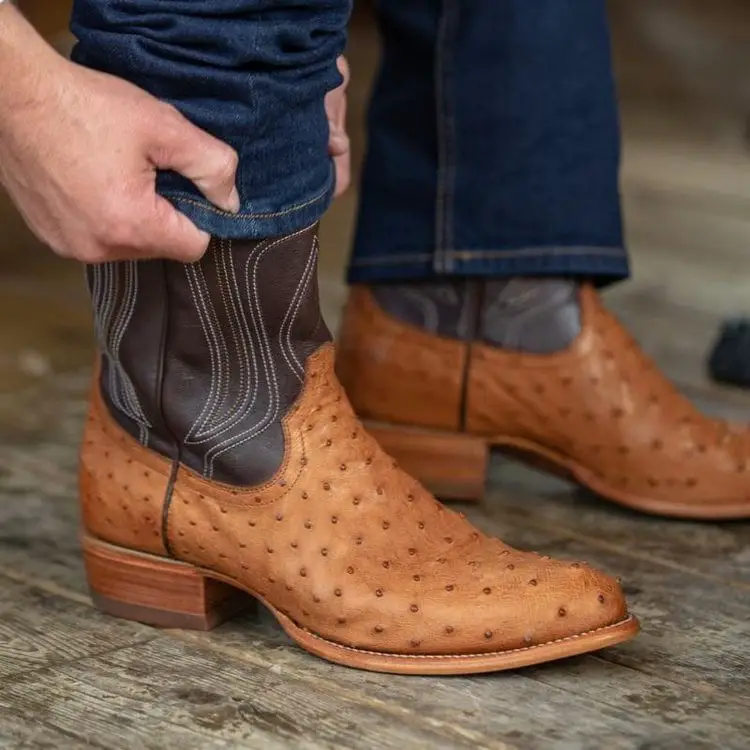 Besides, ostrich boots contain a lot of natural oils, which ensures they do not dry out and crack when the temperature is high. Because of that, ostrich boots are very durable compared to other types of boots.
A little information that you should know is that ostrich boots are one of the softest and most versatile leather in the world of cowboy boots.
With such information, you must be in love with The Wyatt now!
In addition to the amazing quality that The Wyatt ostrich boots possess, it also has a bold look with impressive color. In fact, color is one of my favorite things about Tecovas boots, they're not boring at all!
Like many other Tecovas boots and I believe this is also a strong point of this brand, The Wyatt brings in a classic cowboy shape that will give you confidence and a bit of arrogance.
Signature Tecovas hand-corded shafts will make you fall in love every time you look at them.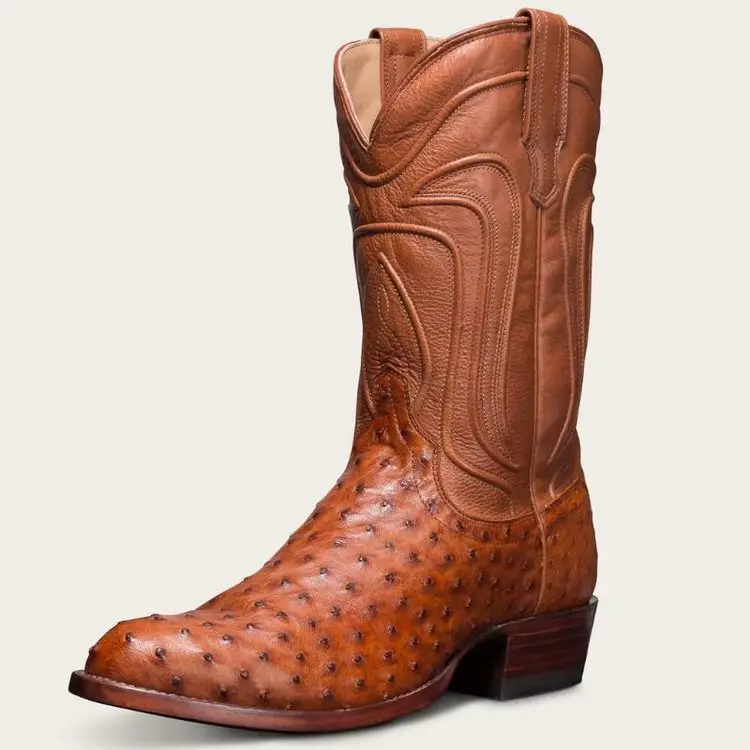 I know that here most people will tuck them in their pants. But every time you take them off and put them on the shoe cabinet, a sense of satisfaction will come to your mind when the boots carry a unique pattern only found in Tecovas.
The original and unique full-quill ostrich leather vamp along with its bumpy foot will never let you down.
All the features present on these boots are extraordinary, and when you own these boots, you will own that interesting uniqueness!
Women's boot: The Lucy from Tecovas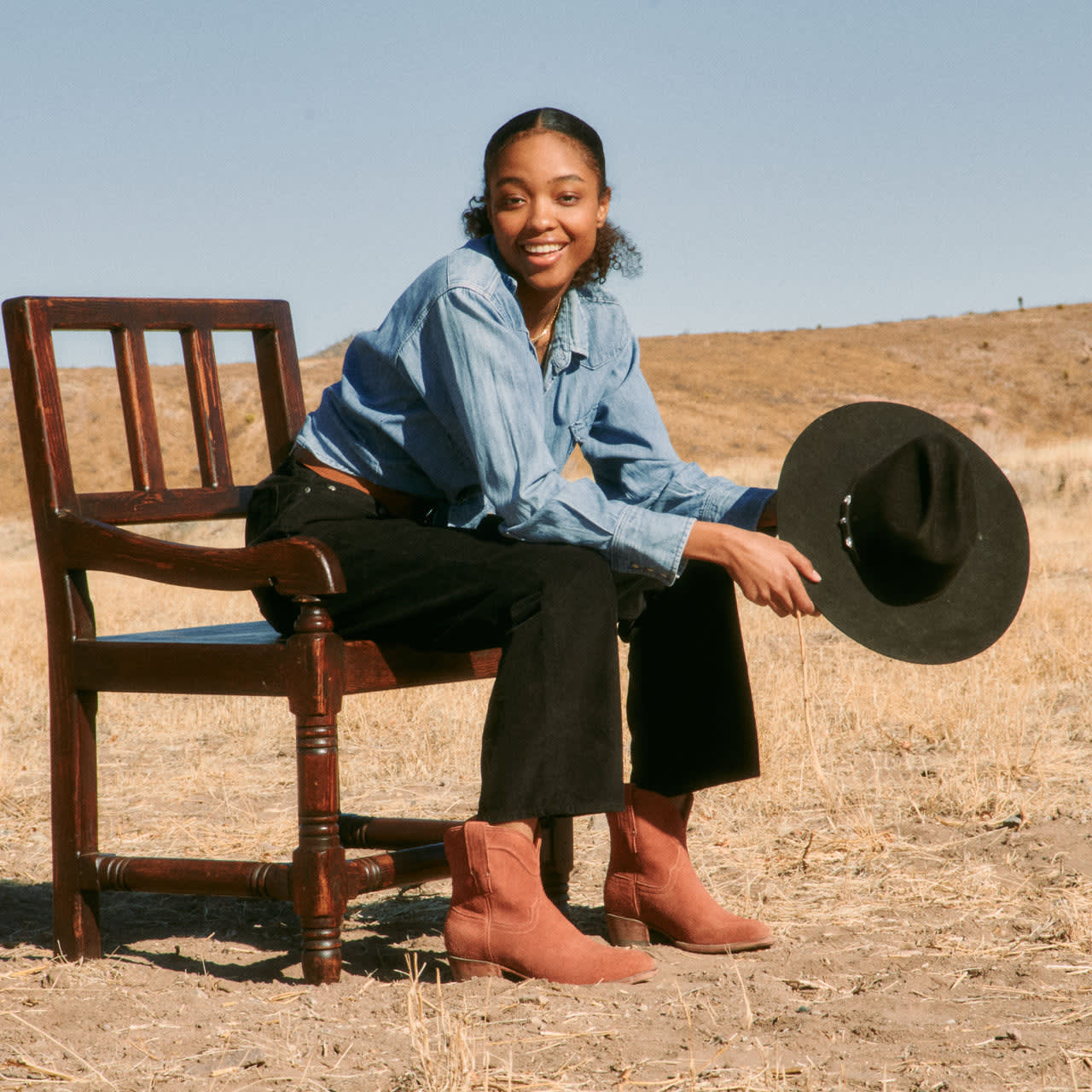 If we're looking for a savior for hot summer days, suede boots are all you need. As suede is thinner and cooler.
As far as I've noticed, cowboy boots for women are not as diverse as men's, at least in terms of the material.
So when looking for cowboy boots for women, suede leather will be a preferred choice.
The Lucy suede boots are that choice. Besides the suede material, its low construction also ensures your feet have more room to breathe during summer days.
The Lucy boots from Tecovas offer many color choices, and as I said, their colors never get boring.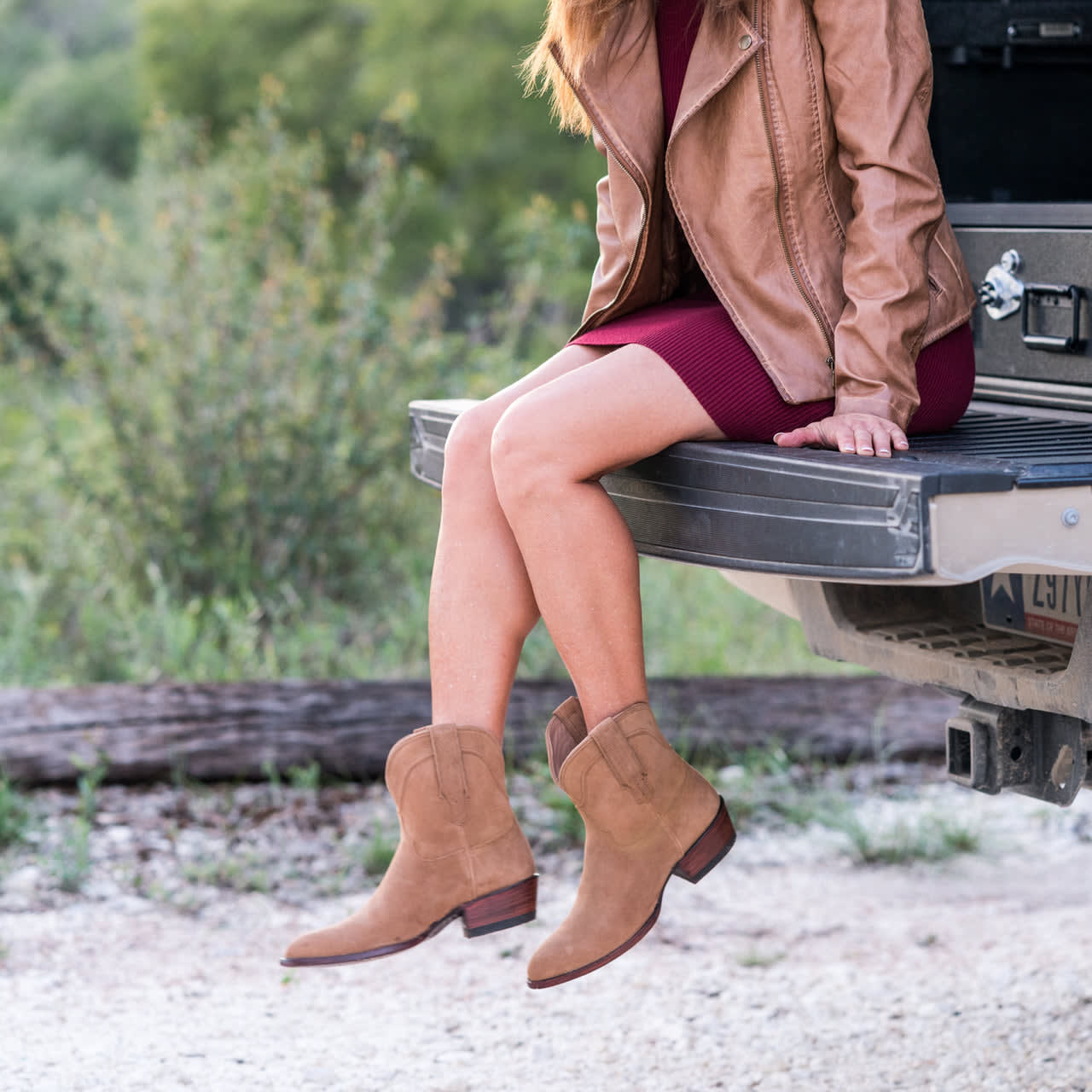 With suede leather's good scratch resistance and diverse color choices, you can use Lucy boots for different purposes. Business, farm and ranch, walking, casual wear, etc. All can be done with The Lucy boots. I'm so in love with their diversity and versatility.
The combination of low construction, airy material with leather soles is a great solution for sweaty feet.
The cute looks of this boot cannot mask its other impressive feature: comfort. You don't spend too much time breaking in it.
The butter-soft bovine lining will also be a great complement to cool down the summer heat. In my opinion, the leather lining is always cooler and more comfortable than the mesh one.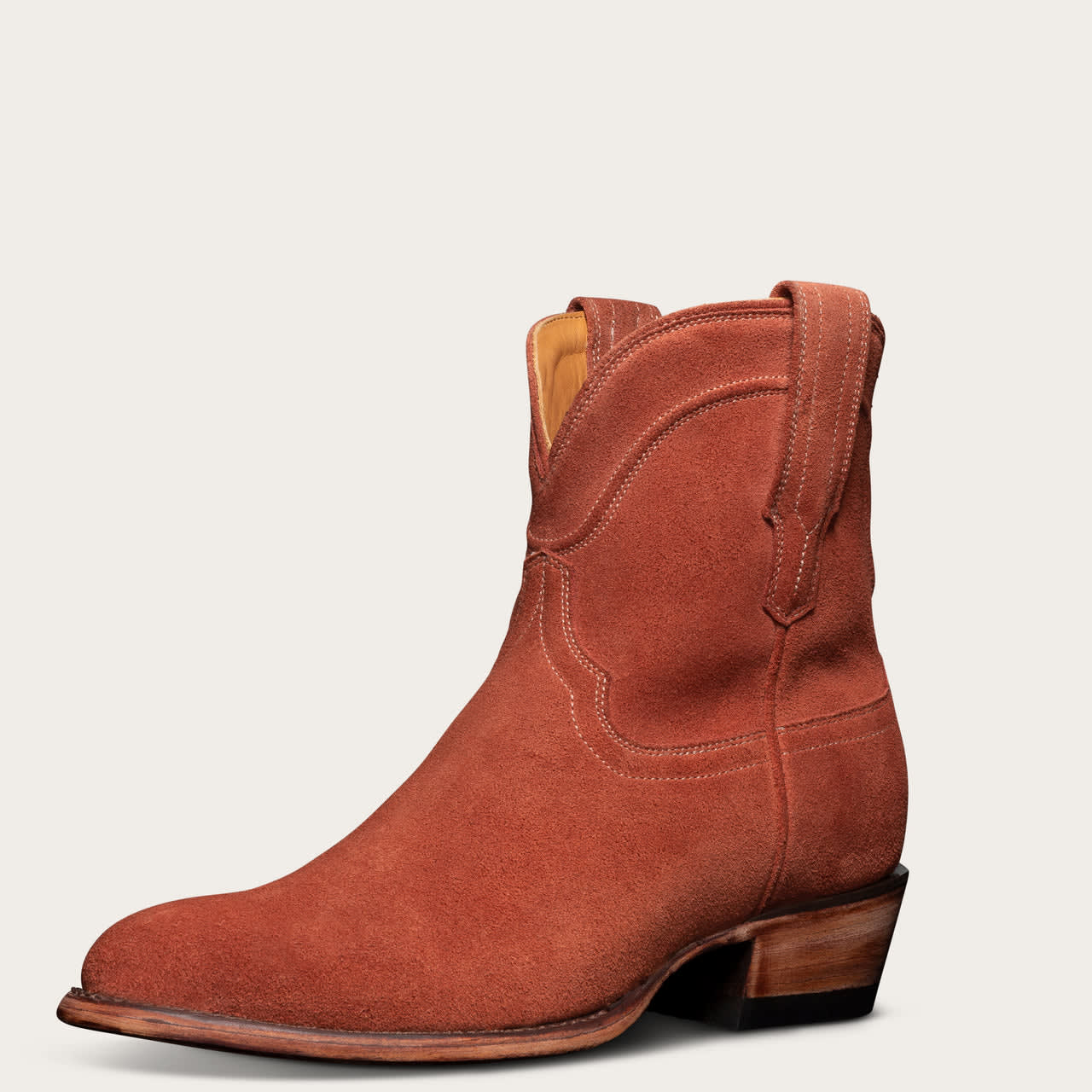 A 1 3/4 inch heel will make you taller, and the round toe tapered to the tip is sure to give you a slimmer look. These traits put together will bring you complete confidence.
The Jessie is what girls love and a must-have in the summer!
Before you leave
I'm not sure if anyone will read this, but if you're reading this, thanks for being patient until the end.
Did this article give you enough information? If you have any other great experiences with leather sole cowboy boots, let me know in the comments.
Leather sole cowboy boots with a ton of benefits (that not everyone knows) will certainly always be a good choice, not only in the 18th, and 19th centuries but also in the 20th, 21st, 22nd centuries, and beyond!
I firmly believe so.
Howdy y'all, and welcome to From The Guest Room, your ultimate guide to all things western! I'm Jay Gatz, a lifelong cowboy boot enthusiast with over 15 years of experience in the western style world. I'm excited to share my knowledge with you and help you discover the perfect cowboy boots and western gear to elevate your style. Let's explore the rich history and timeless appeal of western fashion together!