While not all jeans should be worn with cowboy boots, one thing is for sure, any type of cowboy boots is a great pairing with jeans.
In fact, finding a pair of cowboy boots to go with jeans is not at all difficult, because this is always the perfect combination! Keep in mind to choose the right style for this duo to suit a specific situation.
Today, cowboy boots appear with many unique looks, not just the rough and rugged appearance that you often see on the ranch. Specifically, exotic boots made from wonderful materials have gradually become popular such as caiman, lizard, or ostrich.
In addition, cowboy boots also have many different types, but most people prefer to use ones with traditional and roper style. Traditional cowboy boots often give a confident look while roper-style boots bring an elegant vibe. I will tell you more in the article.
In general, you will not face many obstacles when wearing cowboy boots with jeans, especially for women. For men, there may be some rules to keep in mind.
Either way, I'll tell you all in the post.
And now let's go!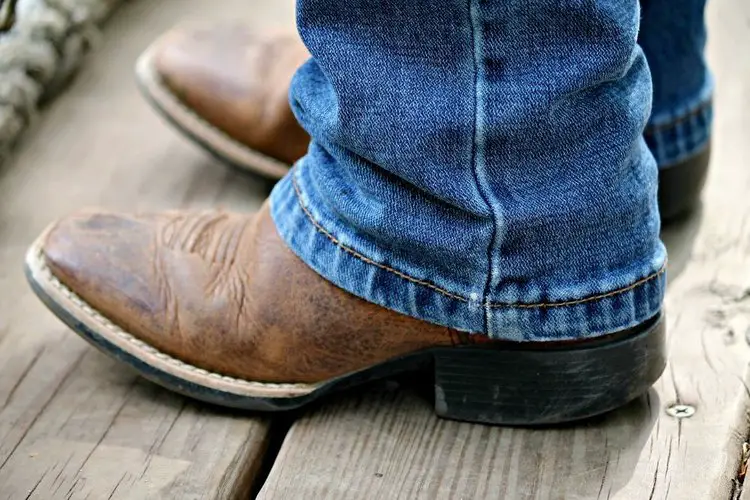 The Best Cowboy Boots for Jeans
While it's not really that difficult to wear cowboy boots with jeans, there are a few things you need to keep in mind.
First, you should pay attention to your intended use. For example, if you need cowboy boots for work, then you should choose ones with a high level of comfort and stability.
Cowboy boots for work or casual wear should have a wide toe shape (round toe or square toe) to allow enough room for the toes to wiggle. Besides, low heels are great for bringing good balance to each step, you can see more here!
Cowboy boots used for fashion purposes can have some differences between men's and women's fashion styles.
Nowadays, men prefer cowboy boots with round toes (most common) and square toes. The round toe offers a classic and sharp look, while the square toe is fresh and masculine.
The materials that make up men's cowboy boots are also very diverse. You can wear caiman boots (gentle) for business casual, goat boots (breathable) for summer work, or ostrich boots (soft) for casual wear.
Whereas women prefer pointed toe, snip toe, or round toe because these toe types make their feet look slim, long, and refined.
While true beauty is different in everyone's eyes, it is always a good feeling when you bring the right style to the right place.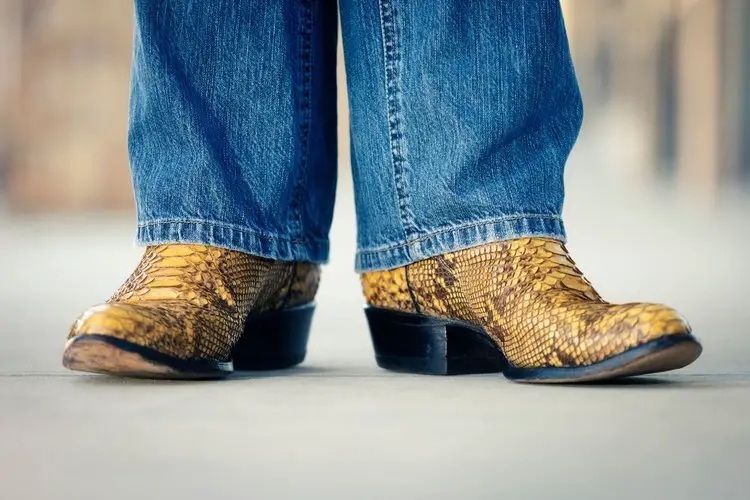 Men's cowboy boots for jeans
Cowboy boots and jeans are definitely all the perfect things that any man must have in his wardrobe. But like I said, there are some rules you need to know, like men don't wear cowboy boots with skinny jeans and shorts.
The first is about skinny jeans, they really do not suit cowboy boots whether you intend to cover them over the boots or tuck them inside the boots.
If you intend to tuck boots into skinny jeans, forget it, it will be a disaster as the patterns on the shaft along with the V on the collar of the boots will print on the surface of the jeans. No one wants to have such a style.
What about stuffing jeans inside cowboy boots? That sounds reasonable! But it's still not a good style either.
The shaft of cowboy boots peeking out from behind jeans is great, but having them come out completely (jeans are tucked in boots) is too showy and out of place with the inherently classic look.
It's the same when you wear short jeans with cowboy boots, no one does. That style is weird! Short jeans don't have a classic and wild style to go with cowboy boots. This combination will bring nothing but eyebrows-raising from others.
In fact, cowboys used to wear skinny jeans and tuck them into cowboy boots to protect them from the risks of riding. Today they don't do that anymore, either on horseback or for a night out.
Nowadays, men prefer bootcut jeans, cowboy cut jeans, or straight leg jeans to go with cowboy boots. By tucking a cowboy boot shaft into jeans, you will be a real gentleman.
By the way, we've got a very thorough article to guide you on how to choose jeans that suit your cowboy boots and your figure, you might need it!
1. The Cartwright boots from Tecovas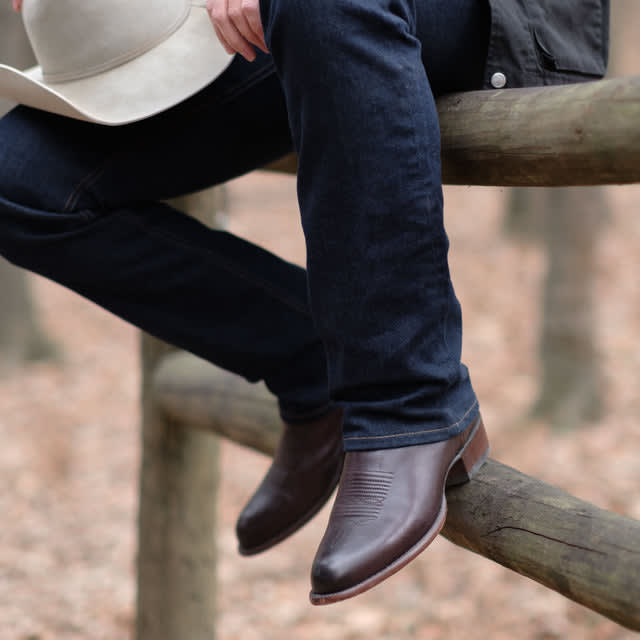 The Cartwright will be the first and standard cowboy boot that you can wear with any pair of jeans.
First, let's explore to see why it suits jeans.
It has a pretty and sharp toe shape. And you know, toe shape is a key factor in deciding whether boots match jeans or not.
The Cartwright has a round toe shape that is not too wide but tapered to the tip. So it gets an elegant and edgy look while still ensuring enough room for your toes to be comfortable.
Featuring the classic style of traditional cowboy boots, The Cartwright boots give you a tall and confident image thanks to their 1 1/2 inch heel. 1 1/2 inches is my favorite heel height as this height gives you not only a good look but also stability.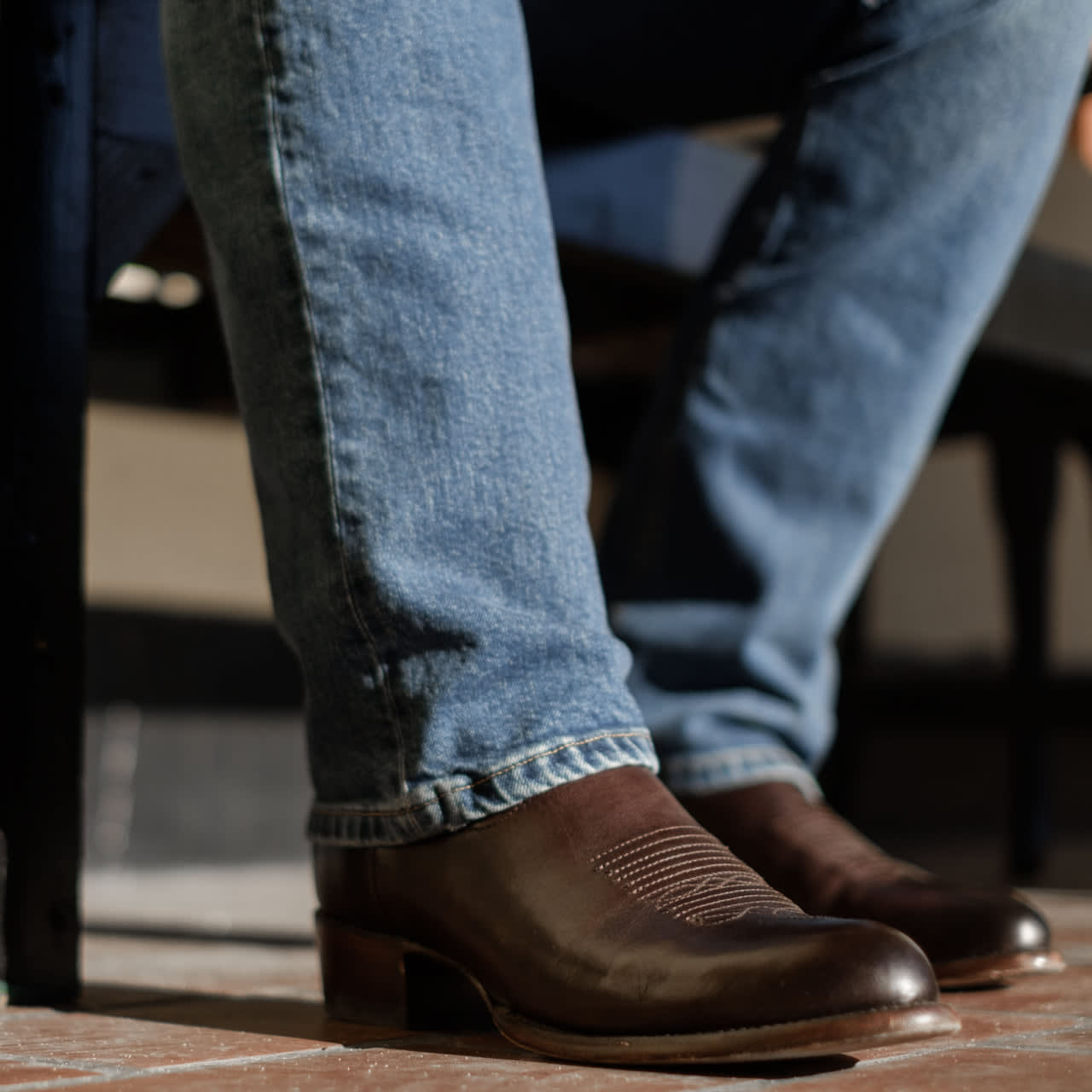 Another reason why I say this is a standard cowboy boot is that everyone can own it thanks to the affordable price tag.
This is partly because these boots are made from bovine leather, a very common material for producing cowboy boots. They're durable, beautiful, comfortable, and easy to find (the main reason for their affordable price).
Besides the bovine version, The Cartwright goat leather boots are also a wise choice to go with jeans.
Goat leather is very breathable because they have larger pores than other leathers. That's why goat boots are my favorite summer boots.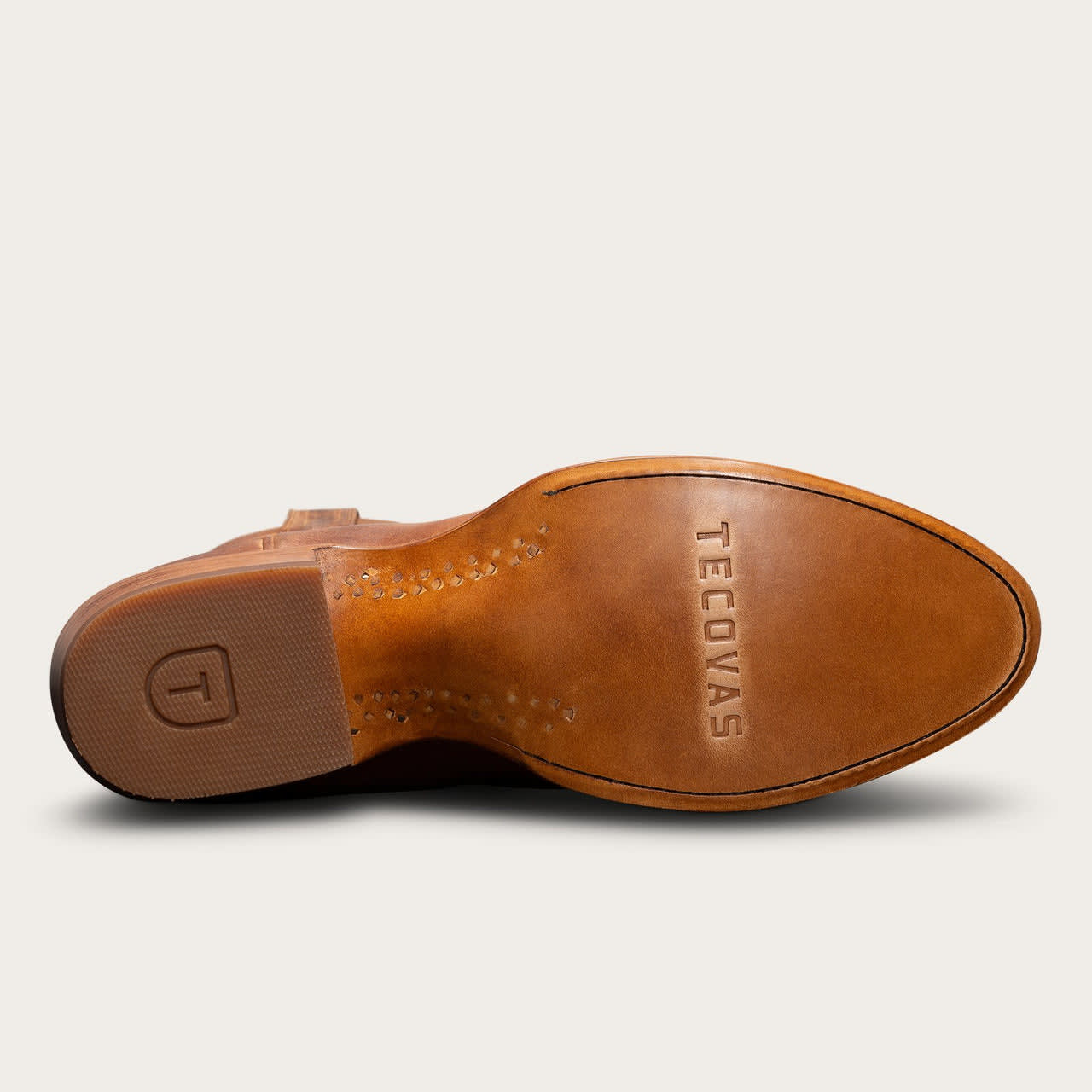 Another thing to love about The Cartwright goat boots is that their color and natural creases are so captivating. This natural beauty if paired with bootcut or cowboy cut jeans will do wonders for the world.
Do you think so?
2. The Cole boots from Tecovas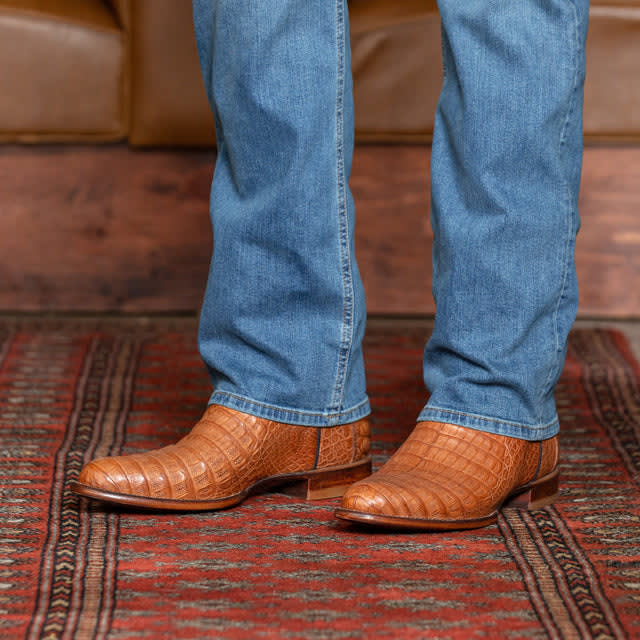 There's no way you can claim to be a die-hard cowboy fan if you don't have a pair of exotic leather boots in your closet.
Today, cowboy boots made from exotic leather are becoming more and more popular, each type of leather will bring a uniquely interesting experience. I will tell you about The Cole cowboy boots by Tecovas, one of my favorite boots.
First and foremost, their toe shape. The roper style's round toe is always captivating with wide and tapered movements for an elegant style. But that's not enough, the round toe shape combined with the caiman scales offers an irresistible attraction.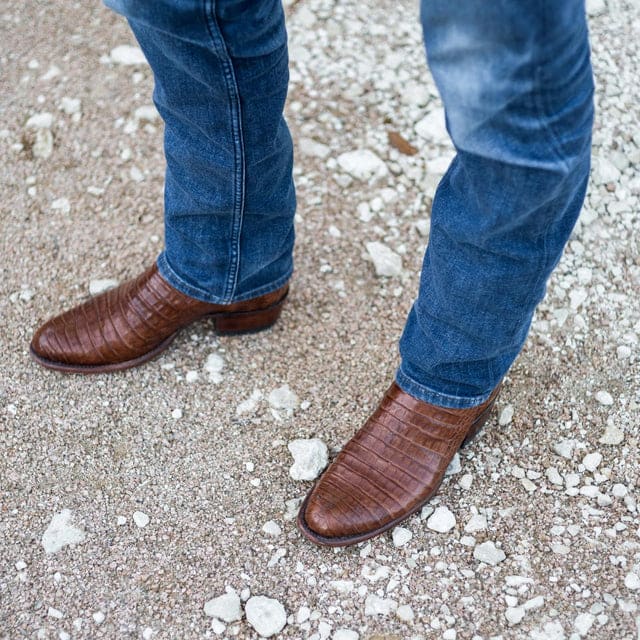 Speaking of caiman scales, this can be considered the main highlight and accent of The Cole boots when the unique scales combine with natural wrinkles and cracks. These are things you cannot find in other types of leather.
The boots might look rough, but they don't have a wild style and show a great class instead.
The 1 1/8 inch roper heel will not let you down, although it is not tall and confident as a traditional heel, it exudes the gentleness and composure that every gentleman wants to own.
All of the above are the reasons why I always love to wear The Cole with many other outfits, not just jeans. Suits, khakis, etc. – all are perfect choices to go with The Cole boots.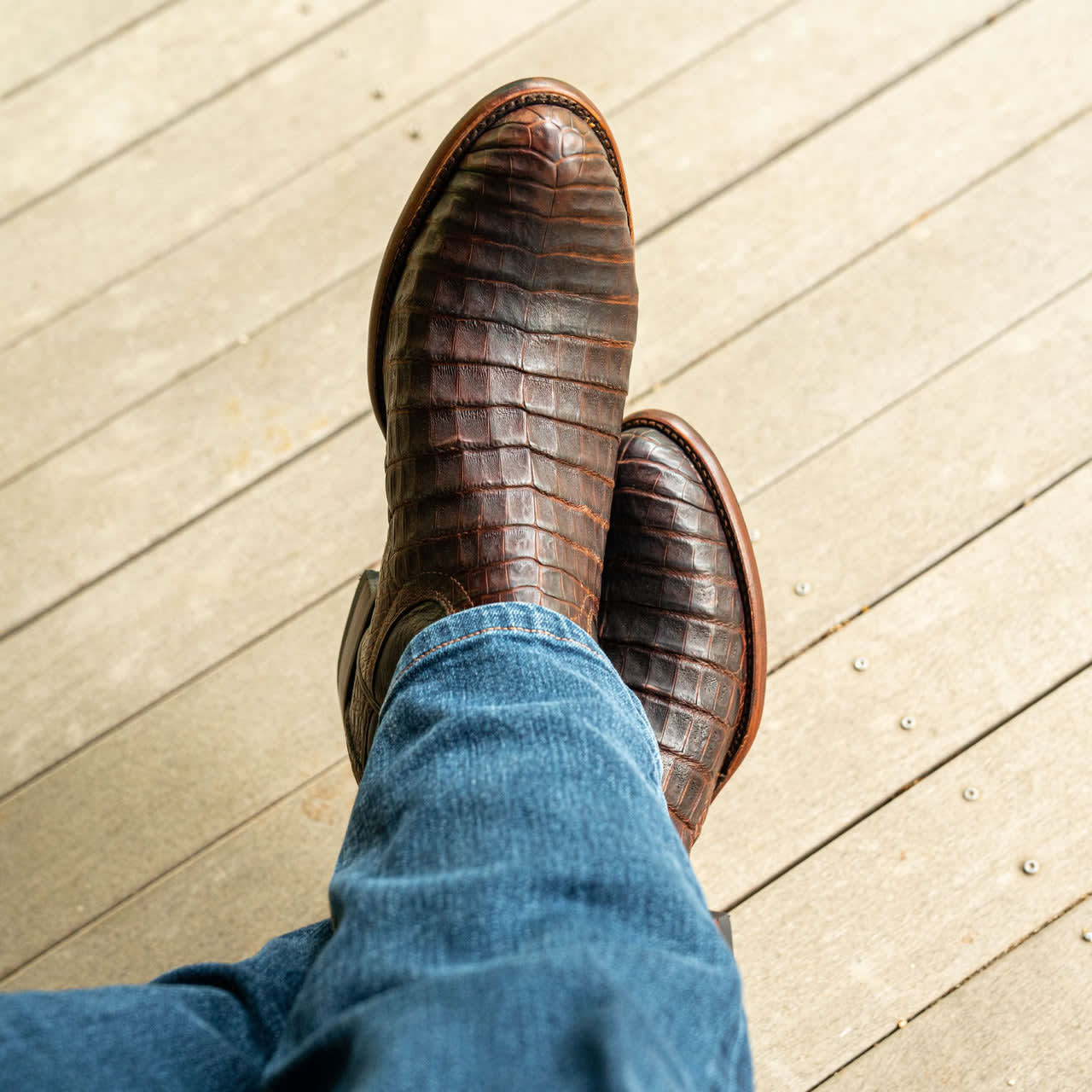 The Cole boots by Tecovas come in a variety of dark colors, but in general, they are very easy to coordinate with jeans.
I love wearing The Cole boots with straight-leg jeans, how about you?
3. The Wyatt boots from Tecovas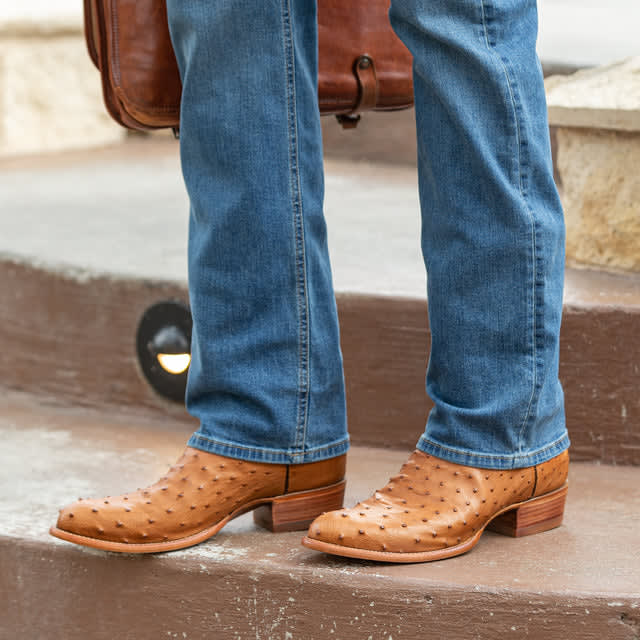 If you ask me what kind of cowboy boots are really good enough for me to wear all day, I will not hesitate to tell you that I have always loved my bird boots for this matter.
The ostrich boots provide magical comfort to the wearer thanks to their wonderful softness.
The main reason is that ostrich leather contains a lot of natural oils, so these boots are soft, less dry or cracked. That's why they are very durable and suitable for casual wear.
In my view, it seems that ostrich boots have the most love in the cowboy boots world just after cowhide.
When it comes to ostrich boots to go with jeans, I want you to know about The Wyatt, one of Tecovas' most successful products.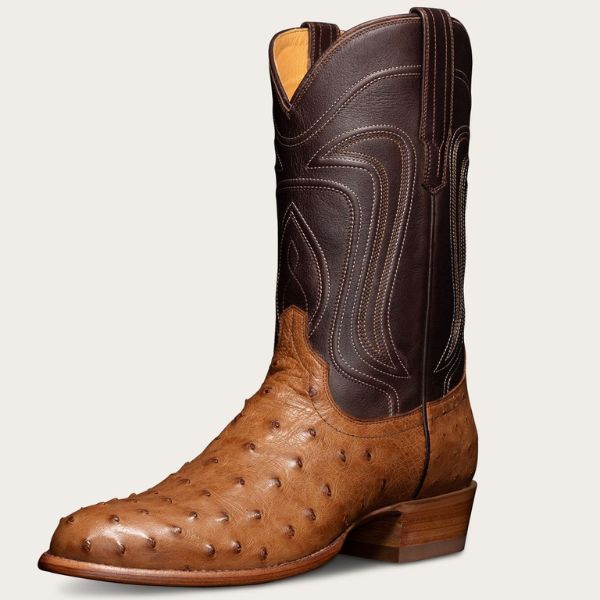 The Wyatt possesses all of the above outstanding features, and not only that, its rich color is also at its peak. This color combined with a classic cowboy shape and unique bumpy pattern brings the ultimate look of The Wyatt when worn with jeans.
The special thing about Tecovas boots, typically The Wyatt, comes from the heel and toe shape. I love their round-toe shape tapering to their tips and stacked leather heels. The classic beauty is combined and brought to a new level.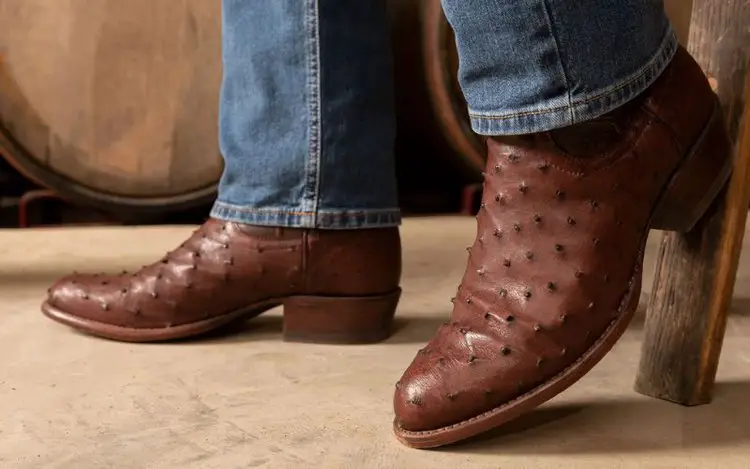 Quite similar to The Cartwright boots, the 1 1/2 inches heel of these boots will make you look tall and confident. Combined with cowboy-cut jeans, you will have a slim and masculine figure.
What do you think about this combination?
4. The Dillon boots from Tecovas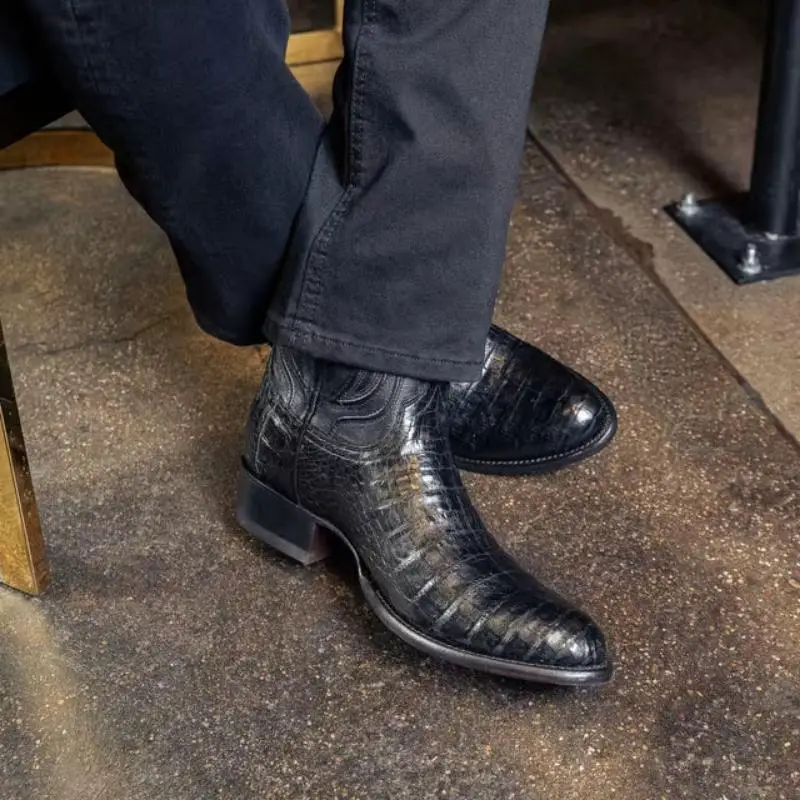 I love the natural beauty of exotic boots, they don't have to be overly polished, just their unique and almost original surfaces are enough to make a good impression, especially the caiman belly material.
Today, you will easily find many people wearing cowboy boots and jeans to the office. Most of these people will choose cowboy boots with an elegant appearance.
Pairing The Dillon caiman boots with jeans will give you that and more. A unique look by layers of caiman scales, well-polished colors together with harmony between the upper, leather sole and heel bring an elegance to the wearer.
The Dillon gets a traditional cowboy shape, so you'll have the confidence and great experience of classic style.
The Dillon's round toes are beautiful, but they are even more classy when adorned with a caiman surface. The most important thing when choosing cowboy boots to wear with jeans is their toe shape and vamp, and The Dillon does a great job in this aspect.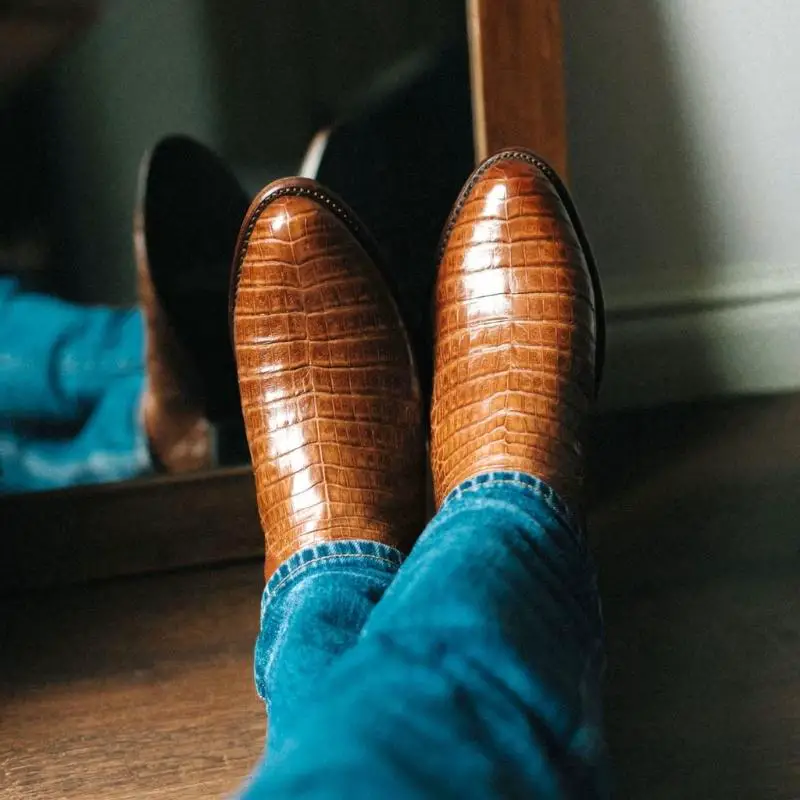 In addition to the impressive physical features, you can also experience a great feeling when wearing these boots.
Outstanding features include a 1 1/2 inch heel with a wide bottom that can provide good stability for all-day standing and walking. Meanwhile, the calfskin shaft has an adequate stretch to get a good fit after you break in it.
The break-in period of The Dillon is also very short, you will experience the feeling of comfort soon.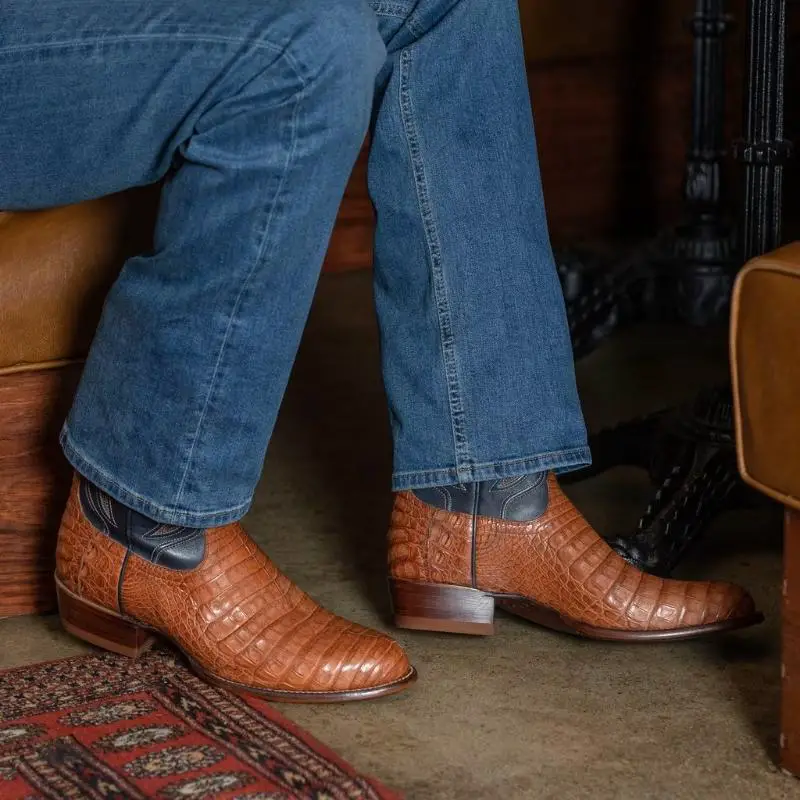 The majority of handmade caiman boots are very expensive, but as you can see, The Dillon by Tecovas is a steal compared to what they give you both in look and feel.
Honestly, these are the boots that you should have in your closet.
5. The Nolan boots from Tecovas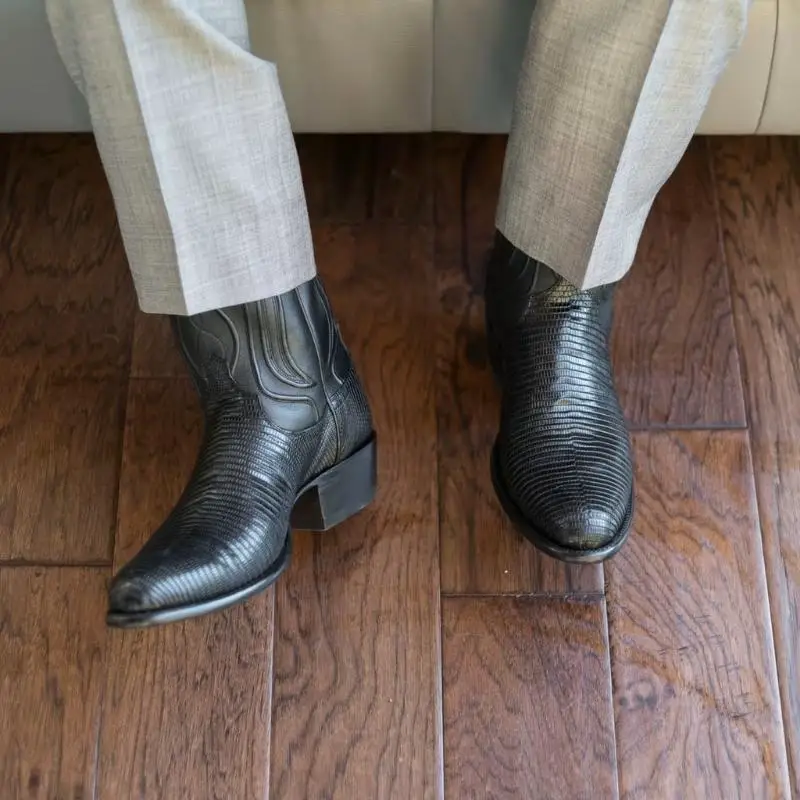 Every pair of exotic boots has different characteristics in terms of color, texture, feel, and style. Because each type of exotic leather has a different aura.
Unlike ostrich or caiman, lizard leather has a different style, still unique but more comfortable.
Take a look at The Nolan by Tecovas, you'll love them!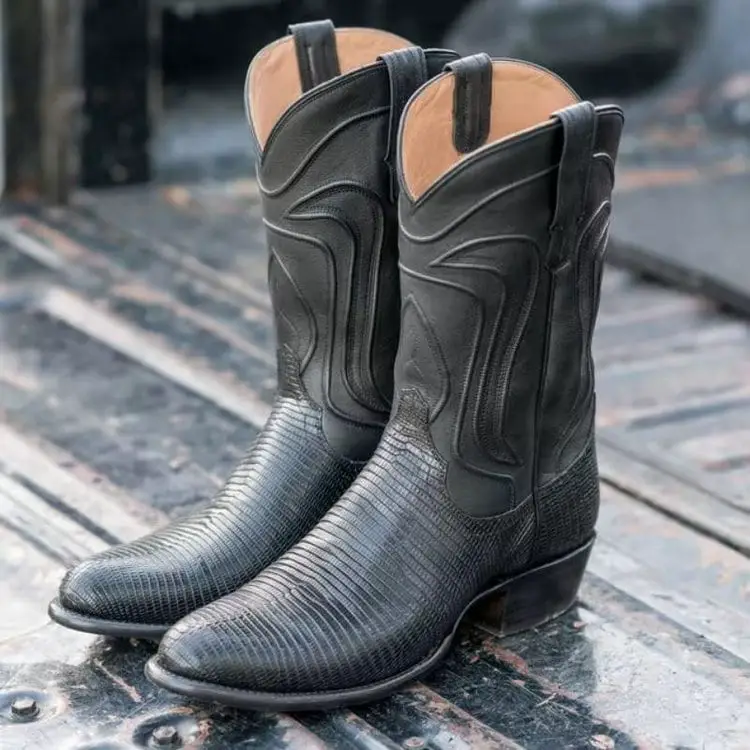 The Nolan has a very high softness due to lizard leather – a very soft and flexible material loved by many people in the cowboy boots world.
In addition to comfort, The Nolan lizard boots feature unique and uniform textures. But to explain why they work well with jeans, you have to look at their shape.
Packed with traditional style and well-crafted craftsmanship, The Nolan cowboy boots are sophisticated and stylish even though cowboy boots often embody the wild.
Take a look at their toe shape and heel and you'll know why. There are a 1/2 inch cowboy heel and a slightly raised toe shape bringing a beautiful bottom curve.
In addition, the cowboy heel style gives you a taller appearance as well as a confident and quite arrogant style. I love it.
The toe shape is a round toe tapered to the tip, plus the lizard pattern feels sharp and very beautiful.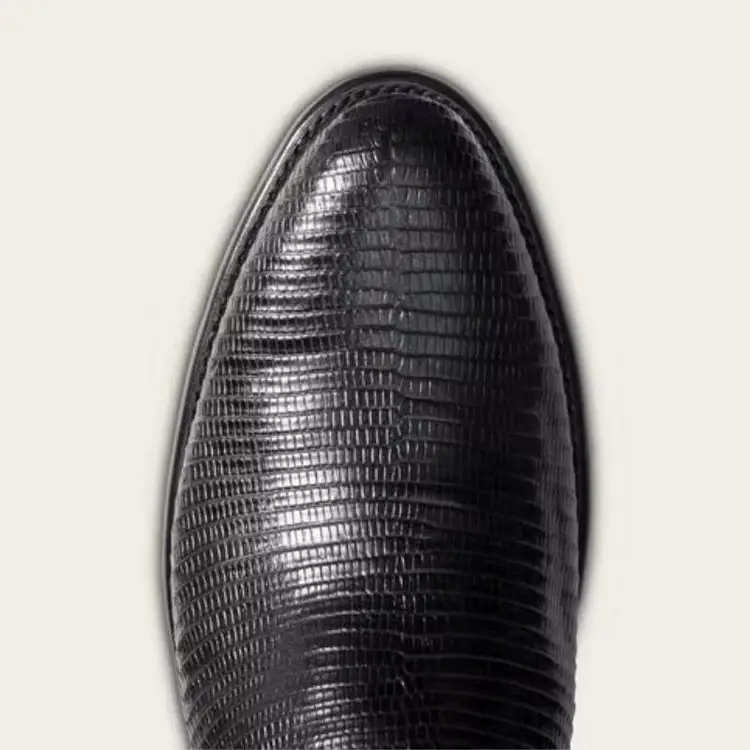 In addition to the comfort that the nature of lizard leather brings, the skillful craftsmanship of Tecovas workers shows through The Nolan's interior – which provides a very smooth and pleasant experience for the wearer.
The leather lining and leather sole are able to absorb sweat well and provide adequate breathability. This is a boot that can create a very high level of comfort for you whether it is rainy, snowy or sunny outside.
And in my opinion, that's all you need for jeans!
6. The Midland boots from Tecovas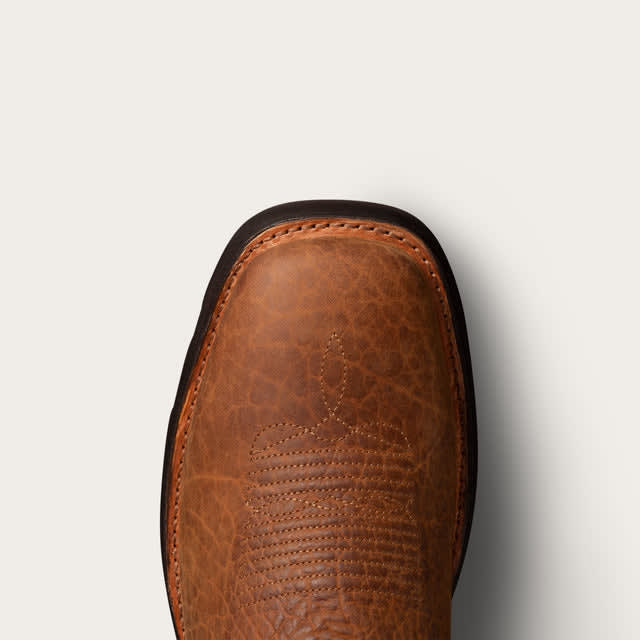 It's easy to realize cowboy boots and jeans are used in so many different outdoor jobs these days. You can easily find people using them for yard work, farming, ranching, or even construction sites.
Understanding those basic needs, many cowboy boot brands today have launched different kinds of cowboy boots for work. I usually call them cowboy work boots, and trust me, this pair of boots with rugged jeans will give you ultimate protection.
The Midland boots by Tecovas are proof of that: their durability, strength and very masculine look speak it all.
First of all, the anti-slip Vibram sole ensures that you can always balance in difficult situations caused by the weather.
These boots are covered with bison leather – an extremely durable and highly resistant material.
If you like ostrich boots for work due to their comfort and softness, it's fine! But when working in an environment with many machines and facing cutting and compressing forces, thick and strong bison will always be a better choice.
In addition, because they are cowboy boots for work, The Midland boots are quite water resistant compared to the boots I have reviewed above.
You can comfortably use them in light rains and still have them in dry and warm conditions.
Besides, The Midland is also the ideal boot to fight the hot sun thanks to its thick and sturdy construction. Don't worry about sweating because leather-lined does what it does well: wicks away sweat.
The comfort of The Midland doesn't stop there as its square toe shape provides a lot of room for your toes. I love this as you won't be able to work all day with your toes constantly pressing together.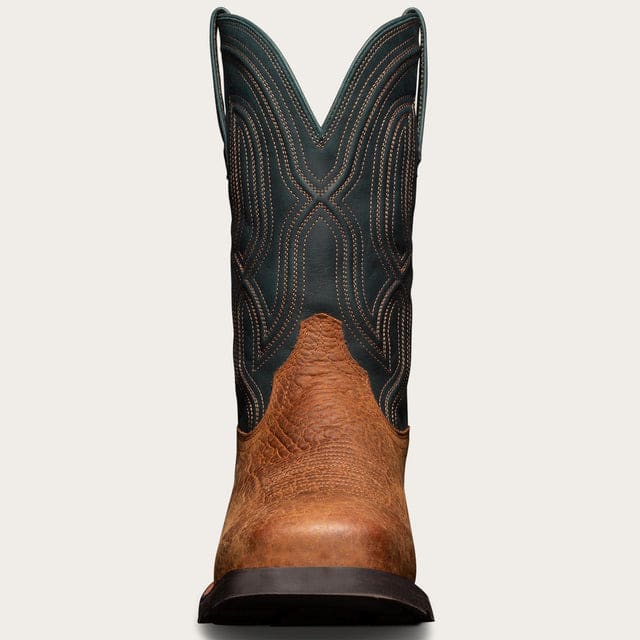 Overall, in addition to high comfort and safety, The Midland has a very good look and goes well with a pair of rugged jeans.
Need to find an outfit to work day and night? They are right in front of your eyes!
Women's cowboy boots for jeans
For women, it is not challenging to wear jeans with cowboy boots.
You can totally wear skinny jeans with cowboy boots by tucking the jeans into the boots. You can also do the opposite with bootcut jeans if you want.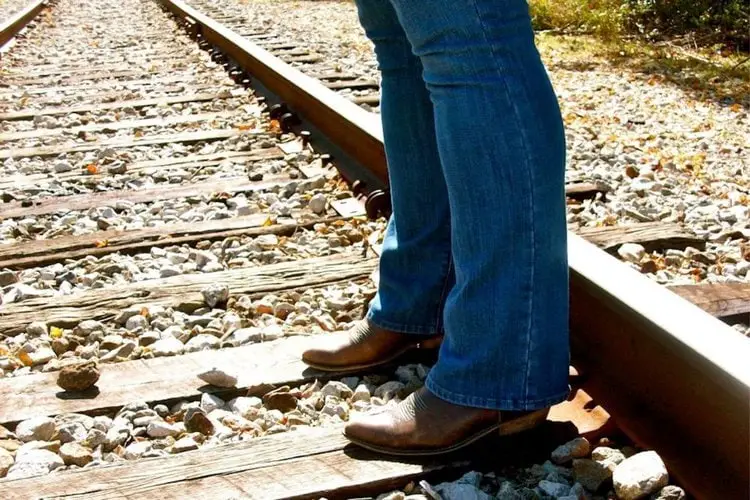 But like I said, the right type for the right place, the combination of cowboy boots and jeans should match the style of the place you are going. That will make you feel more confident to express yourself.
Cowboy boots with a simple look and comfortable interior are a good choice for outdoor work or casual wear. A pair of cowboy boots with stitching patterns that match the leather will give you the best look for a western wedding.
Be creative, the choice is yours!
1. The Jamie boots from Tecovas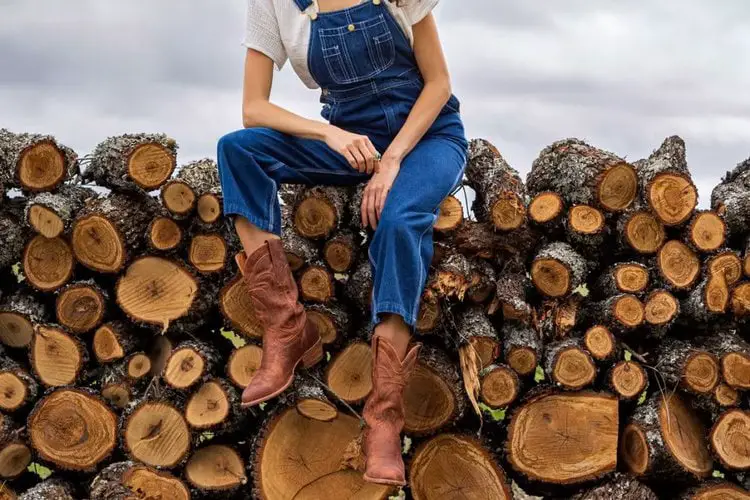 The Jamie Boots by Tecovas is the first choice, you'll love it for its great classic look.
Unlike cowboy boots for men to wear with jeans, you also need to pay attention to the shaft besides toe shape and vamp.
The reason is that most girls don't just tuck boots into jeans as guys do, they do the opposite.
Skinny and short jeans are perfect for that, you can show off your whole cowboy boots. This can be annoying for a man, but as a woman, it doesn't feel too showy. So, take it easy!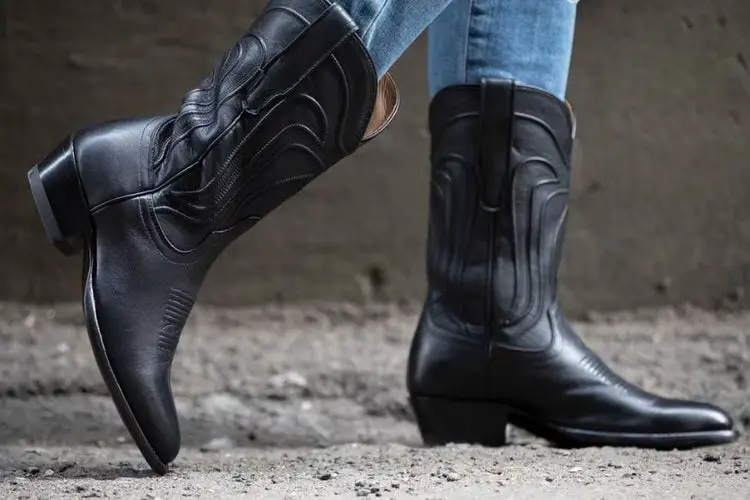 The Jamie boots have a very nice round-toe shape when tapering to the tip. And yet, what makes it stand out is the beautiful color and natural wrinkles of the goat leather. All of those qualities are essential for the right pair of cowboy boots for jeans.
If you intend to tuck skinny jeans into cowboy boots, pay attention to their shafts. The Jamie boot shaft has classic colors and textures that are very similar to the foot.
In addition, the Tecovas trademark motifs on the shaft are very soft and flow on the shaft to highlight femininity and gentleness.
All of that when put together with the flexible leather sole offer a very eye-catching look.
Not only are they excellent in looks, but Tecovas cowboy boots also offer a very high level of comfort: round toe with lots of room and very breathable goat leather (goat leather contains many large pores).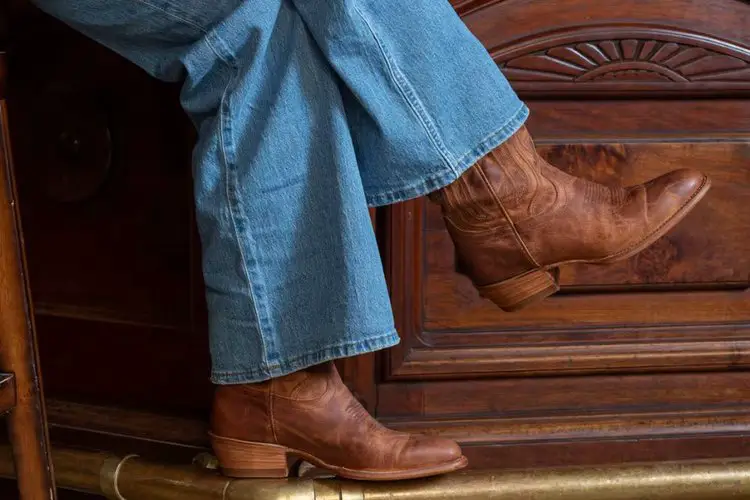 In addition, a short break-in time and good fit are also big points that explain the success of The Jamie boots in the world of cowboy boots.
2. The Casey boots from Tecovas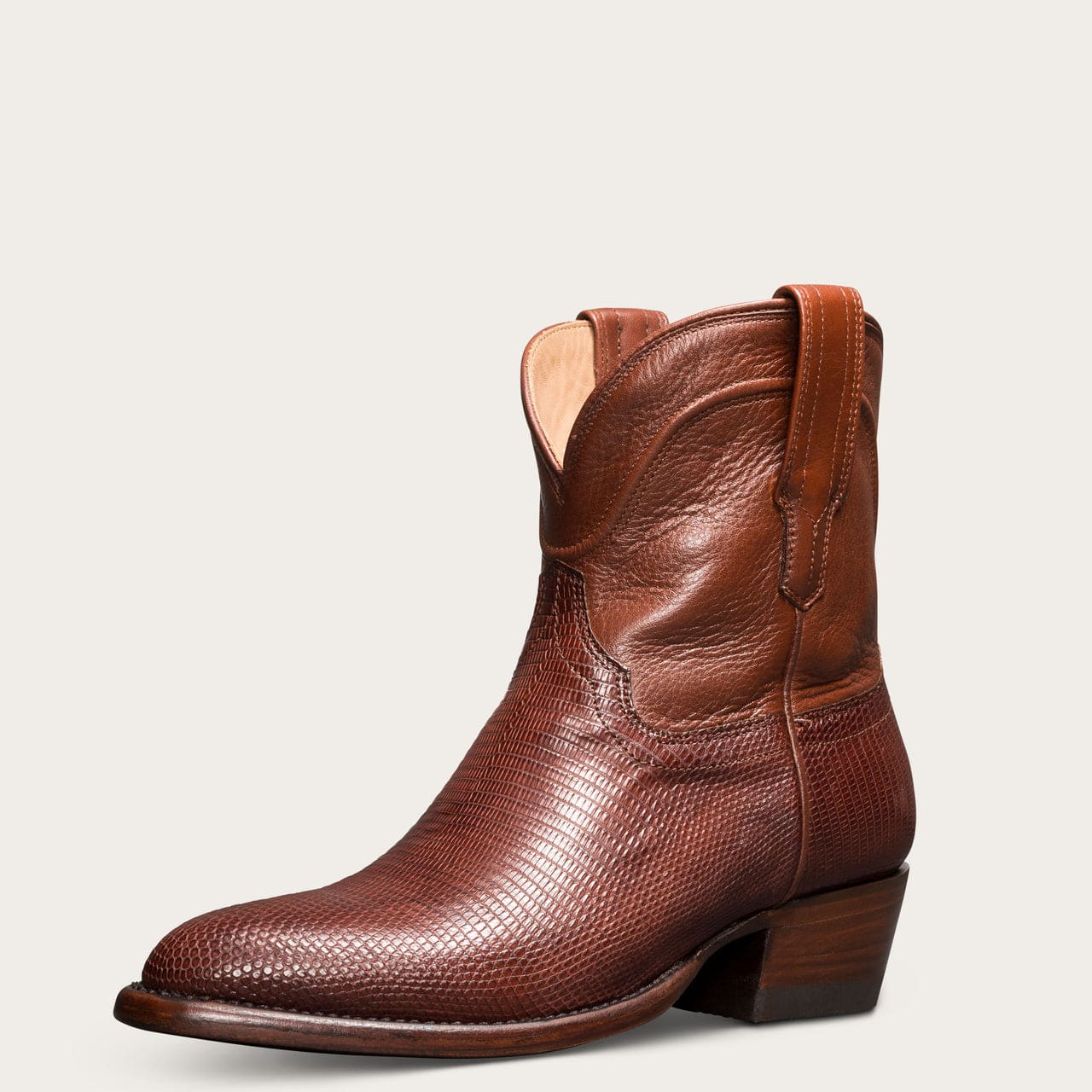 For women, the choices for the shape of cowboy boots are more diverse. In addition to the traditional cowboy boots, low cowboy boots are also very interesting choices. Take a look at The Casey and you'll understand.
First of all, the extremely unique textures only found in lizard leather, are very elegant and delicate.
The unique pattern of lizard leather highlights the sharpness of The Casey's round toe shape, which makes them great with jeans.
Speaking of toe shape, not only will the round toe tapering to the tip make your feet look longer and taller, but the slightly raised structure also brings out femininity.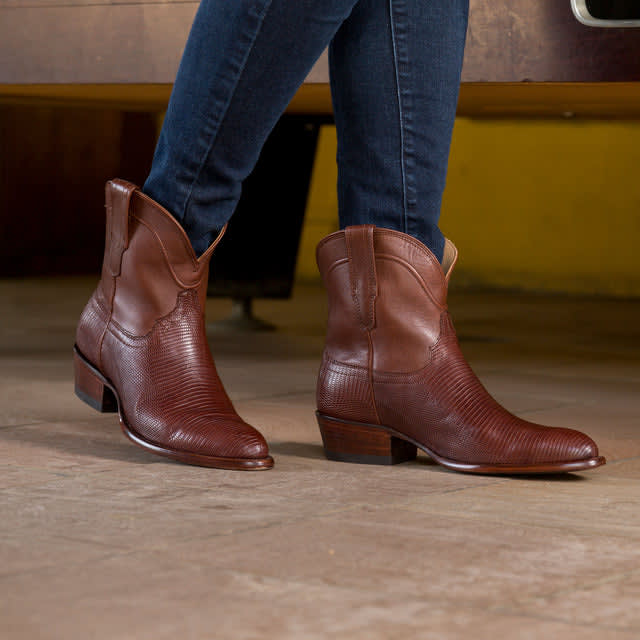 The 1 3/4 inch cowboy heel is the best heel structure for women, they are high enough to make you look tall and confident, while the bottom is wide enough to ensure you don't lose your balance and your knee, heel, or arch don't suffer much stress.
Overall, the things that ensure the success of short cowboy boots when going with jeans are heel, toe shape, and surface, so Casey has done a good job.
In terms of comfort, you don't need to worry because the nature of lizard leather is not only beautiful, but it is also very soft and flexible. You will love it.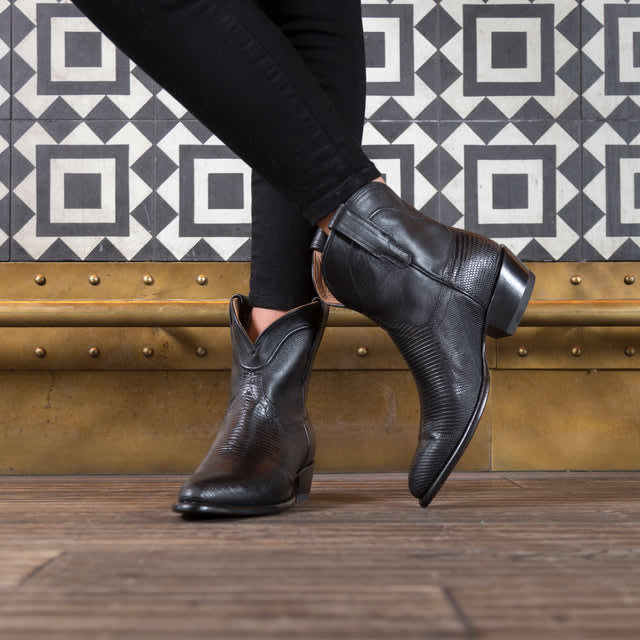 In addition, a fairly standard high heel along with lizard leather makes you comfortable when wearing. The round toe with plenty of room and breathable leather sole also supports that.
Comfortable and beautiful, The Casey certainly won't let you down!
3. The Josie boots from Tecovas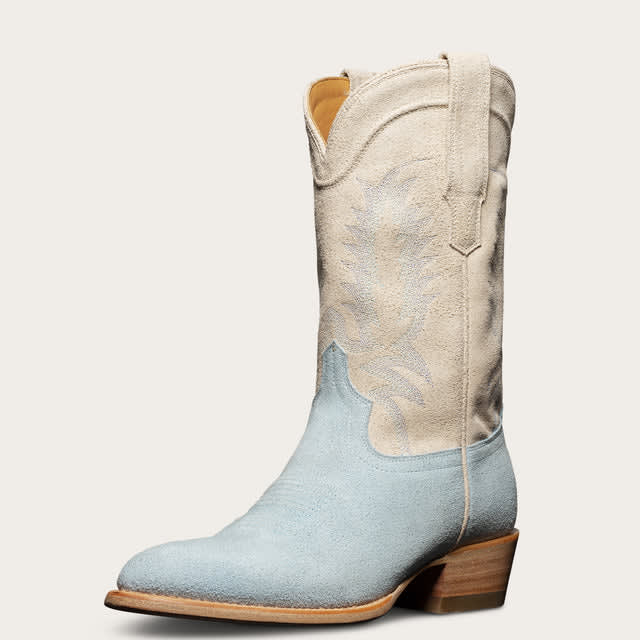 A gift for active girls, The Josie boots will make your day!
Quite different from classic and traditional colors, The Josie suede boots have a dynamic style with bright colors. It's the blue sky color!
The Josie is a creation of Tecovas, and I love it. The most prominent thing is that the sky blue color blends with the fuzzy surface to bring a soft, gentle, and attractive feeling.
In addition to the breakthrough color, The Josie still retains the classic charm of cowboy boots with round toe, leather sole, and cowboy heel. However, they have been taken to another level.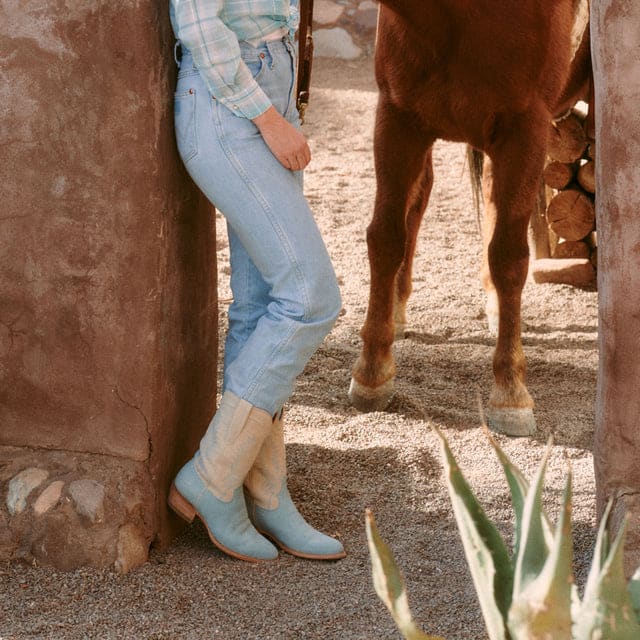 First, the two most important factors that will make this boot a success when worn with jeans are the toe shape and shaft.
The round toe shape tapering to the tip creates a light and slim feel for the foot, while the signature Tecovas toe stitching also makes the boots elegant.
The color combination of the toe and shaft like the sky and the clouds, combined with the soft fuzzy surface, gives the viewer a feeling of freedom and serenity.
Those are the two main points that make The Josie suitable for matching with jeans. And it would be appropriate if you choose shorts or skinny jeans – that will convey the whole spirit of The Josie.
The 1 3/4 cowboy heel has a stacked leather design for a classic and beautiful look (helps round toe in making your feet look slimmer).
Besides, the leather sole is thin and curved from heel to toe for a soft and smooth feel. Those are the next features that impressed me, although not new to Tecovas boots, it is always charming.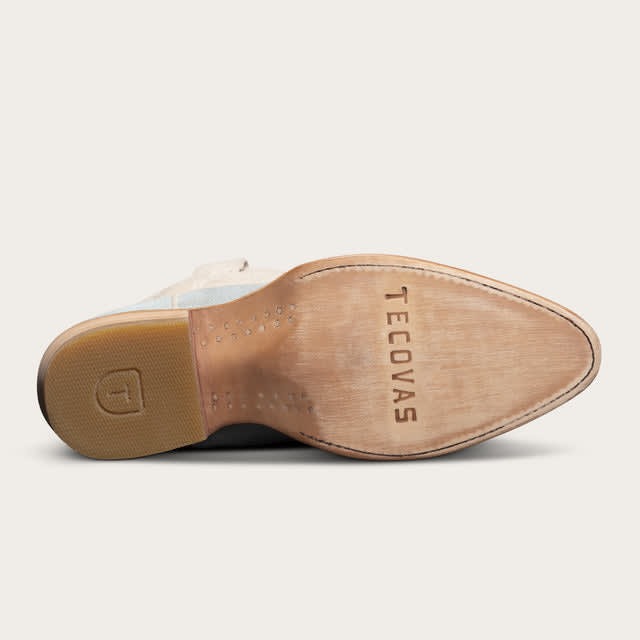 In addition to the eye-catching appearance, you will also enjoy a high level of comfort due to the soft nature of suede.
Besides, their leather lining and leather sole are breathable and sweat-absorbent, you can feel cool even in summer.
Looking for something different and creative in classic cowboy boots? The Josie is the answer!
4. The Annie boots from Tecovas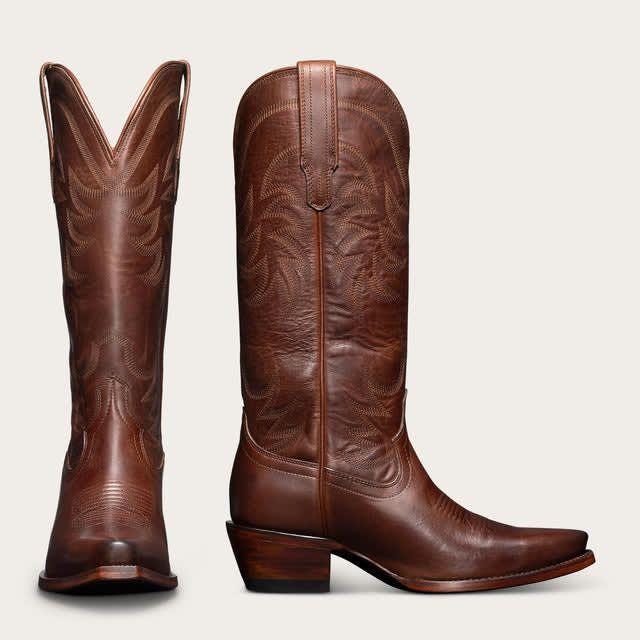 One boot that is loved by girls with wide feet and calves is The Annie by Tecovas. The reason is that with good construction, The Annie makes their legs look longer and slimmer.
So how did their structure do that?
First and foremost, it's the snip toe! The snip toe of these boots has conquered many girls as it brings a slim feel to the feet.
A lot of girls fear cowboy boots will make their feet look big, which is a reasonable concern, especially with square toe boots. But with a snip toe, you can put that worry away.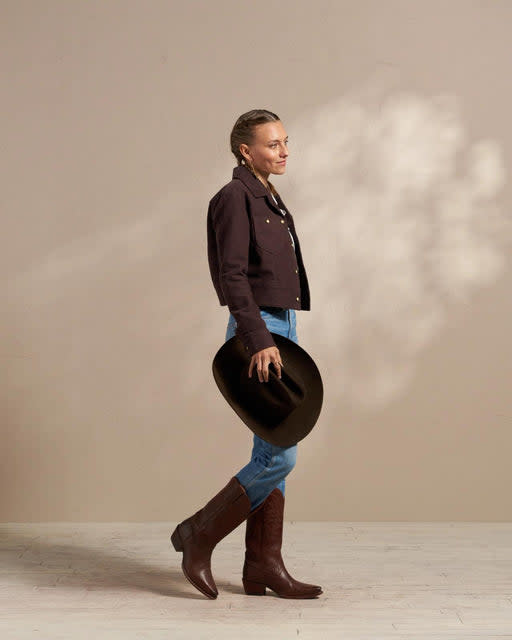 In addition, the 2-inch heel also supports that, it makes your legs look longer and offers you a confident, taller, and stylish appearance.
Notably, the snip toe with a beautifully polished vamp (darken to the tip) along with the classic toe bug stitching makes for a great style with jeans.
Most people will choose to show off The Annie shaft rather than tuck them into their jeans, and you should too because the leather around the calf is quite wide, not to mention they are 14 inches tall.
Speaking of shafts, they also stand out because of the bold colors, breathtaking textures, and Tecovas style which are sure to be a huge visual success.
As for the feel, the leather sole, and leather lining won't let you down as they will keep you cool. And yet, bovine materials are also really comfortable in their own right, it brings a feeling of warmth and understanding to the wearer.
Overall, this is a cowboy boot with a very "traditional standard". You'll find ultra-classic style yet classy craftsmanship in The Annie boots.
For these boots, skinny jeans would be a great choice!
Before you leave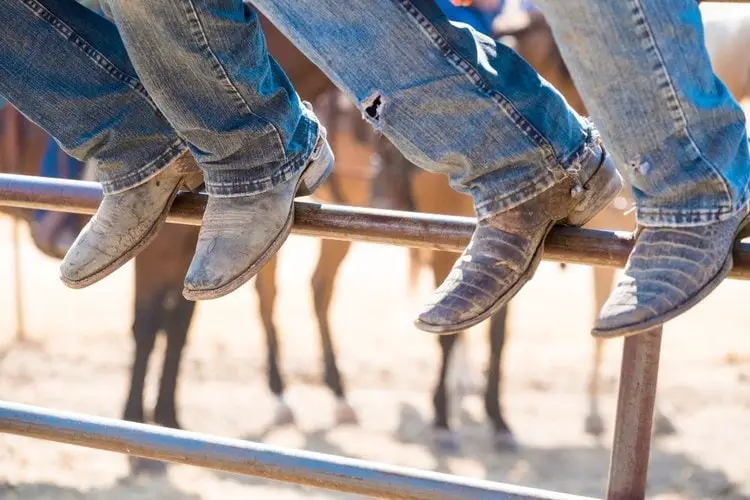 Well, we've just come across a long post, have you found what you're looking for? What is your experience wearing cowboy boots with jeans? Please comment below to let me know.
Overall, choosing the right cowboy boots with jeans is really easy, this is the most perfect couple in the world of western fashion.
As long as you grasp a few small tips that I mentioned above, you will have a classic, classy, and confident look.
Good luck!
Howdy y'all, and welcome to From The Guest Room, your ultimate guide to all things western! I'm Jay Gatz, a lifelong cowboy boot enthusiast with over 15 years of experience in the western style world. I'm excited to share my knowledge with you and help you discover the perfect cowboy boots and western gear to elevate your style. Let's explore the rich history and timeless appeal of western fashion together!