When the leaves start to change colors and there's a crispness in the air, it's time to embrace the cozy, chic fusion of fashion and function.
What better way to do so than by donning a cardigan with your trusty cowboy boots?
As we transition into the fall and winter months, this dynamic combination becomes not just a style statement but also a practical choice for staying warm and stylish.
In this article, we'll explore why the cardigan and cowboy boots pairing is a go-to option for those who appreciate both fashion and the Western lifestyle.
So, let's saddle up and dive into the world of cardigan and cowboy boot outfit ideas that are perfect for the cooler seasons.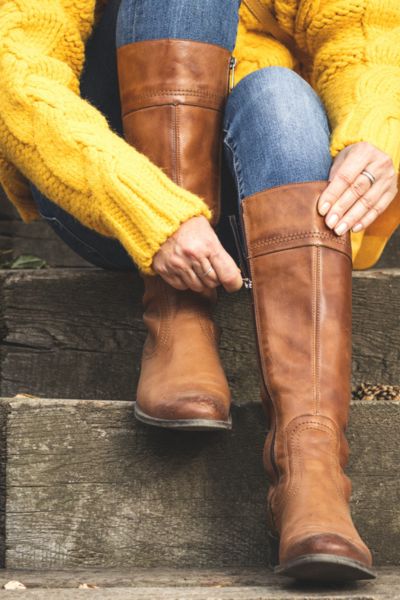 Fashion Meets Practicality: The Cardigan and Cowboy Boots Pairing
The cardigan and cowboy boots combination strikes a harmonious balance between style and practicality, making it a top choice for fashion enthusiasts with an eye for functionality.
As the temperatures drop during fall and winter, staying warm is a priority. Cardigans are renowned for their insulating properties, keeping you cozy on chilly days.
Paired with cowboy boots, which often feature sturdy construction and comfortable interiors, you'll be ready to take on any weather while looking effortlessly stylish.
Cardigans come in a wide range of styles, from chunky knits to lightweight wraps. This versatility allows you to layer them over various outfits.
Whether you're wearing a simple tee or a Western-inspired blouse, a cardigan can adapt to your look, making it a versatile addition to your wardrobe.
Cowboy boots are well-suited for outdoor activities, whether it's a leisurely stroll or a trek in the wilderness.
Pairing them with a cardigan means you can effortlessly transition from an outdoor adventure to a cozy evening indoors without compromising your style.
This pairing is not just about practicality; it's a fashion statement. The contrast between the rustic charm of cowboy boots and the soft, often textured cardigan creates a captivating visual appeal.
It's an ensemble that speaks volumes about your appreciation for Western culture and your knack for blending it with contemporary fashion trends.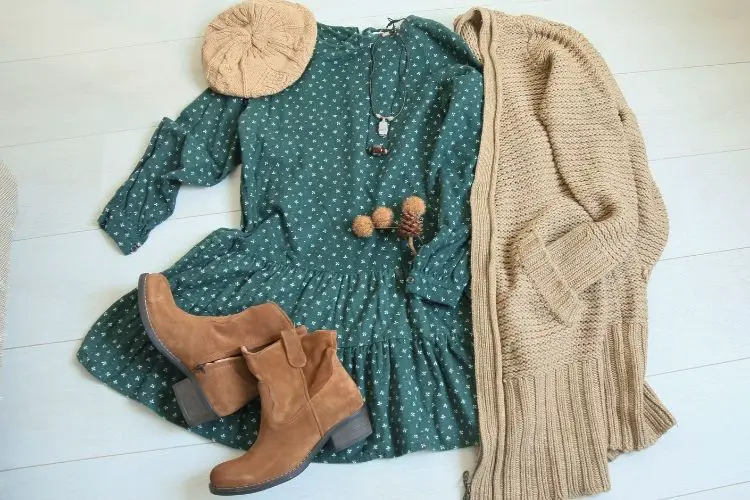 Classic Meets Urban Chic: Jeans and Cowboy Boots Outfit Ideas
When it comes to versatile and timeless fashion choices, few combinations can rival the pairing of jeans and cowboy boots.
This classic fusion effortlessly blends practicality with style.
Casual Comfort with a Touch of Style
For a relaxed yet fashionable look, consider combining regular-fit blue jeans with a pair of ankle cowboy boots in classic black.
The black boots not only add a hint of Western charm but also create a sleek, urban vibe.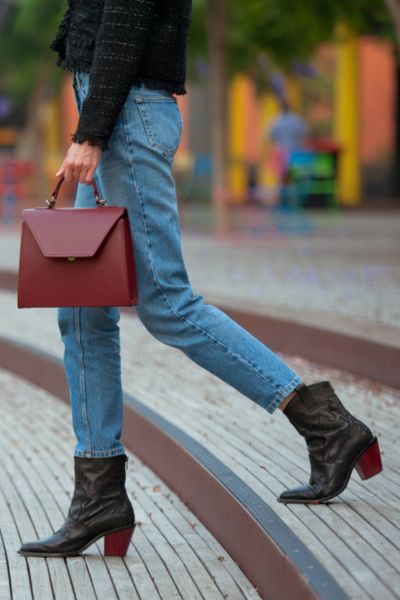 Pair them with a black fringe tweed cardigan jacket for added warmth, making it ideal for the cooler seasons.
To complete this ensemble, add a brown leather bag. This accessory not only adds functionality but also introduces a warm, earthy tone to the outfit, balancing the coolness of the black.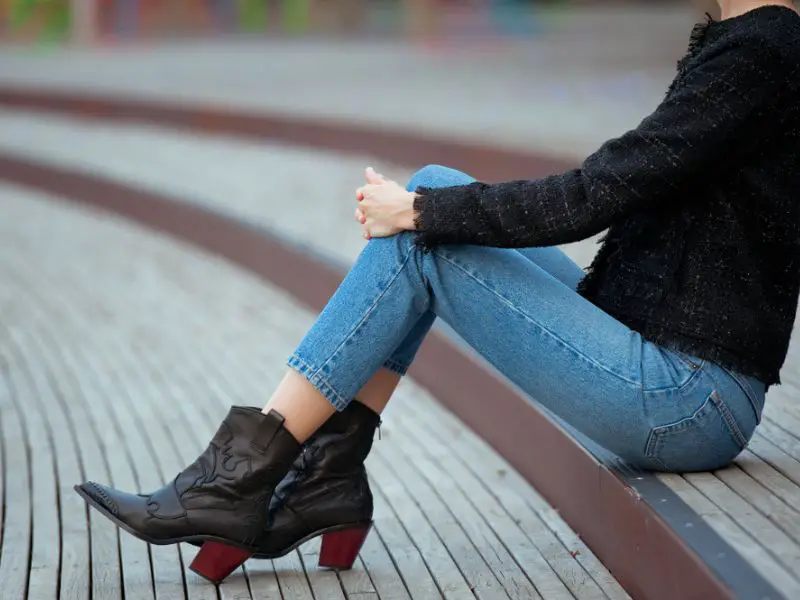 This look is perfect for casual outings where comfort and style harmonize effortlessly.
Effortless Elegance: Cardigans with Dresses and Skirts
Fall fashion often calls for a delicate balance between warmth and style.
This outfit idea embodies the essence of effortless elegance, allowing you to embrace the grace of dresses and skirts while staying cozy with the addition of a cardigan.
1. Maxi Dress with Cardigan: Warm and Stylish
For a look that seamlessly blends bold classics with feminine flair, consider styling a red maxi boho dress with dark cowboy boots adorned with studs.
The rich red hue of the dress is both striking and autumn-appropriate, making it a standout choice for the season. Meanwhile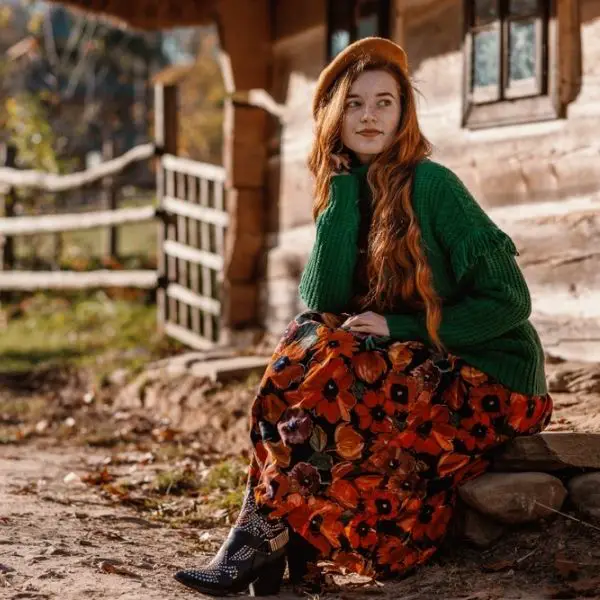 Layer the dress with a cozy green sweater, adding depth and warmth to the outfit. Top it off with a beret for a touch of Parisian chic.
This ensemble not only keeps you comfortable but also exudes style and confidence. The dark cowboy boots contrast beautifully with the vibrant dress, adding a dash of Western charm.
It is suitable for those chilly and cold days in the fall or winter.
2. Midi Dress with Cardigan in a Contrasting Color
If you're seeking a stylish yet simple look, opt for a midi dress paired with a cardigan in a contrasting color.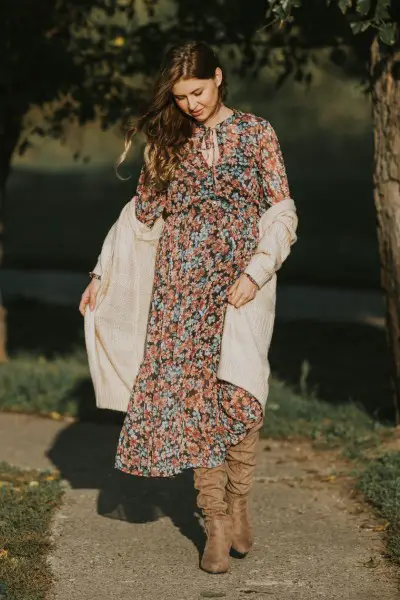 The contrast of colors creates an eye-catching effect and adds depth to your outfit.
To tie it all together, accessorize with a leather belt to define your waist, offering a neater and more polished appearance.
This minimalistic yet fashionable ensemble is perfect for those moments when you want to embrace simplicity without compromising on style.
Whether you're headed to a casual gathering or a cozy date night, this outfit exudes a sense of timeless elegance.
Conclusion
The fusion of cardigans and cowboy boots, adapted to a city and modern vibe, offers both style and warmth.
From classic jeans pairings to elegant dress combinations, these versatile outfits empower you to embrace fall and winter with confidence.
As you navigate the urban landscape, remember that practicality can coexist with fashion, allowing you to express your unique style and explore the world with grace and elegance.
Stay cozy, stay stylish, and step confidently into the sweet chill of the season.
Howdy y'all, and welcome to From The Guest Room, your ultimate guide to all things Western! I'm Jay Gatz, a lifelong cowboy boot enthusiast with over 5 years of experience in the Western style world. I'm excited to share my knowledge with you and help you discover the perfect cowboy boots and western gear to elevate your style. Let's explore the rich history and timeless appeal of Western fashion together!