If I were to pick one thing women love most about cowboy boots, it would be their evolution of them over time.
No longer only possessing a classic and wild beauty, cowboy boots, especially for women, have acquired a very diverse look and can bring a lot of different styles. One of them is the fancy style.
The main items that women favor a lot, of course, are fancy dresses. How about pairing them with cowboy boots? The answer is yes, for example, you totally combine a cocktail dress with a pair of cowboy boots.
Even so, there are some issues you need to be aware of, mainly about how to choose the right cowboy boots. As you may know, not all cowboy boots are suitable for a specific style.
That's why we are here to resolve your query! Let's follow our steps!
Key Takeaways
You can totally wear a fancy dress with cowboy boots for an elegant look.
You need to choose a cowboy boot style that matches the dress to create overall harmony.
The harmony in color and style is essential for a perfect ensemble.
Cowboy boots with a Fancy Dress: Do they Match?
Wearing a pair of cowboy boots with a dress is practically no longer a strange thing in the American western countryside. But if you think they only stay in the countryside, you are wrong.
As mentioned at the beginning of the post, today you will find a lot of cowboy boots with elegant looks. They are not just wild or distressed anymore.
Some cowboy boot brands like Ariat, Tecovas, or Chisos all release cowboy boots with seductive curves, delicate construction, and elegant textures.
You can find cowboy boots with snip toes, pointed toes, or round toes. These toe shapes are very popular among women as they make your legs look longer and slimmer.
In addition, a pair of cowboy boots with a traditional 2-inch heel will also make you look taller and more confident.
Cowboy boots for women come in a wide variety of colors, you can find boots ranging from classic to light-toned colors. This diversity allows you to pick the suitable style of cowboy boots to go with fancy dresses.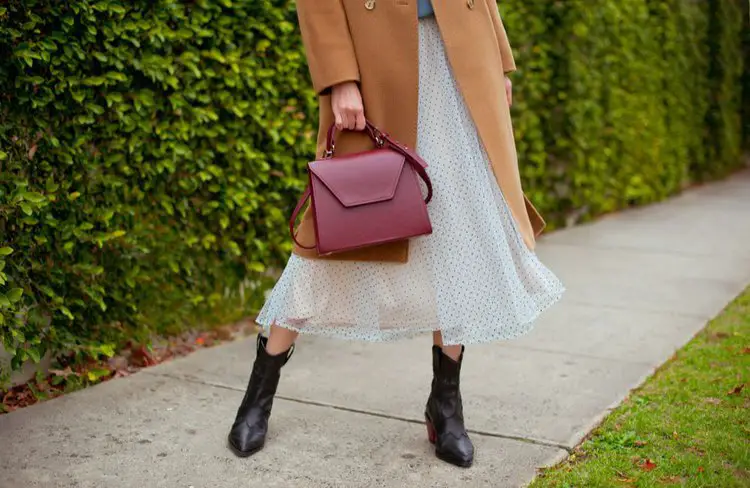 Today's cowboy boots also feature subtle stitching. But if you don't like them, ankle boots or western booties are not bad choices to go with dresses.
The upper of the women's cowboy boots also have a fancy style as it has a well-polished surface.
Or, more expensively, you can see exotic cowboy boots with a very classy look like white python boots, smooth ostrich boots, etc.
My wife, a big fan of the dress and cowboy boots combo, always loves matching her suede ankle boots with an elegant white dress to go down the street.
Nowadays, it's not hard to see many people wearing cowboy boots with dresses to luxurious weddings, not just country weddings.
You should look for styles like 1950s-style short dresses, and tea-length front dresses, which are classic dresses to go with cowboy boots. However, a little creativity in the structure to make the dress fancier is also a great thing!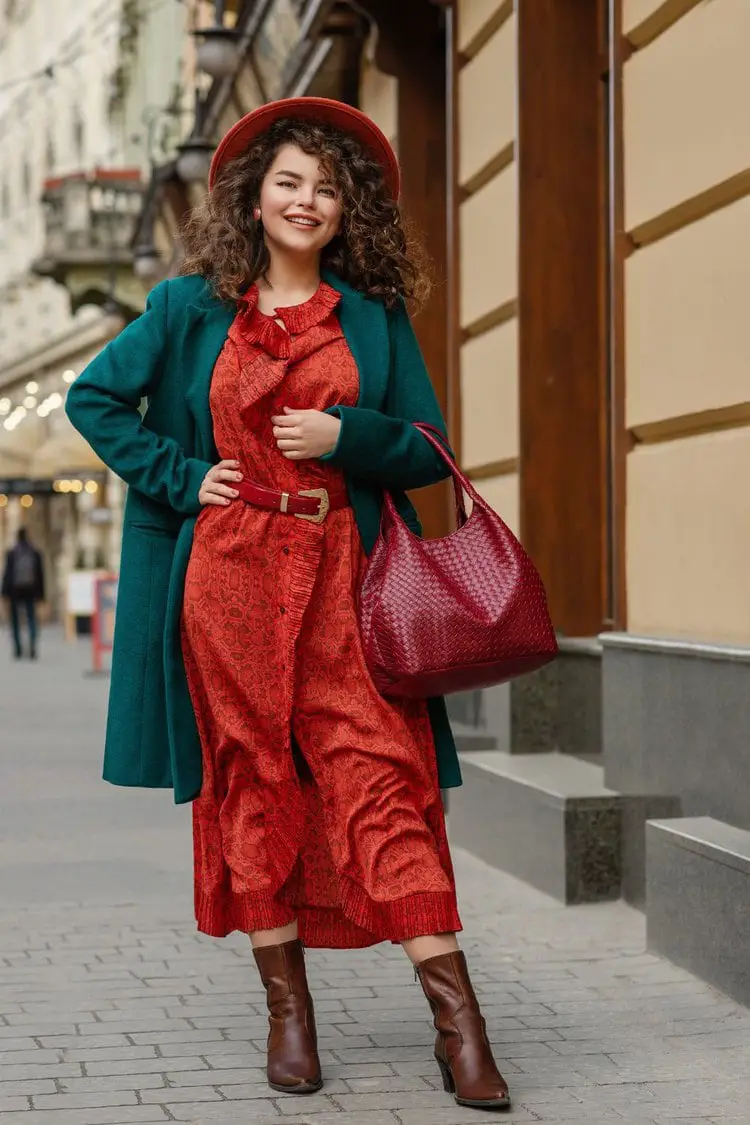 My wife, (yes it's her again), really loves wearing classic cowboy boots in bright colors with a fancy dress with short front and long back construction.
This combination offers a high level of elegance thanks to the long back, while still retaining the full beauty of cowboy boots as the short front can reveal their whole shape. However, with this style, you really have to pay attention to choosing suitable cowboy boots.
The harmony in the style of cowboy boots and dresses, and the theme of your destination are important factors to create a perfect outfit.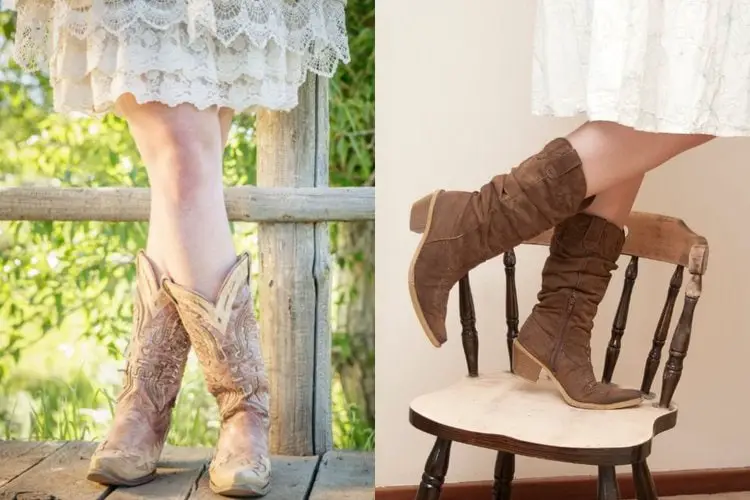 For example, a light-colored fancy dress should be accompanied by a pair of light-colored cowboy boots.
The colors of dresses and cowboy boots should not contrast with each other, a white dress should not go with a pair of red cowboy boots, and the boots should also be in a light tone.
If you wear a midi dress and want to show off your boots, low cowboy boots such as ankle boots or western booties are a great choice.
These boots won't be obscured by your dress being too long, the delicate patterns or prominent features of western booties will no longer rest on the shaft of the boot like the traditional type, they will mainly rest on the vamp instead.
Besides, western booties still retain the Western breath and style, but have a trendy and modern look, and this is why they are great to go with a fancy dress!
Fear not, in the world of cowboy boots for women, you have much more choice than men!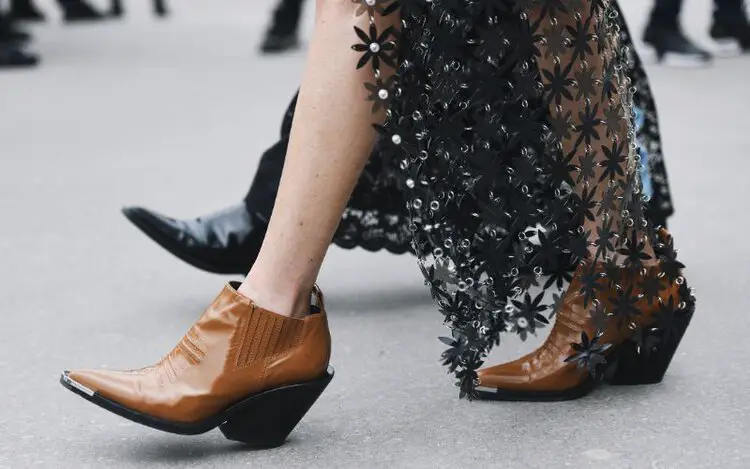 Bring your creativity to the outfit, and don't let the old concepts get in the way, that's the key to pairing fancy dresses with cowboy boots!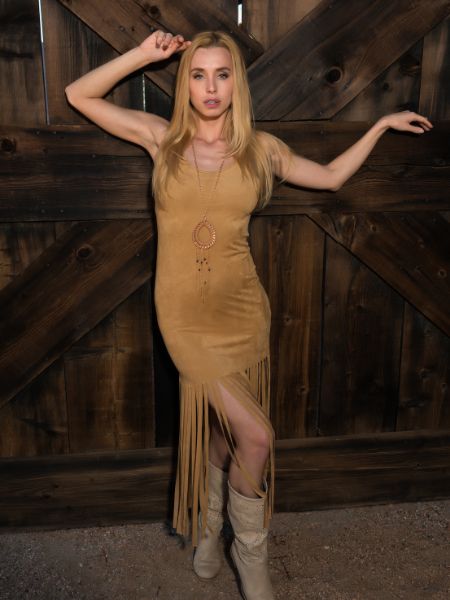 Also, don't forget that the style of the overall outfits must really fit your next purpose!
For example, whether it's a wedding or a funeral, we all need a high level of elegance, but if the wedding is dominated by white outfits, then, on the contrary, black will be essential for a funeral.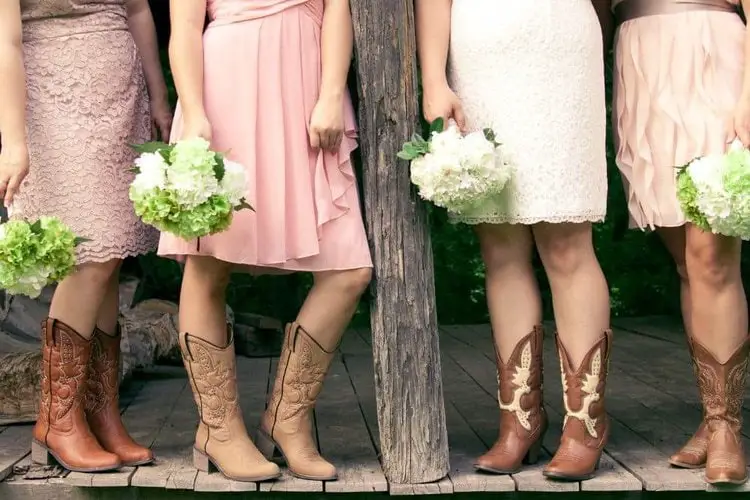 You get what I mean, don't you?
Before you leave
In general, you can absolutely find good results when experimenting with fancy dresses with cowboy boots.
However, creativity and fashion sense will need to be used a lot to create good results!
Dresses and cowboy boots need to be in harmony in style, if dresses are fancy, so should cowboy boots.
And make no mistake, today's cowboy boots for women have absolutely no shortage of fancy style! You just need to search for big brands like Tecovas, you will find dozens of such boots!
The harmony in the overall outfits and fit for your purpose will be the key to the success of this love affair!
Good luck!
Howdy y'all! I'm Grace, a Western style enthusiast with over 5 years of experience. From cowboy boots to western gear, I'm passionate about all things Western and dedicated to helping you find the perfect style to suit your taste. Join me and my fiancé Jay Gatz as we explore the rich history and timeless appeal of Western fashion together!