Not wearing socks when wearing cowboy boots will lead to 4 consequences such as:
The boots are foul because of perspiration
Reduce the life of boots because boots are moldy
Sore feet if the boots are tight or the boots are new
The insole of boots is quickly degraded
Meanwhile, wearing socks with cowboy boots will bring 5 advantages such as:
Protect feet from pain and shock
Socks will absorb moisture to help cowboy boots more dry, which extends the life of boots
If cowboy boots are a little wide, you can use socks to help your feet fit with the boots
Reduce unpleasant smell due to foot sweat
Easy to put on cowboy boots
Our advice is: you should wear socks with cowboy boots.
Then, what socks to wear with cowboy boots?
Today, let's join us to find out the 10 best socks for cowboy boots!
Comparison Table
What socks to wear with cowboy boots

The design of cowboy boots are different from other shoes or boots. The most distinctive feature is that their shaft is very high. (From mid calf can be up to 16 ")
So you need to have specialized socks for boots, and fortunately, there are many socks today.
You should choose socks for cowboy boots that are at least reach your mid calf. Because that's where your calf's skin comes in contact with the cowboy boots leather, so over-the-calf socks are a good choice to protect your legs.
Besides, if your cowboy boots are loose or are in the break-in period, you should use thick, padded socks. These socks will help your feet fit better with loose cowboy boots and protect your feet from pain during break in boots.
If you're a cowboy boots all day, you can use sports socks to increase comfort. If your boot has heel slippage, then you can use non-slip socks from yoga practitioners to solve that problem (in combination with thick socks).
Read more: How to Make Cowboy Boots More Comfortable
How to choose the best socks for cowboy boots
The 5 most important factors in choosing a great pair for cowboy boots are:
Material
Design
Look
Purpose
Fit.
Material
Materials are a prerequisite to decide whether a pair of western boot socks is good or not. A pair of socks with bad materials will only make things worse.
With about 250,000 sweat glands, your feet can be sweaty very quickly. A pair of poor quality socks that don't absorb moisture well will leave your feet damp for the long term, this is not good for your foot health.
Everybody often uses cotton socks. If your job doesn't move too much (like an office job), cotton is just fine. However, if you move a lot (jogging, outdoor work), consider choosing other moisture-wicking material for socks.
You can use western boot socks made of synthetic fabrics, polyester, acrylic or nylon. These 4 materials are moisture-wicking, comfortable and versatile.
If you love natural fabrics, bamboo or merino wool are also good choices. These 2 natural fabrics are breathable, antibacterial, soft and scratch-free for your feet.
Design
Unlike many shoes or boots, cowboy boots have a very high shaft (about 11" to 13″), that's why western boot socks are usually higher than mid calf.
The western boot socks need to be well-designed to avoid slipping and bunching.
These socks are longer than regular socks so they need to stay up legs and top all day. This is important when choosing western boot socks.
Also, you should consider the thickness of the socks. If you work in cold weather or need more warmth, then thick socks are wise options.
Western boot socks should have a full cushion foot. Especially when you have flat feet or high arches, it is best to have a pair of socks with good arch support.
Apart from western work boots, other cowboy boots usually don't have very good arch support. So, a pair of socks with good arch support would be an ideal addition for any cowboy boots.
Purpose
Choosing western boot socks depends on your purpose.
If you need a pair that can help you with heavy work, or fix your loose cowboy boots, the socks should be thick and have a full cushion foot.
If you're having heel slippage, it seems that a pair of non-slip yoga socks will solve the problem better than western boot socks.
From my personal experience, I would recommend western boot socks because they support your heels, the ball of the foot and the arch very well.
Athletic sports socks are also a good choice to wear with cowboy boots.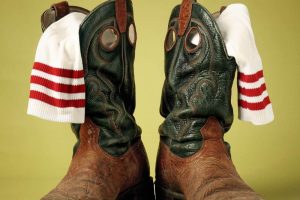 Look
If you wear cowboy boots with distressed leather and wild background color, don't use yellow, red, pink or green socks.
Everybody has their own tastes. But trust me, if you want a casual fashion, go for white, black or dark socks.
But if you are a fan of the modern and liberal style, then follow your style. Eventually, the decision is still yours, as long as you feel confident with your socks.
Besides, depending on the purpose of using cowboy boots, it will determine what pair of socks you should wear.
Fit
Your socks should fit snugly from the start, not loose and not tight.
Western boot socks should have a simple look, not fussy with excess seam. The excess seam will irritate your skin when you wear socks.
The socks should not be too tight, which makes your feet uncomfortable.
The socks should not be too loose, which prevents them from staying up leg and top well.
It is also important that cowboy socks and boots make up for each other.
If your cowboy boots are a bit loose, a pair of thick socks will help your legs fit better with cowboy boots. Besides, if cowboy boots fit your legs, thin socks will keep your feet from rubbing against the cowboy boots.
The 10 Best Socks for Cowboy Boots
1/ Wrangler Men's Western Boot Socks
The first type of socks we recommend is the Wrangler brand socks. Wrangler has a lot of accessories for cowboys such as jeans, coats…
And once again Wrangler did not disappoint us with the Western boot socks.
Wrangler Men's Western Boot Socks have a durable, smooth, cool design. These socks prevent slipping and bunching, making them the perfect choice for your cowboy boots.
What we like
Keep feet dry and cool in boots
Half cushion foot, arch support
Smooth toe seam
Knit to form to foot, leg
2/ Hanes Men's Over the Calf Tube Socks
Hanes brand socks are a type of extra thick cushioning socks that provide absolute comfort for the feet. These socks are suitable for people wearing boots all day.
Besides, thick socks like this one are suitable to fix the loose instep of cowboy boots. Because this type of socks can help lift your feet up.
What we like:
Enforced toe seams
Extra thick cushioning
True to size
Polyester blend
3/ Under Armour Adult Tactical Heatgear Over-The-Calf
For people who sweat a lot, wearing cowboy boots or other boots is a nightmare.
That's why Under Armor comes up with a type of socks made of material wicks sweat and dries fast with 94% polyester that keep your feet dry and comfortable all day.
Besides, anti-odor technology is also an extremely prominent feature, you will be no longer afraid of sweat or odor anymore when wearing Under Armor socks.
What we like:
Anti-odor technology
Dynamic arch support
Sweat-wicking, dries fast
4/ Wrangler Women's Ladies Western Boot Socks
Not only famous for cowboy products, Wrangler is also famous for cowgirl products.
Cowgirls often have smaller calves than cowboys, so they have to use their own socks, not like men. So Wrangler Women's Ladies Western Boot Socks is a good choice.
These socks feature smooth toe seam design and half cushion foot with arch support. These outstanding features are a great choice for long distances.
What we like:
Stay up leg and top
Cooler, drier comfort
Half cushion foot, arch support
Moisture wicking technology
5/ Ariat Men's Full Cushion Over The Calf
Here we go! A famous brand of cowboy boots produces socks for cowboy boots.
For those who love and collect cowboy boots, Ariat is definitely no longer a strange name.
Extremely popular in the world, not only produce beautiful and quality cowboy boots, they also produce extra insoles with ATS technology to support cowboy boots, and now a pair of socks named Ariat.
To continue with the special products for foot health, Ariat's socks have full cushion foot. With 50% cotton and 40% Polyester, you will have a smooth and comfortable experience on top of it all.
What we like:
Full cushion foot
50% Cotton, 40% Polyester
Fit well even large calves
Stay up all day
6/ Dan Post Men's Cowboy Certified Boot Socks
If you own a pair of western boots, choose Dan Post socks.
Dan Post is extremely popular with western boots, and if you've trusted Dan Post cowboy boots, then you should trust and use their socks.
With cushion on the sole design, good arch support, and reinforced heel, these socks will be a great lover of any cowboys.
What we like:
Comfort arch support
Cushioning on the sole
Reinforced heel
Cool in the summer and warm in the winter
7/ Dickies Men's Dri-tech Moisture Control Crew Socks Multipack
The Dickies Men's Dri-tech Moisture Control Crew Socks is one of the most successful and has always been one of the best-selling and highest-rated products.
And numbers do not lie, you will never go wrong when buying these socks!
Dickies socks are extremely soft and lightweight. They provides excellent arch support for lasting comfort. Made from 79% cotton, they are breathable and super soft. You will feel so smooth when putting them on.
Besides that, there are many different colors to choose from, which is also a huge plus!
What we like:
Arch compression support
Reinforced Heel and Toe
78% Cotton, 19% Polyester
Soft Breathable Moisture
8/ WANDER Men's Cushion Crew Socks
Sale
We also recommend athlete socks in other articles, simply because they support the arch so well. Besides, full cushion soft towel fabrics will bring absolute comfort to your feet.
Those are WANDER socks, a pair of socks used by many athletes, and so should you!
What we like:
92.5% Cotton
Thick, soft, stretch and stay up well
Avoid blisters
Machine & hand wash
9/ JOURNOW 10 Pairs Men's Cotton Extra Heavy Cushion Crew Socks
The next boots are JOURNOW boots, in terms of quality, they are not inferior to any boots above. With 80% Cotton and 15% Polyester, they give your feet a comfortable and cool experience throughout the day.
Besides reinforced heel and toe for high-strength socks, these socks are suitable for outdoor activities, sport and workout.
What we like:
Heavy cushion
Reinforced heel and toe
80% Cotton
Durable
10/ Realtree Girl Women's Ultra-Dri Boot Socks
Another pair of socks is a gift to our cowgirls. These socks are made in the USA with advanced technology. The materials include 75% Ultraspun Polyester, superior moisture control, half cushion foot, good arch support. Girls would have the perfect experience with them.
They are suitable for girls working on large farms, outdoor jobs or  for those girls who like to travel, picnic and wear socks all day long.
What we like:
Lightweight
Moisture control well
Reinforced heel and toe
Perfect for horseback riding
FAQ: Can you wear cowboy boots without socks?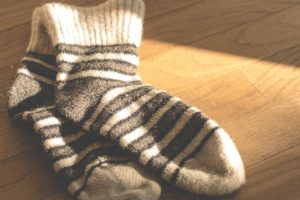 Yes, but only if:
Your feet are not sweating too much
Cowboy boots fit your feet, not loose and not tight
You don't wear it during the rainy season or snowfall
You don't get flat feet or high arches
You don't have big calves
Your cowboy boots are not too new
Your cowboy boots have pull tabs or zippers …
The reason is:
Cowboy boots have breathable soft lining with cushion insoles available in the boots.
So, if you have a normal foot and calf (no flat foot, no high arch, no sweat and no big calf), you can use cowboy boots without socks.
Besides, you should note that very few cowboy boots have good arch support (except western work boots), other types of cowboy boots usually have wide soles with no real arch support (though some brands like Ariat or Laredo there may have these things). So, if you have a high arch or flat foot, you should use socks with arch support.
Read more: The 8 Best Cowboy Boot Insoles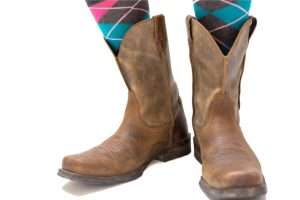 How do you keep your socks up in cowboy boots?
We have 3 solutions for you:
Method 1: Use dress shirt stays
This is the most useful method.
Dress shirt stays not only keep your shirt neatly, but it is also effective in keeping your socks stay up.
Just attach this product to your shirt and socks, then adjust the desired level.
Method 2: Sew an elastic band on the top of the western boot socks
If you accidentally buy a pair of socks and it gets sagging right after the warranty period. Don't get angry, just stay calm. Let's come to a tailor, he/she will know how to handle it.
Sagging socks is caused by a damaged elastic band (loss of elasticity). So if your socks are new and the elastic band is damaged (poor quality), go to a tailor and tell him/her to change to a new elastic band.
And remember next time, stop buying socks from that brand…
Method 3: Buy a new one
If your socks are sagging due to being old or poor quality, you should change into a new pair of socks.
A new and good quality sock can stay up well and support your foot health. Instead of keeping a pair of old and poor quality socks, you should think about buying a new pair of socks to cradle your feet.
A new pair of good quality socks will provide you flexibility and safety, long-lasting comfort and maintain your foot health.
Before you leave
As you can see, a pair of socks to wear with cowboy boots will solve a lot of problems. Socks would bring comfort, dryness and coolness to your feet all day long.
Besides, the socks today are incorporating a lot of new technology, especially support arches.
If you ask me, I'll definitely use socks when wearing cowboy boots.
Wish you find the perfect pair of socks to wear with your awesome cowboy boots!