I'm not Texan but the reason why I love cowboy boots is that one of my Texan girls has successfully lured me into wearing the boots and now I'm a blind fan of this item (just kidding!)
Honestly, putting on cowboy boots is a lot of fun. You can match them with whatever pants you have in the closet and the footwear will go with the outfit right away.
Believe or not, these divine boys ain't picky at all!
However, pulling on cowboy boots can be tricky. The key to success is knowing how to put on them with confidence. That's why you are on our post and reading the best cowboy boots for work.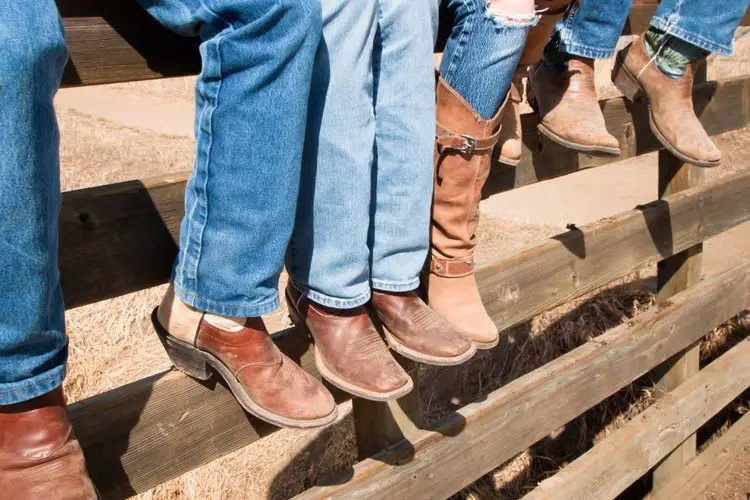 I bought my first pair of cowboy boots a couple of years ago and the one I got was a sort of crafted calfskin.
I was on my feet around the house doing garden stuff all weekend. I spent more than 10 hours at my brother's hi-tech shop consulting customers every day.
The boots suit well with either T-shirt, khakis pants, suits and button-down top. Now I'm still wearing them while writing this post for you guys.
What I want to state here is that cowboy boots are super durable (more than my expectations). They can last for more than 10 years of frequent use at work.
But for some heavy-abusive jobs like construction workers, heavy-duty drivers or metal workers, you may need to throw your feet into safer and more protective pairs of cowboy boots.
No more waiting, we have gathered around a list of the best cowboy boots for work below.
What types of cowboy boots are good for work?
Basically, cowboy boots come in millions of variations but they are often divided into a number of distinct types and styles.
The classic cowboy boot lines
They have the most refined and traditional designs. They usually possess a shaft height of about 12 inches and an overall classic and straightforward construction.
As per observation, you may notice that the boot shaft is designated to embrace the calves quite snugly and so they do not reveal the bulge under the pants.
A pro tip for you is to go with thin and modest pulling straps for an office outfit. They will make the overall outside of your pants look the smoothest and most sophisticated.
This line of boots is rarely seen with biggie broad toes or Roper toes.
Some of my friends accompany R toes, J toes, J snip toes or even S toes when they work as high-end product consultants, insurance agents, financial advisors or senior bankers.
Because the footwear goes pretty well with vests, suits and office button-down shirts. These investments will make the best impression on your business partner (for sure).
When you reveal glossy exotic leather vamps (like lizard, caiman, snakeskin or ostrich leather), that's when class is celebrated.
I actually love how these brilliant leather patterns are crafted on lavish boot vamps. They look like masterpieces of real art and culture. Many of my foreign business clients make some "wow" when they look at my vamps.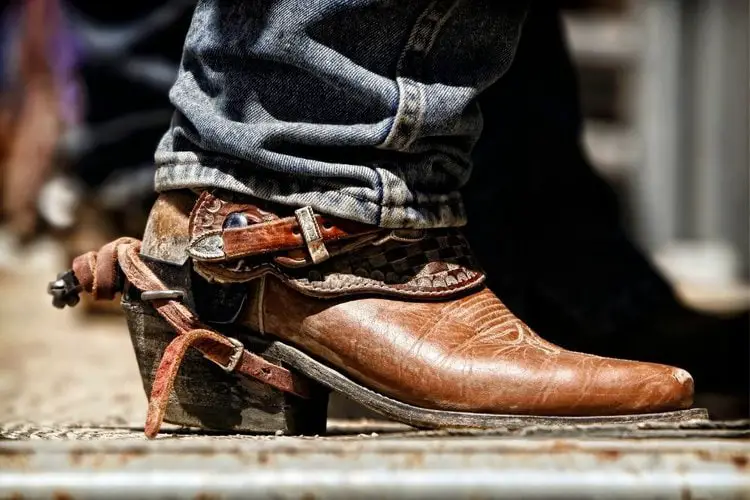 What about the heels? I personally recommend you go with western heels or cowboy heels (around 1.5 – 2 inches high).
Undershot heels can be fun, but sometimes they don't quite suit a professional and serious atmosphere (e.g. in a meeting).
Roper heels are fine even though they seem a bit tough. But they are healthier for your feet if you have to walk all day long.
Besides, leather outsoles will be a more breathable choice for hot seasons while rubber outsoles are rather ideal for cold and snowy seasons (as they are highly anti-slip and provide better friction on ice and snow).
Western Work Boots and Ropers
Roper and Western Work boots have been widely worn by outdoor workers such as farmers, ranch workers, metal workers, construction workers or heavy drivers.
Their heels are modified with square shapes like Stockman heels or Roper heels for more comfortable movement.
Obviously, the wider ​​the heels, the less foot fatigue when standing on your feet all day long.
You may not notice lots of differences between Western Work boots and Roper boots. Actually, Ropers are the earliest version of the later Western boots.
Western boots seem to have a bit more modern and spacious construction. So they are best suited for men who have to be on their feet for more than 12 hours a day like industrial workers or construction workers.
You will see quite a few Western boots with Stockman heels and square toes, broad toes, square-receding toes or broad square toes (highly recommended for heavy-duty drivers and construction workers).
Overall, they are super functional, comfy and protective due to their sturdy and supportive mid-calf construction.
Roper heels and Roper toes are typical of the Roper boot line (that's why they named the heels and toes after the boot name).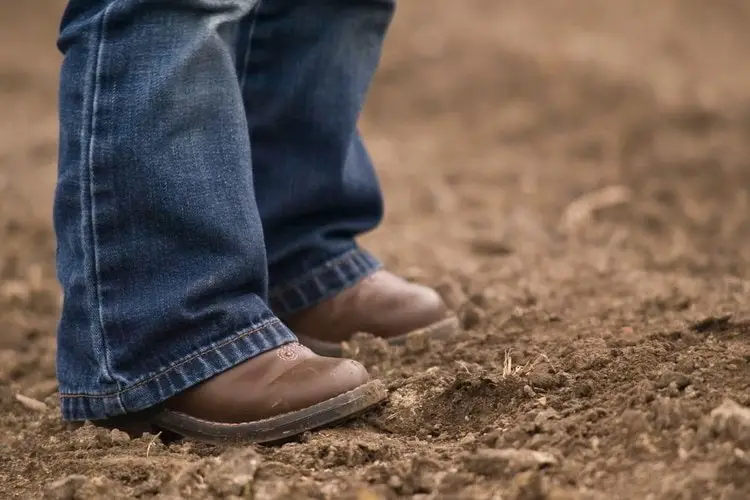 My aunt often wears Ropers with broad toes for gardening because they provide her with super roomy toe boxes.
This will not impede blood flow in the feet and toes that cause numbness, cramps or even lower back pain from having to stand up and sit down constantly.
I don't think you want to engage in glossy boots for manual outdoor jobs. Guess you'll be soon freaking out looking back at your boots.
I suggest distressed leather – one of the most recommended materials for outdoor work that requires being frequently exposed to sunlight, wind, rain, soil, mud or sand.
This endurable material is treated to become colorfast and resistant to environmental agents. They also mask scuffs and scratches better.
Tan, honey, dark brown, black cherry or dark black tones and variations make the best ways for hiding scuffs.
Western boots and Ropers with steel or composite toe caps are considered indispensable features for construction workers, container drivers, motorcyclists, hunters and metal workers. Something that is acknowledged by ASTM standards will be the best.
Besides, for jobs like farming, ranch or yard jobs, you can expect the waterproof feature of cowboy work boots. This can come from the natural real leather upper or artificially waterproof coating over the boots.
But remember, stitching construction of the footwear probably won't give absolute water resistance due to micro holes created by stitches. Therefore, you can go with thick outsoles or try to stay away from deep puddles at work.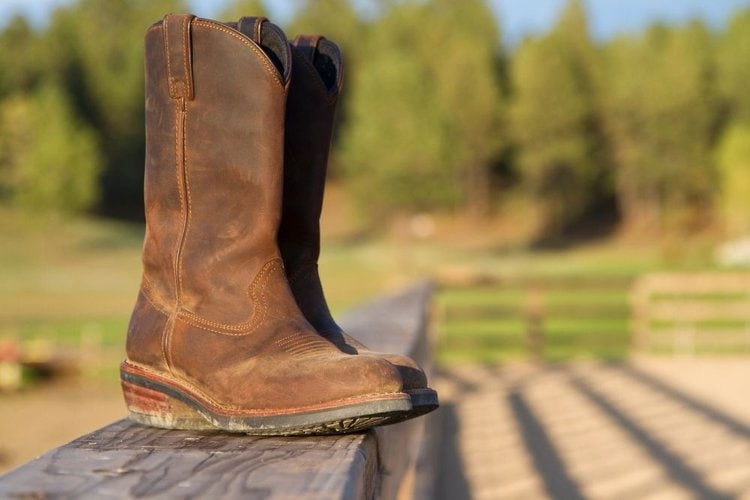 High-collar is important. My friend's mother who used to work in frozen chicken factories really appreciated this feature.
They help warm up her feet and keep her healthy even when standing in a below 10 degrees Celsius chilling warehouse. For most other jobs, high collars work as significant protection for legs and feet from splashing stuff from the outside.
These days, cowboy work boot outsoles are highly renovated by using synthetic/rubber outsoles where grooves are formed easier on the outsole plate.
They are lighter, more grippy and water, oil, mud resistant than leather outsoles.
You can go with something semi-grooved for mid-duty jobs and deeply grooved with lugs for heavy-abused job tasks.
This is one of the most must-have safety features to fight against slips and falls when it comes to working on construction sites, processing lines, ranches, grease industrial areas, farms and even on truck pedals.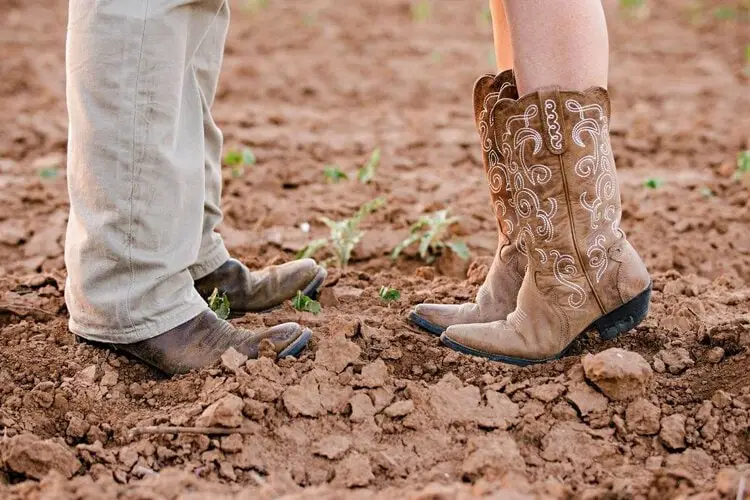 Last but not least, I recommend you choose some brands like Ariat or Durango that offer improvements in insole structure to reduce foot fatigue. This is due to gel pads or cushions that are added to heels, arches and the ball of the foot.
Overall, Ropers and Western work boots are super comfy for those who have to stand or walk on their feet for more than 10 hours a day.
As per my experience, you should run ½ size bigger when it comes to sorting cowboy work boots for manual jobs.
Buckaroo Boots
These are the tallest cowboy boots of all, up to more than 14 inches (about knee-high). It seems too long to tuck under the jeans, doesn't it? Yes, most people wear Buckaroo boots over their pants.
Today, Buckaroo boots are also designed and used as hunting boots and riding boots.
They are excellent at resisting snake bites and keeping warm, especially in snowy and low temperatures conditions.
For hunting and riding, these boots don't usually incorporate undershot heels or traditional cowboy heels. Instead, they will be fitted with Roper heels or Stockman heels for balance, stability and safety when passing through slippery slopes, cliffs, mossy surfaces or mud.
If your feet are drowning inside broad toes, you can go with round toe or square receding toes for a better snug fit.
Real full-grain leather is always highly suggested but guess you don't want to throw a lavish piece of polishable exotic leather on an abusive hunting trip. So, distressed leather is a way better choice.
Stockman Boots
Many people confuse Stockman Boots with Ropers and Western boots. Especially today, all three types have millions of variations mixing their own characteristics.
But the most remarkable point of Stockman boots is that they have a deeper V-cut (or deep throat that is called Scallop) than all the others.
This feature makes them a favorite among those with thick and muscular calves. They almost fit all types of legs (if you go with the right size).
You can wear Stockman Boots with R toes, J toes for office and indoor work.
If you have wide feet, go with round toes, broad toes, square receding toes and square toes for other manual work.
Stockman boots should go with Stockman heels or Roper heels. That's what they are often made for.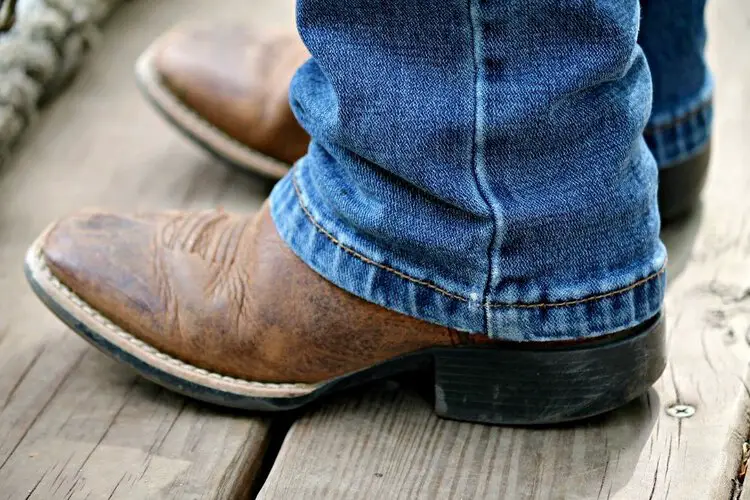 The Shortie Boots
If you want to opt for something more agile, the Shortie style might be what you're looking for. They have the same construction and design as the Classic types but the shaft height just falls around 10 inches.
Many consider them more practical and lighter than classic ones (it seems to be true!)
Therefore, they are also suitable for office jobs and other overall indoor jobs. And because of the shorter shafts, they make pulling on easier and more convenient every morning.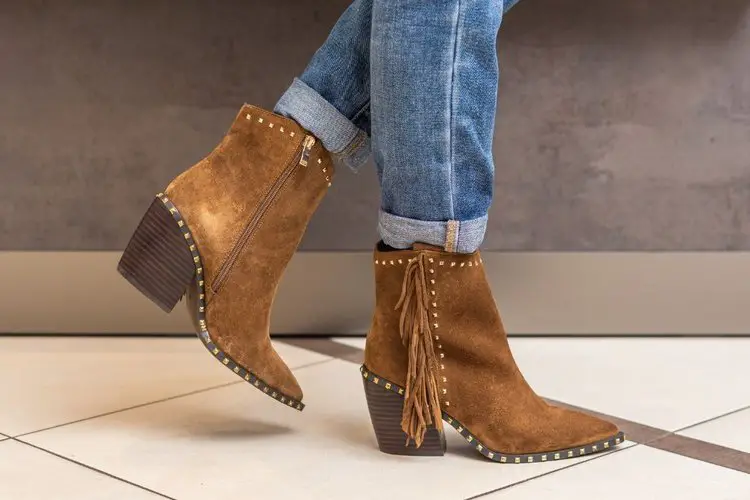 Personally, I highly recommend these boots for women.
I rarely see Shorties made with Stockman heels or Roper heels as they are expected to bring a sense of sophistication to the wearer. Perhaps western heels and undershot heels are what you are expected to have.
If you are working as a senior financial consultant or senior credit/stock/real estate specialist, I believe R toes or J toes is the affirmation of your class. That's even more exquisite if the vamps are crafted from real Bison, Caiman, Lizard or even Elephant leather.
Keep in mind that a sleek look is always the best for business casual.
Either you are going with cognac-toned exotic leather that has metallic finishes or real genuine leather with classic glossy black cherry, they are all good as long as they bring up professionalism and gracefulness to your business attire.
Best Cowboy Boots for Work in 2023
There are dozens of jobs that you can wear cowboy boots to perform. Here are detailed analyses and top cowboy boots recommendations that we have researched and found for you.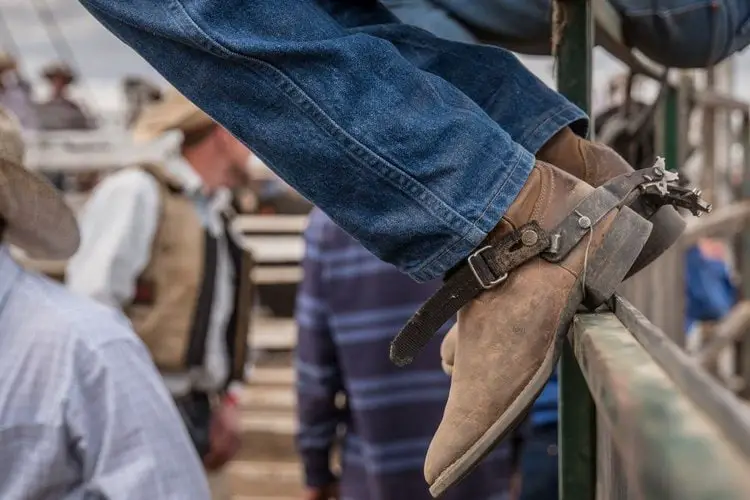 1. Ranch work
Ranch workers must care for livestock and poultry, feed them, bathe them, groom them, or even harvest animal meat and milk in wet or cold conditions (such as in a chiller or freezer).
Standing on your feet all day for up to 14 hours can be barbaric, in a way. Which cowboy boots should you pick for this job?
Ropers and western work boots that come with broad square toes or broad round toes are highly appreciated. Carrying heavy weights and standing for long periods of time can harden the blood vessels around your feet. Therefore, roomy toes are essential.
Roper heels or Stockman rubber heels help you keep balance and stability when walking in wet, muddy, or decaying grass.
Workers here have a much higher risk of falls and injury than in other environments. Therefore, rubber outsoles with grooves are a safer choice for life.
Mid-calf collar and quality distressed leather not only helps protect the feet but also help keep the body warm when standing for a long time in a cold room or freezer. One way or another, you will need to thank cowboy boots for this. Trust me!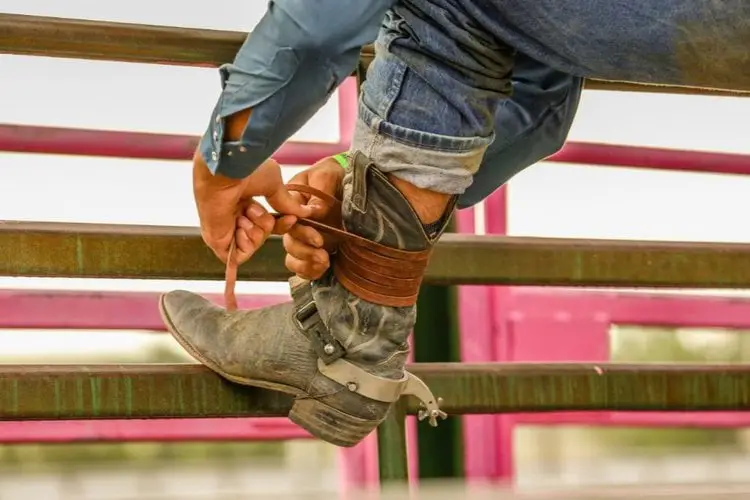 Ariat Hybrid Rancher Western Boots – Women & Men
Ariat Mens Hybrid Rancher Western Boot Brown Oiled Rowdy 10
Ariat Womens Hybrid Rancher Western Boot Distressed Brown 8.5
Ariat Mens Hybrid Rancher Western Boot Brown Oiled Rowdy 10
Ariat Womens Hybrid Rancher Western Boot Distressed Brown 8.5
Last update on 2023-09-28 / Affiliate links / Images from Amazon Product Advertising API
This is one of the signature cowboy work boots from the reputable Ariat brand. What makes them a good choice for farm jobs is how comfortable you can feel when wearing the boots. This comes from the sturdy and supportive construction that won't tire your feet out quickly.
The semi-grooved rubber outsole is grippy and tough enough to not slide out when you chase the pig, cow, cattle, or whatever on the ranch. It is pretty rigid and is a sort of heavy-duty type. That ensures water is unable to get into your feet from the ground.
Some said they experience a tight feeling around the arch or heel slippage. Even these problems are not common but they will get improved when the leather is stretching out and molding to your feet properly.
Besides, you can ride these boots as well as the heels are pretty comfortable and grip well on stirrups.
Indeed, there may be little roomy toe boxes with square toes at first. But since they are broken in completely, the leather can get pretty soft and comfy.
For men who have thick and wide feet, these Ariat boots are just right for you.
They fit pretty snugly all over the place but will mold to the feet comfortably afterward. Many appreciate distressed leather because they don't have to take care of the boots day by day after getting back home from the ranch.
More importantly, the 4LR footbed is a noticeable innovation in making cowboy boots from Ariat. This helps absorb shocks while reducing fatigue pretty well at the same time.
It seems to balance the rugged look and comfortability for the wearers when walking down the muddy ranch every day.
Overall, the boots are worth every penny because they are pretty well-made and endurable on tough jobs around the ranch.
Features
100% high-quality distressed leather for durability
Mid-calf boot shaft and low, semi-grooved rubber heel
Sturdy construction with six-row stitching patterns and Goodyear three-quarter welt
Featuring 4LS technology for better cushion and comfort
Featuring square toes and a tough shape
Con
The boots tend to fit too snugly before breaking in completely.
Farm jobs are involved in everything happening on the field whether it's vegetable planting, harvesting or driving agricultural trucks on different terrains and environmental conditions while ranch jobs are usually done within the ranch with animals.
Cowboy work boots made from distressed leather really stand up to the sun, wind, air, and even water if they are properly waterproof.
A grooved rubber outsole should be the first choice when looking for farm boots. They help you avoid slipping and falling when walking on mud, rotting branches, moss, or rock.
Rubber outsole should be worn with Roper heels and Roper toes to reduce pressure on the foot while walking all day long.
Ropers or western work boots with serious supportive insoles ensure happy feet at the end of the day, instead of suffocating pain.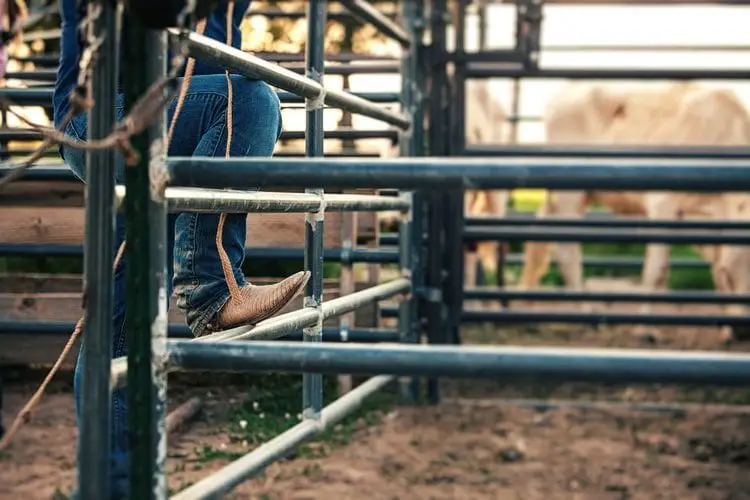 ARIAT Women's Fatbaby Collection Western Cowboy Boot
Sale
Last update on 2023-09-28 / Affiliate links / Images from Amazon Product Advertising API
If you are rather working in dry land on the farm, these Ariat Women Fatbaby is just right for you. They are pretty tough but are not heavy (to a certain extent) due to their ankle-height construction.
You can be rest assured to pass through a dense pasture without any harm to your feet and ankles. The boots bring up a great barrier to cover your legs from your surroundings. The boots hold up pretty well so I don't see many complaints about their extra snug fit.
Furthermore, you have enough roomy toe boxes to wiggle your toes. And for most of us, a vintage, distressed and cool look stands us out from the crow or the farm.
However, the boots aren't waterproof right out of the box. They can repel water to some extent. But if you need something more that works well on large puddles when doing farm jobs, you may need to simply oil the leather.
You will appreciate the distressed look of the boots. The color may not darken or change too much since you start to wear them.
Besides, the 4LR technology that comes with shanks and cushioned footbeds will send off energy return from the sole part. Overall, the boots are super comfortable compared to general normal cowboy boots.
Features 
Made from 100% quality leather
Synthetic rubber outsole for traction on farm
Featuring ankle height, square-off heels, and comfortable round toes
Featuring 4LR technology for extra cushion and support
Con
The size tends to run a little bigger.
ARIAT Men's Rambler Western Boot
Ariat Mens Rambler Western Boot Wicker 11
ALL-WEATHER BOOTS:From Nashville to L;A;, Austin to Boulder,the Rambler is the perfect boot to take...
ATS TECHNOLOGY: Advanced Torque Stability (ATS) Technology is a helpful combination of a moisture...
DURATREAD OUTSOLE: The Duratread Outsole on these western boots for men is Ariat's blend of rubber...
Last update on 2023-09-28 / Affiliate links / Images from Amazon Product Advertising API
These Ariat cowboy boots for men possess a very rugged and aged look. But what they can bring to you is more than that.
The boots own a super high-performance distressed leather that can be resistant to mud or dirt from farms. But if you walk in a higher level of water, for example, a large puddle, you may still get wet feet.
Their construction is pretty sturdy and tough which is good to walk down the hills for miles every day. You will be impressed by the reverse stitching and how well-made they are right out of the box. However, you don't get a stiff upper like others.
These boots provide a very supple feel and mold well to your feet. That won't force you to wait until the break-in period ends but you can put on them right away. The boots are also ideal for riding as they hold up the stirrups very well.
What makes you appreciate these boots are how supportive they are to your feet. This is due to the advanced ATS tech included with a gel-cushioned footbed for a bouncing experience and energy return.
This ensures happy feet at the end of the day, no matter how long you have walked while doing farm jobs.
Features
Quality distressed leather for durability
Featuring mid-calf height, square toes, and square-off Duratread outsole
ATS Tech with gel-cushioned footbed for extra comfort
Con
3. Office work
Classic western boots are always the best for the office due to their sophisticated and snug-fit construction. But that doesn't mean you should just wear them all the time.
You can still go with Stockman boots or western work boots but it is important to choose the most suitable designs and colors.
R toes, J toes or Snip toes are the most anticipated styles. But if you like square shape, you can go with square receding toes for a more elegant vibe.
2-inch Western heels and cowboy heels are suggested.
Whether lizard, caiman or cowhide leather, glossy looks are worth investing in business attire for the most polite appearance.
The shaft, vamp and toes can be combined with different colors and decorations such as black, peanut, tan or even white but I always recommend going with vamp which has special exotic leather patterns. They are such a class!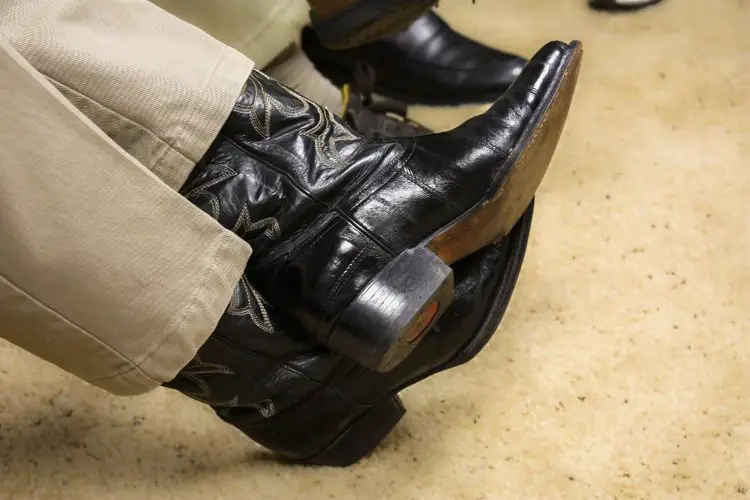 Dan Post Boots Men's Milwaukee Round Toe Boots Mid Calf
Last update on 2023-09-28 / Affiliate links / Images from Amazon Product Advertising API
These Dan Posts make every man the center of attention whenever they walk by. They possess a very gentlemanly look with glossy and polishable mid-calf shaft height.
But they are elegant. The boots fit pretty with all types of suits, tuxedos, and ordinary office pants due to their slightly pointed toes and moderate square-off heels. When you reveal the vamp, people would notice your footwear like dress shoes.
So, it's dressy and comfy enough to wear around the office environment. The brand has a great reputation for comfort cowboy boots. And, you can trust it! They are pretty well-made, well-constructed, and well-looked with a somewhat black cherry tone.
The boots fit comfortably in every corner so that you don't find your feet drowning somewhere. The western patterns inlaid on the shaft are outstanding but also elegant and super stylish. This is not too much to show off your heritage around the office.
But if you find the tone uncomfortable, just go with basic colors. Keep in mind that the glossy leather will tend to scuff easily so you may need to polish and condition them more often.
Overall, many admitted the boots fit comfortably and are a bit snug around the calf. They also have cushion insoles along with a lightweight design and that makes them a great choice for office cowboy boots.
Features
100% quality leather upper
Featuring heritage leather outsole
Featuring slightly pointed toes for an elegant look
Cushion insole and lightweight construction for comfort
Light and supportive shanks
Con
The boots require more care for a sleek look.
Ariat Heritage Roper Wide Square Toe Western Boots
Ariat Mens Heritage Roper Western Boot Distressed Brown 7
WESTERN BOOTS: This men's western work boot is hardwearing and looks good with classic and western...
SUPERIOR CONSTRUCTION: Add a traditional touch to your outfit wearing these boots with a leather...
ATS TECHNOLOGY: For stability and all-day comfort, these country western boots for men have the...
Last update on 2023-09-28 / Affiliate links / Images from Amazon Product Advertising API
If you are rather looking for something more rugged, these Ariat Heritage Roper cowboy boots are in the right place for you. They are a sort of clean and classic Roper boots and just rise above the ankle a little bit.
So they fit all kinds of muscular and thick calves. Their look is very decent and well-made. They are not vulnerable to sun, wind, dust, or water. So if your job requires you to walk around the office and also hit the road often, you ain't wrong with these boots.
The square toes may be a little tough but are dressy enough for the office, trust me! They fit in suits, tuxedos, jeans and whatever men wear with cowboy boots. Ariat leather is often soft, supple, and comfortable.
These ropers provide enough room for toes to not disturb blood circulation around the feet. Besides, it's worth mentioning the ATS tech from Ariat. The gel pads are included around the heels and the balls of the feet along with Y-shape shanks.
The structure helps to relieve foot pains, soreness, and fatigue quickly so you don't get home with tiring feet and lower back pains.
Features
100% full-grain leather upper for durability
Featuring ankle height, roper heels, and square toes
ATS technology for extra comfort and support
Well-made construction with three-row stitch patterns
Con
The square toes are different from the product description (round toes)
4. Construction sites
Construction jobs need the highest security and protection on our list. In many companies, workers will be distributed head-to-toe protective clothing packages.
But if you still want to wear your cowboy boots, you should go for Ropers, Stockman boots or Western work boots that have:
First, the toe caps need to meet the ASTM standard for foot safety when working. It is not unusual for a sharp iron bar or a brick to fall from above to your feet. That's why we highly recommend picking toe caps that satisfy the ASTM standard. That's the biggest guarantee.
Round toes, broad toes, broad square toes or roper toes are all good to not put more pressure on your toes and legs when you stand continuously for hours.
A grooved, rubber outsole and rugged Stockman heels and Roper heels are a must to keep you balanced and slip-free on wet concrete, wet sand, or other chemicals.
Finally, go for the lighter-weight option if possible. You can save a lot of energy when climbing up and down scaffolds and standing up to 12 hours a day.
Read more: Are Cowboy Boots Good for Construction?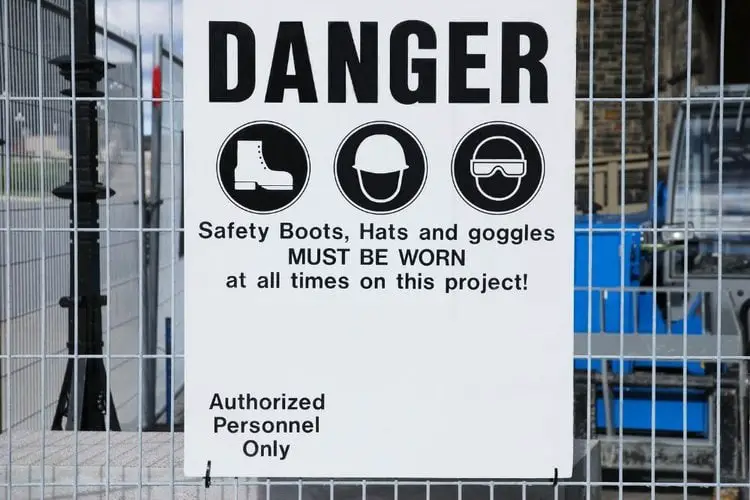 Irish Setter Work Men's 83910 Marshall 11″ Pull-On Steel Toe Work Boot
Sale
Last update on 2023-09-28 / Affiliate links / Images from Amazon Product Advertising API
It seems nothing else tougher than these Irish Setter cowboy work boots for being one of the safest construction footwear.
First off, they have steel toe caps for qualified protection that are endorsed by ASTM standards. No worry if the steel can conduct the electricity. Because they also met the standard for Electrical Hazard Safety Rating.
They may be a bit weighty but that's all you need for heavy-duty construction site jobs. Otherwise, the RPM composite included in the construction is more lightweight but better comfortable.
The supportive and cushion construction is excellent for 12 hours and more for climbing ladders or standing all day long. The full-grain leather is pretty tough and water-resistant to survive muddy, wet concrete, wet sand, and water.
You just need to wipe off the residue on the boots after getting back home and you have a good, ready pair of safety footwear for tomorrow.
The rubber outsoles are something impressive as well. They are thick and semi-grooved on the surface and edge of the outsole.
This helps to drain out water and dirt pretty well. Besides, the sole can be resistant to heat up to 475 F degrees. So, you won't get burning injuries from the ground or hot metal surfaces.
Features
100% full-grain leather for durability
Mid-calf height, ASTM-standard steel toes, and square heels
UltraDry Waterproof technology from the outside in
Heat-resistant, rubber outsole for safety and protection
Con
The boots may take a long time to break in.
5. Driving vehicle
You can actually wear any type of cowboy boots for simple daily driving, even the ones with block heels and snip toes. But driving a heavy-load vehicle is a different story.
You should go with Roper heels and Stockmen heels (sometimes western heels are fine) while driving heavy trucks and agricultural vehicles. These heel designs allow you to jump up and down the vehicles without experiencing electric shocks on foot.
Semi-grooved rubber outsole will stick to pedals and accelerators better when braking. So, you have fewer chances to encounter slips and falls when pressing the brake.
Roper toes, broad round toes and broad square toes with protective toe caps (like steel) are all you need. They provide complete protection and plenty of room around the toe for comfortable toe-wiggling. When you drive hundreds of miles a day, you will be grateful for this feature of boots.
Personally, I think Stockman boots with deep Scallop seem to be the best fit for long-distance drivers. The deep V-cut will not tighten the calves but make sitting more comfortable.
Driving Wearing My Ariat Hotwire Cowboy Boots
Wolverine Men's Rancher 10″ Square Toe Steel Toe Work Boot
Sale
Last update on 2023-09-28 / Affiliate links / Images from Amazon Product Advertising API
These Wolverine Men cowboy boots are included with steel toe caps. That makes them one of the worthiest pairs of heavy-duty driving footwear.
The toes are somewhat the most vulnerable parts of the feet when it comes to abusive driving.
The pedals and accelerators of trucks, containers, or agricultural machines are 3 times bigger and thicker than those of ordinary cars.
That's why you may need steel toe caps like these Wolverine boots to protect the toes from hitting the pedals hard.
The boots possess broad square toes that come with plenty of room to wiggle comfortably. So if you are about to drive for hundreds of miles a day, you have fewer chances to get leg cramps, muscle tension while driving.
What else makes you should wear these cowboy boots for driving is their Goodyear welt that protrudes more than the sole.
It protects the vamp and toes from serious scratches, scuffs, or even tearing from rubbing the pedals. The grooved rubber outsoles work well to keep your feet stable and on track on the pedals.
Even though you have stepped on deep mud or sandy puddles.
Features
100% quality full-grain leather upper
Feature mid-calf height, square rubber outsole, and square toes
Goodyear welt for extra protection while driving
ASTM steel toe caps for safety
Con
6. Yardwork
You can associate yard work with farm work but with a smaller labor area. Most Americans in their spare time work as yard workers in the family garden.
You should go for western work boots or Ropers that are well-resistant to dirt and water before cleaning the yard full of water, mud, dry leaves, and sand. You somewhat may need a water-repellent layer over your footwear right out of the box.
Mid-calves would be a good choice as they can prevent a snake from biting you while gardening (who knows how many snakes are lurking in your dense garden!?).
Roper toes, round toes, broad toes or broad square toes along with Roper heels, Stockman heels or western heels are all good to give your feet a comfortable wiggle and relieve pressure on your muscles, joints, and back. So, you don't get sore feet at the end of a hard day's work.
Some pretty embroidery patterns on the shaft will shine under the sun and may leave you in a loving-life mood while doing yard jobs.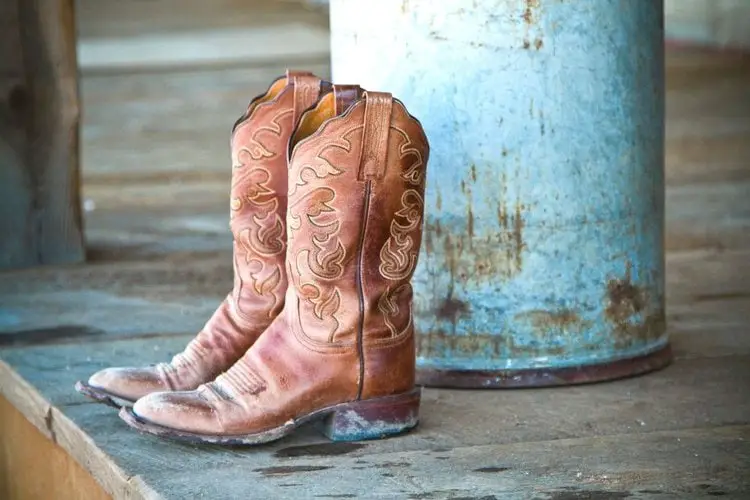 Ariat Men's Sport Wide Square Toe Western Cowboy Boot
Sale
Last update on 2023-09-28 / Affiliate links / Images from Amazon Product Advertising API
Ariat cowboy boots like these Men's Sport cowboy boots are such a great option for gardening and yard jobs. First off, they are heavenly durable due to full-grain leather construction.
This material is naturally waterproof right out of the box.
So, you can be worry-free when exposing them to moderate water puddles, dirt, sand, soil, or mud. The distressed surface is well-resistant to dirt and you can wipe off them easily. That all makes gardening stuff less stressful for you.
Besides, the boots seem to make for wide feet. So if you don't have thick, chubby, or super wide feet, you should run ½ size smaller than usual. Overall, the boots fit right out of the box, even when the leather is still stiff.
So you can function well with what you want to do during the break-in period.
The 4LR technology with extra cushion for the midsole helps to relieve pressures, pains, and sores when sitting down and standing up constantly while doing yard jobs.
Working under the sun or in hot conditions is no longer a nightmare when wearing cowboy boots. Because these boys come with air mesh lining for better perspiration inside.
Features
100% quality full-grain leather upper for durability
Rubber, Duratread outsole for water, mud resistant
Feature wide square toe, square heel, and mid-calf shaft
Air mesh lining for comfortability and perspiration
Con
7. Standing all days
You may be concerned about what designs of cowboy boots are suitable for standing all day long.
If you own extra muscular calves, you should wear Stockman boots. Their Scallop won't tighten the calves as much as others while standing all day long.
Roper heels and Stockman heels are greatly recommended because they produce less foot, toe, ankle and calf soreness at the end of the day. If block heels are mandatory, spend some time massaging your heels while at work to promote blood circulation around here.
Round toes, broad toes or square toes are all adaptable as long as they bring up comfort as much as possible.
In addition, lightweight boot construction won't force your feet to carry some unnecessary loads. Rubber outsoles and metal-free boot construction can help with this.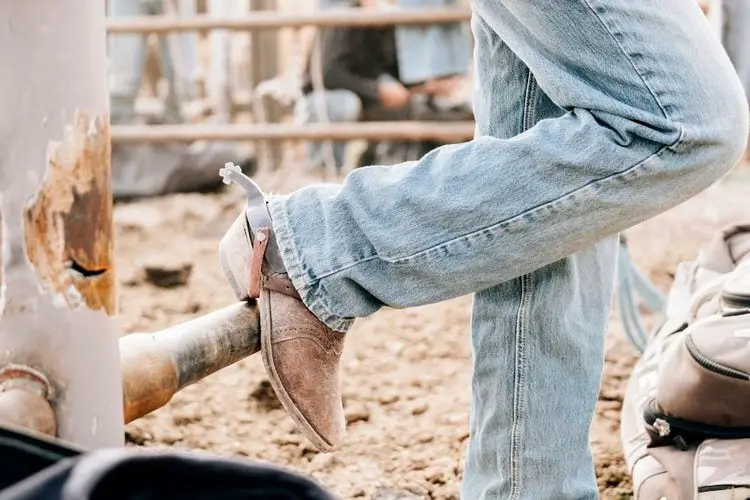 Durango Rebel Patriotic Pull-On Western Flag Boot
Sale
Last update on 2023-09-28 / Affiliate links / Images from Amazon Product Advertising API
Durango stands among one of the most comfortable cowboy boot brands over decades. These Durango Rebel Patriotic Cowboy Boots look like holding the whole American culture within their design.
Their construction is pretty sturdy but comfy. This is due to the super flexible and agile grooved rubber outsole. Their Stockman heels are low and also semi-grooved, which means your ankle and arch don't suffer a lot of pain and fatigue from standing for several hours after lunch.
The plenty of toe-wiggling room and square toes fit all types of feet, even wide and thick feet. It makes your feet look slimmer and more elegant but never boring.
Honestly, I don't receive a lot of compliments on appreciating lightweight cowboy boots. But these Durango boots are indeed light in weight.
That ensures the happiest feet at the end of the day standing 8 hours constantly in the processing line, dispensing counter, or cashier counter.
Besides, the American flag patterns printed on the shaft are fun and full of pride.
Overall, Durango cowboy boots are heavenly comfortable due to their proudly lightweight but functional boot construction.
Features
100% quality oiled full-grain leather upper
Featuring square toes, low square-off Rebel heels, and rubber outsoles
Cushion flex insole for extra comfort
Mid-calf height with 14" boot opening circumference
Con
8. Walking all day
General cowboy work boots are the best choice due to their relatively wide and comfortable design. You can still feel some roomy spaces between the legs and the boots while the boots are still molded to the legs and feet perfectly.
Low and square heels like Stockman heels, Roper heels and western heels will make you walk faster and more energetically.
Besides, I recommend you choose the supple boot shaft which won't take so long to break in. Your skin will have fewer chances of getting scratches from rubbing against boots. Leather lining or Ostrich upper can help with this.
Round toes, broad toes and square toes are all good but if you need something to fit better, square receding toes are the right thing to do. They still give enough roomy toe boxes as you wish.
It is much better if your boots are provided with a foot support system. After all, you will have beauty, function and healthy feet at the same time.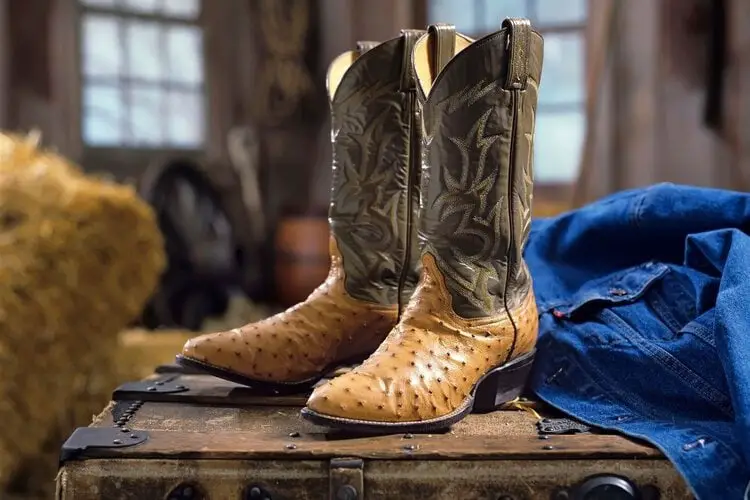 Ariat Sierra Work Boots – Men's Tough Heavy Duty Leather Work Boot
Ariat Sierra Work Boots - Men's Tough Heavy Duty Leather Work Boot
GENUINE QUALITY LEATHER: Made of premium quality full-grain leather, these men's Sierra Work Boots...
ATS STABILITY: For superior stability and comfort, the ATS technology is incorporated into these...
OIL- AND SLIP-RESISTANT: You won't lose your grip on any greasy or slippery floors. This pair of...
Last update on 2023-09-28 / Affiliate links / Images from Amazon Product Advertising API
There are not many brands that can beat Ariat for producing one of the most supportive cowboy boots for the feet. As someone who walks a lot all day long, I believe these Ariat Sierra Work Cowboy boots are all you need.
They are reinforced with grooved rubber outsoles that are pretty friendly to walk on the ground all day long. They are not too rigid or inclined to give a tough feel when walking on them.
So you have fewer chances to encounter heel and ankle pains at the end of the day.
Besides, the outsoles are treaded and well-resistant to oil, grease, water, and even ice and snow as well. This prevents you from slipping and falling while passing through several types of surfaces on the go.
The leather is soft and supple and won't take a long break-in period. Otherwise, you can wear the boots comfortably right out of the box. Many said their arch and heel don't get pains or sore while walking for miles on them.
This is due to the ATS technology on the midfoot that provides gel pads around the heels and the ball of the feet. It elevates your steps but also relieves shocks and fatigue quickly. Gel pads are more consistent than cushions.
It ensures a longer bouncing lifespan than cushion so you don't have to add extra insoles earlier.
Features
100% high-quality full-grain leather upper for durability
Grooved rubber outsole for oil, slip, and heat resistance
Feature round toes, square heels, and mid-calf height
ATS technology on midfoot for extra comfort and support
Goodyear welt for more protection
Good value for the money
Con
The size may run smaller than usual.
9. Overall Working Indoor
I'm working indoors most of the time and personally, when it comes to sorting cowboy boots for my job, I love going with snip toes (or at least R toes), even though they are pretty tough and stiff on my feet. But after all, I receive lots of compliments from my colleagues.
Well, what I want to say is, it doesn't matter what types of toes and heels and cowboy boot type you should have for indoor jobs. That could be whatever you like. You don't need much protection or safety so you have more chances to go with fabulous and carefree designs.
But, let's be honest, cowboy heels and block heels do the best for a business look, right?
Besides, snug-fit classic boots (from either classic western boots or Shortie boots) and R toes are more elegance and class.
Colors, materials and embroidery matter, too!
I have seen my big boss wearing one of the most fantastic full-covered real albino snakeskin classic cowboy boots with natural patterns that are worth some grand dollars. I mean, the boots are such a feather in his cap!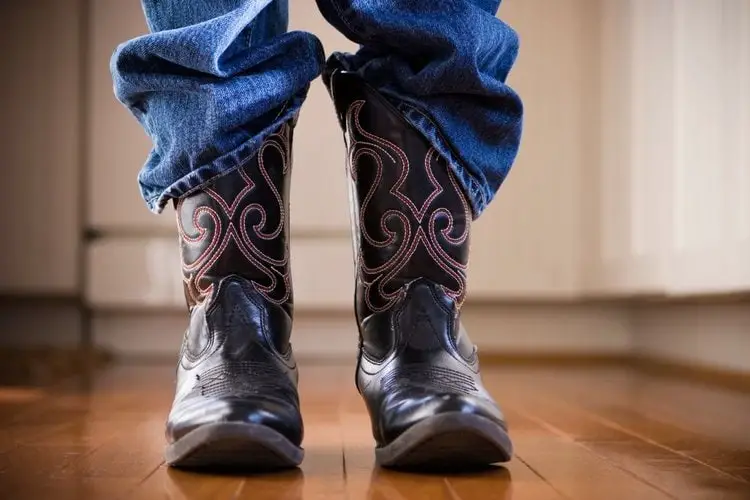 Ariat Men's Heritage Western R Toe Cowboy Boot
Ariat Mens Heritage R Toe Western Boot Black Deertan 9.5 Wide
COUNTRY FASHION: Get your cowboy work look on-point wearing these men's calf boots from Ariat's...
PREMIUM QUALITY LEATHERS: These classic western boots by Ariat carefully used the right kind of...
ATS TECHNOLOGY: For superior stability and all-day comfort, these cowboy boots for men have the...
Last update on 2023-09-28 / Affiliate links / Images from Amazon Product Advertising API
As mentioned above, we come up with flashy but elegant options for your indoor working footwear with these Ariat Men's Heritage cowboy boots.
If you want to show off on-point cowboy boot heritage, these boots are just right for you. The boots reflect an absolute country style with glossy and polishable leather upper.
Yet, the western patterns on the shaft and the tone variations are pretty classy and elegant.
The toes are not too pointy but rather slightly round and pointed. So they are more comfortable and roomy, even when you don't walk that much indoors. You don't need extra insoles for high arches because Ariat thinks for you before you could notice that.
The ATS midsole technology is above all. The construction includes gel pads around the heels and the ball of the feet.
Whenever you walk, the gel will bounce and elevate your steps. But it's more consistent and flexible than a cushion.
So even if you don't walk much indoors, your foot and leg muscle tension is relieved gradually. Above all, the boots fit every kind of men's suit, tuxedo, vest, and ordinary pants.
They mold the legs well so that they don't create puffiness under your pants.
Features
100% quality full-grain leather
Featuring mid-calf height, round pointed toes and cowboy heels
Elegant western patterns on the shaft
ATS midfoot technology for extra comfort and support
Con
The boots may not fit thick and muscular feet well.
10. Overall working outdoor
Not surprisingly, the cowboy boots you need for outdoor work will have a rougher and less eye-catching look than ones for indoors.
I recommend choosing distressed leather with light brown, dark black or tan tones. They do not easily reveal stains, wrinkles, or scratches on the surface. A glossy look ain't something right!
Grooved rubber outsoles along with Roper heels, block heels (sometimes maybe) or western heels are suggested. They produce stable walking gaits and are healthy for the feet and lower back.
If your job requires walking a lot, you should go with round toes, Roper toes or square receding toes. Otherwise, R toes are way more stylish.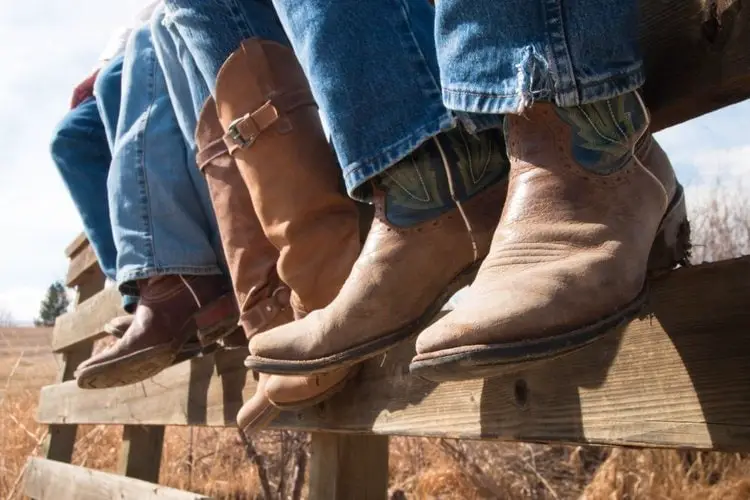 ARIAT men's Groundbreaker Square Toe
Ariat Mens Groundbreaker Wide Square Toe Work Boot Brown 9.5
WORKS AS HARD AS YOU DO: The Groundbreaker by Ariat are made for the long haul: strong, sturdy and...
THE SUPPORT YOU NEED: The Duratread outsole is both oil and slip resistant and the 90-degree heel...
EVERYDAY COMFORT: Along with the 4LR (Four Layer Rebound) technology for added comfort, these men's...
Last update on 2023-09-28 / Affiliate links / Images from Amazon Product Advertising API
What makes these Ariat men's Groundbreaker cowboy boots a great option for outdoor work is how protective their construction is.
This is due to the well-fit upper design which is also adaptable for wide feet and thick calves. But no records of slips, losses, trips or falls due to wearing the boots.
The distressed, high-quality full-grain leather vamps are well-resistant to water, dirt, mud, and even oil.
But keep in mind that the suede shaft is not working the same. They may retain dirt and water-based stuff easily. Besides, they are not really waterproof. They tend to leave soaked feet when you step on puddles.
So I don't recommend wearing these boots for heavy outdoor jobs. The square toes are roomy and fit comfortably. They reveal a very decent look for a daily outfit at work.
You may need to walk on them for a few miles to get the right stretching but after all, they are incredibly comfy to stand on for extended periods of time.
The low square rubber outsole along with 4LR midsole technology is giving higher support for the heels, toes, and arches. They don't tire out your heels and arches at the end of the day.
Features
100% full-grain leather upper for durability
Featuring mid-calf, square toes, and low, square-off rubber heels
Adapting to wide feet and thick calves
4LR midsole technology for extra comfort and support
Good value for the money
Con
Are cowboy boots appropriate for work?
Reading this far, I guess you already have your answer. And Yes, they are!
In fact, millions of Americans wear cowboy boots to work every day, whether it's a desk job or a manual job.
For me, I am very grateful for my classic cowboy boots because they keep my feet warm when sitting in an air-conditioned room at 64 degrees F for more than 10 hours a day.
My immediate boss often puts on a glamorous pair of cowboy boots when being in meetings with international clients because he thinks it is something that speaks the spirit of an American company.
My bro, his spouse and his two sons all wear the same uniform cowboy boots when going to school and going to work.
Cowboy boots are such a part of American life and for those of us who spend half a day working, why are cowboy boots just around the corner?
Some last words
We've provided all the information you need to find the best cowboy work boots.
Therefore, if you still have some doubts or concerns about wearing cowboy boots for work, mention us here so we can discuss and find out what's best for you. Have a nice day ahead!
Howdy y'all, and welcome to From The Guest Room, your ultimate guide to all things Western! I'm Jay Gatz, a lifelong cowboy boot enthusiast with over 5 years of experience in the Western style world. I'm excited to share my knowledge with you and help you discover the perfect cowboy boots and western gear to elevate your style. Let's explore the rich history and timeless appeal of Western fashion together!