It is true that people often prefer sports shoes to wear all day long since they are light, breathable, and comfortable. I myself am one of the elite members of the sneaker club.
However, sometimes sneakers are only really comfortable in pleasant environmental conditions. In a more tough place with hot sun, cold snow, or hard labor, I prefer cowboy boots.
I can't compare the comfort between sneakers and cowboy boots, it's true!
Sneakers have the aforementioned modern comfort, but cowboy boots offer a different kind of pleasantness.
That's the comfort of familiarity, warmth, and understanding. When wearing cowboy boots, you always feel protected anywhere anytime. They are your great buddies!
In fact, today many people choose cowboy boots for standing all day, and also for casual wear. With cutting-edge technologies applied to cowboy boots day by day, they have grown much taller and farther than you can imagine.
Today, we will talk about that! And I will tell you which cowboy boots are the most comfortable choice for standing all day.
Let's go!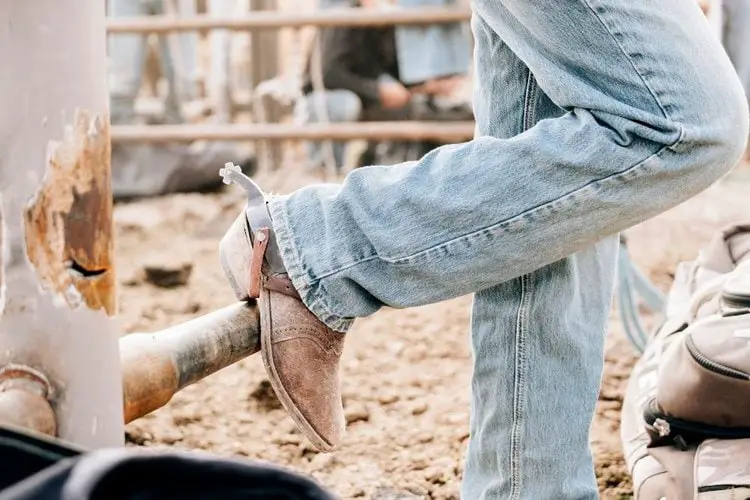 Are cowboy boots comfortable to stand in all day?
Well, as noted above, today's cowboy boots aren't just ranch wear on majestic grasslands, they're excellent footwear to serve different purposes.
My cousin likes to use cowboy boots to work in factories, and a friend of mine likes to use them for construction sites. And I, like my father, still enjoy roaming his farms in cowboy boots.
And I discovered the similarity of these jobs, that you have to stand on your feet for a long time, almost most of the day. So why still choose cowboy boots? Here are some of my conclusions: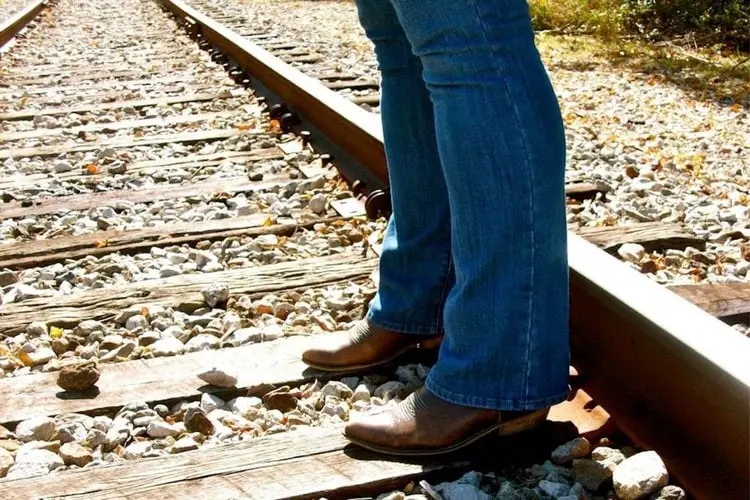 Modern cowboy boots are more comfortable
The most important thing when choosing cowboy boots for standing all day is that they need to keep your feet comfortable. The good news is that cowboy boots today have more modern technology integrated into them.
For example, Tecovas boots still keep the traditional profile but have very good arch support – thanks to the structure created by lemonwood pegs and shanks in the arch area.
Ariat cowboy boots are no less when their boots have EVA midsoles that have only appeared in sports shoes before, ensuring your feet are well-cushioned.
Cowboy boots of the old days had a flat insole with no arch support, making the soles of your feet sting during long hours of the day. Thankfully,  that feature is diminished these days.
Today's cowboy boots are also equipped with a shank to ensure good stability when used.
Elements like shank and arch support are really important as they can effectively reduce the pressure on your foot, ankle, and knee.
All the reasons above prove that cowboy boots today can make you feel comfortable standing on your feet all day.
Cowboy boots have good protection
Most cowboy boots are appreciated for their superior comfort to sports shoes.
If you just need a type of footwear to wear in the garden, sports shoes are a good option. But when you stand in places with strong sunlight, snow, or potentially falling objects, cowboy boots will be a more suitable choice.
The difference between leather and fabric is that leather always has better durability, and is more resistant to forces, weather changes, and collisions. The good news is that all good cowboy boots are made of 100% leather.
One of the main reasons cowboy boots often appear on the ranch is that they can neutralize the hot sun or cold snow easily, your feet and calves can be comfortable in them.
Besides durable materials, cowboy boots also have a high construction (about 11 inches) that they can protect not only your feet but also your ankles and part of your calves from the impact of external forces.
Nowadays, cowboy boots come in many varieties that are even more protective than traditional ones. For example, cowboy work boots can be reinforced with steel or composite at the toe to ensure better protection.
So if you work on a construction site or ranch, cowboy work boots are great to protect you from heavy objects falling on your feet.
Cowboy boots come in a variety of types and styles to suit many different jobs
The first is about materials, the rise of exotic leather cowboy boots today brings great experiences for many different jobs, and those that require standing all day are no exception.
For example, ostrich leather possesses many pores. Moreover, it is extremely soft due to having a lot of natural oils in the structure. You will be completely comfortable standing all day.
Or, if your budget does not allow you to buy exotic boots, then goat boots are also a very good choice for summer.
The main reason is that goat leather has many large pores for better breathability, you can stand all day in hot weather without worrying about your feet getting wet from sweat.
The second is about the structure of cowboy boots. Modern cowboy boots come in different constructions like leather / rubber sole, or leather / mesh lining.
I like to use boots with leather sole and leather lining for summer because they absorb sweat well to make my feet stay cool. But I prefer to use rubber sole boots when carrying heavy loads because they are flat and absorb shock better.
In addition, the heel also plays an important part when using cowboy boots for standing all day. Cowboy boots come in a variety of heel heights and shapes, and the roper heel and walking heel with 1 to 1 1/2 inch heights are comfortable for standing.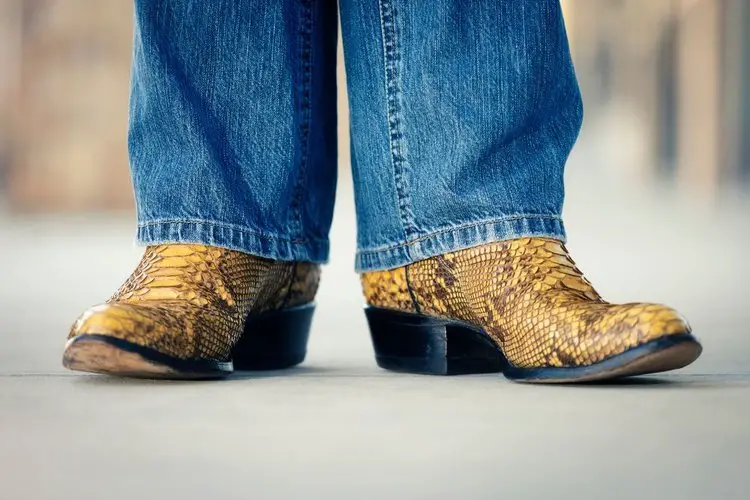 How to choose the right cowboy boots for standing all day?
While most cowboy boots are great for working all day, not every pair is the same.
Choosing the right cowboy boots for your job is the most important thing, I have some suggestions as follows.
Cowboy boots with a roomy toe box are a good choice to ensure your toes can breathe, you should opt for round toe or square toe boots instead of snip toe or pointed toe ones.
Also, cowboy boots with round toes and square toes offer wider bottoms, you will have a better balance.
Moreover, cowboy boots should have shanks to ensure more stability when standing for a long time, I think this is also a very necessary feature.
To ensure that your ankles, heels, and knees don't bear too much pressure while standing, choose boots with good arch support. Also, cowboy boots should have heels that are no higher than 1 1/2 inches.
In terms of boot materials, if you do light work, choose goat, ostrich, or lizard boots. These boots provide a very high level of comfort (more on that below).
However, if you need boots with high durability and strength for heavy work, cowhide or bull hide ones are still the best way to go. For jobs like construction sites, you should look for boots with a safety toe for good safety.
If you choose cowboy boots for summer, leather soles are preferred as they absorb sweat and are more breathable than rubber ones. Meanwhile, in cold or wet conditions (rain, snow), cowboy boots should have rubber soles for anti-slip and effective insulation.
One thing that many people don't notice is the pegs of cowboy boots that connect the insole and outsole. For your information, it is recommended to use lemonwood pegs.
The reason is that when standing for a long time during the day, your feet are easy to sweat, which will lead to the leather getting wet and stretchy.
And lemonwood pegs, absorb sweat and stretch well. This uniform stretch ensures the cowboy boots mold your feet and hold their shape better. Besides, the ability to absorb the sweat of lemonwood pegs is also a plus point for the hot season.
Best Cowboy Boots for Standing All Day
Different types of cowboy boots will bring different experiences. Well, I will try to analyze their outstanding features so that you can choose easily.
Hope they'll fit your needs!
Men's cowboy boots
Men's cowboy boots are always more diverse in categories than women's.
You'll easily find very nice cowboy boots suitable for the elegance of the office to wild style for ranch work.
Therefore, the structure of men's boots is also more diverse and many boots are suitable for all-day standing requirements.
1. The Earl cowboy boots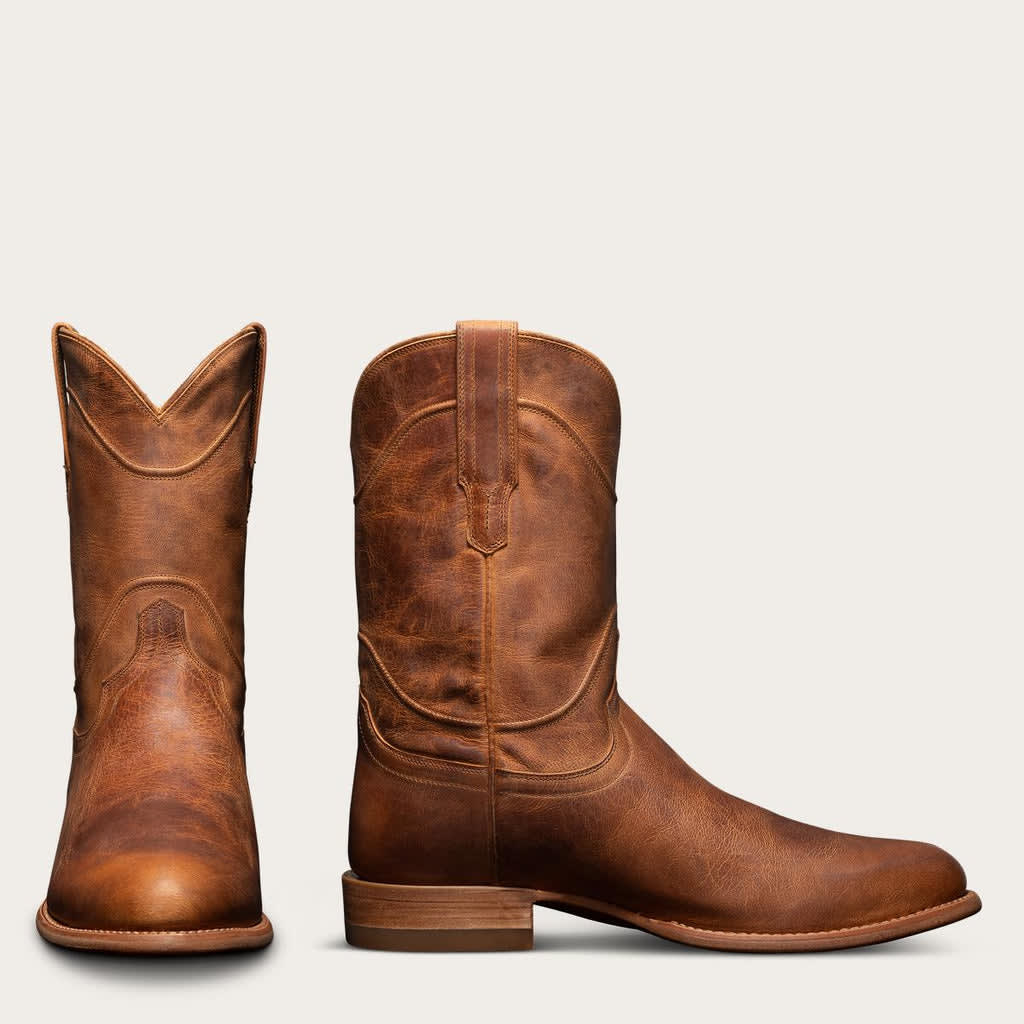 The Earl is one of the most successful products of Tecovas – a hugely popular brand of cowboy boots, and there's certainly a compelling reason behind it.
First of all, The Earl is made from goat leather which is extremely breathable (goat leather has a lot of small pores) compared to other leathers. For me, this is a huge benefit when you want to use boots for all day standing.
In addition, The Earl has a beautiful and comfortable construction when offering a round toe with lots of room, a stable 1 1/8 inch heel, and a flexible leather sole. You will be able to stand on your feet all day without fear of fatigue.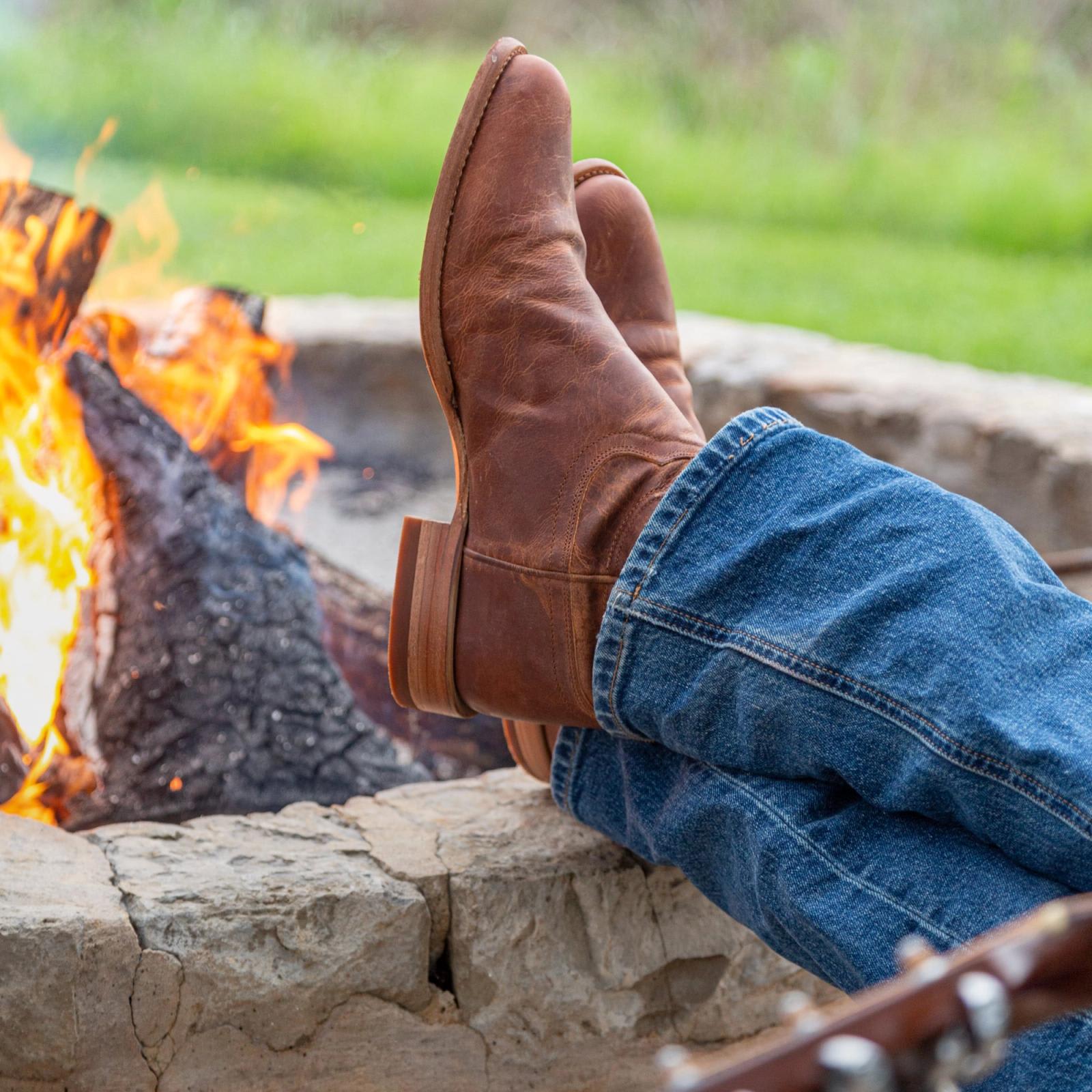 Most people prefer to use The Earl boots as work boots because they have a low construction with a 10-inch shaft and don't have a lot of stitching on the shaft and vamp.
The reason is that with the low shaft, you'll be able to put on/take off them easily. Moreover, less stitching will save you a lot of time cleaning your boots.
In addition, The Earl boots also have good arch support, which is important as they can reduce stress on your heel, arch, and knee while standing.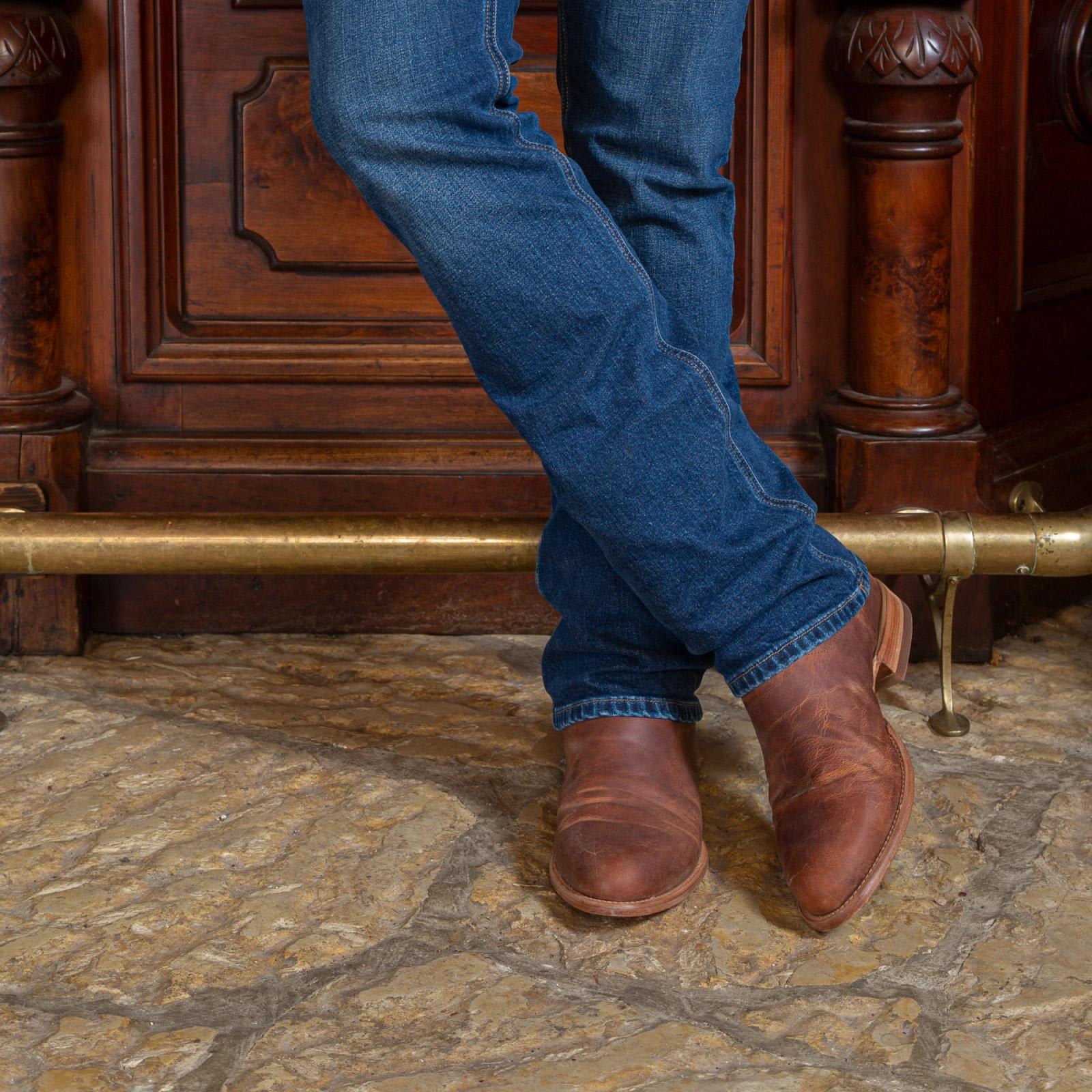 Besides the breathable feature of goat leather, the leather sole and leather lining also absorb moisture very well, creating favorable conditions for you to comfortably stand all day in hot weather.
However, no matter how you use the boots, you still love their look thanks to the unique and natural colors and wrinkles that only goat leather has.
Beautiful, comfortable, and versatile, The Earl boots are definitely the #1 choice for standing all day!
2. The Duke cowboy boots
A pair of ostrich boots will be a great choice for your workday because they are extremely soft, breathable and durable. The reason for that is that ostrich boots do not contain a lot of natural oils, so they do not dry out or crack as much as other leathers.
The Duke ostrich boots from Tecovas will make you fall in love with them as they possess all of the above properties and more.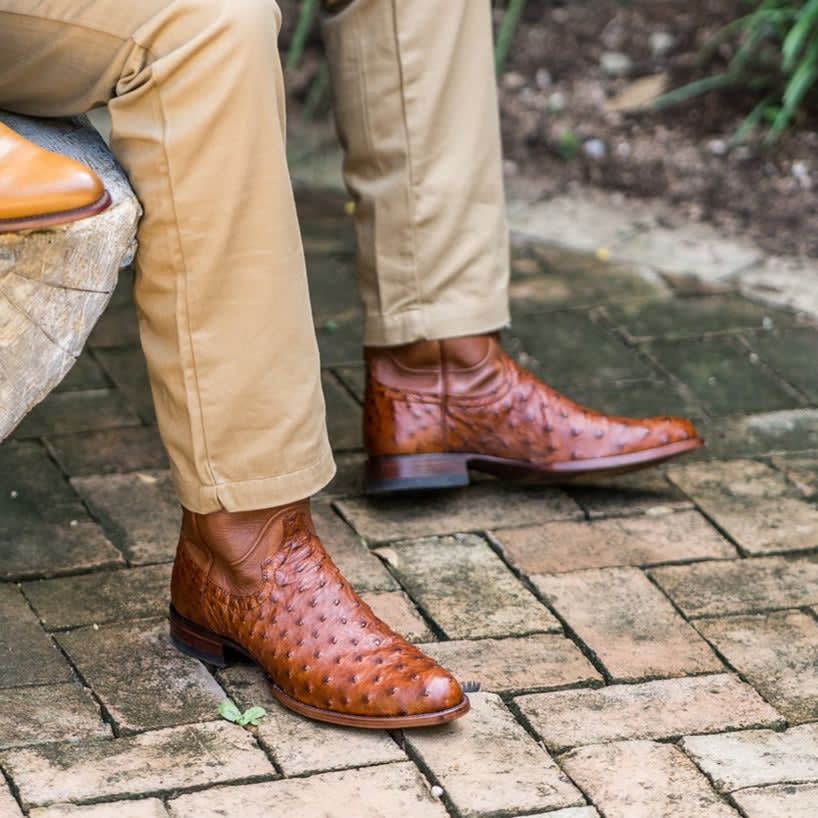 The Duke boots have a low heel construction (1 1/8 inch) so your heel won't take a lot of pressure while standing. Besides, the round toe also has a lot of room for your toes to wiggle and not get pinched.
Because the heel has a block shape and the toe shape is relatively wide, the boots have a wide, flat bottom, plus good arch support to stand all day without bearing too much stress on the heel, arch, knee and hip.
The softness of the ostrich leather also ensures that your feet are always comfortable.
Leather soles with good sweat absorption also keep your feet dry all day long.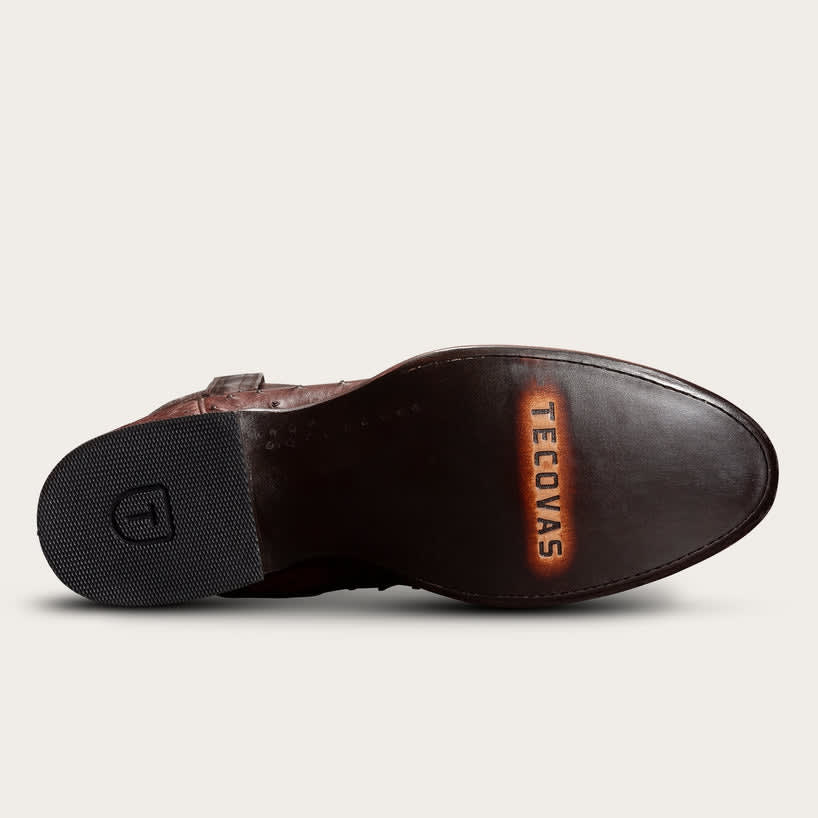 In addition to good construction and great comfort for standing all day, the boots also have a sharp look with a unique bumpy surface that is only available in ostrich leather and rich color.
The Duke Boots is also said to have a very good fit, a short break-in period is also a great feature to support you to stand all day without getting tired.
3. The Knox cowboy boots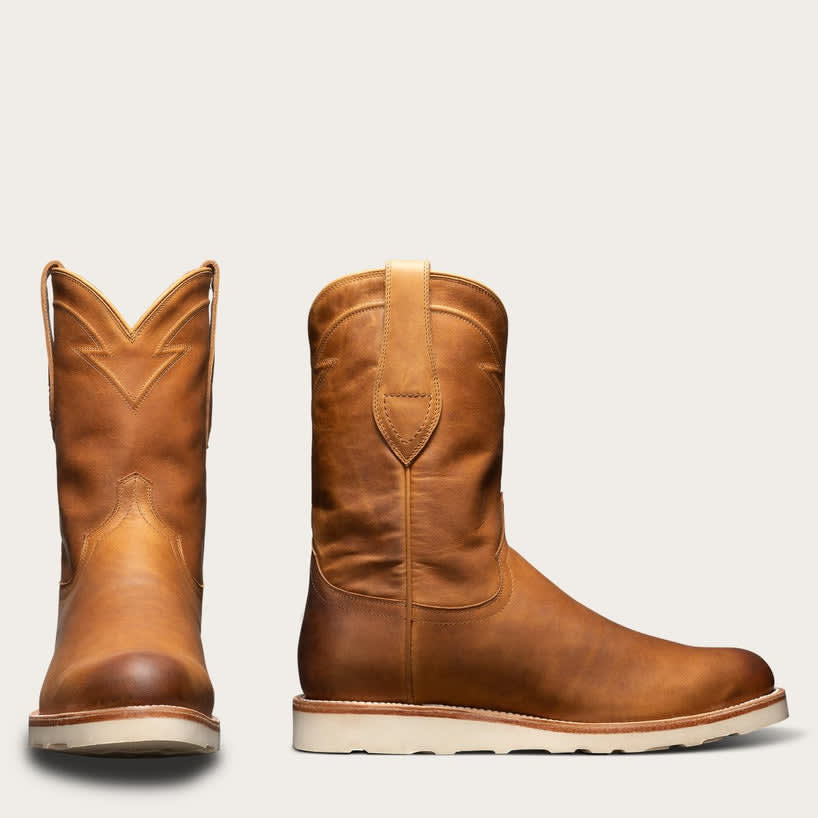 The Knox boots are a pair of cowboy boots with a special sole variation, made specifically for all-day standing.
If you don't like this change, just skip it. But from a more modern and youthful perspective, I find these boots quite interesting and stylish.
The special thing is that The Knox has a wedge sole roper with a 1-inch thickness. This type of sole provides an extremely soft and well-balanced platform that is great for those who are working, walking, or standing all day.
In addition to the extremely impressive and disruptive soles, The Knox owns the familiar feature of Tecovas boots: a round toe with lots of room in the toe box, ensuring your toes can breathe and stay comfortable.
Besides comfort, these are also very durable boots that can serve for work thanks to Goodyear welt, reinforced pull tabs, and bovine leather.
With the water and stain resistance, these boots can keep your feet dry despite it's rainy or snowy in your place.
Unlike cowboy boots with leather soles, which are often quite slippery, The Knox's soles have low-profile lugs that can provide a certain grip.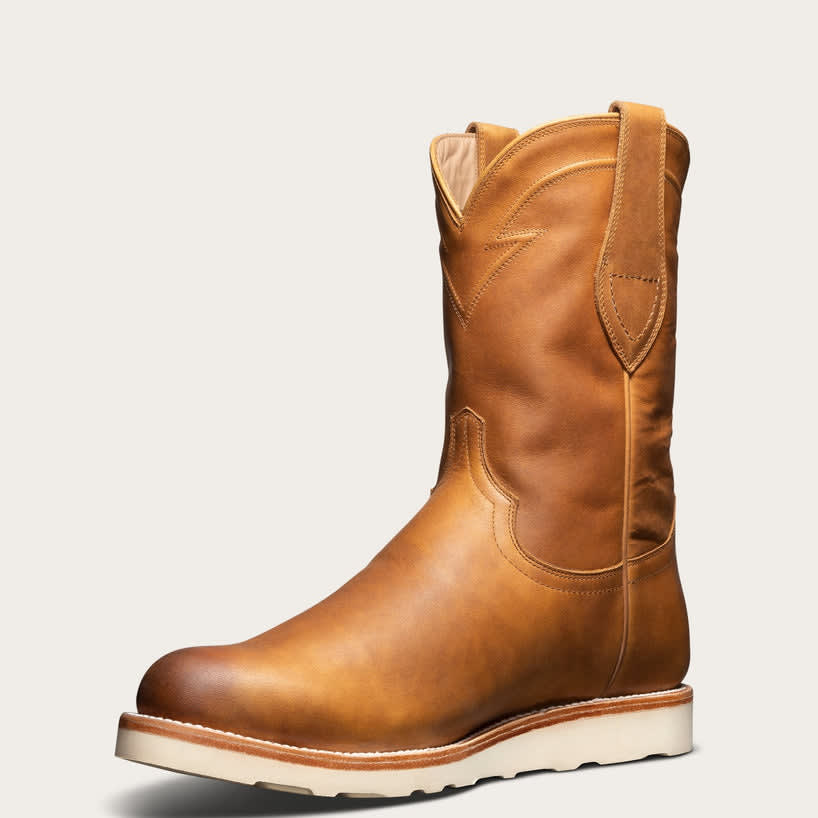 Finally, because it is well polished with a darker color on the tip of the toe, The Knox boots look very stylish and youthful, not classic like traditional boots.
Overall, these boots not only give you satisfaction while standing all day, but also please you with their look, especially for young people.
4. The Nolan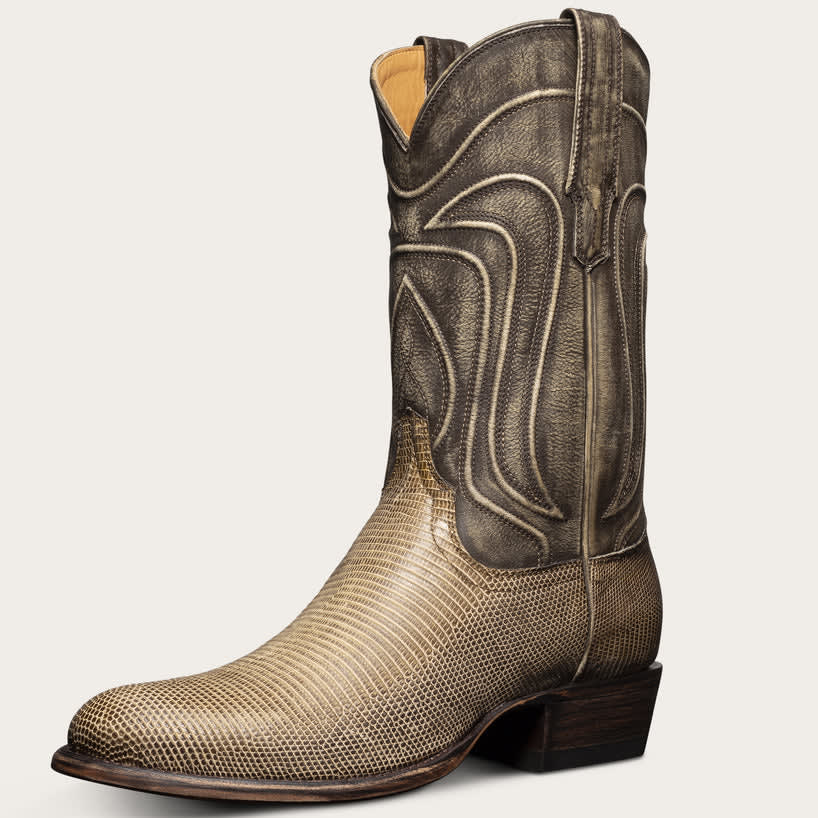 In addition to ostrich leather, lizard leather is also a material that is highly appreciated for its softness and flexibility in the cowboy boots world.
The Nolan boots by Tecovas are one of the very famous lizard boots as they offer great softness and comfort to the wearer with a very short break-in period.
All of the above are essential for standing all day, but that is not all when The Nolan in the skillful hands of craftsmen can do much more.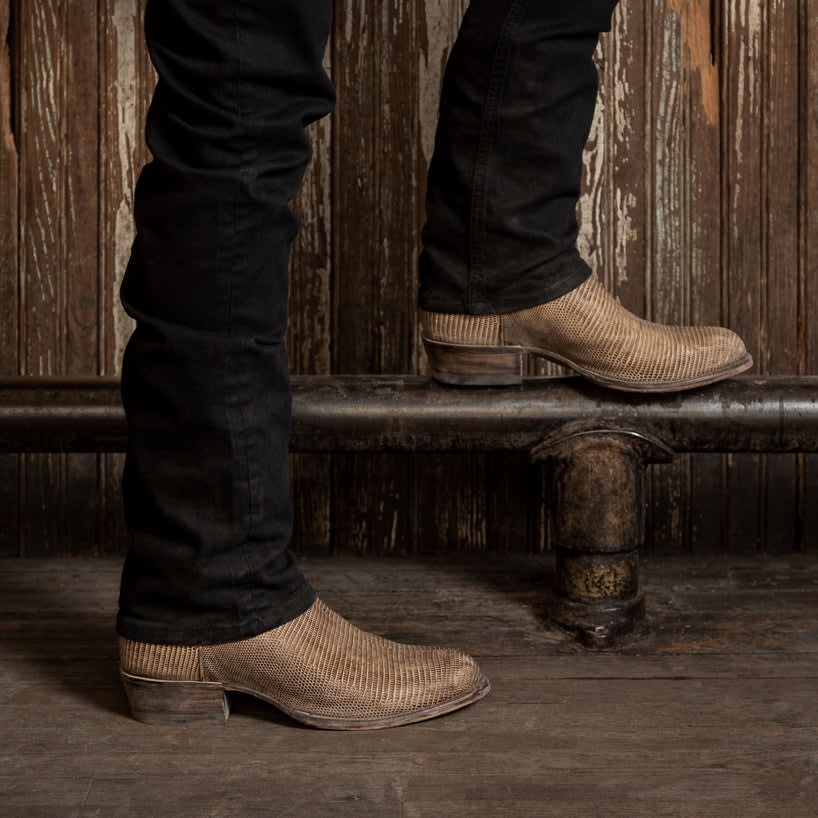 First of all, the shaft is entirely made of calfskin, which is also a soft leather and very well molded, perfect for providing all-day comfort.
The 1 1/2 inch cowboy heel is adequate to keep you stable all day, and good arch support also reduces stress on your heel, arch and knee.
These boots have the same round toe shape as many other Tecovas boots, and that's why they don't numb your feet like a pointed toe or snip toe.
The Nolan's structure is absolutely comfortable for the wearer to stand all day. It also has a unique and impressive pattern typical of lizard leather, which is very uniform and luxurious.
If you didn't ask for more, then these just seem to be the boots you need!
5. The Midland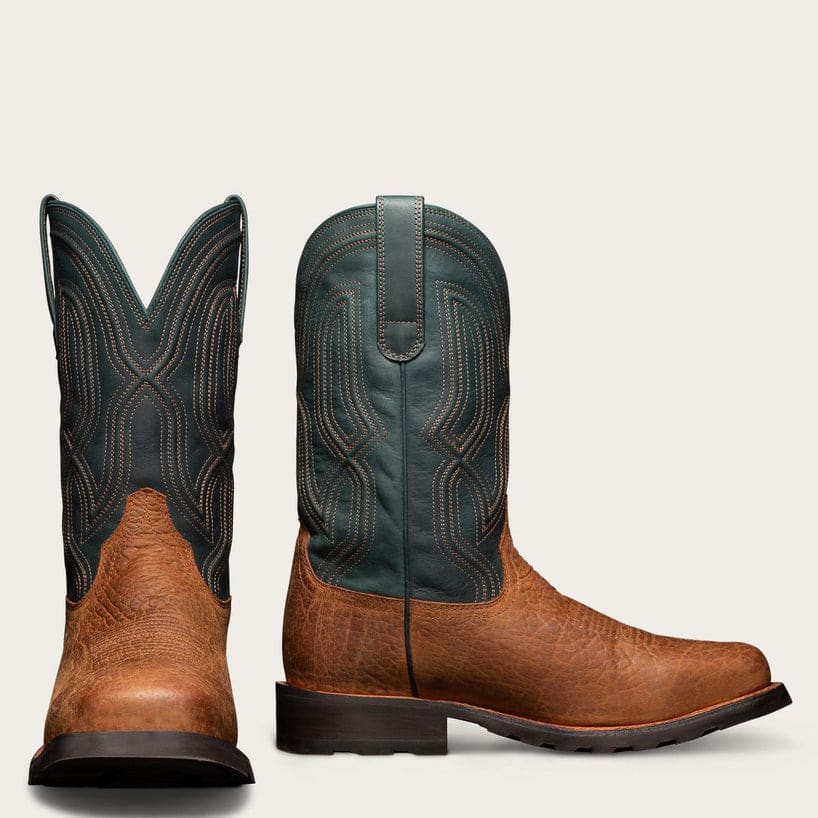 A pair of cowboy work boots would be great to cap off the day. In case you don't know, cowboy work boots can be used for many heavy jobs such as driving trucks, ranch work, or even appearing on construction sites (if it's the specific type for construction).
A lot of us use cowboy boots for outdoor work, so why not take a look at The Midland?
The Midland is one of the cowboy boots that appear in Tecovas' ranch wear category, and I love its solidity, safety, and comfort.
Made from oiled bovine and bison, the boots have a very good bearing capacity and bring comfort to the wearer regardless of winter or summer.
What you need to look out for is the Vibram sole and removable dual-footbed, because they're super comfortable and cushion your feet well for standing all day.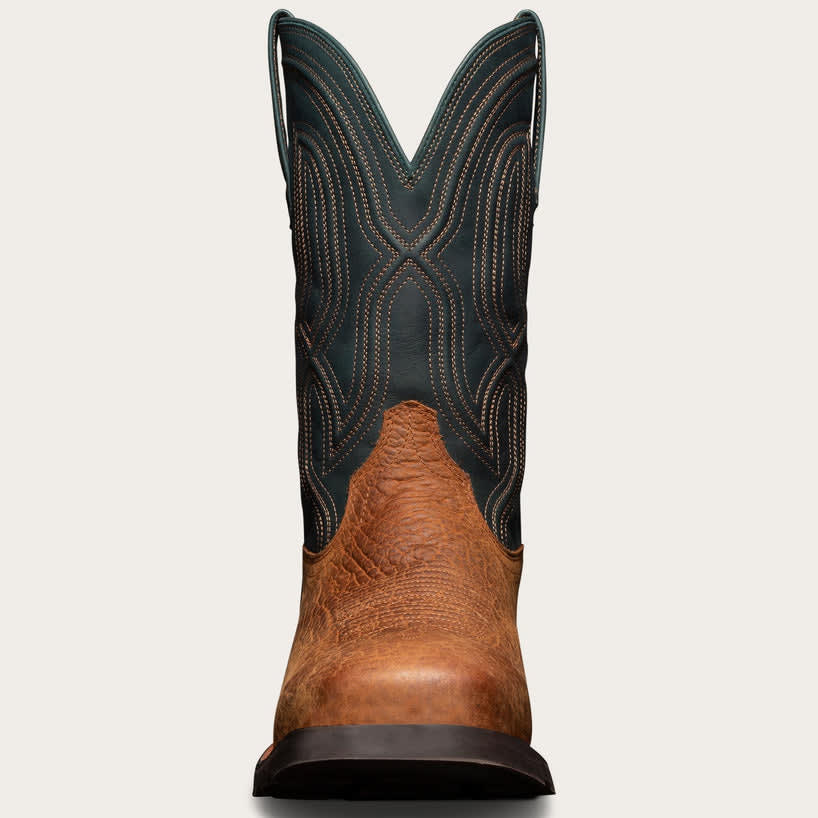 Notably, the boots have good shock absorption to minimize foot fatigue. This is also a very necessary feature when it comes to carrying heavy stuff.
That's not all, The Midland boots also offer a very wide toe box with a broad square toe as well as a high balance with a 1 3/4″ straight heel. You will be completely comfortable and stable to concentrate on your work.
Leather lining is the last point I want to mention as it will cool your feet in the hot summer.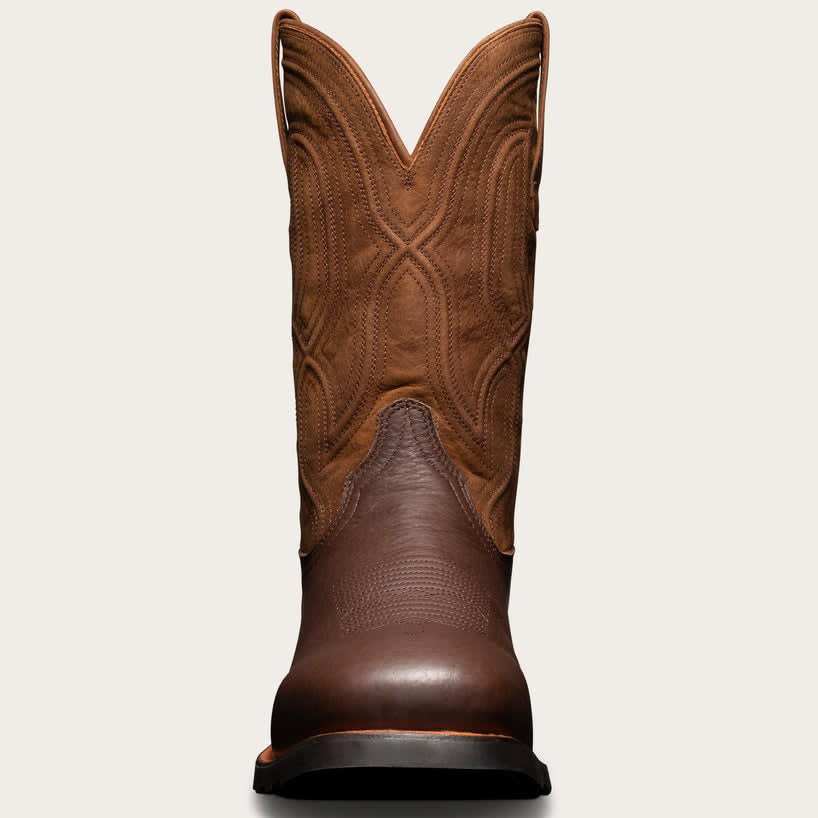 In addition to the undisputed usefulness, these boots have a rugged masculine look, which will also be a great match with your bootcut jeans.
Women's cowboy boots
Most cowboy boots for women often have high heels for a beautiful look, but sometimes this height also makes you uncomfortable once you wear them all day long.
On the other hand, there are many cowboy boots with a high heel (about 1 3/4 inch) but a fairly wide bottom. These boots will not cause you as much pain as regular high heel boots.
1. The Jessie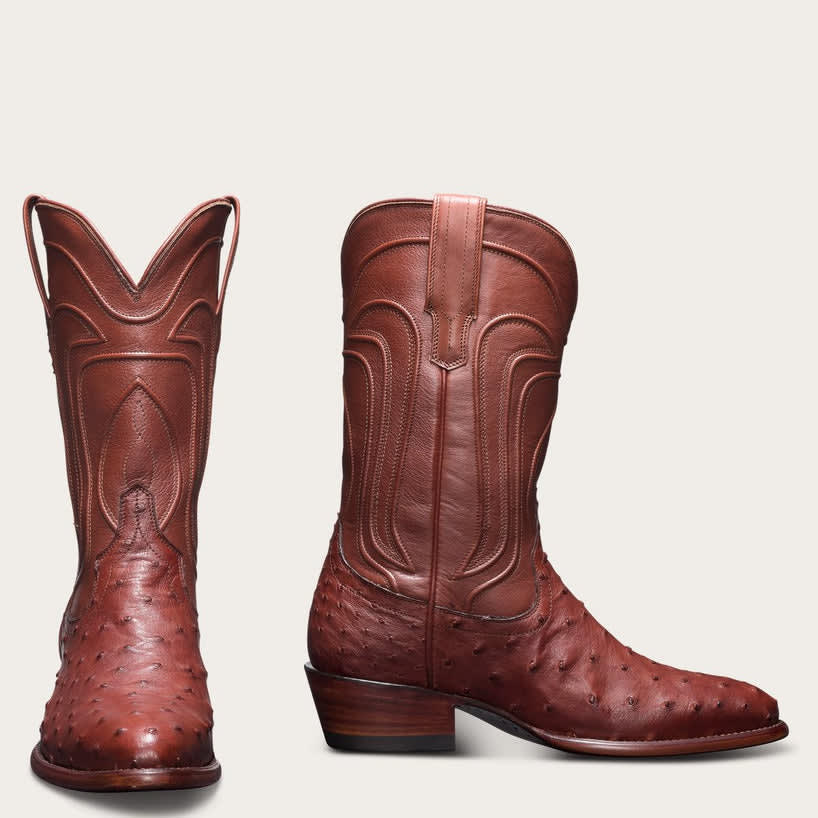 I will start the list with a pair of ostrich leather cowboy boots. I have always loved them because of the extremely soft and comfortable nature of ostrich leather.
Many people use ostrich cowboy boots and reach the same conclusion as me. This is understandable because when compared to other exotic types of leather, ostrich leather has more natural oils, so it is softer and not dry.
The Jessie ostrich boots will give our girls super comfort for standing all day. This comfort comes from not only the ostrich leather, but also the boots' construction.
First of all, The Jessie's round toe with lots of room will make your toes breathe well. Besides, the round toe is quite wide, so is the bottom of these boots, which ensures you can have better balance when standing.
The heel of The Jessie boots is 1 3/4 inches tall, you might think it's difficult for you to stand all day. However, the bottom of the heel is wide, which ensures your comfort and balance.
In addition, boots with good arch support also ensure that your heel, arch, and knee are not subjected to a lot of stress. This is a big plus.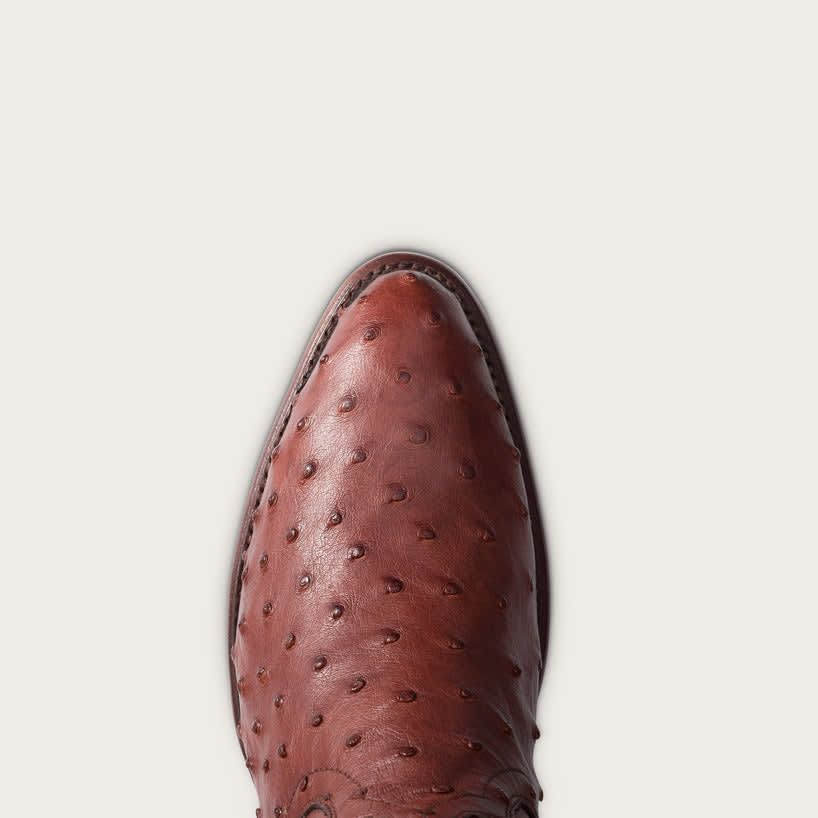 The leather sole and leather lining have a good sweat absorption ability to keep your feet dry and very comfortable.
Besides the above outstanding features that can bring you a high level of comfort, The Jessie boots have a very good look with their unique bumpy surface and hand-corded details on the cowgirl shaft.
Moreover, the leather sole also has a very thin and feminine curve from heel to toe, creating great softness and lightness for boots.
Is it enough to satisfy you?
2. The Jamie
If The Earl is a successful goat boot from men's Tecovas boots, I can say the same for The Jamie but for women. If you haven't read the review above, I would like to emphasize the impressive breathability of goat leather due to its large pores.
In fact, for jobs that require you to wear boots all day, goat boots are really a wise choice since they won't wet your feet with sweat.
Goat leather will not only bring high comfort, but the structure of these boots is also what makes a difference.
First of all, the round toe is delicate and beautiful. It tapers to the tip but still brings enough room in order not to cramp your feet.
This boot features a 1 3/4 inch high heel which has a wide and flat bottom to balance and limit stress on your heels. In addition, the stacked leather design also gives an attractive look.
Most of Tecovas' cowboy boots have good arch support, and The Jamie is no exception. This is important for the joints in the heel, ankle, and knee.
The soft bovine lining also soothes your muscles after hours of standing, it also absorbs sweat well so you don't feel wet and uncomfortable when wearing the boots.
All of the above provide comfort, but what about their look? You'll love The Jamie's natural beauty with its unique colors and creases from goat leather.
And that's all you need to look for in good cowboy boots for all-day standing!
3. The Josie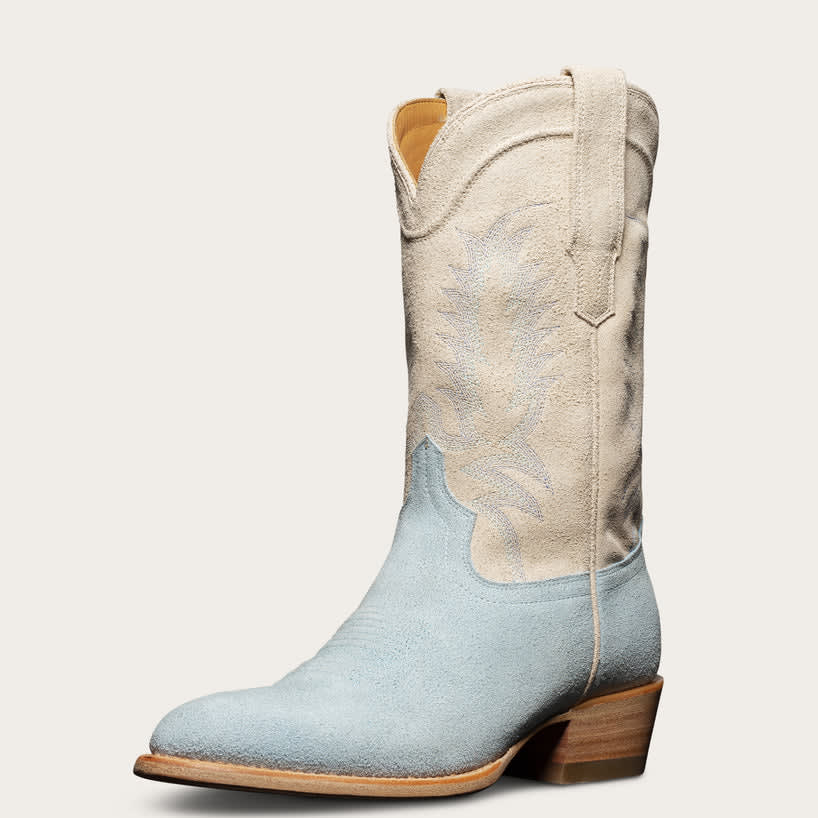 Let's temporarily ignore goat, ostrich, or lizard leather which are highly appreciated for softness and comfort, and turn your eyes to suede. This material is also a good choice for standing all day.
Suede is a type of leather that has been treated so it is thinner, softer, and more breathable, thus ensuring more comfort to your feet than many other types of full-grain leather.
The Josie will make you happy with those characteristics because the overall boots are formed from suede.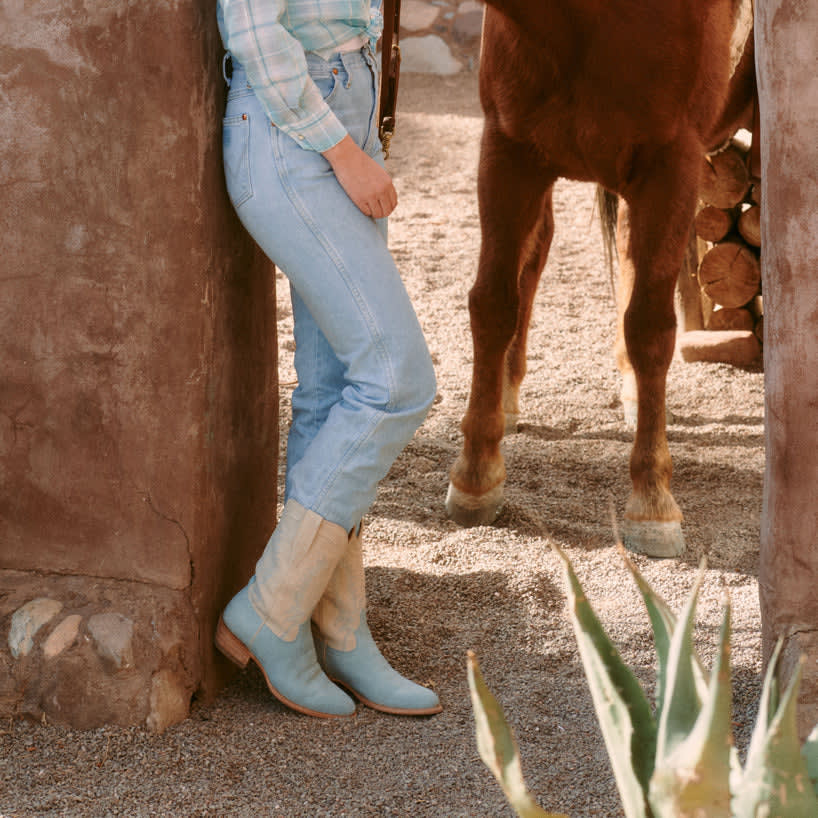 In addition to the suede accent, the boots have a nice round toe with plenty of room for the toes. A 1 3/4 inch heel with a wide and flat bottom ensures good balance and reduces stress on your heel when standing.
The wide round toe and bottom of the heel make the entire bottom of this boot wide enough to give you a stable feeling while standing.
Unlike the classic colors of most Tecovas boots, The Josie has a bright and strange color. Tecovas calls it the sky blue color – and I agree with them.
It is this color that makes these boots so cute. Plus the soft look of the napped surface found only in suede, these boots feel so light.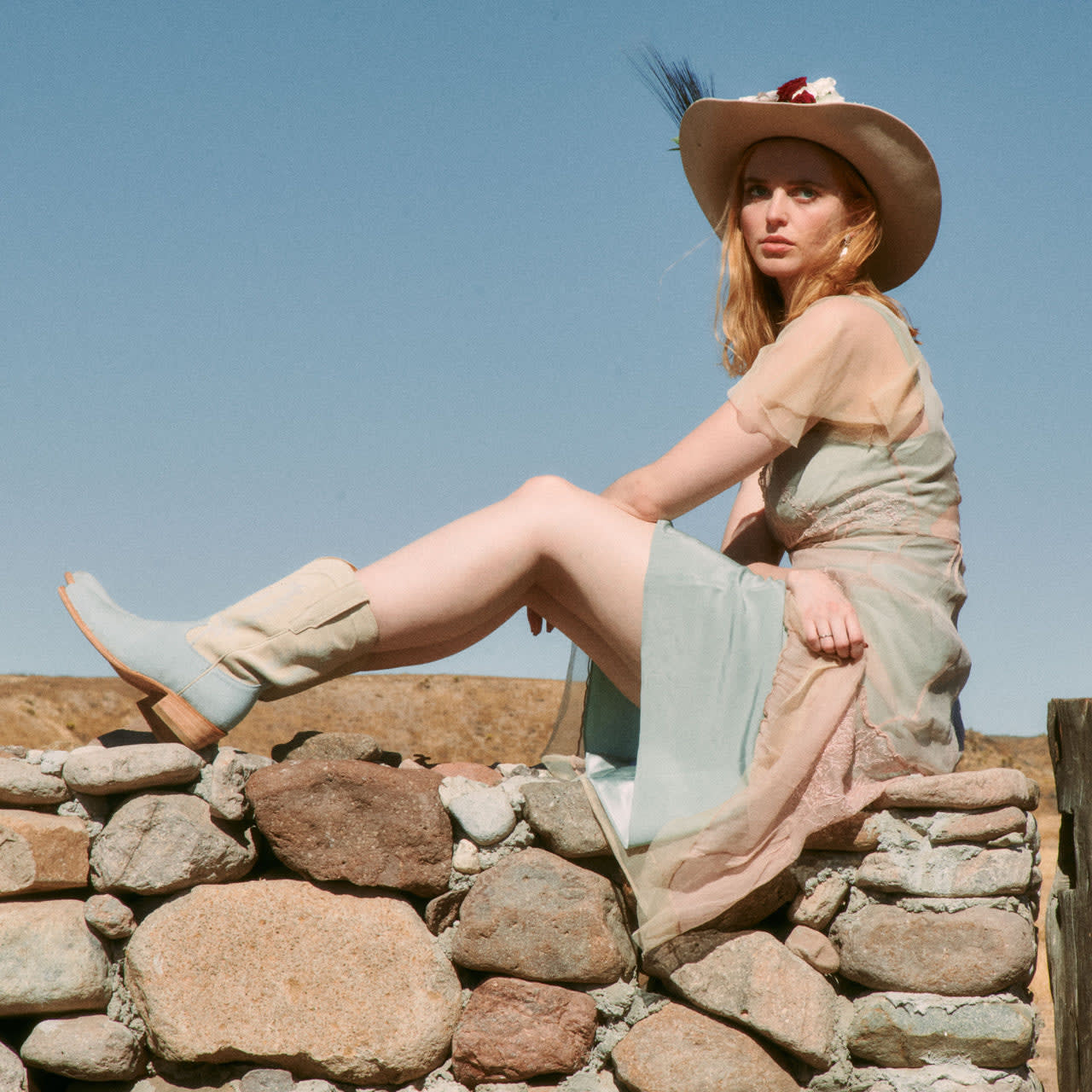 In addition to the inherent beauty of suede and creative colors, the unique thread pattern and signature Tecovas toe stitching create an unmistakable look for The Josie.
Are you sold now?
Before you leave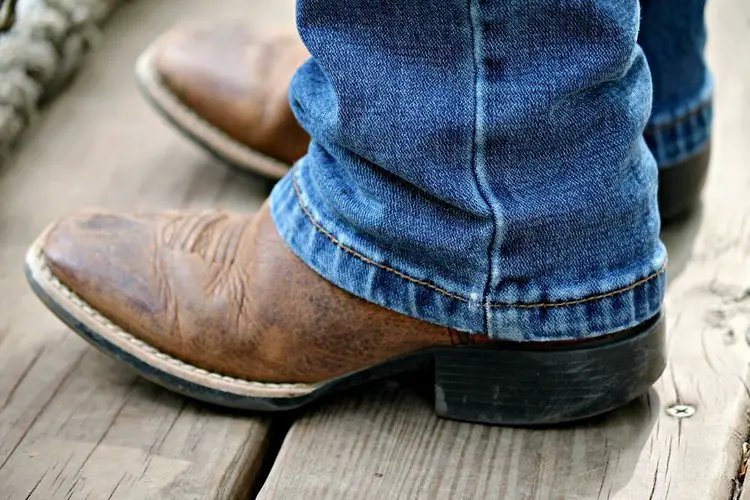 Cowboy boots are absolutely an ideal choice for standing all day because many of them now have very well built-in structures to support the wearer's foot. You just need to know how to choose the right one.
I like cowboy boot brands like Tecovas or Ariat in this section because they often apply advanced technology to traditional products like cowboy boots. And I love that!
In general, cowboy boots for standing all day should ensure long-term comfort for the wearer, this is the most important thing.
We've fully walked you through how to choose cowboy boots for your stand all day, but if you have any other questions, don't hesitate to let us know in the comments below.
Good luck!
Howdy y'all, and welcome to From The Guest Room, your ultimate guide to all things Western! I'm Jay Gatz, a lifelong cowboy boot enthusiast with over 5 years of experience in the Western style world. I'm excited to share my knowledge with you and help you discover the perfect cowboy boots and western gear to elevate your style. Let's explore the rich history and timeless appeal of Western fashion together!