Cowboy boots are one of the typical fashion symbols of the 20th century. They not only get a beautiful outlook, but they also express the popular culture, lifestyle and personality of the American people.
Cowboy boots were mainly used by men in the early days when they were born. Nowadays, today's cowboy boots are very popular among women.
In the 20th century, cowboy boots became a fashion phenomenon among women. They still hold a very important position in the women's fashion industry to this day.
However, not everyone knows the difference between men's and women's cowboy boots. They have very interesting differences though.
What are the differences? Today, we will let you know through this article.
Shall we?
Difference Between Men's and Women's Cowboy Boots
There are many differences between cowboy boots and cowgirl boots: heel, toe shape, shaft and vamp, size, color and design.
To clarify the difference, we're going to cover the general information and highlight the interesting differences between men's and women's cowboy boots.
Difference in heel
The first difference between men's and women's cowboy boots is the heel.
Cowboy boot heels can be divided into three categories: high heels (about 2 inches), standard heels (about 1.5 inches) and low heels (about 1 inch).
These 3 heels all have different strengths and weaknesses. However, when talking about fashion, women prefer high heels and men favor standard heels.
High-heeled cowboy boots give women an attractive and sexy look while standard heels retain the true cowboy-like confidence for men and help them stay flexible and comfortable at work.
Plus, the heel shapes of women's cowboy boots are more diverse than men's.
Nowadays, cowboy boot heels for women have many improvements, they come in various styles and more height.
You can find a pair of cowboy boots for women with spiked heels that measure up to 3.5 inches in height.
Meanwhile, men's cowboy boots with heels have a maximum height of about 2 inches.
Read more: Different Types Of Heels On Cowboy Boots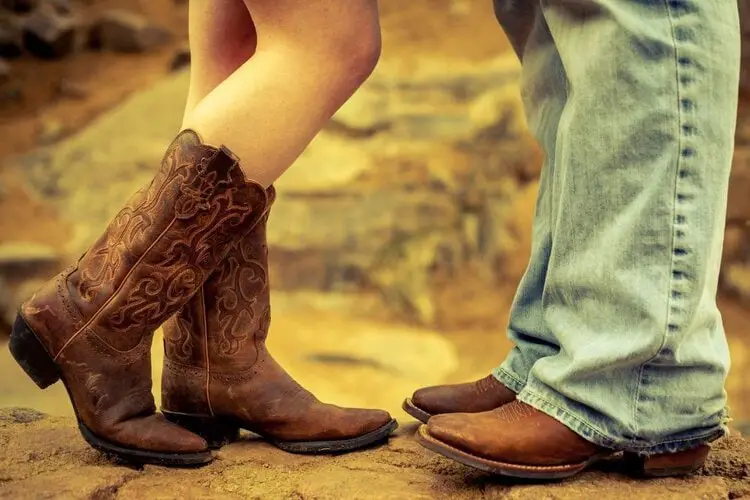 Difference in toe shape
Talking about toe shapes, cowboy boots have 3 main types of toe shapes: pointed toe, round toe, square toe.
Nowadays, people also develop 2 new types of toe shapes: snip toe and wide square toe.
Each type of toe shape will have different advantages and disadvantages.
As for fashion purposes, women love cowboy boots with pointed toes, snip toes and round toes because these toe shapes make their feet look slimmer, longer and more beautiful.
In comparison, men prefer square toe and wide square toe since these toe shapes offer a strong appearance and have enough room in the toe box for comfort.
Of course, many men love the beauty of traditional cowboy boots, so they often opt for pointed toe and round toe cowboy boots.
There has been a lot of controversy between pointed toe and square toe.
However, the decision is yours, you can only be a real cowboy when you feel confident in your cowboy boots!
Read more: Cowboy Boot Toe Types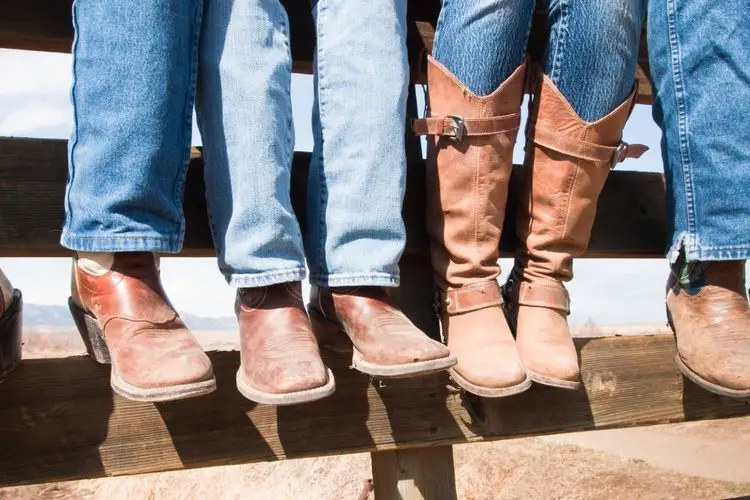 Material
The materials of cowboy boots are various, from cowhide, bullhide to exotic leather (lizard, caiman, goat, shark, ostrich, etc)
If you are a longtime fan or a collector, you will know cowboy boots for men are often made from cowhide, bullhide or exotic leather.
In general, men's cowboy boots are often made from many different types of "genuine leather".
But for women, it's not all the same. Women's cowboy boots are mostly made from cowhide. You will hardly find women's cowboy boots with exotic leather.
Besides, many women's cowboy boots come from synthetic leather, not genuine.
Difference in shaft and vamp
It's not easy to tell the difference in shaft and vamp between cowboy boots for men and women, but you can recognize the diversity of the shaft and vamp textures.
Fashionable women's cowboy boots often feature floral motifs embroidered on western-inspired shaft and vamp. This is also the pattern that girls and bootmakers love.
In addition, the vamp and shaft motifs of women's cowboy boots are more fragile, feminine and fussy than men's (of course).
How about cowboy boots for men? Well, their motifs on the shaft and vamp are often simpler and stronger. The patterns can include wings, crosses, etc.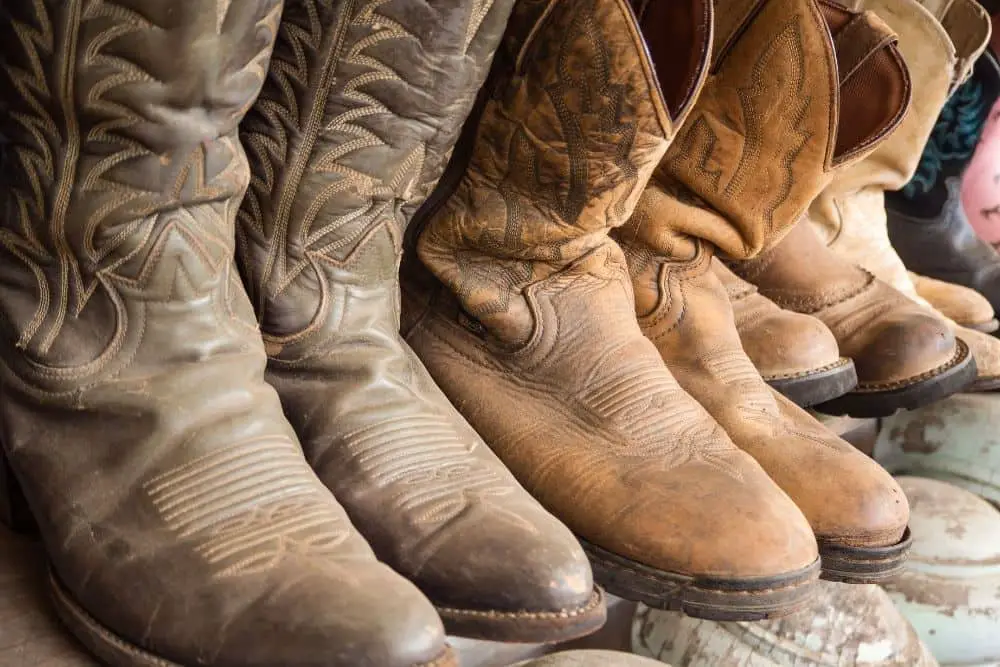 Difference in size
The clear difference between men's and women's cowboy boots is definitely the size. There is no doubt that most men's cowboy boots are bigger than women's.
The above is something everyone knows, but do you know what an interesting thing is?
That is, the men's size charts of most cowboy boot brands offer more size choices than for women. If you don't believe it, you can go to any cowboy boot brand homepage to check it out!
Choosing cowboy boot size is always the problem when buying cowboy boots.
When you go to any e-commerce site, search for cowboy boots for men and women, you will easily come across cowboy boots that have a lot of 1-star ratings because of the wrong size.
Maybe cowboy boot brands need to fix this problem, right?
Cowboy boots don't fit your feet well because they are unadjustable, what does that mean?
You can see that cowboy boots don't have laces like other shoes. Therefore, once they are loose or tight, you can't adjust them.
Don't worry, we have a secret for choosing size here!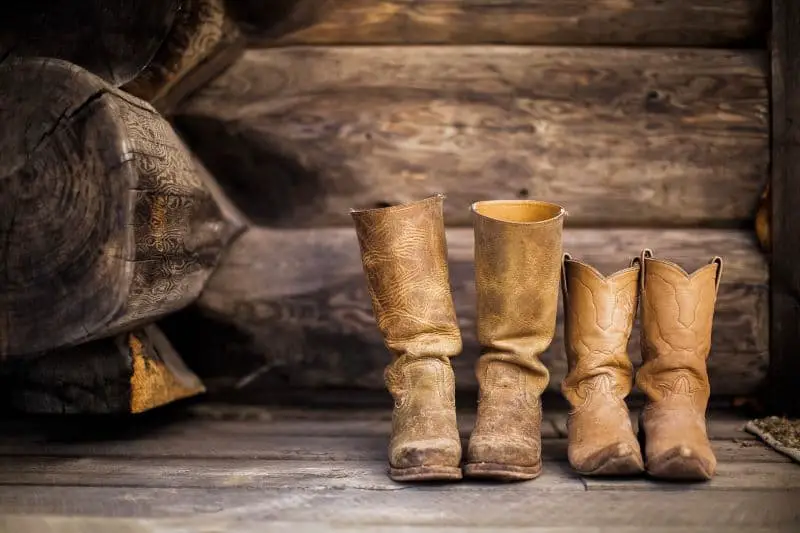 Differences in color
Besides, you can notice that men's and women's cowboy boots have different colors.
Cowboy boots for women have various colors that range from bright to dark colors, creating a feminine, cute look or even a cool, distressed style.
On the other hand, cowboy boots for men are simple in color. They tend to have dark colors for a wild and distressed outlook.
When it comes to the color of men's cowboy boots, there is a lot of difference as the boots made from exotic leather with different skin types will come in distinct and typical colors.
In general, men's cowboy boots are not as colorful as women's.
Difference in design
The design is the obvious difference between men's and women's cowboy boots.
Men need cowboy boots with strong, wild designs and fewer textures. Meanwhile, women's cowboy boots are often diverse, more feminine and lovely, though there are still many cowboy boots for women with distressed style and color.
There are many different designs of cowboy boots in the world. But there are only a few main types such as traditional cowboy boots, stockman, roper boots, buckaroo, short western boots, cowboy work boots, etc.
To illustrate, we will give you a few examples:
Traditional cowboy boots
Traditional cowboy boots have a common design: pointed toe shape, high and underslung heel (about 2 inches).
This type of cowboy boots is often used for riding cowboys as they have a heel design that fits into stirrups very well to keep cowboys balanced and safe.
Besides, cowboy boots easily slide into stirrups with the pointed toe shape.
Traditional cowboy boots have almost no variations and are still favored by men today. However, they are quite different from those for women.
Traditional cowboy boots for women have been transformed and evolved.
Besides riding, some traditional cowboy boots have heels that grow significantly (over 3 inches) to serve fashion purposes.
With such high heels, girls get a very impressive look in these tall cowboy boots.
In contrast, traditional cowboy boots for men retain a heel height of around 2 inches – enough to give them a swagger look of a true cowboy.
Short cowboy boots (ankle cowboy boots and booties)
Unlike many other cowboy boots, ankle cowboy boots are usually only popular for women. The height of ankle cowboy boots is often a bit above the ankle.
Some types of short cowboy boots favored by many women even don't have shafts. They are booties.
This type is not the taste of men. In American, men always wear boots that reach at least mid-calf.
Roper boots
Roper boots are cowboy boots that are crossed with British dress boots. These boots are quite low in height.
Roper boots have low heels (about 1 inch) and low shafts (normally only high to mid calf). Whereas, other cowboy boots usually have shafts that are higher than mid calf.
You can see that most women's roper boots are taller than men's.
Roper boots for men can reach mid calf, whereas these boots for women are just a little taller than the ankle.
That is the distinct characteristic of roper style cowboy boots for men and women.
Stockman
If stockman cowboy boots are known for those who like to "pack up and hit the road", then we will consider the appearance of stockman boots for men and women.
You can easily find stockman cowboy boots for men with extremely masculine looks, strong, wild and distressed styles.
Stockman cowboy boots for women can have the same design, but their colors are different.
These cowboy boots are more colorful, feminine and a little more "adorable," while still retaining designs that support those who like "pack up and hit the road" (standard heels, square or wide square toe, mid-calf shaft…)
Conclusion
The differences between men's and women's cowboy boots are more obvious when comparing the heel, shaft and vamp, toe shape, design, color and size.
Cowboy boots for men have a rough and sturdy look, while the ones for women often come with seductive curves.
Glad that I could help you with this article, so you can choose the best cowboy boots for your purposes.
Good luck!