Although it has been a long time in the western United States, cowboy boots always represent a strong fashion style, like the personality of the American people, strong and assertive.
Today, cowboy boots are not only designed for men but also a popular fashion product for women. Compared to the robustness of men's cowboy boots, women's have a lot of more delicate and individuality.
So, what are the differences of cowboy boots between men and women?
Now, let's join us in finding the differences and choosing a great pair of boots for you!
Difference Between Mens and Womens Cowboy Boots
There are many differences between cowboy boots and cowgirl boots: heel, toe shape, size, design…
We will show you all the differences, check it out!
Heel boots
Compared to women's boots, men's boots are often lower. The tallest men's boots heel is around 2 inches while women's is up to 3.5 inches higher.
The types of women's heels are usually slender, smaller and more delicate, while men's are quite large, strong and wild.
The common point of 2 types of cowboy boots heel for men and women is that there are 2 types of heels: vertical and inclined
In general, on the market nowadays, the types of women's cowboy boots heels are more diverse than men, with more choices. In contrast, men's cowboy boots heels are simple and "easier to choose".
Read more: Types Of Heels On Cowboy Boots
Toe Shape
The toe shape of cowboy boots is very diverse for men and women, including pointed toe, snip toe, rounded toe, square toe and broad square toe.
It is difficult to accurately assess the difference in toe shape of men and women cowboy boots. From our research, it shows that men prefer to use pointed toe, square toe and broad squared toe, while women love pointed toe and rounded toe.
Read more: Cowboy Boot Toe Types
Read more: How to Find the Perfect Toe Shape for your Cowboy Boots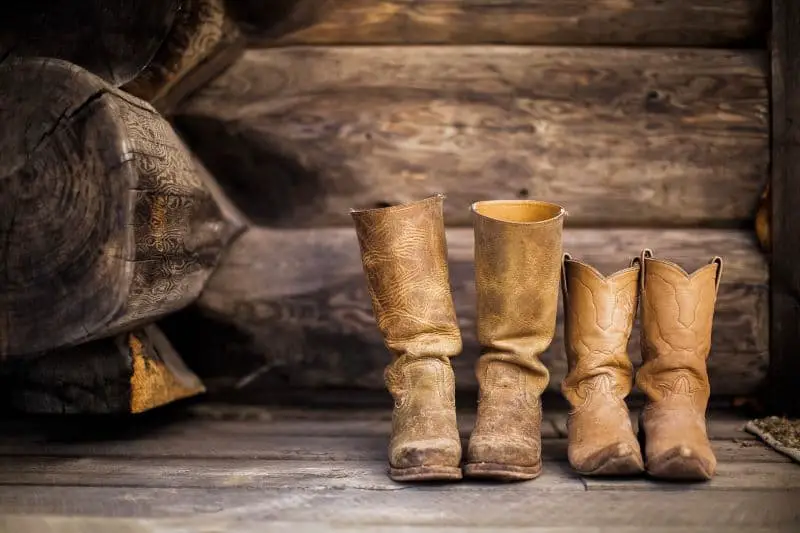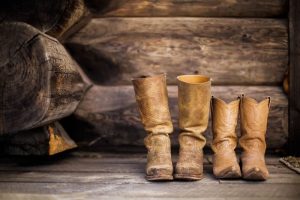 Differences in size
This is the biggest difference between cowboy boots for men and women, and we can sure that men's cowboy boots are usually larger than women's.
Besides, it can be seen that boots for men are more diverse in size than women, offering a wide range of choices for gentlemen.
If you have noticed, Amazon's cowboy boots sometimes have a 1-star rating which is usually women's boots. And the common cause is due to the wrong size.
It is obvious that people often get trouble with choosing the right size. However, now all cowboy boot brands have specific instructions on choosing the right cowboy boot size, so remember to look over it to find the best fit for you.
Read more: What Size Cowboy Boots Do I Need ?
Differences in design
The design of men's and women's cowboy boots has many differences, but it's not easy to point all of them out (you know, there are millions of cowboy boots around the world!!!).
For that reason, we will recommend the classic cowboy boots preferred by men or women.
Read more: How To Wear Cowboy Boots For Guys
Classic Western Boot
Having a long history and a strong Western culture, these cowboy boots are perfect for any outfits.
Read more: Most Comfortable Womens Cowboy Boots for Walking
For men:
We have a "Riding style", with the heel often tilted 70 degrees above the ground, 2 inch high heels, the nook of the heel is specially designed for remaining balance when riding.
Also, its wide, flat bottom surely relax your foot for outdoor activities.
Compared to other types of boots, the high heel of this boot absolutely makes you … SWAGGER like a real cowboy!
This boots have "pointed toe", and are about 13 inches tall.
Read more: Who Makes The Best Western Boots

For women:
"Fashion cowboy boots style" definitely won't make any female friends disappointed. With heels often higher than 3 inches, tilted more than 60 degrees above the ground. Moreover, the boots have "pointed toe" along with a slender, delicate design offer a FANCY style!!
Thanks to a soft feel from this rubber sole, you will no longer suffer foot pain of wearing high heel boots for a long time.

Roper
Unlike Classic Western Boot, the Roper style cowboy boots are not derived from the western United States but from the United Kingdom. Above all, they are regularly used in wartime by British soldiers (can you imagine how dynamic and comfort of these boots are?).
These boots have low heels, only about 1 inch high and upright from the ground. The popular toe types for men's boots are round toe and square toe, and for women's boots are round toe.
Having wide, flat bottom bringing long-lasting comfort, this kind of boots are often used for long day work.
In fact, there exists a difference between men's and women's boots. For women, this type of boots is lower with only about 7.5 inches, while men's boots are about 10 inches high. In general, these boots have heels and the total height is lower than Classic Western Boot.
Read more: What Are Roper Boots
For men:

For Women:
Stockman
This type of boot is perfect for those who like to "pack up and hit the road" with a flat, spacious bottom design to bring comfort like the Roper boots.
The highlight of the boots lies in the rubber sole which massages your feet for long trips.
These boots have a strong design, often preferred by men but it is also a wise choice for women who love traveling with their partners.
For men:
For women:
Here are more information about Types Of Heels On Cowboy Boots