In fact, other than rain boots, there are really no other types of boots that can fully protect you against the onslaught of heavy rain, and neither do cowboy boots.
However, if it's just a little rain, some cowboy boots can still handle that and keep you dry and warm.
However, not all cowboy boots can be a good choice for rain. Some of their traditional features can bring you a lot of trouble.
Well, that will be the main topic of today's article, we will talk about cowboy boots for rain, and which type of cowboy boots is the most suitable option.
Cowboy boots for Rain? Yes or No and Why
Most cowboy boots aren't 100% waterproof, but the good news is that they're still pretty water-resistant. Because that is the nature of leather, and most good cowboy boots are made from 100% pure leather.
The leather nature along with the high shaft (about 11 inches) makes cowboy boots keep you warm and dry in moderate rains.
Another feature that I love about using cowboy boots for rain is laceless construction, which means you don't have to waste a ton of time cleaning mud from eyelets, laces, or tongues.
That's the best thing about cowboy boots for the rain, but as I said above, there still exist problems. The biggest problem is their slippery bottom.
Most traditional cowboy boots have a leather outsole. A leather sole can be good for summer due to its sweat-wicking and breathable properties, but it's not a great choice for rain since it's flat and slippery.
Even if you have broken in the leather sole but if you're not a professional cowboy, you'll still have a hard time trying to balance, especially on the wet grass surface of yard work.
And yet, in addition to leather soles, many cowboy boots also go with quite high heels, which is really not a good choice for the slippery surface in the rain.
So what should we do?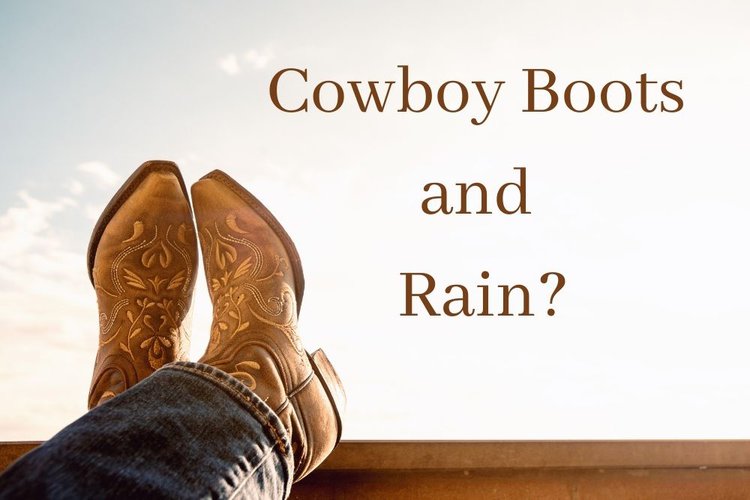 What type of cowboy boots are good for rain?
Today, many cowboy boots have been improved a lot, and the most obvious thing is the change from leather soles to rubber ones.
This is really a very good chance for those who like to use cowboy boots for work in the rain and nasty weather. In general, rubber soles are much more slip-resistant than leather ones because they have lugs throughout the bottom.
Besides, rubber soles are also much more durable than leather soles as they are exposed to water for a long time. While leather is very susceptible to water damage, rubber is almost immortal.
Rubber soles also have better insulation, so they will keep your feet warm and dry against water puddles.
In addition to soles, you can find a lot of cowboy boots today that are waterproof. Most of these cowboy boots are specially made for outdoor work. I usually call them cowboy work boots.
Cowboy work boots usually come with a thick upper, waterproof surface, short heels (around 1 ½ inches), and anti-slip rubber soles. Maybe these are the type of boots you're looking for!
Talking about the upper, you can also choose exotic leather such as shark or stingray leather, simply because the nature of shark leather is waterproof.
A small note for you is that avoid using cowboy boots with stitching on the shaft and the vamp with white or light color, these features easily attract dirt and mud. Instead, boots with less stitching or dark stitching are better.
There is actually another solution to the waterproof problem of cowboy boots, which is to use waterproofing products.
Nowadays, many leather conditioners or waterproof spray products can protect your boots well against the attack of water.
In addition, there are also many interesting products like traction spray or non-slip adhesive pads as they can make your leather sole boots less slippery.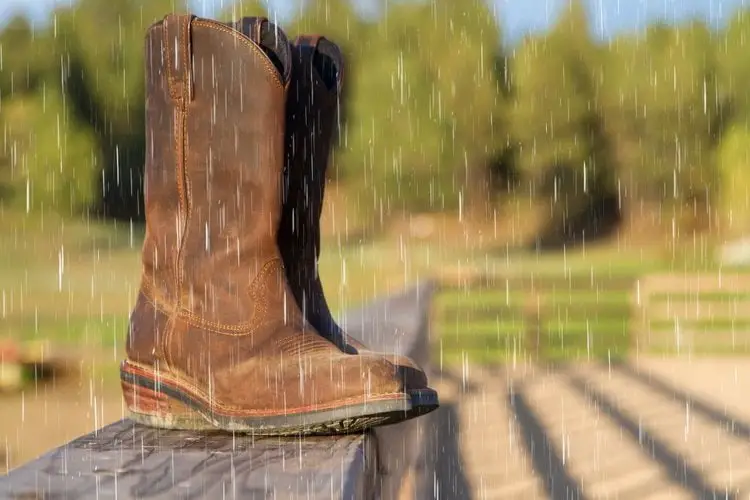 Note:
Besides picking the right cowboy boots, you should also learn how to use cowboy boots for the rain. You should wear long pants like jeans or khakis and tuck your cowboy boots into them, this will prevent your cowboy boots from becoming a reservoir for water.
For now, some of the cowboy boots below may be a good suggestion for use in the rain.
The 3 Best Cowboy Boots for Rain
Based on the criteria listed in the beginning, I will select for you the right pair of cowboy boots for rain.
A cowboy boot for rain should have an outsole with a good grip, little stitching on the vamp and shaft (or dark stitching), and good water resistance.
In addition, it will be even more wonderful if they have an eye-catching look and are made from exotic leather.
Here are my picks!
The Jason cowboy boots from Tecovas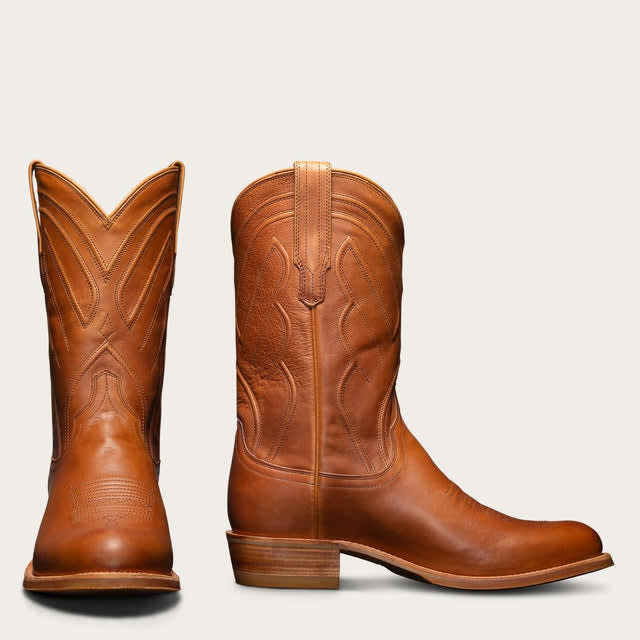 Well, a pair of cowboy boots made from bovine would be a good start. I've always loved using boots made from bovine or bison for working in the rain because they're durable, water-resistant, and warm.
The Jason boots by Tecovas are one such boot. You can find balance in every step with Vibram rubber soles.
In addition, your feet will also be warm and dry when the whole boot is covered with water-resistant bovine leather. This is my favorite feature of these boots.
Besides the rubber sole that provides great balance, the boots also have a standard heel height of only 1 1/2 inches. This means you're completely stable against tough terrain created by rain.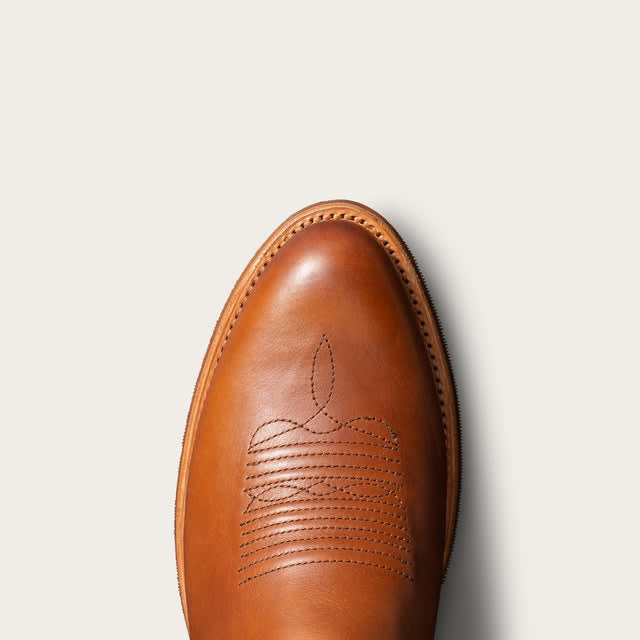 The next thing I like about The Jason is that its leather sole provides a stable grip but doesn't get stuck in the mud. This is a huge plus as wet mud is always a nightmare for any footwear.
Also, the color of the stitching on The Jason's shaft and vamp isn't bright – this is good. As it doesn't look dirty or muddy and reduces your cleaning time considerably.
Most boots with seams are very vulnerable when exposed to rainwater, but The Jason has weatherproofed seams so they are very durable despite the erratic weather.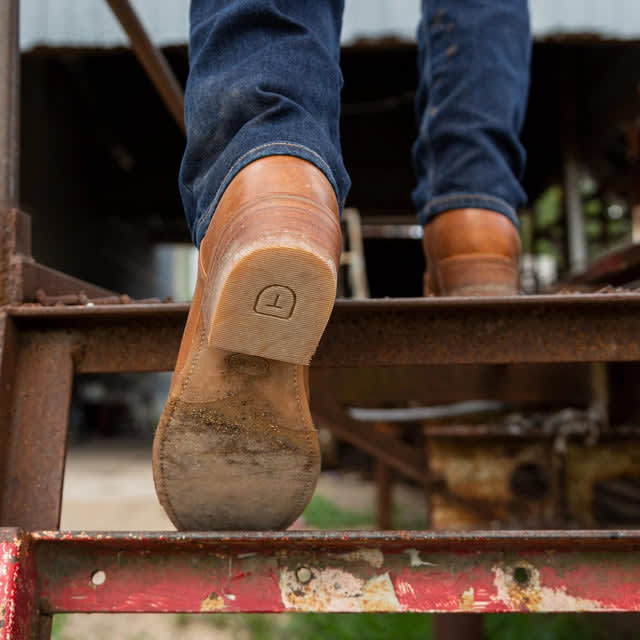 In addition to the rain-friendly features, The Jason also has a round toe, which is both beautiful and provides enough room for your toes to relax.
The structure of the boots is 12″ high and covered with bovine leather that will surely keep you warm despite the rain.
These boots also feature a timeless cowboy shape so you don't have to fear the classic style being outdated.
Overall, these boots are not only suitable for rain in terms of comfort and protection, but they also give you satisfaction in style.
The Bandera cowboy boots from Tecovas
The Bandera boots are the cowboy work boots recommended for the rainy season. Most cowboy work boots have good water resistance.
Made of thick bison leather, The Bandera is definitely very durable against the pressures of work and weather. The Bandera cowboy work boots also often have weatherproof seams so they are very durable and water can hardly penetrate them.
In addition, The Bandera's non-marking Vibram outsole also provides a very good grip on wet ground, along with self-cleaning lugs ensuring you won't have to spend a lot of time cleaning mud from them.
1 3/4 inch with a 9mm rubber cap will not make you feel unbalanced when wearing as it offers good stability and traction.
In addition, these boots do not have contrast stitching on the vamp, but instead are dark in color so they won't look dirty when mud gets on them. You won't have to spend a lot of time cleaning them either.
In addition to the main features above, The Bandera is also loved by people due to their high level of comfort.
The wide toe box won't constrain your toes. And the shock-absorbing dual footbed for you to wear and work all day with less fatigue.
The thick upper and 12-inch shaft height also ensures that your feet stay warm despite the awful weather.
Forget the boring rain boots, The Bandera with the highlight of safety, comfort, and eye-catching appearance is definitely the boot you need for this rainy season.
The Prescott cowboy boots from Tecovas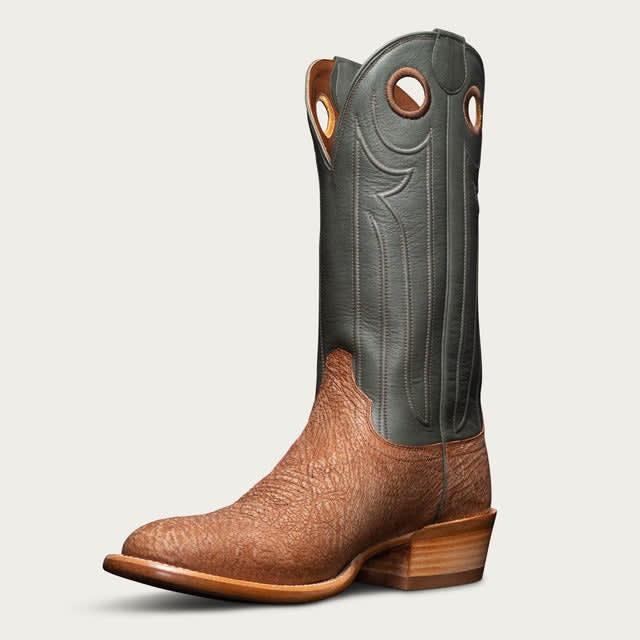 If looking for exotic boots for the rainy season, you should think of shark leather. This type of leather has extremely good waterproof properties, it will keep your feet extremely dry.
When it comes to shark leather, I usually think of The Prescott by Tecovas as a top choice. As rugged as it looks, The Prescott will satisfy you.
First of all, with the 13 1/2 inch high shaft construction and shark leather as the main material, these boots are extremely durable and suitable for rain. For those who do not know shark leather, besides its excellent water resistance, it also doesn't scratch easily.
As I said above, leather soles are not really suitable for rain because they are more prone to damage and are quite slippery compared to rubber ones, but you can trust The Prescott.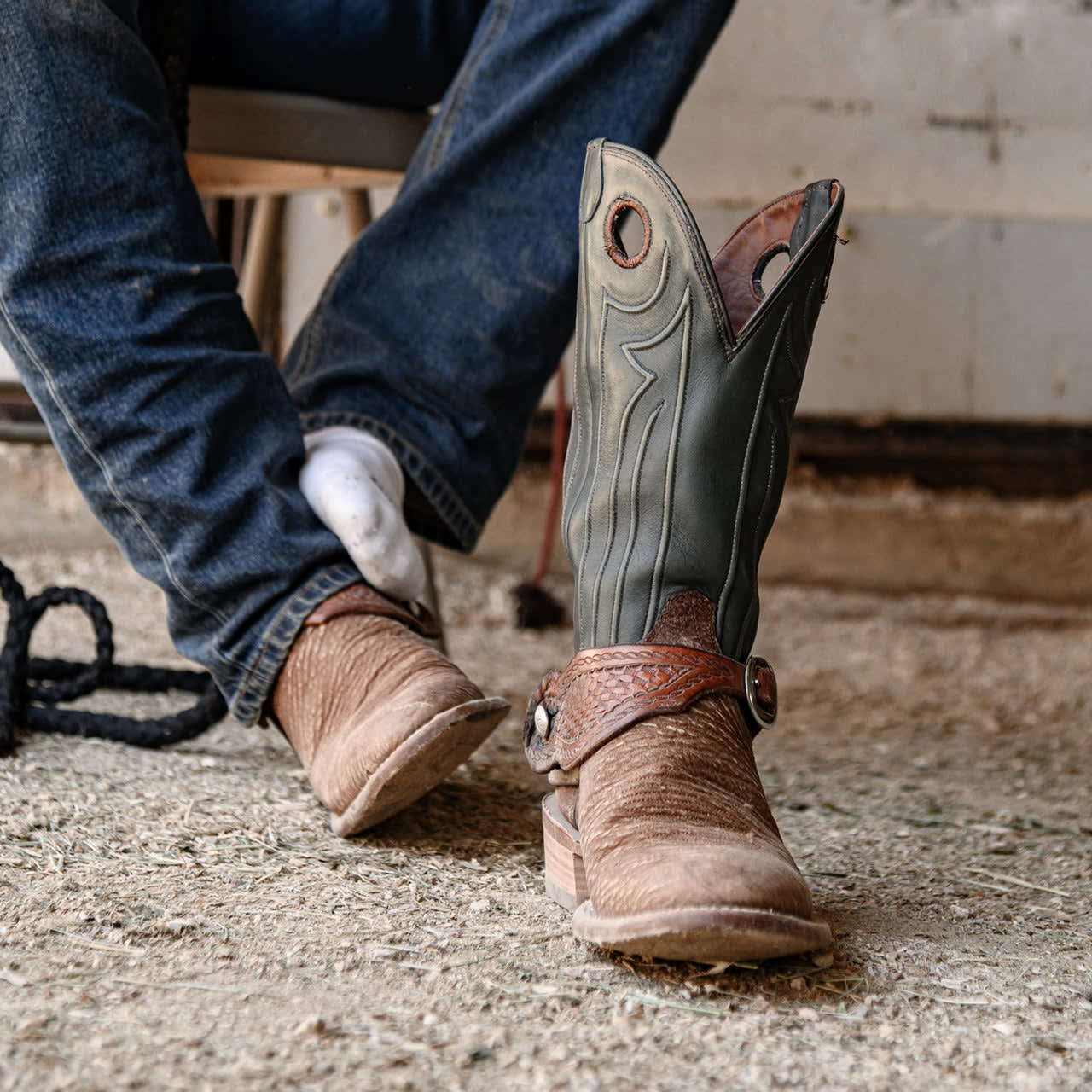 These boots have butyl-treated leather soles so they are very durable and not afraid of water. Also, the whole heel cap is made of rubber and has a texture to provide a good grip, as long as you break in the sole well, everything will be fine.
The bottom of these boots is flat and doesn't have deep lugs, so they won't get stuck in a lot of mud.
All of the above indicates that you have perfect warmth when it is raining and great balance when the ground is slippery.
What's more, The Prescott offers round toes with plenty of room for your toes and the ball of your feet.
Although the heel is a bit high (2 inches), the heel cap is flat and wide, so you don't have much trouble walking.
The boots feature high heels and slick leather soles for a reason. As they aid in riding, the slick leather sole ensures the boot slides easily into the saddle's stirrup, while the high heel prevents your foot from slipping out. If you're riding in the rain, these are really cool boots for you :D.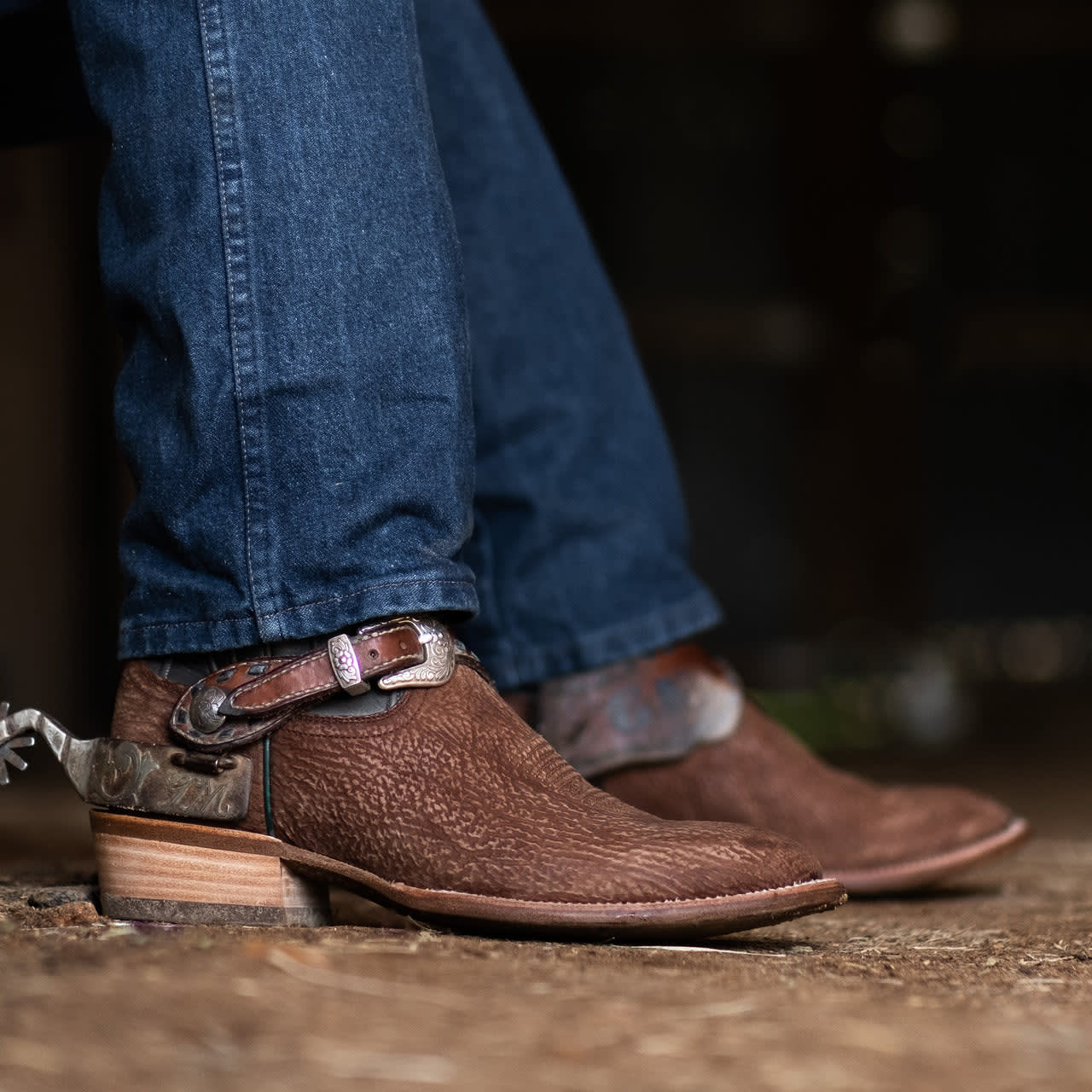 In addition to the good protection and high comfort that The Prescott provides, The Prescott also gets an impressive appearance.
I love the natural roughness and ruggedness of shark leather, plus the classic cowboy looks delicately crafted by the craftsmen, The Prescott is truly an icon of art.
Before you leave
Cowboy boots are absolutely a good choice for rain, but you should not wear them in heavy rains.
Overall, cowboy boots can provide you with the two most basic elements you need: dryness and warmth.
However, when choosing cowboy boots, you should pay attention to the right type of cowboy boots. The right cowboy boots for the rain will keep you warm, dry, and provide the balance you need.
Above are the tips that I have gathered after a long time of using boots, how about you, please comment to let me know!
Howdy y'all, and welcome to From The Guest Room, your ultimate guide to all things Western! I'm Jay Gatz, a lifelong cowboy boot enthusiast with over 5 years of experience in the Western style world. I'm excited to share my knowledge with you and help you discover the perfect cowboy boots and western gear to elevate your style. Let's explore the rich history and timeless appeal of Western fashion together!