If you are a passionate lover of laceless boots, you have entered the magical world of engineer boots and cowboy boots.
Technically, these two types of boots speak for themselves just by looking at their names. Back in the last centuries, both cowboy boots and engineer boots were used as traditional work boots.
Cowboy boots are used for riding and farming. Meanwhile, engineer boots are designed for firefighters or workers working around heavy steam machinery.
With the flow of time and changing trends, cowboy boots follow the path of art and have become the iconic American footwear of all times. They show a haughty Vintage and Bohemian vibe.
However, there are still cowboy work boots that are optimized like work boots at factories. This type of boots has a fair safety design.
Engineer boots also became a symbol of Greaser wear around the US's corner, back in the 1950s. Today, they are known widely as cool and stylish motorcycle boots.
Footwear is also incorporated into American clothing culture as a fashion item with many variations.
All in all, both engineer boots and cowboy boots have a lot in common and if you're wondering which one to buy, this article is for you.
Let's scroll down for more interesting facts below.
Cowboy Boots vs Engineer boots in construction
Both cowboy boots and engineer boots have a long history that goes hand in hand with the history of the times of great America. Therefore, they were all designed and built by the common principles of footwear at that time.
Structure
In this section, we will go a little deeper into how they are made and worn.
How they are made
Both types of boots use the traditional shoemaking principle of stitching the upper with the outsole with thread, instead of being glued like current technology. You will clearly see that the welt of the boots will be slightly protruding from the upper.
This method is essentially more robust than today's modern gluing formula. The thread doesn't come apart easily due to water-like glue. But in return, they do not guarantee good resistance to water from the outside compared to the glue method. Water can follow the micro gaps between the stitches to seep inside, causing wet boots and damp feet.
Here's the video showing how to resole engineer boots:
Red Wing Rough Out Engineer Boot Resole
The welt and outsole of engineer boots are usually thicker than those of cowboy boots. This is understandable because engineer boots are heavy-duty work boots. They need a thick, hard and protective outsole to prevent punctures or rapid wear when exposed to chemicals, sharp and slippery surfaces.
Outsoles of traditional cowboy boots tend to be sleek, and frictionless than engineer boots and have remained the same to this day, except for the cowboy work boots line.
Engineer boots' outsoles are the opposite. Some lines feature super deep grooves and prominent lugs for the best possible traction and adhesion on highly slippery surfaces such as grease, wet, steam or moldy moss.
In the past, both types of boots used leather as the main material for outsole making.
Nowadays, engineer boots use rubber more due to their ease of formability and durability. Meanwhile, modern cowboy boots' outsoles adapt to leather (less common), wood and soft rubber.
Besides, engineer boots usually have a double-layered leather shaft while cowboy boots are made of a single layer of leather only. This shows that the protection and resistance to fire, water, and heat of engineer boots are much stronger than cowboy boots.
For a clear distinction, here's the video showing how cowboy boots are made:
How $1,500 Cowboy Boots Are Made | How Stuff Is Made | Refinery29
Toes and vamps
Looking at the toe of a traditional engineer boot, you know for sure it would make a great work boot. Traditional engineer boots have round bulbous toes and are slightly flat to the ground.
The toe boxes are designed to be relatively wide, and thick with protective toe caps to provide plenty of room for the toes to wiggle comfortably. This is extremely useful for people who own wide feet and have to stand on their feet all day long.
These thick round toes have the ability to protect the feet from the heat transmitted by the machine pretty well. The design allows the vamp to have just the right amount of instep-room for all-day comfort.
Today, engineer boots for fashion are more like square round and tapered pointed toes for elegance.
Meanwhile, cowboy boots have traditional pointed, narrow toes upwards slightly with pride.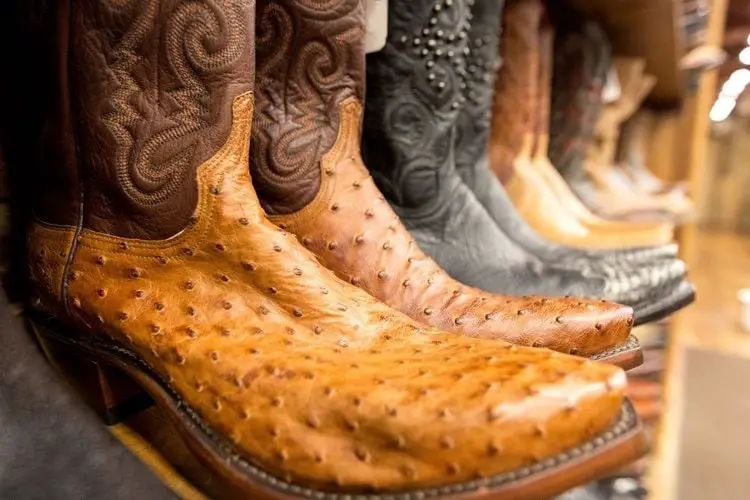 If you have wide and thick feet, your chances of finding an available pair of cowboy boots that fit you properly are slim. You will probably need a shoemaker to tailor a specific boot size that will suit you better.
This is to say that cowboy boots have relatively small-spaced and breathless toe boxes. Followed by a tight vamp that narrows around insteps. So cowboy boots don't seem to be a type of footwear made to walk on them all day long.
Today, you can find cowboy boots with round toes like the cowboy work boots line. Nevertheless, pointed toes have always been an irreplaceable symbol of this line of boots.
Height
Both types belong to the world of high-collar footwear. Cowboy boots can be from 5-16 inches tall and are divided into 3 categories: ankle cowboy boots, mid-calf boots and Buckaroo boots.
However, their shaft does not embrace tightly around the calves, ankles and legs. Most people wearing cowboy boots can obviously notice the space between their feet and boots. But it's an interesting point that cowboy boots lovers enjoy.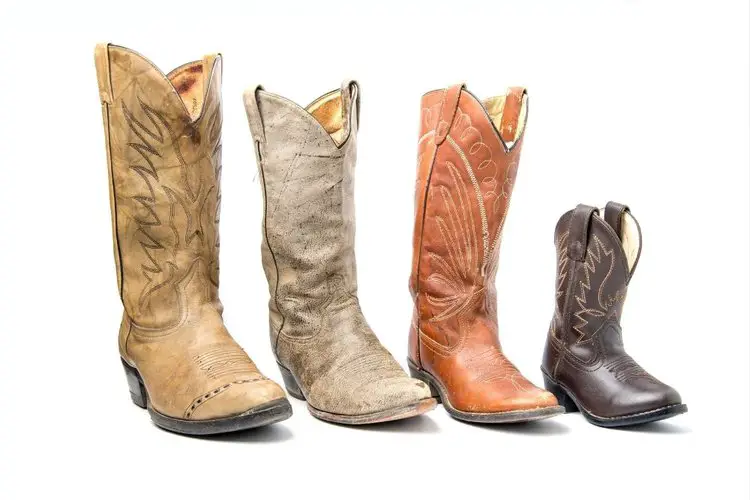 Meanwhile, engineer boots from 7 to 17 inches tall usually possess 2 types: mid-calf boots and knee-height boots. There are even variations of engineer boots for motorcycle riding that can be above the knee.
Engineer boot shafts tend to fit the legs in one way or another. They don't make your legs look like they're wrapped in black tape to the knees. But thanks to the metal-buckled straps in the insteps and at the top of the collar, the boots can fit snugly around the legs as you wish.
The wearer still feels a moderate amount of space between their legs and the boots at the calves, ankles or around the knee. But you can customize how tight this is by adjusting the straps.
Heel
Cowboy boots clearly showcase the riding heel/tapered heel involvement from the past and continue to this day. Most of them are also quite tall, slightly tapered from the top and have little surface contact with the ground.
The traditional heel is made from leather and even the heel plate doesn't have any tread patterns to increase friction.
Today, modern cowboy boots apply many different heel styles according to a certain intended use. But riding heels are still the most popular for fashion purposes.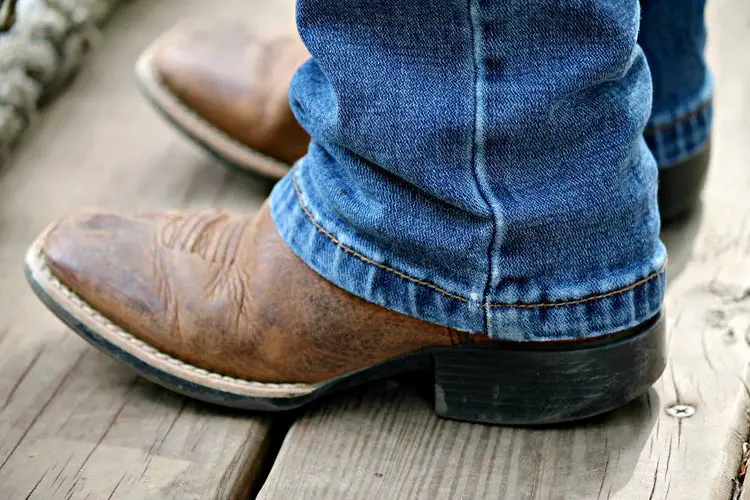 Cowboy work boots or roper boots are designed with low, square heels. In general, the heel of cowboy boots puts a lot of pressure on the ankles and toes, increasing the likelihood of fatigue.
Engineer boots are optimized for low, square-off heels with a high-friction tread pattern on the heel plate. This significantly increases traction when working on dangerously wet, slippery and greasy surfaces.
The wide contact surface of the heel with the ground reduces pressure on the ankle, leading to a reduced risk of foot pain and poor foot circulation. The wearer can still feel good when walking all day in engineer boots.
Straps
Both types of boots have straps in their construction. However, the intended use is different. Buckled straps of engineer boots have attached metal details, allowing to adjust the width and tightness according to the wearer's wishes.
Traditional engineer boots usually have 2 main straps. One is placed in the insteps, the other is fixed at the top of the boot shaft.
As a result, wearers can rest assured that their boots won't slip when standing up and sitting down repeatedly, regardless of their wide shaft design.
Straps of cowboy boots are fixed at the top of the two sides of the boot shaft. They are called pulling straps, so they serve as a support for the wearer to pull the boots up to their feet with ease.
Alternatively, some cowboy boots replace pulling straps with pulling holes with similar functionality. These holes can increase air circulation in and out of the boots better.
Cowboy boots can also be fitted with removable concho straps. They are often wrapped around the arch, heel and ankle as a decoration for style.
But they are also used as a tightening device around this part, since many experience a loose ankle part when wearing cowboy boots. Users buy them separately from their initial pair of cowboy boots. They look quite appealing and pricey as well.
Decoration
Decorated shafts are part of cowboy boots culture. You rarely see cowboy boots that are smooth from head to arch because they will look superficially bland.
If there aren't any special embroideries, prints, or engravings on the shaft, the leather material must have been treated to have distinctive markings or colors.
In general, decoration is an integral part of cowboy boots. They even appear densely from the top to the arch.
Patterns are often derived from Western motifs that are embroidered, sewn, printed or engraved by various methods. The more specially decorated, the more expensive cowboy boots become.
Traditional engineer boots are usually only in black, made from genuine leather and can be polished. You'll rarely find a pair of engineer boots with a pattern on their shaft. And that is the biggest contrast between cowboy boots and engineer boots in this regard.
The only cool feature of engineer boots is the 2 metal-buckled straps on the top and insteps of their construction that show off the masculinity and strength of men.
Material
Both cowboy boots and engineer boots are made of mostly leather by far. Today, cowboy boots are also adapted with suede or faux leather to make them more flattering and diverse for the wearer.
Besides, cowboy boots often use leather lines with distressed and unpolished surfaces. You may also have seen a pair of cowboy boots using different colored leather patches on the boot shaft. What a true piece of art!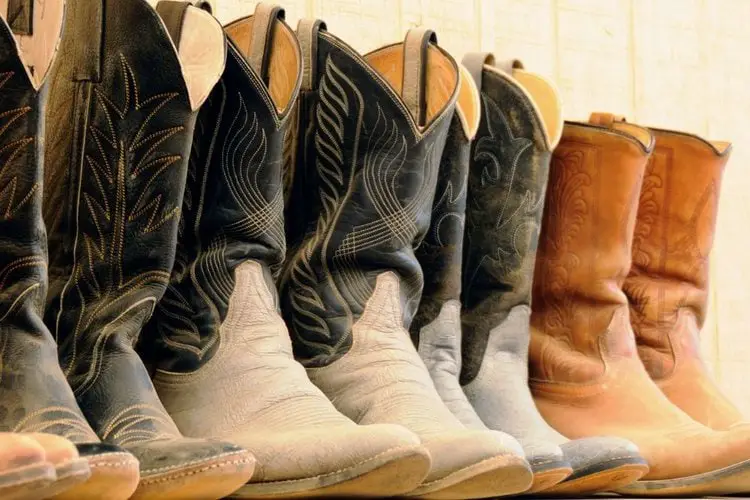 Engineer boots are traditionally made of genuine tough and stiff bull leather, mostly in black and are polished from top to bottom. This helps to clean dirt and water better.
In general, engineer boots often look quite rigid, rough and decent.
Origin
Some sources show that engineer boots were born at a time not too far (in the 1930s) from our era as heavy-duty work boots. They were also widely used during World War II as military boots when needed.
Along with the development of motorcycling culture, these boots became an icon of this culture in the 1950s.
Today, they are not only worn as motorcycle footwear but are also indispensable items of young urban, hipster or punk styles.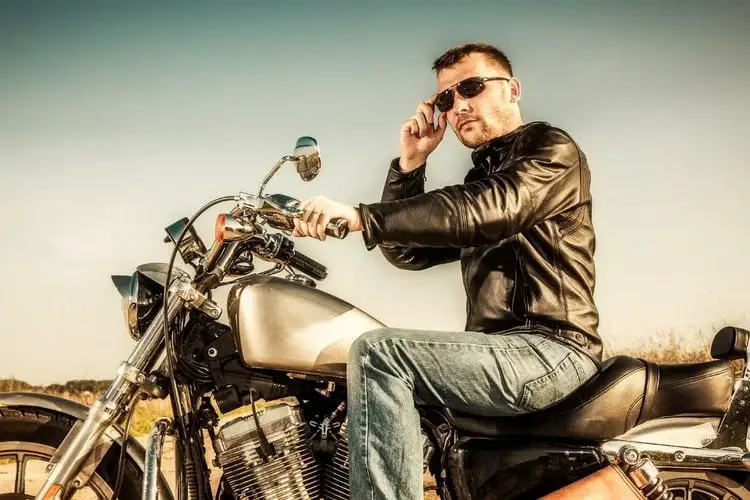 Many theories suggest that engineer boots are a resonance of Harness boots (born in the 1860s) and English riding boots for the purpose of serving the industrial era.
Cowboy boots are originally American riding boots. They have a centuries-long history compared to engineer boots going back to the late 18th century.
Until the era of industrialization, they were more commonly worn and more variations were born. Most of them are used for riding horses or driving vehicles until now.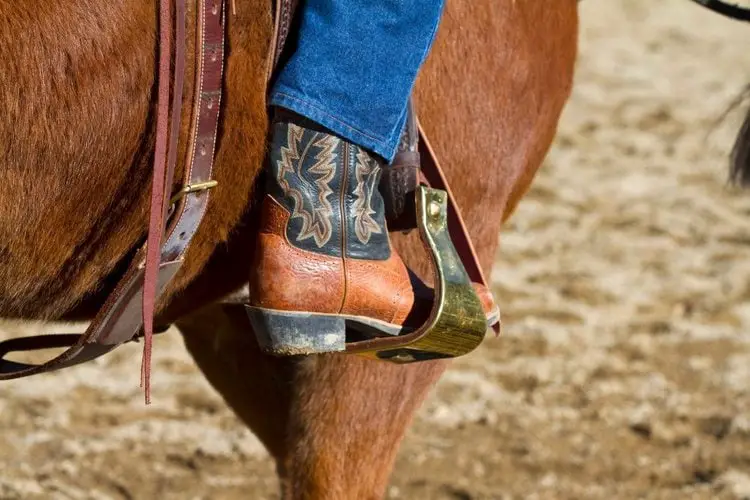 Weight
I'm not sure exactly how much engineer boots can weigh but I can say that these boots are heavier than cowboy boots.
First, traditional engineer boots are made of double leather layers instead of single layers like cowboy boots. This causes a very steady increase in weight.
Besides, engineer boots have hard toe caps, even steel toe caps and possess higher shaft height. They contribute to an increase in the amount of material used.
The metal construction of engineer boots somewhat put more pressure and heaviness on the legs than cowboy boots.
Cowboy boots typically weigh 3-4 lbs each pair and can even double that if they include steel toe caps.
Identifying characteristics
This can be clearly seen just by looking at the design of each type of boot.
Cowboy boots have a stylish design, a variety of colors and decorations of the boot shaft. The leather used is relatively gaudy, multicolored, slightly wrinkled or even deep wrinkles on the surface as special features.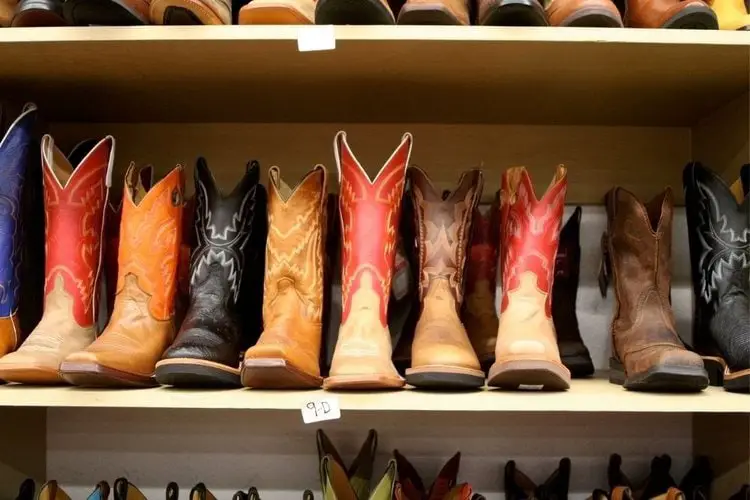 Besides, the V-deep cut in the top front of the boot collar serves as the biggest identifying point of cowboy boots and others. As long as these deep V and pointed toes appear, no matter how the shape of the boots is modified, it is still considered as a variation of cowboy boots.
Engineer boots feature an emphasis on two metal-buckled straps on the top and bottom of the boot shaft. The solid and decent look with the traditional black color and polishable leather is another defining feature of this boot line.
Cowboy Boots vs Engineer boots in experience
Now is the time to see how they feel when wearing these two boots. This will help you to determine which one is better to invest your hard-earned money in.
Comfort
I would give engineer boots a score on this criterion. Engineer boots have round thick bullous toes and super roomy toe boxes that allow the toes to wiggle comfortably when worn.
Meanwhile, cowboy boots have pointed toes and tightly lateral toe boxes. This design is a hindrance for those with wide, thick feet.
It also interferes with blood circulation in the toes and feet. And so, traditional cowboy boots are not recommended to be worn as work boots in the factory.
Besides, a lot of people may feel like their feet are drowning in cowboy boots. This is due to this footwear featuring a wide shaft, which results in a loose feel around the ankle and calf parts.
When walking in this condition, the legs will tend to make the wrong gait. Over time, it will cause foot bone deformities and chronic leg pain.
Meanwhile, engineer boots have 2 adjustable buckled straps on top and insteps to help tighten the width as needed. This reduces the chance of unnatural walking gaits that lead to pain and fatigue at the end of the day.
Safety
Again, I will give engineer boots 1 more point on this issue because simply, engineer boots are born to protect the wearer when working in harsh environments.
Engineer boots have rigid, sturdy and double-layered shaft construction. This doubles the well-being of the feet from fire, water, heat, and steam when working in factories/ plants/ construction sites or machine garages.
The height of boots can reach 17 inches which is around the knee. This detail helps complete better protection of the lower legs from chemicals or sharp objects that can cause injury.
These boots also feature a distinctly thick toe box with toe caps that help ensure a secure toe in any situation.
The outsoles of the footwear are solid and heavier than those of cowboy boots. They possess deep grooves and lugs for optimal traction when stepping on slippery surfaces. This is the absolute safety point of engineer boots compared to cowboy boots.
Meanwhile, cowboy boots are designed for use in light abuse conditions. Therefore, this comparison may be a bit lame in judgment.
If you need a pair of boots that are both fashionable and highly protective, then you know, engineer boots are always a better way to go.
Durability
It's hard to judge when both boots are made of high-quality full-grain leather.
However, engineer boots are meant to be used in heavy-abuse conditions. This will shorten the life of the footwear no matter how durable it is made.
Meanwhile, cowboy boots are also sturdy, and durable and can be worn in light abuse conditions.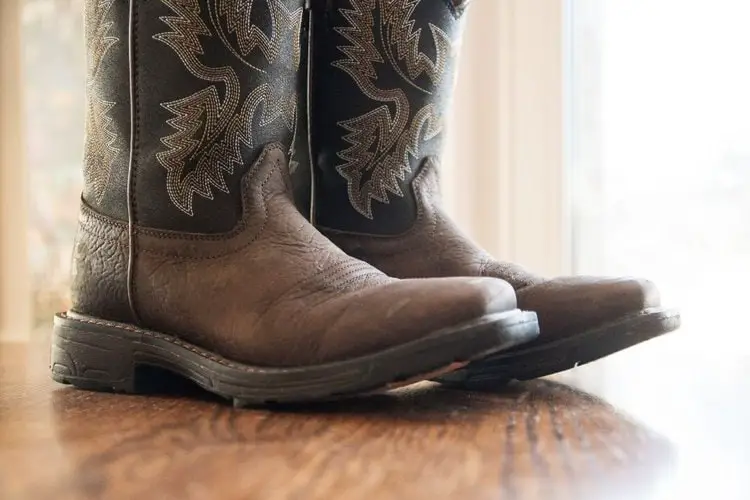 But assuming the conditions of use are not different, I think engineer boots can be quite durable than cowboy boots.
First, the structure of the boots is made of double layers instead of single layers. Also, bulbous toes and thick outsoles will tend to last longer with time and use.
Versatility
I will again give engineer boots another big point about this criterion.
Engineer boots can be used for riding horses, riding motorcycles or walking on the ground for long periods of time. This means engineer boots are much more versatile for use than cowboy boots.
Nowadays, modern engineer boots are also part of the fashion culture with different variations. They are designed to be trendy, fashionable, and elegant without losing the main function of the traditional line.
Engineer boots are also relatively comfortable to wear and this helps them reach more users. There are not too many rules or standards when pairing engineer boots with your outfits.
Meanwhile, people who wear cowboy boots often belong to a particular culture or world that has strict rules and principles for coordinating cowboy boots with outfits.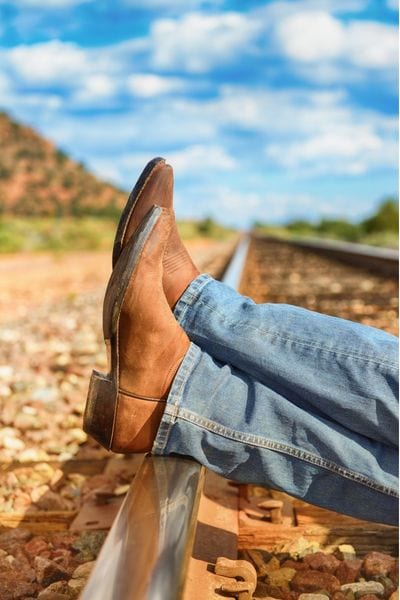 Besides, cowboy boots are also quite picky to wear. The excessive decoration on the cowboy boot shaft will cause the wearer to consider how they should mix the colors and materials between the footwear and the outfit so as not to become half-baked or weird in expensive cowboy boots.
If you have super wide feet and muscular calves, chances are you will regret wearing these boots due to several corns and sores around your feet.
Flexibility
Another point for engineer boots, your feet will be extremely flexible when wearing engineer boots. This comes from their design of the low, squared-off heels and round toe boxes. They allow the wearer to move quickly without any hindrance to toe comfort.
Meanwhile, cowboy boots with pointed toes, narrow heels can impede the foot's blood circulation when standing for a long time in them. This makes it more difficult for the wearer to move around or run on cowboy boots.
Fashion
In this regard, I give both boots 1 point. Each type of boots belongs to its own fashion style. Therefore, it will have a lot of variations to become the most diverse in style and texture.
Cowboy boots have a flamboyant and haughty look while engineer boots appear with a point of view of mature rigidity, reliability, and masculinity.
Therefore, it is impossible to judge which is more fashionable than the other.
Function
If you've read this far, you should be able to answer this question yourself. Certainly, engineer boots are better optimized for usability. They can be both work boots, fashion boots and can also be used as riding boots without any difficulty.
Cowboy boots today are mostly just for wearing because of the fashion and glamor of their owner. Cowboy work boots can also be used as work boots but are usually not very appealing in appearance.
Comparison Table
We'll summarize what we've stated about these two footwear in terms of related features above using the visual table below:
| | | |
| --- | --- | --- |
| Features | Engineer boots | Cowboy boots |
| Comfort | ⭐⭐⭐⭐⭐ | ⭐⭐⭐ |
| Durability | ⭐⭐⭐⭐ | ⭐⭐⭐ |
| Versatility | ⭐⭐⭐⭐ | ⭐⭐⭐ |
| Safety | ⭐⭐⭐⭐⭐ | ⭐⭐⭐ |
| Function | ⭐⭐⭐⭐⭐ | ⭐⭐⭐⭐ |
| Fashion | ⭐⭐⭐⭐ | ⭐⭐⭐⭐ |
| Flexibility | ⭐⭐⭐⭐ | ⭐⭐⭐ |
Are engineer boots cowboy boots?
No, not at all. Engineer boots are a whole different type of footwear that is more versatile in usage and functions than cowboy boots.
Engineer boots possess a 100% different look from cowboy boots with 7-17 inches shaft height, 2 metal-buckled straps at the top and around the insteps and don't have deep V cut.
You can differentiate these two boots by how they look as well.
Cowboy boots appear appealing, gaudy with heavy embroidery details on their shaft. Meanwhile, engineer boots possess a very sleek, polishable, decent look without any decoration included.
Today, engineer boots are more likely to be used for motorcycle riding.
Before you leave
If you still find it too difficult to choose between cowboy boots and engineer boots, you should re-read this article and think about what you need most out of what you buy.
If you need sparkle and boho style, you should choose cowboy boots. If you need protection, functionality and a strong, masculine look, engineer boots are the way to go. It's easy, folks!
Howdy y'all! I'm Grace, a Western style enthusiast with over 5 years of experience. From cowboy boots to western gear, I'm passionate about all things Western and dedicated to helping you find the perfect style to suit your taste. Join me and my fiancé Jay Gatz as we explore the rich history and timeless appeal of Western fashion together!