Whether you're a newcomer to the world of cowboy boots or someone who's been in love with these boots for over a decade, there is a high chance that you're familiar with Tecovas, one of the very famous cowboy boots brands today.
Tecovas don't have a long history like some famous cowboy boot brands such as Lucchese, Tony Lama or Dan Post. But with their creativity, fashion flair to the market, and meticulousness in products and customer care, Tecovas today is a name that makes a lot of difference.
Today, we will give you the most comprehensive look at Tecovas, their cowboy boots, and more.
Let's check it out!
Key takeaways
Tecovas cowboy boots have a classic construction (mainly classic and roper style) but offer diverse materials, most notably exotic leather. This brings a distinct style, and experience for each boot because each type of leather has different outstanding features.
Although coming with a classic style, Tecovas knows how to make cowboy boots look more modern to suit a wide range of consumer tastes as well as work purposes.
In addition to style, the inner construction of Tecovas contains many modern innovations to pamper the wearer's feet, such as EVA strips, arch support, shanks, insoles, and midsoles. However, the brand still retains the classic quintessential features such as leather soles, leather lining, and lemonwood pegs.
Tecovas customer service is extremely appreciated. At the same time, their website contains complete and clear information about products and services that you can only find on big e-commerce sites.
The price of Tecovas boots is high, but not expensive compared to the same segment of handmade exotic cowboy boots on the market. When you look at the quality of the boots, you won't wonder anymore.
The dynamic Tecovas team regularly launches new products with limited versions. This brings a lot of new and exciting experiences to customers.
Accessories for cowboy boots such as boot trees, cleaners, conditioners, and boot jacks are also being developed by Tecovas to serve more needs. More specifically, Tecovas jeans are also great in both style and feel to wear with cowboy boots.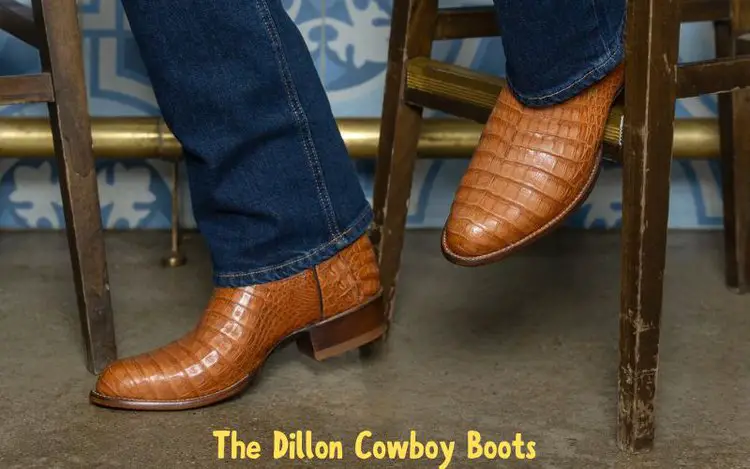 Are Tecovas Cowboy Boots Any Good?
Tecovas was founded in 2015 by Paul Hedrick in Austin, Texas. It can't be said that Tecovas is an old or experienced cowboy boot brand like some other big brands with a hundred-year history (i.e. Lucchese or Justin).
However, despite the late birth, Tecovas really did a good job in synthesizing the best of other cowboy boot brands and eliminating the weaknesses of traditional cowboy boots.
Tecovas cowboy boots are handcrafted in León, Mexico. Their partner is one of the oldest and most respected bootmakers in the world.
Today, although cowboy boots across the ocean (made in China, India, etc.) dominate the industry in the US and cause many controversies, the emergence of Tecovas reaffirmed that cowboy boots are from the West and they should be made with skillful hands of people here!
Although Tecovas cowboy boots are more expensive than cowboy boots from Asia, Tecovas also confirmed that Americans love quality and don't mind spending a few bucks to get it perfect.
Overall, the best thing about Tecovas is that this brand retains the classic and traditional features of cowboy boots, but weaves into their boot's modern features to bring them closer to the consumers.
What are those characteristics?
Perfect structure, material, style, and technology
The style of Tecovas men's cowboy boots is really not too diverse, I can summarize for you 3 main styles. They are also the 3 most popular styles in the cowboy boot world: classic, roper, and work style.
The classic Tecovas cowboy boots are mostly about 12 inches tall and come with a round toe, leather sole, and stacked leather heel (riding style) at about 1 1/2 inches tall.
Meanwhile, roper-style cowboy boots mostly offer round toes, a few have square toes and leather soles. The stacked leather heel (block shape roper style) is about 1 inch or 1 1/8 inches to 1 1/2 inches tall. These roper-style boots are about 10 inches tall.
Tecovas cowboy boots for heavy work typically have a stronger, sturdier construction with thick, non-slip rubber soles. Their heels are usually about 1 1/2 inches tall or less (and often have a block shape).
Meanwhile, the upper part of cowboy work boots is usually made from bull hide or cowhide to ensure good durability and high impact resistance. Their toe shape is mainly round toe with square toes which offer lots of room for the toes and the ball.
Meanwhile, women's cowboy boots have 2 main types, which are classic and short boots.
Classic cowboy boots for women often have a narrow toe shape (usually round toe or snip toe), and the shaft from 9 inches to about 14 inches high. The stitching patterns on the boots are more eye-catching.
The heel of a women's cowboy boot is also usually a stacked leather heel, but is taller (about 1 3/4 inches or more) and has a riding style.
Tecovas cowboy boots for women have an additional style of short cowboy boots (western bootie or ankle boots).
Overall, Tecovas short cowboy boots don't really differ much from the classic ones, except that their shafts are shorter, at about 6 inches.
Tecovas cowboy boots for women are primarily for fashion rather than work purposes.
The things listed above are, quite frankly, just standard styles that most brands of cowboy boots have. It's the standard style and not much of a difference.
But it can be said that Tecovas has been very subtle when choosing to focus on these 3 types of boots as the main style (classic, roper, and work style).
As Tecovas boots follow a classic style that has been loved for centuries, they offer a confident and charismatic look.
Meanwhile, roper-style boots are many people's choice for casual wear as they have shorter shafts and more comfortable construction. They bring an elegant look and are convenient to put on/take off.
Cowboy work boots are used a lot by ranchers, construction site workers, or truckers. They cater to the tastes of this clientele as cowboy boots have long been a favorite of many at work.
Tecovas has selected product lines to suit the tastes of most customers!
However, the biggest difference between the Tecovas boots is not so much in the appearance, but in the materials and inner structure.
The materials that make up Tecovas cowboy boots are extremely diverse, which set them apart from the rest of the industry.
Their materials range from classic materials (goat leather, bovine, and bull hide) to exotic leather (ostrich, caiman, alligator, lizard, python, and even shark leather).
With such diversity, Tecovas has a unique style compared to the rest. Each material, with a different finish, creates a distinct look for each pair of Tecovas boots.
Goat leather possesses natural creases and textures, while shark leather with its unique roughness and wrinkles has made cowboy boots full of wildness and distress.
Meanwhile, lizard leather with uniform texture and glossy surface, caiman and alligator leather with gorgeous scales all create a very classy and elegant look.
Ostrich leather with a bumpy surface and suede leather with a soft fluff, bring attractiveness to Tecovas cowboy boots.
Because of the variety in styles, Tecovas cowboy boots are very popular today with many different customers.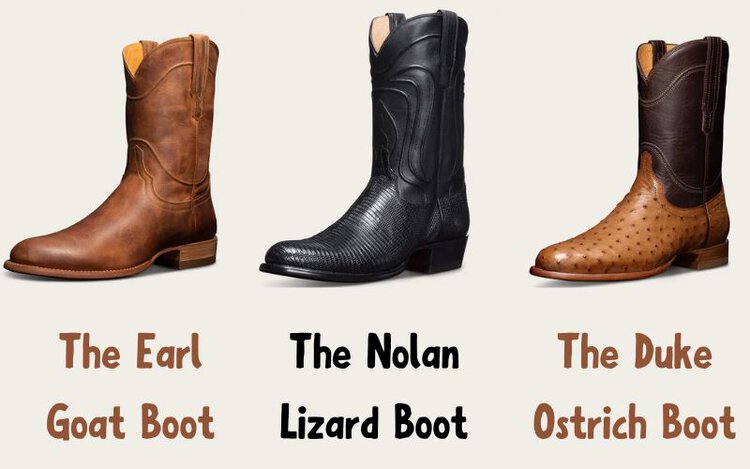 Tecovas cowboy boots not only appear in sunny and windy ranches but also appear in offices with high formality or for casual wear (need of elegance).
I love using The Cole caiman boots and The Nash roper lizard boots to wear with suits for business casual, while The Jasper ostrich boots are picked for casual wear.
In general, the diversity of leather materials is what creates the Tecovas brand, making them really successful and creating a buzz in the cowboy boot community that is often considered very fastidious and old.
Besides, the feeling that each type of leather gives Tecovas boots is also very different.
For example, if you want to find comfortable and durable cowboy boots for work, then ostrich boots are definitely your go-to choice. Ostrich leather possesses many pores and impressive breathability. Besides, with a lot of natural oils and waxes, ostrich leather is very soft and durable (less drying and cracking).
Meanwhile, goat leather offers a very cool experience. It is very breathable with larger pores than other types of leather. If you want to wear cowboy boots for the summer, then goat leather is definitely the preferred choice.
Speaking of summer, it seems that Tecovas has denied the stereotype that cowboy boots should only be used for fall and winter (the cold seasons).
With the structure of the roper style (not too high), plus the texture of goat or ostrich boots is very breathable, you can use them all year round.
Honestly, those who often do outdoor work and wear cowboy boots understand that cowboy boots are a great shield to protect them from the summer heat, not just the winter cold.
I love using The Prescott made from shark leather by Tecovas for the seasons with sudden rains. The reason is that the nature of shark leather can be very water resistant, my feet will be guaranteed to be dry and warm.
Retain the necessary original structures and omit the unnecessary ones
If you notice, the construction of cowboy boots in the past was not friendly to those who liked to use them for walking but only suitable for horseback riding.
A high heel can prevent your foot from sliding too much forward and out of the saddle stirrup (it hooks into the stirrup when needed). Or, a narrow toe shape can help you easily get into the stirrup.
Please note, too high heels with a narrow base causes your heels and joints to suffer a lot of stress while walking, and also makes it difficult for you to balance. Meanwhile, the narrow toe shape makes your toes suffocate and numb every time you go home.
One thing you should know is that a lot of people nowadays wear cowboy boots to stand on their feet rather than to sit on horseback. The original structure of cowboy boots (traditional ones) is completely unsuitable for the tastes of most consumers.
Tecovas cowboy boots got rid of that. The heel of their cowboy boots is lower (mostly 1 1/2 inches) and has a wider base. Meanwhile, the toe shape has more room to make your toes and the ball of your foot more comfortable.
It is these details that make Tecovas boots one step closer to the mass community.
Another detail that you may not have noticed is that most Tecovas cowboy boots retain three traditional and original features: leather soles, leather lining, and lemonwood pegs.
Lemonwood pegs are what connect the insole and outsole. Nowadays, many brands opt for metal pegs because they are more affordable. But Tecovas didn't do that, they still choose lemonwood pegs.
The reason is that lemonwood pegs can absorb sweat better and are more breathable than metal ones. They will help the wearer feel cooler.
In addition, they also have better stretchability. The uniform stretch between the outsole, insole and pegs will make the boots more flexible, durable, and comfortable.
Metal pegs do not have such amazing features!
Tecovas: Handmade Bootmaking Process
Leather soles are also more popular in the cowboy boot world because they have a sharper and more classic style.
At the same time, they are also more absorbent and breathable. With such a very high level of comfort, leather soles are ideal for summertime.
Although rubber soles are becoming more and more popular today, leather soles still occupy a huge part in the hearts of cowboy boots fans, especially those who love classic and traditional styles. And obviously, Tecovas was very subtle to know that and please those die-hard fans. Their boots mostly feature leather soles.
Meanwhile, leather linings are similar to leather soles, they are often rated as cooler, more durable, and softer than mesh ones.
Due to the higher price, the leather lining is often replaced by mesh lining by some bootmakers. However, Tecovas did not do that, quality and tradition are probably their top principles besides profit.
Develop modern technologies inside cowboy boots
One thing only those who have experienced Tecovas cowboy boots know, Tecovas boots are extremely comfortable! And the special thing is that their comfort is not just like regular cowboy boots, but it is like a combination of cowboy boots and a pair of running shoes.
The reason I found out is that the construction of Tecovas cowboy boots includes modern features such as insoles and arch support.
You might be thinking: what kind of shoe doesn't have an insole? Well, in fact, in the past, cowboy boots had no insoles and arch support. And even today, many old cowboy boots brands still haven't made boots with insoles.
Insole and arch support are extremely necessary for those who often wear cowboy boots on their feet to work. Boots with insoles and arch support will reduce shock and make your feet and foot joints much more comfortable than the ones without.
The arch support of Tecovas boots comes from shanks and lemonwood pegs. Lemond pegs may be familiar, but shanks are not in the world of cowboy boots. Fortunately, Tecovas has realized what they should do is to keep the classic look of boots while making the inside more modern and perfect.
The insole of Tecovas boots is also made up of other modern features that are EVA strip and leather midsoles. This is also not something you easily find in any cowboy boots of traditional brands.
As you can see, the Tecovas artisans are really very experienced when it comes to producing cowboy boots, even though the age of Tecovas is very young!
I guess the Tecovas artisans have decades of wearing cowboy boots to be able to judge and solve simple problems that require subtlety.
Great Customer Service and Clear Information On the Website
The next feature that makes me extremely satisfied with Tecovas is their extremely fast and efficient customer service.
In fact, many people have different foot types, some have a high instep, some have wide feet, and others have narrow feet.
These foot styles are sometimes a hindrance to choosing the right cowboy boots. What you should do is call customer service to seek the best advice.
Tecovas does this very well, they can solve your problems very quickly and decisively, and it won't take much of your time at all.
Apparently, Tecovas customer service has a very good understanding of the industry!
In addition to detailed product advice, the return and exchange policies of this brand are also very clear. In my opinion, they are very generous and comfortable in this regard. That's why many people love Tecovas because their customer service always makes them happy.
Just call 833-832-6827 or email: [email protected] you will get the answers.
Tecovas even has live chat, something you only see on large e-commerce sites or companies that sell products online. You can completely chat with Tecovas staff and get answers.
Honestly, for someone working in information technology like me, this is a big bang. Since most cowboy boot brands often have very outdated websites, customers can't really benefit from those sites.
Talking about the website, Tecovas' website displays a lot of information, from products to customer service.
On Tecovas web, you'll see features that are only found on big e-commerce sites such as customer reviews, star ratings, etc. These things are absolutely essential when you buy cowboy boots online – a product that comes with a high price tag.
For example, the experiences of people who have worn The Earth goat boots will be very valuable to you if you are also planning to buy them. How long is the break-in period? Do they fit true to size? Are they comfortable? Are they durable? You will find all of that in the product reviews from previous customers.
In addition, in the help section of the website, you also find Tecovas compiled some frequently asked questions and answered them.
You can absolutely find a lot of useful information such as whether high arches can wear Tecovas cowboy boots or not without spending too much time.
Product information, which is an essential part of e-commerce, is also well done by Tecovas. You will find Tecovas products clearly displayed with essential information about materials, styles, available sizes, colors, promotions, etc.
The interface is very clear, and especially, the image of Tecovas is very high resolution, detailed and beautiful. In this respect, they are superior to many other e-commerce sites even if it's just a western style website.
Just by looking at the beautiful and detailed pictures of Tecovas boots, you will get an idea of ​​what the boots look like, how to style them, and whether they are suitable for you.
This continues to be a very, very big plus for Tecovas. I'm not surprised that Tecovas doesn't need to sell cowboy boots through e-commerce sites and still has a passionate and loyal fan base on their own.
High price, but not expensive
If you have ever worn cowboy boots of some brands like Ariat, Durango, or Dan Post, you will find that the price of Tecovas boots is not cheap compared to other brands.
I dare to say that although the price of Tecovas is high, it is not expensive.
Let's make some small comparisons by looking at the price of some big brands like Lucchese and J.B Hill – those also make handmade boots and have a wide variety of exotic leather.
If I'm not mistaken, the cheapest pair of Lucchese's cowboy boots cost almost double the average price of Tecovas ones. Honestly, though, the difference between Tecovas boots and Lucchese boots is not really clear.
Meanwhile, for J.B Hill, their price is not much to discuss. Except for people like billionaire Jeff Bezos who wear them to go to space with him, it is an unimaginable or very distant price for many people.
It's no wonder that Tecovas cowboy boots have become a good investment in recent years. Their boots are not only beautiful but last very long.
I believe they can last more than 10 years or even 15 years if you take good care of them (because Tecovas just came out in 2015, so I can't experience them for that long, lol).
If you do your homework, you will see that a pair of cowboy boots used for more than 15 years are still cheaper than sneakers used for about 2 years, even at half the price.
It's a valuable investment, right?
Other plus points
It can be said that the Tecovas team has very dynamic people, I dare to say that.
Not only do Tecovas release a few sporadic products and resell them year after year, but they also launch a lot of distinctive and limited versions in short periods.
Lately, I've noticed they launched some python cowboy boots (but I forgot their name), or lizard cowboy boots (the Nash, the Nolan) with distressed styles.
These boots, although not too many, have brought different spices to us, the wearers of the boots. I love that, I love the surprises in life and this is thanks to Tecovas' enthusiasm for building creative teams.
Recently, Tecovas also released a lot of different accessories for cowboy boots such as boot jack, boot trees or conditioner, and cleaner.
I believe that their commitment to the quality of Tecovas is what makes them such a successful cowboy boot brand. They will also release great accessories.
In fact, I'm using Tecovas boot trees and conditioners for my cowboy boots and I have no complaints at all.
Recently, Tecovas jeans are also very appreciated in both style and feel. With Tecovas, you will probably have more choices than just Wrangler.
I've tried their standard jeans, they are comfortable, durable and fit well. I love the bottom legs that are wide enough to cover the entire boot shaft. It's wonderful!
What Should You Expect? Here's My Experience!
It's hard to say that everyone's experience with Tecovas cowboy boots will be the same, but allow me to summarize it based on my own experience.
I currently own 5 pairs of Tecovas cowboy boots:
The Stockton bull hide boots
The Nash lizard boots
The Cole caiman boots
The Prescott shark boots
The Wyatt ostrich boots
I want to diversify my Tecovas collection with as various materials as possible, from classic styles like bull hide boots to exotic leather like shark, ostrich, lizard, and caiman boots. I just want to give the fairest view to you!
Firstly, let's check out the things I like best:
What I like about Tecovas boots:
What I like most about Tecovas boots is the variety of styles and the presence of modern beauty. The cowboy boots that I own right now all have very different styles due to their diverse materials.
I like to wear The Stocktons for yard work because they are durable, sturdy, and provide good protection. The strength of bull hide is certainly not in doubt.
The Stockton's construction is also thick, along with the non-slip sole, good arch support, roomy toe box, and wide, short and flat heel to ensure I can work comfortably and safely.
Meanwhile, The Nash and The Cole really impressed me with the elegance they bring. Whether I wear them with jeans, suits, dress pants, chinos or khakis.
The Nash with its unique texture and the well-polished surface provides an elegant feel. Meanwhile, The Cole has really luxurious and high-grade scales that make this boot a great combination with suits.
The Prescott shark boots are really a good companion in both winter and rainy seasons because they are very water-resistant and warm. I love them so much! They have a unique look with natural texture on the surface.
Finally, The Wyatt is very soft, airy, and my number one choice for casual wear. Their unique bumpy surface with rich color really makes me satisfied.
The Wyatt not only makes me feel extremely comfortable but also satisfied with the appearance.
I am very pleased to walk in all the above boots. They offer a high level of comfort thanks to their construction as mentioned above (insoles, good arch support, high quality, diverse materials, leather lining, etc.)
In addition, I have a choice of boots to wear in different seasons and places. For example, The Wyatt for four seasons, The Prescott for the rainy and winter seasons, The Cole for office work.
Choosing cowboy boots to wear for every day and every event is now easier for me than ever.
Although the style of cowboy boots often goes hand in hand with traditional and classic styles, in my opinion, Tecovas cowboy boots are very modern and accessible to many different ages.
Sometimes, I can't tell my caiman dress shoes from The Cole cowboy boots of Tecovas. They have a very similar style – elegance and luxury.
Tecovas boots generally have a short break in time! 4 out of 5 of my boots are broken in after only 3 to 4 days. The Stockton seems to have the heaviest build, so it took me 10 days to break in.
Regarding the fit of the Tecovas cowboy boots, I don't have many problems. I can say they fit well and are true to size.
I am a picky person, so before buying, I always call Tecovas customer service for advice.
I have 3 pairs of boots purchased online that are non-refundable. The other 2 are The Prescott and The Cole that I bought directly at the store.
Overall, with Tecovas' responsive customer service, I didn't really have any big problems whether buying online or in-store. Except that Tecovas has pissed my wife off because every time I go into the store, I often bring home a pair of Tecovas boots.
Things I don't like about Tecovas boots:
Well, it's hard to come up with a weakness for Tecovas boots when you've already fallen in love with them.
What annoys me is that I still haven't purchased any limited editions at Tecovas, partly because I've been pretty busy, partly because their limited stock runs out so quickly, or maybe they just produce a small quantity.
Besides, Tecovas snakeskin cowboy boots are still very limited. I love snakeskin, especially python. What a pity!
Those are the rare disappointments I can find! If you have ever owned Tecovas boots, please tell me your experience in the comments!
Before you leave
That's all I can say about Tecovas boots, how about? Share with me your experience with this amazing brand!
Tecovas has made a strong impression in the hearts of cowboy boot fans in recent years. Besides classic style, Tecovas cowboy boots have a very modern look and interior, along with affordable prices and top-notch customer service.
Those are the things that make up the success of Tecovas today and make them closer to the masses, from old to young generations.
I love Tecovas, how about you?