Today, many people still have the habit of wearing cowboy boots without socks. Well, actually that's not good.
Wearing socks with cowboy boots will ensure your feet are comfortable, dry, and free from foot fungus or blisters when working.
If you don't have a special pair of socks with cowboy boots at home, at least find some casual socks in the house and put them on right away.
Many of us are still concerned about whether regular socks are good enough to wear with cowboy boots.
Today's article will give a detailed answer for you. Don't worry too much, the results are quite positive.
Let's check it out!
Is it okay to wear regular socks with cowboy boots?
Different from other types of footwear, cowboy boots have a higher construction of 11 inches, so many people usually prefer over-the-calf socks to cover their calves and avoid irritation.
In addition, wearing socks higher than the calf also limits cowboy boots from being damp by sweat because these socks absorb all the moisture. Either way, washing socks is easier and quicker than cleaning cowboy boots.
However, not everyone likes to wear a pair of over-the-calf socks, e.g. soccer players. As this sock length can make you feel hotter and less comfortable when putting on/taking off.
You can still use regular socks if you want. Although over-the-calf socks seem superior to regular ones in terms of anti-irritation on the calf, if regular socks are good enough, they can still help keep your feet dry, comfortable, and free from blisters or foot fungus.
Another reason is that cowboy boots today have a lining usually made of leather or fabric. The lining is very soft, so it can limit irritation in the calf and prevent friction blisters. However, it won't be as effective as wearing over-the-calf socks, especially in terms of preventing sweat odors – as they absorb all sweat.
Therefore, you should only use regular socks with cowboy boots for casual wear, office, or light work, not heavy outdoor work.
Using regular socks for outdoor heavy work is not recommended, as they are not thick and do not absorb sweat as well as over-the-calf socks. Besides, with high-intensity exercise, regular socks cannot guarantee to protect you from blisters caused by irritation.
If you do hard work, sometimes your socks need good cushioning to support the toe, heel, and arch as well. So regular socks in this case may not be a wise choice.
In general, even with regular socks, they should still be higher than the ankle. Don't wear socks that are too short.
Wearing regular socks with cowboy boots also has many advantages as they are very convenient and easy to put on and take off. They can also be said to be more breathable, so they are preferred in the hot season, especially for casual wear.
There is another trick if you want to wear regular socks for outdoor work, but not too heavy, you can tuck your jeans inside your boots to cover your calves and limit irritation there.
Or you can also choose cowboy boots with low construction like roper style or western booties (women only). They have a shaft that is only about 9 inches and you can absolutely use regular socks with them without any problems.
Conclusion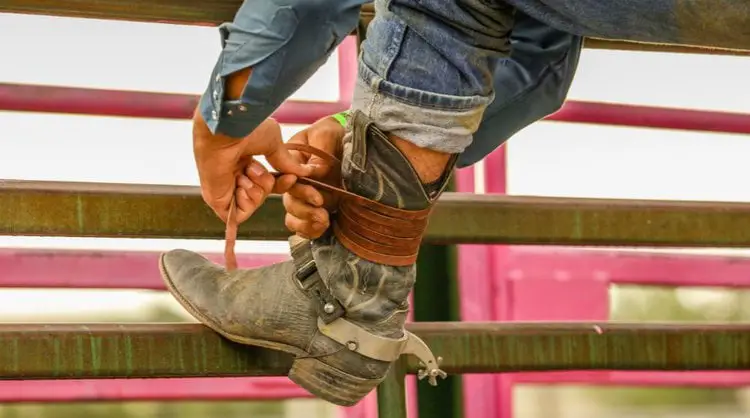 In general, you can completely use regular socks to wear with cowboy boots, because they are more convenient, breathable, and suitable for hot weather.
However, it is recommended that you only use regular socks with cowboy boots for light work or casual wear only. For heavy outdoor work, you should still use over-the-calf socks.
The reason is that regular socks don't really cover your calves or protect you from irritation, and they don't absorb sweat in the calves as well as over-the-calf socks.
When working, if wearing regular socks, you can tuck jeans into cowboy boots to prevent the boot shaft from irritating the skin on your calves.
If you really don't like over-the-calf socks, look to cowboy boots that are only about 9 inches high like roper boots. You will be comfortable wearing regular socks with them.
Anyway, don't worry too much, because cowboy boots now have a very soft lining, so it will limit irritation for your feet and legs.
Howdy y'all, and welcome to From The Guest Room, your ultimate guide to all things Western! I'm Jay Gatz, a lifelong cowboy boot enthusiast with over 5 years of experience in the Western style world. I'm excited to share my knowledge with you and help you discover the perfect cowboy boots and western gear to elevate your style. Let's explore the rich history and timeless appeal of Western fashion together!